4 September 2019
By PDSNET
Political
The concerted attack on President Ramaphosa and his retinue has seen the rand fall to almost R15.50 to the US dollar. But this fall also includes and is confused with a sharp international shift to "risk-off" as a result of Donald Trump's trade war with the Chinese and their currency retaliation, which makes it difficult to accurately assess the impact of the attacks on Ramaphosa. The best way to evaluate the importance of these attacks and distinguish them from what is happening internationally is to look at the yield of the South African government's 10-year bond, the R186. Consider the chart: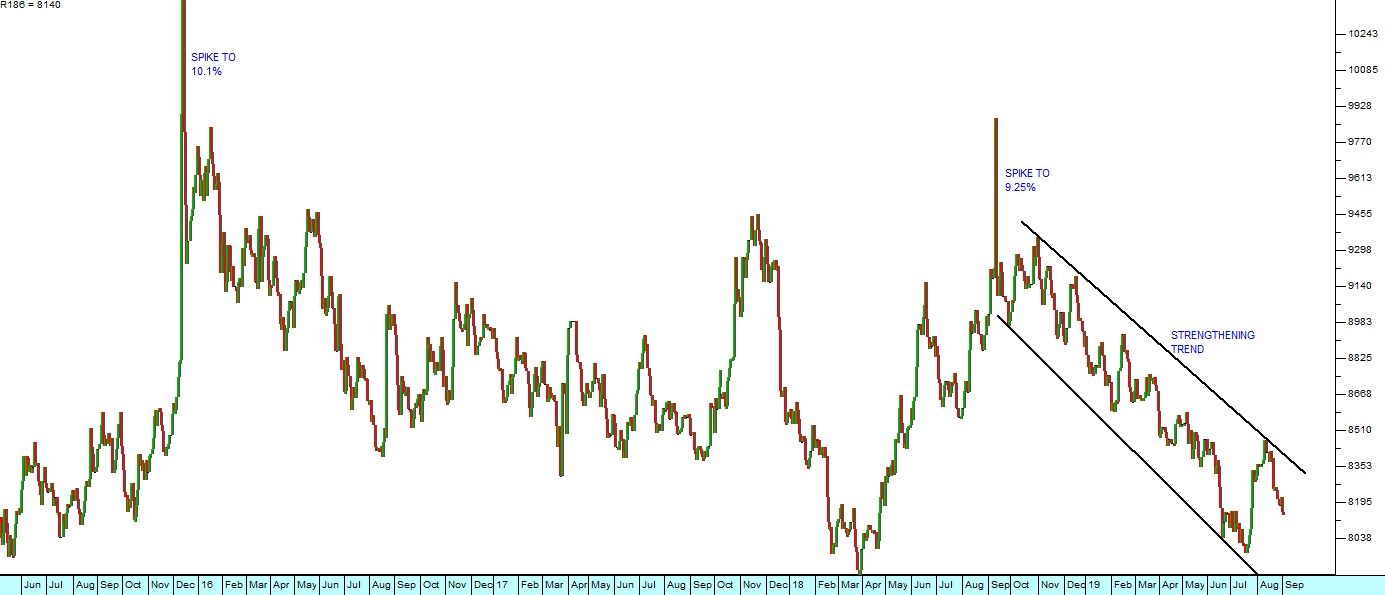 R186 Bond May 2016 to September 2019 - Chart by ShareFriend Pro (Click to Enlarge Image)
What you see here is the chart of the yield on the R186 long bond over the past four years. You can see that it has previously spiked up to 10% (during the Zuma years) and to 9,25% as recently as September 2018. For most of the past year, however, the yield has been trending lower as international investors become more convinced of the sustainability of the Ramaphosa economic reforms. The recent attacks on Ramamphosa saw the bond increase sharply as international investors withdrew funds from South Africa partly because of concern over Ramaphosa's long-term future and partly because of a general shift towards more secure investments. But that rise in the yield goes nowhere near the previous two spikes which saw the yield well above 9% - which shows that local risks (including the problems with Eskom) are seen as both temporary and resolvable. The yield has already fallen back to around 8% - which shows that the Ramaphosa administration is not seriously at risk.
The gap between the yield on the R186 and the yield on the 10-year US Treasury bill exactly quantifies the additional risk for international investors investing in South Africa. The gap has been made larger by falling yield on the US Treasury bill and by rising yields on the R186. Now that gap is narrowing again.
In our view, what we are looking at here is probably a "darkest before dawn" scenario and that the economy should improve steadily from here.
FIXING SOUTH AFRICA
Tito Mboweni, Minister of Finance, has issued a bold new plan to get the South African economy moving again. This plan envisages:
(1) Modernising network industries,
(2) Promoting agriculture,
(3) Stimulating export competitiveness,
(4) Bringing down barriers to entry for new business,
(5) Focusing on regional growth opportunities.
All of these are good ideas no doubt, but what is notable about this list of ideas is that it does not  really deal with the thorny political issue of organised labour and collective bargaining. The single most important "structural reform" that is necessary is to re-balance the labour legislation in this country so that it becomes much more employer-friendly and does not entrench inefficient labour both in government and private enterprise. The small step in this direction that is contained in Mboweni's plan is to free small and medium sized businesses from having to abide by negotiated settlements between unions and the major employers in their industries. This will certainly boost small business and thus create jobs, but a far more radical overhaul of organised labour is required.
Notably, Mboweni has turned down the request from SA Express for a R200m government guarantee and is determined to stop the constant bail outs given to loss-making state owned enterprises (SOE).
The Center for Development Enterprise (CDE) has made a series of similar suggestions for how the economy and government finances should be fixed. The main tenant is that the government wage bill needs to be radically reduced. This must be done so that the national debt can be brought back to a reasonable level. Clearly, this will involve a confrontation with the unions sooner or later.
The Economy
In last month's Confidential Report, we commented on Tito Mboweni's plan to cut R37bn from the government's wage bill over a period of three years. We suggested that this was a positive step towards controlling the run-away government wage bill. Now the Treasury has told government departments to cut 5% off their expenditure for 2020, 6% for 2021 and 7% for 2022. This must be seen as a serious effort by the government and by the Finance Minister to bring the size of the government down and to meet its deficit objectives before Moodys down-grades us to junk. The problem with it is that it will inevitably involve some staff redundancies. That will certainly bring the government into direct conflict with the unions in a showdown which we have long suggested was both unavoidable and necessary. Perhaps, with the election safely behind them, the Ramaphosa camp feels strong enough to take on organised labour.
The sharp fall in the inflation rate as measured by the consumer price index (CPI) to 4% shows that consumer spending is in the doldrums. Almost every retailer is reporting price deflation – which means they are competing fiercely with each other for market share. At the same time, the international "risk-off" sentiment is keeping the rand weak against first world currencies. The monetary policy committee (MPC) which meets again in September between 17th and 19th will have to decide whether to maintain rates or help the battered economy with another 0,25% rate cut. They will be paying close attention to the rand/US dollar exchange rate and also to the prospect of a downgrade by Moodys in November. The low inflation rate is the only piece of really good news in the current scenario.
Wall Street
Following Donald Trump's China trade war downward spike on the S&P500 index in June, the market produced a classic "V-bottom" formation as we expected. What has followed in August is what is known as a "flag formation" in technical analysis – where the market oscillates between an upper resistance line and a lower support line. Consider the chart:

S&P500 Index March to September 2019 - Chart by ShareFriend Pro (Click to Enlarge Image)
This, together with the much larger daily trading ranges, is a clear indication of the uncertainty which currently exists among investors. On the one hand they see steadily improving earnings from the S&P500 companies and on the other they are trying to assess the true impact of Trumps trade war with China. The main impact of the trade war with China has been to shift sentiment more towards "risk-off" – meaning that investors take their cash out of emerging markets and other risk investments and put it into low-risk investments such as US T-bills and gold.
This caused a temporary "inversion" on US yields which some economists say is a sign of an impending recession. Normally the yield on the shorter US treasury bills is lower than the yield on the long-dated treasury bills because investors require a higher return if they are to lock their money up for longer periods. Occasionally, however, a yield inversion occurs when the short-dated T-bills have a higher yield than the long-dated T-bills. This happened because of the risk-off sentiment arising from Trump's trade war and the rush into long-dated US T-bills. Conventional stock market wisdom is that when this happens investors have lost faith in the longer term prospects of the economy – in other words, they are expecting an economic downturn. In this case, though, we believe that the inversion has been artificially created by Trump and that it will not be sustained.
Once the scare is over, and the market moves back towards "risk-on" we should see the market rise and the flag formation end with an upside breakout. The alternating risk-on and risk-off perceptions impact directly on the rand and other emerging market currencies – as well as on the yield on our long bonds. The Chinese response to Trump's attack was to allow the yuan (its currency) to drop in value against the US dollar – thereby making Chinese exports cheaper in America and America imports into China more expensive. Clearly, their currency is China's weapon of choice in this conflict.
Non-farm payrolls in America increased by 164 000 – which compares with the 223 000 jobs created in June. The unemployment rate is at record low levels around 3,7% and it is likely that there is simply a shortage of skilled people ready to fill further positions. This implies that the US is reaching full employment and that there will be upward pressure on wages and hence inflation going forward. It is this more long-term concern that has the US monetary policy committee (MPC) considering increases in interest rates. The US economy needs to generate at least 100 000 jobs a month to keep up with the increase in the working population. Anything above that moves the economy closer to full employment. In our view, the creation of jobs in America is a strong indicator of the growth of that economy – which should continue to be reflected in the S&P500 index.
Commodities
The strike at Sibanye prevented South Africa from really taking advantage of the rise in the gold price during the June quarter. At the end of May 2019, the US dollar price of gold was $1280 and by 5th August it had risen to $1465 – a gain of 14,5%. This was apparently caused by a sharp rise in the buying of gold ETF's in the UK – as well as anticipation of the 0,25% drop in interest rates in the US. Unfortunately, South Africa's largest gold producer, Sibanye, has been dealing with a protracted 5-month strike called by the Association of Mining and Construction Union (AMCU). This was a major factor causing gold production in South Africa to decline by 12% in the quarter. Sibanye itself saw its gold production drop by more than 60%.
The gold price is at a record high in rands – showing once again that the precious metal remains the best and most secure hedge against the weakness of paper currencies. Consider the chart:

Gold Price in Rands September 2018 to September 2019 - Chart by ShareFriend Pro (Click to Enlarge Image)
On 24th June 2019 we carried an article under the heading "New [glossary_exclude]Gold[/glossary_exclude] [glossary_exclude]Bull[/glossary_exclude]" in which we drew attention to the fact that the dollar price of gold had broken convincingly up out of a wedge formation providing a buy signal. Since then gold has moved further rising  from $1397 to current levels around $1537 – or R23500. At the same time the rand has collapsed to levels above R15 to the US dollar with the result that the rand price of gold has increased by 18,8% - in just over two months. We expect that the gold price will continue to rise in dollars, but that this may be off-set to some extent by a strengthening rand.
General
The rise in the dollar value of Bitcoin over the last 4 months has tended to re-establish its role as the international crypto-currency of choice. There is some evidence that Bitcoin has been used as a "safe haven" asset of last resort by investors in the face of Trump's trade war with China. However, in our opinion, Bitcoin has been through a major sell-off after its meteoric rise in 2017 and is now recovering. It is almost impossible to analyse crypto-currencies on their fundamentals – because there are no fundamentals. There is no asset or country which stands behind a crypto-currency. It simply has value because enough people believe it has value. For this reason, the only way to analyse it is through technical analysis. Consider the chart:

Bitcoin September 2017 to September 2019 - Chart by ShareFriend Pro (Click to Enlarge Image)
Here you can see the "meteoric rise" of Bitcoin in 2017 – which was clearly unsustainable and led to a substantial correction. This was eventually followed by an extended "island" formation and an upside breakout (on 2nd April 2019). What has followed is a new upward trend which is by now well-established. We do not consider Bitcoin to have become in any sense a "safe haven" like, for example gold, but there can be no doubt that it offers some alternative speculative opportunities for investors.
What3Words, a London-based startup, has established a new technology which divides the entire surface of the earth into 3m X 3m squares and gives each of them a 3-word name. So instead of having to give an address or longitude and latitude, you can just give the three words for where you are. 3 words are easy to remember and communicate. Anyone can know where they are by just looking at their smart phone and getting the 3 words for their current location. This can then be communicated to an emergency service or a delivery service for 100% accurate location. We see this service as revolutionising many different businesses world-wide. For example, the company has made a deal with South Africa's ER24 emergency service. The company aims to be a global standard for physical locations within 5 years.
Companies
BANKING SECTOR
The [glossary_exclude]JSE[/glossary_exclude] Banks index is close to the cheapest levels that it has been at for the past ten years. On a dividend yield (DY) of over 5% it looks like good value. The cheapest of the banks is ABSA with a DY of around 6% followed by Nedbank with a DY of around 5,25%. Nedbank has just produced fairly lack-lustre results for the six months to 30th June 2019 – but still managed to generate a headline profit of nearly R7bn over the period. Of course, the shock 3,2% drop in GDP in the first quarter has brought everyone's estimates of growth this year down to around 0,5% and that has a direct impact on the banks, but historically, the big banks do not trade at these dividend yields for very long before they are bought up by institutional investors to higher levels. Consider the chart:

JSE Banking Index September 2014 to September 2019 - Chart by ShareFriend Pro (Click to Enlarge Image)
HEALTHCARE
The government's reforms to the healthcare system aim to introduce the NHI and make healthcare free for everyone at the point of care. In our view, this system is completely unaffordable for South Africa. We believe that any additional funding should rather be aimed at making the existing system more effective. Shares like Discovery have taken an absolute pounding on the news. So far discovery is down 24% since the beginning of August as the market digested the implications. It now appears to be consolidating at these lower levels. Consider the chart: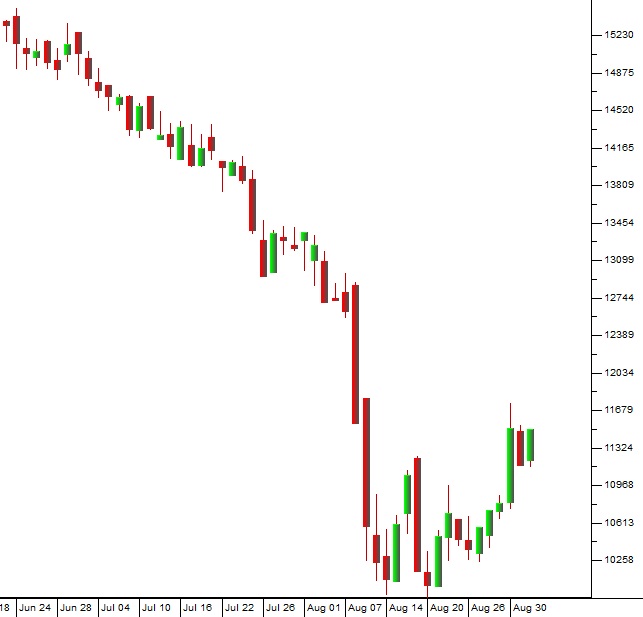 Discovery (DSY) June to August 2019 - Chart by ShareFriend Pro (Click to Enlarge Image)
Obviously, as a private investor you should be asking yourself whether Discovery now offers good value. In a situation like this it is almost impossible to evaluate fundamentally and you have to resort to technical analysis. We suggest that you apply a 65-day exponentially smoothed moving average and wait patiently for a clean break above that MA before getting too excited. There will almost certainly be further "backing and filling" at these lower levels while investors try to understand exactly what has happened and what the long-term implications are. While this is going on, an "island formation" is forming – and eventually there should be an upside breakout which will be your signal to buy. In the meantime you can do as much as possible to find out whatever is in the public domain.  You should also bear in mind that world markets generally, led by the S&P500 index, are in the throes of a correction.
OMNIA (OMN)
Omnia (OMN) is a diversified chemicals company supplying products to the agricultural, chemicals and mining industries in South Africa and 48 other countries. The Agricultural division is the leader in fertilizers in Southern Africa. It supplies granular, liquid and speciality fertilizers in Southern Africa, Eastern Africa, Australia, New Zealand and Brazil. The mining division is the leading supplier of explosives in South Africa, Mali, Swaziland, Sierra Leone, Malawi, Senegal, Zambia, Zimbabwe, Botswana, Mozambique and the DRC. The chemicals division is a manufacturer and distributor of speciality, functional and effect chemicals and polymers operating throughout the African continent.
In its results for the year to 31st March 2019, the company reported turnover up 7% and an after-tax loss of R407m. This resulted in a headline loss per share of 112c. The loss is attributable to higher finance costs as well as various once-off items such as the impairment of a debtor in Angola for R44m, a R35m restructuring cost at Protea Chemicals, and liquidity constraints in Zimbabwe. The company gets most of its sales from agriculture for fertilisers and the mining industry for explosives.
In its efforts to diversify away from the South African economy, OMN acquired Oro Agri in America for $100m and Umongo Petroleum for R780m during the period. They also commenced the construction of a R630m nitro phosphate plant at Sasolburg.
On 12th July, 2019, we carried an article about Omnia. The essence of that article was that Omnia was a large blue chip chemicals company which had dominant positions  in agriculture, chemicals and explosives throughout Africa.
This company took a significant risk by buying two companies, Umongo Petroleum and Oro Agri for around R2bn – which over-extended its balance sheet, loading it with excessive debt. To bring its debt levels down, the company was forced to conduct a rights issue of 100m shares at R20 a share – substantially below the price that the share was trading for at the time in the market (which was closer to R30).
The rights offer is now unconditional and fully underwritten. The nil-paid letters of allocation will begin trading alongside the ordinary shares on 4th September 2019.
The execution of this rights offer clearly demonstrates that the gamble which the board of directors took has now paid off. They have managed to persuade shareholders to inject the necessary funds.
Now consider the chart:

Omnia Holdings (OMN) March to September 2019 - Chart by ShareFriend Pro (Click to Enlarge Image)
Our article was published on 12th July 2019 when Omnia's share price was R30. In that article we advised investors to consider buying when the price broke above the long-term downward trendline – or alternatively above the 65-day exponentially smoothed moving average (for the more risk-averse).
The break above that trendline occurred on 7th August 2019 when the share closed at R32.93 and the buy signal on the 65-day Exponential came on 28th August 2019 when the share closed at R41.20. So the gain for those who bought on the break above the trendline is now 28,5% - made in just 3 weeks (which equates to about 490% per annum!)
We believe that Omnia should continue to perform well as it beds down its new acquisitions and as the economies of the countries it operates in improve.
In our original article we drew attention to the fact that the company has a net asset value (NAV) of R105 – which means that there is significant value in the share even at the current price.
RESILIENT (RES)
The resilient share price looks set to break above resistance at R66. If it does that we can expect it to perform well. The share came under immense pressure after a report by 36One Asset Management in January 2018, which suggested that it was artificially ramping its share price up through cross-shareholdings with three other listed companies (Greenbay – now called Lighthouse, Nepi Rockcastle and Fortress). These allegations have been substantially investigated and found to be untrue. At the same time, Resilient's property portfolio is doing well with growth of rental income at 5,1%. The share has a net asset value of 6932c against a share price of 6315c. We believe that it is good value at these levels. Consider the chart:

Resilient (RES) September 2017 to September 2019 - Chart by ShareFriend Pro (Click to Enlarge Image)
SASOL (SOL)
Sasol's shares have plummeted to new lows because of on-going problems with getting the Lake Charles Chemical Project (LCCP) up and running. Persistent cost over-runs and delays have been topped off by the announcement that the company will be delaying the publication of its financials. Long-suffering investors have run for cover, taking the share price down through support at around R360. Now the share is apparently in free-fall and trading at about R290. There could be further bad news coming – but there is also the distinct possibility that the share is now heavily over-sold. After all it is R70 below its net asset value (NAV). And we are talking about a commodity share with an enormous investment in the chemicals business in America. This makes it a rand hedge and puts it right in the middle of the fastest growing first-world economy. Obviously, private investors can have no way of knowing what is really going on at Sasol and so the best approach is to apply a 65-day moving average and wait for the Sasol share price to stop falling long enough to give us a buy signal – or (more risky) apply a long-term trendline and wait for an upside break. Clearly, the company is not going bust – so the only real question is, "When will it turn?"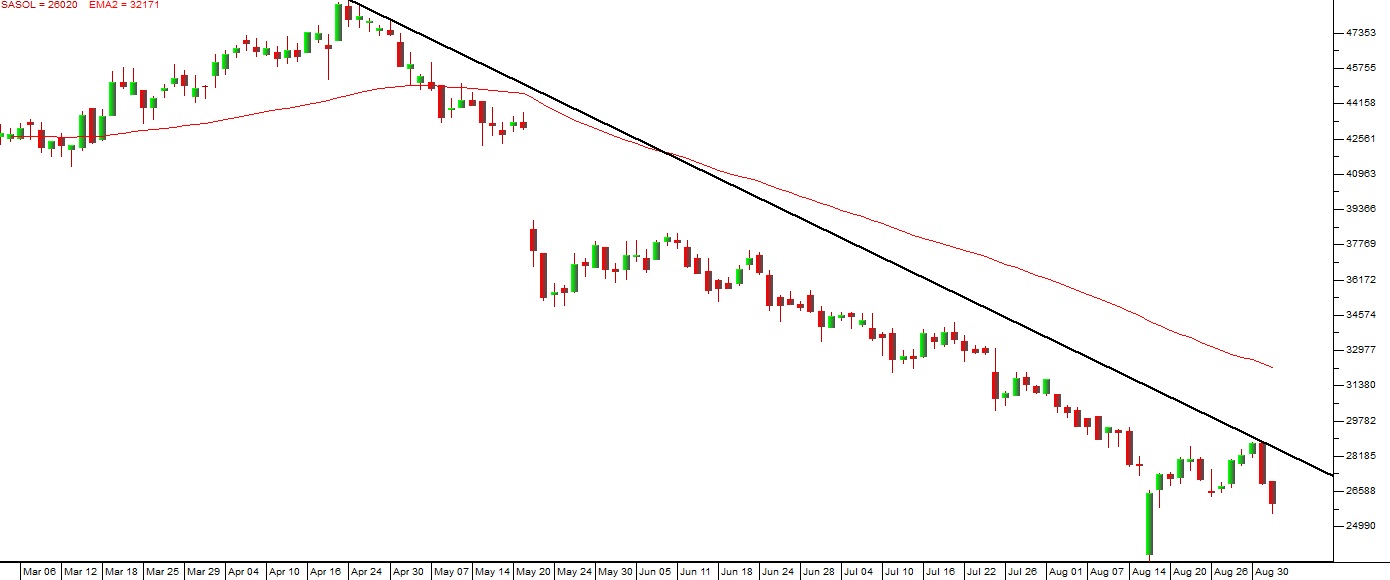 Sasol (SOL) March to September 2019 - Chart by ShareFriend Pro (Click to Enlarge Image)
ADVTECH (ADH)
Advtech is an education company which competes with Curro and Stadio. What is interesting about this share is that it has just published a cautionary in which it predicts that its normalised earnings (i.e. excluding once off items) would be up by between 5% and 9% in the six months to 30th June 2019. These results were adjusted down to between 2% and 6% because of an adjustment in the prior year's figures. This compares with the dismal results from Curro. But Curro is on a PE of around 25 and Advtech is on a PE of around 14. This makes Advtech look like much better value after both shares were sold down significantly. Consider the chart:

Advtech (ADH) November 2016 to September 2019 - Chart by ShareFriend Pro (Click to Enlarge Image)
MURRAY & ROBERTS (MUR)
This company has seen its share of volatility over the past few years. Hammered down by the general malaise of the construction industry and the threatened take-over by Aton, the company has soldiered on, reducing debt and consolidating its position in the three businesses which it conducts. Now with the publication of the financials for the year to 30th June 2019, it appears to be emerging from this long dark tunnel with far better prospects as a potential recovery stock. The financials show that it has a good quality order book worth R46,8bn and it has reduced debt to R1,8bn. Attributable earnings increased by 26% to R337m with record earnings delivered by the underground mining platform. The group's Clough subsidiary has just won a substantial $620m deal in the US which bodes well for the future. The share fell after the Aton deal was opposed by the Competition Tribunal and has not yet recovered, leaving it on a P:E of 14,8 and a dividend yield (DY) of 3,7%. Technically it appears to be breaking up out of an "island formation" and should see some upside. Consider the chart:

Murray & Roberts (MUR) March to September 2019 - Chart by ShareFriend Pro (Click to Enlarge Image)
You can view a visual presentation of this report
here
. To be added to our mailing list for the next webinar,
click here
DISCLAIMER
All information and data contained within the PDSnet Articles is for informational purposes only. PDSnet makes no representations as to the accuracy, completeness, suitability, or validity, of any information, and shall not be liable for any errors, omissions, or any losses, injuries, or damages arising from its display or use. Information in the PDSnet Articles are based on the author's opinion and experience and should not be considered professional financial investment advice. The ideas and strategies should never be used without first assessing your own personal and financial situation, or without consulting a financial professional.  Thoughts and opinions will also change from time to time as more information is accumulated. PDSnet reserves the right to delete any comment or opinion for any reason.
Share this article: