07
Aug
---
The Rand
For most of June and July this year, the rand was strengthening as international investors became more confident of the reforms which the Ramaphosa administration was implementing. Now the battle between Ramaphosa and the Public Protector has become sufficiently aggressive and dangerous to unnerve international investors – causing some of them to withdraw their funds from our government bonds with the result that the rand has fallen 7,5% in the last two weeks.
The yield on our R186 long bond has increased by 6,3% to 8,46%. Overseas investors are now willing to forgo this relatively high return because of the increased political risk in the country. Clearly, this trend is not good for South Africa or private investors. The fight within the ANC comes on top of the problems of financing Eskom and lower tax collections to indicate that the government deficit is probably going to widen substantially. Moody's is under mounting pressure to follow the other ratings agencies and downgrade us to sub-investment.
Unfortunately, it is very difficult to ascertain exactly what is happening behind closed doors. We can only watch the markets, especially the rand and the yield on the R186 for clues – and right now the news on that front is not good. The markets are communicating that there is a chance that Ramaphosa might lose his position of power in the ANC – and if that happens then the economy and the stock market will be in dire straits.
A new concern has arisen with RMB's John Cairn's saying that there is a high probability (47%) that the rand will fall by as much as 30% or more once the US begins a new cycle of reducing rates over the next year – simply because it always does that when interest rates are falling in the US. Against this, it seems that the recent cut in rates in the US is just a "mid-term adjustment" and not the beginning of a new trend of lower rates.
The rand is also very volatile because it is buffeted by many factors which are outside South Africa – most notably the reduction of interest rates in the US and various developments in other emerging economies. The decision to re-appoint Kganyago as Governor of the Reserve Bank and two long-serving insiders for his deputies seems to have put to bed the fears surrounding that institution and wild talk of quantitative easing. Consider the chart: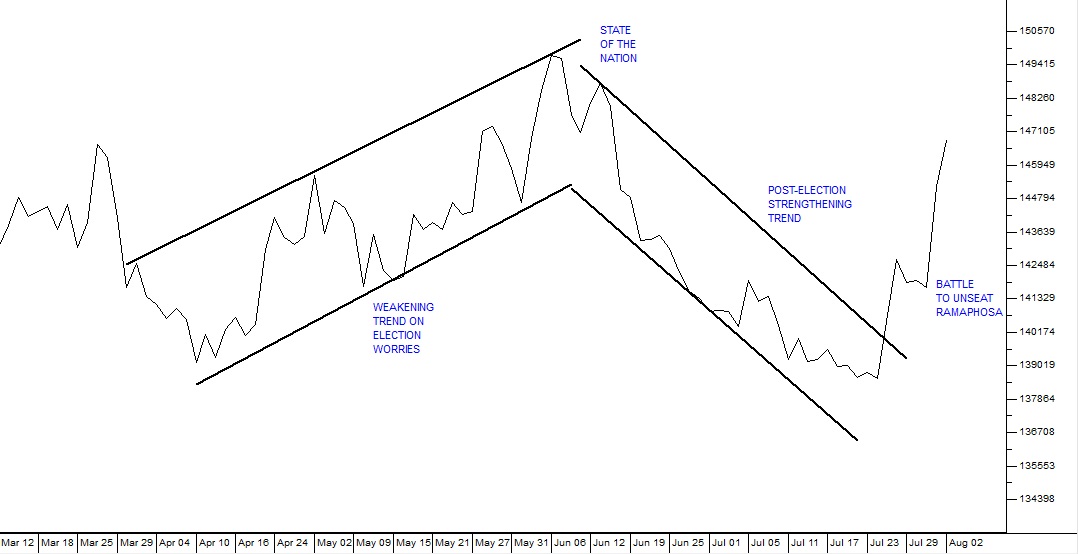 Rand Dollar March to August 2019 – Chart by ShareFriend Pro
Our view is that the underlying US economy remains strong and that the current dovishness at the Fed is short-term. The fear that the US economy is topping out and about to enter a recession is, we believe, misplaced. We believe that sooner or later new data will emerge to show that the boom which is taking place there has simply paused to catch its breath and it will resume soon. Emerging economies are vulnerable to a slow down or recession in America because that would portend a reduction in the demand for the commodities which they produce. But we believe that there is very little chance of a recession in the US, especially in the run-up to the 2020 presidential election.
Wall Street
As Donald Trump re-ignites his trade war with the Chinese, the American economy continues to perform well above expectations. So far in the second quarter of 2019, 380 companies have reported their results and 74% of them have been above analysts forecasts. Overall, earnings are expected to come in about 2,7% above the same quarter in 2018 (and 3,4% if energy shares are omitted).
This shows that the economic boom in America is continuing, but investors are unnerved by Trumps expanded tariffs against the Chinese and some have chosen to sell out, bringing the S&P down about 2,7%. Consider the chart: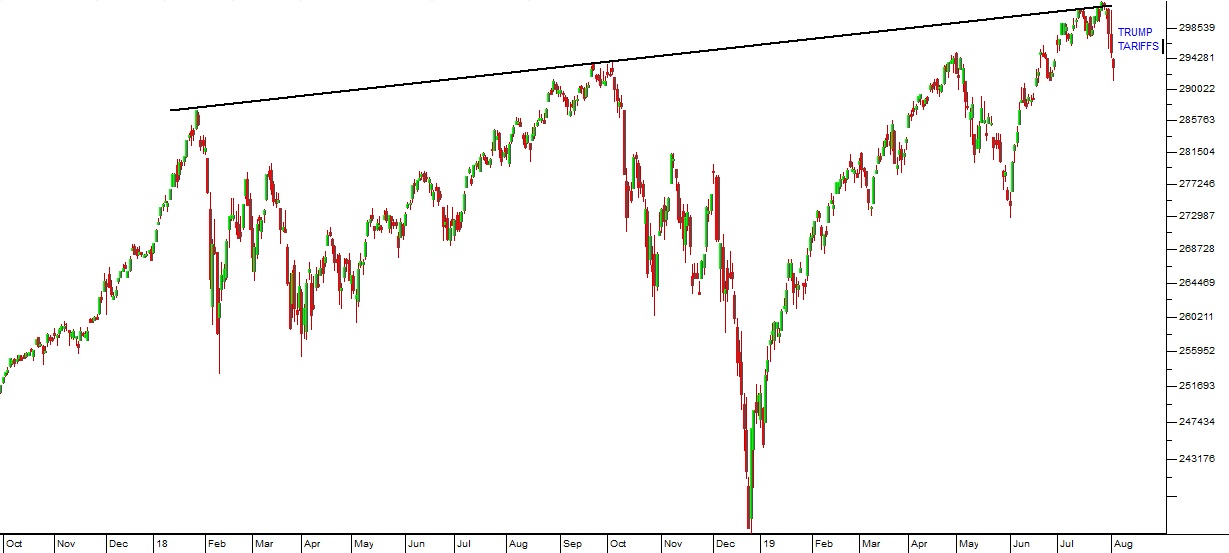 S&P500 Index October 2018 to August 2019 – Chart by ShareFriend Pro
Here you can see that the S&P made a new record high just a few days ago at 2932, touching and even breaking above the long-term upper trendline. And now it is falling again.
We do not expect this downward trend to continue for very long. Even now, bargain hunters must be in the market looking for cheap S&P stocks and trying to second-guess the cycle bottom.
Essentially, the market is following the economy so all you need to consider is whether you think that the latest round of tariff hikes is sufficient to de-rail the strong growth of the past few years. We think not.
So this sell-off potentially represents a short-term buying opportunity in our view.
Economy
The South African economy has been through a torrid time over the past few months. The true cost of state capture and corruption is becoming frighteningly clear. At the same time, those who would fix the situation are under constant attack, creating a perception of instability which is alienating the foreign direct investment (FDI) that we need so desperately.
The Monetary Policy Committee's decision to cut rates by 0,25% on 18th July 2019 was widely expected. The depressed state of the economy combined with stable inflation prospects and the more dovish tone of our trading partners in the first world made the reversal of last year's November 0,25% hike almost inevitable. What was perhaps less anticipated was that the Reserve Bank would cut its forecast for 2019 GDP growth to just 0,6%. This harsh dose of reality is way below the government's official projection of 1,5% and may be a little pessimistic. The Reserve Bank called on the government to implement "structural reforms" to bring the economy back to growth. The term "structural reforms" is basically a euphemism for cutting the size of the civil service, implementing nationalisation of state owned enterprises (SOE) and changing labour laws to make them more business-friendly. It also means eliminating the legislative uncertainties facing business so that long-term investment decisions can be made, especially by overseas investors. Lesetja Kganyago who has been re-appointed by President Ramaphosa for a further 5-year term says that there is little that the Reserve Bank can do about stimulating growth in South Africa while there are structural problems in the economy. He also says that he would prefer our inflation rate to be between 3% and 4% rather than the current target range of between 3% and 6%. One of the outstanding achievements of the ANC during its time in office remains the stability of the rand and avoiding the hyper-inflation that inevitably follows populism.
The JSE had a good month in June, but the JSE Overall index is still about 6% below its record high of 61700 made on 24th January 2019. What is interesting is that the index initially went up by 4,5% in late May and early June despite the fact that the economy (as measured by its GDP) actually shrank by 3,2% in the first quarter of the year. This shows that the stock market does not move in tandem with the economy. Generally, the stock market is discounting perceptions of what will happen in the economy about 9 months to a year ahead. So the strength of the index shows that investors as a group were expecting things to improve – not just in South Africa, but world-wide. Since then, of course, Trump has restarted his trade war pushing markets down again. It is becoming more clear that the second quarter may have seen modest growth in the economy given early reports from mining and manufacturing. Mineral sales were up 10,7% in May mainly because of a surge in the iron ore price and also platinum group metals (PGM). In a surprise piece of good news for the economy, ABSA's purchasing managers index (PMI) rose to over 52 in July from 46,2 in June. This indicates that manufacturers as a group are expanding their businesses for the first time this year. Manufacturing accounts for 13% of South Africa's total GDP. Unemployment in manufacturing is still depressed and indicating contraction, but the indications are that business conditions are expected to improve now.
The new head of SARS, Edward Kieswetter, says that tax collections for the 2019/20 year could come in below the target of R1,422 trillion budgeted. The main reason for this is the poor state of the economy. Lower profits by companies mean lower company tax collections. Higher unemployment means less taxable income for individuals and less VAT collected. Obviously, this will impact on the budget and the ratings agencies will take note. The 3,2% contraction in GDP in the first quarter inevitably results in lower tax collections. If collections do come in below target, this will be the sixth year of shortfalls. Kieswetter says it will take years to restore SARS to the levels of efficiency that it once had.
One of the best barometers of the economy both at home and abroad is our vehicle sales figures. June exports rose by over 14% and are 19% ahead for the year to date so far, but local vehicle sales fell by 1,6%. Then in July month sales were down by 8,2% from a year ago. This shows the poor state of the economy and depressed consumer spending. So far this year local sales are down by 5,4%. The only bright spot was a 22% surge in export sales in July. Negotiations with the National Union of Metalworkers (NUMSA) are looming and promise to be tough. NUMSA is demanding a 20% pay increase and any kind of strike could result in the loss of overseas markets which NUMSA promises if no agreement can be reached. The Automobile Manufacturers Employers Association (AMEA) is offering 4,5% in line with the current inflation rate.
Perhaps the most positive news on the economy this month is the government's decision to cut the size of the civil service. It is well-known that South Africa has a disproportionately large civil service. The government's salary bill is over R600bn per annum – about one third of the total annual budget. The plan is to offer early retirement and to cut bonuses. Tito Mboweni, the Minister of Finance has a goal to cut R37bn per annum off the wage bill over the next three years. Against this, early retirements could cost a once-off R16bn. Obviously, the government is trying to do this without upsetting the unions, but it seems probable that there will be some sort of push back sooner or later.
The new carbon tax which came into effect from May 2019 will impact on about 100 companies in South Africa which are described as "direct emitters". These are companies like Sasol and Eskom. Obviously, the objective is to bring South Africa into line with other countries world-wide that are trying to control and reduce carbon emissions. However, the impact of the tax on the economy could be substantial. The Minerals Council suggests that as many as 6000 jobs could be lost because of the tax, while Anglo American Platinum has penciled in additional costs of around R300m per annum due to the tax. Eskom says the tax will push the price of electricity up – which will obviously have massive knock-on effects. But the Treasury says that the initial impact of the tax will be minimal with 95% of companies exempt. In the first phase of the implementation of the tax, companies will pay R120 per ton of carbon emitted with significant "allowances" reducing this to as little as R6 per ton in some cases. The idea is to give companies time to adjust their production processes to emit less carbon.
The jump in the unemployment rate to 29% indicates that 450 000 jobs were lost in the second quarter of this year, taking the total number of unemployed people up to 6,7m, and 10m, if the people who have given up looking for work are taken into account. The blame for the deterioration has been put squarely on Eskom's load shedding in the first quarter and the difficult visa rules which are inhibiting tourism. President Ramaphosa came into office on the promise of improving unemployment, but so far has not been able to. He has been impeded by fierce opposition from his opponents within the ANC and by deteriorating confidence both inside South Africa and internationally.
Eskom's results for the year to end March 2019 are scary. The R20,7bn loss shows that this company is in great difficulties. The directors also warned that a similar loss could be expected for the current financial year. Of course, much of the loss stems from the need to pay interest of almost R70bn on its R440bn debt. The paradox is that Eskom's customers are finding other sources of electricity because of its high cost and lack of reliability. Added to this the municipalities owe Eskom R19bn. It is also estimated that Soweto residents owe the parastatal R18bn. The government is expected to inject about R130bn over the next three years.
Commodities
The wage negotiations in the platinum industry could be a critical step in the normalisation of the South African economy. In many ways, the reform process being followed by President Ramaphosa is ultimately about reversing the grip which organised labour has managed to achieve since the ANC came into power. While Ramaphosa has skirted around this issue, especially prior to the election, the reduction of the state-paid labour force is becoming more and more imperative. This is perhaps most clearly seen in Eskom where management freely admits that at least one third of the labour force is redundant. The mining industry has been at the cutting edge of the battle with organised labour. This began with the 5-month successful strike championed by the Association of Mining and Construction Union (AMCU) in 2014 and culminating in their recent humiliating defeat in the recent strike action at Sibanye's gold mines. Now the platinum industry is locking horns with AMCU again but under very different circumstances. Sibanye's gold mining victory is still fresh in everyone's minds and profits in the platinum industry have been far better following the rise in platinum group metals (PGM) prices. We have a new president who is intent on growing the economy and attracting foreign direct investment. AMCU's demand for a 45% increase in the basic wage is clearly unattainable. Some sort of compromise will have to be reached. The mining industry is aiming at an increase in line with the inflation rate. The collective bargaining process in the platinum industry may well be a portent of what is to come in the economy generally and particularly in the state-owned enterprises (SOE) and the government itself.
The new drilling machine produced by Master Drilling could well revolutionise mining throughout the world. This machine requires three operators and can dig a 5,5 meter diameter tunnel at the rate of 150 meters a month with an incline or decline of up to 12 degrees. It is currently being tested by Northam Platinum over three-months. If it is successful, it will significantly reduce the cost of underground mining, especially of platinum group metals (PGM) and gold. It could bring about new interest in South Africa's very deep and largely uneconomic gold reserves.
Companies
HEALTHCARE
The health care sector on the JSE consists of three shares – Mediclinic, Life Healthcare Group and Netcare. These three shares make up the JSE's Health Care Index (J540). This index has been in steady decline since February 2015 off-loading two thirds of its value. Consider the chart: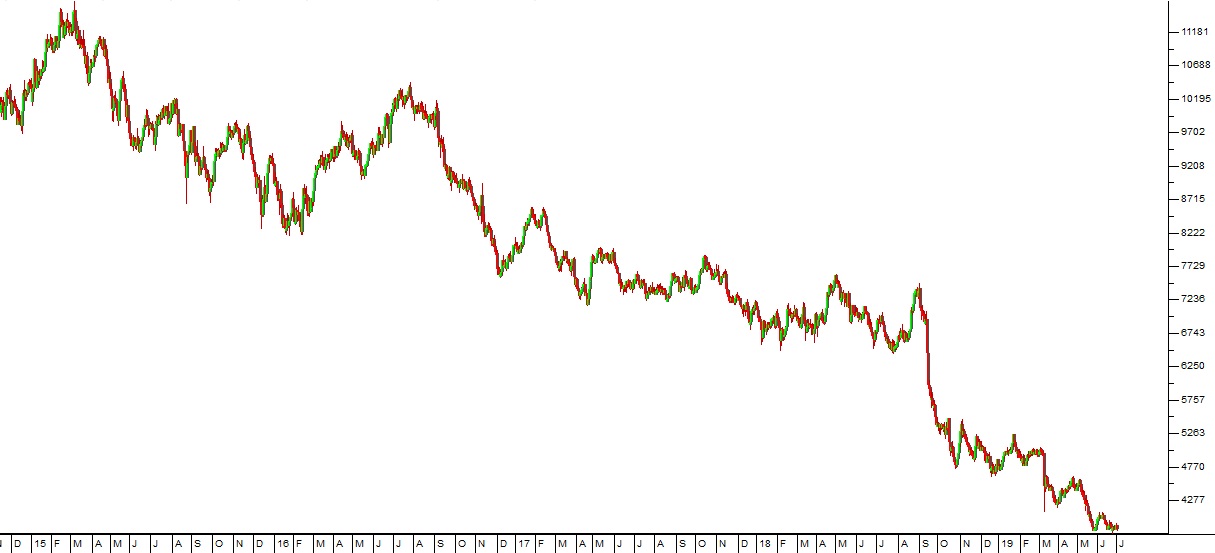 JSE Health Care Index (J540) November 2014 to August 2019 – Chart by ShareFriend Pro
The primary reason for this appears to be that consumers are under pressure and are choosing to cancel or reduce their health cover in favour of other expenses. Healthcare is traditionally viewed as a "defensive" sector, because usually consumers will pay for their healthcare even when money is tight. But the depth of the recession is forcing consumers to cancel their health insurance and medical aid cover. There has also been a rise in day clinics where many previously expensive medical procedures can now be done relatively cheaply. Many consumers are taking the risk of financing their own medical expenses rather than pay for insurance.
NEW LISTING – BUSHVELD
Bushveld Minerals is a South African miner of vanadium – a metal mainly used to strengthen steel, but also used in battery technology. Adding 3% of vanadium to steel doubles its strength. At the moment this share is listed on the AIM (Alternate Investment Market) in London and has a market capitalisation of around R5bn. The company operates the Vanetco Mine near Brits, but is in the process of buying the Vanchem mine near Witbank (Emalahleni). It will then spend about $20m to develop the Mokopane mine in the North and send the material there. Eventually, it plans to produce around 10 000 tons of vanadium per annum. The company has recently negotiated a three-year agreement with AMCU – the dominant union which insulates it from strike action in the near future. It is expected to list on the JSE at the end of this year or early next year. We believe that this is one to watch.
WOOLIES (WHL)
The sad fall of the Woolworths share (WHL) price was caused by the decision of Ian Moir and his board to buy David Jones in Australia for AU$2,1bn. Everyone thought that Moir (whose contract has recently been extended) would be able to make a success out of David Jones – despite the generally unsuccessful experience of South African companies that have tried in the past to expand into Australia. He had the experience and the track record – and he wanted to turn Woolies into a Southern hemisphere retail powerhouse. The decision by Woolworths to write the value of David Jones down by $712m, brings to R7.5bn the amount which has been written off of the R22bn purchase price and is a clear acknowledgement that buying it was a bad decision. David Jones is a department store struggling to survive in a world that has changed and where the old model of retail is more and more giving way to online shopping. On 7th February 2019, David Thomas, the third CEO of David Jones in five years, resigned. This was followed quickly by the resignation of two Australian non-executive directors, Patrick Allaway and Gail Kelly, and has shaken the markets. Fortunately, the company has managed to bring in David Kneale, previously of the Clicks Group, who has immense retail experience.
The only aspect sustaining the Woolworths group has been its food sales which went up by over 4%. Standard & Poors, the international ratings agency, downgraded Woolworths from AAA to A+, which is not a huge downgrade, but indicates that it is not the investment risk that it used to be. Woolies fashion and clothing section is also not doing that well in a very difficult trading environment.
In a trading statement, the company estimates that in the 53 weeks to 30th June 2019, sales for the group in constant currencies was up by 5,1%, or 3,9% over a comparable 52-week period. In South Africa the fashion, beauty and home sales were up by 5,5% in the second half compared with a decline of 2% in the first half. Food sales in the second half were up 9% and comparable sales up 6,5%. David Jones was impacted by a refurbishment but online sales grew by 46,8% and now account for 7,7% of total sales. At Country Road online sales were up by 12,9% and now represent 20,3% of total sales.
These results were welcomed by the market and the share price broke up through its long-term downward trendline. The chairman, Simon Susman, and the lead independent director, Tom Boardman, are relinquishing their roles – but the company has employed Hubert Brody (previously CEO of Imperial) to take over as deputy chairman with the understanding that he will take over when Susman hands over. Technically, the share collapsed from a high of R106 in November 2015 to around R43, at which level is appears to have completed a "triple bottom" formation and may well be on its way up again. The current P:E is around 15,6 which is below the JSE average, and looking cheap.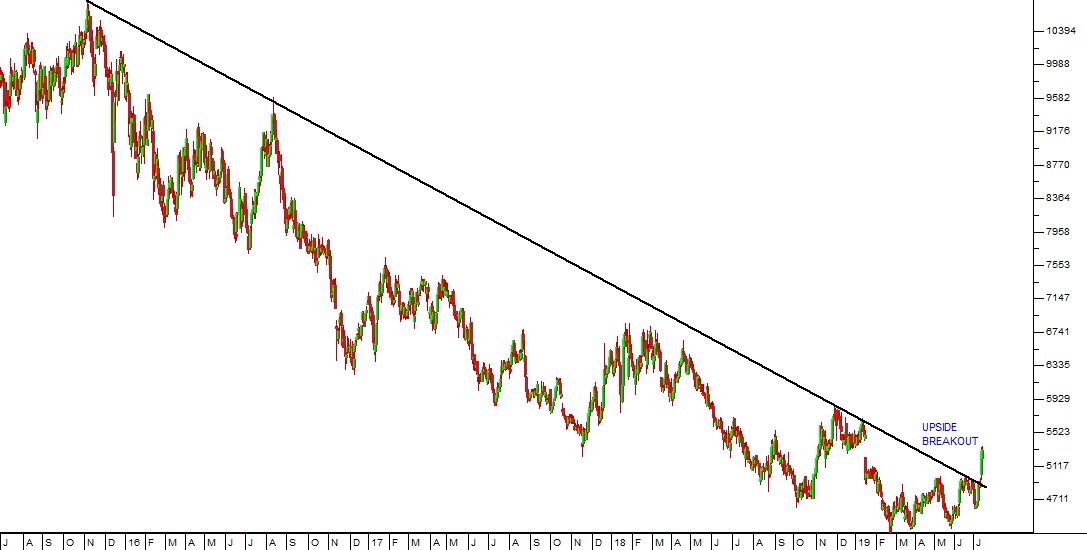 Woolworths Holdings (WHL) July 2014 to July 2019 – Chart by ShareFriend Pro
ALTRON (AEL)
Allied Electronics Corp, or Altron, is an information and communications technology company which was started by Bill Venter in 1965.
It has recently been re-focusing on its core business and has sold its 80% stake in Powertech and its 100% subsidiary, Altech UEC (a developer of set-top boxes). Powertech was sold to a BEE consortium. Altech is also in the process of selling CBI Telecom Cables.
Altron operates in six African countries as well as the UK and Australia. In its results for the year to 28th February 2019, the company reported turnover from continuing operations up 7% and headline earnings per share (HEPS) up 50%. The company said it had "secured key wins in both the public and the private sector", including the Gauteng Broad Band Network phase 2 contract and FNB's data and analytics contract. Netstar won the Ethekwini 3-year contract for vehicle tracking for 7000 vehicles. Bytes in the UK won a 5-year contract for Windows 10 from the NHS there.
The company aims to re-structure its debt so as to reduce its interest bill, and has resumed paying dividends. They acquired Phoenix Software in the UK for R698m. Altech believes that it has successfully re-positioned the company for growth.
Technically, the share price fell from a high of over R28 in mid-2014 to a low of under R5 in November of 2015. It then made what technicians call an "island formation" and broke on the upside in October 2016. Since then it has been rising steadily and this trend looks set to continue. A simple 250-day moving average has been superimposed on the chart below showing the buy and sell signals.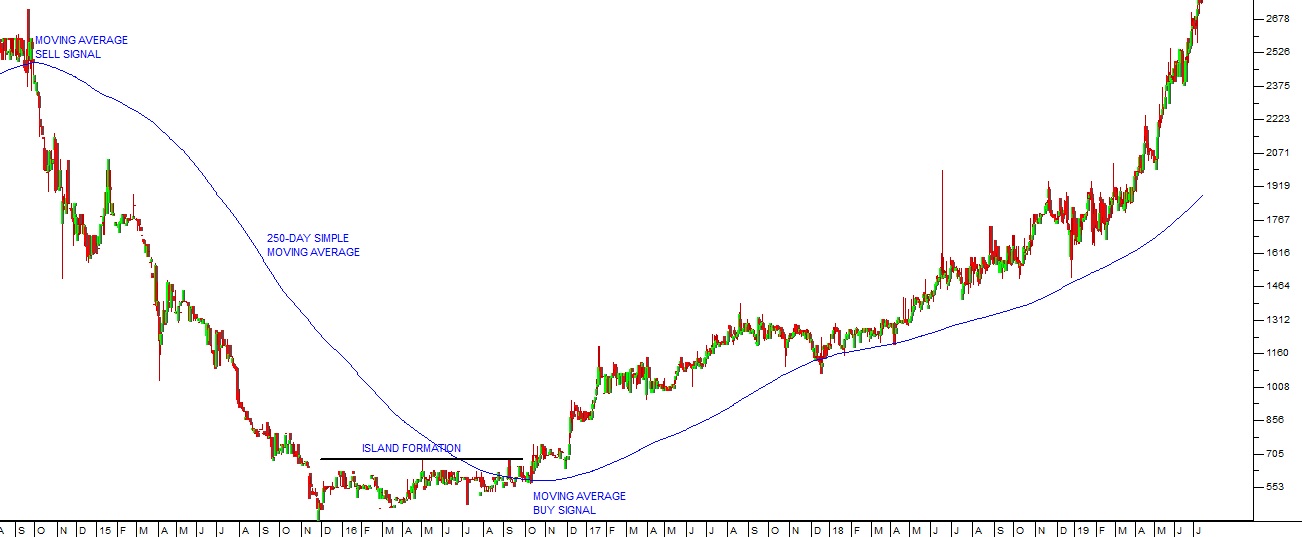 Allied Electrical Corp (AEL) August 2014 to July 2019 – Chart by ShareFriend Pro
In our view, this company has successfully turned itself around and is well on its way back to its former glory.
SHOPRITE (SHP)
Shoprite is the largest retailer in South Africa and has extensive interests in the rest of Africa. As such it is a major blue chip trading on the JSE. Its share price has been in decline for the past 18 months (since March 2018) largely because of difficulties in its rest-of-Africa division. Angola, where the company has 60 stores, has experienced hyper-inflation which reduced profits sharply. In the first six months of this year, however, the company has been doing better with a 7,4% increase in turnover at its South African stores and evidence that it has taken market share away from its competitors. Now trading on a P:E of 19 it is considerably below its peak in March 2018 when its P:E was 25, so private investors should be asking whether it is getting close to a turning point. Consider the chart: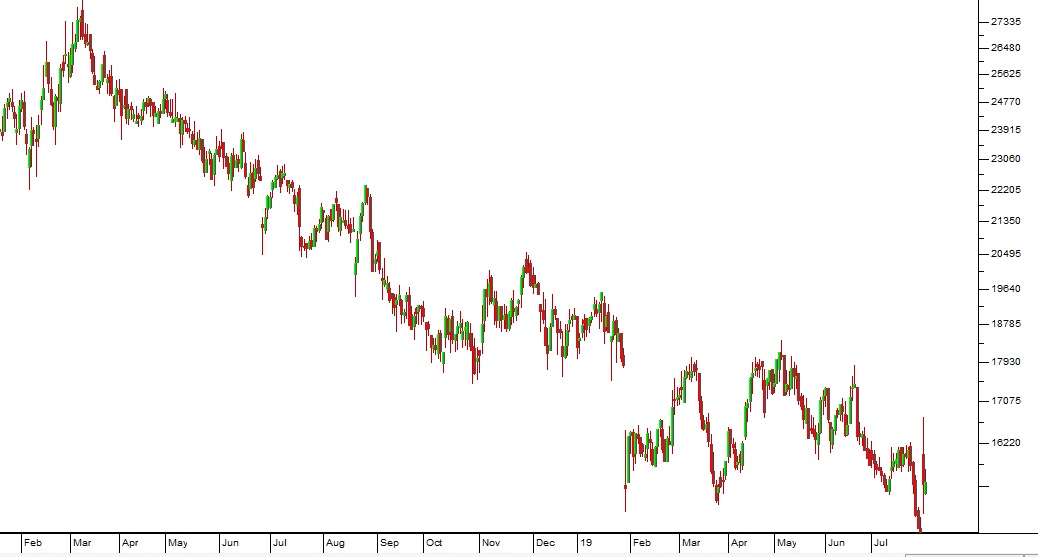 Shoprite Holdings (SHP) January to July 2019 – Chart by ShareFriend Pro
ANGLOGOLD (ANG)
Anglogold Ashanti (ANG) is an international gold producer with operations in South Africa, the DRC, Tanzania, Ghana, Mali and the US. Under the stewardship of Srinivasan Venkatakrishnan, it has made huge progress towards becoming a consistently profitable operation. Now he has handed over to Kelvin Dushnisky who was previously president of Barrick Gold. Dushnisky's first act when becoming the new CEO was to buy back R5,86m worth of Anglogold shares – which shows his confidence in the future of the operation.
Anglogold reported a $43m after-tax profit for the interim period to June 2018. In the September quarter it produced 851 000 ounces of gold at a cost of $920 per ounce which is a sharp reduction in cost from the previous September quarter's $1031. In South Africa, the company is planning to retrench about 2000 staff as part of its downsizing program. It faces some significant problems in the form of bringing the loss-making Obuasi mine into production and the problems with the Tanzanian government over royalties.
The company has decided to sell its Mponeng mine (the deepest mine in the world at over 4000 meters) – which should have a positive impact on its share price, because Anglogold trades at about half of the price of other international gold groups. The price of gold has risen to around $1425 – at which level Anglogold is far more profitable.
In our view, this company is speculative but, given the strict criteria implemented by Dushnisky, looks like a solid investment based on the future of gold. While it has been very well managed, it has perpetual problems with its African operations which are unlikely to go away.
Technically, the share is in a strong upward trend which has recently accelerated – probably because of Dushnisky's new strategy and the rising gold price. In November 2018, he sold off the company's joint-venture stake in its Malian mine with the intention of applying the proceeds to developing their other operations. In February 2019 he put up the company's Argentinian mine for sale and now he is selling Mponeng.
The company has 14 operational mines and looks like a good speculative buy if you believe that the gold price will continue to rise. In a trading statement for the six months to 30th June 2019, the company reported, "headline earnings for the period are expected to be between $111 million and $129 million, with headline earnings per share ("HEPS") of between 27 US cents and 31 US cents. Headline earnings and HEPS for the comparative period in 2018 were $99 million and US 24 cents, respectively."
Retrenchment costs had a once off impact on HEPS in the prior period. The company further reported that, "Production for the six months ended 30 June 2019 is expected to be 1.554 Moz, from 1.578 Moz for the half year ended 30 June 2018 (excluding Moab Khotsong, Kopanang and TauTona mines). Production decreases from Sunrise Dam (lower grade) and Siguiri (lower grades and plant throughput), as well as a planned decrease in production from Cerro Vanguardia in terms of its life-of-mine plan were offset by strong production improvements from Kibali, Iduapriem, Geita and Tropicana."
Consider the chart: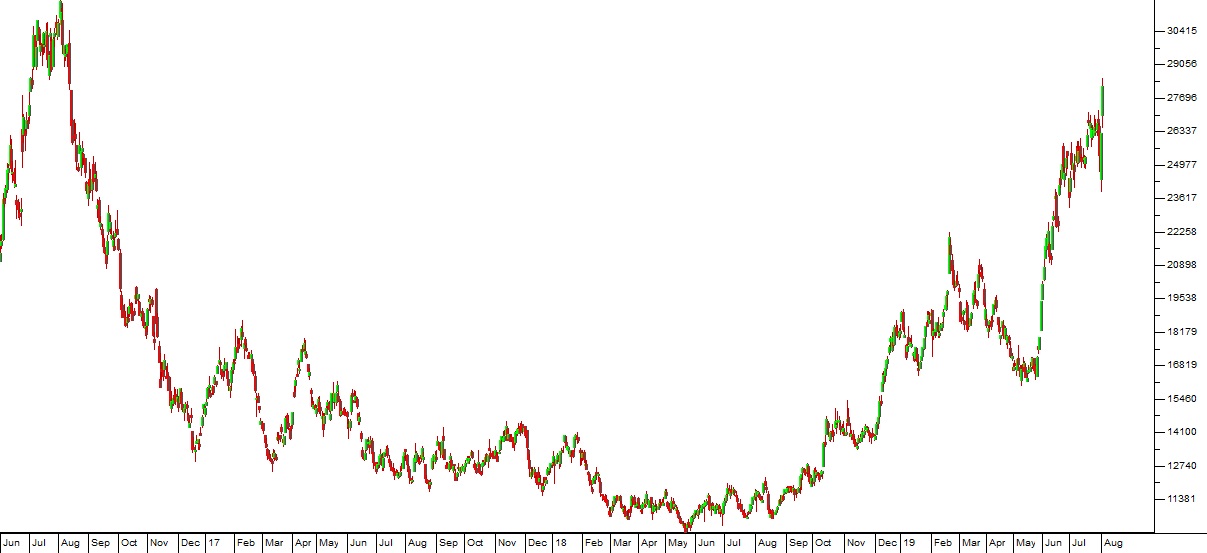 Anglogold Ashanti (ANG) June 2016 to August 2019 – Chart by ShareFriend Pro
Homework
On 1st August 2019, Business Day carried an article on the performance of asset managers and how difficult it is to choose a winner from among them. In that article they commented that research done by Goldman Sachs in the US showed that, "competing managers, no matter how much they purported to have unique strategies all tended to pile into the same bundle of high-performing stocks". In May of 2016, for example, the research found that 68% of fund managers were substantially invested in the same 10 shares.
In our experience, this supports our position that fund managers (quite naturally) tend to be more concerned with their reputations and their jobs than the performance of the funds under their care. For this reason they tend to move together – like a herd of sheep. When one crosses the bridge, they all cross the bridge, because there is safety in numbers. The worst thing for a fund manager is to find himself on this side of the bridge when all the other fund managers are on the other side – because that is how you lose your job in the fund management business. It is much safer as a fund manager to choose an investment which has already been selected by other fund managers, even if you think it is wrong, because then, if it fails, you are at least in good company – and you will not be fired. No fund managers were reported to have lost their jobs as a result of the R200bn which was lost in the Steinhoff debacle.
But the simple fact of the matter is that to make money in the stock market, to beat the JSE Overall index, you must be right when the market on average is wrong. As Warren Buffett (the most successful investor who has ever lived) has said, "Be greedy when others are fearful and fearful when others are greedy". To be successful, you need to be a maverick, a contrarian. You need to be buying when everyone else is selling and vice versa.
But when you buy into an institutional investment (like a unit trust or an endowment policy) you are investing in the average of the market. And you cannot beat the market if you are the market.
The most telling phenomenon in the investment industry has been the emergence and popularity of so-called "index funds". These are funds which exactly track the performance of a specific index – usually the overall index of the market. By doing this, of course, they are guaranteed to perform in line with that index. The success of index funds is a reaction to how badly institutional fund managers have been at out-performing the indexes of the sectors in which they compete. World-wide, for example, approximately 80% of unit trusts under-perform the indexes of their markets – and they charge a significant fee for doing that. So the question arises, "Why pay somebody to have an 80% probability of underperforming an average?" This you can do for yourself! You do not need to pay someone to do it for you.
Of course, the fund managers have developed a complex theory for why it is impossible for anyone to beat the market over the long term. But then there is the nagging example of Warren Buffett who has consistently beaten the S&P500 index for many decades – just too many for his performance to be written off as a coincidence. And what is Buffett's secret? Homework! Warren Buffett studies 2000 sets of financial statements every year. Added to his undoubted talent, he simply reads more and analyses more than other investors.
That is why the Business Day and the Stock Exchange News Service (SENS) should be your bible as a private investor. To be highly successful in the share market you need to sift through an immense amount of material looking for the "gold nuggets".
You need to study the charts of dozens of shares continuously looking for simple things like double and triple tops and bottoms, head-and-shoulders formations and trendlines.
In your life you have only ever made money when in areas where you were knowledgeable and did your homework. The stock market is no exception. Do your homework and you will be consistently successful.
You can view a visual presentation of this report here.
To be added to our mailing list for the next webinar, click here.
DISCLAIMER
All information and data contained within the PDSnet Articles is for informational purposes only. PDSnet makes no representations as to the accuracy, completeness, suitability, or validity, of any information, and shall not be liable for any errors, omissions, or any losses, injuries, or damages arising from its display or use. Information in the PDSnet Articles are based on the author's opinion and experience and should not be considered professional financial investment advice. The ideas and strategies should never be used without first assessing your own personal and financial situation, or without consulting a financial professional. Thoughts and opinions will also change from time to time as more information is accumulated. PDSnet reserves the right to delete any comment or opinion for any reason.
---