12
Jul
---
Omnia (OMN) is at an interesting point. The share price has been falling since its peak of R242 made in September of 2014. It is currently trading below R30. This should be seen in the context of its net asset value (NAV) which was R105 on 31st March 2019.
The question that private investors should be asking is, "Does this represent an opportunity?" On the face of it, this is a massive blue chip company which has fallen on hard times. But it has dominant positions in the three major markets which it serves throughout Africa:
Agriculture – where it supplies fertilisers and related products.
Explosives – where it supplies the mining industry with all elements of their blasting requirements.
Chemicals – Where it supplies industry with a variety of chemicals and polymers.
All of these industries require substantial capital investment and have the usual problems of working capital management. So Omnia's business is not an easy one (such as the service industries which require almost no working capital) and requires a high quality of management. From a private investor's perspective, this is a negative, but it also means that the share is much cheaper.
In normal circumstances, a company like this would strive to keep its debt levels low to mitigate the inherent risks of the industries that it is in. In the past, Omnia has done this, but in the last year the company has increased its debt substantially to acquire two new businesses:
90% of Umongo Petroleum. Umongo is a distributor of additives, lubricants, base oils and related products in sub-Saharan Africa. Omnia paid R780m for the company.
100% of Oro Agri for US$96m (R1344m at R14 to the US$). Oro Agri is an international company involved in researching and distributing a range of products including biostimulants, adjuvants, crop protection products, liquid foliar fertilizers and soil conditioners for large scale agriculture applications.
What is immediately apparent is that both of these businesses are an excellent fit for Omnia's existing businesses. They diversify the company both locally inside Africa and internationally. Clearly, there are significant synergies.
So Omnia's management decided to take on an additional R2bn in debt – which was an enormous risk – especially when its existing businesses were all under pressure from a range of local factors like:
The weakness of the rand
Problems in Zimbabwe with the introduction of a new currency
Drought conditions in various parts of South Africa
Difficulties in the mining industry due to the 3rd Mining Charter
The depressed state of the South African economy.
Now Omnia has been forced to take a step that they had hoped they would not have to. They have been forced to ask their shareholders to put up the cash that they have already spent on the acquisitions through a rights issue. The shareholders naturally do not like that and many of them have already decided to sell their shares rather than cough up more cash.
So the share price is falling steadily, making the proposed rights issue more and more difficult. And yet, it seems unlikely that Omnia will fail completely – so at some point the share must turn. It is undoubtedly cheap at current levels – and yet it might fall further.
The best approach here is to use technical analysis. Wait for a convincing break above a 65-day exponentially smoothed moving average or a simple trend line. Consider the chart: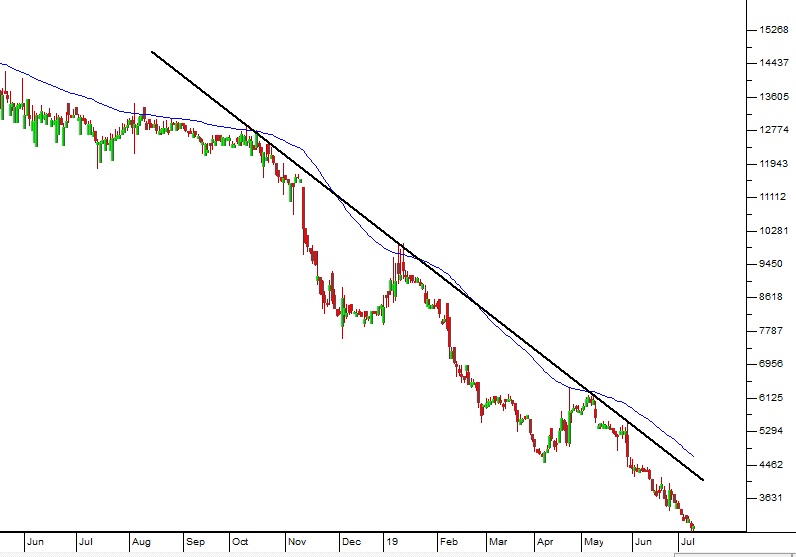 Omnia (OMN) May 2018 to July 2019 – Chart by ShareFriend Pro
DISCLAIMER
All information and data contained within the PDSnet Articles is for informational purposes only. PDSnet makes no representations as to the accuracy, completeness, suitability, or validity, of any information, and shall not be liable for any errors, omissions, or any losses, injuries, or damages arising from its display or use. Information in the PDSnet Articles are based on the author's opinion and experience and should not be considered professional financial investment advice. The ideas and strategies should never be used without first assessing your own personal and financial situation, or without consulting a financial professional. Thoughts and opinions will also change from time to time as more information is accumulated. PDSnet reserves the right to delete any comment or opinion for any reason.
---