24 June 2019
By PDSNET
Gold is the ultimate hedge currency. Its purchasing power has not really changed significantly throughout the 5000 years of recorded human history. One ounce of gold would buy you roughly the same number of chickens today as it would have bought you in Egypt in 3000 BCE. So, traditionally, gold is a hedge against the weakness of paper currencies – and indeed of all financial assets. The problem that gold has is that it does not give any kind of return. An investment in gold does not pay rent, interest or dividends and it does not add 10% to its weight every year. For that reason, the most secure financial assets, like the 10-year US treasury bill always seem preferable because at least they have a yield per annum of around 3%. Over the past ten years, in a desperate effort to overcome the impact of the sub-prime crisis and avert the "great recession" the governments of the world, and especially the US government, have printed and injected more than $12,5 trillion into the world economy (through "quantitative easing"). That additional cash has not resulted in rising world inflation, mainly because of fear and low confidence levels. At the same time, the sharp fall in the oil price in 2014 has kept world inflation at very low levels. But now, confidence levels are creeping up. The US economy is generating over 200 000 new jobs every month for some time. Consumers and businesses are beginning to spend the cash that they have been hoarding. They are starting to borrow again. And the oil price has been rising since the beginning of 2016. Now suddenly, gold is coming back into fashion as an investment hedge. The JSE gold index, which reached a low of 931 on 17th August 2018, has been climbing and has more than doubled from that low. It is up 40% so far this year. Mining analysts expect that gold mining profits will be up 35% in the current year. The dollar price of gold has broken upwards out of a long-term rising wedge formation. Consider the chart: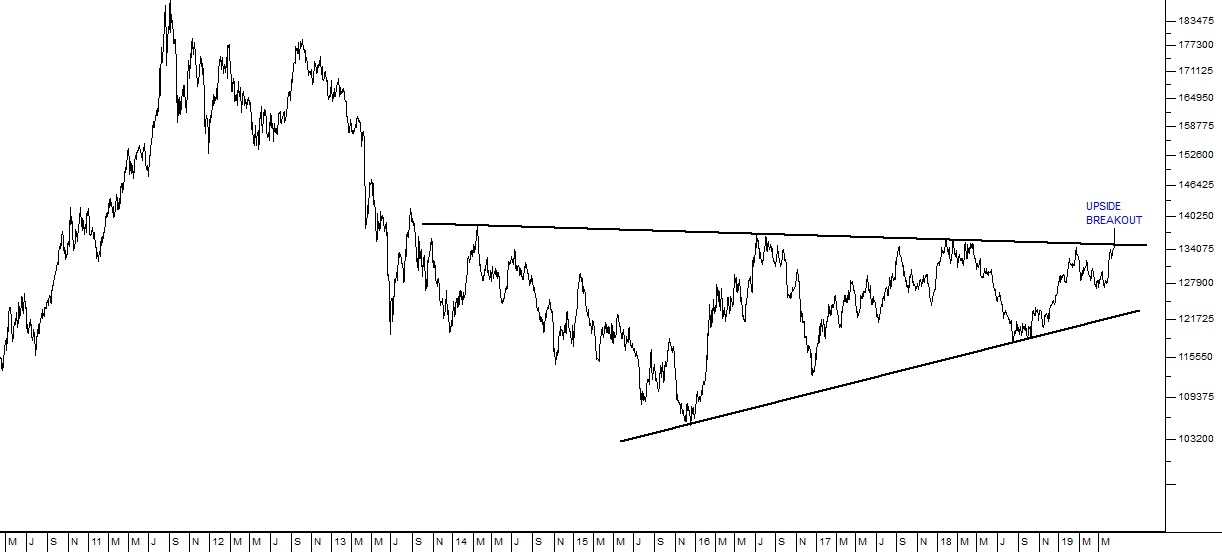 JSE Gold Index - April 2010 to June 2019 - Chart by ShareFriend Pro
On the face of it, this looks like a consequence of Donald Trump's trade war with China and other countries as well as the more dovish stance of the US Federal Reserve Bank's monetary policy committee (MPC). But the real underlying cause is a decade of massive monetary policy stimulation of the world economy which is finally beginning to impact consumer and business confidence. To this must be added Donald Trump's recent sabre rattling in the Middle East. Wars have been associated with runaway inflation since the collapse of the German mark after World War II. For that reason, anything which looks like it could result in war tends to push gold up. This could represent an opportunity for private investors, always keeping in mind the highly speculative nature of investments in any commodity. It could also be the beginning of a revival of the gold mining industry in South Africa. You should keep in mind that South Africa still has about 40% of the world's known underground reserves of gold – but at current prices most of it is too deep and expensive to mine economically.
DISCLAIMER
All information and data contained within the PDSnet Articles is for informational purposes only. PDSnet makes no representations as to the accuracy, completeness, suitability, or validity, of any information, and shall not be liable for any errors, omissions, or any losses, injuries, or damages arising from its display or use. Information in the PDSnet Articles are based on the author's opinion and experience and should not be considered professional financial investment advice. The ideas and strategies should never be used without first assessing your own personal and financial situation, or without consulting a financial professional. Thoughts and opinions will also change from time to time as more information is accumulated. PDSnet reserves the right to delete any comment or opinion for any reason.
Share this article: