7 November 2018
By PDSNET
October Month
October month is never a good month for investors. Historically, the 1929 crash and the 1987 crash began in October and several other Octobers over the decades have been bad. Always, some investors will tend to get out of the market in October or in anticipation of a fall in October. This makes the October problem self-fulfilling to some extent and this year was no exception. Analysts have for a while been saying that world stock markets are over-priced based on the fact that the bull trend is now in record territory having been going on for nearly ten years (an opinion which we do not agree with). So, when October month comes along there is what appears to be good justification to get out of the market.
Our own JSE Overall index (J203) has been falling for most of this year – but in the last two months – since the end of August – it has been in a strong downward trend which has knocked 15% off its value. Consider the chart: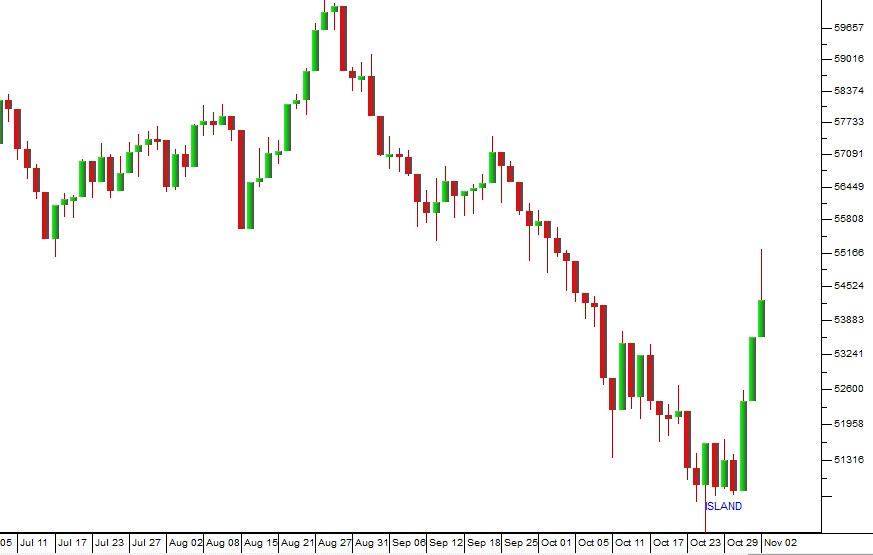 JSE Overall Index July to November 2018 - Chart by ShareFriend Pro
At the same time, international markets, led by Wall Street have also entered a downward trend, particularly since 3rd October. The S&P500 index dropped 9,5% from its record high of 2930.
Our Overall index has also been disproportionately impacted by developments on world markets because of Naspers, Richmont and other JSE listed shares which fall in response to overseas developments. So the JSE Overall index is not necessarily a true reflection of the JSE and especially what is happening in the South African economy.
However, we are now out of October and that negative sentiment is dissipating. You can see this in the last few days on the chart above. Traditionally, after October month has passed, the markets tend to recover strongly towards Christmas. There is something of an initial base forming in the S&P500 and we do not expect it to fall much further from these levels. Similarly we expect that the JSE, which is also recovering, will tend to improve towards the end of 2018. Indeed, in the last three or four days, both Naspers and Richmont have climbed sharply, adding over R100bn to the JSE's market capitalisation and dragging the JSE Overall index up.
The US Economy
The US economy is experiencing very low inflation rates considering the record low level of unemployment and rapid growth. In September month, inflation was just 2,3%, well down from the previous two months of 2,7% and 2,9%. Falling inflation may encourage the Federal Reserve Bank to slow the pace of rate hikes to avoid a recession. At the same time manufacturing is rising rapidly. In September 2018, it rose by 2,8% and this came after a 2,3% rise in the April to June quarter. This shows that the US economy is creating a shortage of skills with a tightening labour market. The situation is unusual because normally inflation would rise with a very tight labour market such as exists in the US. The rand will tend to benefit from any increase in US inflation. The US long bond, the 10-year T-bill has seen its effective yield climb over 3% in recent months. This compares with the 9,25% offered on our R186. The 6% gap between these two is caused by, and exactly quantifies, the relative risk associated with investing in South Africa when compared with America. With the Argentina and Turkey crises largely behind us, the way should be clear for the rand to increase in value once again and what is clear is that sooner or later the South African economy will begin to benefit from the growth in the US and the rest of the world.
In the third quarter of 2018 ended, on 30th September 2018, and so far, 140 of the 500 companies of the S&P500 have reported their results. Of those companies, over 80% have beaten analysts' expectations. Strong economic growth, coupled with Mr. Trump's tax relief, has produced an excellent quarter. The quarter is expected to see the S&P500 companies' profits up by 22,5% off a 7,5% improvement in turnover. You can view the progress of the S&P500 companies' results on: https://lipperalpha.financial.thomsonreuters.com/img/uploads/2018/10/SP500_18Q3_DashBoard_181017.png
Sooner or later, inevitably, this strong profit growth has to be reflected in share prices and hence in the S&P index. That is the basis of our optimism that the S&P500 will soon be breaking new highs once again. It also means that the current downtrend on Wall Street is very unlikely to be the start of a new bear trend.
Economy
The big news of the past month was Nene's unexpected replacement by Tito Mbownei as Minister of Finance. Considering the delicate state of the South African economy and the "risk-off" attitude of international investors, the transition has been managed relatively painlessly. What is impressive and significant is the fact that Nene offered to resign once he realised that his stewardship was fatally compromised. Until now, the norm in South Africa has been for high level officials to hang on to their jobs until they were literally forced to leave – no matter how scandalous their situation (Siyabonga Gama at Transnet is the best current example of this). So, perhaps the South African democracy is maturing and public officials are beginning to realise and accept that they occupy their positions to serve the country and its people, and not their own personal interests.
In his mini-budget, Mboweni painted a bleak picture of the economy, revising down expected growth rates for 2018 to 0,7% and anticipating a rise in government debt to GDP to as much as 60%. Within the very limited room that Mboweni had for maneuver, he managed to avoid a VAT increase or any increase in taxation levels beyond the normal "bracket creep" effect of inflation. This in itself was an achievement. He did announce further [glossary_exclude]support[/glossary_exclude] for SAA, SA Express and the SA Post Office, but he suggested that SAA should possibly be closed down. He is the first finance minister to suggest putting an end to the bleeding of SAA. The continued existence of the Post Office can possibly be justified if it is to take over the [glossary_exclude]distribution[/glossary_exclude] of social grants, but there does not seem to be any reason for sustaining a state-owned airline. Mboweni's speech had the effect of driving the rand down to levels around R14.55 to the US dollar and pushing the yield on the government's long bond to 9,3% - but it introduced a new sense of realism and economic maturity into the budget which will be a benefit to South Africa going forwards, and the rand is already recovering.
President Ramaphosa's jobs summit resulted in an 80-page document which outlined dozens of projects designed to improve employment. This amounts to an agreement between government, labour and business in which some considerable compromise was required from all parties. The unions (Cosatu) had to relinquish their demand for a moratorium on job cuts, business is committed to minimising job cuts by re-positioning employees rather than firing them, and government has undertaken to fill vacant positions where necessary and not to retrench further staff – despite the over-burgeoning public wage bill and pressure from the ratings agencies. Altogether, this is quite an impressive plan which will be followed up by regular quarterly meetings with the President to monitor progress. South Africa has seen many plans come and go without much impact on the economy – so the proof of this plan will be in its implementation. The goal of creating 275 000 jobs a year is easily measured and verifiable – so this will turn into a regular rod for Ramaphosa's back if he is unable to make at least some progress before the election next year. The union movement would do well to take note of Jim Rutherford's (non-executive director of Anglo American) remark at the recent mining indaba, "It is investment, not ideology, that creates jobs".
The Investment Conference organised by President Ramaphosa attracted 27 Fortune 500 companies from 25 countries. In his report-back, Ramaphosa said the summit had resulted in R290bn in investment pledges and he said he had a further R400bn in promised investment. Much of this was from local companies and may have already been in their investment budgets. Naspers has committed to R4,9bn over the next 3 years, Aspen committed to R3,4bn for its factory in Port Elizabeth, and Discovery has committed to R13bn in investments over the next 5 years. Ramaphosa's goal is to reach $100bn of foreign investment into South Africa over the first five years of his presidency. The atmosphere was very different for this conference from previous investment conferences. There is a perception that South Africa has turned the corner. The government is tackling corruption and moving away from absurd economic policies (such as Zuma's nuclear build program). If Ramaphosa is successful in reaching $100bn of foreign direct investment (and he already apparently has commitments for about $48bn) then this will have an enormous impact on the economy and the strength of the rand in coming months.
The shock R1 increase in the fuel price in September was predictable. The oil price had gone up by 25% while the rand had lost 12% during 2018. And, clearly, the government was never going to be able to afford to continue subsidising the price of petrol and diesel. This always meant that September's price hike would be a record. Added to this is the fact that the oil price reached its highest levels for four years and the rand weakened sharply against the dollar. Since the 3rd October 2018, however, the oil price (North Sea Brent) has fallen by nearly $12 a barrel while the rand has remained more-or-less in the same place. This means that we are almost certain to get a slight reduction in the petrol price in November. And now there is a discussion over whether the price of 93 octane petrol should be determined by market forces rather than government agencies. Hopefully, the petrol price has risen as far as it is going to for the next six months or at least until the election in May 2019.
A new sense of realism seems to be creeping into the government's rhetoric. The National Planning Commission has, in its latest report, adjusted its expectations of the unemployment rate for 2030 to 14% from the previously unrealistic 6%. The commission quite correctly says that 6% is impossible - but that 14% could be achieved with steady improvements and reform. The report indicates that the country has not made much progress since the 2008 sub-prime crisis and may have even moved backwards. It also says that it is possible for the South African economy to grow at 3% per annum within the next two years. Previous government plans to revitalise the economy have always been unrealistic and hard to believe – mainly because, once the plan was published, very little was actually done to bring it into effect. Ramaphosa's new ANC government is undoubtedly much more economically realistic than Zuma's – and that is cause for optimism even if the present reality is stark.
The trade account swung into surplus in August 2018 with R8,8bn excess of exports over imports and then showed a deficit of R3bn in September month. The trade account is very volatile and difficult to predict, but, taken over longer periods it indicates whether "South Africa Inc." is running at a "profit" or a "loss". A consistent trade surplus reduces pressure on the rand and indicates a net inflow of wealth into the country. The opposite is also true. The weaker rand over the past year is helping to create a surplus because it makes imports more expensive locally while our exports become cheaper on world markets. Economists, on average, were expecting August to have a R1,8bn deficit – so the surplus was a welcome surprise – but they were expecting a R4,5bn surplus in September and there was a R3bn deficit. To this must be added the surprising strength of vehicle exports in September 2018. A record 34781 vehicles were exported underlining the importance of this industry to the local economy. Volkswagen, BMW, Ford and Mercedes all had great export months. The vehicle export business creates jobs and brings in much-needed foreign currency. It also brings in skills from overseas. Its success should be seen against the fact that Australia has completely stopped producing motor vehicles – probably because of their much higher labour costs.
Today, the central banks of the world typically follow the methods used by the Federal [glossary_exclude]Reserve Bank[/glossary_exclude] of America (the Fed). That is to say, they meet, usually every two months, to review the prospects for inflation 6 months to 12 months ahead and then adjust the level of interest rates to try to head off any inflationary pressures which may be developing while trying to encourage growth. The Fed has the advantage that America is a massive economy, at least twice the size of any other economy in the world, and so it does not really need to think too hard about external forces. The same cannot be said for South Africa, where our economy is constantly buffeted by external events that our Reserve Bank has little or no control over. The classic case is the oil price which has risen by 25% this year. This obviously has enormous implications for our inflation rate and thus for decisions which the bank makes about interest rates. The official position right now is that the consumer price index (CPI) will rise to 5,9% next year in the second quarter and then fall back to around 5,4%. This is perilously close to the upper end of our target range of 3% to 6% - the slightest external negative could push us above that 6% level. So the Reserve Bank is close to pushing rates up and may well do so in November if things get worse. The rand is also a key factor. Negative sentiment generally towards emerging economies can easily push the rand weaker against the dollar – despite the fact that South Africa is arguably the best of the emerging economies.
Consumer spending in South Africa was up a surprising 2,5% in August, against economists' consensus of 0,1%. Consumer spending makes up 60% of GDP and the growth bodes well for the third quarter GDP figures. Consumer spending has been adversely impacted by hikes in the petrol price and by the VAT increase. It has benefited from the relatively low inflation rate and the generally strong trade account which has seen inflows of cash into the economy. In our view, the economy will slowly see the benefit of the rebounding world economy – mainly through the export of raw materials and the prices of those materials.
The decision by the international ratings agency, Moodys, to retain South Africa's investment grade rating with a stable outlook reflects the relative stability of the country since President Ramaphosa took over. He has implemented a number of changes designed to bring the state-owned enterprises back to sanity and stimulate the economy. Progress is slow, but there is a definite momentum towards a more rational and less corrupt administration. Clearly, he is constrained by the prospect of the 2019 election. He will be able to address the more politically sensitive issues such as the bloated civil service once the election is safely behind him. In the meantime, he is focused on replacing corrupt and incompetent officials (like Moyane from SARS) and blocking obviously absurd policy directions like the nuclear build program.
The Rand
For the past three months, the rand has largely been the victim of an international shift to "risk-off" from "risk-on", which has seen all emerging market currencies weaken. The rand is particularly susceptible to this because it is one of the most free dealing of the emerging market currencies. Now it appears as if the risk-off sentiment is slowly reversing – especially now that October month is behind us. The steady reform being introduced by President Ramaphosa is helping to stabilise the situation and give overseas investors more confidence. This can be seen from the recent comments of Neal Froneman, CEO of Sibanye, who said that he saw Ramaphosa as ethical and that the mining industry had a good relationship with the mining minister (Gwede Mantashe). The risk-off period caused the rand to move outside its long-term strengthening channel, but it appears to be clawing its way back inside that range once again and it is probably under-valued at current levels. Consider the chart: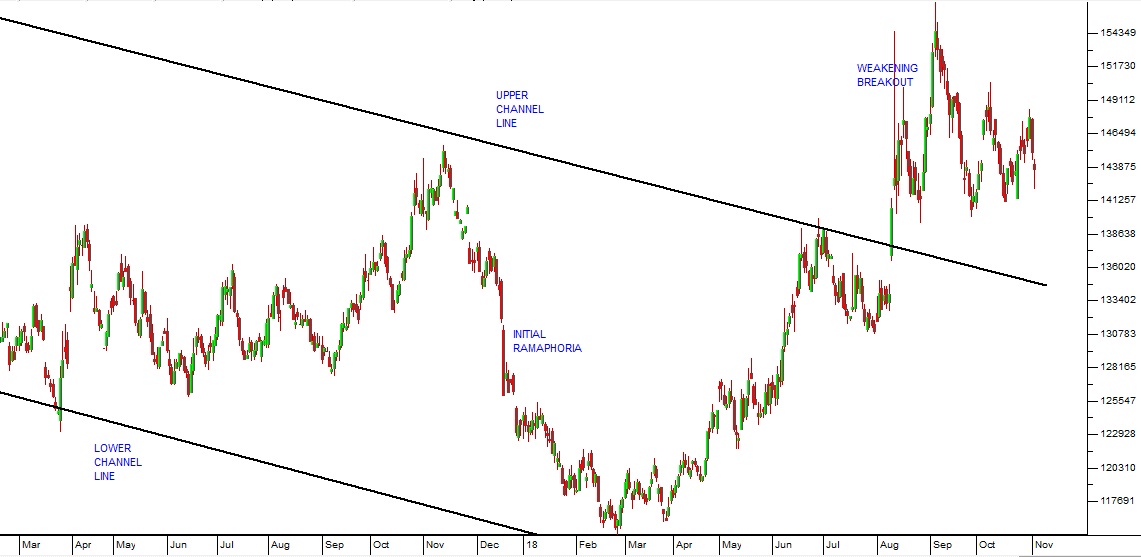 Rand Dollar February to November 2018 - Chart by ShareFriend Pro
In our view, the external shocks to the rand are probably over – so we should be able to look forward to the rand trading back towards R13.50 to the US dollar by next year.
Commodities
The development of the third mining charter has been a tortuous process which went to the heart of the battle between the forces of populism and economic realism in South Africa. Gwede Mantashe is to be complimented for his handling of this delicate issue and for producing the charter early. In the process, he has re-established a good relationship with the Minerals Council and the various CEOs of major mining houses. The essential elements have been decided and all that is left is to settle the "Guidelines for Implementation" which will flesh out the charter. In general, the charter is a compromise which addresses the concerns of investors and the need to make the industry more transformative. The primary benefit that it brings is stability and certainty, especially now that Mantashe has said that he will not introduce any changes for the next five years. It is now becoming possible for the big international mining houses to once again consider South Africa as a possible destination for their investment dollars. Of course, the underlying problem is that some commodity prices – especially that of platinum – do not allow for profitable mining. So the industry will continue to be plagued by retrenchments and rationalisation as it downsizes to fit the reality. This will mean more people losing their jobs and more stressed communities.
Commodity prices began to rise at January 2016 and with them the fortunes of the mining sector. The benefits have been more evident in base metals and minerals rather than precious metals, but the mining index has been rising steadily for more than 18 months. Consider the chart: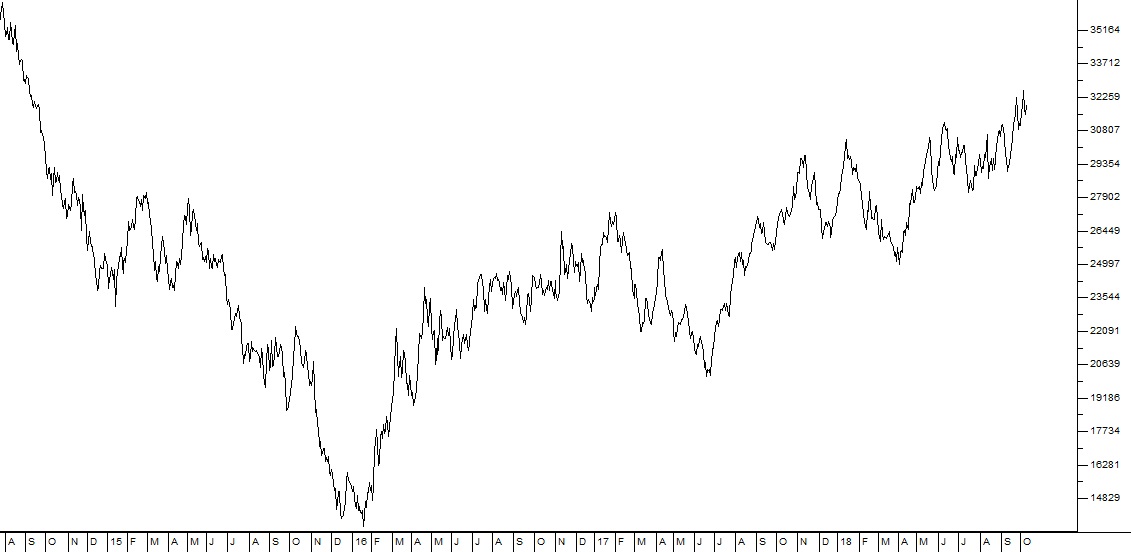 Mining Index August 2015 to November 2018 - Chart by ShareFriend Pro
PWC produces an annual report on the mining industry which covers 31 mining companies. That report for 2018 shows that total turnover for the year was up 8% to R28bn and that coal was the major contributor. The market capitalisation of the companies was up 15% to R480bn. Obviously, the new mining charter, when it is finalised, should greatly improve mining output and employment in that industry. The platinum industry remains in difficulties with the platinum price around $850. This industry is seeing significant retrenchments and rationalisation which we expect to continue.
General
The inclusion of hemp as an ingredient of beer in South Africa is a reality with a company called Poison City Brewing launching its first beer including a cannabis ingredient in September 2018. Hemp does not contain significant quantities of the THC which is the psychoactive ingredient in cannabis and it is being added to beers all over the world as the consumption of cannabis becomes legal. In South Africa, moves are afoot to legalise the growing of hemp as a cash crop – which could create significant employment opportunities. In the meantime, hemp is being included in beer and could be included in other foods in due course. In countries where cannabis has been legalised there has been a marked decline in beer sales – so breweries are looking to tie up with companies producing hemp to add it as an ingredient.
The Public Investment Corporation (PIC) manages the largest fund in South Africa which is the pension contributions of the millions of public servants in this country. It is also the largest asset manager on the African continent. At year end on 31st March 2018, the CEO of the PIC, Dan Matjila, told parliament that the PIC had a total of R2,084 trillion under management of which about 46,3% was in the listed share market, 33,2% in bonds 5,3% in cash and 2.9% in property. 4,4% is invested in international listed equities and about 1% in international bonds. During the year the corporation made a profit of R417m, down from the previous year's R532m – largely because of impairing its R82,3m investment in Bophelo Insurance to zero. Bophelo had a significant exposure to the infamous VBS Mutual bank.   If you click on the "Company Comment" icon in the ShareFriend software (the "speech bubble" icon, third from the left at the top of the screen on any chart), you will see a section under the heading "Major Shareholders", and usually one of the largest shareholders will be the Government Employees Pension Fund (GEPF) which is an investment of the PIC made on behalf of the civil servants. For example, Standard Bank is owned 12,3% by the GEPF and Bidvest is owned 15,16% by them. The PIC generally keeps more than R100bn in cash.
Sanral has said that no further road development can take place without government subsidies. Its collections of e-tolls in the Gauteng area have been depressing – but Sanral is becoming more aggressive in its pursuit of people and businesses which owe e-toll fees. This should be seen in the context of our new Finance Minister, Tito Mboweni's attitude that e-tolls must be paid. In our view, it is simply a matter of time before Sanral achieves a judgement against one of its major defaulters. In the meantime it has provided to write off R6bn of its e-toll debt – presumably because it is uncollectible. In our view, Sanral will eventually make e-tolls effective – although it may take a long time before they get the sort of compliance levels which they can achieve with their boom tolls.
The Zimbabwean economy is projected to grow by 6,3% this year according to its Minister of Finance, Mthuli Ncube. This shows that President Mnangagwa's turnaround process is beginning to bear fruit. Ncube was appointed by Mnangagwa in September last year. He was previously the dean of business studies at Wits. Obviously, the country faces some tremendous challenges, beginning with the fact that it does not have its own currency but is forced to use the rand and the US dollar. This has led to huge shortages of foreign exchange. Ncube is in negotiation with the country's creditors to restructure its enormous $17bn national debt. If this can be achieved, then Zimbabwe might once again be able to access the international credit markets. It will be enormously beneficial for South Africa to have a prosperous neighbour because it will reduce pressure on local unemployment.
On 8th December 2017, when Bitcoin was trading for $16500 we ran an article called "Bitcoin Bubble" in which we described the Bitcoin market as a "bubble" which was soon to burst and urged clients to sell them if they had them and certainly not to buy them. Today Bitcoin is trading at around $6500 and drifting basically sideways. One of the problems with Bitcoin, and other cryptocurrencies, was recently highlighted by a report out by a security company called CyberTrace which details the money laundering and crime in cryptocurrencies. There are now more than 1600 cryptocurrencies in circulation, and we feature six of them in our database (Ether, Bitcoin, Dash, Litecoin, Manero, and Ripple). The problem is that there is increasing hacking of trading platforms and exchanges which carry these securities. So far in 2018 theft is up 250% from 2017 and has a total value of just under $1bn. This, together with the fact that organised crime is known to be using cryptocurrencies for money laundering, has taken the shine off Bitcoin. What would be interesting is if a major government decided to switch to a cryptocurrency – but so far none has taken this radical step.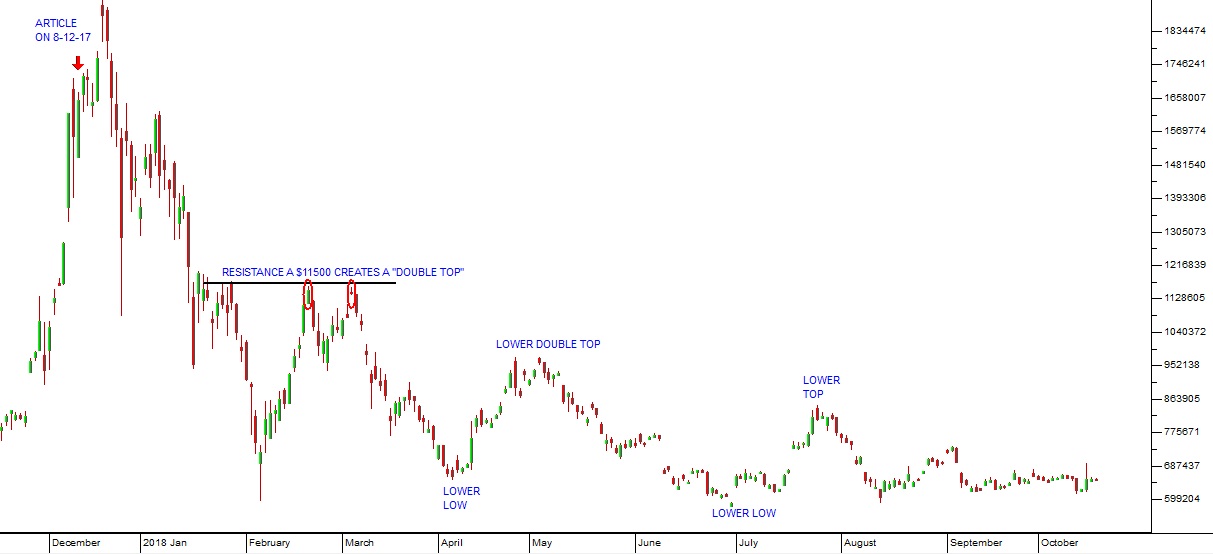 Bitcoin December 2017 to November 2018 - Chart by ShareFriend Pro
The issue of spectrum is a major impediment to the growth of the South African economy. Once we have moved from analogue to digital TV, the spectrum will be released for data and cell phone providers. The CEO of MTN, Shameel Joosub, said that this release will probably bring the cost of data in this country down by 50%. That surely is something our government should be striving for. The original deadline to move from analogue to digital TV was June 2015. The current deadline is June 2019 – after four years of dithering and uncertainty we are finally close to implementing this sea change to our communications technology.
Companies
ANGLO AMERICAN (AGL)
With Anglo American the risk normally associated with commodity stocks is mitigated in a number of ways. Firstly, the company has diversity of different minerals which will reduce the impact of any one mineral entering a bear trend. Secondly, in some markets, like the diamonds market, which was better than expected in the 8th annual sale, Anglo is such a large player through De Beers that it is possible for it to control diamond pricing to some extent. Thirdly, the traditional mechanism to avoid risk is to have a very strong balance sheet with plenty of "headroom". That way, if things turn bad you can ride out the storm. Anglo describes itself as a globally diversified mining company with a portfolio of world-class mining operations and undeveloped resources. Anglo reports quarterly, and in its production report for the third quarter of 2018 ending on 30th September, it reported a 17% increase in copper production. This more than compensated for a disappointing performance at Kumba (which process iron ore), lower diamond production from De Beers and lower production of metallurgical coal. This shows that the company has a wide range of precious and base metals and minerals produced all over the world - which significantly reduces risk. It is true that commodity prices as a group tend to move in trends, but right now and since the beginning of 2016, that trend has been steadily upward. Under the stewardship of CEO, Mark Cutifani, the company has systematically reduced debt and divested itself of non-profitable operations so that now its balance sheet is almost ungeared and it has a portfolio of excellent mines with great potential and minimum exposure to governmental interference or union action. The share price has gone up six-fold in under three years and it has recently found very strong support at around R280. Consider the chart: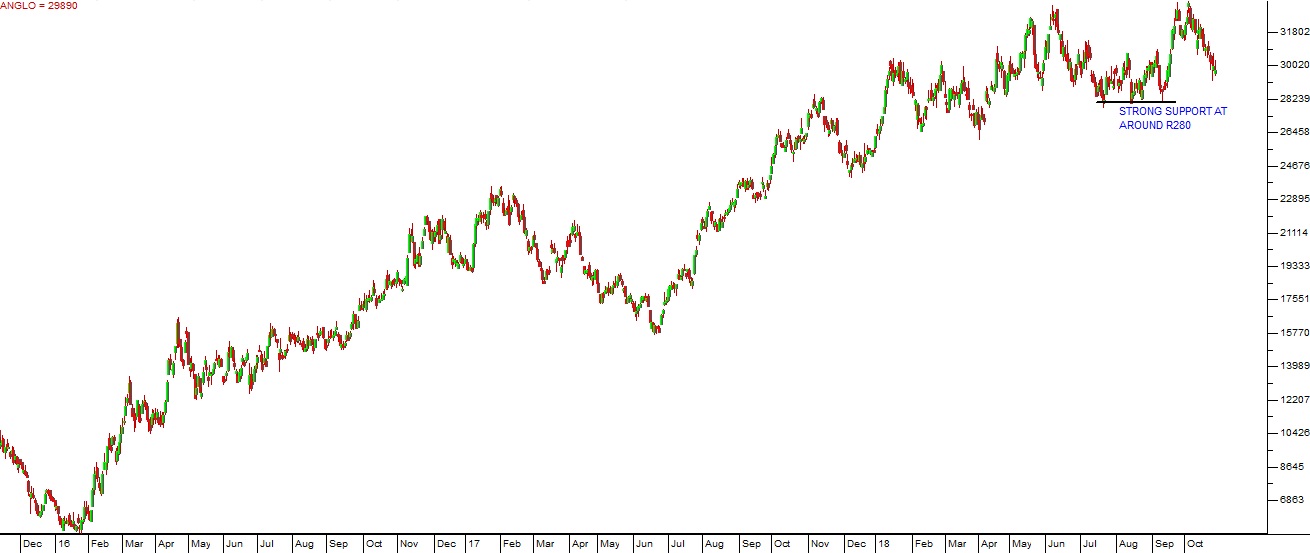 Anglo American (AGL) December 2015 to November 2018 - Chart by ShareFriend Pro
We believe that the boom in commodity prices will continue - driven on by the economic expansion which began in earnest in America and which is now spreading to Europe and the East. We do not expect this economic boom to slow down any time soon - and it is creating a strong demand for metals and minerals, both precious and base across the world. Copper, particularly, will be is strong demand – and Anglo is deeply into copper production and marketing. So if you are looking for an investment which is likely to be more exciting than buying one of the big banks or property REITS, and which will benefit directly from the growth in the world economy, you could do worse than to consider Anglo American.
CLICKS (CLS)
Clicks describes itself as a retail-led healthcare group. It incorporates Clicks, Musica, GNC and The Body Shop. Together they have 824 shops throughout Southern Africa. 500 of those stores include pharmacies - which makes Clicks the largest pharmacy chain in that region. Although more retail outlets are installing pharmacies in their shops, the recently listed Dischem is Clicks' main competitor. In its results for the year to 31st August 2018, Clicks reported headline earnings per share (HEPS) up 15,1% off a 9,1% increase in turnover - which implies further cost-cutting and improved efficiencies. This was achieved with almost zero selling price inflation and a much lower incidence of colds and flu because of the relatively mild winter. Sales were particularly strong in their health and beauty section which saw sales grow by 11,7% including market share gains. Over the period, the group added 46 stores with 34 pharmacies. The company's loyalty program, Clicks Club Card, increased membership by 950 000 to 7,5m. Despite difficult trading conditions and constrained consumer spending, the group expects to continue to grow, adding a further 40 new stores in the year ahead. Probably the only negative about this company is its continued involvement with Musica, which does not seem to be in any way close to its core business. Technically, the share has been a steady performer over the past 20 years. Its share price has risen by 2500% since it listed - which compares very well with the JSE's average over the same period. The recent announcement that the CEO of the past 13 years, David Kneale, is to retire is a little concerning, but the group has a clear succession plan in the form of the current COO, Vikesh Ramsunder - and it has a strong management team. We regard this as one of the best blue chip shares trading on the JSE. It has proven that it is more-or-less recession-proof and continues to perform remarkably well. As a result of its high rating, the share trades on a P:E of 29 and a dividend yield (DY) of 1,6% - but we believe that it remains an excellent medium-term investment which should find a place in every private investor's portfolio. It is what we refer to as a "diagonal" share because over the past 15 years its chart goes from the bottom left-hand corner of the screen to the top right-hand corner. Consider the semi-log chart: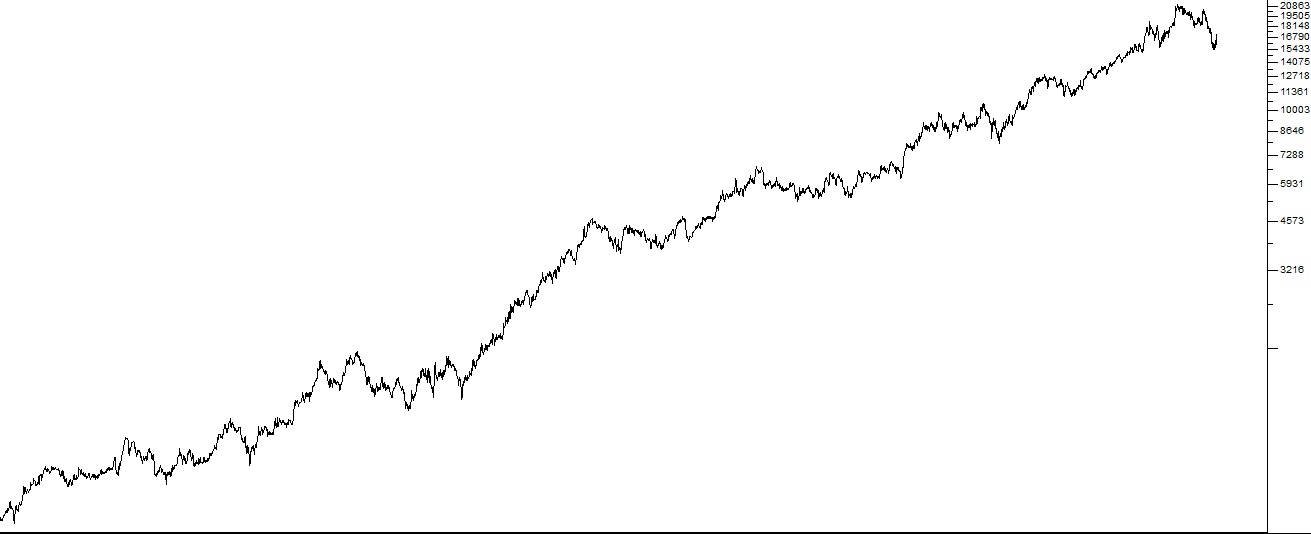 Clicks (CLS) Semi-Log Chart 2003 to 2018 - Chart by ShareFriend Pro
ASTORIA (ARA)
Astoria is an investment company which was formed to give investors exposure to an international selection of equities in developed economies. Among its investments are Facebook, Apple, Blackstone, Home Depot and Mastercard. Diversification is a key tenant of the company's investment policy so none of its investments represent more than 5% of its total portfolio. The company's shares, listed on the Alt-X of the JSE, have typically always traded at a significant discount to the value of its underlying investments – which makes it a potential take-over target. Thus the current share price is around 1320c while the NAV is 1498c. This has encouraged its largest shareholder, JSE-listed RAC, which already holds close to 30% of the company (through its subsidiary, Livingstone Investments), to investigate an offer to buy out Astoria. The Astoria board has resisted this approach by applying to the court in Mauritius to prevent RAC from making a bid. In its results for the three months to 30th September 2018, the company reported a 5% increase in its net asset value (NAV) to $1.20 per share. This is about in line with its benchmark index, the MSCI World Index. Investment holding companies like Astoria typically trade at a discount to the market value of the shares which they own. In Astoria's case where they have many small holdings it is very difficult to see how RAC could release that value, short of liquidating Astoria's portfolio and dissolving the company. We like the Astoria approach and idea. This is a well-managed investment holding company that offers good rand-hedge characteristics and where the risks are relatively low. It is an investment in the general recovery of the world economy and the on-going bull trend in global share markets. The share has risen by 30% so far this year. Consider the chart: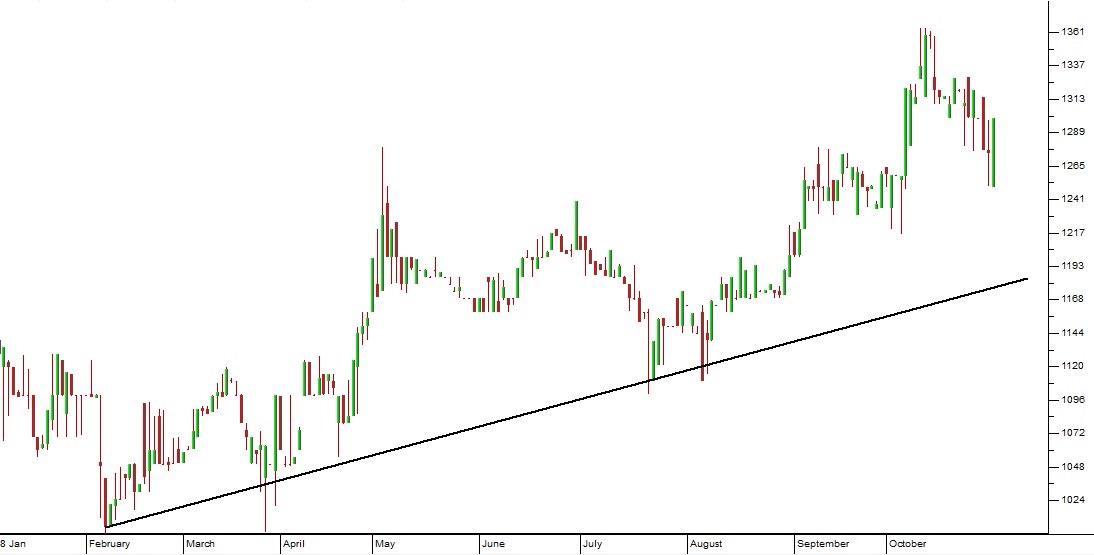 Astoria (ARA) January to October 2018 - Chart by ShareFriend Pro
LONMIN (LON)
Lonmin is the world's third largest producer of platinum group metals (PGMs). These include platinum, rhodium, palladium, iridium, ruthenium and gold. The company sold 681 580 ounces of platinum (which was ahead of their estimate) in the full year to 30th September 2108. The average price was R14 512 per ounce - which was 25,5% more than the fourth quarter of 2017. Costs were just 0,8% higher which led to the company having $114m in cash on hand at the end of the year (up from $103m). The company obviously benefited from the fall of the rand. Sibanye is in the process of acquiring Lonmin in exchange for Sibanye shares and their loan payments of $150m were suspended dependent on that deal going through.  On 22nd October 2018, Lonmin announced that it had made a 3-year supply deal with Pangea Investments (a Chinese firm) for $200m which would enable them to pay off their debt and leave $50m on the balance sheet. This deal was done at a cost of 15%, which is expensive when compared to the prime lending rate in South Africa of 10%, but it means that the Sibanye purchase will almost certainly be completed by February 2019. Sibanye's deal to buy Lonmin is currently being heard by the competition commission/tribunal but is expected to be approved. Lonmin is in the process of closing nearly half of its shafts (the generation 1 shafts) and retrenching 12 600 staff. The share trades for less than one third of its net asset value (NAV) of R32 – which is probably why Sibanye is interested in buying it. Technically, the share has fallen from a high of over R300 per share at the start of 2010 to current levels around 950c. It recently made what looks like a convincing "saucer bottom" and is currently rising on the back of stronger precious metals prices.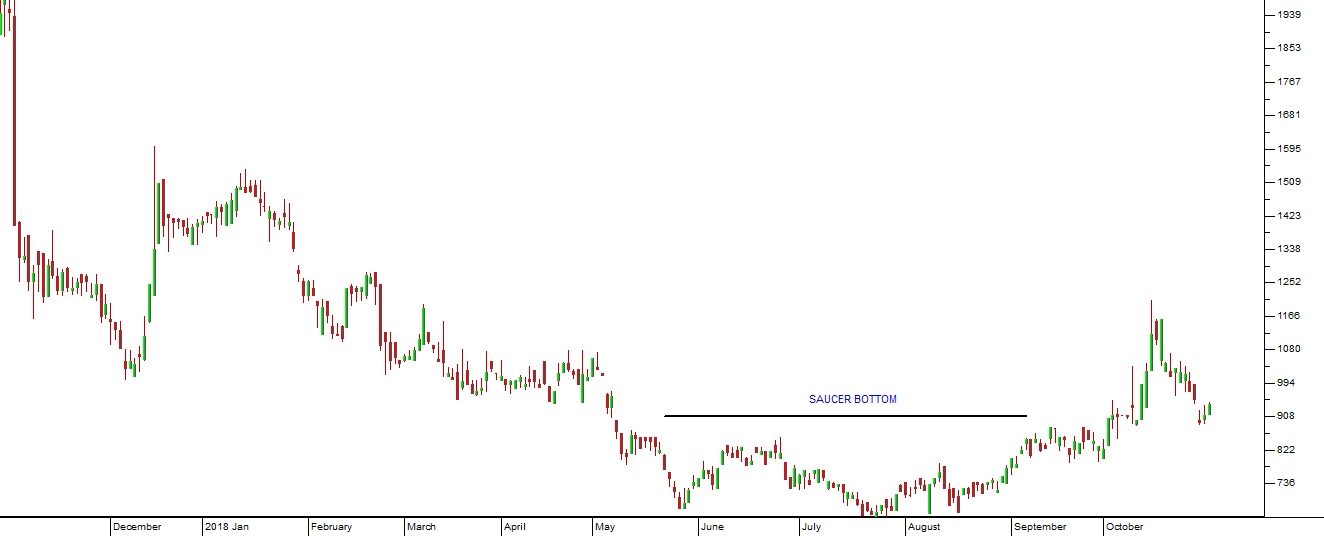 Lonmin (LON) November 2017 to November 2018 - Chart by ShareFriend Pro
This is a highly speculative share which will probably benefit if the Sibanye takeover materialises. It remains a play on precious metals prices and the strength of the rand.
DISCHEM (DCP)
Dis-Chem Pharmacies (DCP) listed in November 2016 and competes directly with Clicks in the pharmaceutical, medicine and beauty products markets. It is a family business run by the Saltzman family who have retained a controlling stake in the business. Ivan Saltzman is the CEO. Its objective on listing was to expand its store base from 108 stores. Theoretically, Dischem can have a store in every shopping mall where Clicks has a store. Clicks had about 600 stores when Dischem was listed and has spoken of plans to expand its store base to 900. This means that Dischem has considerable "blue sky" potential - which accounts for its relatively high rating (P:E of around 33). Pharmaceutical retail is the one aspect of retail which seems more-or-less immune to the current decline in retail sales. In its latest results for the six months to 31st August, Dischem reports a 9,4% increase in turnover and after-tax earnings up 12,3%. Headline earnings per share (HEPS) were up by 10,5%. Two new stores were added and there are another 13 expected to be added before the year-end in February 2019. The company is buying Springbok Pharmacy and Quenets. This shows that the company is growing rapidly. Its store base is now more than 150 stores country wide. The company's financial director has announced that it is the intention of the board to move towards a position where it pays out 50% of its earnings as dividends. This is obviously motivating for investors. We regard this share as a sound long-term investment with good upside potential. Certainly, it appears cheap at any price below R30 per share.
INTU (ITU)
Intu is a UK-based real estate investment trust (REIT) which is part of the FTSE 100 index. It specialises in retail shopping centers located around London and in Spain. It owns 17 of the UK's top shopping centers and 3 in Spain and the group employs about 120 000 people. In its results for the year to 30th June 2018, the company reported an occupancy rate of 97% and rental income up by 1,3%. They are in the process of opening the Intu Watford extension and the Lakeside Leisure extension. The company's shopping centers get about 400m visitors per annum with over half of the UK population visiting an Intu center each year. This share has obviously taken a hit from the Brexit decision in the UK. The share price peaked at over R190 in December 2006, but has fallen to levels around R35. It has a net asset value (NAV) of R63 - which means that it is trading for around half of what it is worth on paper. It is a rand-hedge with no interests in South Africa and offers a very stable long-term investment for private investors. When and if the UK economy recovers from Brexit, this will be an excellent share to hold. On 5th October 2018, a consortium of 3 companies, Peel Group (where British billionaire, John Whittaker, is CEO), Olayan (Saudi) and Brookfield were rumoured to be making a bid to buy Intu - which pushed the shares up about 23%. That bid has now been given until 15th November 2018 to materialise. The offer will probably be at around 215p per share. Peel Group and Olayan already own 27,3% of Intu - so there is a good prospect of a takeover. In a trading update for the period from 1st July to 23rd October 2018, the company reported that it had concluded 84 long-term leases at rentals 8% above the previous levels and that it had an occupancy rate of 97%. During September month they opened the retail and leisure extension of their Watford Mall. The quarter saw the company having difficulties with its tenants, House of Fraser and the clothing retailer Coast, which caused write-downs of about 250m pounds. They are also impacted by the trend towards online shopping in the UK. We remain bullish about this share which offers very high quality assets at around half of their value.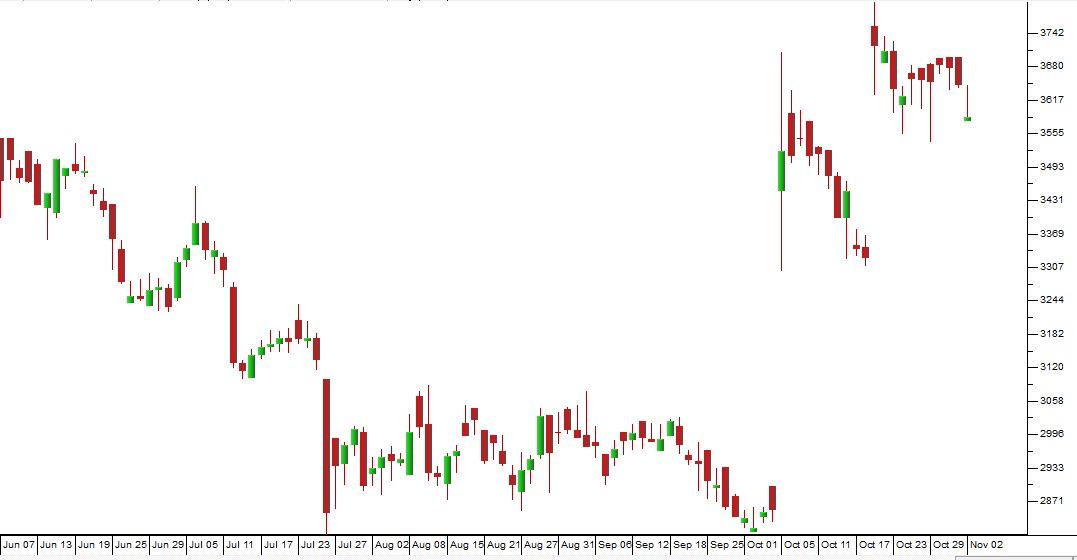 Intu (ITU) June to November 2018 - Chart by ShareFriend Pro
CARTRACK (CTK)
Cartrack is a vehicle recovery, insurance telematics and fleet management company operating in 24 countries around the world. It has a 91% recovery rate which it claims is the best in the industry. It has very rapid organic growth, having grown its subscriber base by 21% compound over the past six years. In its results for the six months to 31st August 2018, the company reported a 28% growth in its subscriber base to 850 000 and expects to reach 1 million subscribers during 2019. Headline earnings per share (HEPS) were up by 25% to 57,8c per share off a 27% increase in turnover. Approximately 93% of the company's turnover is annuity income. The share has fallen from a high of 2145c in February 2018 to current levels around 1400c. Given its rapidly growing annuity income and its rand-hedge character, we regard this share as an ideal investment for private investors. It has yet to attract strong institutional interest and trades on a relatively modest multiple of around 12,5 against the JSE's average multiple of 18. The company has almost no working capital and its annuity income ensures that its overheads are already covered before it opens its doors at the beginning of each month. We suggest that you accumulate this share on weakness. Consider the chart: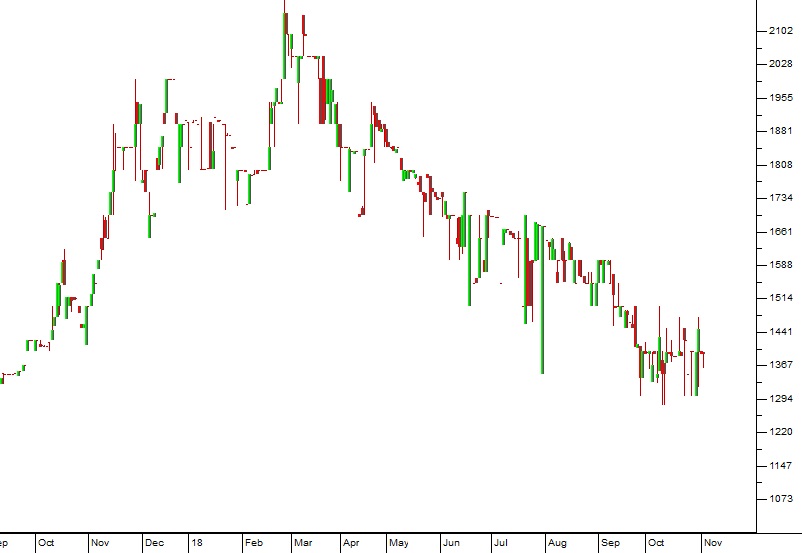 Cartrack (CTK) November 2017 to November 2018 - Chart by ShareFriend Pro
You can view a visual presentation of this report here.
To be added to our mailing list for the next webinar, click here.
DISCLAIMER
All information and data contained within the PDSnet Articles is for informational purposes only. PDSnet makes no representations as to the accuracy, completeness, suitability, or validity, of any information, and shall not be liable for any errors, omissions, or any losses, injuries, or damages arising from its display or use. Information in the PDSnet Articles are based on the author's opinion and experience and should not be considered professional financial investment advice. The ideas and strategies should never be used without first assessing your own personal and financial situation, or without consulting a financial professional. Thoughts and opinions will also change from time to time as more information is accumulated. PDSnet reserves the right to delete any comment or opinion for any reason.
Share this article: