1 May 2019
By PDSNET
US Economy
Seven months ago on 20th September 2019, the S&P made a new record high at 2930 – and from that level began a correction. Corrections are completely normal and even healthy events which occur regularly during the course of a bull trend. This ten-year bull trend began on 6th and 7th of March 2009 when the S&P made an intra-day low of 666.79 on 6th and then made its lowest close at 676.53 on 7th.
The fall in the market, before this bull market began, had been caused by an American banking crisis which later became known as the "sub-prime crisis" when Lehman Brothers collapsed. What followed was an inordinate monetary policy stimulation of the world economy during which more than $12 trillion worth of quantitative easing (QE) was done to try to avoid a repeat of the Great Depression of 1929.
Ten years later we can say that the QE was eventually successful and the world economy has finally turned around – but not without some very scary moments such as the Greek crisis during which it looked as though the entire European Union was in danger.
The S&P is at just above 2940, which means that the 4th major correction in this bull trend in now over. The four corrections were:
An 8-month correction in 2010 of 16%.

A 10-month correction in 2011/12 of 19,4%

A 13-month correction in 2015/16 of 14,1%

A 7-month correction in 2018/19 of 19,8%
Consider the chart: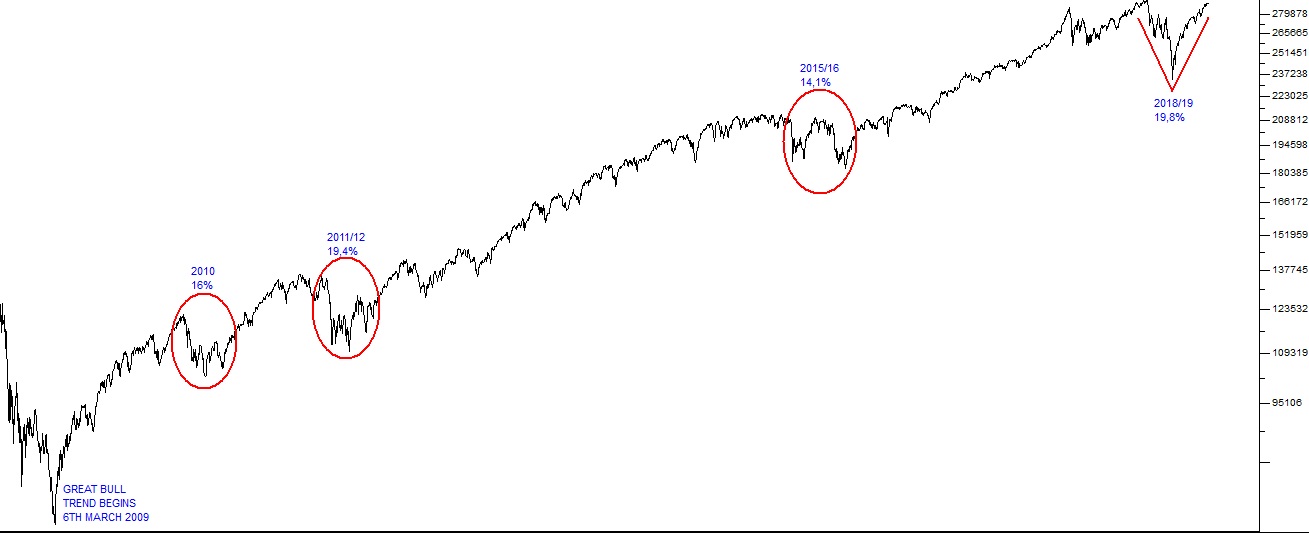 S&P500 Index 2009 to 2019 - Chart by ShareFriend Pro (Click to Enlarge Image)
The most recent correction was both the shortest and the deepest of these corrections – more like a "V bottom" - and much of it was caused by Donald Trump's rhetoric over the Christmas period when very few investors were active in the market.
We never had any doubt that it was always a correction and not the start of a new bear trend – mainly because the US economy, which is the engine that ultimately drives the stock market, was performing so well.
The surge on Wall Street to a new record high came about because of a slew of above-expectation results from S&P500 companies. Coca Cola and United Technologies reported better-than-expected results while Twitter shares jumped over 15% on their results as they added 330 million new active users. Lockheed Martin and Procter & Gamble also beat expectations. Altogether, so far, 78% of the more than 140 S&P500 companies that have reported have beaten expectations. The only real negative is the oil price which has been trending up steadily this year.
Of course, there is the outside possibility that what we are seeing is a "double top" on the S&P, but as we have been saying right through this correction, we believe that what we are looking at is a solid resumption of the great bull market which began in 2009. JSE shares are following Wall Street up and should continue to do so.
You may be aware of the surprise drop in retail sales in America in February month. This reminds us that nothing in the markets moves in a straight line. There are always going to be corrections in any bull trend. Analysts had predicted that February retail sales would be up by 0,3%, but instead they came in down by 0,2%. This may be an indication that American consumers, no longer bouyed up by the Trump tax cuts of last year, have decided to cut back a little. It is notable that at the same time, the growth for January month was revised upwards from 0,2% to 0,7% - which shows that the initial figures are not always reliable. And you should [glossary_exclude]bear[/glossary_exclude] in mind that it was only the month of February that saw retail sales fall – over the year to end February, sales were actually up by 2,2%. One factor is that, in the US, tax refunds have been processed later and are smaller than last year. The country has also been going through a period of cold wet weather which always tends to discourage shopping. GDP growth for the first quarter of 2019 is estimated to be around 0,8% - which is considerably less than the last quarter of 2018 which saw growth of 2,2%.
And there are always bears in the market ready to pounce on anything that looks the least bit negative. This can be seen in the Morgan Stanley "Recession Dashboard" published about two weeks ago which gave its strongest ever indication of a iminent downturn in the markets. The timing was unfortunate because now the S&P500 has reached a new record  and Morgan Stanley must join all the other bears who have been relegated to the scrap heap. The process of a great bull market involves a "steady elimination of the bears" until nobody is willing to stand up and say "This is the top – get out now".
And, of course, when that finally happens, it is precisely the point at which you should get out!
Political
With the election one week away, attention must now turn to what is likely to happen after it is done. We believe that the ANC will be returned with around 60% of the vote, giving President Ramaphosa the mandate he needs to begin deeper reforms to the economy. The most urgent problem, of course,  is Eskom – which is in desperate need of a clear policy that addresses its twin issues of insufficient capacity and financial melt-down. The current strategy is just to keep the lights on, no matter what, until after the election. That strategy must give way to an urgent effort to build up the contribution from renewable energy sources as rapidly as possible. There really is no time for further debate or delay. Then, there are three aspects of the economy which badly need attention in our view:
The size of the civil service needs to be radically reduced.

Various state enterprises need to be partly or completely privatised

Labour legislation needs to be made far more employer-friendly.
Of course, all three of these reforms will be vigorously opposed by the union movement in South Africa – which is almost certainly the main reason that they have not been addressed or even hinted at prior to the election. Once the election is over, and the Eskom crisis has been resolved,  we will be very interested to see how the government deals with the unions when they are not trying to garner votes.
The Institute of Race Relations survey conducted a month before the election indicates that Ramaphosa enjoys a 60% [glossary_exclude]support[/glossary_exclude] among voters – which would tend to indicate that the ANC has not suffered significantly from the spate of corruption revelations which have been published since December 2018. Nor has it seen much of a fall-off in [glossary_exclude]support[/glossary_exclude] due to March's load-shedding. However, polls are not necessarily accurate indications of what will happen in the actual election, but it appears that overseas investors' decisions not to sell off the rand or sell the R186 long bond is probably  justified. The ANC's decision not to cross-examine Agrizzi on his testimony that the top 6 in the ANC received between R10m and R12m in the period between 2004 and 2006 means that his evidence stands uncontested before the commission. This will probably damage the party's election prospects further.
The debate over whether or not the Reserve Bank should be nationalised is really meaningless. It has become something of an election issue and is said to be at the heart of the split in the ANC between the Zuma camp and President Ramaphosa. The reality is that nationalising the Reserve Bank will have absolutely no impact on the way that it functions – which is entrenched in the constitution. As Letsetja Kanyago (Reserve Bank Governor) says, the only effect will be that the current shareholders will have to be paid out at a cost of between R20bn and R100bn – which could be better spent on other things. Of course, the real issue is not the nationalising of the Bank – rather it is government control over Bank policy. That is what Zuma always wanted because that would have enabled him to simply print money whenever he wanted to – Robert Mugabe style. Now it is quite clear that the only reason South Africa survived the Zuma years is because he was never able to get control of the Reserve Bank. So at best the issue of nationalising the Reserve Bank is a meaningless election sop to throw to ignorant populists who think that somehow it will result in a change in monetary policy.
Economy
The foundation stone of any economy is tax collection. If a country cannot collect tax then it becomes embroiled in expanding the money supply with disastrous inflation – as Zimbabwe did. Tax collection enables the government to finance everything from roads to social services and education. South African tax collection has been below budget for five years – mainly because of the destruction wrought by the former commissioner, Moyane. In this financial year, the service estimates it is R57,4bn short of the estimates used in the February 2019 budget – mainly because of the additional refunds which had to be paid out because Moyane did not pay out refunds to give the impression of improving his "collections" record. Once those have been settled, the net tax collections picture should improve. Obviously it will take the new commissioner several years to get SARS back to where it was when he served as deputy commissioner under Pravin Gordhan. The fact that SARS has come to a settlement with the Public Servants Association goes some of the way towards finalising the strike action.
The revelations at the Eskom press conference were disturbing and a relief at the same time. On the one hand, Pravin Gordhan says that there will be a maximum of 26 days of stage 1 load-shedding over winter – and on the other, it appears that the debt problem at Eskom is somewhat worse than has previously been disclosed. The costs of running diesel generators has been higher than expected at R45bn. The municipalities now owe Eskom R49bn and rising by R6bn a year. The recent hike in electricity tariffs of 9,4% is insufficient to enable the utility to meet its interest payments on its debt. Kusile and Medupi are operating at 50% of capacity and will each require a further R18bn to fix. Eskom as an entity needs R250bn to finance its current debt and one suggestion is that the Public Investment Corporation (PIC) will help with this. All in all, not a pretty picture – and one which will undoubtedly impact on the elections. At the same time, the Reserve Bank has warned that load shedding could completely wipe out any hope of growth in 2019 if it resumes and persists. They estimate that it will strip as much as 1,1% off growth rates and result in as many as 125000 job losses. The Bank says that this is the cost of state capture. The Bank had to inject R5bn in emergency funding, but Pravin Gordhan says that "Eskom is not on the brink of financial collapse" – but then he might just be saying that to prevent panic during this pre-election time.
There is a huge illegal black market for cigarettes in South Africa. Black market cigarettes can be bought for as little as R10 for a packet of 20 while the cheapest legal cigarettes cost over R20. The illegal cigarette market accounts for 42% of all cigarettes consumed in South Africa – which is estimated to result in about R8bn in lost tax revenue for SARS. The tax on cigarettes is worth just under R18 per packet of 20 cigarettes. In early April, British American Tobacco (BAT) said that it was initiating the retrenchment of 300 staff in South Africa as a direct result of the country being unable to control black market cigarette sales. BAT said that its sales had declined by 30% since 2012. The problem arises partly because of Tom Moyane's decision to disband the specialised unit in SARS which dealt with illicit cigarette sales.
The recent announcement by Nissan that it is investing R3bn to expand its plant at Rosslyn in Pretoria to make the new Navara there must be added to the announcement by Rio Tinto that it intends to invest R6,5bn into its Richards Bay mineral sands project. President Ramaphosa is making much of these indications that overseas investors are sufficiently confident of South Africa to invest significantly. Altogether, vehicle manufacturers have committed to spending R40bn in South Africa over the next five years. Â Foreign direct investment (FDI) is the quickest and easiest way to turn the South African economy around and create new jobs. Obviously, overseas investors have to be confident of the medium- to long-term future of the country before making such a commitment. Their investments are supported by the relative strength of the rand and the falling yield on the R186 long bond.
The inflation rate came in at 4,5% in March 2019 – the exact midpoint of the Reserve Bank's target range. This was mainly a result of rising fuel costs which went up because of a weaker rand and higher prices for North Sea Brent – as well as the new fuel tax. In April the price of petrol rose by R1,31 per litre which will certainly push inflation up. Inflation is expected to reach 4,8% towards the end of the year. This is a truly benign inflation outlook – mostly due to the very subdued state of the economy at the moment and relatively low food inflation. Interest rates are unlikely to change for the rest of this year.
The National Credit Amendment Bill needs only President Ramaphosa's signature to become law. In terms of this bill, the regulator will be able to write off debts of up to R50 000 (after a 2-year suspension) for people who earn less than R7500 per month. Clearly, if Ramaphosa decides to do this just before the election, he will probably gain some votes for the ANC. But this would have long term consequences, because then the banks and other lenders would become much more reluctant to lend money to this group of people in the future.
The Rand
One of the outstanding achievements of a the ANC since it took office in 1994 has been to maintain the relative integrity of the South African currency in its 25 years of power and especially during the Zuma era. The rand has certainly fallen against first world currencies in that time, but it has not descended into hyper-inflation. In most of the rest of Africa, once independence and democracy were achieved, there followed a period of relative opulence, especially among the ruling class. Government jobs were given out freely and salaries increased above the inflation rate. The size of the government ballooned as private enterprise shrank. This was accompanied by a decline in tax collections due to a combination of economic stagnation and a steady fall in the ability of the government to collect taxes. One of the most important signals of deterioration in an economy has always been the relative strength of its currency and its recorded annual inflation rates. In South Africa, the inflation rate has been kept well under control and, even through the Zuma years, when the temptation to slip into printing money had to be resisted. The Reserve Bank has maintained its independence against a variety of attacks and that has saved South Africa from becoming just another "banana republic". The current governor of the Reserve Bank, Letsetja Kanyago, continues to be firmly of the opinion that the bank should remain separate and uninfluenced by politicians. He and his colleagues at the Reserve Bank have been and are the true champions of the people of South Africa because they have ensured that the currency has retained its integrity.
It is worth considering the history of the rand to gain some insight into where we are today: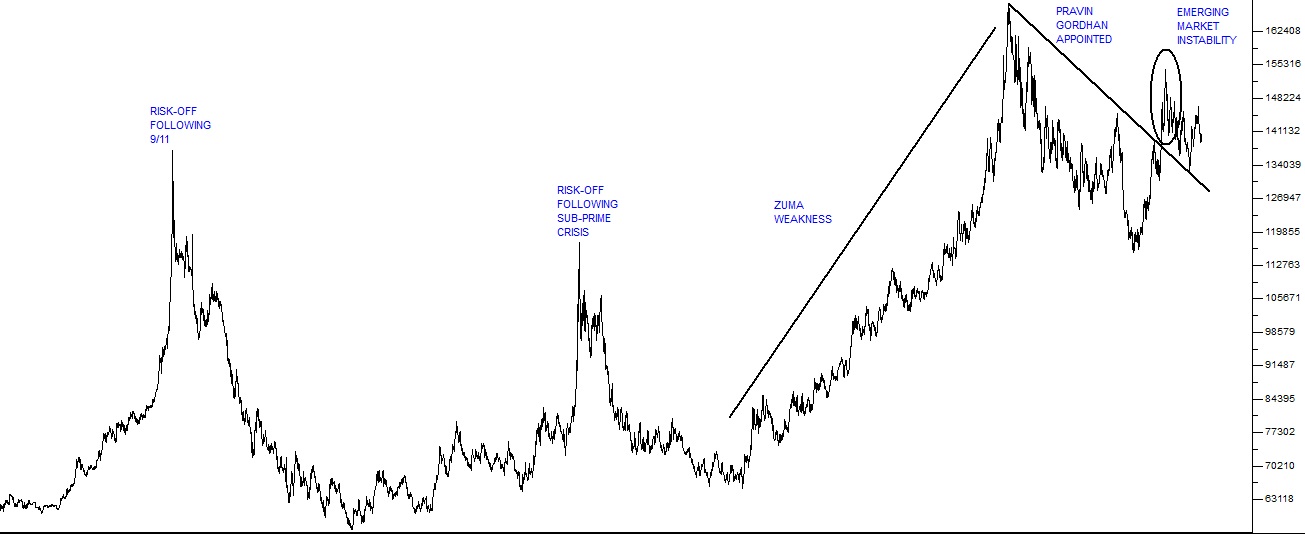 Rand Dollar Exchange Rate 1999 to 2019 - Chart by ShareFriend Pro (Click to Enlarge Image)
Here you can see the impact of the periodic shifts to "risk-off" in the international investment community. When international currency speculators and investors are "spooked" they tend to move out of emerging market currencies and into the US dollar, the euro or one of the other "hard" currencies of the first world. The chart above shows how the rand fell heavily as a result of the shifts to "risk-off " in 2001 following the 9/11 attacks on the World Trade Center and then again after the collapse of Lehman Brothers and the start of the "sub-prime" crisis. Aside from these external factors, the rand was relatively strong – mainly because of the efforts of the Reserve Bank and the then Minister of Finance, Trevor Manuel.
Once Jacob Zuma took power and began to be influenced by the Guptas the rand weakened steadily as endemic corruption took hold. This really came to an end when Zuma was forced to appoint Pravin Gordhan as Minister of Finance, a move which signaled the end of his reign. Since then the rand has been strengthening slowly as the corruption was halted and reforms began to have effect.
The rand's move to relative stability at around the R14 to the US$ level is an indication that international currency speculators have confidence that the 8th May elections will go smoothly and that the ANC will be returned with a solid majority. This perception is confirmed by the yield on the R186 long bond which has been falling steadily as the election approaches. Consider the chart: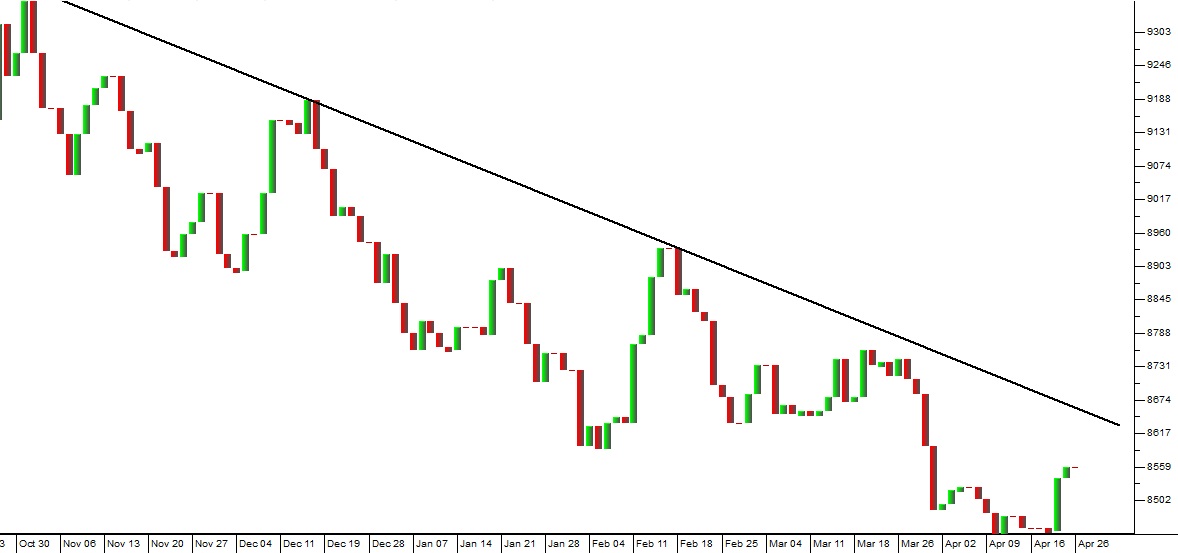 R186 RSA Bond October 2018 to April 2019 - Chart by ShareFriend Pro (Click to Enlarge Image)
The rand and the R186 provide a very good, well-balanced and researched opinion from investors who have literally billions of US dollars riding on their projections. At the moment, it is apparent that they are relatively confident of a favourable outcome that will provide Ramaphosa with the [glossary_exclude]support[/glossary_exclude] he needs to pursue the deeper economic reforms that are so desperately needed in the South African economy.
General
South Africa should take note of the decision by Zimbabwe to scrap its "indigenisation" legislation because it has been very damaging to the Zimbabwean economy. This policy was a more radical form of BEE which insisted that indigenous people should own 51% of mines. The effect of this policy, introduced by the previous president, Mugabe, has been to alienate overseas investors, with the result that many projects have been abandoned and jobs lost. It is also notable that Zimbabwe's government welcomes independent power producers to address its power shortage. Our government needs to take the same approach.
The protracted efforts to keep Edcon afloat are, in our opinion, misguided. The argument is that Edcon is too big to fail. The problem is that there is no evidence that the latest R2,7bn recapitalisation will have any significant impact on the company's ability to re-invent itself. In our view, Edcon is almost certainly going to fail eventually anyway and the R2,7bn (some of which has been put in by the Public Investment Corporation) will be lost. Edcon rents stores from about 100 landlords, some of whom have agreed to exchange their rent for shares over the next two years. We believe that they too have a high probability of losing that investment. The problem is that Edcon's brand does not have much traction in the midst of rising competition and restricted consumer spending. The retail clothing market is intensely competitive. And then it still carries the enduring business absurdity that is CNA. There are absolutely no synergies between CNA and Edcon – so there is no logic for retaining it. CNA itself is an extremely unfocused retail outlet which generally loses money.
Commodities
The battle going on between the Association of Mineworkers and Construction Union (AMCU) and Sibanye has been brought to a humiliating end with AMCU being forced to accept exactly the same terms as were agreed with the other three unions five months previously. All that Mathunjwa could squeeze out of Sibanye was a once-off R4000 ex gratia payment for his striking workers. He has been forced to back down with a catastrophic loss of face because all those who participated in the strike will have lost four-and-a-half months of wages. Now he faces negotiations in the platinum industry where the union has numerical superiority – but his defeat in the gold industry must surely reduce his bargaining power. Added to this, the Registrar of Labour Relations, has gazetted a notice of the imminent cancellation of its registration as a union. AMCU has 60 days to reply. Apparently AMCU has "ceased to function as a trade union" and is "not complying with the terms of its constitution".
One of the results of the strike at Sibanye gold mines and other strike action is that mining production fell  by 7,5% year on year in February 2019. A total of 15000 workers have been on strike. The situation has been made worse by soft international commodity prices and load shedding. In January month production as a whole was down by 3,3% with Sibanye losing R2,2bn and the 14000 strikers at its gold mines losing around R800m in lost wages. The decline in mining production has a direct impact on GDP growth and on the unemployment level. Although mining has shrunk significantly in South Africa, it remains an important industry and employer. Diamond production was down 48,3% while gold and iron were down more than 20%.
The oil price has been moving up steadily over this year, stimulated by the improvement in the world economy. As the world economy grows, the number of motor cars and trucks increases and fuel consumption goes up. We believe that this process will continue for some time until renewable energy can form a meaningful component of overall energy use. Of course, for South Africans this means rising petrol prices, especially if the rand weakens against the US dollar. It looks like we can expect another hefty price increase of around 53c a litre now at the start of May 2019 – which might have a marginal impact on the election result if the ANC is blamed.
Companies
JSE OVERALL AND PROPERTY
The JSE has appreciated by 15,56% so far this year – but a massive part of that climb has been due to four companies which have most of their business overseas – Naspers, BHP, Richemont and Anglo. Without them, the JSE's performance would be less than 3%. This shows how dangerous it is to consider only the JSE Overall index. The property index has appreciated by just 2,7% and is still licking its wounds after its horrendous 25% collapse in 2018 – mainly due to the Resilient group of companies (Resilient, Lighthouse, Rockcastle and NEPI). The JSE's SAPY index is trading on its highest dividend yield (DY) since 2008 – 8,88%. It surely must represent good value at the moment by any measure. The index includes about R600bn worth of property companies – with a market capitalisation of just 412,5bn. So it is trading at about a 31% discount to value of the properties which it includes. Sooner or later institutional investors are bound to begin buying up the best of these companies – so we believe that this represents an opportunity for the private investor.
AYO
The bad news surrounding AYO which was spun out of AEEI and separately listed on 21st December 2018 is mounting. The company amanged to get the PIC to buy 29% of its shares for R4,3bn – which values it at around R15bn. This transaction is being queried and the PIC is now in a bid to get its money back. The testimony of the former CEO of the company (Kevin Hardy) and its former financial director (Sipiwe Nodwele) before the Mpati Commission are damning. Nodwele says that AYO is worth less than R1bn. Its current market capitalisation is R4,8bn, but the share hardly ever trades. The only bid for the share at the moment is at 115c – a far cry from the 1400c at which the last trade went through. It seems to be quite clear that Iqbal Surve used his family connection with the former PIC Dan Matjila to pursuade the PIC to invest in AYO – despite the fact that it made absolutely no financial sense. In our view this is another blatant example of state capture and should be treated as such.
TELKOM
On 21st January 2018, we published an article in which we suggested that Telkom was probably under-priced given the proposed separate listing of Gyro – its property division. At that time the share was trading at R64. It has subsequently moved up strongly to just under R80 and we believe it will go further. That is a gain of about 25% in under three months. Gyro is estimated to be worth around R45 per Telkom share and until recently it hasn't been included in Telkom's share price. Obviously, Telkom shareholders will make a solid gain when the share is listed. Consider the chart: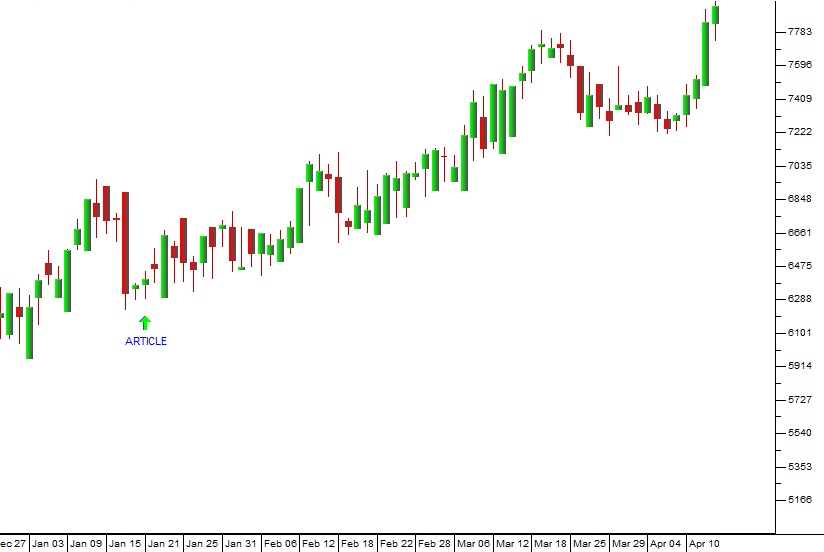 Telkom (TKG) January to April 2019 - Chart by ShareFriend Pro (Click to Enlarge Image)
PICK 'N PAY (PIK)
The Pick 'n Pay results for the 52 weeks to 24th February 2019 show a 7,1% growth in turnover with clear market share gains. Like-for-like growth was 4,8% with selling price deflation of 0,3% and volume growth of 5,1%. Working capital management released R665m which reduced interest costs by 38,5% over the period. The South African part of the business saw turnover up 7,4% and 5,2% on a like-for-like basis. The rest of Africa saw turnover down 16,2% because of difficulties in Zambia and currency devaluation in Zimbabwe. Headline earnings per share (HEPS) was up 18% on a comparable basis. Despite these excellent results, the share price fell – probably because investors were expecting an even better performance – and this puts the company on a multiple of 20 with a [glossary_exclude]dividend[/glossary_exclude] yield (DY) of 2,7%. What is clear is that Pick 'n Pay is doing far better than any of its competitors and yet is on a lower multiple (Shoprite is on a P:E of 21,7). In our view, this is definitely the best of the retail shares at the moment and its performance will benefit directly from any improvement in the South African economy.
PSG (PSG)
PSG is an investment holding company which began in stockbroking but which has now branched out into various other businesses, including banking, education, agriculture, asset management, financial services and food. Its investments include 30,7% of Capitec Bank, 55,4% of Curro Holdings, 60,6% of PSG Konsult, 43,8% of Zeder, 98,1% of PSG Alpha, 49% of Dipeo Capital, 100% of PSG Capital and PSG Corporate Services. Steinhoff was a 25,5% shareholder in PSG, but has completely divested itself through a book-build that was 3,9 times over-subscribed. In October 2017, the Curro Group unbundled and separately listed Stadio onto the JSE. PSG also bought a 50% stake in Evergreen Lifestyle Villages for R675m. CEO of Evergreen, Piet Mouton, says that the company has excellent potential to develop a recurring income and that while earnings will be erratic while the company is building up its assets, in the end it will become an excellent profit-producer. The group's largest investment is its 30,7% holding in Capitec - which amounts to 51% of the Group's sum-of-the-parts (SOTP) valuation. In its results for the year ended 28th February 2019, PSG reported recurring earnings up 9% to R10.86 per share while the SOTP valuation reached R311.45 per share - an increase of 22%. By 18th April 2019 it was R329.73. Capitec accounts for 66% of the SOTP valuation and produced a 19% increase in headline earnings per share (HEPS).  The problem with this company as an investment is that it is not cheap. Trading on a P:E of 26,2, with Capitec also on a P:E of 25 and Curro on a P:E of 52, it looks fully priced. Technically, however the share has been moving sideways since its November 2015 high at R274. This means that if the SA economy improves it will probably make an upside breakout above that level. The longer a share like this moves sideways, the stronger the upward move when it finally breaks up. Consider the semi-log chart: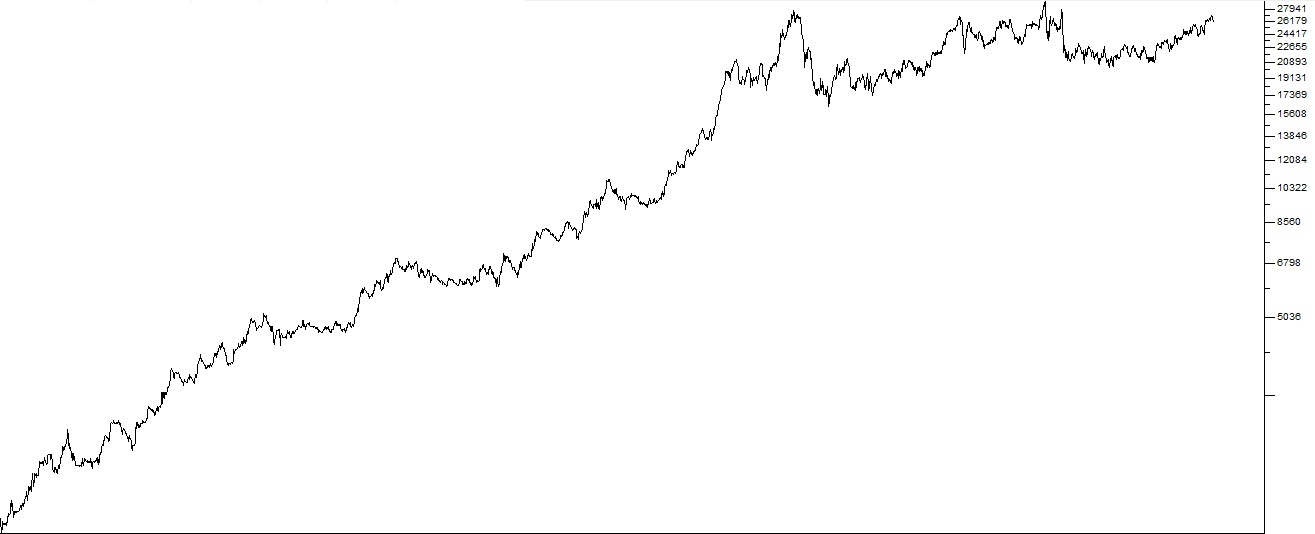 PSG Group 2009 to 2019 Semi-Log Chart - Chart by ShareFriend Pro (Click to Enlarge Image)
Here you can see that PSG is what we like to call a "diagonal share". Its chart goes from the [glossary_exclude]bottom[/glossary_exclude] left-hand corner of your screen to the top right-hand corner of your screen over a period of ten years. This shows that this company is excellently managed and very innovative in spotting and exploiting opportunities. PSG should be part of every private investor's portfolio.
CMH (CMH)
Combined Motor Holdings (CMH) runs car dealerships in Nissan, Volvo, Toyota, Opel, Subaru, Lexus, Mazda, Isuzu and Ford - selling both new and used vehicles. The motor industry is very affected by the state of the economy because consumers can usually keep their vehicles on the road for longer in recessionary times. In its results for the year to 28th February 2019, the company reported that headline earnings per share were down by 8,3% while turnover grew by 5,5% with a 2% - 3% increase in prices for new vehicles. Selling and administration expenses were 6% higher and the tax rate came in at 26,8%. The group had cash resources of R676m at year end - up from the previous year's R373m. Electricity disruptions from Eskom and low business confidence negatively impacted the business. This share made a "V-top" at 3350c on 10th May 2018 and since has been tracking downwards. At current levels around 2255c, the share is on an undemanding P:E of 7,6 with a [glossary_exclude]dividend[/glossary_exclude] yield (DY) of 6,25%. Consider the chart: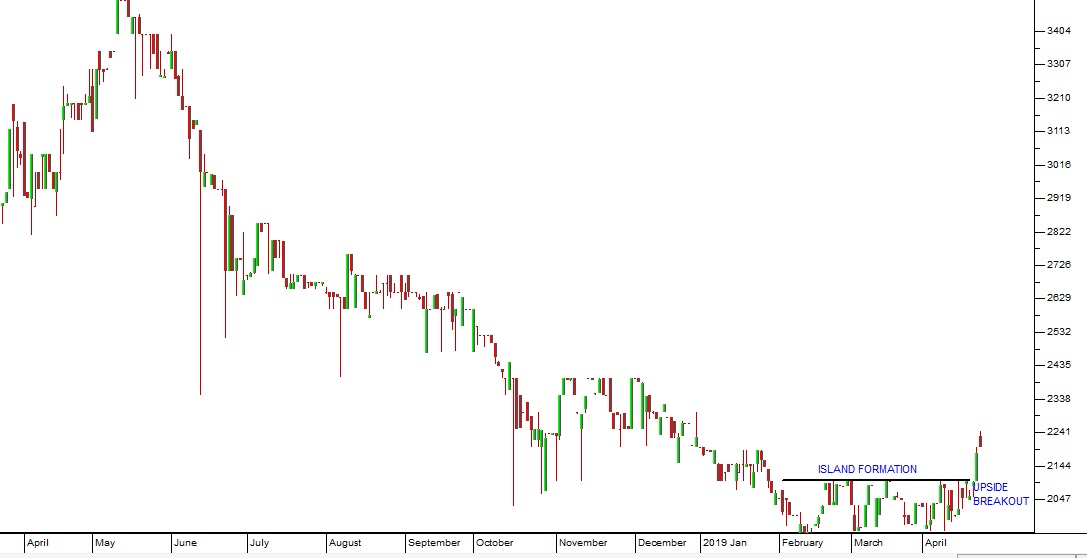 Combined Motor Holdings (CMH) April 2018 to April 2019 - Chart by ShareFriend Pro (Click to Enlarge Image)
You can see here that CMH has been in a downward trend – mainly as a result of the poor performance of the South African economy. But it is a well-managed profitable company that will benefit immediately when the economy turns around. We believe it is cheap at current levels. It has recently broken up out of an "island formation" which may well indicate that it is entering a new upward trend.
You can view a visual presentation of this report here.
To be added to our mailing list for the next webinar, click here
DISCLAIMER
All information and data contained within the PDSnet Articles is for informational purposes only. PDSnet makes no representations as to the accuracy, completeness, suitability, or validity, of any information, and shall not be liable for any errors, omissions, or any losses, injuries, or damages arising from its display or use. Information in the PDSnet Articles are based on the author's opinion and experience and should not be considered professional financial investment advice. The ideas and strategies should never be used without first assessing your own personal and financial situation, or without consulting a financial professional.  Thoughts and opinions will also change from time to time as more information is accumulated. PDSnet reserves the right to delete any comment or opinion for any reason.
Share this article: