21
Jan
---
Telkom was originally a state-owned enterprise similar to SAA or Eskom. The company went through some difficult times, retrenching 4500 employees in an effort to right-size and remain profitable. Today Telkom is owned about 40% by the government and 12,5% by the Public Investment Corporation – which means that it is still government controlled – but it has a very substantial private sector ownership and is essentially independent.
The company consists of five operating divisions –
Openserve, which is an internet connectivity provider with the largest open access network in South Africa,
Telkom Consumer is a fixed broadband and internet service provider,
BCX is a technology company,
Gyro looks after masts, towers and property development and
Yellowpages, which is a marketing and advertising company.
In its results for the six months to 30th September 2018, the group reported adjusted headline earnings per share (HEPS) up 10,3% to 328,6c. The CEPO, Sipho Maseko described the results as "satisfactory" in a difficult economy.
The company has been through a torrid period from the second half of 2017 and until about October 2018. This was due to its downsizing and retrenchment of staff as Maseko restructured the business for sustainability. The share price fell to as little as R45, but has since climbed to around R64. At this price we believe it offers private investors a unique opportunity to make a significant capital gain. Consider the chart: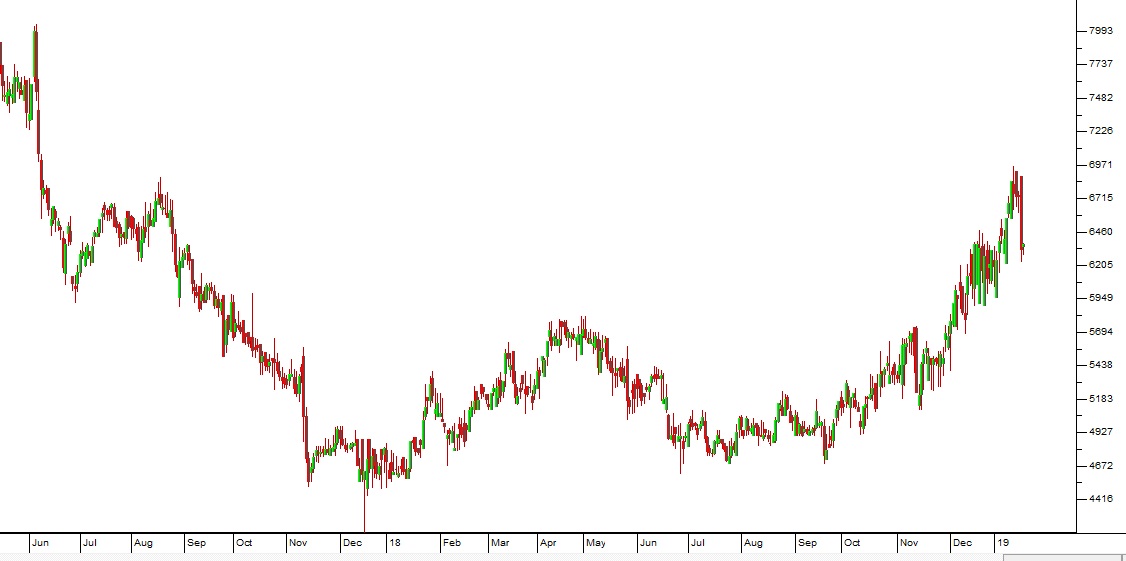 Telkom (TKG) May 2017 to January 2019 – Chart by ShareFriend Pro
At the current price, the share trades on a multiple (P:E) of around 11 with a dividend yield (DY) of around 4,4%. These make the share cheap in terms of its current earning potential.
But what really makes it a good buy is its property portfolio which is not recognised or valued at all in the current share price. Telkom owns a property portfolio which is conservatively worth around R24bn, managed by its subsidiary, Gyro. The portfolio consists of 1330 properties including office buildings, residential and undeveloped land. Telkom has the intention of spinning Gyro off into a separately listed company sometime over the next year.
This would probably be worth about R45 per Telkom share according to some analysts – so we are suggesting that Telkom offers an almost risk-free way to make a substantial 70% capital gain over the next year.
DISCLAIMER
All information and data contained within the PDSnet Articles is for informational purposes only. PDSnet makes no representations as to the accuracy, completeness, suitability, or validity, of any information, and shall not be liable for any errors, omissions, or any losses, injuries, or damages arising from its display or use. Information in the PDSnet Articles are based on the author's opinion and experience and should not be considered professional financial investment advice. The ideas and strategies should never be used without first assessing your own personal and financial situation, or without consulting a financial professional. Thoughts and opinions will also change from time to time as more information is accumulated. PDSnet reserves the right to delete any comment or opinion for any reason.
---