04
Jun
---
Political
President Ramaphosa has been fortunate that his two main opposition parties for the 2019 election have been busy shooting themselves in the political foot. The DA's extraordinary handling of Patricia De Lille now threatens to lose them their anchor support among the coloured people of the Cape Province. At the same time, Ramaphosa's shrewd move to annex the EFF's primary populist appeal in the area of land expropriation has forced that party to the extreme left where it has become blatantly and overtly racist in its message and at the same time made absurd suggestions about all land in South Africa reverting to the government on some basis. In the meantime, under Ramaphosa's leadership, the ANC has been looking more and more like the balanced party of reason and common sense. An increased majority in 2019 will entrench Ramaphosa for the next ten years.
The stabilising of state owned enterprises (SOE) since President Ramaphosa took over is having a strongly positive impact on South Africa's capital markets and its ability to raise investment finance. With Pravin Gordhan as Minister of SOE's and with the new SOE boards which have been introduced, there is far greater confidence that these organisations will adhere to proper corporate governance in future. This makes them a far better risk and encourages a flow of funds into the country. The most recent SOE board to be replaced by Gordhan is that of Transnet where allegations of state capture and corruption are rife. Popo Molefe is to be the new CEO. A similar impact is being felt on the JSE where overseas investors have become much more positive about investing in listed entities. An emerging economy like South Africa should do everything in its power to encourage foreign direct investment (FDI). In the meantime, the new SAA board is saying that it will need a further R21bn over the next 3 years to finance its turnaround plan. This is after the national airline has already had about R55bn in government injections in the past. Our recommendation is simple – close it and sell off the bits for whatever they are worth, write off the debt and forget about having a national airline. Private enterprise (in the form of Comair) can do everything that SAA has been doing at enormous cost to the tax-payer for years. The problem with the idea is that the government would have to write off about R19bn and that might impact on confidence in the situation at Eskom. Even if SAA is put into business rescue, it might result in a run on Eskom debt – which is more than 20 times as large as the SAA debt – and that would be catastrophic for South Africa.
It was always true that, while South Africa had the wrong man as president, nothing could really be done about all the multifarious problems facing the country. But now that we have a new president, who is obviously a businessman and clearly not interested in any sort of corruption, the position is changing steadily. The appointment of a new permanent CEO and financial director at Eskom is a step in this direction. Hadebe, (the new CEO) has been doing an excellent job. He has done a road-show overseas and raised R43bn for Eskom since January. So it is now financially stable. He has also assured everyone that there will be no load-shedding this winter and that he is on top of the coal shortage at about 6 power stations. The entire economy runs on electricity so his assurances and competency are a comfort. His appointment as permanent CEO is welcome.
Foreign direct investment (FDI) is a critical component of the South African economy. Under Zuma's presidency, FDI languished and with it economic growth. Ramaphosa has been busy turning that situation around firstly with the new mining charter which is imminent and secondly by doing road-shows and encouraging first world countries to invest here. He most recently welcomed the Japanese delegation to South Africa and spoke of his hope that South Africa would get a sizable share of the $30bn which Japan has ear-marked for investment in Africa. There are more than 240 Japanese companies operating inside South Africa. It would appear that our new president is very alive to the importance of building up FDI and has said that all barriers to the flow of foreign capital would be removed. The success of Ramaphosa's efforts can be seen in the relative strength of the rand.
Wall Street
A trade war between America and China was never something that the markets took very seriously. Despite the sensationalising of Trump's commercial attacks on China and their responses, there is simply too much for both sides to lose from such a war. The result of that is that the correction which is currently in progress on the S&P500 index did break down to new low levels, but consolidated and has now even moved up. A break above 2786 (the previous cycle high) will indicate that the bull trend is resuming and that a new record high can be expected. On the other hand, any fall through support at 2581 will indicate that the correction is far from over. In our view, the upside breakout is the more likely, given the strong growth being recorded in the US economy. Consider the chart: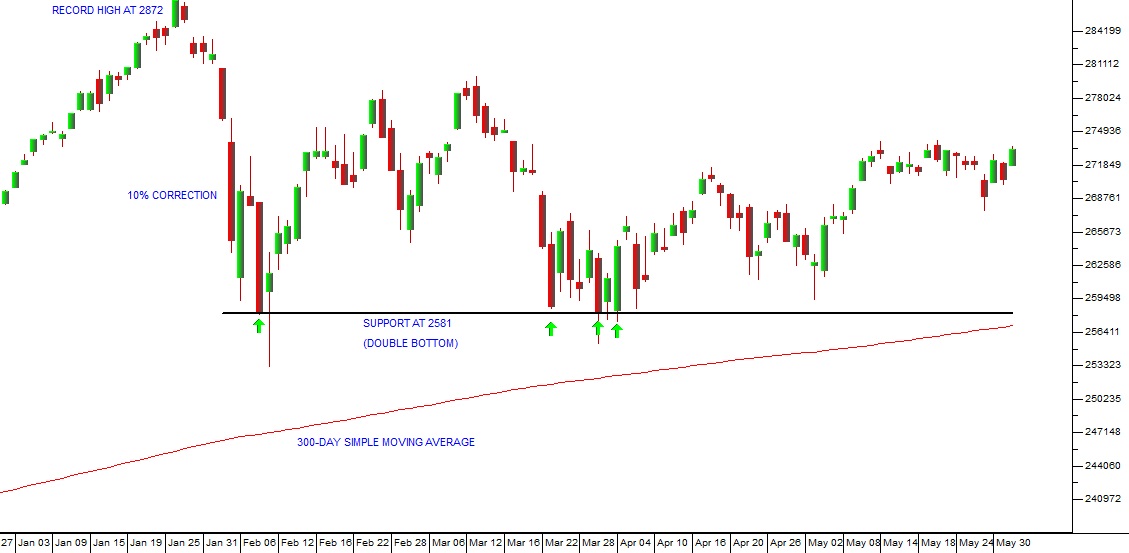 S&P500 Index January 2018 to May 2018 – Chart by ShareFriend Pro
This correction has now been going on for more than four months – and some sort of resolution must be imminent – one way or the other. The JSE has been following Wall Street and waiting for new direction. A new record high on Wall Street will set the stage for some strong recoveries on certain of our blue chips – like Capitec and Dischem.
The Rand
The rand has continued to weaken in recent weeks, drifting towards R13 to the US dollar. Much of this is because of US dollar strength which has seen the currencies of comparable emerging economies weaken much further than the rand. But that is of little comfort to the South African consumer faced with yet another substantial hike in the petrol price in June. Consider the chart: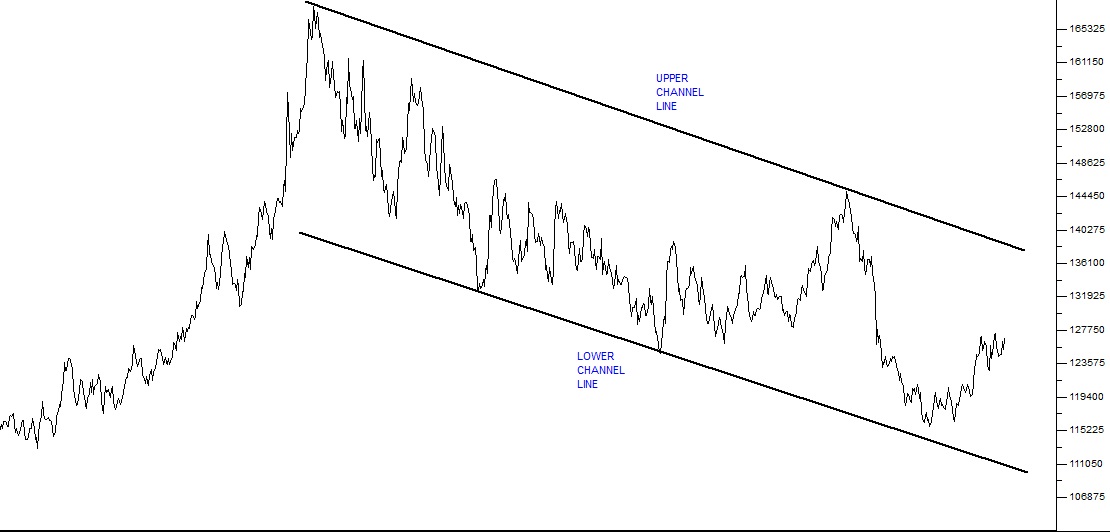 Rand Dollar Exchange Rate January 2015 to June 2018 – Chart by ShareFriend Pro
Here you can see the long-term strengthening channel in the rand which we have pointed out previously. Since February, however, the rand has been weakening, probably deliberately to allow the mining industry a breather. In our estimation, the rand could weaken all the way back to the upper channel line – which would be at around R13.50 to the US dollar. If that happens, we should expect further petrol price increases.
Economy
The decision by Standard and Poors (S&P) to maintain South Africa's rating unchanged at one notch below investment grade is a sign that our economic management is improving. S&P is the most conservative of the three big ratings agencies and it is talking about the possibility of returning SA to an investment grade in November this year when it does its next review. The next agency to consider SA's rating will be Fitch which is expected to give a decision in June. Moodys is the only one of the three that still has SA at investment grade. We believe that SA will return to investment grade in the fairly near future provided nothing too radical comes out of the ANC's land-reform discussions and the government's debt consolidation continues to improve. Obviously, the government's ability to remain within its debt covenant is a direct function of the various state owned enterprises (SOE) and their need for support.
The mining and manufacturing figures for the first quarter of 2018 were disappointing. Mining was down 3,4% and manufacturing 1,6%. These two make up 8% and 13% of GDP respectively – so they will drag the overall figure down. Ramaphosa euphoria is on the wane and much will need to change from a structural point of view before consistent growth can return to the economy. The legal environment within which mines operate needs to be overhauled and must remain consistent before significant investment will flow into that sector. Our manufacturing sector has lagged behind the rest of the world for about a decade and is not yet showing any signs of recovery. Ramaphosa has said that he wants to double GDP growth, but that will mean that he has to make more and deeper changes over the next year leading up to the 2019 election.
The level of new vehicle sales is a closely watched statistic because it gives a good indication of consumer spending and how consumers are feeling financially. If times are tough, people postpone buying a new car. They rather fix the old one and keep it on the road for another year. But when they begin to feel more confident and "wealthier" one of the first things they will do is to take on the debt associated with buying a new car. New car sales in April were up 3,6% on April last year – and that figure could rise to 4,6% when the Fiat/Chrysler number is added. Of course, last year was a torrid time for new vehicle sales because the negativity was at its height with corruption, nepotism, state capture and the immovable Jacob Zuma. The jump in new car sales is part of the "Ramaphoria" which has been sweeping the country. Of the total number of new vehicles manufactured in South Africa, 60% are exported – mainly to Europe and especially the UK. Exports of vehicles last year were slightly slower because of shut-downs for re-tooling for new models and because of the stronger rand towards the end of the year.
Agricultural production is a key component of economic growth and inflation in South Africa. This year's maize crop is expected to be around 12,8m tons – which is less than the record, but still a good crop which will result in a maize surplus for export. The fall in the price of maize has been a major element of the declining consumer price inflation (CPI) rate which reached 3,8% in March, but that has been threatened by the drought in the Western Cape. Wheat production is also expected to be higher this year, but to remain less than South Africa's needs, leading, once again, to imports. Maize prices are an important component of food inflation because they under-pin the price of chicken and other protein sources. Food inflation generally has fallen significantly, but is now probably at its lowest level.
The public sector wage negotiations are once again, predictably, headed for deadlock. The various unions can no longer agree on an acceptable settlement, but all have a problem of one sort or another with the current offer on the table from the government. Negotiations have been temporarily halted while the government considers how it could possibly sweeten its offer. With the public service accounting for some 35% of total government expenditure, an agreement in these negotiations is crucial. It will impact on the government's ability to stick to its budget and continue the process of debt consolidation. That in turn will impact on the attitude of the ratings agencies and South Africa's progress back towards investment grade. We expect that at some point the president will have to become involved.
The level of interest rates in South Africa is market-determined. The Reserve Bank constantly goes to the market to raise cash by selling government bonds. These bonds (which are government "I.O.U's") mature anything from 2 years to 30 years down the line and carry interest rates which compete with alternative bonds on offer from other emerging economies and those, together with ours, depend on the state of the US dollar. Right now, US treasury bills are looking quite attractive as yields on their 10-year bill have recently gone above 3%. This makes it more difficult to sell emerging market government bonds and so we have to offer higher yields. Political risk and local inflation are major factors. For example, Argentina, another emerging market that competes with us for international funds, has an inflation rate which is around 25% and interest rates there are now at about 40%. South Africa is seen as a far lower risk politically than Argentina – but that perception is vulnerable to anything that the government says or does.
The Reserve Bank's decision to keep rates on hold at its latest Monetary Policy Committee (MPC) meeting was expected and reflects the likelihood that the declining rates cycle is now over. The Bank indicated its determination to keep the Consumer Price Index (CPI) inside the target range of between 3% and 6% for the next three years. This is an improvement on the position five years ago and bodes well for economic stability in this country. The inability of Zuma and the Gupta's to capture the Reserve Bank has enabled the country to come through this difficult period relatively unscathed and in a better position than most of its emerging market peers. It is now probable that interest rates will remain on hold for a while. The Reserve Bank is talking about a 0,25% hike towards the end of this year and maybe one early next year. In the meantime, the recent Massmart results show that consumers, especially in the lower and middle income categories, are still taking strain. Growth this year and next are not expected to be sufficient to accommodate the school-leavers coming into the job market – which implies that unemployment will continue to remain high.
The rising oil price has combined with the decline of the rand to create a second massive petrol price rise for South African motorists. The under-recovery of 82c on the fuel equalisation fund translated into an 82c per litre increase on the first Wednesday of June – which must be added to the 72c hike at the beginning of May. Petrol is approaching R16 per litre. Fortunately, the level of inflation is low at around 4,5% because of improved food costs, but the rising petrol price will dampen consumer spending in the months to come. The weakness of the rand is helpful for our struggling mining industry, but has combined with the stronger oil price to create the "perfect storm" as far as the petrol price is concerned.
General
BITCOIN – On 8th December 2017, we ran an article under the heading "The Bitcoin Bubble" in which we suggested that the bitcoin price was following the typically unsustainable exponential formation which is commonly associated with asset bubbles. At the time bitcoins were trading north of $18500 per coin. Less than a week after the publication of that article, they began a collapse which saw them lose about two-thirds of their value. Consider the chart: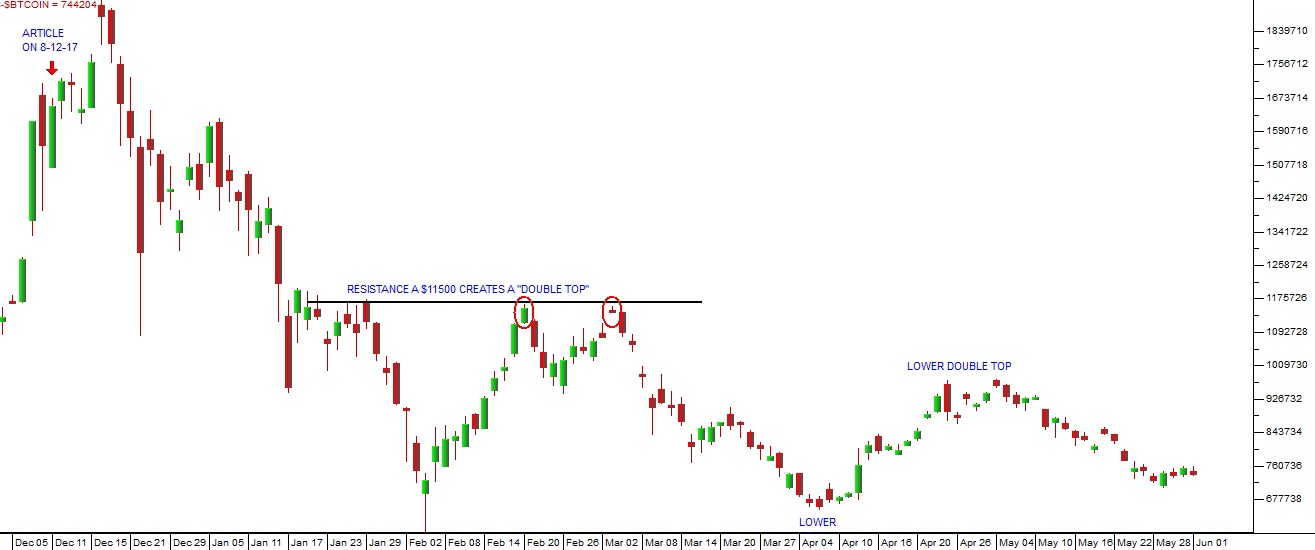 Bitcoin December 2017 to June 2018 – Chart by ShareFriend Pro
Since making a record high of $18786 on 18-12-17, bitcoin fell back to a low $7246 on 6-2-18 and then rallied to find strong resistance at about $11500. Since then they have made a new lower low at $6582 on 6-4-18 and then rallied off that low to make a new much lower top at around $9596. That has been followed by further weakness which suggests that another lower low is imminent. The pattern of falling tops and bottoms which we see here is typical of a bear trend. So in our view, bitcoin will remain highly speculative and we would not advise anyone to buy them. What is, however, interesting is that cryptocurrency trading platform "Luno", which is backed by the Naspers group, says that trade in cryptocurrencies is growing exponentially. It has 2 million customers world-wide and traffic is doubling every few months. It is also noteworthy that Warren Buffett has predicted that Cryptocurrencies would come to "a sticky end" in due course.
The JSE is in competition with the four new small exchanges which have recently set themselves up in South Africa. The most important of these new competitors is A2X, which recently scored the listing of Sanlam and should get more large company listings in the near future. The JSE has a market capitalisation of R11,7 trillion and is the 17th largest stock exchange in the world. Despite this the JSE has been cutting its prices to meet the new competition. So far the JSE claims to have reduced prices by 20%. From a private investor's point of view this is all to the good. For far too long the JSE has had a virtual monopoly in South Africa. A2X has also recently announced that it wants to change its license to enable it to take on exchange traded funds (ETF) and exchange traded notes (ETN). At this stage, A2X can only offer secondary listings of companies that are already listed elsewhere, but it plans to offer primary listings within the next 18 months.
The Government Employee Pension Fund (GEPF) has R1,67 trillion of government employees' pension contributions which is managed by the Public Investment Corporation (PIC). If there is a shortfall in the fund then the government (the taxpayer) must make it up. In 2017 the government had to jerk in R42bn. The PIC is a major investor (between 10% and 12%) in most of the major listed companies on the JSE – and the steady growth of these companies means that the funds under management grow steadily. But often the PIC makes bad investments – such as its R4,5bn investment in Erin Energy which has just gone bankrupt, or its similar-sized investment in 29% of recently listed Ayo – which has already lost about half of its market capitaliSation in a very thinly traded counter. The PIC was also a major investor in VBS bank and has probably lost everything there. To the extent that these losses are not made up by the growth of investments, like its 15,2% holding of Bidvest or its 11,8% holding of Standard Bank, the taxpayer will have to make up the difference.
The new president of Zimbabwe, Mnangagwa, is steadily improving the Zimbabwean economy. His latest move is to get a Chinese firm (Sinosteel Corporation) to pay for a massive enhancement of the country's ferro-chrome output from 120 000 tons to 300 000 tons. They will also install a power plant at Wankie to reduce the country's dependence on South African and other imported electricity. Zimbabwe is rich in natural resources and there is really no reason for it to be economically poor. As in South Africa, it is amazing what a change of leadership can do.
Commodities
OIL
The steady climb in the price of North Sea Brent oil reflects the recovery of the world economy, led by America. Motivated by the massive monetary stimulation of the past ten years, more and more consumers and businesses world-wide are gaining in confidence. The sub-prime crisis of 2008 is receding into history and spending patterns are picking up. This is driving the oil price to new highs as the number of A/B income group people in the world rises. There is a natural ceiling to the oil price because shale oil becomes economically viable at around $50 per barrel – which tends to prevent the oil price from rising too quickly. Nonetheless, the rising oil price must be seen as definite evidence that the world economic recovery is gaining momentum and spreading from the US to other countries, especially Europe, China and Japan. Consider the chart: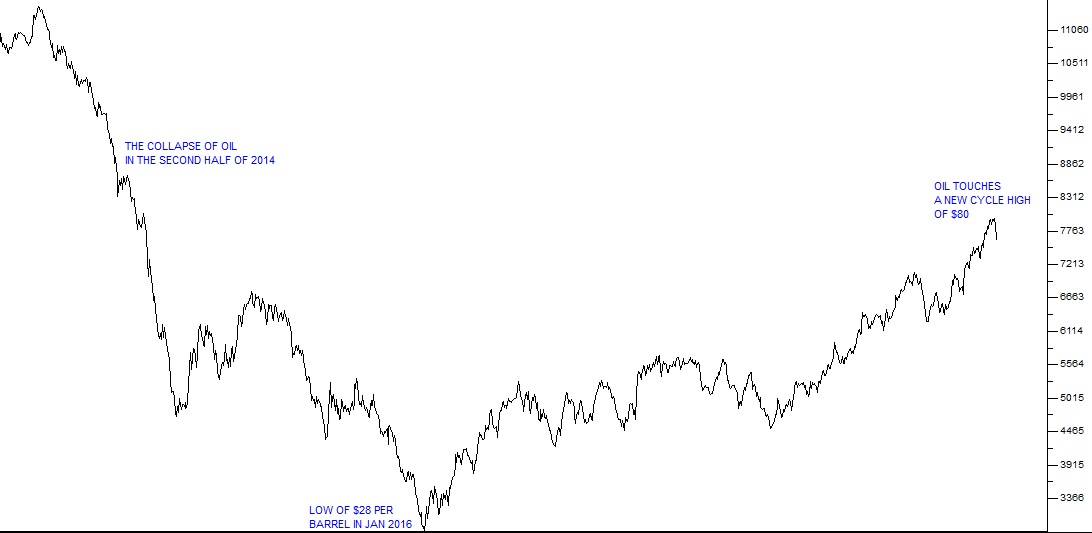 Brent Oil Index May 2014 to May 2018 – Chart by ShareFriend Pro
The suggestion by the Chinese entrepreneur William Yang that he will inject $5bn into the South African ferro-chrome sector is very exciting. Yang is the CEO of a large Chinese group and he says he has the cash and that more will follow. He has a vision of building an entire industry which he says could easily rival the gold or platinum industry in this country. South Africa has enormous resources of high-quality chrome, iron, zinc and other metals which could be used to generate a massive ferro-chrome industry, manufacturing inter alia stainless steel. Yang even says he will build a power-plant in due course to supply this industry. He also says that other Chinese companies will invest heavily in this industry. Clearly, South Africa should grab this offer with both hands. If there is government red-tape impeding the process it should be swept aside – quickly. This project could create tens of thousands of new jobs in a part of the country which has suffered badly from the decline of the platinum and gold industries. Yang says the objective is to rival the Chinese stainless steel industry.
GOLD
The final closure of the Evander mine after months of unprofitable operation tells the story of the South African gold mining industry. The closure means that a further 1600 families will lose their income. This brings to more than 70 000 the number of jobs lost in the gold mining industry since 2005. Ever since the turning point in world inflation during the 1980's this industry has been on a steady decline. The collapse of the oil price in the second half of 2014 was the death knell. Inflation rates world-wide have remained stubbornly low, despite increasing growth. Low inflation is bad for gold because gold pays no return – so investors rather put their money into US T-bills which are very secure and at least pay something. In 1970 South Africa produced 1000 tons of gold – more than all of the rest of the world put together. Last year we produced just 140 tons and were ranked the eighth largest producer. We can expect more shafts and mines to close because our average cost of production is $1010 per ounce against the world average of $878.
SIBANYE (SGL)
Niel Froneman is a risk-taker. His acquisitions in Sibanye have given him a world-wide platinum group metals (PGM) company at very good prices. He has taken advantage of the fall in especially the platinum price to buy up the unwanted assets of Anglo and Aquarius. Now he is in the process of buying out Lonmin. These assets have already enabled him to cut about R1bn of costs and he says that the Lonmin deal will bring a further R1,5bn in cost savings. Lonmin is attractive because of its platinum smelter and refining capability. This could be used by the entire South African group of platinum mines to produce PGM's at much more competitive prices. So Froneman is an opportunist who is consolidating the platinum industry in South Africa in the hopes that the platinum price will recover as the world economy recovers. To do this he has geared the Sibanye balance sheet to the roof. If he is right and can hold the group together until the hoped for rise in platinum prices materialises, he will make his shareholders wealthy. If platinum prices fall much further or even wallow at current levels the gamble will probably fail – high risk, high potential return. In the first quarter of 2018, 76% of Sibanye's earnings before interest, tax, depreciation and amortization (EBITDA) were derived from platinum and were down 62% on the same quarter last year – mainly because of a dismal performance from the company's South African mines – and partly as a result of the stronger rand. Importantly, the company managed to reduce its debt levels to more acceptable levels. The company is constantly re-balancing its financing to create improvements and says that it has no intention of raising more money through a rights issue. What they might do is to sell forward some of the production from Stillwater. This could generate $500m – but obviously it will impact on future incomes.
Companies
CARTRACK (CTK)
We first drew your attention to this share in the Confidential Report in March this year and then again last month. We really feel that this is an opportunity not to be missed. The company is in the "telematics" business and specialises in installing and monitoring tracking devices in motor vehicles. It was originally a South African company, but it now has customers in 24 countries and is growing rapidly. Their technology has many possible applications which are nothing to do with motor cars and they are growing at about 20% per annum. Because they recover about 93% of monitored vehicles in South Africa, they have been able to offer theft insurance for vehicles costing less than R150 000 at R10 a month – which is sure to be a hit especially in this country. But the main benefit of this share is that most of its income is "annuity" income which means that people and companies sign debit orders in their favour so that the cash just rolls in month after month. They have already made a profit before the month begins and they have almost no working capital. They are the best kind of service company. The share is trapped at around 1740c per share and its volume traded is too small for the big institutions to be able to make a significant investment – but that will not always be the case. Sooner or later this will inevitably become an institutional stock and when it does we expect the share to go up strongly. It's the kind of share you should buy on an on-going basis whenever you have some spare cash. Eventually, if you have patience, it should pay off big.
PSG (PSG)
This company has been built up by Jannie Mouton since 1995 when he first listed it. An investment of R10 000 in PSG in 1995 would today be worth R500m – a very clear indication that investment in the stock market can and does beat every other type of investment. The group has become a major investment powerhouse with a market capitalisation of R52 billion. The share was 15c in November 1995 and is now trading for R217 and has been as high as R297. Consider the chart: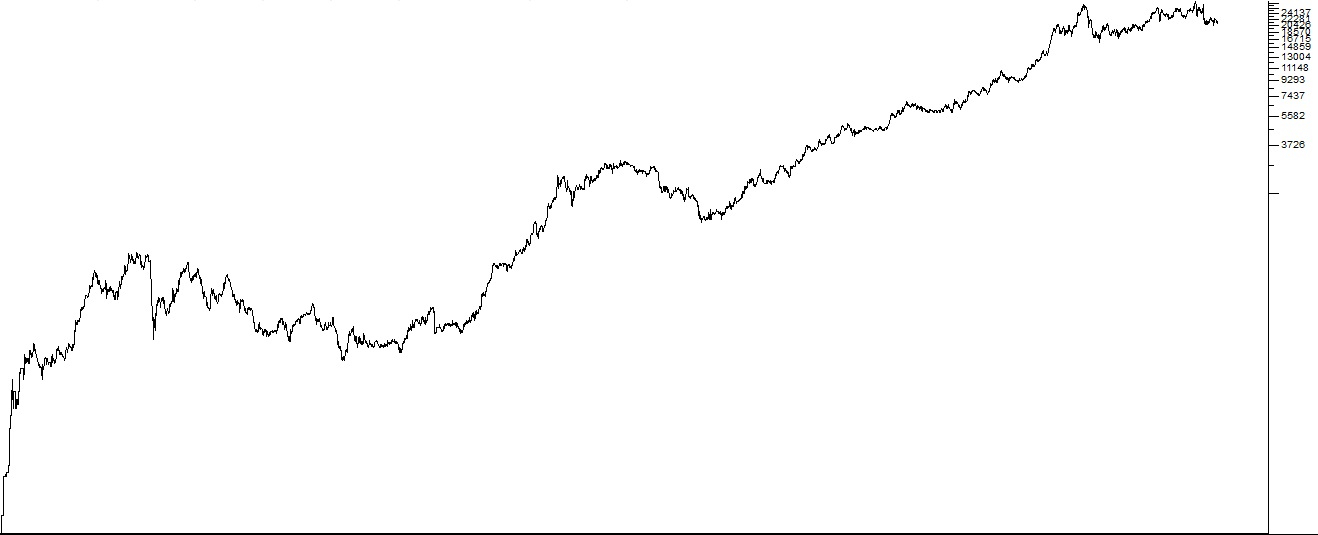 PSG Group (PSG) Semi-Log Chart 1995 to 2018 – Chart by ShareFriend Pro
The group is well known for having produced Capitec Bank and Curro Holdings among other excellent JSE-listed investments. Sadly, Jannies Mouton has been diagnosed with early stage dementia and will have to retire from his position – but the group he started will continue to grow.
STEINHOF (SNH)
The Steinhof saga is rapidly coming to a head. The share price tells all. It has now dropped to as little at 115c and looks to sink lower as new horrors emerge virtually every day. And, all the while, its 65-day exponentially smoothed moving average (65-day E) continues to fall with it. That moving average is now at 406c having fallen from over 5900c just six months ago. The South African investment community is in shock at the massive losses which they have incurred (more than R200bn) in this apparently stable blue chip. Confidence levels have taken a beating with well-known and trusted names like Coronation and Allan Gray licking their wounds. One investment professional described Steinhof's accounting as a "rabbit warren" because it was so difficult to unravel. Is there an opportunity for the private investor here? We think probably not – it seems unlikely that it will break up through the 65-day E anytime soon. What is clear though, is that the big institutions which focus on fundamental analysis to the exclusion of technical analysis failed to see something that was very obvious. Had they paid attention to the declining triple top formation in the Steinhof share price between March and August of 2016 they could have sold out of their positions – or at least reduced them significantly. Consider the chart: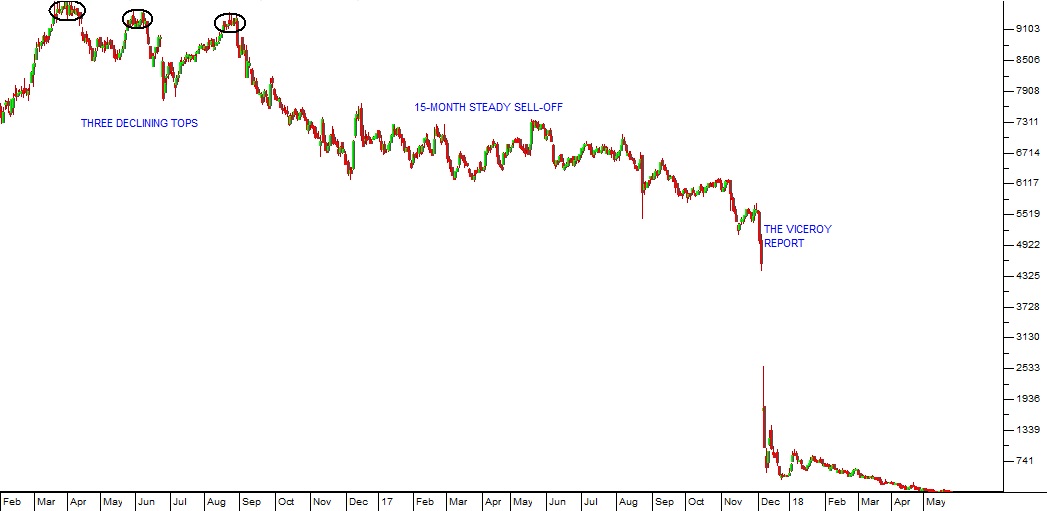 Steinhof (SNH) February 2016 to May 2018 – Chart by ShareFriend Pro
DISCHEM (DCP)
The sharp fall in the Dischem share price on 3rd and 4th May 2018 is a result of disappointment that its turnover was not higher. It is one of those cases where the market was expecting more than 20% growth in earnings rather than the 6,6% which Dischem actually delivered. The lower profit was mainly due to the scaling up of its wholesale division. In other words it sacrificed current earnings to invest heavily in its future growth. At the retail level, the company added another 21 stores to take it to 129 in total, and retail turnover was up 15%. The company is aiming to increase market share to around 25% from its current 22%. After its sharp fall, the share found support at around R30 and looks set to climb off that base. So this was a buying opportunity in this high-quality share. We still believe that Dischem will continue to perform well as it adds more than 20 new stores every year.
NASPERS (NPN)
Naspers trades at more than 40% discount to the value of its primary holding – 31,2% of Tencent. In the last month, Naspers has sold 2% of Tencent and its entire holding of the Indian online e-commerce business, Flipcart. These two sales have left Naspers with R151bn in cash and now there is speculation as to exactly what the company will do with this money. So far it has invested further into its used car interests in OLX Classifieds. And also put $50m into the US healthcare technology market. Some are saying that a good option would be for the company to buy back its own shares while others are suggesting more acquisitions. The key though is to close the gap between the net asset value (NAV) of the share and its current share price on the JSE. One option is to take a secondary listing on the Hong Kong Stock Exchange where Tencent is well understood. This would undoubtedly help to close the gap. For the moment however, Naspers is a hugely under-valued share with a massive cash pile. In our view, Naspers represents significant value at current prices. There is much value still to be unlocked here.
LONG 4 LIFE (L4L)
At its recent results presentation, Brian Joffe indicated that he wanted to double the market capitalisation of L4L from R5bn to R10bn by making a sizable acquisition. Thus far, the company has acquired Sorbet (beauty chain), Inhle and Chilli (beverages) and Holdsport (out-door). These companies produced EBITDA (earnings before interest tax, depreciation and amortization) of R170m – which translated into headline earnings per share (HEPS) of 30c and a dividend of 5,4c. What is important is that only 4 months worth of their earnings were recorded and if they had been contributing for a full year they would have produced R510m. All of this leaves L4L on an historical dividend yield (DY) of 0,85% and a P:E ratio of just under 17. It has about R1,3bn in cash and obviously it can use its shares to make more acquisitions. Consider the chart: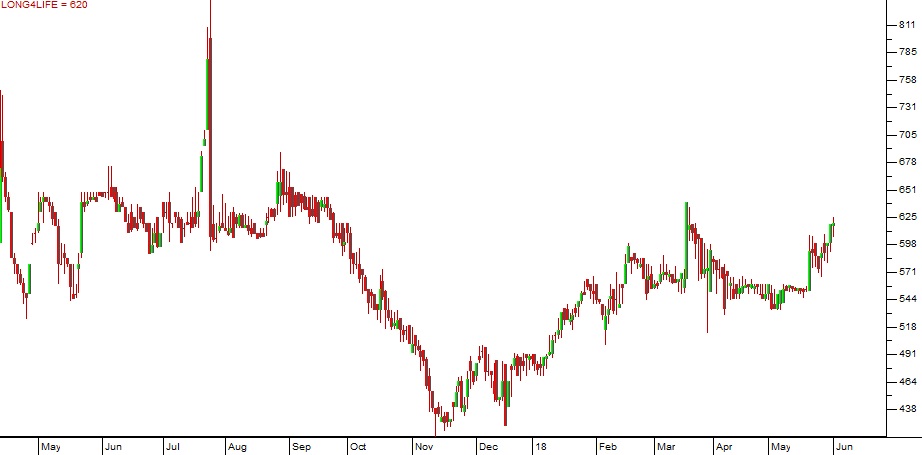 Long 4 Life (L4L) April 2017 to June 2018 – Chart by ShareFriend Pro
CAPITEC (CPI)
Following the publication of the Viceroy report in January this year, the Capitec share price has been battling to recover, despite vigorous denials by management and a good set of results. The share has remained stubbornly below R900 with strong selling anytime it showed any improvement. In this situation the private investor needs to ask the question, "What don't I know?" It is always difficult for private investors to get the inside track and there is almost certainly relevant information which they don't know. The secret is to watch the share price and volume and see whether it conforms to your expectations. For example, if the Viceroy report was really without merit, then surely Capitec should be back above R1000 by now? The fact that it isn't is a little scary, but perhaps reflects the on-going saga with Steinhof and the correction which is in progress on world markets. The share price has formed very strong support at around R800 and it now seems likely that it will soon be back above R900. Remember the old rule:
"If what you expect to happen does not happen, then you are almost always better off selling sooner rather than later."
MIX TELEMATICS (MIX)
This is a direct competitor to Cartrack, but is much more expensive, trading at a P:E of 30 against Cartrack's 18. Both companies are international and both are growing rapidly, but Cartrack is somewhat less liquid – which makes it less appealing to institutional investors. The lower volume traded might make Cartrack attractive to private investors precisely because sooner or later the institutions will get involved. Mix has produced excellent results for the year to the end of March 2018 with turnover up 19% and operating profit up 56%. We regard this as perhaps a more expensive option than Cartrack, but more liquid and much closer to getting institutional support.
OLD MUTUAL (OML)
The break up of Old Mutual into four separate entities is happening – and it is expected to release some shareholder value. OML will be competing with Sanlam on the JSE once the separation is complete. Current estimates are that OML is effectively trading at a forward P:E of about 7 against the 14 P:E of Sanlam. This should result in a significant re-rating of the share which will offer private investors an opportunity to make an almost risk-free capital gain. OML also has plans to compete in the insurance sector in the C/D income group market (which is dominated by Capitec). We think that this is potentially a good investment
RESILIENT (RES)
The news that Resilient will have to re-state its financials going back to 2017 or earlier and consolidate its various BEE trusts will have a serious negative impact on the company – and it validates the 360ne Asset Management report. This information has only just broken and it was not available to the public until a couple of weeks ago. But it was in the charts. The Resilient share price, despite the strenuous objections of its CEO that everything was fine, has never managed to break back above its 65-day exponentially smoothed moving average (65-day E). Consider the chart: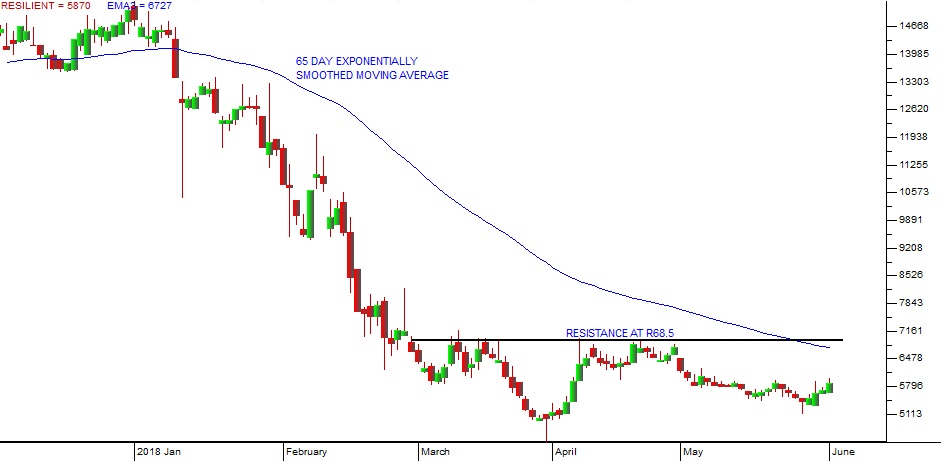 Resilient (RES) December 2017 to June 2018 – Chart by ShareFriend Pro
You can see here that after the 360ne report came out the share fell heavily to a low of about 5000c – and then rallied, but failed to penetrate resistance at 6580c despite four or five attempts. Since then, instead of recovering, it has entered a "disturbing downward drift" – which indicated that all was not well. As a private investor, this is the only kind of warning that you will get – and you need to pay attention to it. At the very least you should wait for it to break above its 65-day exponentially smoothed moving average.
AEEI (AEE)
The recently listed AEEI has attracted more attention since its 49%-held (and also recently listed) subsidiary/associate company secured a R2bn deal with Sasol to supply all its software requirements. AEEI's recent results were also boosted by the sale of its 30% holding in British Telecoms (worth more than 200c per AEEI share). That sale has led to speculation that there could be a large special dividend in the offing. All of this has rather confused the market which at first regarded the AYO listing as having been done at a very high price. Like any new investment the company has its believers and its detractors, but if it pays out a big cash dividend it will certainly create belief in its management and future. As far as private investors are concerned, however, this remains a speculative option and unless you have some inside information or contacts, you should proceed with great care. It may be of some comfort to know that the government pension fund has invested heavily – although not everything they choose turns out well.
TIGER BARNDS (TBS)
The Listeriosis outbreak, which cost 200 lives, has had a severe impact on Tiger Brands results – causing it to lose R365m – before any insurance or civil claims are met. This is about 15% of its interim profit for the six months to end-March 2018. The company is doing all it can to comply with health requirements and repair the damage, but obviously there is still more bad news to come. The share price has fallen heavily since the news broke at the beginning of March this year. What is interesting is that there is a clear head-and-shoulders formation immediately BEFORE the listeriosis was connected to Tiger – which would have scared any technical analyst away from the share. Consider the chart: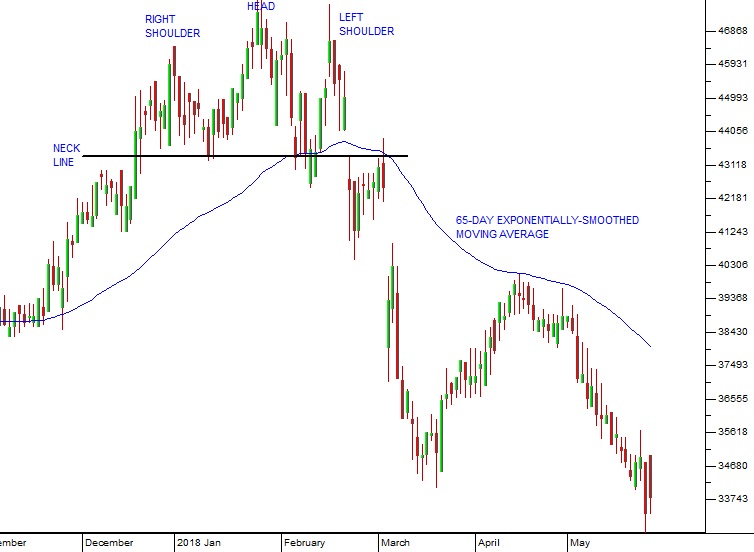 Tiger Brands (TBS) November 2017 to June 2018 – Chart by ShareFriend Pro
Here you can see a classical head-and-shoulders formation with left shoulder, head and right shoulder. Does this mean that someone knew about the liability for the listeriosis outbreak before it became generally known and began to off-load their Tiger shares? What is obvious is that the share will probably fall further, so once again, we recommend the use of a 65-day exponentially-smoother moving average (65-day E) to determine when is the right time to buy back into this blue chip share. Just wait for the share price to break up through its 65-day exponentially-smoothed moving average and then make your decision.
TELKOM (TKG)
Telkom is a government-controlled listed company. It produces an annual turnover of around R40bn of which about R10bn is EBITDA (earnings before interest, taxation, depreciation and amortisation). At its current share price of 5248c, the company is trading on a dividend yield of 5,4% and a P:E ratio of 8.8. That should make it interesting, but the perception of the investment community is that it is government-controlled and thus it's objectives might not be completely commercial and profit-oriented. For example, the government recently considered selling its stake in Telkom to the government pension fund to give it funds to shore up other state owned enterprises. What is missing from this picture is the fact that Telkom owns properties which are worth an estimated R24bn – just a little less than its current market capitalisation of R26,8bn. Telkom is now looking to exploit these property assets by partnering with other existing property companies. Any way you look at it, Telkom appears to represent value at the current share price. The problem is, "Will that value ever be realised?"
You can view a visual presentation of this report here.
To be added to our mailing list for the next webinar, click here.
DISCLAIMER
All information and data contained within the PDSnet Articles is for informational purposes only. PDSnet makes no representations as to the accuracy, completeness, suitability, or validity, of any information, and shall not be liable for any errors, omissions, or any losses, injuries, or damages arising from its display or use. Information in the PDSnet Articles are based on the author's opinion and experience and should not be considered professional financial investment advice. The ideas and strategies should never be used without first assessing your own personal and financial situation, or without consulting a financial professional. Thoughts and opinions will also change from time to time as more information is accumulated. PDSnet reserves the right to delete any comment or opinion for any reason.
---