5 February 2020
By PDSNET
America
The impression may be given that the world economy is in a much better place than it was 6 or 7 years ago mainly because of the strong recovery in the US economy and the record-breaking S&P500 index. However, it is interesting to note that in November 2019 there was approximately $15 trillion being held in first world government bonds at negative real rates of interest. These are funds placed in government bonds at rates of return which are below the current inflation rates of the countries where they are. The only reason for this type of investment is fear. The investors concerned are willing to take a negative real return in exchange for the security of having their money in a government-backed security in a first world country. This contrasts sharply with South Africa where the going inflation rate (CPI) is at 3,7% and government bonds are yielding over 9% - offering a real return of over 5%. It also indicates that there is still a considerable amount of fear out there that the world economy could go into a new tail-spin. This generally supports our view that this bull trend, although now a record-breaking ten years old, still probably has a long way to go. Notably, South African government bonds now offer the best real yield of all emerging economies – so maybe there will be a flood of cash coming into the country when international sentiment shifts back towards "risk-on".
The US consumer appears to be doing very well. The average of retail sales in the US in November and December of 2019 was up 4,1% on the previous year – a very strong number for such a large economy - which shows that consumers in America are growing in confidence. In fact, confidence levels are now back to levels last seen before the sub-prime crisis and there is indication that, at least in 2020 retails sales will be buoyant. Of course, 2020 is also an election year and the growth of the economy during his first term is going to be Donald Trump's best argument for re-election. So it is unlikely that the government will do anything which impedes consumer spending at least this year. One interesting element is the level of online sales, which has tripled in the last five years, grew by a record 18,8% last year. About 14% of all retail sales in the US are now online, with outlets like Walmart closing shopfronts at an unprecedented pace. Online shopping is expected to at least double from current levels to around $7 trillion over the next five years. Much of this growth has to be at the expense of in-store shopping.
One of the enduring characteristics of markets is that they always over-react. The size of their over-reaction depends on exactly where they are in the cycle and whether the underlying sentiment is generally negative or positive. If sentiment is positive rallies will be larger while corrections will be muted – and vice versa. The S&P made a new all-time record on the day before Martin Luther King Jr Day (20th January 2020) – and that came after a consistent run which has lasted since the beginning of October 2019 – almost four months. Consider the chart of the S&P500 index: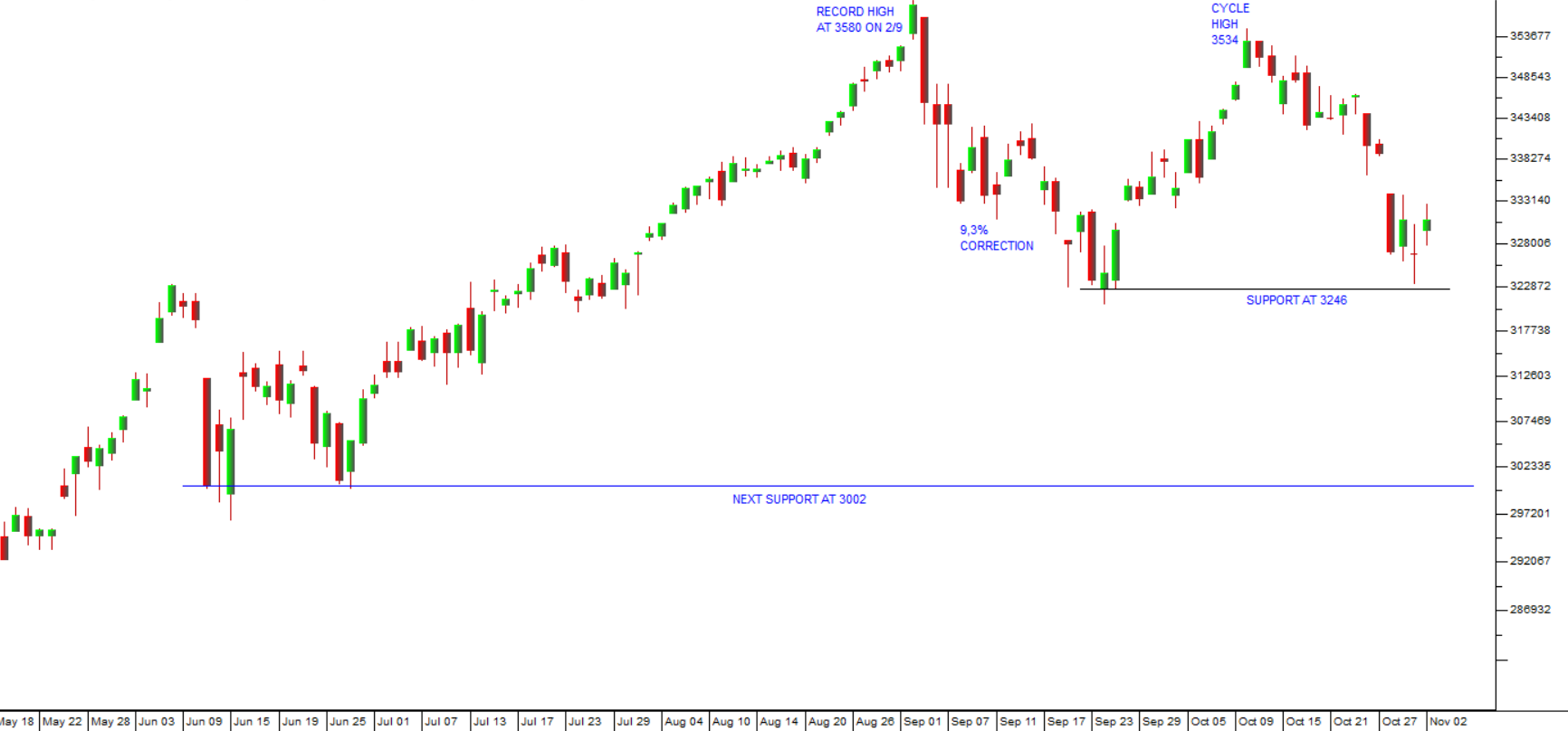 Clearly, after such a string run, the market was looking for a reason to correct. And since Donald Trump has been preoccupied with his Impeachment trial, he has been leaving the Chinese and the rest of the world in peace. The coronavirus provided the perfect excuse that markets needed to correct. With growing numbers of people infected, a rising death-toll and the spread to countries outside China, the virus has caused some panic on world markets. On Monday morning the Shanghai stock exchange was down by 8,7% at the open and the Shenzhen exchange fell 9%. This is likely to impact on Wall Street and other markets.
The S&P500 index has fallen 3,1% from its highest point (3329.63 reached on 17-1-20). In the absence of any negative tweets from Donald Trump, the spread of the coronavirus is providing the necessary scare. The number of people infected is growing rapidly as is the death toll. But can a disease which has so far only caused one death outside China really damage the world economy that badly? The restrictions on movement inside China, imposed by the authorities of most countries and China itself will certainly impede the economy. China also is the world's largest importer of commodities which could hurt South Africa. Chinese tourists are a solid source of income which we will have to do without until this scare is over. So there are some immediate impacts for this country – but the real problem is an international shift to "risk-off" among investors. In the face of this type of uncertainty, investors tend to "run for cover" – which inevitably means withdrawing their funds from the more risky emerging market economies and placing it in treasury bills of first world countries.
If this is the start of a correction, then you can expect either the virus or some other pretext to take the S&P down at least 10%. In our view, authorities are moving quickly to contain and control the spread of the virus which has less than one third of the mortality rate (2,8%) of the SARS virus (9,6%) – but appears to spread more quickly. Scientists are urgently engaged in finding a vaccine and an effective treatment. Of course, the rate of infection could become far worse, but we believe that it will not spread significantly beyond China and that the situation will be brought under control fairly soon – which makes this correction a potential buying opportunity. On the JSE, Prosus, which was already undervalued and which clearly has a strong exposure to China, has taken a sharp fall.
The question you have to ask yourself is, "Is it likely that the coronavirus could create a protracted bear trend lasting several years?" If the answer to that question is "no", then you should already be looking to pick up bargains at the bottom of this correction.
Economy
The most recent figures published by the Treasury for December 2019 are worrying. We all know that the government has had to put cash into the state owned enterprises like Eskom and SAA, so it is no surprise that expenditure is up. The problem is that there does not appear to have been any significant progress with reducing government's other expenditure – especially its wage bill. In the December 2019 month total government expenditure was up by 14% over December 2018. At the same time, tax collections were down, which is not normal for December. Usually, in December, there are substantial corporate tax collections, coming in well above budget. December 2019 tax collections were actually down by 0,7% over the previous December – which shows that the economy is taking enormous strain at the moment. Companies are simply not making the profits that they did previously. Collections of value added tax (VAT) were also lower – showing that consumers are battling. Total tax collections are running about 1,8% below what was budgeted. All-in-all, the picture is one of rising government debt and a depressed economy. The budget deficit is expected to come in at around 6,9%. So, it seems inevitable that South Africa will be downgraded by Moodys after the end-February budget speech.
Quite clearly, the Treasury's and Reserve Bank's original estimates of growth in 2019 were optimistic. With the shock decline of 0.6% in GDP in the third quarter followed closely by the 12th consecutive decline in the leading indicator we can expect growth in 2019 to be closer to zero – or even negative now that we have had renewed load-shedding in December. The Reserve Bank is now estimating that growth in 2019 will be 0,4% in 2019 and 1,2% in 2020. The International Monetary Fund (IMF) also estimates that South Africa grew GDP at 0,4% in 2019, but that it will grow by just 0,8% this year. The new bout of load-shedding in early December 2019 and the realisation that load-shedding will be around for a while left markets pessimistic. Lower growth will directly impact on tax collections and the government's ability to dig South Africa out of the hole it is in. It will also impact on the ratings agencies, and especially Moody's which has been holding on to our last investment grade rating – with a negative outlook. Growth predictions for the South African economy for 2020 vary quite substantially – mainly because of the wild card of load-shedding. The Reserve Bank has a forecast of 1,2% growth – which may well be reduced in the February budget. The World Bank has reduced its expectation of 0,9% while Nedbank is down at 0,7% and Standard is expecting 0,9%. In our view, there will probably be some recovery in growth this year. We are expecting about 1% - which is pretty much a thumb-suck. Hopefully, the authorities are working hard to ensure a consistent supply of power at reasonable prices. The pressure on Ramaphosa to begin implementing meaningful and visible economic reform is growing. This is especially true since the ANC is moving towards its National General Council to be held later on this year. It is expected that Ramaphosa will face pressure to show some movement on the party's more populist policies such as land expropriation without compensation and the nationalisation of the Reserve Bank. He is also facing criticism for the problems at Eskom and there is pressure on him to remove Pravin Gordhan's control over the SOE. It has been suggested that Eskom should fall under Gwede Manatshe as Minister of Mineral and Energy Affairs. Clearly, removing Gordhan or putting Mantashe in control of Eskom will have a devastating impact on the economy and international perceptions, but Ramaphosa will have to tread carefully as his position appears to be somewhat delicate.
The monetary policy committee (MPC) unexpectedly reduced rates at its January 2020 meeting, cutting the repo rate to 6,25% - and the decision was unanimous. This small decrease will not have a major impact on the economy in the short term, but it shows that the MPC is more concerned about the lack of growth in the economy than the impending ratings downgrade following the February budget. Obviously, cutting interest rates makes South Africa a less attractive investment destination for overseas investors which will put further pressure on the rand. The MPC also revised its inflationary expectations substantially downwards with 4,1% expected for 2019 and 4,7% in 2020. Inflation in December 2019 was just 4% - which means that the average for 2019 came in at 4,1% - lower than expected and giving the Reserve Bank room to bring interest rates down. The Bank estimates that inflation will average about 4,7% in 2020 – which means that there is significant room to bring rates down now – perhaps by as much as 1%.
New vehicle sales present a ray of hope in an otherwise depressed South African economy. Export sales for the 2019 year were up by over 10% on 2018 – and that was despite a dispute with the National Regulator of Compulsory Specifications (NRCS) who sought to levy fees on vehicles which were being sent to other countries. This caused exports to crash in December month. Vehicle exports represent a massive South African economic achievement which should be strongly encouraged to continue growing. Local sales were surprisingly good and up 4,2% in December on December 2018. This is an indication of some recovery in consumer spending at the end of a very difficult year.
State-Owned Enterprises (SOE)
The situation at Eskom is dominating the economy at the moment. The new CEO, Andre de Ruyter, says that there will be load-shedding for some time while the underlying problems at old power stations are fixed. This problem may be mitigated to some extent by various reforms which the government has recently announced.
Independent Power Producers (IPP) have indicated to the government that they can supply up to 3 gigawatts of power immediately at around 40c per kilowatt hour (kWh). This is less than half the 90c which Eskom is currently charging and which Eskom says is insufficient for them to make a profit. Eskom is currently seeking a 17% increase in electricity prices. Clearly, the immediate availability and low cost of this resource is something which the government should take advantage of without delay. It would immediately provide surplus power which will enable Eskom to begin planned maintenance and obviate the need for load-shedding.

The mining

industry

says that it has plans to produce 609 megawatts of power which is just waiting for licences. Raising the threshold for companies to produce their own power to 10 megawatts from the current level of 1 megawatt would also go a long way towards reducing the strain on Eskom. That process was being inhibited by government. The problem appeared to be Gwede Mantashe, Minister of Mineral and Energy Affairs, as well as Chairman of the ANC. Mantashe has deep roots in the

union

movement and is reluctant to give IPPs a greater role because that would probably cause job losses both in the coal industry and at Eskom itself where as many as half of its 46 000 workforce in said to be redundant.
On 20th January 2020, the ANC at its two-day lekgotla, decided to (1) allow municipalities to seek their own power suppliers, (2) expand the independent power producers program, and (3) remove the rules which prevent businesses from generating their own power. The only proviso is that black people be allowed to participate in the renewable energy

sector

through increased ownership. This must surely be a victory for the Ramaphosa camp and a set-back for those who oppose him in the ANC. IPPs will now be allowed to supply their surplus energy to the grid and cities like Cape Town will be allowed to source power from outside providers.
It is now clear that the strike at SAA, which caused them to lose vital business, has resulted in a sharp deterioration in the financial position of the company. Now in business rescue, it is on a knife-edge, closing flights in a desperate effort to return to profitability. On top of this, Flight Center, one of the largest ticket sellers in South Africa, has said it will no longer sell SAA tickets and Travel Insurance Consultants (a subsidiary of Santam) has said it will no longer insure SAA tickets. Even Pravin Gordhan, who has been in favour of some sort of recovery plan, is now saying that the position is critical. At the beginning of December 2019, the company said it was now engaging in a process of "radical restructuring" which no doubt means cutting jobs and operations sharply. From our perspective, we believe that it should have been allowed to fail years ago mainly because that sends out a salutary message to the unions in state-owned enterprises that the government is willing to allow them to fail. In the most recent year for which SAA published financials (2017) it showed that its assets exceeded its liabilities by R17,8bn. One option would be to liquidate it – which would mean that all its obligations become immediately payable – in excess of R40bn – most of which would have to be paid by the government and ultimately the taxpayer. Clearly, this option is unacceptable, and the decision to support it with a R3,5bn loan from the IDC will avert the problem. The ANC and the government have now said that they intend to keep SAA as a national airline – in a re-structured form – but nobody seems to know exactly what that means yet.
Prasa was placed under administration for a year in December 2019 and an administrator appointed. The board of the state-owned enterprise (SOE) was dissolved. Added to the business rescue of SAA, this is a clear indication that the government is taking the reform of SOE's seriously. Both actions have implications for Eskom's future. Prasa has been dogged by corruption and mismanagement.
The Rand
Obviously, all the developments in the economy and with SOEs are being reflected in the rand. On the negative side, the government's apparent inability to reduce the size of its wage bill has been a major source of concern and will almost certainly result in the country finally being downgraded to junk status. On the other hand, the appointment of de Ruyter as CEO of Eskom and the recent package of reforms agreed to by government indicate that there is some light at the end of that tunnel. Unfortunately, the benefits of better electricity management are only likely to impact on the economy from next year and in the mean time overseas investors have been bidding the rand down, especially in the last week or so. Consider the chart: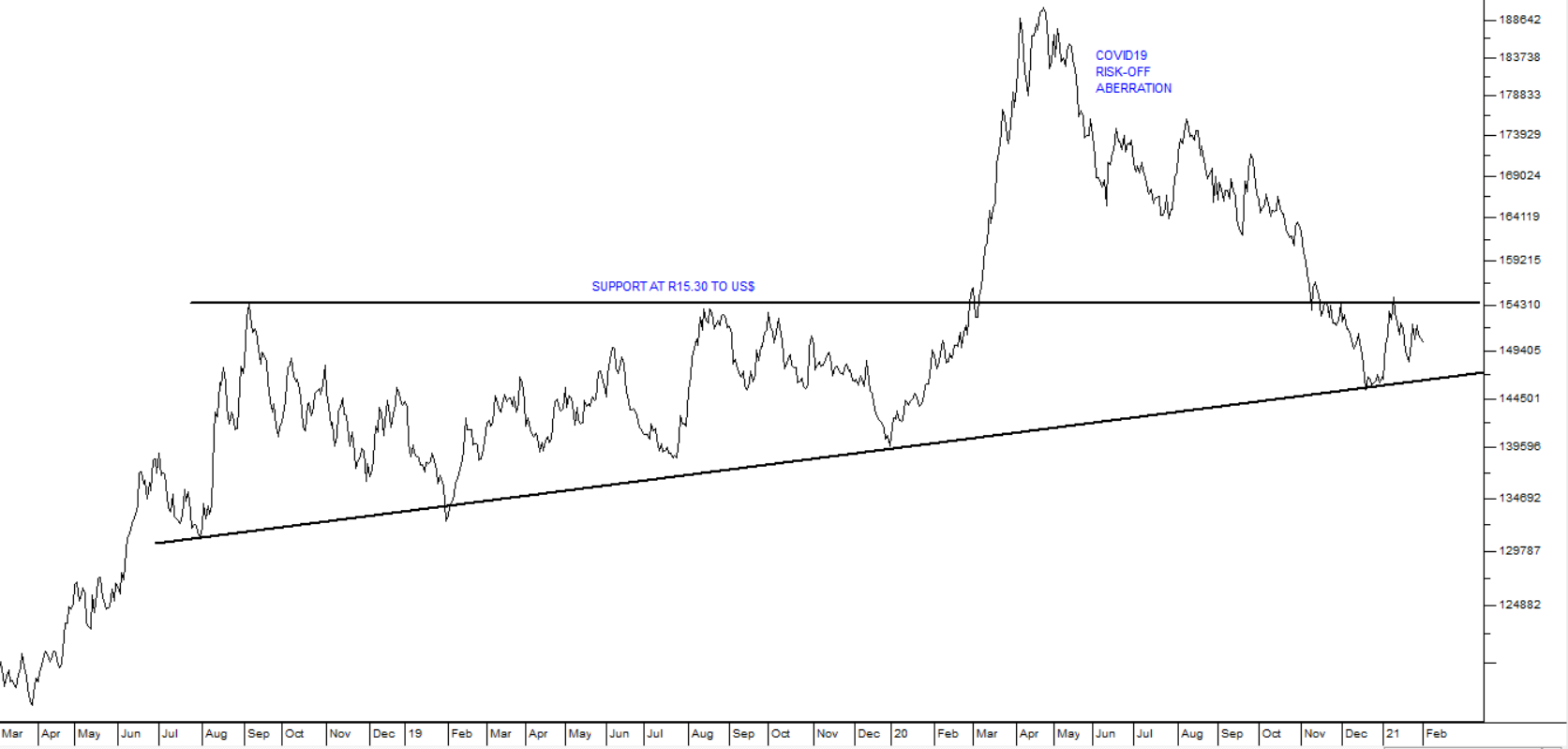 As you can see here, the rand has been in a weakening trend since March 2018, but had found some stability in a range between R13.25 and R15.30 to the UD dollar (the red horizontal lines). In the last few days, however, the sharp spike downwards of the rand to R15 indicates that there has been a growing awareness that the government has not moved decisively on reducing its wage bill and tax collections have been worse than expected – which makes a ratings downgrade by Moody's almost inevitable. Having said that, the downgrade has, in our opinion, been substantially discounted into the rand and the bond market – so we are not expecting a substantial move in these metrics following the February budget. A clear break below R15.30 to the US$ will show that we have under-estimated the impact.
General
The A2X is by far the most serious competitor which the JSE has, with 33 companies listed, including heavyweights like Naspers and Sanlam (this compares with the JSE's 356 listings). It now has a market capitalisation of over R2 trillion. At this stage, the A2X is only undertaking secondary listings of companies already listed on the JSE, but the plan is to begin taking on primary listings (i.e. companies that are not listed on the JSE) during 2020. The A2X competes with the JSE by offering lower dealing costs and its activities have forced the JSE to adjust what it charges. To this extent it is beneficial to private investors – but it is still a long way from being an equivalent exchange and most trades still go through the JSE.
The shift to electric motor vehicles is gaining momentum and will become a major factor in the world economy over the next decade. As usual, the main driving force for this change is economic - the fact that electric vehicles are now about 20% cheaper than those powered by internal combustion engines. The implications of that shift are enormous and will impact many industries. South Africa's vehicle industry which exports more than half of what it produces must change to embrace this new technology. Our government needs to stop charging import duty on electric vehicles and begin subsidising them. A plan needs to be made to roll out charging points for electric vehicles throughout the country. Overseas, it is estimated that 3% of car sales world-wide will be electric in 2020, 12% by 2026 and 50% by 2040. This trend will undoubtedly be closely followed by the advent of self-driving motor vehicles.
Indications are that Black Friday (29th November 2019) sales were more than double those recorded in 2018 – providing some welcome relief for retailers. The boost is probably not sufficient to compensate for the weak sales of the third quarter where GDP fell by 0,6%, but it may be enough for the economy to avoid slipping into a technical recession.
The Zimbabwean economy is estimated to have shrunk by well over 6% last year and it is currently running an inflation rate estimated at around 440%. A complete absence of foreign exchange is damaging local businesses extensively. Of course, all of this means more illegal immigrants which will make our crime rate higher and exacerbate the local housing and jobs situation.
Our idea for Land Reform
The introduction of land reform, which is a key element of the ANC's official policy, promises to be an interminable and unsatisfactory process which will certainly be swamped in legal actions if it ever does see the light of day. Our suggestion for redressing the wrongs of the past is comparatively much simpler. It begins with the principle that over time all land should eventually belong to the state and be leased out to farmers and other people on long-term (100-year) leases. The leases can be very cheap for previously disadvantaged people. The shift from private ownership of land to state ownership should be a gradual process. Firstly, a land reform committee of non-political land and agricultural experts needs to be established. We envisage maybe 12 members drawn from diverse groups of farmers, land experts and members of the community. As a first step, all the land currently belonging to the state should be transferred to a trust under that committee's control. Then a law should be instituted that whenever land changes hands, between 10% and 15% must be handed over to that trust as an estate duty or transfer tax. This land can then be leased out on a long-term lease to anyone who shows that they are competent to manage it productively – so providing the committee with a constant income. Previously disadvantaged people can be given education in agriculture and subsidized machinery to make their farm productive. Then, if the land is not productive after a suitable interval (say three years to five years), the lease can be cancelled as part of the original lease agreement. Productivity benchmarks would obviously have to be established. The benefit of this approach is that it will be (grudgingly) acceptable to existing landowners as necessary to redress past wrongs, while gradually, over decades, all land would come to vest in the state and be apportioned through the land committee on a long-term lease to those who are best able to make it productive. There would be no need for expropriations and the consequent litigation. Existing landowners would only have to part with a maximum of 15% of their land when transferring it to a new owner or bequeathing it in their will.
Commodities
Traditionally, economic growth in South Africa has always been export-led. This is because this country has always been an exporter of raw minerals like gold, platinum, coal, chrome and nickel. When the prices of those minerals rise, mines make greater profits and that feeds through to the rest of the economy. The prices of those minerals are determined by the demand for them on international markets – and that demand comes from booming economies world-wide. The prices of minerals began to rise at the start of 2016 and they have been rising steadily since then. This can best be seen in our JSE Mining index (J177). Look at the chart: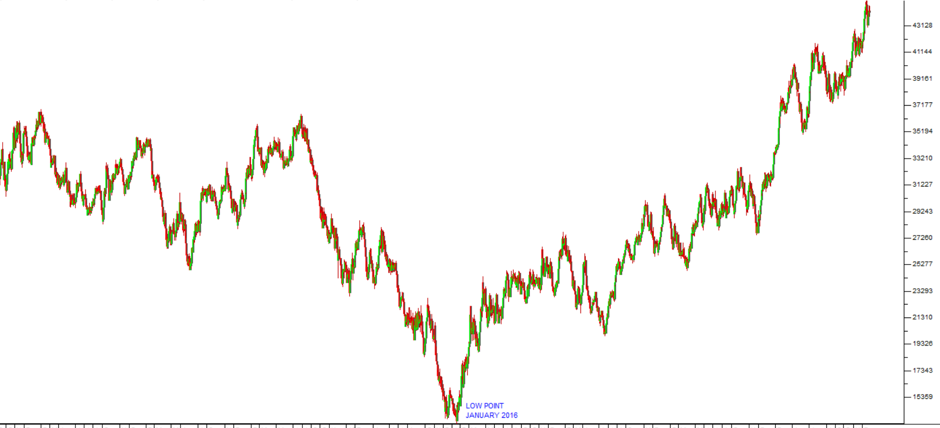 The progress of this index since its low point in January 2016 shows that our mining shares are rising rapidly. Their prosperity has been feeding through to the economy for 4 years, despite the best efforts of the government to stifle them. There is no reason to believe that this trend will not continue in 2020. For this reason, we regard some of the negativity which is dogging the JSE at the moment to be misplaced. Undoubtedly, our economy is in a difficult place, but we believe that 2020 will see a recovery – which once it is understood by institutional investors will lead to a broad recovery in our blue-chip shares.
The third mining charter was greeted as a great improvement on that proposed by Mosebenzi Zwane when he was minister – but there are aspects of it which are being contested by the Minerals Council of SA. Now the ministry has published draft regulations for public comment. Unfortunately, these regulations make it even more arduous for mining companies, burdening them with new duties and requirements. This will make South Africa an even less inviting destination for the international mining houses of the world. What Mantashe does not seem to grasp is that we compete with other countries like Brazil, Argentina and Australia for those investment dollars.
The palladium price has been in a strong bull trend and went above $2000 per ounce in 2019 and has now reached $2231. There is a shortfall in the metal which is used for auto-catalysts because of the problems in South Africa with load shedding which is slowing production. There is strong physical demand and limited supply. Citigroup estimates that the price could reach $2500 in 2020. The price is probably too high and some sort of correction seems likely. Consider the chart: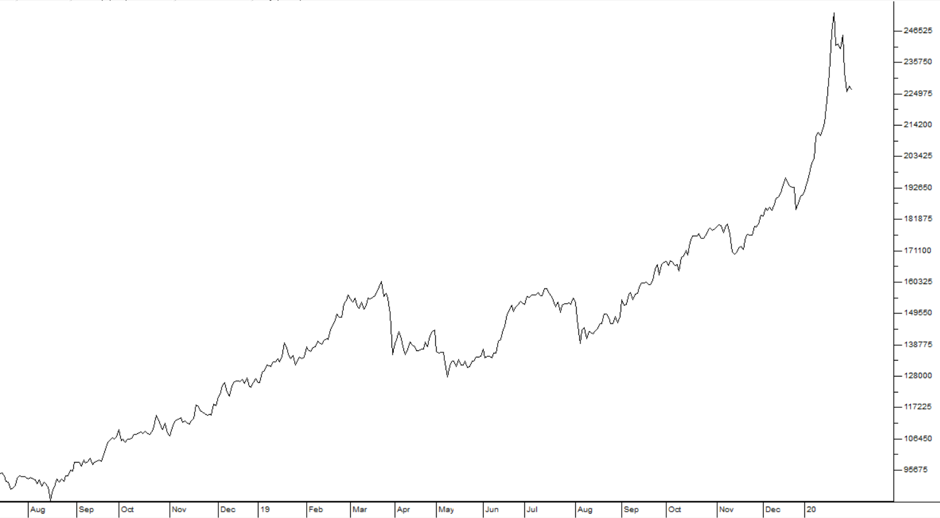 Obviously, this bull market is very good news for palladium producers like Sibanye which bet on rising prices when it paid $2,2bn for the Stillwater palladium mine in America. Rhodium, which is another platinum group metal (PGM), has risen by a massive 32% this year so far. Rhodium is a much smaller market and the price tends to be very volatile. Currently it is trading for around $8000 per ounce. About 80% of the world's rhodium is produced in South Africa.
In June 2019, we published an article under the title "New Gold Bull" in which we drew your attention to the fact that gold had broken up through its long-term resistance at $1344 per ounce. We suggested that this represented a new upward trend in the dollar price of gold. Since then the dollar price of gold has risen by 17% to $1573 – and it looks to rise further. The rand price of gold is up by 27% and our JSE gold index has risen by 43%. We expect gold to rise further as inflationary expectations increase in first-world countries. The immediate reason is Trump's saber-rattling in Iraq and Iran, but the underlying reason is the general increase in world inflation. Consider the chart: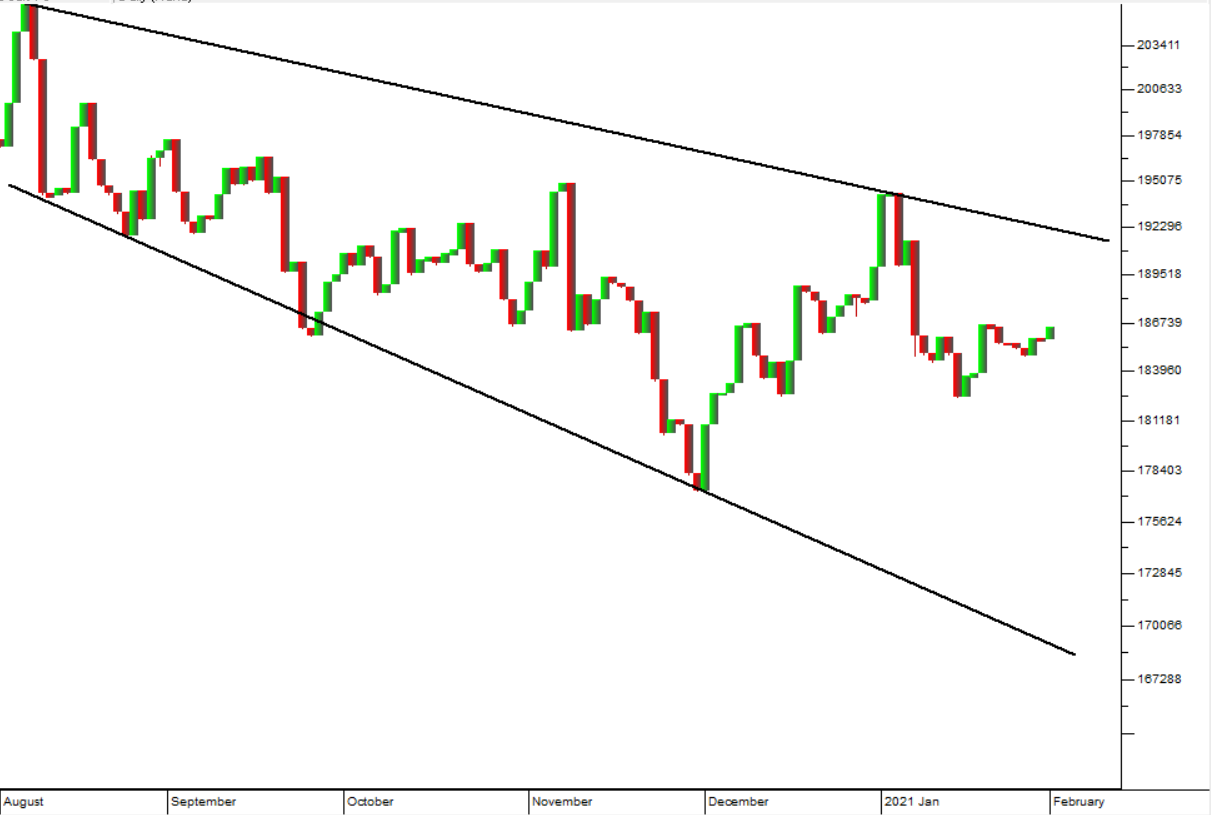 The shutting of Glencore's ferrochrome smelter in Rustenburg with the loss of 665 jobs is a further testament to the enormous cost of Eskom's mismanagement and past corruption. The price of electricity has risen six-fold since 2006 – to the point where many of our smelters cannot operate profitably. South Africa now has about 40 smelters standing idle because of rising Eskom costs. This has led to the absurd situation where we are exporting our iron, chrome, nickel and other metals to manufacturing countries - and then importing cheap steel from them. Obviously, this is the reverse of beneficiation and results in higher unemployment locally.
All over the world, coal-fired power stations are being closed down. This is gradually having the effect of making the export coal market more competitive. If South Africa is to remain competitive, it is going to have to improve efficiencies. About 22% of the country's foreign exchange was generated by exporting coal in 2019. More than half of our export coal (57%) goes to India, but as exporters compete more the price will come under pressure. Probably, the global energy transition to renewables will eventually shrink the coal and oil markets to a fraction of their current size.
Companies
NEW LISTING – NINETY ONE
Investec is unbundling its asset management business and listing it separately on the London Stock Exchange with a secondary inward listing on the JSE. Investec shareholders will get one Ninety One share for every two Investec shares that they hold – which gives the new entity a value of roughly R28bn. The company will manage about R2,25 trillion in assets. Unlike the Naspers unbundling of Multichoice or Prosus, the unbundling is not expected to release much shareholder value in the short term. Ninety One is expected to be comparable to Coronation as an investment, although it has a far greater percentage of off-shore assets under management.
CONSTRUCTION
The latest Afrimat construction index indicates that the sector may have turned the corner. In the quarter to end-September it showed a 5,1% increase. The index comprises volume of building materials, building plans passed and retail hardware sales. Building materials bought were up by 12% over the second quarter and building plans rose by 9,5%. Retail hardware sales rose by 8,4%. Some of this is due to a rise in the spending by Sanral which has been issuing more tenders. The increase in plans passed bodes well for future construction activity. The various construction shares have been hammered down over the past five years – so there may be some bargains to be found.
OMNIA (OMN)
Omnia (OMN) is a diversified chemicals company supplying products to the agricultural, chemicals and mining industries in South Africa and 48 other countries. The Agricultural division is the leader in fertilizers in Southern Africa. It supplies granular, liquid and speciality fertilizers in Southern Africa, Eastern Africa, Australia, New Zealand and Brazil. The mining division is the leading supplier of explosives in South Africa, Mali, Swaziland, Sierra Leone, Malawi, Senegal, Zambia, Zimbabwe, Botswana, Mozambique and the DRC. The chemicals division is a manufacturer and distributor of speciality, functional and effect chemicals and polymers operating throughout the African continent.
In its results for the six months to 30th September 2019, the company reported turnover up 1% and headline earnings per share (HEPS) of 49c compared to a loss of 122c in the previous period. The company concluded an over-subscribed rights issue of R2bn and net debt decreased by R1,4bn. The company gets most of its sales from agriculture for fertilizers and the mining industry for explosives.
In its efforts to diversify away from the South African economy, OMN acquired Oro Agri in America for $100m and Umongo Petroleum for R780m during the period. They also commenced the construction of a R630m nitro phosphate plant at Sasolburg. On 23rd April 2019, the company announced that it was busy restructuring its debt and negotiating with its lenders.
Investors were pleased with this announcement and pushed the share price up 16%. When it subsequently said that it was undertaking a rights issue for R2bn - investors were upset and the share price slumped to around R25. It has since recovered to R35, breaking through its 120-day moving average. The chairman, Rod Humphris has resigned.
This company's performance is a reflection of the general performance of the South African economy. It has been very well managed and grows consistently by acquisition and organically, but it is in very tough markets where it has become difficult to make good profits. However, it has a net asset value (NAV) of R105 against a price of around R35. So it is a risky investment and dependent on the recovery of the South African economy - but you may not see it much cheaper than it is now.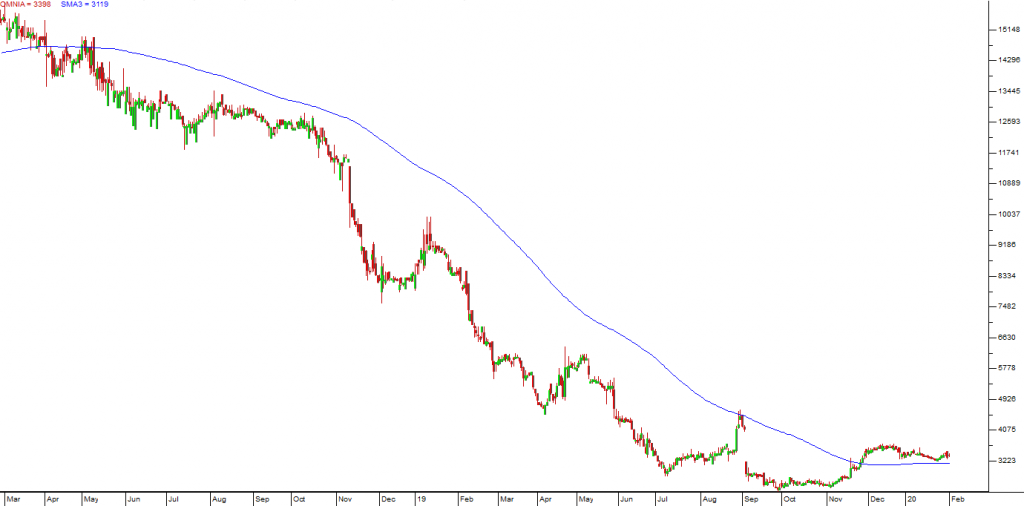 AFRIMAT (AFT)
We have extolled the virtues of Afrimat previously in these reports, but the market does not yet appear to recognize its merit. The share price has remained stubbornly low at below R32 which puts it on an earnings multiple of less than 10. In our view this erstwhile construction company has substantially re-invented itself and now stands with a set of excellent businesses and a very strong balance sheet. In the six months to 31st August 2019, the company increased headline earnings per share (HEPS) by 94% and its debt/equity ratio fell from 36% to just 9%.
SPAR (SPP)
Spar (SPP) runs a chain of supermarkets across Southern Africa with 2349 stores. It also operates the Build-It chain in hardware and building materials and the Tops Liquor chain. It has operations in Southern Ireland called BWG which operate through 1381 stores and the Spar chain of 315 stores in Switzerland. It has announced that it is acquiring the Spar group of 66 stores in Poland, one of Europe's fastest growing economies. In its results for the year to 30th September 2019, the company reported turnover up 8,4% and headline earnings per share (HEPS) up 9,9%. The company said that this was achieved, "against the backdrop of markets that remain tough in all regions of operations. Through focused margin management and tight cost and efficiency control, the group increased operating profit by 7.2% to R3.0 billion." Tops Liquor produced 17,6% growth while Build-It had sales up 6%. The store network increased by 169 stores to a total of 2349 stores. BWG had turnover up 6,2% and benefited from the acquisition of Corrib Foods in November 2018. Spar Switzerland saw turnover by 1,2% and added 26 stores to reach 322 stores by year-end. The company is expanding into Poland with the acquisition of Piotr i Pawel which has 77 stores. As a group, Spar is a very serious competitor in the South African retail industry, making extensive use of franchising to expand its network. It trades on a multiple of around 18,8 which should be compared with Pick 'n Pay on 22 and Shoprite on 17. Its diversification into Ireland, Switzerland and now Poland gives it a solid rand-hedge component. In our view, the share is probably under-priced at current levels. With its steady rand-hedge growth from both Ireland and Switzerland, this retailer is better positioned, in our view, than other retailers that have expanded into Africa.
THE FOSCHINI GROUP (TFG)
Another set of great results – this time for the 9 months to 28th December 2019. In this period the company's Australian operations grew turnover by an amazing 11,4%. When this is compared to the generally dismal performance of South African companies in Australia it is exemplary. The London operation had turnover down by 1,1% while the group as a whole and the South African operation saw turnover up 5,9% - which included record Black Friday sales. In general, the group's performance was excellent. We believe that it is worth considerably more than the very modest P:E of 12,7 and dividend yield of just over 4%. There is a long term upward trendline which the share is just above – implying some upward movement in the future.
REBOSIS (REB)
Rebosis (REB), the first substantially black-owned real estate investment trust (REIT) on the JSE, over-extended itself and ended up with a loan to value ratio (LTV) of over 64%. Any REIT with an LTV above 40% is considered too highly geared, especially in an economy like South Africa's that is in difficulties. It has had to retreat from its R1,2bn investment in New Frontier in the UK for a miserable R700m – and blamed the debacle on Brexit.
Now there is a row over the exact value of its remaining properties. The company values them at R15,9bn while the appointed valuer, Quadrant Properties, says they are only worth R12,8bn.
However, even if we accept the lower figure, the company is still trading on the JSE at less than a quarter of this value. Surely this represents at least an opportunity for one of the larger property groups to negotiate a take-over?
Of course, property shares generally in South Africa are still recovering from the Resilient Group collapse and the bad economic situation – but this valuation seems unduly low.
Consider the chart: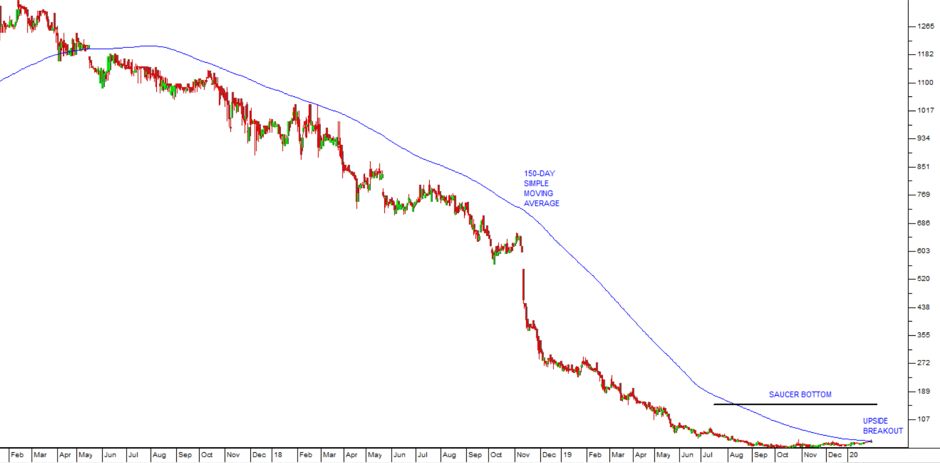 You can see here that Rebosis was trading at over R13 per share in February 2017. It broke down through a 150-day moving average in April 2017 at R12 and has been falling steadily ever since.
Since July last year it has been moving through what technicians call a "saucer bottom" – a gradual petering out of the down trend followed by the equally gradual emergence of a new upward trend.
This has now been confirmed by a "buy" signal on the 150-day moving average.
Of course, this does not necessarily mean that it will go up from here – but the balance of probabilities is certainly pointing in that direction. It seems unlikely that its worst-case asset value of R12,8bn will be ignored by the market for too long.
You can view a visual presentation of this report here.
To be added to our mailing list for the next webinar, click here.
DISCLAIMER
All information and data contained within the PDSnet Articles is for informational purposes only. PDSnet makes no representations as to the accuracy, completeness, suitability, or validity, of any information, and shall not be liable for any errors, omissions, or any losses, injuries, or damages arising from its display or use. Information in the PDSnet Articles are based on the author's opinion and experience and should not be considered professional financial investment advice. The ideas and strategies should never be used without first assessing your own personal and financial situation, or without consulting a financial professional. Thoughts and opinions will also change from time to time as more information is accumulated. PDSnet reserves the right to delete any comment or opinion for any reason.
Share this article: