28 April 2020
By PDSNET
In times of crisis, investors typically abandon their search for a return on their capital and look instead for security.
Equity shares, especially in an emerging economy like South Africa are seen as being high-risk, high-return assets.
International investors are attracted to our government bonds and stocks because they see a high real return (after-inflation). The risk of investing here has been increased, now that we are officially in the junk-bond category following the Moodys downgrade, but at the same time the return on our R2030 bond has risen to compensate. Thus our 10-year bond, the R2030, has a yield of 10,955 against an inflation rate of around 4,5% - which means that the real return is well over 6% per annum.
This compares very favourably with the US 10-year treasury bill which is yielding about 0,624% per annum - against an inflation rate of around 2% - which means that the real return is negative. Investors in the 10-year US treasury bills are actually paying the US government to keep their money safe!
Obviously, the international investment mood is still strongly "risk-off" and so, despite our high real rates of return, we are finding it difficult to attract overseas investment.
But investing in government bonds is not the only "safe haven" for investors in these turbulent times. Gold continues to be a refuge. Since the arrival of COVID19, the gold price has risen steadily to current levels above $1700 and well above R32000.
Of course, gold, unlike government bonds, offers no return at all. But historically, it has always been the safest place to hold the value of wealth.
Some investors have also suggested investing in Bitcoin. We have never favoured Bitcoin, since it gained popularity in 2017. We ran an article on 8th December 2017 which we entitled "The Bitcoin Bubble" predicting a collapse of the bitcoin price. Now 3 years later we see no reason to change our position. Consider the chart: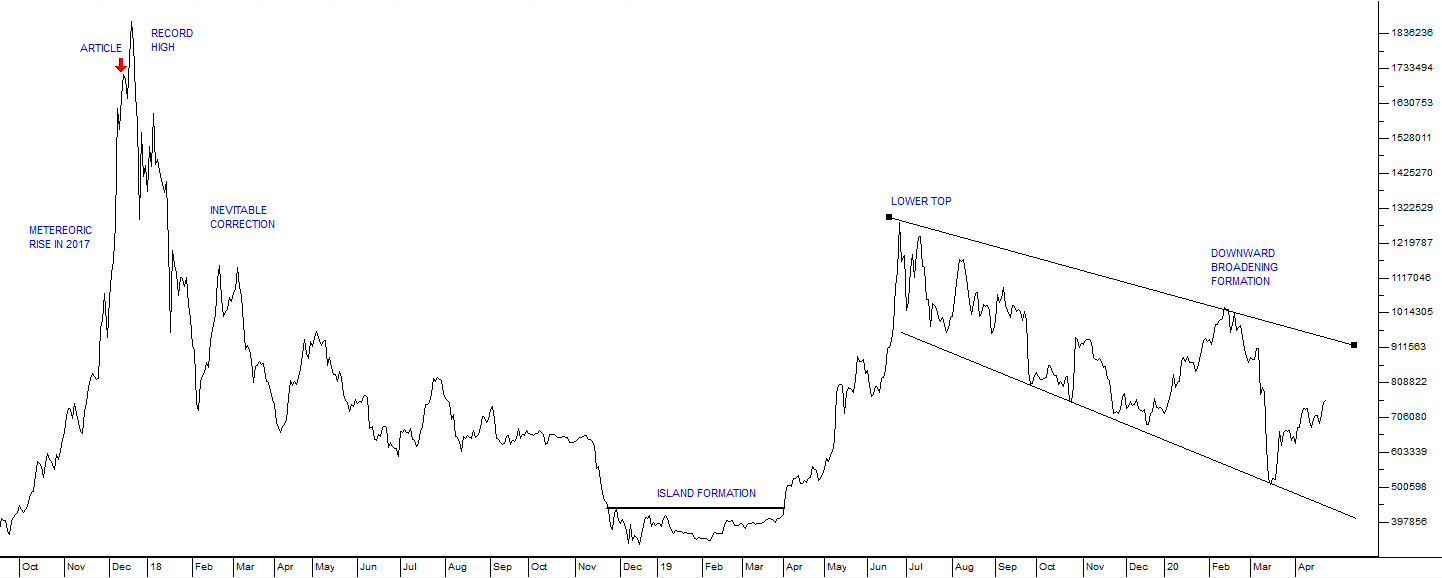 Here you can see the meteoric rise of Bitcoin in 2017 followed by its ignominious collapse in 2018. In the middle of 2019, it staged a recovery and made a lower top before beginning what technical analysts call a "downward broadening formation". Broadening formations are an indication of growing uncertainty in the market. The uncertainty causes the graph to become more and more volatile. In this case because the broadening formation is also sloping downwards it indicates that it will ultimately be broken to the downside. So we urge investors not to be misled by the recent slight recovery in the Bitcoin price.
The enduring problem with Bitcoin is that there is no asset to back it and no central bank that guarantees it. So, its value is purely notional. If enough people think it is a good investment, then it will have value and vice versa. We certainly do not see it as a safe place to store your wealth.
DISCLAIMER
All information and data contained within the PDSnet Articles is for informational purposes only. PDSnet makes no representations as to the accuracy, completeness, suitability, or validity, of any information, and shall not be liable for any errors, omissions, or any losses, injuries, or damages arising from its display or use. Information in the PDSnet Articles are based on the author's opinion and experience and should not be considered professional financial investment advice. The ideas and strategies should never be used without first assessing your own personal and financial situation, or without consulting a financial professional. Thoughts and opinions will also change from time to time as more information is accumulated. PDSnet reserves the right to delete any comment or opinion for any reason.
Share this article: