2 September 2019
By PDSNET
On 12th July, 2019, we carried an article about Omnia. The essence of that article was that Omnia was a large blue chip chemicals company which had dominant positions  in agriculture, chemicals and explosives throughout Africa. This company took a significant risk by buying two companies, Umongo Petroleum and Oro Agri for around R2bn – which over-extended its balance sheet, loading it with excessive debt. To bring its debt levels down, the company was forced to conduct a rights issue of 100m shares at R20 a share – substantially below the price that the share was trading for at the time in the market (which was closer to R30). The rights offer is now unconditional and fully underwritten. The nil-paid letters of allocation will begin trading alongside the ordinary shares on 4th September 2019. The execution of this rights offer clearly demonstrates that the gamble which the board of directors took has now paid off. They have managed to persuade shareholders to inject the necessary funds. Now consider the chart: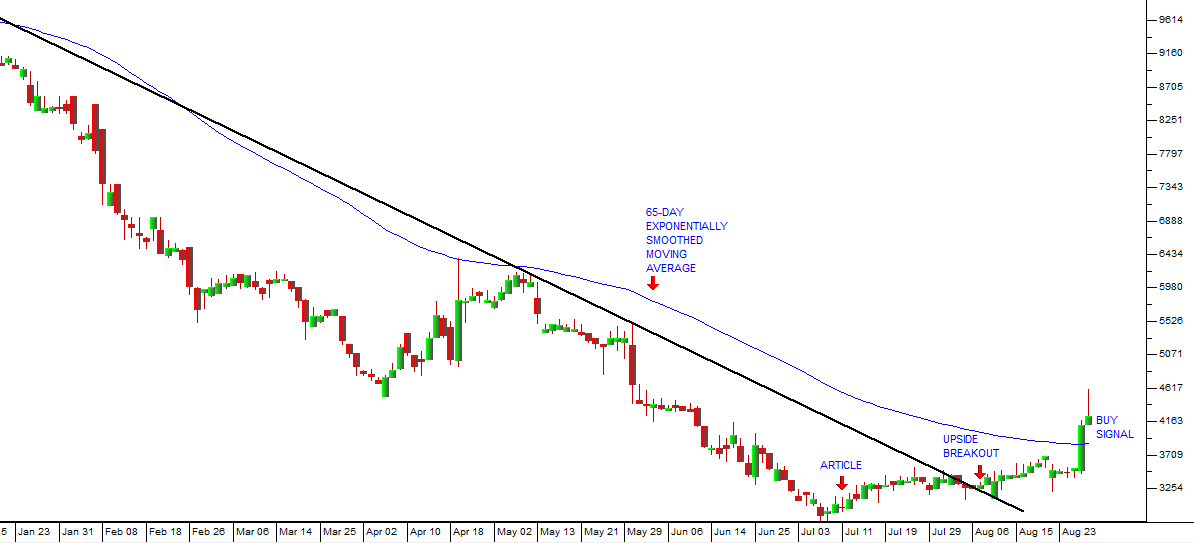 Omnia (OMN) January to August 2019 - Chart by ShareFriend Pro
Our article was published on 12
th
July 2019 when Omnia's share price was R30. In that article we advised investors to consider buying when the price broke above the long-term downward trendline – or alternatively above the 65-day exponentially smoothed moving average (for the more risk-averse). The break above that trendline occurred on 7
th
August 2019 when the share closed at R32.93 and the buy signal on the 65-day Exponential came on 28
th
August 2019 when the share closed at R41.20. So the gain for those who bought on the break above the trendline is now 28,5% - made in just 3 weeks (which equates to about 490% per annum!) We believe that Omnia should continue to perform well as it beds down its new acquisitions and as the economies of the countries it operates in improve. In our original article we drew attention to the fact that the company has a net asset value (NAV) of R105 – which means that there is significant value in the share even at the current price.
DISCLAIMER
All information and data contained within the PDSnet Articles is for informational purposes only. PDSnet makes no representations as to the accuracy, completeness, suitability, or validity, of any information, and shall not be liable for any errors, omissions, or any losses, injuries, or damages arising from its display or use. Information in the PDSnet Articles are based on the author's opinion and experience and should not be considered professional financial investment advice. The ideas and strategies should never be used without first assessing your own personal and financial situation, or without consulting a financial professional. Thoughts and opinions will also change from time to time as more information is accumulated. PDSnet reserves the right to delete any comment or opinion for any reason.
Share this article: