8 March 2021
By PDSNET
Joseph Granville, talking about the share market, famously said, "volume leads price". By this he meant that the volume traded in a share tends to begin increasing before the price rises. He encapsulated this idea in his "On Balance Volume" technique (OBV). If you are not clear on OBV go back and re-read On Balance Volume, published in July 2020.
In a number of previous articles, we have drawn attention to the importance of watching the OBV for shares that interest you. If the OBV spikes upwards, it means that there is considerable buying of the share usually at slightly increased prices. That is an indication of buying pressure.
In previous articles we have also connected these volume increases to insider trading. In or close to any listed company there is always a group of half a dozen people who have the inside track on what is going on in the company. Almost invariably, these insiders, exploit their special knowledge by buying the share – usually indirectly through a third party so that it cannot be traced back to them. Insider trading is illegal in South Africa (as in most countries), but it goes on all the time.
The astute private investor can see the effect on insider trading in the OBV chart. As soon as the OBV makes a sharp upward move, something is going on. The "smart money" is mopping up all the available loosely held shares which results in massive increases in volume with small increments in price.
Consider the chart of Mpact – a large blue chip packaging company. Here you can see two very clear OBV buy signals – one at 835c on 5th October 2020 and the other more recently at 1323c on 15th December 2020. The share closed at 1992c, on Friday the 5th of March 2021 – a gain of 138,5% on the first signal and 50,5% on the second.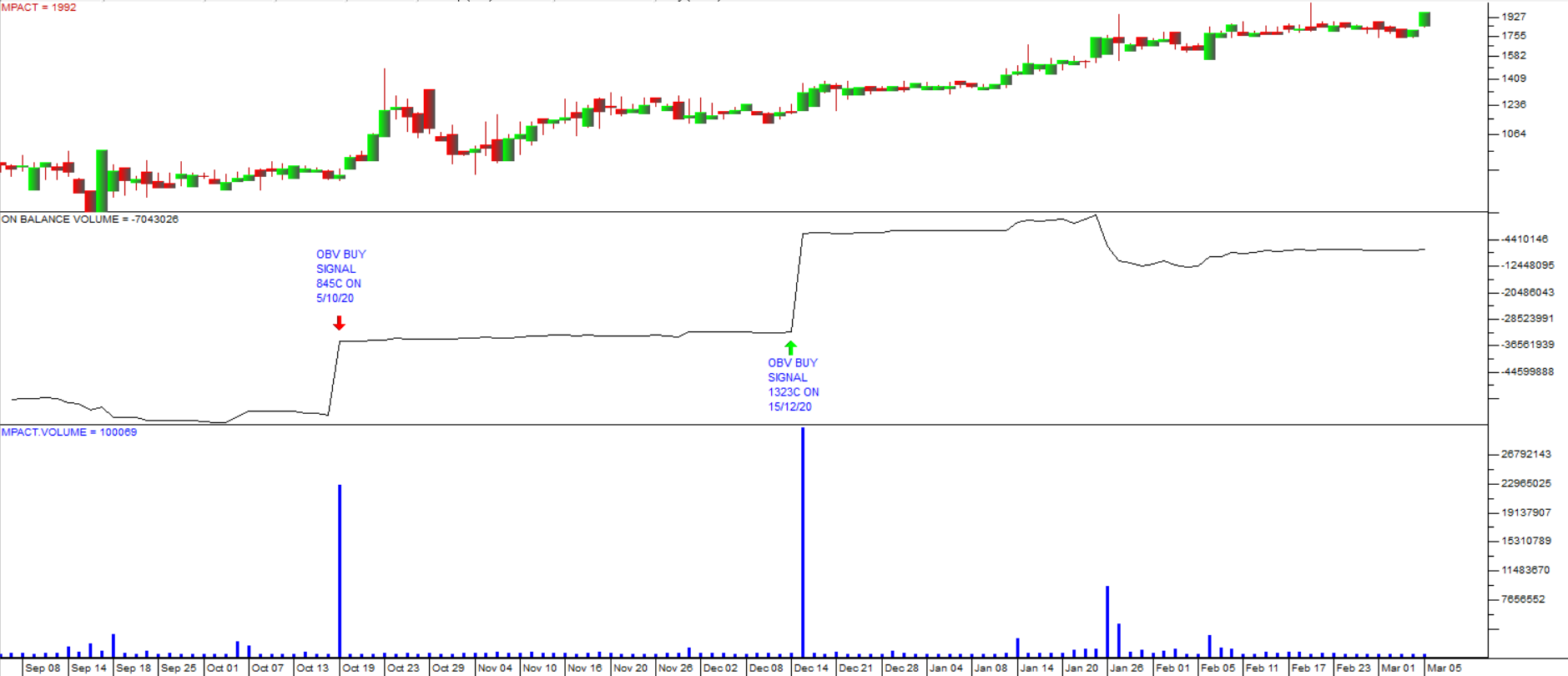 Mpact published a great set of financials for the year to 31st December 2020 on Friday (5th March 2021). In those results they showed that their business had recovered very strongly from COVID-19 and was growing steadily. They had record cash flows (R1,9bn) and their debt was down sharply to R1,4bn from R2,3bn.
On top of that they had returned R345m to shareholders through their share buy-back program.
As a private investor you should also be cognisant of the fact that packaging companies are generally leading shares in the business cycle. Before manufacturers can produce more products, they first have to order more packaging materials. For this reason, packaging shares like Mpact tend to begin rising before other listed companies as the economy recovers.
In our opinion, Mpact, now on a multiple of 10,16, still represents good value.
DISCLAIMER
All information and data contained within the PDSnet Articles is for informational purposes only. PDSnet makes no representations as to the accuracy, completeness, suitability, or validity, of any information, and shall not be liable for any errors, omissions, or any losses, injuries, or damages arising from its display or use. Information in the PDSnet Articles are based on the author's opinion and experience and should not be considered professional financial investment advice. The ideas and strategies should never be used without first assessing your own personal and financial situation, or without consulting a financial professional. Thoughts and opinions will also change from time to time as more information is accumulated. PDSnet reserves the right to delete any comment or opinion for any reason.
Share this article: