25 January 2021
By PDSNET
As far back as January 2016, billionaire George Soros went short on the S&P500 index. This means that he thought the S&P500 was going to fall heavily and he took positions which would profit from a major fall in that index. Later in May 2017 he doubled up on those "short" positions and he has been taking more short positions ever since. As recently as final quarter of 2020 he bought 17,000 "puts" on the SPDR S&P500 ETF (SPY) – which is an exchange traded fund specialising in matching the S&P500. Consider the chart of the S&P over the past 5 years: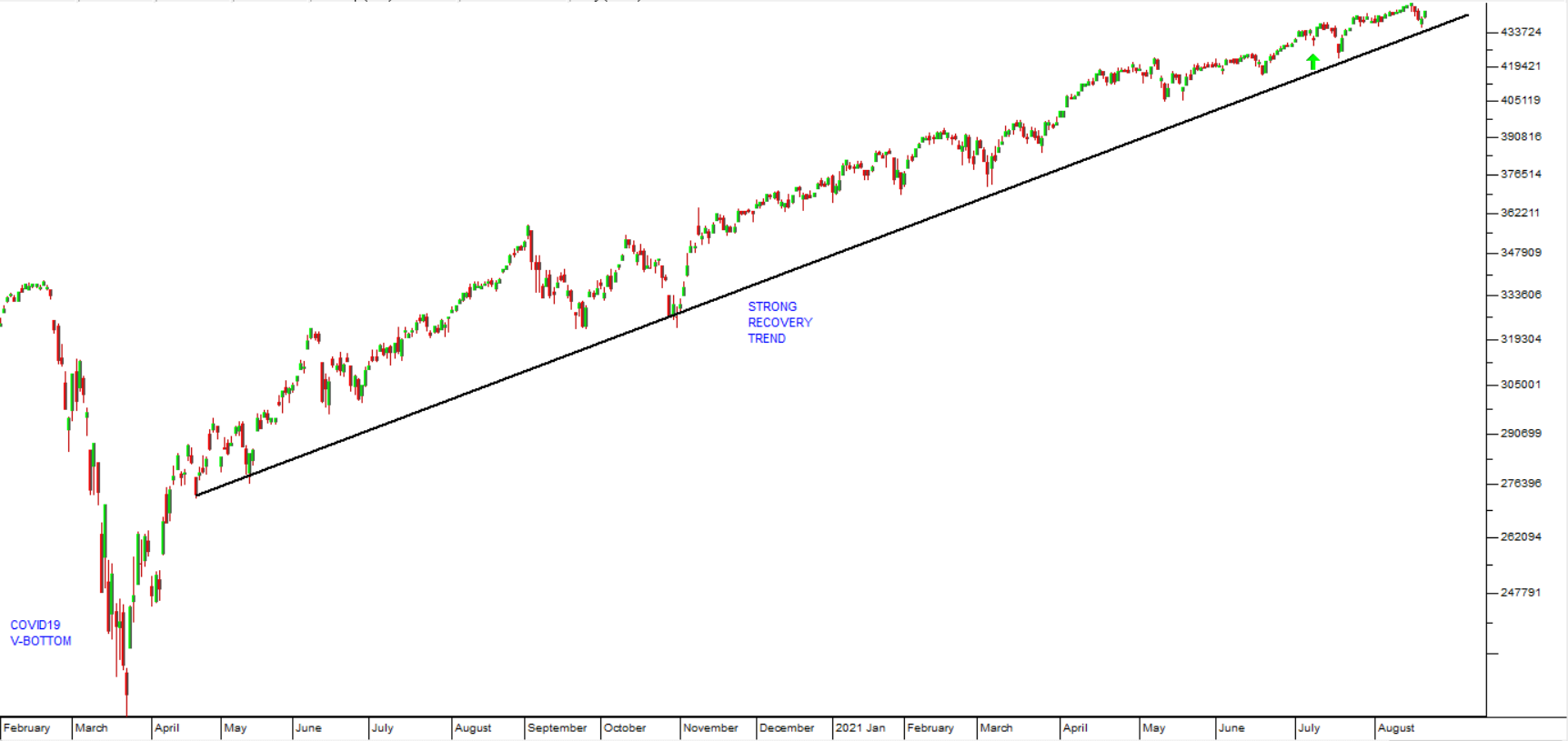 Since Soros took his first short position at the start of 2016, The S&P500 has doubled from 1925 to over 3850 – which means that Mr Soros and anyone who followed his advice has lost a great deal of money – with the inevitable result that his credibility as a market expert has been very badly damaged. Investors no longer believe that his advice is infallible. He was, perhaps, one of the first famous "bears" to be "eliminated" in this great bull market.
As we suggested in a recent article, The Coming Blow-off, exceptional bull markets, like the one we are in, eventually end with a blow-off of some kind. As a private investor, your problem is to know exactly where you are in that bull market and how close you are to the top. One of the better indicators of the progress of a great bull market is what we describe as the "elimination of the bears".
A bear is a person who believes that the market is about to fall. Right now, there are plenty of bears proclaiming loudly in all the media that Wall Street is about to collapse into some sort of major downward trend. A cursory look of the current news on Wall Street revealed the following:
Harry Dent. Dent is the founder of HS Dent Investment Management and the author of 11 books on

investment

. His latest prediction is that the S&P500 will fall by at least 40% by the end of April 2020.
David Stockman. Stockman is a politician who served in the US House of Representatives under Reagan. He is a stockmarket newsletter writer and has been involved in

asset management

most of his career. He is currently saying that the stockmarket is "massively overvalued with the mother of all

bubbles

waiting to collapse".
Jim Rogers. Rogers is one of the founders of the "Quantum Fund" and has written a number of books. He is talking about the "coming economic meltdown" which he predicts will begin this year.
Jim Rickards. Rickards is an American lawyer and

economist

who has worked extensively in

fund management

. His latest book is "The New Great Depression: Winners and Losers in a Post-Pandemic World". The title clearly shows what he is thinking.
Peter Schiff. Is a stockbroker and financial commentator. He says that there are three bubbles in the US which are about to burst – the

bond

market, the stock market and the US dollar.
What do all these people have in common? They are all relatively well-known in the investment community and they are all staking their reputations on a prediction that the market is about to collapse. Their followers are being urged to sell out of their share portfolios now. As the market goes inexorably higher, those people who followed their advice will lose money and they will stop following the "expert". One by one these investment "gurus" will be relegated to the scrap heap.
Eventually, in a great bull market, a point is reached where nobody is willing to publicly proclaim that the market is at its peak – even if that is their belief. Investment experts generally will cease to take strong public bearish positions. Too many of their competitors will, by then, have been destroyed by taking a public stand. That is what happened in the great bull market which ended in 1929. Eventually, the so-called experts were saying that modern economics had effectively eliminated recessions and that the bull market would go on forever. They could not have been more wrong.
But as you watch this market go higher and higher you should try to keep an eye on how many bears there still are. You will see their numbers thin out as we get closer to the top. While there are still plenty of bears around, the high probability is that the bull market still has got some distance to run. Once the bears disappear you should know that you are very close to the top.
DISCLAIMER
All information and data contained within the PDSnet Articles is for informational purposes only. PDSnet makes no representations as to the accuracy, completeness, suitability, or validity, of any information, and shall not be liable for any errors, omissions, or any losses, injuries, or damages arising from its display or use. Information in the PDSnet Articles are based on the author's opinion and experience and should not be considered professional financial investment advice. The ideas and strategies should never be used without first assessing your own personal and financial situation, or without consulting a financial professional. Thoughts and opinions will also change from time to time as more information is accumulated. PDSnet reserves the right to delete any comment or opinion for any reason.
Share this article: