06
Aug
---
Every investment has risk, because without risk there cannot be an inflation-beating return after tax or any real growth. From a fundamental perspective, risk is usually measured in terms of a company's gearing – how much debt has it got relative to equity? Or in simpler language – how much money have the shareholders got in the business when compared with what outsiders like banks and creditors have in it.
A highly indebted company is always more risky – but then it may grow more quickly because of the risk which it took. The problem for any highly indebted company is that if the economy enters a downturn where interest rates are rising, it can easily get caught between a rising interest bill and falling sales.
This is exactly what has happened to Woolworths. Everyone in South Africa knows about Woolworths. We value them as a supplier of very high quality food and sometimes we buy clothes or household items from them. For years they have been the retailing benchmark in this country – the supermarket against which all other supermarkets were measured. Their superior quality and customer experience enabled them to command a small but noticeable price premium.
And they were blue chip. As an investment, their finances were conservatively run and overwhelmingly sound. And this business philosophy was built and sustained by Ian Moir – CEO of Woolworths from 2010. Everything was going very smoothly until 2014 – and then the Woolies board took the fateful decision to buy a struggling Australian department store chain called Country Road. This cost them AU$2,1bn – which was a stretch for the Woolworths balance sheet but manageable – provided they could turn Country Road around and make it profitable. They took an enormous risk with the idea of catapulting themselves into the international retail arena.
At first, investors were inclined to give Ian Moir and his team the benefit of the doubt. After all, Moir had experience and an excellent track record. If anyone could make a success out of Country Road it had to be him – despite the fact that most South African companies that have tried to enter the Australian market over the years have failed. But then the bad news began to trickle through and investors began to lose their nerve. This can clearly be seen in the chart: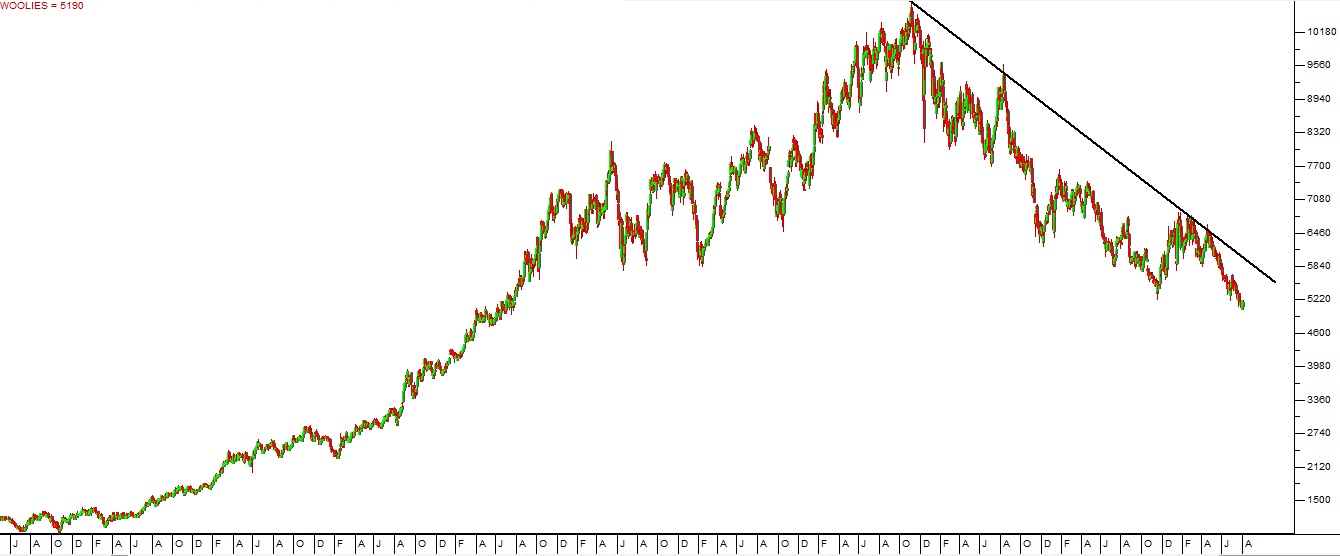 Woolworths Holdings (WHL) June 2008 to August 2018 – Chart by ShareFriend Pro
This chart shows the progress of Woolies since April 2008. It shows how effectively and successfully the company was able to deal with the impact of the sub-prime crisis. And then it shows how the company became bogged down in trying to turn around this aging department store in a foreign country. One of the major problems is that department stores are an out-dated retail mechanism. The future of retail must surely be in online shopping. The move is away from shop fronts and towards distribution warehouses.
So now Woolies has been forced to acknowledge its mistake by writing off AU$712m of what it paid for Country Road. It is saddled with a huge debt in an environment where sales are falling and interest rates are on the rise – a classic problem of risk and gearing. But then, of course, you have to take a chance – or you will never grow.
We recommend that as a private investor you apply a simple trendline to the Woolies chart and wait for an upside breakout – but you may have to wait for quite a while.
DISCLAIMER
All information and data contained within the PDSnet Articles is for informational purposes only. PDSnet makes no representations as to the accuracy, completeness, suitability, or validity, of any information, and shall not be liable for any errors, omissions, or any losses, injuries, or damages arising from its display or use. Information in the PDSnet Articles are based on the author's opinion and experience and should not be considered professional financial investment advice. The ideas and strategies should never be used without first assessing your own personal and financial situation, or without consulting a financial professional. Thoughts and opinions will also change from time to time as more information is accumulated. PDSnet reserves the right to delete any comment or opinion for any reason.
---