11 September 2021
By PDSNET
THE RAND
The current account surplus on the Balance of Payments in the second quarter came in at R343bn – considerably higher than the first quarter's substantial surplus of R261bn. Obviously, this massive and on-going influx of cash is largely due to the worldwide boom in commodities which is benefiting South Africa despite the relatively unfriendly legal environment which mining companies must deal with in this country.
The country's economy and its fiscal health are being rescued by the international recovery. That in turn is being driven by unprecedented monetary policy stimulation, especially in America where the central bank is conducting $120bn worth of asset purchases (quantitative easing or Q/E) every month.
One of the most noticeable effects of this has been the strengthening of the rand over the past 17 months. This strength is in line with our much-repeated view that the rand is basically under-valued against first world currencies. Consider the chart: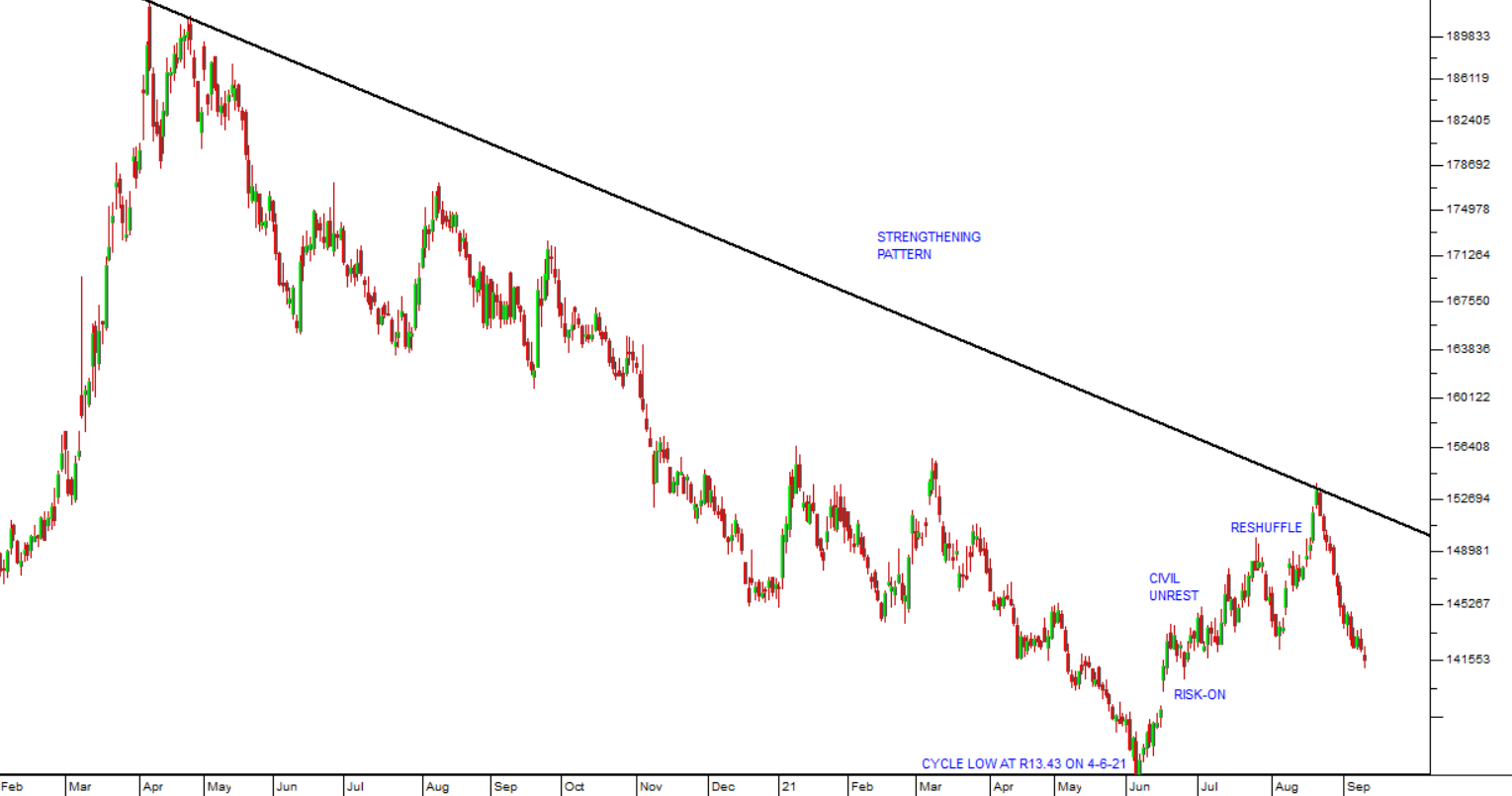 This chart shows how the rand has appreciated against the US dollar over the past 17 months. The recent bout of "risk-off" sentiment combined with the civil unrest and the effects of the cabinet reshuffle resulted in a temporary weakening trend, but for the past three weeks it has been steadily gaining ground.
Our view is that the rand will continue to strengthen now, breaking below the previous cycle low at R13.43 to the US dollar which was reached on 4th June 2021. Most of this strength will be due to the cash flowing into this country as we sell our commodities on world markets at record prices.
The inflow of that cash is also having a significant impact on the government's balance sheet, reducing our overwhelming debt levels. If it is sustained, it will also begin to have a noticeable effect on consumer spending. All of this is very good news for the economy and the share market.
THE OCTOBER EFFECT
Since the crashes of 1907, 1929 and 1987, October month has gained a reputation among investors for being a bad month for the stock markets of the world. This irrational fear is known as "the October effect" and it sometimes causes some investors to sell out of their positions. Now, as October approaches, we should certainly consider the possibility, even the probability, that markets will undergo a major correction.
If this happens it could take markets down by somewhere between 10% and 20%. Consider the chart: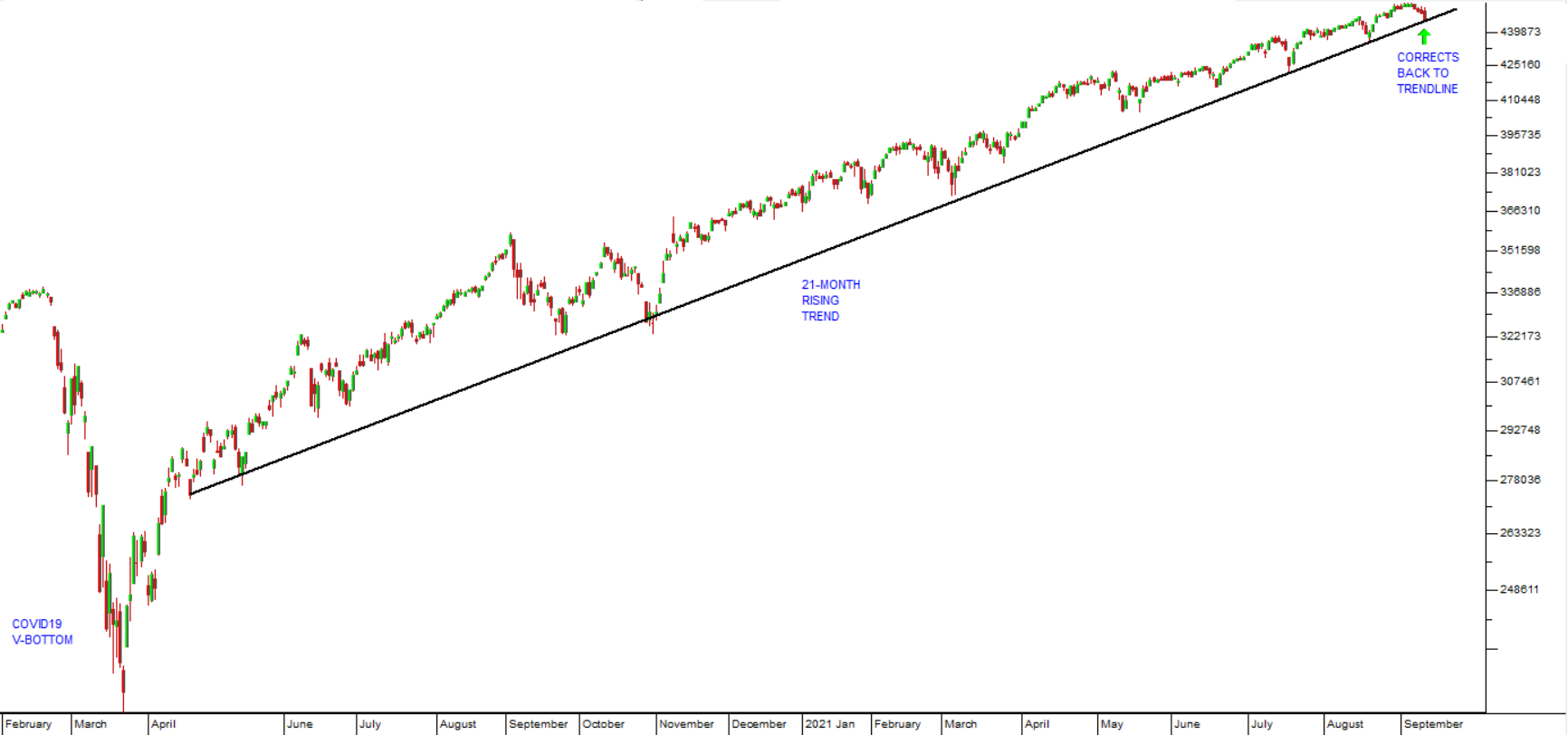 You can see here that over the past 5 trading days, the S&P has fallen back about 1,7% from its all-time record closing high of 4536 made on 2nd September 2021. This move has taken it down to touch its 21-month rising trendline which has been unbroken since the downward spike caused by COVID-19 last year. A significant breakthrough of that trendline this week could be the start of a major correction.
In general, such corrections are a healthy part of a bull trend and since the S&P500 index has not had a significant correction since the impact of COVID-19 in March last year, it is now overdue. Downward trends on Wall Street are generally associated with a shift of investor sentiment towards "risk-off" – which means that money will move out of emerging economies like South Africa and into more secure first world assets, especially treasury bills, with a concomitant impact on the rand.
Our position is (and has been for some time) that the next major correction will be just that – a correction – and not the start of a new bear trend. For a variety of reasons, we believe that this bull market still has some distance to run and so we will regard the significant next downward move as a buying opportunity.
DISCLAIMER
All information and data contained within the PDSnet Articles is for informational purposes only. PDSnet makes no representations as to the accuracy, completeness, suitability, or validity, of any information, and shall not be liable for any errors, omissions, or any losses, injuries, or damages arising from its display or use. Information in the PDSnet Articles are based on the author's opinion and experience and should not be considered professional financial investment advice. The ideas and strategies should never be used without first assessing your own personal and financial situation, or without consulting a financial professional. Thoughts and opinions will also change from time to time as more information is accumulated. PDSnet reserves the right to delete any comment or opinion for any reason.
Share this article: