7 February 2022
By PDSNET
It is now possible to see that the latest downward move on Wall Street is in fact a major correction – mainly because it has fallen between 10% and 20% - at least on an intraday basis. Our expectation, however, is that the upward move on the four days from Friday 28th January to Tuesday 2nd February represent a "bull trap" - which means that the correction will fall further. In fact, we expect it to break down through the support level at 4300 and head to somewhere between 3800 and 4000 before it bottoms.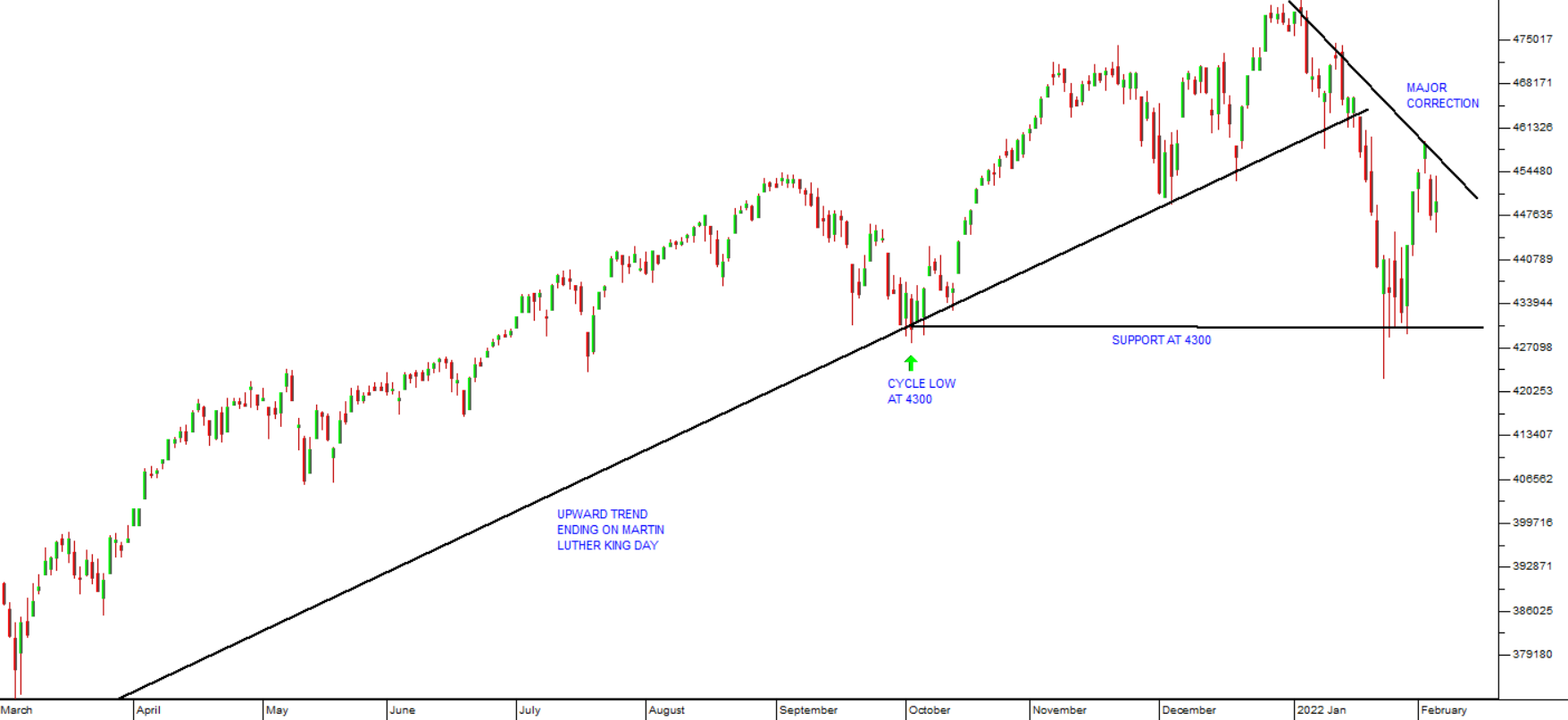 Obviously, this further fall will be accompanied by a disappearance of those bulls who have been intent on "buying the dips". And some of them will certainly be afraid that what they are looking at is the beginning of a major bear trend.
But we do not think it is. Our reasons for believing that the 13-year-old bull market is still intact are essentially fundamental. The American and world economies are not heading towards a recession – very much the contrary. From a purely objective point of view, interest rates are at record lows in most first world countries, including America – and those same countries have been furiously printing and injecting money into their economies since COVID-19 began at the beginning of 2020 (and before).
In our view, quantitative easing (Q/E) will have to end, and rates will have to rise to at least 3% or 4% in America before they begin to have a material impact on the profits of listed companies. And we simply don't see that happening this year – or next. So, our opinion is that, following the completion of this correction, Wall Street and the markets of the world will resume their upward momentum at least until the end of 2023 – and probably beyond.
This viewpoint is echoed in the continuing rise in the oil price: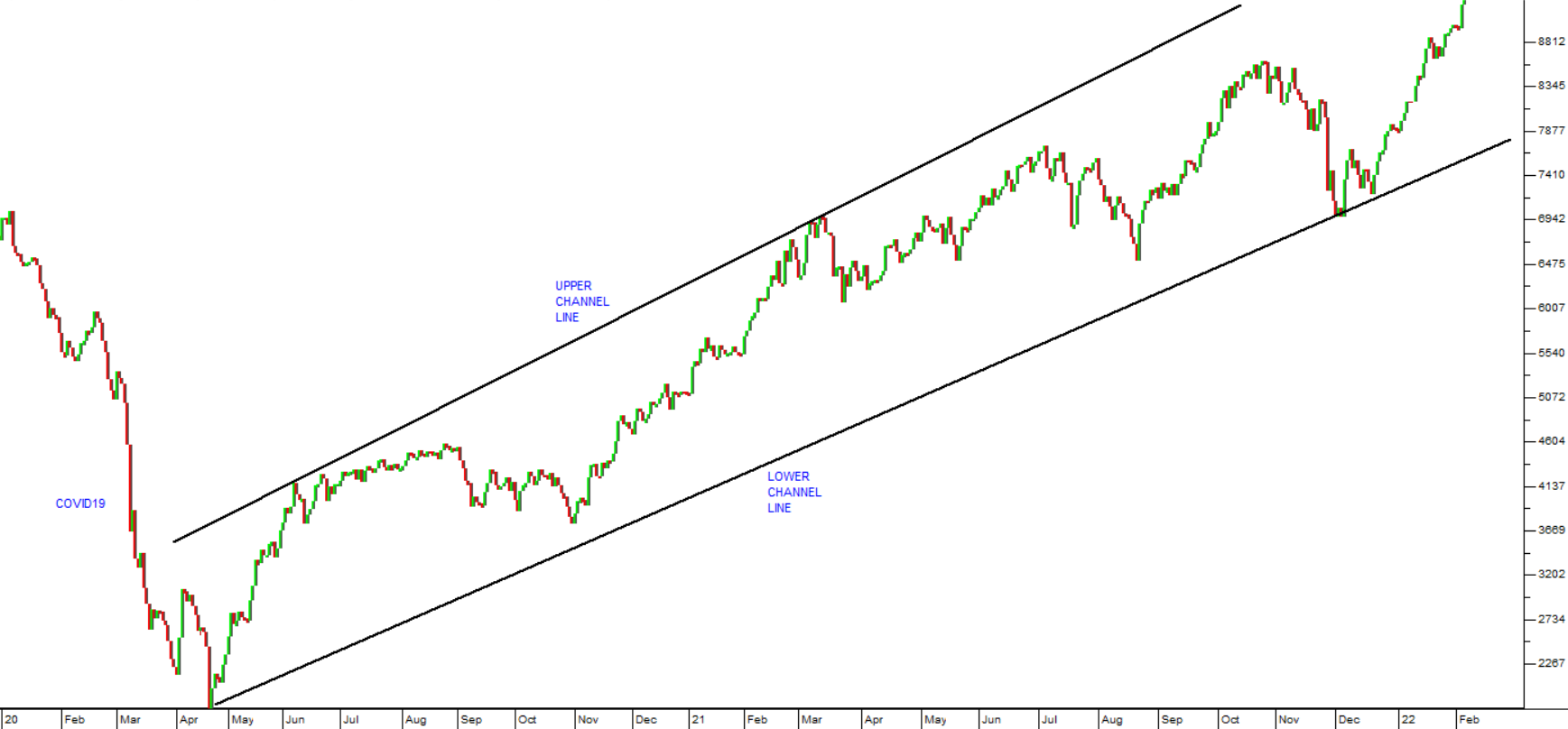 As you can see here, North Sea Brent oil has recently made another post-COVID19 record high at $92 per barrel. It is rising steadily in a strong upward channel, which we have mentioned to you on a number of previous occasions. If the world economy is headed into a recession, then why is oil rising like this?
The simple fact of the matter is that economists generally have and are completely under-estimating the long-term impact of Q/E. It's almost as if they believe that the $20 trillion or so that has been injected into the world economy over the past 11 years is irrelevant – that its effects are already somehow discounted. Our view is that the true impact of this massive monetary stimulation is only now beginning to be felt economically and that some kind of unprecedented asset blow-off is in the making.
The world is awash with cash. That is why commodities like oil are rising and why stock markets are continuously make new record highs. Investors are seeking real assets to protect them from the impending debasement of paper currencies.
As a private investor your approach should be to prepare yourself to take advantage of the recovery from the current correction. Try to perceive the moment at which the S&P500 reaches its lowest point and then look for those quality shares on the JSE which have off-loaded the most. Be aware that the rand is more likely to strengthen from its current level than to weaken.
And then formulate a strategy for assessing the longer-term systematic risk in the market. Undoubtedly, this great bull market will come to an end eventually. Where do you want to be financially when that happens? And how will you know that it is imminent?
DISCLAIMER
All information and data contained within the PDSnet Articles is for informational purposes only. PDSnet makes no representations as to the accuracy, completeness, suitability, or validity, of any information, and shall not be liable for any errors, omissions, or any losses, injuries, or damages arising from its display or use. Information in the PDSnet Articles are based on the author's opinion and experience and should not be considered professional financial investment advice. The ideas and strategies should never be used without first assessing your own personal and financial situation, or without consulting a financial professional. Thoughts and opinions will also change from time to time as more information is accumulated. PDSnet reserves the right to delete any comment or opinion for any reason.
Share this article: