18 January 2021
By PDSNET
Truworths (TRU) is a retailer of fashionware in South Africa and the UK. As such its business has been damaged by the impact of Brexit in the UK and the recessionary conditions in the South African economy. Both countries have then been impacted by lockdowns which prevented in-store sales for a period of time, beginning in late March 2020. The second wave of the pandemic has also been a factor. In the UK, Truworths benefited from its strong and growing online presence.
In South Africa, Truworths has managed to hold its own in the face of stiff competition from a variety of local and overseas competitors. About 70% of its retail sales are made on credit so the management of its debtors' book is a critical metric.
The impact of its problems in the UK and South Africa on Truworths is visible in the decline in its share price. Consider the chart: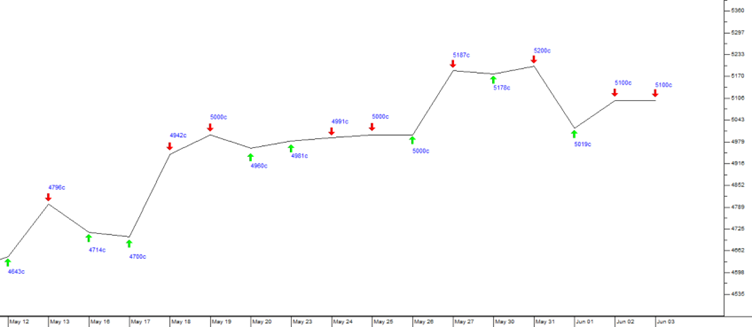 You can see here that the share made a peak at R110 in March 2018 and it has been in a downward trend which culminated in the impact of COVID-19 in March 2020. Since then, it has entered a recovery phase and the share has been trending up between clear channel lines.
Like many South African companies Truworths decided to venture offshore in 2015/2016 with the purchase of its Office business in the UK. That purchase was unfortunately timed, given the uncertainty surrounding Brexit. In the latest results for the 52 weeks to 30th June 2020, the company wrote off GBP118m of the cost of Office and in the 26 weeks to 31st December 2020, sales at Office were down by 24,6% while trading space fell by 17% as the company endeavoured to "right-size" the business.
The company's past conservatism has left it with a strong balance sheet which has enabled it to ride through these various adversities and it now appears to be on the mend. Its price:earnings (P:E) ratio has improved from a low of 4,4 in April 2020 to current levels around 8,8. This should be compared to its multiple in March 2018 of over 16 and that of January 2013 of over 21.
In the past Truworths has shown itself to be a strong competitor in the cut-throat fashion industry. Its excellent management and strong balance sheet have enabled it to ride through the difficulties of the past few years both in the South Africa and the UK. We believe that this share has considerable recovery potential from current levels.
DISCLAIMER
All information and data contained within the PDSnet Articles is for informational purposes only. PDSnet makes no representations as to the accuracy, completeness, suitability, or validity, of any information, and shall not be liable for any errors, omissions, or any losses, injuries, or damages arising from its display or use. Information in the PDSnet Articles are based on the author's opinion and experience and should not be considered professional financial investment advice. The ideas and strategies should never be used without first assessing your own personal and financial situation, or without consulting a financial professional. Thoughts and opinions will also change from time to time as more information is accumulated. PDSnet reserves the right to delete any comment or opinion for any reason.
Share this article: