22 November 2021
By PDSNET
In last week's article on Grand Parade, we drew your attention to the importance and usefulness of downward trendlines (drawn above a downward trend) in establishing the best point to buy a share. This week we draw your attention to the benefit of upward trendlines (drawn below a rising trend) as a method of determining when a share, with a strong rising trend, has corrected back to its trendline and is therefore at a buy point. Consider the chart: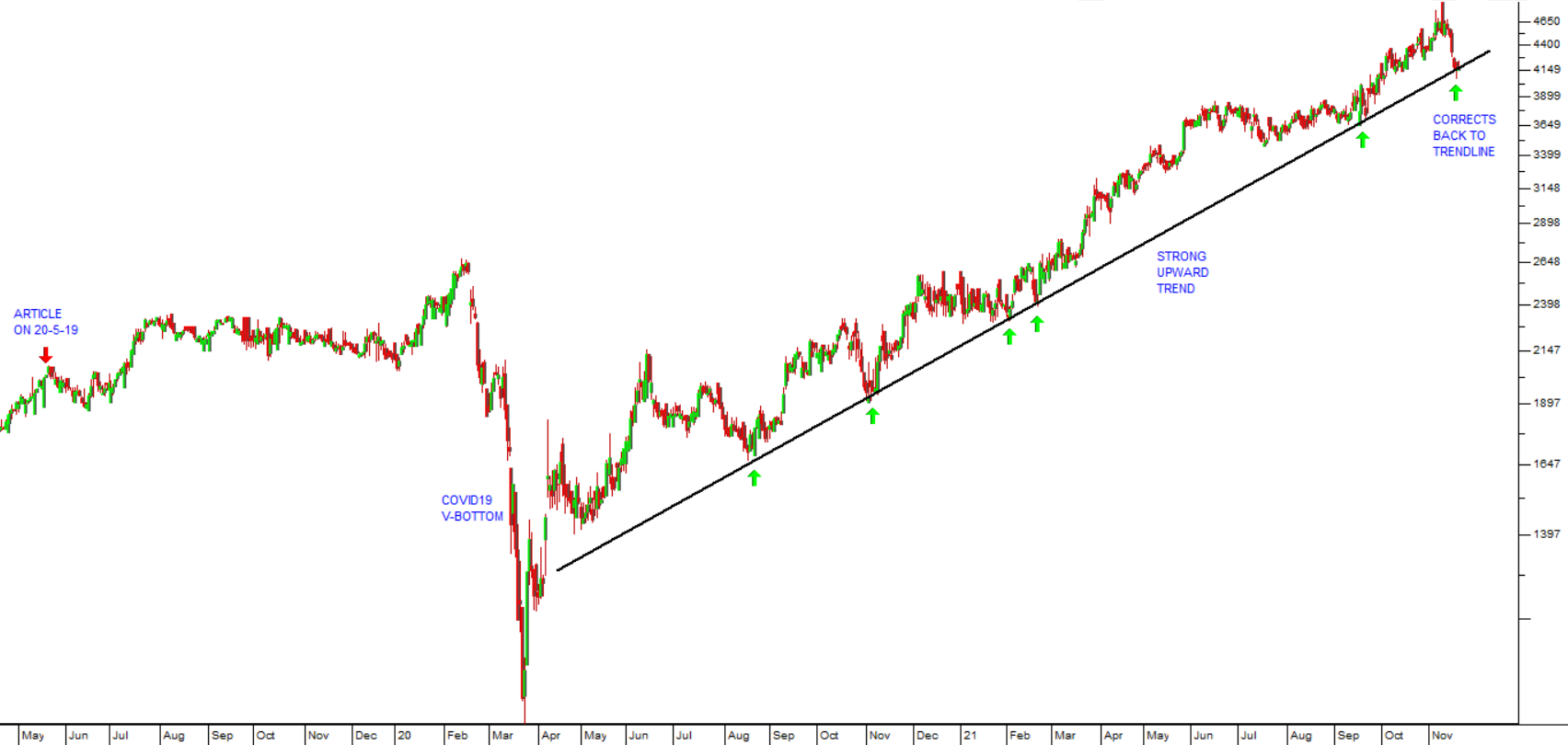 Here you can see the graph of Transaction Capital (TCP) before the COVID-19 V-Bottom. We have drawn in the strong rising trendline which is supported by six "touch-points" (the green arrows) indicating that it is a very reliable.
On the 20th of May 2019, in an article, we drew your attention to the rising trend in Transaction Capital, (Click here to read) when it was at a price of 2020c. We suggested that it was a good buy at that time. Obviously, TCP was then in a strong rising trend, but it was then impacted by the COVID-19 V-bottom in March 2020. Today, at the low point following its recent correction, it is trading for 4192c – which is a gain of 107,5% over the time since we wrote that article. The cycle low point which it reached last Friday places it almost exactly on its upward trendline – which is a compelling indication that it has probably fallen as far as it is going to go in this cycle. In other words, it is a great opportunity to buy some of these shares before they resume their upward trend.
TCP is arguably the best suited of all JSE-listed companies to the conditions which now exist in the new South Africa. It has three divisions, each of which is growing rapidly, exploiting specific growing trends in our economy:
SA Taxi dominates the mini-bus taxi industry in this country financing, repairing, insuring, and refurbishing the taxis which have become an indelible feature of our roads over the past 20 years.


Transaction Capital buys up the

debtors' book

s of

distressed companies

which need additional finance. These are often purchased for less than 50c in the rand and Transaction Capital is an expert at collecting a much higher percentage of those

debt

s. This is a highly profitable business because the effective return is far higher than

interest rate

charged by finance companies and

banks

.


WeBuyCars is TCP's latest

acquisition

, and it dominates the second-hand car industry in South Africa. With

unemployment

at record highs following COVID-19, this is a company that exploits the fact that most consumers cannot afford to buy a new car, and many are trading down to cheaper vehicles.
In their recently published results (https://senspdf.jse.co.za/documents/2021/JSE/ISSE/TCP/FY21_SENS.pdf) for the year to 30th September 2021, TCP reported that all three divisions had recovered well from COVID-19 and were showing rising profitability. Overall, the company reported a record core headline earnings from continuing operations of R1005m which was 27% higher than in 2019 and 264% up on 2020.
We suggest that this share should be part of any private investor's portfolio and should be further accumulated on any weakness.
DISCLAIMER
All information and data contained within the PDSnet Articles is for informational purposes only. PDSnet makes no representations as to the accuracy, completeness, suitability, or validity, of any information, and shall not be liable for any errors, omissions, or any losses, injuries, or damages arising from its display or use. Information in the PDSnet Articles are based on the author's opinion and experience and should not be considered professional financial investment advice. The ideas and strategies should never be used without first assessing your own personal and financial situation, or without consulting a financial professional. Thoughts and opinions will also change from time to time as more information is accumulated. PDSnet reserves the right to delete any comment or opinion for any reason.
Share this article: