27
Jul
---
Since the initial euphoria over President Ramaphosa's election and inauguration, some of the excitement has worn off and the focus of the media has shifted back to South Africa's many problems. Maybe we have forgotten that this new president is a consummate businessman in his own right and used to negotiating successfully at the highest level.
He has recently stated that it was his intention to bring in $100bn of foreign direct investment (FDI) in the next five years. This was a laudable and much-needed goal. But now it seems that his skill at attracting new investment into South Africa may be the game changer that everyone wanted. So far, since making that announcement, President Ramaphosa has managed to get $34bn in FDI – including $14,2bn from the Chinese President who he cornered at the BRICS (Brazil, Russia, India, China and South Africa) conference in Sandton.
This is no mean achievement. He has managed to get one third of his $100bn target in just six months. The effects of this flood of new cash are tangible and so far from what the previous incumbent could have achieved as to be laughable – that is, of course, assuming that Zuma even understood the concept of FDI and its importance.
The most noticeable impact has been on the strength of the rand. As the currency market has grasped the idea that Ramaphosa is a veritable FDI salesman, the rand has done an about turn and moved steadily stronger. From its weakest point of almost R14 to the US dollar it has strengthened to R13.20 and looks to continue strengthening from there. Consider the chart: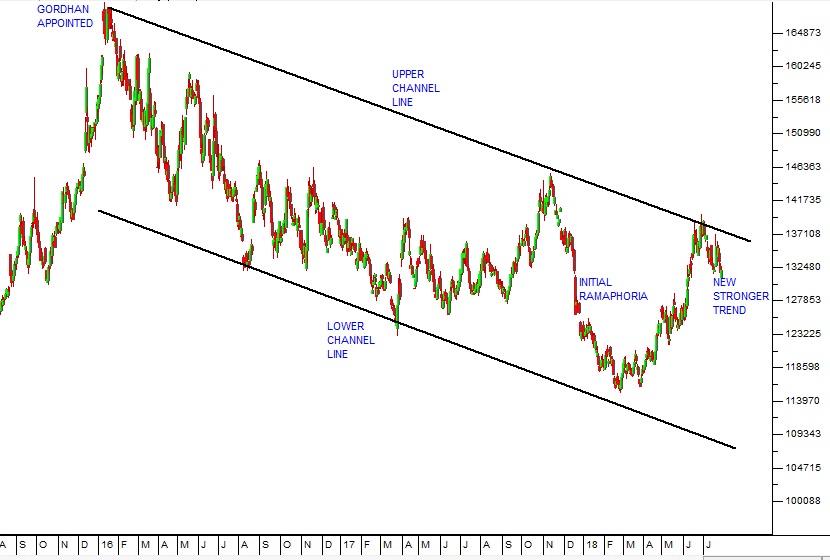 Rand Dollar Exchange 1 Year Chart – ShareFriend Pro
The effect of this will first be felt in the petrol price and that will impact on every South Africans' life directly. But beyond that it will bring industries and skills and massive amounts of employment. In time it will increase tax revenue and enable us to reduce the government's exposure to debt.
We believe that this newly-displayed skill which our president has demonstrated changes the prospects for the South African economy markedly and as private investors you should be taking notice.
DISCLAIMER
All information and data contained within the PDSnet Articles is for informational purposes only. PDSnet makes no representations as to the accuracy, completeness, suitability, or validity, of any information, and shall not be liable for any errors, omissions, or any losses, injuries, or damages arising from its display or use. Information in the PDSnet Articles are based on the author's opinion and experience and should not be considered professional financial investment advice. The ideas and strategies should never be used without first assessing your own personal and financial situation, or without consulting a financial professional. Thoughts and opinions will also change from time to time as more information is accumulated. PDSnet reserves the right to delete any comment or opinion for any reason.
---