05
Jun
---
US Economy
The opinions of the investors of the world are averaged and expressed in the various indexes of major world markets, especially the S&P500. They have recently (just a month ago) pushed the S&P500 index to a new record high (2945 on 30-4-19). And the data coming out of the American economy is confirming their optimism. The US economy grew by 3,1% in the first quarter of 2019 – easily beating the average forecast of 2%. A good chunk of that growth came from private consumption expenditure (PCE) – which shows that consumers are spending. This is not surprising given the better-than-expected results from the S&P500 companies and the extremely low unemployment in America. At the same time, the US economy added 263 000 new jobs in April month – easily beating analysts' forecasts of 190 000. This brought the unemployment rate down to 3,6% – its lowest level in 50 years. Hourly earnings growth was up 3,1% year-on-year at an average of $27,77.
So with all this good economic news flying around why is the S&P falling? The answer is quite simply Donald Trump. His aggressive attitude towards America's traditional trading partners and particularly China is beginning to unnerve investors. More and more analysts are starting to talk about some kind of recession. The Trump tariffs are starting to bite.
A trade war makes no economic sense from any perspective – any economist will tell you. Everyone ends up losing. Aside from the tariffs on $200bn worth of Chinese goods, Trump last week announced a 5% tariff on imports from Mexico, effective 10th June 2019 and which would grow to 25% unless the Mexicans stopped illegal cross-border immigration into America. At the same time Trump has threatened around $200bn worth of additional taxes on Americans and put the United States-Mexico-Canada agreement (USMCA) into jeopardy. These factors are causing some investors to decide to sell out and await developments. In our view, Trump is feeling more and more pressure from the Democrats and the rising possibility of an impeachment. He is cornered and potentially dangerous. But can he really derail the economic boom in America? We don't think so. In our view, the escalation of the trade war is probably temporary and in a few months' time it will be history. It is far more likely that Trump is trying to use his executive powers to gain political points – or at least he is trying to distract Americans from his mounting personal problems.
Technically, the S&P500, having made a new record high at 2945, retreated into what is looking more and more like another correction. The index is now down 6,5% from its high and still falling. It is close to the next support level at 2743. Below that, the next support is at around 2632. Certainly, this is a trend to watch closely. Some investors are being scared by the "triple top" formation which is now clearly evident in the Dow Jones Industrial (DJ) index over the past 18 months: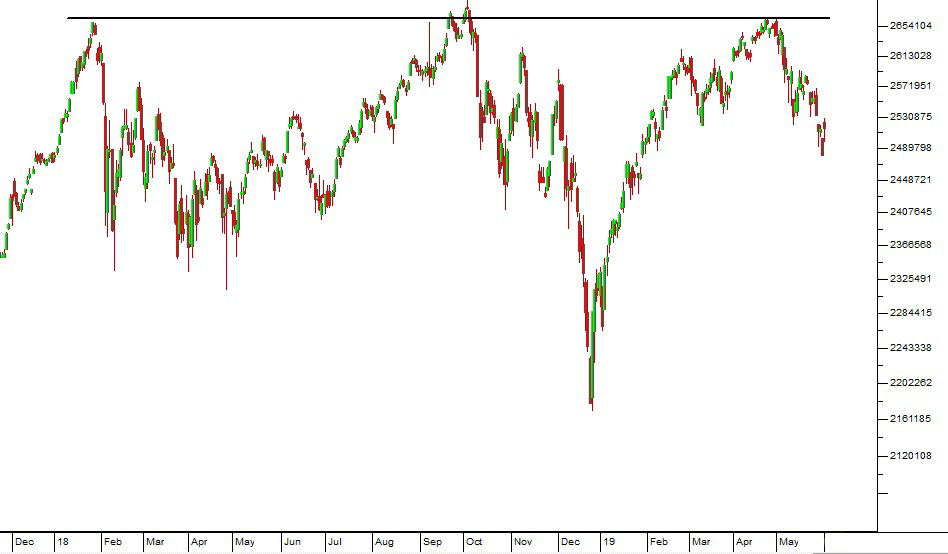 Dow Jones Industrial Average Index December 2017 to June 2019 – Chart by ShareFriend Pro (Click to Enlarge Image)
This triple top is echoed in the S&P500, but the S&P has at least made new higher highs on each cycle. We generally do not consider the DJ to be a good index because it is a simple average of the top 30 shares trading in America while the S&P is a weighted average of the top 500 shares – making it far more representative. But the DJ has many followers who may get scared and sell out, creating a self-fulfilling prophecy. As a private investor, you may feel it is wiser to get out of the market until this situation is resolved. Then, at least you would be protecting your capital – but you might find that you end up sitting in cash when the market resumes its upward trend.
Political
The recent comments of the Business Leadership South Africa's (BLSA) COO, Busisiwe Mavuso, are highly relevant to what happens now that the election is behind us. Her comment was "Labour has been allowed to run amok". BLSA represents 70 of the largest companies in South Africa. This type of observation underlines what we have been saying for some time, that some sort of confrontation between the union movement in South Africa and the government is inevitable after the elections. In our view, labour legislation is heavily skewed in favour of employees and against employers, with the result that employers are reluctant to take on new staff – and that has led to high unemployment rates and low growth.
The finding in the Pretoria High Court that the public protector, Mkwebane, either disregarded the constitution or displayed a "concerning lack of understanding" of her duties in terms of it, places one of Zuma's last appointments under considerable pressure. Her report on the Vrede Dairy Farm matter has been set aside as "unlawful, unconstitutional and invalid". E-mails show the Gupta involvement and how R30m was used to pay for a lavish Gupta wedding at Sun City. Ace Magashule as Free State Premier (now ANC Secretary General) apparently played a role in this together with Mosebenzi Zwane who was in charge of the Free State Agriculture Department at the time. The DA now wants Parliament to remove Mkwebane from office.
Ramaphosa's new cabinet is clearly a fine compromise which indicates his remaining vulnerability within the ANC, but which also demonstrates his determination to clean up its image and reduce its size. We believe he was more or less forced to appoint David Mabuza as his deputy and Nkosazana Dalmini-Zuma as a minister – but aside from those two appointments, he did not bow to pressure to get rid of Pravin Gordhan – which means the effort to clean up Eskom and other state owned enterprises (SOE) will continue. With a few notable exceptions, this cabinet is a break with the past and with anyone associated with state capture. It is an expression of Ramaphosa's mandate from the South African people to continue with his efforts to turn the South African economy around and reduce the size of the civil service.
Economy
Last year GDP growth was a miserable 0,8%. At that level, given the tens of thousands of young matriculants entering the labour market each year, we are actually going backwards. This year growth got off to a bad start mainly because of the 26 days of load-shedding in March. Retail, manufacturing and mining all reported negative growth in the first quarter so it seems likely that growth was negative. The trouble-free election and its outcome have helped business confidence, but that will only last if it is followed by some meaningful reforms – and no further load-shedding. Johann Els, an economist with Old Mutual, thinks that there is a 50/50 chance that South Africa will again enter a technical recession if the second quarter also has negative growth and the consensus is for a 1,5% negative growth. Most economists are expecting growth of between 1,3% and 1,8% for the year, but will probably have to revise these estimates down given negative growth in the first quarter. The Reserve Bank has adjusted its forecast down from 1,3% to 1,0%. Two of the five Monetary Policy Committee (MPC) members voted for a rate cut in May – which implies that there could well be a rate cut at the next MPC meeting provided that the rand does not weaken markedly. Mining (-3,4%) and manufacturing (-2,4%) began the year badly and retail sales have been squeezed by the 74c increase in the petrol price in March. The unemployment rate looks set to stay at record levels around 27,7% or even to worsen as the year continues.
The CEO's of South Africa's largest listed companies are probably the most knowledgeable, experienced and astute group of people when considering the economic prospects of the country. They usually have well-funded research facilities and watch their industry and the economy very closely because it directly impacts on their business. For this reason the comments of the recently-appointed CEO of Clicks, Vikesh Ramsunder, are worth considering. Ramsunder says that he does not expect the South African economy to improve much for the next 18 months to two years. Much of this negativity must obviously be laid at the door of Eskom and the probability of further load-shedding in 2019 and 2020.
The half-percent jump in the unemployment rate is a major blow to President Ramaphosa. It takes unemployment to a new 15-year high at 27,7%. The first quarter of 2019 saw the loss of almost 240 000 jobs – more than half of which were lost in construction. The finance sector lost nearly 100 000 jobs – some of which would be due to the technical revolution which has seen financial functions being done by computers and applications rather than people. One of the major causes of unemployment is the draconian labour laws which make it both difficult and expensive to get rid of employees. This makes businesses very wary of taking on new staff. Ramaphosa has a limited time to show that he can turn the unemployment situation around and it seems probable that some of things he has to do will be very unpopular and involve a direct confrontation with the unions.
Now that the election is behind us, the financial crisis at Eskom must be addressed as a matter of urgency. The state owned utility now has a debt of R440bn (or R500bn according to Bloomberg) and is now raising money just to pay the interest on that debt. R45bn of that debt must be repaid in the last quarter of 2019. President Ramaphosa's Eskom task team has recommended the establishment of a special purpose vehicle (SPV) to assume the debt and manage the re-financing of it. Another option would be to simply move the debt from Eskom to the government and make it a taxpayer issue. The treasury is committed to supplying Eskom with R23bn a year for the next decade to assist with its debt management – but this appears to be wholly inadequate. The SPV should be able to raise funds internationally on condition that Eskom and South Africa meet various climate change requirements. However, Tito Mboweni, Minister of Finance says he knows nothing of the SPV which is a little concerning. Such an SPV would clearly entail shifting away from coal-fired power stations towards renewables. The resignation of Hadebe as the CEO of Eskom has been a factor in hammering the rand down to lows around R14.70 to the US$.
The decision by ratings agency Standard & Poors to maintain South Africa's ratings at BB and BB+ expresses their optimism that the new ANC under President Ramaphosa will implement major reforms in the economy to restore growth. Until now, Ramaphosa's reforms have taken the form of replacing people who were clearly unsuitable, like the Minister of Finance and the Minister of Mineral Resources, as well as inserting new boards of directors in the key state owned enterprises (SOE). Now following the election, the expectation is that he will challenge the deeper structural issues in the economy – like the severe imbalance in the labour market which is at the root of our record high unemployment. His new cabinet is materially reduced in size – which is a good sign.
The Rand
The sudden collapse of the rand to R14.87 to the US dollar appears to be directly linked to the fact that David Mabuza has been returned as deputy-president – which was seen by overseas investors as evidence that Ramaphosa is still presiding over a divided ANC. At the same time Pravin Gordhan has remained as Minister of Public Enterprises but has been under increased attack as one of Ramaphosa's key agents of change. Overall it would appear that this is a cabinet of compromise in which Ramaphosa has significantly reduced the influence of his enemies within the ANC, but not eliminated them. The perception that his new cabinet reflects a mandate from the electorate for change is growing. The rand has strengthened back to R14.57 to the US dollar as overseas investors have become more comfortable with the compromise that Ramaphosa's cabinet represents. Certainly the rand, which has also been buffeted by the Trump trade wars, has not collapsed back to the lows of September last year when it reached R15.46. Consider the chart: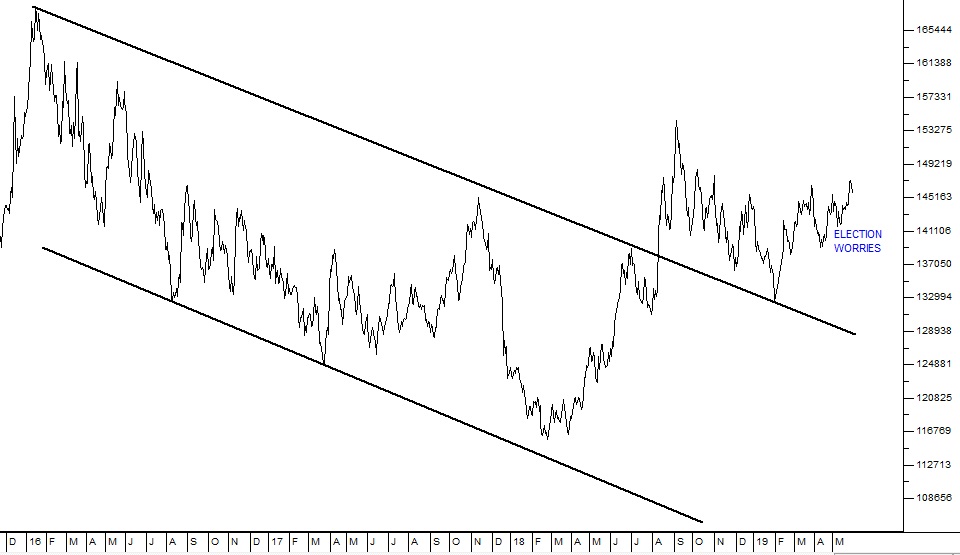 Rand Dollar Exchange Rate December 2015 to June 2019 – Chart by ShareFriend Pro (Click to Enlarge Image)
General
A little considered fact is that the government employees pension fund (GEPF), which is administered by the Public Investment Corporation (PIC), owns roughly 12,4% of Naspers. This investment is currently worth around R202m and has appreciated about 380% in the past five years giving a paper profit of about R144m. This is a large slice of the GEPF's portfolio. All in all, the GEPF owns about 12% of the entire JSE – or at least all the large blue chip companies listed there. Now the principal executive officer of the GEPF is suggesting that he is considering investing some of the funds into Eskom – on the basis that if Eskom fails completely, the entire JSE will lose an enormous amount of value and the GEPF will be the largest loser because it is the largest shareholder. A meaningful investment in Eskom might well involve reducing the GEPF's exposure to Naspers – and perhaps that is the solution to the Eskom problem. But it raises the question of what return the GEPF could expect to get from the beleaguered utility as an investment. Right now, Eskom is losing money and has a shrinking market as more and more customers find alternative sources for their power. To become profitable, it will need to implement the strategy of breaking into generation and distribution and then set about selling off its power stations as quickly as possible.
The liquefied natural gas (LNG) project in Mozambique is gaining momentum with Standard Bank lending $20bn to Anadarko. The project is expected to take advantage of the Chinese move away from coal towards LNG as part of its "blue sky" plans. The project will make a significant difference to the South African economy as most of the construction expertise and materials will come from here. There is also a deal for French company Total to buy Anadarko's African assets including its interests in Mozambique. Total already operates the Brulpadda project in Mossel Bay. The expectation is that Mozambique will ultimately become one of the top five LNG suppliers in the world.
The decision by Minister of Energy, Jeff Radebe, to allow private companies to generate electricity up to 10 megawatts (increased from 1 megawatt) for their own use and to provide power to the grid clears a major bottleneck in the provision of power in South Africa. Previously, it was difficult, if not impossible, to obtain permission to produce more than 1 megawatt of power – apparently in order to protect Eskom's captive market. Now any business which is dissatisfied with Eskom's reliability or pricing can choose to build its own power generation or buy power from another private supplier. This is a real game-changer which effectively destroys Eskom's monopoly on power and opens the way for significant price reductions and improved reliability. It is apparent that Phumzile Tshelane and the board of the Nuclear Energy Corporation (NECSA) have been a major stumbling block to private energy generation in this country. He and the board have been fired or suspended pending the results of an inquiry.
Gig-workers are the new employees in America. These are people who work part-time as temps or on short contracts, freelance or are self-employed. The FANGs (Facebook, Amazon, Netflix and Google) love to employ gig-workers because they do not have to pay them except for the work they actually do – and they do not need to supply them with all sorts of company benefits like a pension plan or medical aid. One of the reasons the FANGs have been so profitable is that, aside from a relatively small core of managers and technical staff, most of their work is done by outsiders who have a far lower cost-to-company. It is estimated that as many as 30% of the US work force is now in the gig-worker category. Everyone from Uber drivers to Googlers, YouTubers and online salesmen. Most of them work from home trying to somehow scratch a living from the internet.
Commodities
The recent report by Johnson Matthey indicates that there could be a 125000 ounce shortage in the platinum market in 2019 (from a surplus of over 370000 ounces in 2018). South Africa is the largest supplier of platinum in the world with roughly two-thirds of the production as well as one third of the palladium production and 80% of the world's rhodium production. Wage negotiations are about to start in the platinum sector, with the Association of Mining and Construction Union (AMCU) as the dominant union. AMCU has just had a bruising defeat in the gold industry from Sibanye and so may not be able to command the support it once had. However, there is the potential for protracted strike action with the consequent impact on platinum group metals (PGM) production. To this must be added the uncertainty and rising cost of Eskom's electricity supply and load-shedding in the first quarter which cost Angloplat and Lonmin a combined R2bn. The World Investment Forum forecasts that the supply from platinum recycling will be sharply higher which may impact on prices. Altogether they forecast 2 million ounces from recycling. Technically, the platinum price appears to have made a "double bottom" and to be rising off that low. Consider the chart: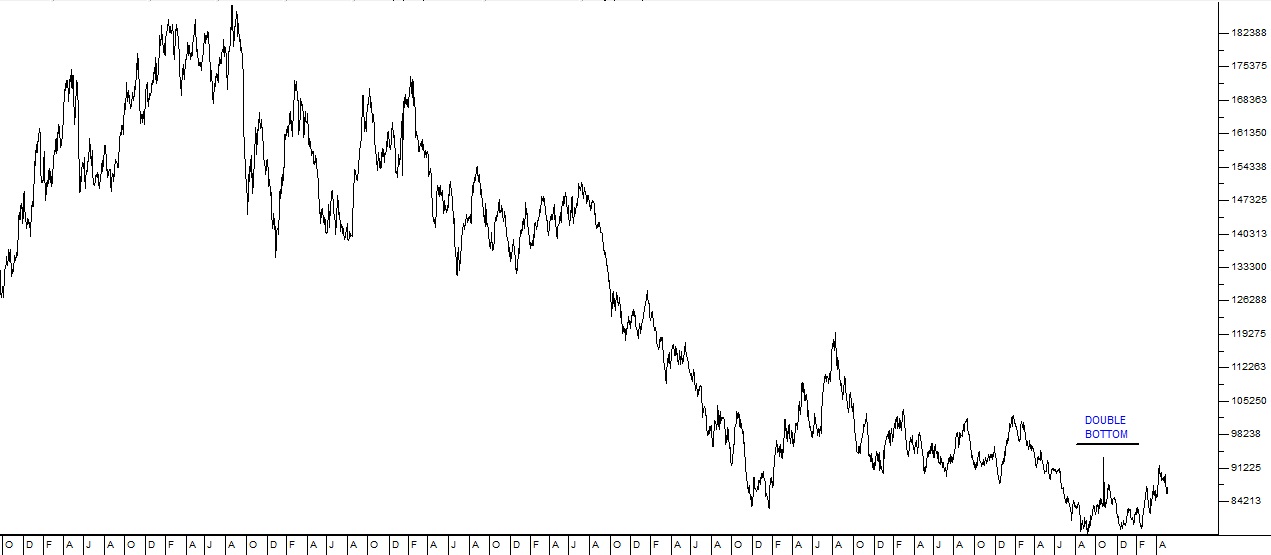 Platinum Closing Price in Dollars October 2009 to June 2019 – Chart by ShareFriend Pro (Click to Enlarge Image)
Certainly, what is apparent is that prices cannot continue to hover around $850 per ounce without some severe down-sizing in the industry.
The new Housing and Living Conditions Standard for the minerals industry attempts to shift the responsibility for housing and health care from municipalities to the holders of mining rights. The standard says that mining rights holders will lose their rights if they do not comply. Obviously, this amounts to a massive new burden on the struggling mining industry which was never agreed to in the negotiations for the third mining charter. The Minerals Council has lodged a written objection, but in the meantime it adds another layer of uncertainty to the mining industry and makes mining investment in South Africa that much less attractive.
Companies
STEINHOFF (SNH)
The Steinhoff debacle, which really came to an end on Wednesday when they published their re-stated financials for the 2017 year, contains some vital lessons for private investors (reported in Business Day of 9th May 2019). The financials reveal a web of companies which were used by a group of unscrupulous executives to move money around through a web of companies, overstate profits and obscure fraudulent transactions. Clearly, the investing public and even the highly-qualified and experienced analysts at various asset management companies like Coronation, Allan Gray and the Public Investment Corporation (PIC) were fooled into thinking that Steinhoff was a solid blue chip company which was growing rapidly.
At that time, Steinhoff's financial results were analysed exhaustively. Steinhoff executives were interviewed and questioned about various aspects of the business. Auditors did numerous spot checks of the figures and wrote clean audit reports. And yet, nobody realised until it was too late that the structure and the published results were just "smoke and mirrors". How can a private investor with limited time and resources protect himself against this type of cataclysm?
The answer lies in the charts. Every company has insiders who will always know more about what is really happening that you can. Those insiders will always trade the shares using their superior knowledge before the facts are revealed to the public. Their trades will impact the share's chart in specific ways which are clearly visible to the alert investor. Let us consider the example of Steinhoff and what its chart revealed long before its ultimate collapse: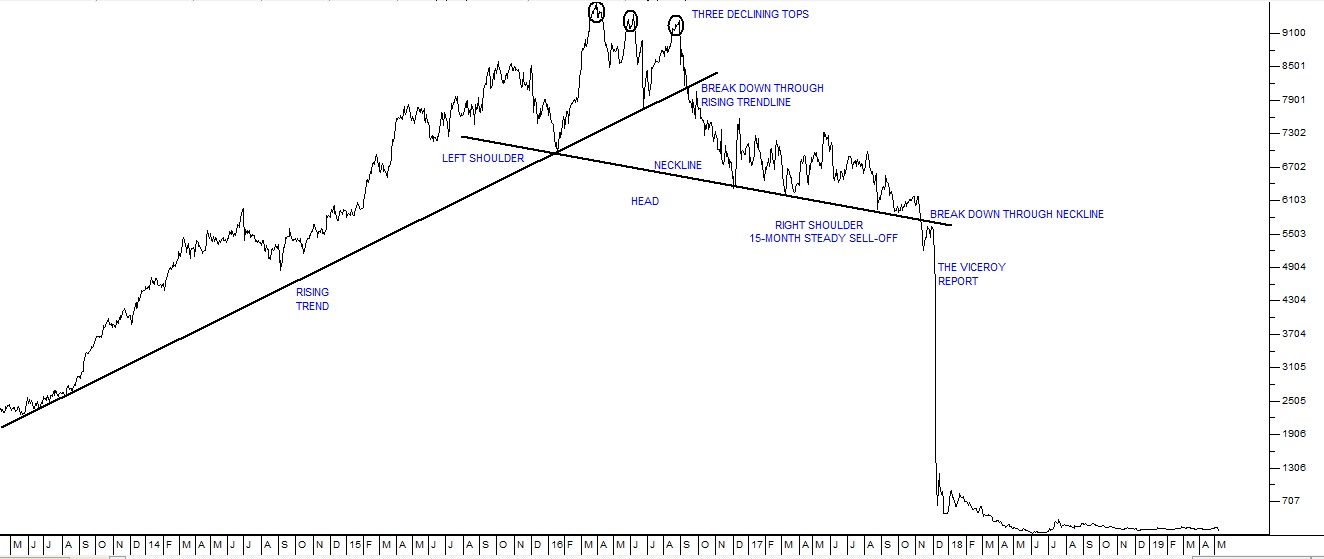 Steinhoff (SNH) March 2013 to June 2019 – Chart by ShareFriend Pro (Click to Enlarge Image)
You can see here the meteoric rise of Steinhoff until March 2016 when its share reached a peak of 9685c. The share was a "market darling" and everyone was buying it – especially the big institutional investors.
Then something happened which should have alerted anyone who was watching the progress of Steinhoff's upward trend. It made a "lower top" at 9479c on 7th June 2016. The share went up and attempted to exceed its March 2016 high – and then failed. This failure was followed (as it usually is) by some disappointment and the share fell back to lower levels.
Then in August 2016, investors built up their courage to try again. But this time the share could only reach 9360c before it fell back. A second failure creating a declining "triple top". This is probably one of the most negative and bearish of all technical formations in charting. Anyone who was the least acquainted with the basic principles of charting would have been aware that Steinhoff was about to fall – and so it did.
But fund managers are stubbornly loyal to the idea that audited financials are reliable indicators of a company's future performance. Indeed their entire training leads them to be so. But by this time somebody inside Steinhoff already knew the truth and was busy off-loading a very substantial portfolio of shares. Whenever the share reached high levels above 9000c that insider sold off another large chunk of shares – which were enthusiastically taken up – mostly by institutional investors.
There followed a period of about 15 months during which the share drifted down before the publication of the Viceroy report, the acknowledgement of "accounting irregularities" and the resignation of Marcus Jooste as CEO, brought the illusion to an abrupt end. The share collapsed from 5500c to less than 500c.
A person familiar with technical analysis will notice that after this third lower top, the share broke down through its long-term upward trendline – a clear sell signal. They would also have noticed that a massive long-term "head-and-shoulders" formation was becoming apparent.
This formation consists of a "right shoulder", "head" and "left shoulder" and the low points which follow the right shoulder and the head can be connected to draw a "neckline". Conventional technical wisdom is that a break below the neckline is the final signal of the coming bear trend. This break occurred on 10th November 2017 – when Steinhoff was trading for 5600c. Shortly after that it collapsed by more than 90%.
You should take your time to study exactly what happened to Steinhoff and how you, as a private investor, could have avoided being a victim.
TREMATON (TMT)
We believe that Trematon is a share that private investors should consider. What makes this company interesting is that it appears to be moving out of property and into private education. It has 8 schools and the revenue generated from this source doubled in the last six months and could double again by year-end. We all know what a success Curro and Advtech have made out of private education. There is an almost insatiable demand for schools mainly because government education has declined so badly in South Africa. Trematon has been selling commercial properties to finance its entry into the schools market. The only problem is that the share is relatively thinly traded with only about R50 000 worth of shares changing hands each day – but we think that it will inevitably have to come to the market to raise capital as its education division expands. Buying it now might get you in on the ground floor.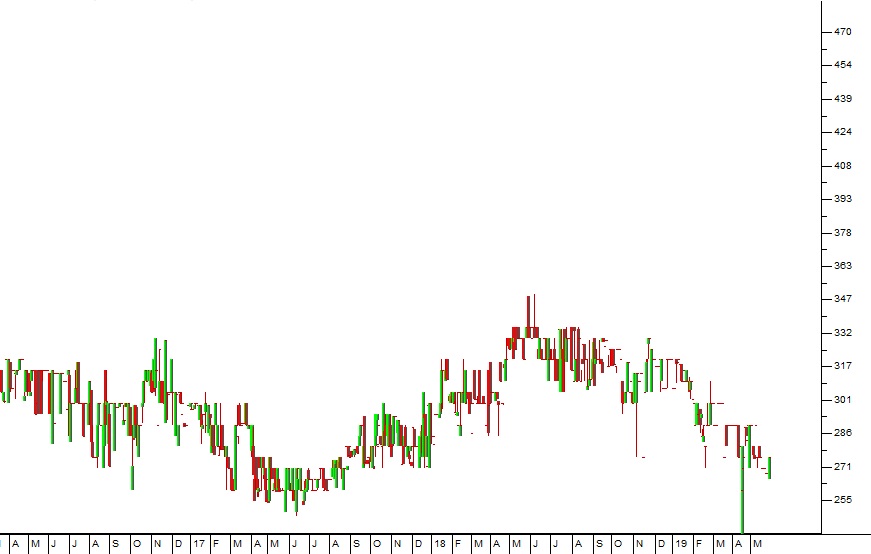 Trematon (TMT) March 2016 to June 2019 – Chart by ShareFriend Pro (Click here to Enlarge Image)
EQUITES (EQU)
Equites (EQU) is the only real estate investment trust (REIT) on the JSE which specialises in industrial logistics and distribution properties in South Africa and the UK. Its most recent acquisition of a 100 000 square meter logistics property in Germiston was expensive, but it has an A-grade tenant in the form of Simba and good yield which will make the property highly profitable in 2 years' time. The property was bought from Investec Asset Management for R462m. Of all property REITs, those which include logistics properties like warehousing are the most sought-after because of the steady increase in online shopping by consumers. CEO, Andrea Taverna-Turisan says "a wall of cash is leaving retail property and going to logistics". Equites has achieved a return of just under 25% per annum since it listed. In the year to 28th February 2019, the company reported distributable earnings up 37,2% and net asset value (NAV) per share up 10,2%. The dividend was increased by 11,8% and the loan-to-value (LTV) ratio was 26,9%. 32,7% of the company's portfolio is now in the UK where it is exposed to the fallout from brexit. However, its focus on logistics and distribution warehousing has helped to mitigate this. The company raised R1,5bn through two over-subscribed book-builds during the period – which shows the high regard which it commands among institutional fund managers . The portfolio value is now R12bn and the gross lettable area (GLA) of the company increased by 45% in the period. Vacancies increased from 2% to 3,9% as a result of recent acquisitions. Technically, Equites has seen its share price move sideways for the past two years. Consider the chart: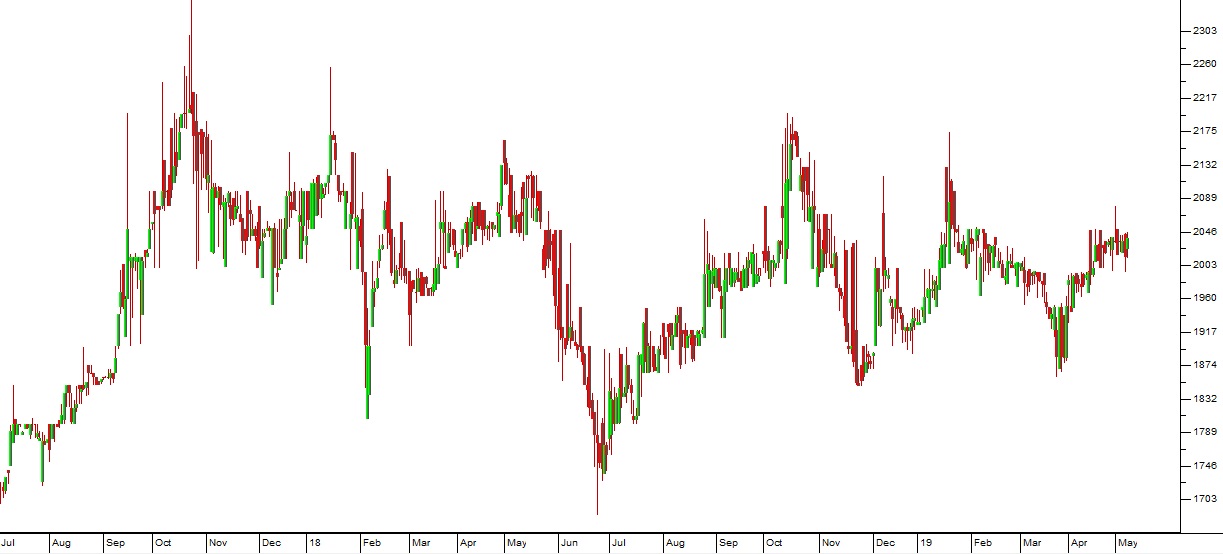 Equites Property Fund (EQU) June 2017 to June 2019 – Chart by ShareFriend Pro (Click to Enlarge Image)
The Resilient Group's collapse saw all property shares fall. Nonetheless, Equites only fell by about 9% in 2018. Its net asset value (NAV) 1722c compares with a share price of 2039c. It has a growing rand hedge component and we believe that it represents good value at around R20.
VALUE GROUP (VLE)
Value Group (VLE) is a logistics company operating in Southern Africa with six divisions: (1) Transportation, (2) Distribution, (3) Warehousing, (4) Import and Export, (5) Materials Handling and (6) Repairs and Maintenance. In its results for the year to 28th February 2019, the company reported turnover up 11% and headline earnings per share (HEPS) up 52%. The gain was due to organic growth of the company's customer base and volume increases. There were significant increases in the cost of fuel and other expenses but overall operating expenses increased by just 2%. Net asset value gained 10% to 624,8c. Making use of learnership allowances, the company managed to reduce its effective tax rate to 26,1%. Working capital was reduced by 11% to R291,3m. Technically, the share has been in an upward trend since the start of 2016 and trades on a very undemanding P:E ratio of 7,8 and a dividend yield (DY) of 4,57. There is more than enough volume traded to accommodate private investor transactions – so we see this as a growing under-valued company that represents a definite investment opportunity. Consider the chart: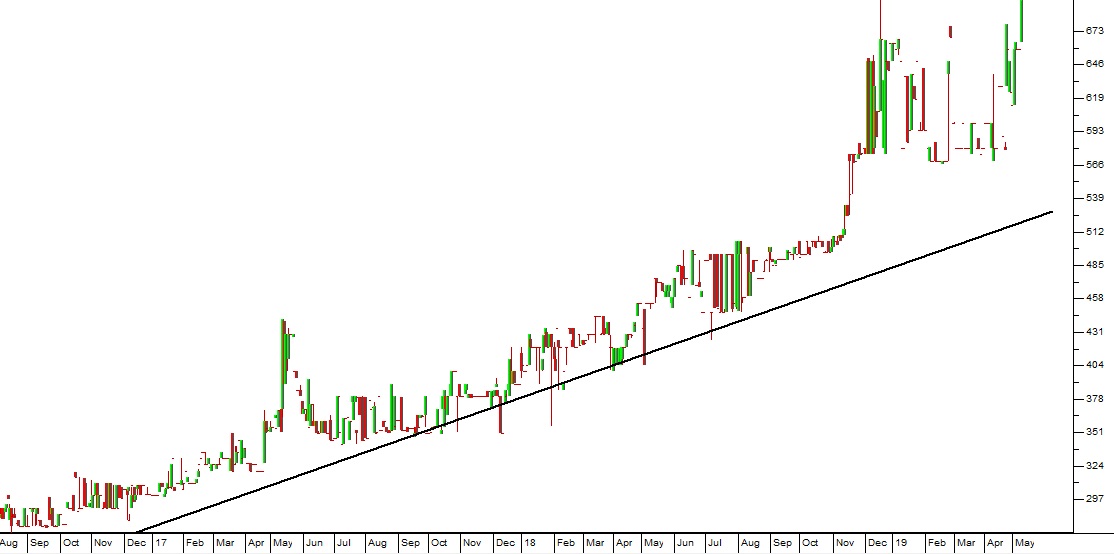 Value Group (VLE) August 2016 to June 2019 – Chart by ShareFriend Pro (Click to Enlarge Image)
TRANSACTION CAPITAL
Transaction Capital (TCP) is a company which specialises in financing, repairing, insuring and selling minibus taxis in South Africa. It completely dominates the entire value chain associated with the minibus taxi industry. The company listed in June 2012 and since then has generated an annual compound growth in earnings per share of 20% with a 33% per annum average growth in dividends. This is an almost unique performance from a JSE-listed company. The share is shaping up to be a "diagonal" share (our term for a share whose chart goes from the bottom left-hand corner of your screen to the top right-hand corner). Its share price has risen from 470c in March 2014 to its current level of 1910c today. In its results for the year to 30th September 2018, the company reports headline earnings per share (HEPS) up 16%. The company divides itself into two operating divisions – Transaction Capital Risk Services (TCRS) and SA Taxi. SA Taxi provides a vertically integrated platform which offers financial, insurance and related services to mini-bus taxi owners. The division can procure, sell, re-possess and refurbish vehicles. About 69% of South African households use taxis with more than 15m trips per day. Most of this is non-discretionary – which means that this industry is very defensive and not impacted by the state of the economy at large. The South African Taxi Council (Santaco) acquired a 25% stake in SA Taxi for R1,7bn in 2018 which is benefiting both parties. The directors of TCP own 32% of the company. In its results for the six months to 31st March 2019, the company reported headline earnings per share (HEPS) up 17% – which gives the company a compound growth in earnings of 19% per annum for the past five years. The company has excess capital of R1bn. The company is also involved in debt-collection in South Africa and Australia through Transaction Capital Risk Services (TCRS). In the six months the company acquired non-performing loans with a face value of R2,1bn for R404m. At 31st March 2019, TCRS owned 254 portfolios with a face value of R23,5bn. Collections from these portfolios averaged R3,6bn, up 62% from the previous year. In our view this is a relatively low-risk investment which has an excellent track-record and offers strong growth potential. The share trades on a P:E of 18,6 with a dividend yield (DY) of 2,26% which indicates that it is already very highly rated. We expect its growth to continue.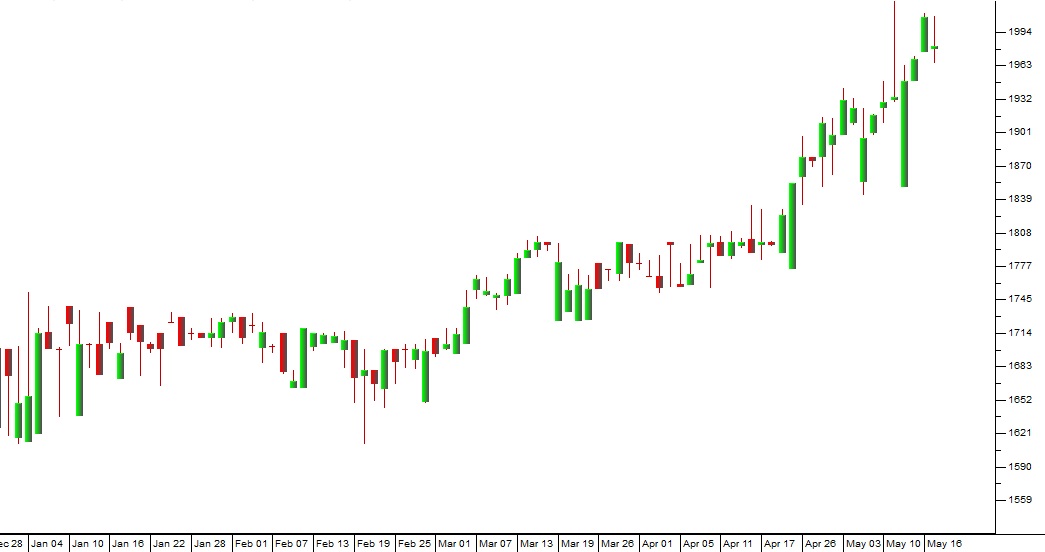 Transaction Capital (TCP) January to May 2019 – Chart by ShareFriend Pro (Click to Enlarge Image)
ASTRAL (ARL)
The problems which Astral is having with its water supply are a clear indication of the cost of appointing incompetent and corrupt officials to municipalities. The Lekwa municipality (Previously Standerton) has failed to supply sufficient water to the chicken producer despite the proximity of the Vaal River and a court order to do so. This has cost Astral Foods R85m and is threatening the jobs of its employees who are working half time as a result. Astral is, of course, working to install its own water supply which will not be dependent on the municipality. When that is done the municipality will have lost a customer (Standerton's largest employer) and its income will be reduced accordingly. This problem of ineffective municipalities is endemic in South Africa and makes it very difficult to grow the economy.
CARTRACK (CTK)
Cartrack (CTK) is a vehicle recovery, insurance, telematics and fleet management company operating in 24 countries around the world. It has a 92% recovery rate which it claims is the best in the industry. It has very rapid organic growth, having grown its subscriber base by 21% compound over the past six years. In its results for the year to 28th February 2019, the company reported subscriber growth of 28% to 961 000 and subscription revenue up 30%. Headline earnings per share were up 15%. This is the company's sixth year of double digit turnover growth. Approximately 90% of the company's turnover is annuity income. The share fell from a high of 2145c in February 2018 to around 1200c but has since recovered to 1780c. Given its rapidly growing annuity income and its rand-hedge character, we regard this share as an ideal investment for private investors. It has yet to attract strong institutional interest and trades on a relatively modest multiple of around 15 against the JSE's average multiple of 18. The company has almost no working capital and its annuity income ensures that its overheads are already covered before it opens its doors at the beginning of each month. We suggest that you accumulate this share on weakness. Consider the chart:
Cartrack (CTK) October 2016 to June 2019 – Chart by ShareFriend Pro (Click to Enlarge Image)
You can view a visual presentation of this report here.
To be added to our mailing list for the next webinar, click here
DISCLAIMER
All information and data contained within the PDSnet Articles is for informational purposes only. PDSnet makes no representations as to the accuracy, completeness, suitability, or validity, of any information, and shall not be liable for any errors, omissions, or any losses, injuries, or damages arising from its display or use. Information in the PDSnet Articles are based on the author's opinion and experience and should not be considered professional financial investment advice. The ideas and strategies should never be used without first assessing your own personal and financial situation, or without consulting a financial professional. Thoughts and opinions will also change from time to time as more information is accumulated. PDSnet reserves the right to delete any comment or opinion for any reason.
---