06
Feb
---
The American Economy
The Federal Open Markets Committee (FOMC) in America raised rates on 19th December 2019 by 0,25% to take them to 2,5%. This is the ninth 0,25% increase in rates since rates began to rise in January 2016. This came after rates were stable at a record low of 0,25% for seven years from January 2009 – following the 2008 sub-prime crisis. The steady, gradual increase in US interest rates since the beginning of 2016 means that US Treasury Bills (T-bills) are becoming more and more attractive to investors relative to the government bonds of other countries, including South Africa. This tends to cause funds to flow out of emerging economies like ours and into first world countries. The steady rise in US rates also means that the FOMC has confidence in the strong recovery of the US economy. This has positive implications for the base and precious metals which South Africa exports. Of course, it also puts pressure on the rand – which directly impacts the fuel price and, in the medium term, the inflation rate.
The US economy created an amazing 304 000 jobs in January 2018 which follows on from the 222 000 jobs created in December 2018. There can be no doubt about the fact that their economy is booming. Economists in America continuously under-estimate the strength of the economy, but the simple fact of the matter is that growth in America is taking off – and dragging the rest of the world economy with it.
Consider the chart of the S&P500 index: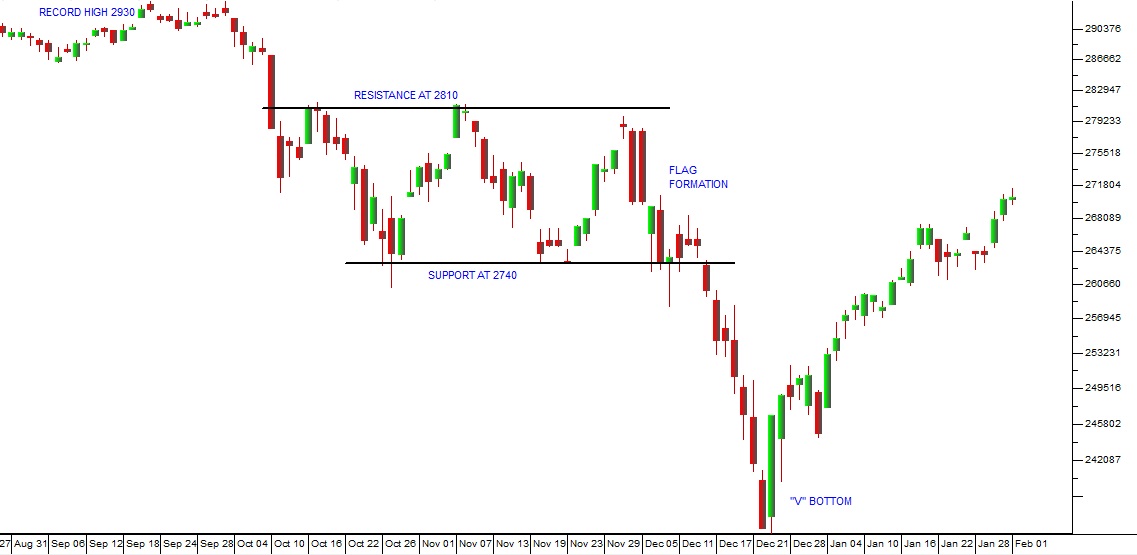 S&P500 Index August 2018 to February 2019 – Chart by ShareFriend Pro (Click to Enlarge Image)

Here you can see the record high of 2930 reached on 20th September 2018. You can also see that the correction was marked by a protracted "flag formation" over the two months of October and November. Then in December, Trump's US government shut down caused the market to spike down at a time when most investors were away on their Christmas holidays. At the apex of this downward trend on 26th December 2018, we published an article ("Trumps Debt Stand-off") in which we suggested that the S&P would most probably form a "V-bottom" when investors returned from the holdiays. Since then, that V-bottom has indeed materialised with the S&P moving up strongly. That trend has recently been supported by the announcement that in January the US economy was growing much more strongly that expected.
One of the most interesting aspects of the American economy is how it has shifted away from manufacturing over the past 68 years. In 1950, about 30% of employees, excluding those involved in farming, were working in the manufacturing sector. Today only about 9% of Americans, not involved in agriculture, are working in manufacturing. That shows a massive shift away from manufacturing towards the service industries and particularly towards high tech. Those manufacturing jobs have been taken over by China and other Eastern countries – which, of course, underlies much of Donald Trump's rhetoric and his "trade war" with China.
Donald Trump's sharply lower corporate tax rates are impacting on the dividends being paid by S&P500 companies. During 2018, the S&P500 companies paid out a total of $456,3bn in dividends which is 8,7% higher than the $419,8bn paid out in 2017. Clearly the steady acceleration in dividend payouts reflects higher after-tax profits and is at least partly responsible for keeping the S&P in a bull trend, despite the current correction.
Political
The Institute of Race Relations (IRR) survey in mid-December 2018 indicated that, on a 69% voter turnout, in the 2019 elections, the ANC would win approximately 59% of the vote – while the EFF and the DA would lose support. This survey has now been confirmed by an Ipsos survey of 3571 South Africans, done at the same time, which indicates that 61% of those surveyed would vote for the ANC in the May elections, with 14% voting DA and 9% voting EFF. The rand has been discounting considerable uncertainty over the election. The concern among international investors has been that the ANC might be returned with less than they achieved in the previous election (54%) or, worse that, they would fail to get 50% forcing them to compromise with one of the other parties. A negative factor has been the number of senior ANC officials who have been implicated in the Agrizzi testimony before the Zondo commission. To this must be added the land reform scandal implicating 42 officials in corruption, especially in Natal. These may have an impact on voting patterns and on the election results. Investors, generally, want the ANC to be returned with a strong majority as an endorsement of President Ramaphosa's reforms and to provide him with the mandate to undertake more unpopular reforms – such as
adjusting labour legislation to make it easier for employers to fire people,

reducing the size of the civil service

and possibly even privatising key state–owned enterprises (SOE).
The strong performance of the rand since these two surveys shows that the international investment community now believes that the ANC will win around 60% of the vote.
The judgement of Ledwaba that Zuma will have to repay all monies used by him to avoid criminal and civil litigation is a massive blow to the former president. Ramaphosa had agreed to continue financing these legal costs, but the court has found that such funding is illegal. Ramaphosa's strategy is becoming apparent. He is not facing off against Zuma or any of the other corrupt past and present ANC officials directly. Rather he has strengthened the National Prosecuting Authority (NPA) and allowed the law to take its course. Clearly, the ANC and Ramaphosa do not want Zuma supporters to see them as the source of these difficulties. Rather, they are seen to be coming from the opposition parties – the DA and EFF. The ANC can blame the opposition and retain the support of Zuma followers for the election in May. In the meantime, Zuma will face the full might of the law and probably end up in prison. Thus, Ramaphosa will ultimately be rid of him as a political force and impediment.
Economy
The costs of corruption and state capture are mostly encapsulated in the financial plight of Eskom. Earlier in mid-2018 the newly appointed CEO of Eskom, Phakami Hadebe, put forward a zero-percent increase in salaries and wages because even then he could see that Eskom had to curtail costs. The unions were outraged. The government stepped in because they did not want to fight that fight with the unions before the 2019 elections had given the new Ramaphosa administration a mandate. So the problem of a heavily over-paid and over-staffed Eskom was effectively swept under the carpet. However, it is quite apparent now, from the presentations of Hadebe at the National Energy Regulator of South Africa (NERSA) hearings, that this problem cannot be postponed any longer. Eskom's debt has spiraled to R415bn and it is clearly in a debt trap where its revenues are insufficient to pay even the interest on its debt and hence the debt is steadily escalating. It is said to reach as much as R600bn. So Hadebe is asking for three years of 15% increases in electricity tariffs and he wants the government to take R100bn of the Eskom debt onto its balance sheet. It once again seems highly likely that the government will seek to postpone the inevitable pain of dealing with Eskom's debt until after the election and Nersa will no doubt allow increases which are about half of what Hadebe has asked for. In the meantime, the Ferroalloys industry has said that it will not survive a double-digit electricity hike. The collapse of this industry would lead to the loss of 18500 direct jobs and 130 000 indirect jobs.
So serious is the situation at Eskom, that Ramaphosa has appointed a task team to investigate and make recommendations to cabinet this week. We now know that the task team will suggest breaking Eskom up at least into a power generation division and a power distribution division. Of course, this will not make any significant difference unless the idea that power generation can be privately-owned and run is also accepted at the same time. Basically, Eskom needs to move towards selling off its fleet of power stations to the private sector and using the capital to pay down its debt. These power stations could then sell their electricity to the distribution side of Eskom who would make it available to consumers and businesses at cost. This model exists in many countries around the world. Of course, the unions have already expressed their outrage and their intention to go on strike over this – which underlines the reality that nothing material will be done before the elections and that sooner or later the government will have to confront the unions in this country. No doubt the ANC would prefer to do that after the election.
At the same time, the ANC's election manifesto suggested that it may seek to use prescribed assets to bail state owned enterprises (SOEs) out. This is a policy of forcing pension funds to invest in government activities. Obviously, South Africans have a huge amount of money saved into their pensions and the question is whether these funds should be used to pay for the flagrant past mismanagement and corruption in SOEs. In a word, should the government take people's pensions to pay for state capture? Of course, prescribed assets are not a new idea. The National Party forced pension funds to invest as much as three quarters of their funds into prescribed assets in 1977. The point is that pension funds represent a readily available source of liquid cash. That cash will only be needed in years to come as people reach retirement age. In other words, it is a mechanism for the government to borrow from the future. Of course, pension funds do already finance government activities through their buying of government bonds. But those bonds have to be offered at a market-related yield and pension funds are free to choose not to buy them. So prescribing that pension funds must invest a certain percentage of their funds in government debt basically means that the government does not have to offer a market-related rate of interest and can keep that additional debt off its balance sheet. But, this will probably unnerve overseas investors and upset the ratings agencies.
A major achievement of the ANC over its 24 years in power has been the control of inflation. This was emphasised by the recent publication of the Consumer Price Index at just 4,5% in December 2018. The independence of the Reserve Bank and its effectiveness is one of the key factors that kept this country afloat through the Zuma years. The Monetary Policy Committee has been able to adjust its goal from keeping inflation within the 3% to 6% target range to keeping it at the midpoint of that range. This effort was assisted by the sharp drop in the petrol price in December which was partly caused by the relative strength of the rand. Our inflation rate should be compared with the inflation rates of other emerging economies in Africa and elsewhere. The IMF records inflation in Turkey at 16,7%, Nigeria at 13,5% and Egypt at 14%.
Our new Minister of Finance, Tito Mboweni, says that one of his priorities in turning the economy around is to re-establish our investment grade rating. He says it is the first priority. Part of this was to restructure Eskom which currently has R419bn of debt, most of which is government guaranteed. One of the problems there is is that demand for electricity has been dropping as consumers and businesses go off the grid because of its cost and unreliability. Mboweni's plan is to reduce overall government debt and to re-ignite growth. This is easier said than done in a country where the concept of productivity has been replaced by a preoccupation with entitlement.
Two aspects of the economy at the end of 2018 pointed to a better year in 2019. Firstly, the ABSA Purchasing Managers Index (PMI) moved back above 50 for the first time since May 2017, and secondly, December 2018 saw vehicle exports jump by 56% over the previous December. Both of these developments are cause for optimism. The PMI is a good indication of what will happen in the manufacturing sector, and manufacturing represents 13% of our GDP. Vehicle exports are truly one of South Africa's great success stories. The local vehicle market is depressed as South African consumers try to cope with record unemployment and an economy just emerging from recession. But exports are booming – in line with the strong economic growth in the rest of the world. South Africa's economy has always been export-led. In other words, we have generally followed the economic patterns of the rest of the world through our exports. What is good about vehicle exports is that they are sophisticated manufactured goods – not raw materials. The more beneficiation we can do locally the better our economy will become.
One of the factors that will impact on the economy in 2019 is the relatively poor rains country-wide this year. In the North-West and in the Free State, farmers have delayed planting because of late rains. Some experts suggest that this could cause the crop to be as bad, or even worse, than that of 2015/16 which had the worst rainfall on record. In that year maize production slumped to just 7,8m tons – well below the 11m tons which South Africa needs for local consumption locally, forcing the country to import. This has a knock-on effect on growth because agriculture is a key element of GDP. Hopefully, the remainder of the summer will see good rains.
The Rand
The South African rand is one of the most heavily traded emerging market currencies in the world. On average more than R50bn worth of our currency changes hands every trading day. This makes our currency a favourite for international currency speculators because they know that they can take up or sell out of a large position in the rand very quickly. It also means that our currency responds very sensitively and immediately to any event among the emerging market economies – even if that event has little or nothing to do with South Africa.
It makes the rand an excellent barometer of our complex political and economic progress. If the rand is generally strengthening then our political and economic situation is improving in the eyes of international investors – and vice versa. And these international investors often have a very well-informed and objective view of what is going on. They have to have because they stand to gain or lose billions of US dollars.
With this in mind, the progress of the rand over the past three years has been instructive. Consider the chart: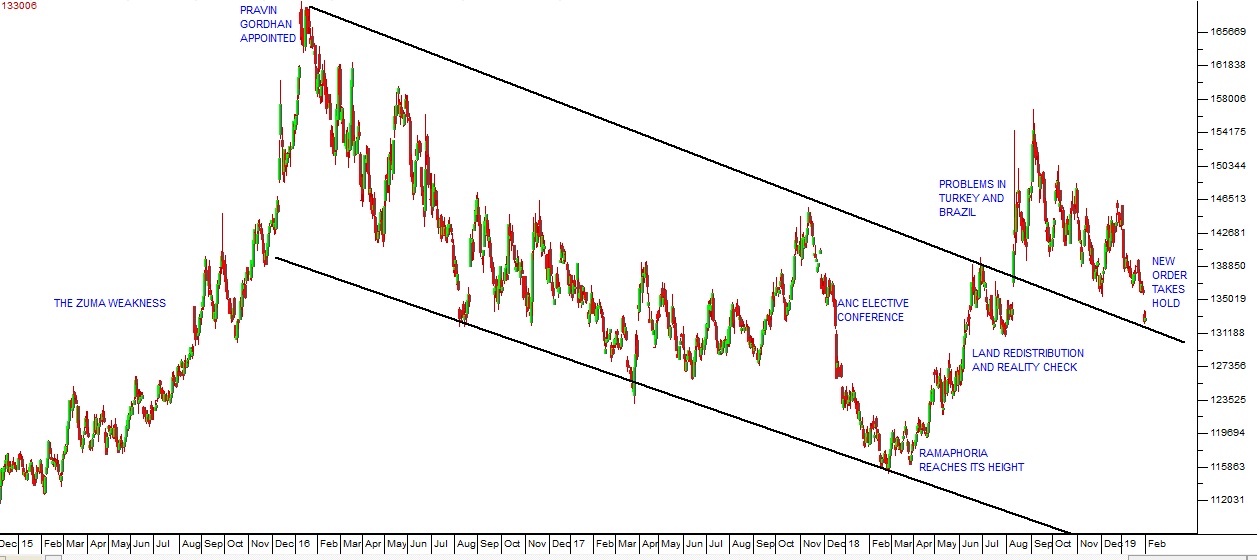 Rand Dollar Exchange December 2014 to February 2019 – Chart by ShareFriend Pro
(Click to Enlarge Image)
This chart shows how the rand has performed against the US dollar over the past four-and-a-half years. At the beginning of this period we were firmly in the Zuma period which was associated with a steady weakening of the rand.
This weakness came to an end with the appointment of Pravin Gordhan as Minister of Finance in January 2016. His leadership saw a definite improvement in overseas perceptions of our economy and the rand entered a long-term strengthening channel. Even after he was fired this strength persisted and gained momentum with the ANC elective conference and the surge of optimism which has become known as "Ramaphoria".
From February 2018, Ramaphoria gradually faded and gave way to concerns over land redistribution. It became apparent that the cost of corruption and incompetence during the Zuma years was far greater than we had previously imagined.
Then suddenly in mid-August last year we were hit by a crisis which gripped all emerging markets and caused the international investing community to shift dramatically from "risk-on" to "risk-off". They immediately pulled their cash out of the rand causing it to fall unexpectedly outside its long-term strengthening channel.
Problems in Turkey and Brazil and to a lesser extent China, which really had nothing to do with South Africa, shifted perceptions of emerging economies markedly – and the rand suffered vicariously.
After that there followed a grinding period as international investor confidence slowly returned and emerging markets once again became the high-risk, high-return preference of world investors. This pattern was strongly re-affirmed when international investors suddenly became aware that South Africa was energetically cleaning up its act. That caused the rand to be sharply rerated on 31st January 2019 from around R13.60 to the US$ to R13.30.
It also brought the rand back inside its long-term strengthening channel.
So the strength of a currency is like the strength of a share – it reflects the perceived financial health of the entity that it represents. A share represents a company and it will strengthen if that company is perceived to be doing well. A currency represents a country and directly reflects overseas perceptions of that country's progress.
Thus the rand/dollar exchange rate is an excellent, objective and accurate barometer of how South Africa is doing.
Commodities
The platinum industry might be given a new lease of life by the efforts of the Chinese government to encourage the use of fuel cell powered motor vehicles. The Chinese government is actively building fuel stations which can supply fuel-cell re-fills. Each station costs around $2m and the plan is to have most of their main routes covered by 2030. Transport on these routes is currently mainly provided by diesel-powered trucks. Clearly, as the world moves to battery-powered vehicles over the next 15 years, the demand for auto-catalysts will decline – and fuel cells offer a solid alternative. Fuel cells offer more power and longer ranges than batteries – at least at the moment. They also produce no pollution of any sort. Currently, most battery-powered vehicles must ultimately derive that power from a coal-fired power station.
The palladium price has been going up strongly in the last four months reaching an all-time record high of $1270 per ounce. South Africa does have some palladium and certain mining companies will benefit, but the big winner will be Sibanye which bought the Stillwater mine in America for $2,2bn a few years ago. Buying Stillwater was a huge risk for Sibanye – a gamble on the palladium price which now appears to be paying off. About half of palladium production is used in auto-catalysts. The Stillwater mine mines the Stillwater igneous complex – which is very similar to the Bushveld igneous complex in South Africa (only smaller). It also has substantial quantities of chrome. As the world economy, driven by America, gains momentum, the demand for motor vehicles is rising and with it the demand for auto-catalysts. Supply of the metal is expected to be less than demand this year and the tension between the US and Russia has exacerbated the situation. Palladium can be substituted with platinum in auto-catalysts, but it is less effective. Consider the palladium chart: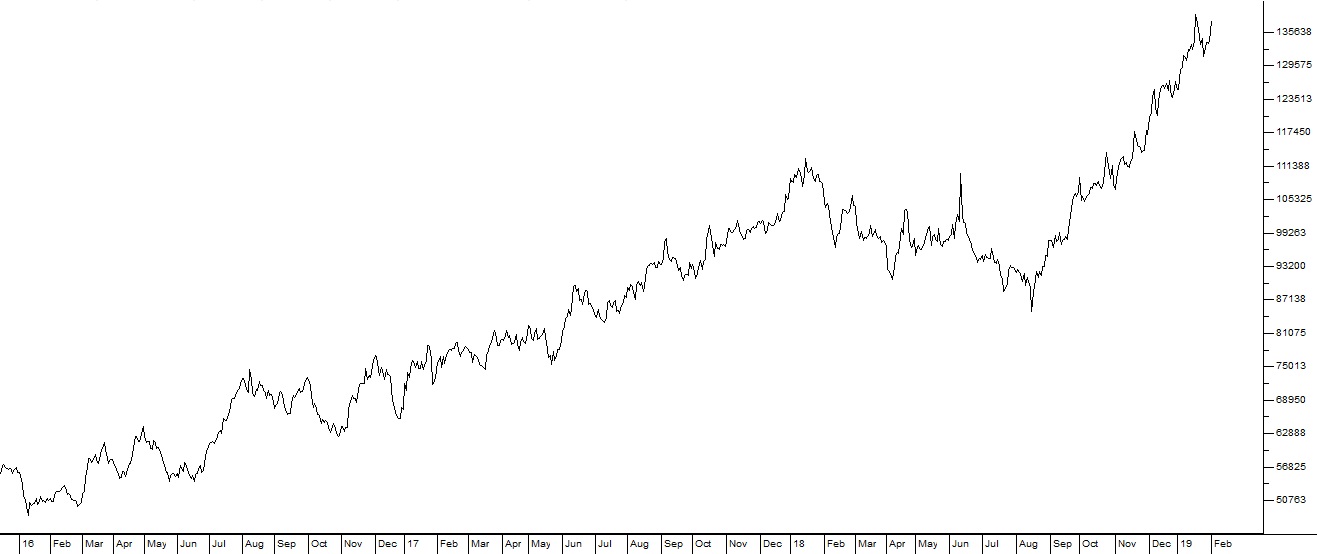 Dollar Price of Palladium December 2015 to February 2019 – Chart by ShareFriend Pro
(Click to Enlarge Image)
The oil price has plummeted since November 2018, bringing the price of North Sea brent below $60 a barrel. This has saved South African motorists and led to the fuel price dropping by nearly R3 per liter. In our view, it is unlikely that the oil price will remain at these levels because international demand for oil is rising due to the recovery of the world economy, especially in America. Prices for oil above $80 a barrel attracted the producers of shale oil back into business and this undercut the market – despite the fact that Opec cut production by 1,2m barrels per day. Obviously, at current levels the margins for shale oil producers are paper thin – so something has to give. We believe that oil will track higher in the coming months – and that this may be off-set to some extent by a strengthening rand. Consider the chart: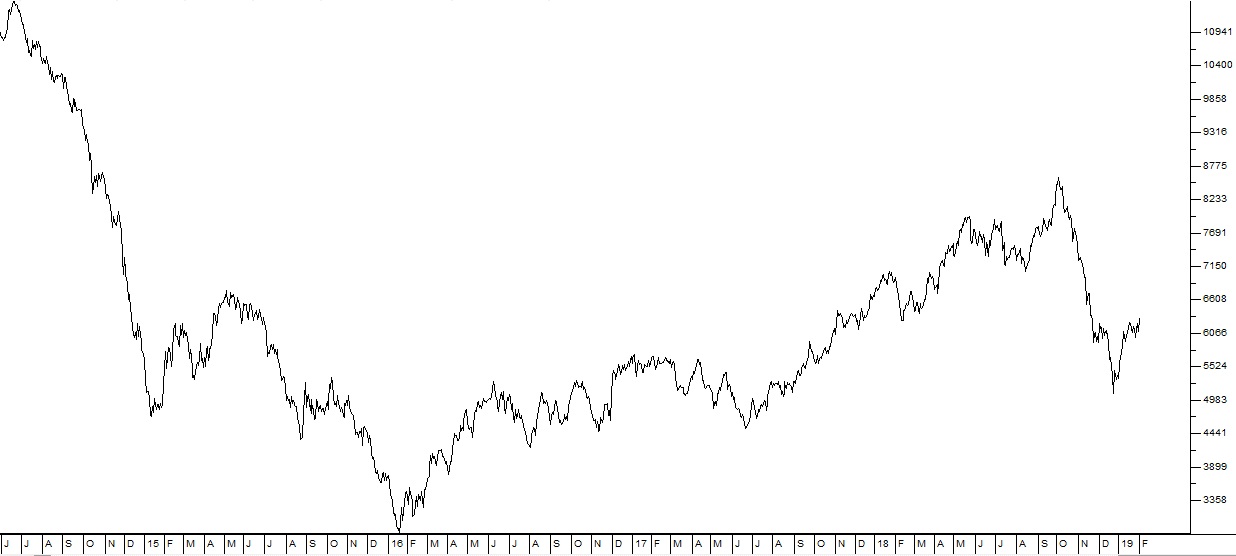 Brent Oil Index June 2014 to February 2019 – Chart by ShareFriend Pro
(Click to Enlarge Image)
Companies
BANKING
The South African banking market is about to be seriously disrupted by a number of new players offering banking services. Particularly, Discovery Bank has the significant advantage of a very large A/B income client base that mostly bank with the big four banks (FNB, ABSA, Nedbank and Standard) right now but will probably switch to Discovery in response to the cross-selling offers from Discovery. This must be a great concern to the big four because they will lose a large chunk of their most profitable client base. However the threat from Patrice Motsepe's TymeBank should not be under-estimated. By teaming up with Pick 'n Pay, Tymebank has created an immediate nation-wide footprint which will enable them to open thousands of accounts very quickly. They are offering South Africa's first bank account without transaction costs. This has got to be a scary development for Capitec Bank, 40% of whose revenue comes from transaction fees. In our opinion, these two new entrants will force the big four to adjust their fees and become much more competitive – which can only be good for consumers. It is also safe to assume that the percentage of banked people in South Africa will increase substantially – and that could impact the entire economy over time.
RETAIL
The pounding which Mr. Price shares have taken since they brought out their trading update on 17th January 2019 has perhaps been overdone. The Mr. Price figures were very scary and brought home to everyone just how tough the apparel business has become in South Africa. Consumers are evidently taking great strain when they stay away from a shop like Mr. Price whose claim to fame is that it offers a significant price advantage over other clothing outlets. The recession, combined with a VAT increase, the higher petrol price in October and November, and record low consumer confidence, meant that sales were up a measly 1,1% – including the sales of new stores. This means that same store sales must have fallen in nominal terms and even more in real terms (i.e after inflation). Of course, in the December Quarter of 2017, consumers were unusually euphoric because of Ramaphosa's win at the ANC elective conference which made a high base for the comparison. In our view, the 19,4% sell-off of Mr Price shares in two days was excessive. Private investors now have an opportunity to snap up some of these Mr. Price shares at much better prices.
PROPERTY
The property sector had a torrid year in 2018. Initiated by the fall of the Resilient group of companies, which went down by as much as 66% on suggestions that they had been engaging in share manipulation through their cross-company holdings. The downward trend saw the JSE Sapy index off-load 32%, as vacancies, especially among office properties, spiked upwards. The technical recession of the first two quarters of 2018 meant that retail and offices were performing badly. Now in 2019, the property sector looks over-sold, and there are clear signs of a recovery with the index already up 10% this year. Consider the JSE Sapy index for January month: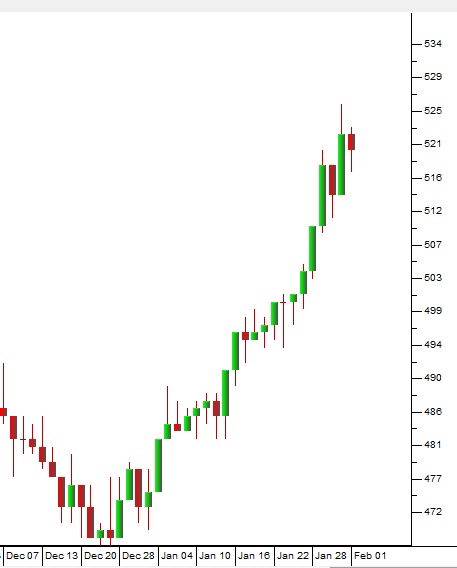 JSE SAPY Index December 2018 to January 2019 – Chart by ShareFriend Pro
(Click to Enlarge Image)
We suggest that, probably, the worst is over and the better quality real estate investment trusts (REITs) represent good value.
ASCENDIS (ASC)
Ascendis is a company that manufactures and retails products for animal and human health. In the past 15 months, the company's shares have fallen from 2880c to a low of 328c before recovering to 427c. This incredible fall is due to the fact that its major shareholder, Coast 2 Coast and some of its directors, borrowed money to buy the shares and are now being forced to sell them in terms of their loans with the bank. This type of leveraged speculation by a company's major shareholders and directors in the company's listed shares is unprecedented and the JSE may change the rules to make future events like this impossible. In the meantime the share is wallowing at nearly one third of its net asset value (NAV) of 1435c. This puts it on a P:E of 5,47. Its most recent financials show that the company is profitable and actually increased profits and turnover in the year to 30th June 2018. In other words it's a good business with a rash and foolish dominant shareholder in the form of Coast 2 Coast. It may represent an opportunity for brave private investors. The volume traded is sufficient to make it very practical – and you should have a very strict stop-loss strategy. Consider the chart: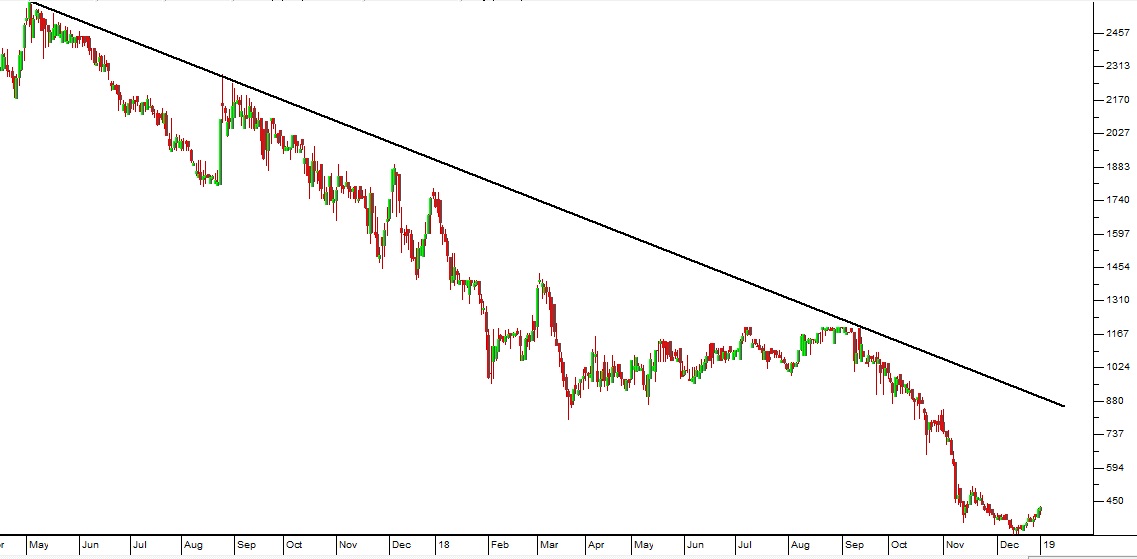 Ascendis (ASC) April 2017 to January 2019 – Chart by ShareFriend Pro
(Click to Enlarge Image)
ORION MINERALS (ORN)
Orion is a JSE and Australian-listed mining exploration company that has acquired the right to exploit an old Anglo mine near Prieska in the Western Cape. Anglo mined this resource for 20 years, extracting more than 1 million tons of Zinc and 430 000 tons of copper concentrate – but then gave up the mine when flooding became a problem. Now Orion has plans to pump 10m cubic meters of water out of the mine – a process which could take 18 months. It recently commissioned a drilling program which resulted in the ore body being upgraded to an "indicated resource". This will help it to produce a "bankable feasibility" and hopefully enable it to begin developing the mine during 2019. The ore body is about 1 km below the surface and is what is described as a "volcanogenic massive sulphide" – in other words, an ore body that was laid down millions of years ago by volcanic eruption under an ancient sea. Obviously, exploiting this resource will be risky. Anglo did not abandon it for nothing. But mining technology has progressed and there is now no doubt that there is still a significant high-quality ore body there to be mined. While the risks remain high in investing in this type of mining exploration, the potential rewards can also be significant. The share is fairly thinly traded – averaging about R20 000 per day changing hands – which means it is tight even for private investors. If the project performs well the share price could go up as much as ten-fold, but then it could also fail resulting in the loss of some or all of what was invested. We suggest that a minimum investment of not more than R10 000 might be exciting, remembering that the shares will have to be held for at least three years to avoid the problem of being declared a "share dealer".
TELKOM (TKG)
The Telkom share price at around R64 appears to offer an opportunity to private investors to make a quick capital gain. At this price the share trades on a multiple (PE) of around 11 with a dividend yield (DY) of around 4,4%. These make the share cheap in terms of its current earning potential, but what really makes it a good buy is its property portfolio which is not valued at all in the current share price. Telkom owns a property portfolio which is conservatively worth around R24bn which is managed by its subsidiary, Gyro. The portfolio consists of 1330 properties including office buildings and residential and undeveloped land. Telkom has the intention of spinning Gyro off into a separately listed company sometime over the next year. This would be worth about R45 per Telkom share according to some analysts – so a nice and almost risk-free way to enjoy a substantial 70% capital gain.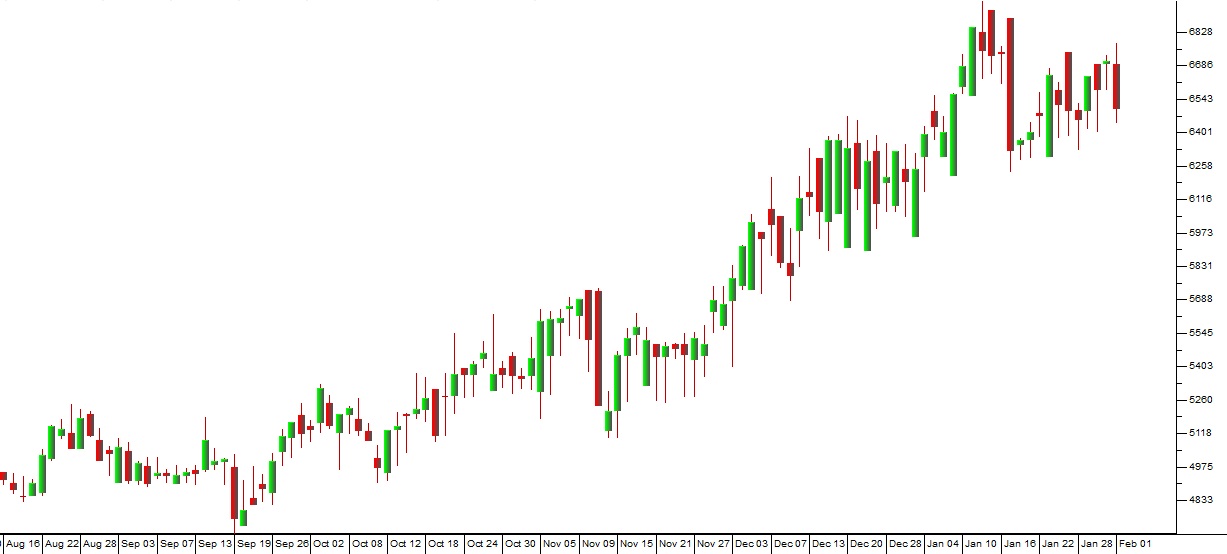 Telkom (TKG) August 2018 to February 2019 – Chart by ShareFriend Pro
(Click to Enlarge Image)
MULTICHOICE
Multichoice will list on the JSE as soon as the unbundling of its shares into the hands of Naspers shareholders is complete. This should happen after the market closes on 4th March 2019. The company will begin its listing with an ungeared balance sheet and R4bn in cash. The CFO, Tim Jacobs, said that the company would not pay a dividend in 2019, but was planning to pay a dividend of R2,5bn in 2020. The pay-TV business in South Africa is under attack from internet-based services like Netflix and free internet based options like Kodi. Nonetheless, Jacobs believes that there is plenty of scope for Multichoice to broaden its offering in Africa. He says that there is a target market of about 40 million customers in Africa of which Multichoice only has about 15 million right now. In our view, this company may be flogging an old technology. Increasingly, consumers appear to be swapping their DSTV subscription for an unlimited internet access and then downloading the movies and other content which they want.
You can view a visual presentation of this report here.
To be added to our mailing list for the next webinar, click here.
DISCLAIMER
All information and data contained within the PDSnet Articles is for informational purposes only. PDSnet makes no representations as to the accuracy, completeness, suitability, or validity, of any information, and shall not be liable for any errors, omissions, or any losses, injuries, or damages arising from its display or use. Information in the PDSnet Articles are based on the author's opinion and experience and should not be considered professional financial investment advice. The ideas and strategies should never be used without first assessing your own personal and financial situation, or without consulting a financial professional. Thoughts and opinions will also change from time to time as more information is accumulated. PDSnet reserves the right to delete any comment or opinion for any reason.
---