4 December 2019
By PDSNET
America
The strong upside break of the S&P500 index above its previous cyclical high at 3025 shows that the potential for a "triple top" formation is now behind us – together with October month. Consider the chart:

There had been some concerns among investors that the rising triple top (with tops in Jan 2018, September 2018 and July 2019 shown above with the red circles) would predicate a new bear trend potentially from October 2019. October is traditionally a scary month for investors following the collapses of 1929 and 1987. We never had that opinion. We always thought that the underlying power of the booming US economy would drive share prices higher in a continuation of the great bull market which began in March 2009. The S&P has powered ahead and is more than 4% above the last of the tops in a strong new upward trend. On average, the S&P has gained about 1,7% in December month. While markets tend to have lower volumes because of the holiday season, once October is past there is usually a relief rally through to January of the new year.
In the September quarter, the US economy grew by a solid 2,1%. This might not sound too impressive, but it is the largest economy in the world and it has already been expanding for more than ten years. Private investors should consider that 2020 is an election year and one in which President Trump is faced with impeachment proceedings. The one enduring strength that he has is the US economy and its impact on the stock market. The S&P500 has risen by 25% and unemployment in the US is at record lows. Trump is unashamedly claiming credit for this and it will be an important factor on election day in November 2020. All he needs to do to keep the stock market rising is to scale back on the sanctions against China – so it seems highly likely that 2020 will see the stock market power to a series of new record highs.
Political
A hallmark of the Zuma era was that government appointments at the highest level were made for political reasons without consideration of competence. Candidates were chosen for their loyalty to Zuma and the Gupta cause as well as their willingness to participate directly in state capture. The Ramaphosa administration has been slowly unwinding those appointments and finding replacements who are competent, honest and diligent. However, it is equally obvious that, on occasion, Ramaphosa has been forced to appease his opposition within the ANC making appointments which are purely political – like the recent appointment of Bathabile Dlamini, previously Minister of Social Development, as chairperson of the interim board of the Social Housing Regulatory Authority (SHRA). The Constitutional Court has previously found that she committed perjury, but this was apparently not sufficient to prevent her from taking up her new position. This role is a big step down from being a minister, but in an ideal world, people who had been found to have lied to the highest court in the land would not be eligible for any government office under any circumstances. Clearly, she is a person of significant influence within the ANC and Ramaphosa feels the need to "throw her a bone". Predictably, the DA is asking questions and investigating. Her appointment goes to the heart of the problems in this country (and many others). In direct contrast to this is the recent appointment of Andre de Ruyter, a white executive, as CEO of Eskom. This is significant because it shows that the Ramaphosa government is willing to appoint white people to key positions if they are considered suitable - and is not slavishly following a transformation agenda irrespective of the cost. De Ruyter's years of executive experience will, no doubt, have an immediate impact on the utility, but his survival will depend on the extent to which his efforts are supported by government – bearing in mind that Hadebe's announcement of zero percent wage increases at Eskom was immediately over-ridden by government. Hopefully, de Ruyter has laid down some ground rules for his autonomy and government interference in his decisions. His willingness to take a cut in salary shows that his motives are altruistic. He has taken a cut in pay to do what is probably at once the most difficult and important job in the country. Ramaphosa's policy of allowing the media and justice system to deal with his enemies in the ANC is slowly taking effect. It began with the appointment of Batohi as the head of the National Prosecuting Authority (NPA) and then the R1,2bn increase in the NPA's budget. We have seen the government funding cut off from Jacob Zuma and the steady progress being made in his case. We have also seen the revelations of VBS Bank and how that is impacting on the EFF leadership and the reputation of that party. Now, Bongani Bongo has been arrested for bribery/corruption and appeared in front of the Magistrate in Cape Town. Bongo proclaims his innocence and was released on R5000 bail. He is, however, under extreme pressure to step down from the ANC's National Executive Council (NEC). The composition of the NEC is of vital importance to the Ramaphosa administration. It literally has the power to recall him and replace him at any time. The ANC Veteran's League that successfully pressurized Zuma to resign, are now quoting the ANC's 2017 resolution to the effect that cadres accused of or reported to be involved in corruption account to the ANC's integrity commission or face a disciplinary hearing. Many are saying that Ramaphosa is moving too slowly, but in our view, he is steadily increasing his grip on power and eliminating opposition.
Economy
The mid-term budget showed that the government's budget deficit is moving rapidly and inexorably towards 80% of GDP. The bottom line for the South African economy is that it is effectively in a debt trap – very similar to the one that it was handed by the National Party in 1994 when it took power. Over his 14 years as Minister of Finance, Trevor Manuel all but eliminated that debt and brought it down to just 20% of GDP. Thanks to Zuma and the Guptas it is now once again fast approaching 80% and bringing it back down will require significant sacrifices by all South Africans. Insisting on such sacrifices appears to be politically delicate and arduous for the Ramaphosa administration – mainly because there are still many "rent-seekers" in senior positions in the government. And a culture of dishonesty and entitlement is rife at every level. Judging from the inflation rate and the pronouncements of the Reserve Bank, the government has no intention of printing money (Zimbabwe-style) to get out of its difficulties. This means that sharp cuts will need to be made to the size of civil service and various state-owned enterprises (SOE) will need to be partially or fully privatised. And yet, a failure to make these sacrifices will lead directly to a steady descent into economic chaos. There is no doubt that investment, both foreign and domestic, is the shortest route to economic recovery in South Africa. And that, no doubt, is why the president has been pursuing this avenue so aggressively. The second investment conference yielded pledges for R371bn – 25% more than his first conference. Of course, much of that investment was already in the pipeline so the actual new investment promised is substantially less. Nonetheless, it is a good number which should create some business optimism. The 412 000 jobs which the president "conservatively" estimates should be created by this flow of capital is, of course, some years in the future. In our view, the only real solution is to make the South African economy more investor friendly. If that were achieved it would not be necessary to hold investment conferences – the funds will simply come because it would make good business sense. President Ramaphosa says we are "firmly on the road to recovery" – and maybe he is right, but South Africans have endured far too many set-backs to be so easily convinced. We need to see concrete economic reforms on the ground. The probability of a ratings downgrade by Moody's is now high. In our view it is likely to happen following the February 2020 budget. Growth in the economy this year is not expected to exceed 0,5%. The real question is the extent to which a ratings downgrade has already been priced in. Notably, all three ratings agencies have now downgraded SA this year. Most analysts expect that between $5bn and $10bn will leave the country in the event of a downgrade – and that is expected to take the rand down to around R16 to the US dollar. The effect of a lower rand is to make exports cheaper on world markets while imports become more expensive at home, but the petrol price will go up again. It also makes rand-hedge shares more attractive - while shares which have an exposure to imports will be prejudiced. In our view, a ratings downgrade to junk seems more-or-less inevitable and only the timing is really still in question. It is apparent that the Ramaphosa government's reforms have just been too slow to satisfy international investors. If and when there is a downgrade the impact is likely to be mildly inflationary for the average South African, but it will make it considerably more difficult to get our growth rate back up to above 3%. It has become clear that the government's wage bill, which accounts for 35% of total government expenditure and 46% of all tax collected, is far too big. This country simply cannot afford to continue employing such a large and inefficient civil service. There are approximately 1,2m civil servants who have been getting above-inflation wage increases for the past ten years. After adjusting for inflation their wages have gone up in real terms by 66% over that ten-year period. In 2018 they received an average increase of 6,8% - which was 2,2% above the inflation rate. President Ramaphosa says that the government wage bill will be reduced without the need for retrenchments – but this appears unlikely. The unions, of course, are vehemently opposed to any sort of wage reduction or retrenchments. We are of the view that sooner or later government is going have to confront the union movement in this country. The problem with Tito Mboweni's plan for bringing the government wage bill down is that it appears to be dependent on the patriotism of the civil servants and their unions. He is seeking to resolve this thorny issue by relying on the goodwill of the people who will have to take a salary haircut or lose their jobs. Clearly, this cannot be the basis for a resolution. The aim is to cut R150bn off the wage bill over the next three years. This will be difficult because the current wage agreement is only midway through a three-year term. It seems unlikely that such a cut could be achieved without retrenchments and the government's apparent lack of urgency to resolve this key issue is disturbing. Ramaphosa is saying that the government will have to look at the problem of above-inflation wage increase with the labour movement, but we cannot see how that can be achieved amicably. Inflation in October month fell to its lowest level in almost a decade. At 3,7% it is well below the mid-point of the Reserve Bank's target range and a strong indication of the strain which consumers are currently under in South Africa. In normal circumstances, this would lead to a reduction in interest rates. The monetary Policy Committee (MPC) is concerned about the deteriorating fiscal position and the possibility that Moody's will cut South Africa's rating to below investment grade. This prevented them from reducing rates at their recent meeting in November. The pressure to cut interest rates must now be substantial. The low level of inflation is the one aspect of the South African economy which offers some hope. In our view, there is clearly now ample room for the authorities to stimulate the economy by reducing rates – by even more than the customary 0,25%. We agree with Finance Minister, Tito Mboweni, that SAA must be allowed to fold or be sold (apparently Richard Branson is interested). The government's latest R5,5bn injection is insufficient to keep it afloat (another R2bn is now required) - but it brings the total injected into SAA over the past 13 years to R28bn. SAA is a black hole into which endless funds, that South Africa can ill afford, are being poured. The company has R100bn of debt and only about R10bn in assets. It is losing money at the rate of R500m. The recent strike is cost SAA R52m a day. It is economic insanity to maintain this drain on our national treasury. Hopefully, the government will realise this and put an end to the travesty which is SAA once and for all. Aside from the cost savings, the closure of SAA will send out a powerful and necessary message to the militant and unreasonable union movement. The closure of the Saldanha steel plant by Arcellor Mittal is substantially due to the increased price of electricity from Eskom over the past ten years that has now made the plant noncompetitive in international markets. 900 direct jobs have been lost as a result. The 500% rise in the cost of electricity is, in turn, attributable to state capture, corruption and mismanagement at Eskom. South Africa is in the process of sinking to the level of its collective incompetence.
The Rand
The progress of the rand against first world currencies and especially the US dollar is generally a good barometer of the health of the South African economy. Of the emerging market currencies, the rand is among the most heavily traded with about R50bn changing hands each day. This makes it attractive to international currency traders who know that they can get into or out of a large position relatively easily and quickly. For this reason, the rand tends to be not just a barometer for the South African economy, but for all emerging economies. Thus, when there is bad news from Brazil, Turkey or Russia the rand tends to fall in sympathy. The strength of the rand is very sensitive to the general "risk-on" or "risk-off" attitude among international investors at any moment. If international investors worldwide are in the mood to take risks then you will see the rand strengthen and vice versa. Developments like the US/China trade war initiated by Donald Trump tend to have a negative impact while any suggestion that there are renewed negotiations to end or reduce the impasse between these two massive economies is positive. To these factors must be added international perceptions of our local economy and politics. The advent of Cyril Ramaphosa was initially very positive, but the slowness of his administration to implement necessary reforms is seen as a negative. The chaotic and untenable position of the state-owned enterprises (SOE) and worsening of the government debt position are seen as negative. All of this culminates in the now very real probability that South Africa will be downgraded to junk status by Moodys. The algebraic sum of all these and many other factors is expressed in the rand/US$ chart:

As you can see, the impact of Ramaphoria began to fade in May of 2019 and by September it had reached R15.50 to the dollar. That has proven to be something of a support level and the rand has now retreated somewhat from those levels. When considering the probability of a rate cut to junk status, it seems that the rand has fared relatively well. Much of the impact of that final rate cut is already discounted into the rand (and other markets) and so it is unlikely to result in a very dramatic move. In the meantime, there is some evidence that Ramaphosa's reforms are beginning to have an effect. Notably the arrest of Bongani Bongo and the appointment of de Ruyter as the new Eskom CEO.
THE JSE
What is clear is that the JSE is discounting much of this bad news and JSE shares generally are relatively cheap – especially when compared to other markets around the world. The JSE Overall index is sitting on a P:E ratio of under 16 and has been in a slow downward trend since the beginning of 2018. And this is despite the fact that other world markets have been recording record highs. Consider the relative strength of the JSE-Overall index against the S&P500:

Here you can see that our market was keeping pace with the bull trend in the S&P500 until the end of 2015. Since then we have been generally under-performing the S&P – and that is despite the fact that the index incorporates quite a few very large overseas companies like Naspers, BAT and Anheuser Busch. This potentially presents private investors with a potential to invest in quality blue chip shares at multiples that are probably cheap. If the South African economy shows any significant signs of recovering, or the news stream becomes any more positive in 2020 you can expect a flood of cash to come into the country from overseas investors which will push blue chip shares higher and cause a general re-rating.
General
The agreement that has been reached by the unions and employers in the platinum sector is momentous, in our view. As we anticipated Matunjwa (leader of the largest platinum union, AMCU) has folded – his own supporters clearly did not want to go through a five-month strike without pay only to end up with what they could have got at the start – as happened in the gold industry. But this agreement paints the way for the coming conflicts between the government and NUMSA as well as what we see as an inevitable conflict with the civil service unions. Notably, Matunjwa and AMCU initially demanded a 48% increase and finally settled for 5,5%. It is also important that this is a 3-year deal which gives the industry some stability. We also note that Cosatu has accepted the general principle that privatisation may be necessary for certain state-owned enterprises. Perhaps the tide is turning, and South Africa is moving towards a less unionized future. Let us hope so. Pepkor's decision to leave Zimbabwe, closing down its remaining 20 stores is an indication of what can happen when an economy collapses. At one time Pep had over 200 stores in the country. Obviously, its exit means job losses, but persistent hyper-inflation and the inability to repatriate profits has made its existence there untenable. The South African government needs to take note of this on several levels. Firstly, the Zimbabwean melt-down means an increase in foreign nationals seeking work in South Africa. That has an impact on everything from housing to the crime rate. Secondly, the Zimbabwean situation is a stark warning on what could eventually happen in this country if we are not able to move towards a more rational management of the economy.
Companies
RESILIENT (RES)
The final clearing of Resilient of any share manipulation or insider trading which happened on 8th November 2019, opens the way for this share to appreciate. The share is trading for less than half of the price it was at in January 2018 when the allegations of impropriety were first published. It is also below its net asset value of R69. Given that the management of this company are clearly highly competent in property investment, we believe that this share is now heavily under-priced. Consider the chart:

Here you can see that after the share's fall it has been moving sideways for over 18 months. There appears to be some resistance at R68, but in our view that resistance will be broken on the upside before too long.
THE FOSCHINI GROUP (TFG)
The Foschini Group (TFG) is an international retailer of 28 fashion retail brands. It has outlets in 32 countries around the world. It has a division in London and one in Australia, aside from its extensive presence in the South African market. One of the notable achievements of TFG is that it has managed to establish a successful business in Australia where many other retailers (like Woolworths) have failed. TFG bought the Retail Apparel Group (RAG) in Australia for just over $300m in 2017. To do this they completed a successful book build to raise R2,5bn. TFG has allowed the Australian management team virtual autonomy in the management of the business and has not attempted to manage it from South Africa. Over the long term, TFG has been a consistent performer in one of the most difficult industries in South Africa, with competition from overseas brands and local clothing retailers. Consumer spending has also been under enormous pressure with South Africa entering a technical recession in the 2nd quarter of 2018. In its results for the six months to 30th September 2019, the group reported turnover up 6,3% and headline earnings per share (HEPS) up 3%. The company said, "TFG's performance for the 6 months to 30 September 2019 was achieved in a trading environment characterised by challenging conditions, increased pressure on consumers, retail industry disruption and low economic growth across all three of its major territories, South Africa, United Kingdom and Australia. Nevertheless, the Group outperformed the market in each of its three major territories and generated free cash flow in excess of R1,1 billion." TFG has installed systems which enable its factories to respond much more quickly to demand than previously. This has enabled it to respond to changes in fashion more quickly and resulted in better working capital management. We regard TFG as one of the best of the retail clothing companies and it is well diversified overseas which gives it a rand hedge element. Retail is normally very much impacted by the business cycle, but the TFG board has shown its ability to manage the business profitably in many difficult environments where others have failed. On an earnings multiple of 12,85 and a dividend yield (DY) of 4,05%, the share looks well-priced and ready for an upward move.

This chart goes back to the middle of 2007 and shows that TFG has been a consistent performer through some of the toughest times in the South African economy and in a very difficult industry.
UNBUNDLING OF REMGRO/RMBH AND NASPERS
Remgro was split out of Rembrandt to hold the group's South African assets. Its overseas assets were held in Richemont. Both companies are listed on the JSE. Rembrandt was started by Anton Rupert in 1941 rolling cigarettes in his garage in Johannesburg. It grew into a massive international company with a huge stake in British American Tobacco (BAT) and stakes in many South African companies such as Vodacom and Distell. In 1995 Rembrandt and Richemont combined their tobacco interests to create BAT which was unbundled in 2008. Now Remgro is unbundling its 28,2% holding of Rand Merchant Bank Holdings (RMH) and then RMH is unbundling its 34,1% holding of First National Bank (FNB) in the process releasing value to its shareholders. The process of unbundling releases the value in investment holding companies like Remgro and RMH. Naspers released $4bn in value when it separately listed Multichoice and then released a further $10bn when it split out Prosus and listed it on the Euronext in Amsterdam. In the twenty years since it was listed, Remgro has been a great source of capital for its shareholders – as has Naspers. Both shares remain among the best investments on the JSE
PPC
Between January and August 2019, cement imports increased by 5%. The CEO of PPC, Roland van Wijnan, together with the rest of the cement industry is pressurizing the government to increase tariffs of imported cement. What is amazing is that Pakistan, for example, which exports cement to South Africa can manufacture it and ship it here for less than we can make it locally. This should not be possible for a high-bulk, low-value product like cement. In our view, the problem is one of local efficiency. Our cement producers like PPC need to reduce their costs. Of course, a large chunk of their costs is electricity mostly sourced from Eskom. Another large chunk is wages. South African consumers clearly benefit from the cheaper imported cement and it helps to keep the local inflation rate down. The simple reality is that if we cannot compete with an overseas supplier who has to pay for shipping then we should not be in the cement-making business. The hammering which this once-mighty share has taken over the past 12 years is evident from its price chart: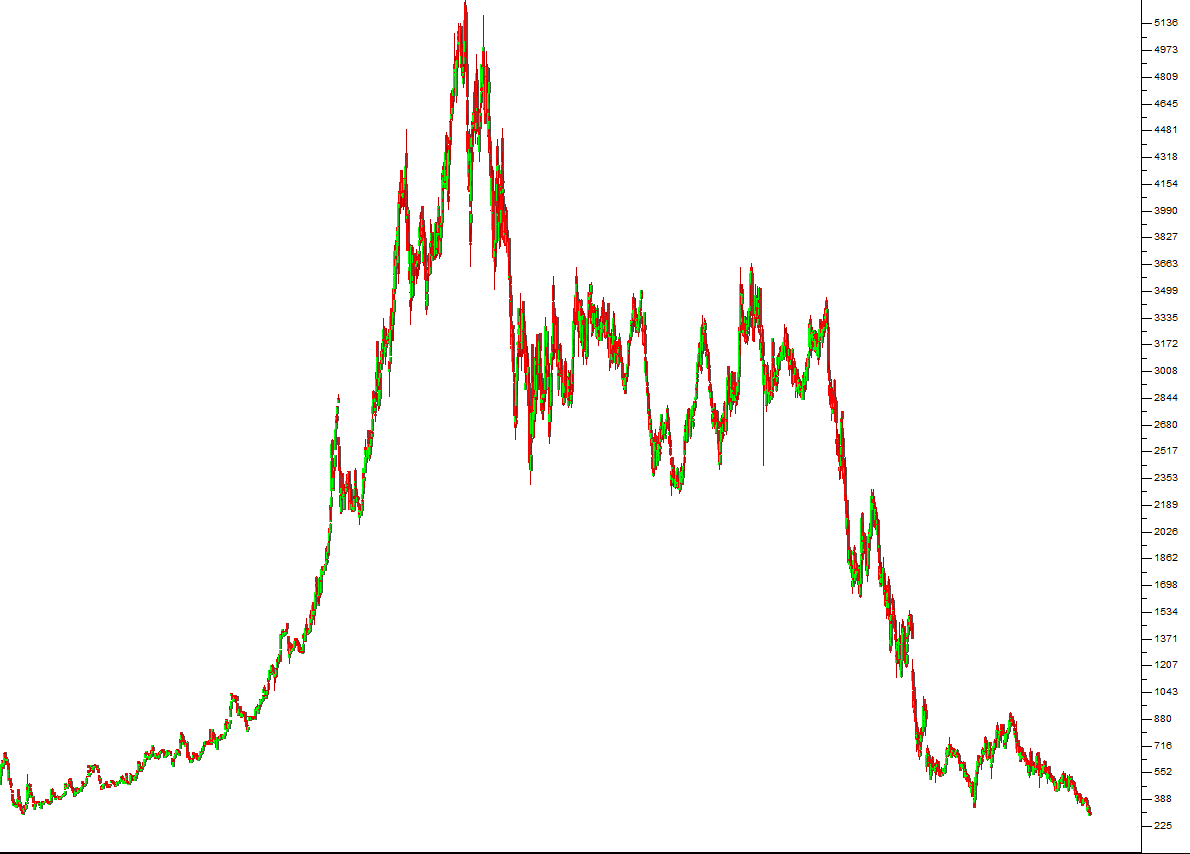 LEWIS (LEW)
Lewis (LEW) is a retailer of furniture and electrical appliances operating through 779 stores under the Lewis (494 stores), Beares (119 stores), Best Home (133 stores), and most recently, United Furniture Outlets (33 stores) brands. Of these, 116 are in neighbouring countries. The company does 65,7% of its business on credit and offers customers credit insurance and other financial products. In the middle of 2015, the company's insurance business and credit business came under scrutiny and it was forced to repay customers for what were considered to be illegal insurance and other fees. This had a significant impact on the company's share price which fell from around R100 to as low as R25. In its results for the six months to 30th September 2019, the company reported turnover up 6,1% with mechandise sales up 6,4%. Headline earnings per share rose by 18,9%. The company said, "The group's traditional retail brands Lewis, Best Home and Electric, and Beares increased sales by 3.7% for the first six months. UFO grew by 8.8% and INspire, the omni-channel home shopping retailer, generated sales of R35.7 million for the six months (H1 2019: R3.8 million for the five months since inception). Stores outside South Africa, which comprise 15.4% of the store base, accounted for 17.3% of total sales." Credit sales fell to 58% from as high as 70% previously because of the acquisition of UFO which has enabled the company to focus more on middle income customers. The plan is to increase the number of UFO stores from 39 to 70 over the next few years. The company's balance sheet is almost ungeared and the business is strongly cash-generative. At current levels, the share is trading on a P:E of 7,8 and a dividend yield (DY) of close to 6,23%. We believe that this share represents a bargain at current levels - especially if the South African economy is expected to improve in the next few years. It will benefit from any increase in consumer spending. It is an extremely tightly-managed company which has no debt and a huge store footprint. It is growing both organically and by acquisition. Obviously, as a retailer of furniture and white goods it is vulnerable to any economic downturn, but we see it as cheap right now and expect its share to rise as the economy improves. Consider the chart: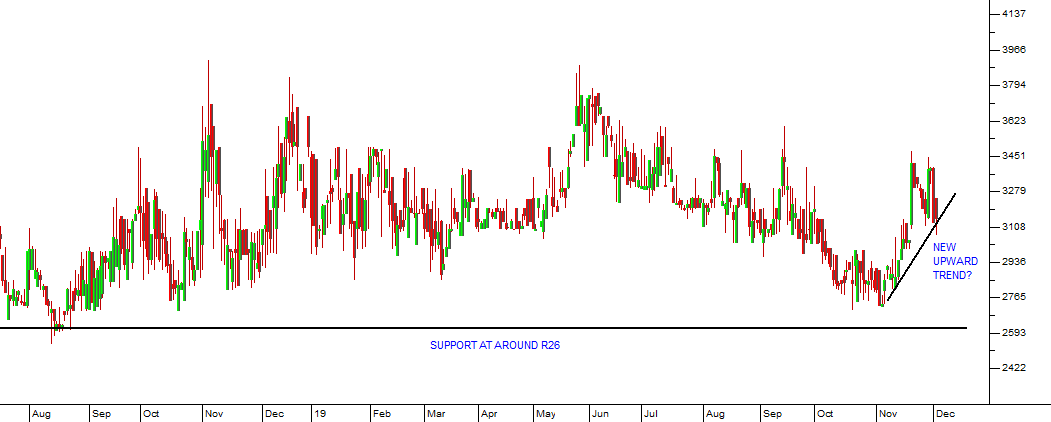 PEPKOR (PPH)
Pepkor Holdings (Pep) (PPH), previously known as Pep and part of the Steinhoff Retail Group (STAR), is 71% owned by Steinhoff International. With the collapse of the Steinhoff group following admissions of "accounting irregularities", the directors of Pep decided to change their name back to Pepkor Holdings to avoid negative publicity. Since the problem began in December 2017, the share price has wallowed at lower levels between 1560c and 2200c. On 18th March 2019, the company issued a statement in which they said that the PWC report indicated that no cash had been moved to Pepkor illegally - thus clearing them of any direct involvement in the Steinhoff debacle. The company had to rescue top management from the effects of their incentive scheme at a cost of R511m - which brought operating profit down to R5,9bn. This once-off cost was not tax deductible so the effective tax rate jumped to 38%. In its results for the year to 30th September 2019, the company reported turnover from continuing operations up 9% and headline earnings per share (HEPS) up by 16,7%. The company said, "Pepkor continued its expansion and opened 338 new stores, expanding the Group's footprint to 5 415 stores. The Group's flexible store formats enable it to open stores closer to its customers' homes, saving them transport costs and creating opportunities for more frequent customer spend. With 56 100 employees, the Group remains one of the largest employers in the South African retail sector and will continue to focus on capitalising on its core competencies and assets to capitalise on the opportunities that the current market conditions present." One of the most interesting aspects of Pepkor is that 96,5% of the products which it sells are cheaper than they are in other retailers – this shows why the chain is so popular and growing when other retailers are cutting back. Technically, the share is in a downward trend that it has been caught in since the Steinhoff problem began. Uncertainty over the future of Steinhoff's 71% holding of Pepkor is obviously depressing the share. Consider the chart: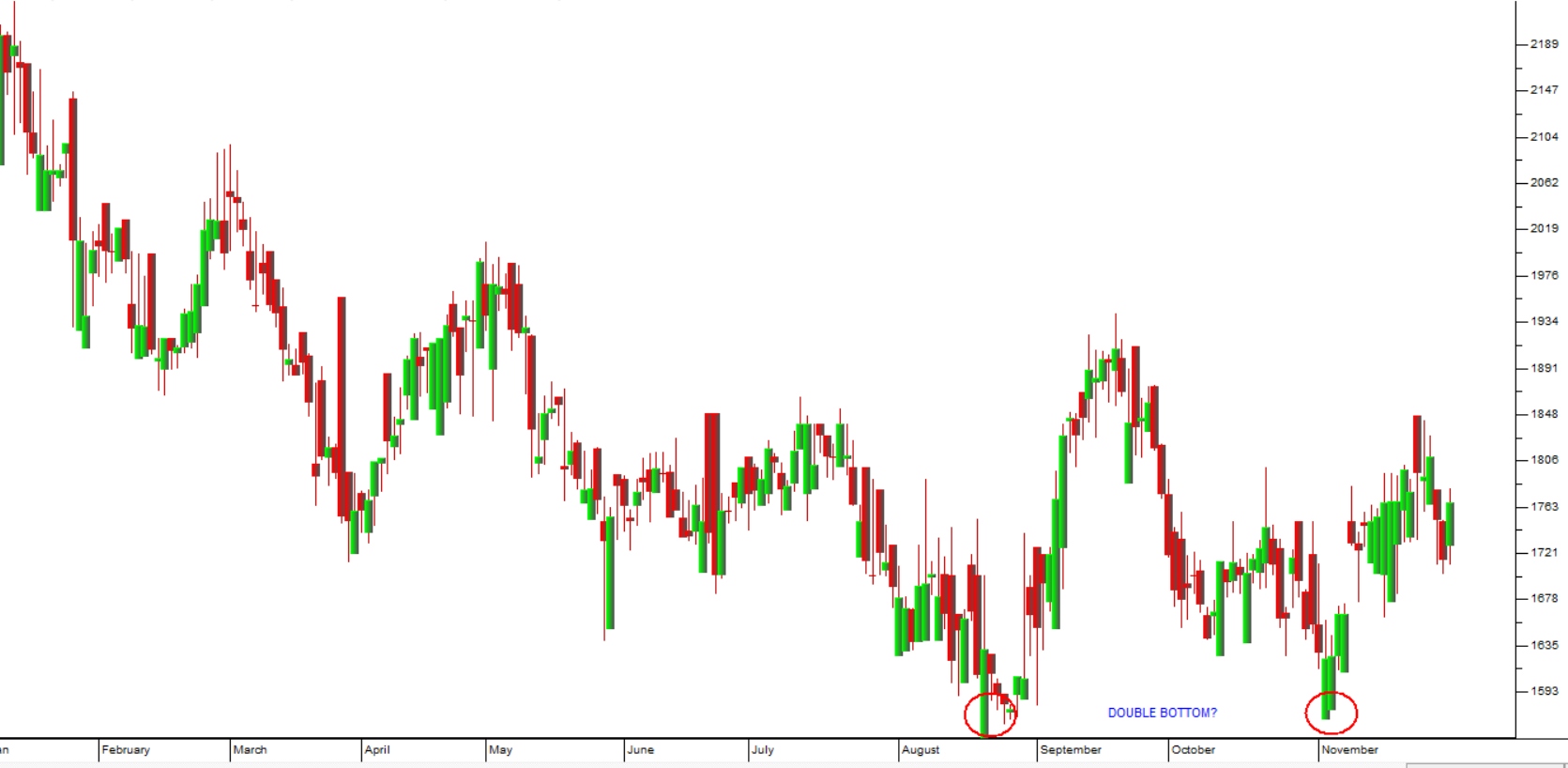 It has found support at around 1550c and made a possible "double bottom" formation but we believe that it is worth more. The Steinhoff problem cannot continue indefinitely and ultimately Pepkor should be re-rated.
SASOL (SOL)
Sasol (SOL) is a massive international chemicals and energy company which has its roots in the oil-from-coal technology developed during the apartheid era in South Africa. About 50% of the company's profits are directly linked to the oil price. It has two main growth areas - its $13bn ethane cracker plant in Louisiana, America, known as "Lake Charles Chemical Project" (LCCP), and its development of gas resources in Mozambique. Sasol was recently awarded two new licences in Mozambique to explore for gas in an onshore development of approximately 3000 square kilometres. This could significantly add to its existing gas projects in the Rovuma province. The company's performance is also impacted by the strength of the rand against the dollar. A stronger rand has a negative impact. Unfortunately, on 21st May 2019 the company had to once again increase the estimated cost of completion for LCCP by $1,1bn. This caused the share price to fall by 15% as investors registered their disappointment. Once completed, LCCP will mean that as much as 70% of Sasol's income will be from chemicals, reducing its reliance on oil. LCCP is expected to produce a steady EBITDA of $1,3bn per annum from 2022. The company has very strong cash flows and a solid balance sheet. In its results for the year ended 30th June 2019, the company reported that core headline earnings per share (HEPS) were up by 5% and HEPS was up by 12%. The company's net asset value (NAV) decreased by 1%. The company said, "Our gross margin percentage decreased 2% compared to the prior year driven by a softer macro environment negatively impacting supply-demand dynamics especially in our chemicals business. We view this as temporary as the market is expected to recover over the short-to-medium term. Our Energy business benefited from higher crude oil prices and higher diesel differentials. These benefits were partly offset by weaker petrol differentials driven by negative supply-demand fundamentals." One area of concern for Sasol is that it is the biggest producer of greenhouse gases in South Africa and on the JSE. It is listed as one of the 100 fossil-fuel companies world-wide that contributes to more than 70% of Greenhouse gases. Investors are concerned that some of Sasol's businesses may eventually be disallowed because of their emissions. Environmental activists are challenging Sasol's atmospheric emissions licence at its Secunda synfuels plant. Sasol announced on 3rd June 2019 that it had 2 of its 7 ethylene glycol/ethylene oxide facilities running and producing. So the company is making steady progress with LCCP but at an increased capital cost. The share has now broken well below support at R380 and is falling mainly because of the on-going difficulties at LCCP. In a trading statement for the six months to 31st December 2019, the company estimated that HEPS would be at least 20% lower than in the previous period. The most recent price fall puts the company on a P:E of around 8,9 and a dividend yield (DY) of around 1,7%. On 6th September 2019, the company once again announced a delay in the publication of its results for a further month until the end of October 2019. We believe that the negativity will ultimately resolve itself and the share will bounce back - however, caution suggests waiting for a clear break up through the 65-day exponentially smoothed moving average before taking action. On 28th August 2019, the company announced that it had brought its ethane cracker online at Lake Charles. In late October 2019, the company announced major changes at board level which are seen as positive by the market. The joint CEO's and the chairman have agreed to step down. The new CEO will be Fleetwood Grobler who is currently the executive vice president. Consider the chart: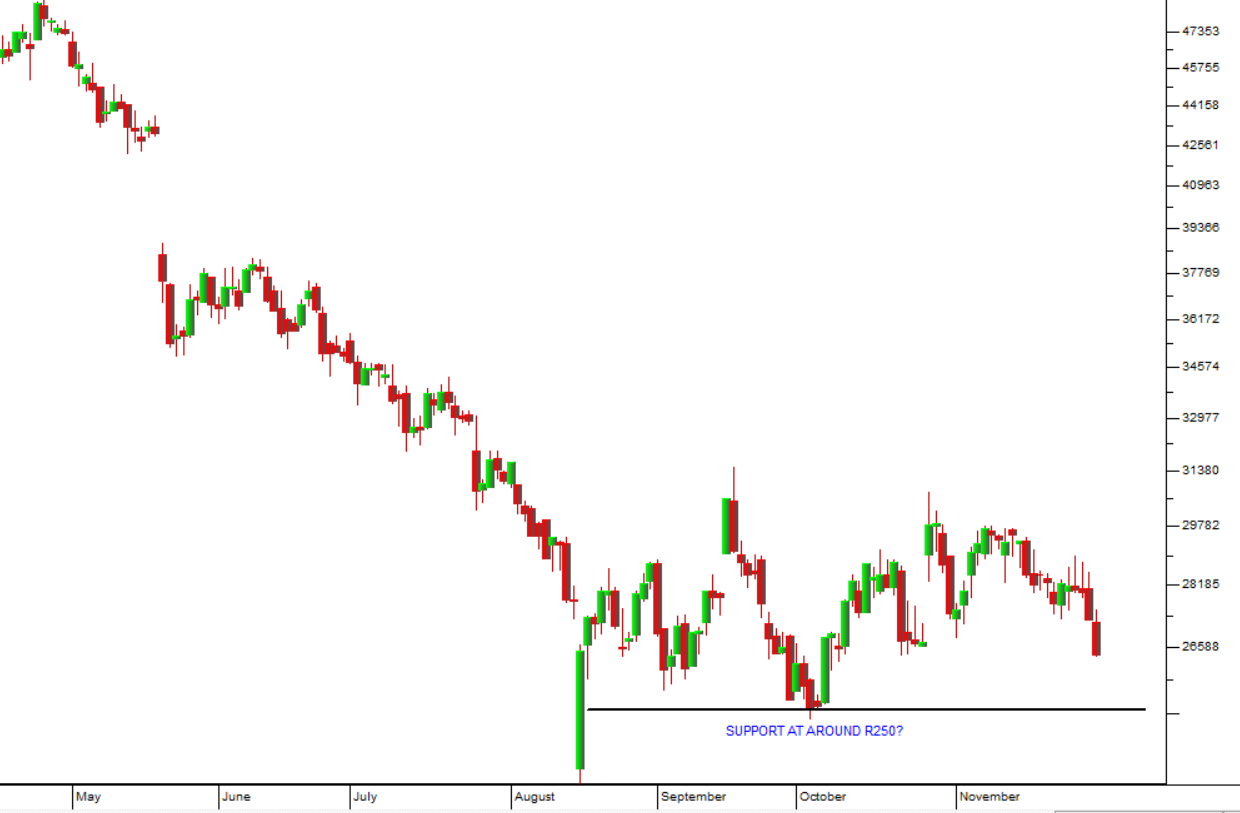 There appears to be some support at around R250 and certainly the share is well below its net asset value (NAV) of R353. We do not see this rand-hedge share as falling much further – and if the bad news stops it should rally strongly. You can view a visual presentation of this report here. To be added to our mailing list for the next webinar, click here.
DISCLAIMER
All information and data contained within the PDSnet Articles is for informational purposes only. PDSnet makes no representations as to the accuracy, completeness, suitability, or validity, of any information, and shall not be liable for any errors, omissions, or any losses, injuries, or damages arising from its display or use. Information in the PDSnet Articles are based on the author's opinion and experience and should not be considered professional financial investment advice. The ideas and strategies should never be used without first assessing your own personal and financial situation, or without consulting a financial professional. Thoughts and opinions will also change from time to time as more information is accumulated. PDSnet reserves the right to delete any comment or opinion for any reason.
Share this article: