23 May 2022
By PDSNET
Last Friday, the S&P500 actually dipped into bear market territory during the trading day. It went as low as 3811.28 before staging a remarkable recovery in afternoon trade to close at 3901.36. This resulted in Friday's candle becoming what is known as a "hammer" – a candle with a very short body and a long downward tail. A hammer is usually an indication that the bulls have taken control, at least temporarily. Consider the chart: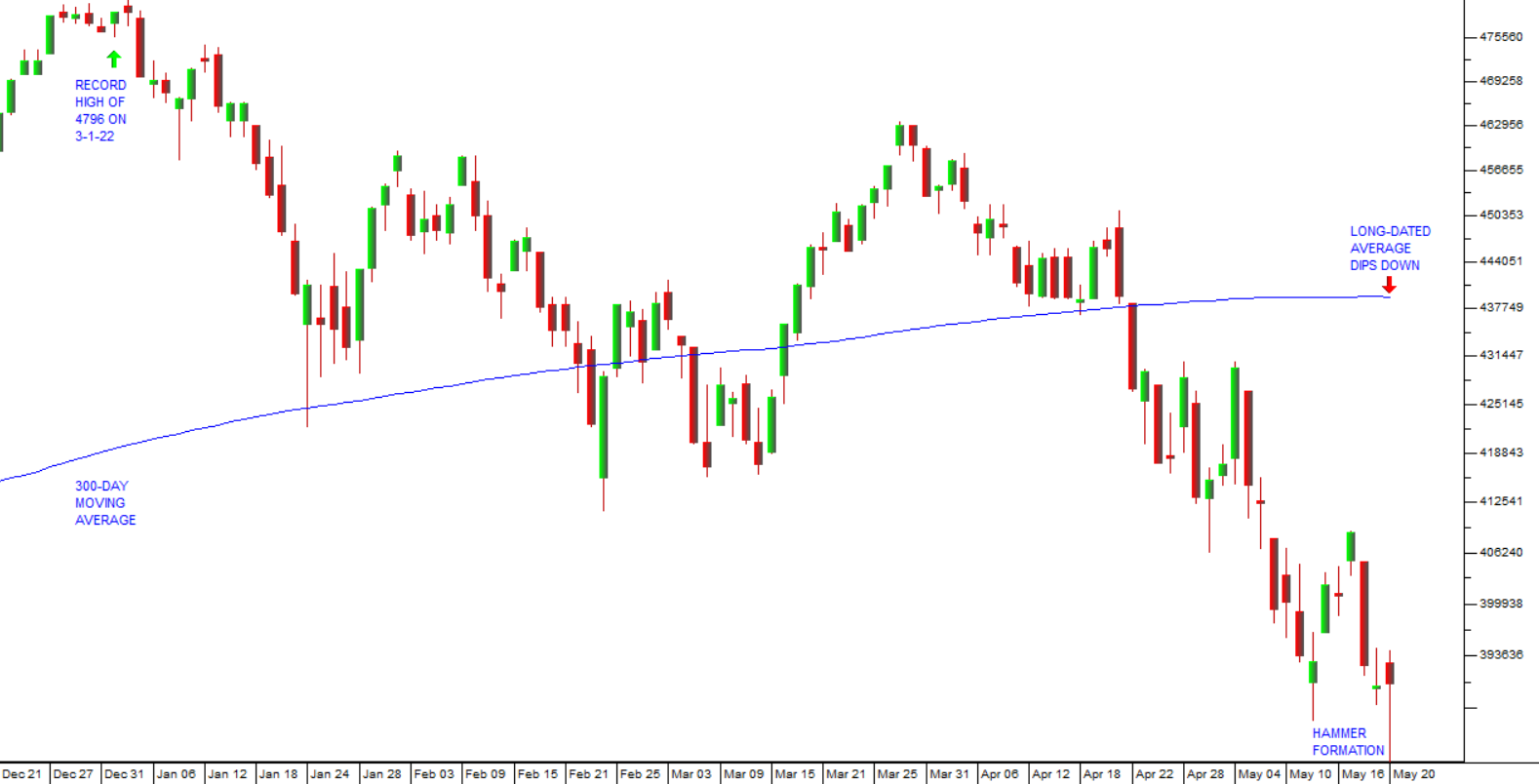 You can see here that by the close of trade last Friday the S&P500 had fallen by 18,7% from its record high of 4796.56 made on 3rd January this year. Note also that the 300-day simple moving average has just turned down in the last two days. Some investors regard the slope of the 300-day moving average as a key indicator of the switch from a bull trend to a bear trend.
At the same time, the market action on Friday which resulted in a hammer formation indicates that, on that day at least, the bulls ended the session firmly in control. That certainly bodes well for the market action for the first few days of the coming week.
A bear trend is defined as a downward move which is greater than 20% - from close to close. A close below 3837.25 would have put the S&P500 officially into a bear trend – but there is clearly some strong buying pressure below the 3900 level.
Obviously, as a private investor, you want to be out of shares during a bear trend, so it is important to have a mechanism which clearly defines what you consider to be the start of a bear trend, but at the same time allows you to buy shares when they are cheap during major market corrections.
Basically, you have to make a decision. Is this the start of a prolonged bear trend or simply an overdue correction? We have continuously stated our view, even before this correction began back in November last year, that this would be a major correction rather than a bear trend and we continue to believe that – but this is just our opinion and we have been wrong in the past.
The further down markets go, the cheaper they get and hence the more attractive they become. Sellers become unhappy as prices move lower, while bargain hunters are increasingly motivated to buy. Always, at some point in a downward trend, the prices become so attractive that the buying begins to out-weigh the selling - leading to a turning point. For example, Tesla shares which were trading for around $1230 in early November last year, on Friday traded as low as $633, almost half that peak price, which will be very attractive to some bargain hunters.
One absolute rule should always apply, no matter what is happening in markets:
Never ignore your stop-loss levels.
The simple fact of the matter is that if you have a principal never to lose more than, say, 15% on any stock market investment ever including your dealing costs, then you can never be caught in protracted downward trend – no matter what happens. Unfortunately, many people find reasons to ignore their stops and then suffer the consequences.
What is remarkable about the current downward trend is that South African investors do not appear to believe that it will be protracted. High quality shares are holding their values despite the apparent systematic risk in world markets. For example, a retailer like Lewis (LEW), that we have been punting since 2nd September 2020, has just issued a trading statement estimating that its profits for the year to 31st March 2022 will be between 30% and 40% up on the previous year. The share is in a strong upward trend and is trading very close to its cycle high. In our view, it remains a bargain at current levels.
Another share which looks attractive is Transaction Capital (TCP) which is currently in a strong bull trend, but at a cycle low within that trend. At 4350c this looks like a bargain to us. Consider the chart: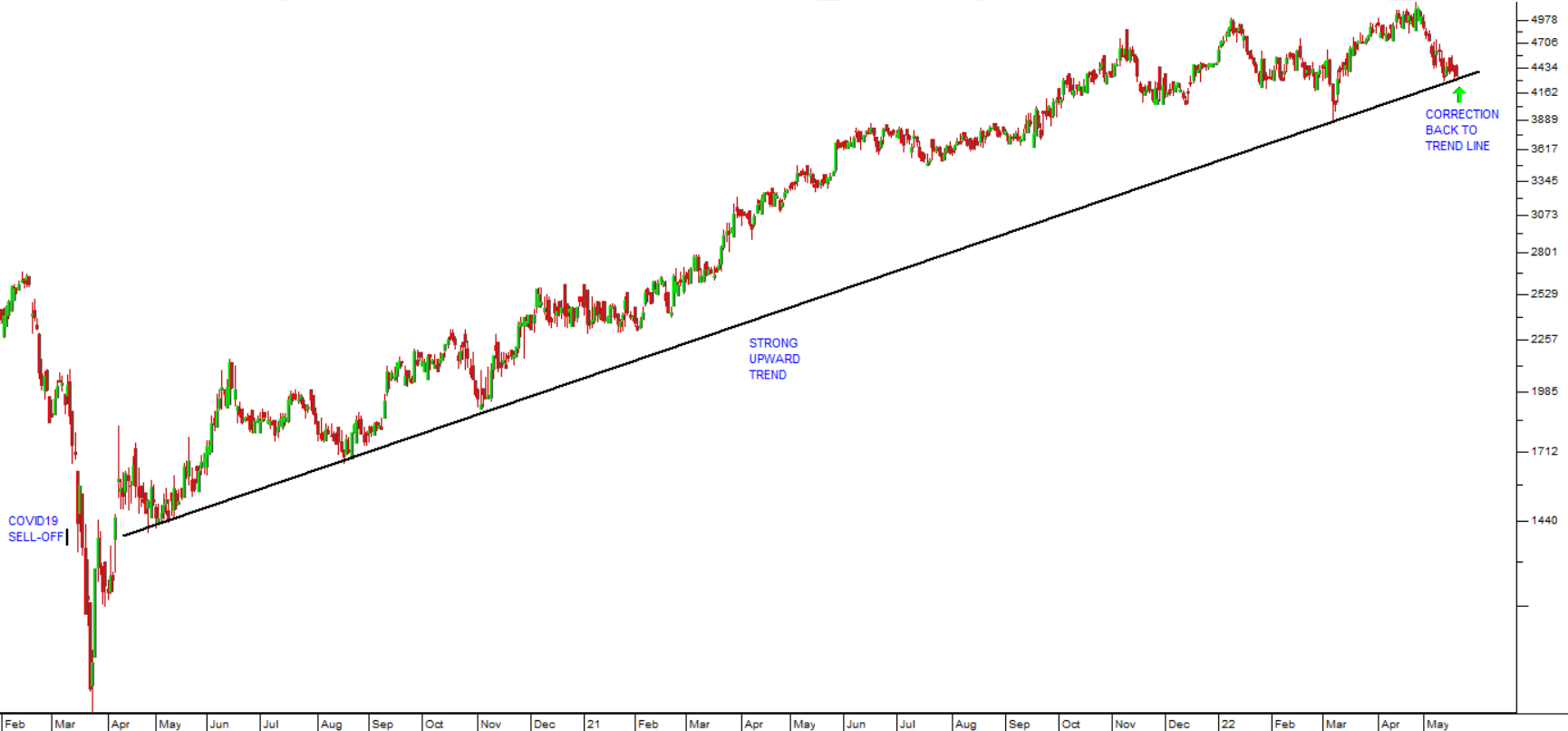 You can see that Transaction Capital has been in a bull trend since the COVID-19 lows of March 2020. On Thursday last week it published its results for the six months to 31st March 2022 with core headline earnings per share (HEPS) from continuing operations up a massive 38%. Following its purchase of WeBuyCars, this company looks poised to grow strongly.
So, as a private investor, you need to weigh up all these factors. On the one hand there is the systematic risk that world stock markets may be about to enter a protracted bear trend. On the other they may simply be at the bottom of a major correction – and be presenting a great buying opportunity. Only you can decide which of these scenarios you believe in and act accordingly.
Just remember that whatever you decide to do, the requirements of your stop-loss strategy are sacrosanct and must never be ignored.
If you are not clear about stop-loss, click here to read Module 12 from the PDSNet online course.
DISCLAIMER
All information and data contained within the PDSnet Articles is for informational purposes only. PDSnet makes no representations as to the accuracy, completeness, suitability, or validity, of any information, and shall not be liable for any errors, omissions, or any losses, injuries, or damages arising from its display or use. Information in the PDSnet Articles are based on the author's opinion and experience and should not be considered professional financial investment advice. The ideas and strategies should never be used without first assessing your own personal and financial situation, or without consulting a financial professional. Thoughts and opinions will also change from time to time as more information is accumulated. PDSnet reserves the right to delete any comment or opinion for any reason.
Share this article: