9 March 2020
By PDSNET
Buying shares in Standard Bank has always been a long term investment in South Africa and Africa in general.
The company is enormously profitable producing over R28bn in headline earnings in the year to 31st December 2019 – and it is the ultimate service business which receives its income from a spread of millions of individuals and companies. Banks are the only organisations in the economy that can literally go into your bank account, without your permission, and take money out whenever they need to.
Of course, they do compete, which tends to control their urge to charge exorbitant fees. The competition in South Africa is intense right now with the likes of Discovery Bank and Tyme Digital entering the arena, but Standard Bank is deeply entrenched in the South African economy and, like all iconic brands, has a substantial amount of what Warren Buffett has called "share of mind". Customers are generally reluctant to change from one bank to another simply because of the huge inconvenience of doing so.
Standard Bank does have a substantial staff complement which makes it vulnerable to union action, but its staff are generally well-paid and skilled which reduces the potential for collective bargaining. So, for all intents and purposes, this is a blue chip service company with almost no working capital problems and a solid, dependable annuity income.
Its latest results were not quite as good as those of 2018. In 2018, it managed a return on capital employed (ROCE) of 18,1% and in the 2019 year that has dropped to 16,8%. But it is still enormously profitable, and it has a very strong balance sheet. In other words, despite all the rigours of last year, this is a company which just kept on producing massive profits.
It did retrench some staff and close some branches last year, but that was mainly in response to the fact that banking is moving online and the need for such a large branch presence is diminishing.
The big institutional investors (pension funds, unit trusts and insurance companies) love this share because its progress is very stable and predictable, but every now and then they seem to forget its value as a solid blue chip and allow its share price to fall. You can see this by looking at the company's dividend yield (DY).
The dividend yield is the dividends per share (DPS) expressed as a percentage of the current share price. With enormous blue chip shares like Standard Bank the DY is usually around 3%, but occasionally that yield is allowed to fall to around 5% before the institutions suddenly realise that it is relatively cheap and bid its share back up to more reasonable levels.
This is one of those moments. Consider the chart: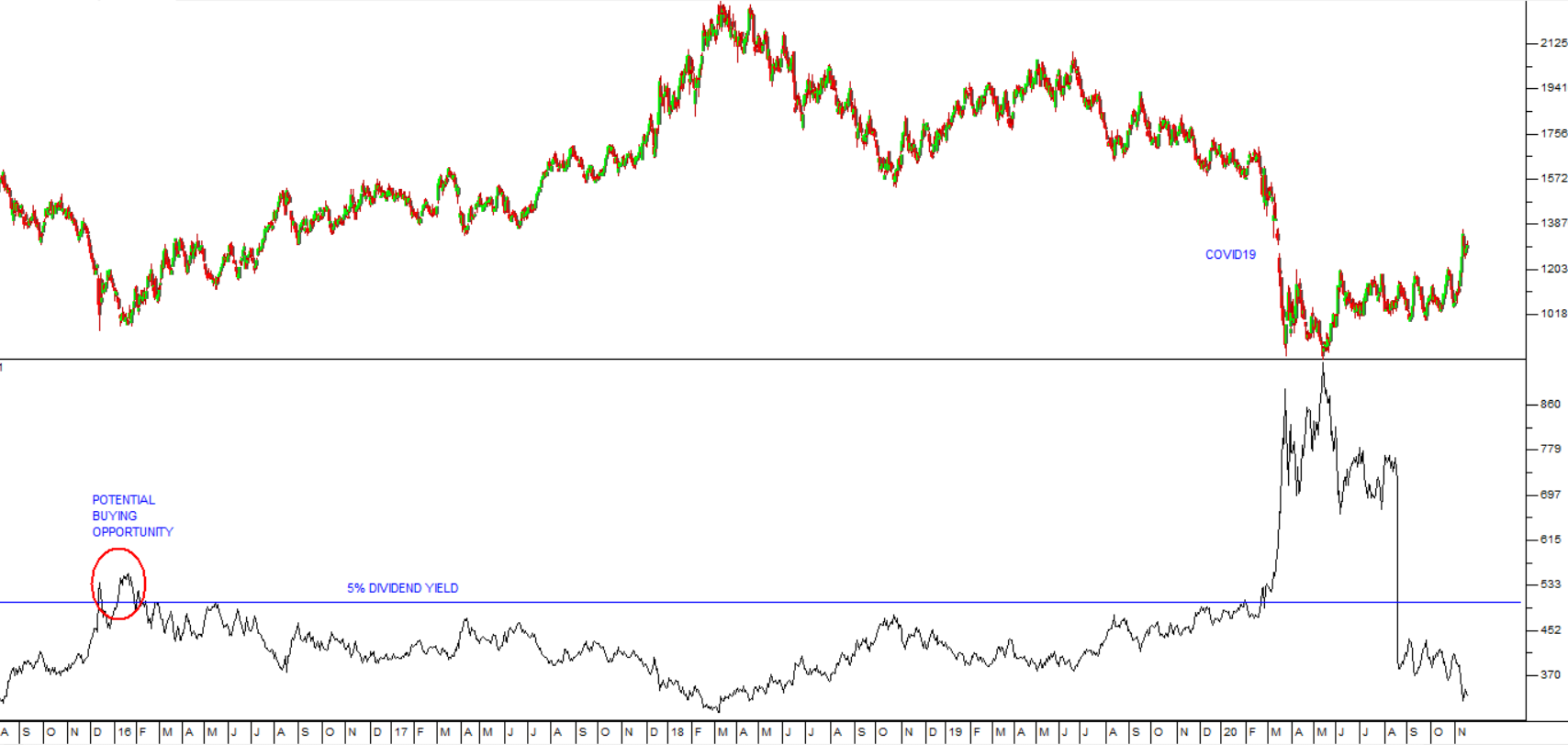 The upper chart is a candlestick chart of the share's price. The lower chart shows the company's dividend yield. Here you can see that back in January 2016, the DY on Standard Bank shares briefly went above 5%. Between about 7th January and 28th January 2016 the yield hovered above 5%. The big institutional fund managers suddenly realized their mistake and bought the share back up using their enormous cash flows. Over the next two years the share price more than doubled.
Today, more than six years later, we are back in the same position with the DY on Standard Bank at 5,3%. So, our expectation is that sooner or later fund managers, who have to place the huge cash flows coming in to pensions funds, unit trusts and insurance companies, will begin buying Standard Bank shares – and you as a private investor could benefit from that in an investment which has almost no risk at all.
DISCLAIMER
All information and data contained within the PDSnet Articles is for informational purposes only. PDSnet makes no representations as to the accuracy, completeness, suitability, or validity, of any information, and shall not be liable for any errors, omissions, or any losses, injuries, or damages arising from its display or use. Information in the PDSnet Articles are based on the author's opinion and experience and should not be considered professional financial investment advice. The ideas and strategies should never be used without first assessing your own personal and financial situation, or without consulting a financial professional. Thoughts and opinions will also change from time to time as more information is accumulated. PDSnet reserves the right to delete any comment or opinion for any reason.
Share this article: