20 September 2019
By PDSNET
The decision to buy into a share is often scary. What if the share falls after you have bought if? You may then have to execute your stop-loss and lose money. There is a tangible feeling of risk. Obviously, you want to buy a share when it is at a low point in its cycle – after it has fallen so that you can get it cheaply. But when a share falls there is always a reason – and you might be concerned that it could fall further. There is usually considerable negative press which accompanies a falling share and you will definitely feel the risk of investing. In fact, if you don't feel the risk you are probably not going to make any money. Of course, the ideal place to buy a share is somewhere close to its cycle bottom – and that means that you must "see a mountain behind you". In other words, the share should preferably have fallen from a much higher price. At the same time, it is far better if the share is an established blue chip with a solid business and a long track-record of being profitable. That way you can be fairly certain that it is not going to fail completely and that sooner or later institutional fund managers will begin buying it again. One of the ways to mitigate the risk is to at least wait until the share has turned and is moving up again. Ideally, you want to buy it when it is past its lowest point and is recovering. You are looking for some sort of upside breakout. So, where do you find such a share? In this article we would like to draw your attention to a high-quality share which may be worthy of your consideration.
SPUR
Spur (SUR) is a very well-known franchisor of fast-food restaurants in South Africa and has branches overseas. About two-thirds of its sales in South Africa come from Spur Steak Ranches, and the balance comes from a variety of franchise brands which the company has acquired over the years. Among these are John Dory, Panarottis and, more recently, RocoMamas and Hussar Grill.
It would appear that South Africans (at least those who can still afford restaurant food) are somewhat bored with the well-known brands such as Spur, but are attracted to the recently-acquired brands of smash burger specialist, RocoMamas and steakhouse Hussar Grill. 
Spur's share price is very much determined by consumer spending, which has been under pressure with a 1% hike in VAT and rising petrol prices. Spur bought back the 10% of its shares which were held by Grand Parade Investments (GPI) in June 2019.
In its results for the year to 30th June 2019, the company reported turnover up 5,9% with headline earnings per share (HEPS) up 10,8%. The share's net asset value (NAV) was up 3,6%. The company said, "Spur Corporation posted a resilient performance as total franchised restaurant sales increased by 7.2% to R7.6 billion. Trading conditions continue to be challenging in the low growth domestic market while the group's international business was impacted by the weak economy and high operating costs in Australia".
A massive head-and-shoulders formation has occurred in this share with the left shoulder in 2013 and 2014, the head at May 2015 and the right shoulder at February 2017. The neckline was broken when the share fell below 2860c at the beginning of 2018. In the end, the share reached a low of just over R20, but it now seems to be recovering. On a P:E of 13,5 and a dividend yield (DY) of 4,6% it looks like good value especially if you believe that the South African economy will recover.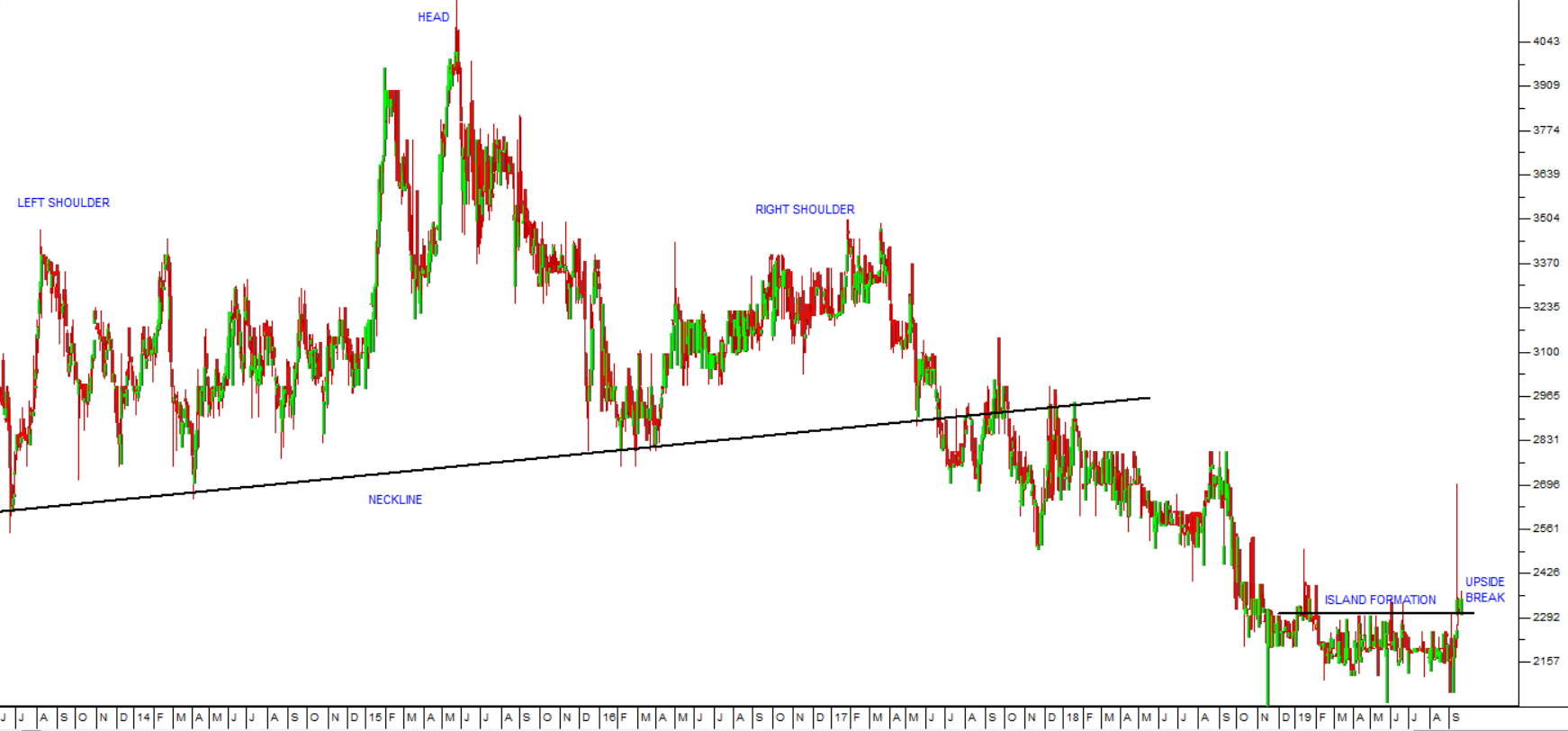 Spur Corporation (SUR) June 2013 to September 2019 - Chart by ShareFriend Pro (Click to Enlarge Image)
Here you can see that this year the share has been forming an "island" and that in the last week it has broken up from the island in what could be the beginning of a new upward trend.
Obviously, a share like Spur is consumer-facing and as such depends on the ability of consumers to buy restaurant food. So a major consideration here must be whether you think that the South African economy is about to recover or not. If you think that we are in for further bad news on the economic front, then you should leave this share alone. But if you think that we are in that "darkest before dawn" phase, then it may well be worth considering.
One thing you can be sure of – you will be paying nearly half the price for this share than those who bought it for R40 in the middle of 2015 – so you are doing a whole lot better than them!
DISCLAIMER
All information and data contained within the PDSnet Articles is for informational purposes only. PDSnet makes no representations as to the accuracy, completeness, suitability, or validity, of any information, and shall not be liable for any errors, omissions, or any losses, injuries, or damages arising from its display or use. Information in the PDSnet Articles are based on the author's opinion and experience and should not be considered professional financial investment advice. The ideas and strategies should never be used without first assessing your own personal and financial situation, or without consulting a financial professional. Thoughts and opinions will also change from time to time as more information is accumulated. PDSnet reserves the right to delete any comment or opinion for any reason.
Share this article: