15 February 2021
By PDSNET
Right now, comparing Amplats with Sibanye is instructive for private investors – and made more interesting because:
They are both

mining house

s producing

precious metals

, mainly

platinum group metals

.(PGM's).
They have the same

financial year-end

(31st December).
They have both recently produced

trading statement

s for the 2020 financial year ending on 31st December 2020.
They both expect to have generated about R30bn of

headline earnings

in that year.
It seems reasonable for these two companies in more-or-less the same business which produce about the same profit to have about the same value in the market – but they don't. Investors see Amplats as being worth more than twice as much as Sibanye – yet they are producing about the same profits in roughly the same business.
The market capitalisation of Amplats (R442,6bn) is 2,3 times as high as that of Sibanye (R188bn). In other words, Amplats is owned 77,28% by Anglo American and it has a long track record of being a very professionally managed, blue chip mining house focused on the production of PGM's. In recent years it has moved decisively away from the complexity and cost of deep level mining towards shallower, more mechanized operations.
Sibanye has relatively recently been cobbled together by mining expert Neal Froneman, over the past 8 years, through a series of daring and brilliant acquisitions. For half of that time (until January 2016) precious metals prices were under pressure. Then the commodity cycle turned, and prices began rising.
Froneman has always been very positive about the future of precious metals and has bought up anything which was being sold for a bargain price – including some of the operations that were sold off by Amplats. He is most notable for his acquisitions of:
The Stillwater palladium mine in America
Lonmin after the Marikana massacre
The Stillwater acquisition loaded Sibanye's balance sheet with debt, but it gave the company a first world palladium mine and diversified it away from its exposure to South Africa. Lonmin was bought for Sibanye shares at a very good price and came with a valuable extraction plant. It was, however, purchased when the company was on the brink of collapse.
Today, the price:earnings (P:E) multiple of Sibanye is 31,37 while that of Amplats is 24,44. On the face of it, this means that Sibanye is slightly more "highly rated" by investors than Amplats, but it is important to understand that these multiples are based on historical earnings. If we use the projected earnings of the two companies for the year ending 31st December 2020, then the forward multiple for Amplats is between 13,93 and 15,74 while that of Sibanye is between 5,95 and 6,19.
That shows that investors are prepared to pay more than twice as much for 100c of earnings from Amplats as they are for 100c of earnings from Sibanye. The reasons for this are inter alia:
Amplats has a much longer history of good

management

and

profitability

than Sibanye – which reduces the

risk

.
Sibanye includes some

gold

assets while Amplats is a pure PGM play.
Amplats produced almost 75% more PGM ounces than Sibanye, but Sibanye produced over 25 000 kilograms of gold as well.
In the 2019 year, Sibanye generated R62m in profits while Amplats generated R18bn – so investors see Sibanye's 2020 profits as less sustainable.
Overall, Amplats is seen as much more stable and reliable, while Sibanye has the wild card advantage of Froneman's evident brilliance.
Sibanye has about 2,9bn shares in issue trading at R64.84 while Amplats has 265,3m shares in issue at a price of R1668.37. So, Sibanye has about 11 times more shares in issue – mainly because of the various acquisitions which it has made for shares.
The final point to make about these two shares is their relative performance. Consider the chart of their comparative relative strength: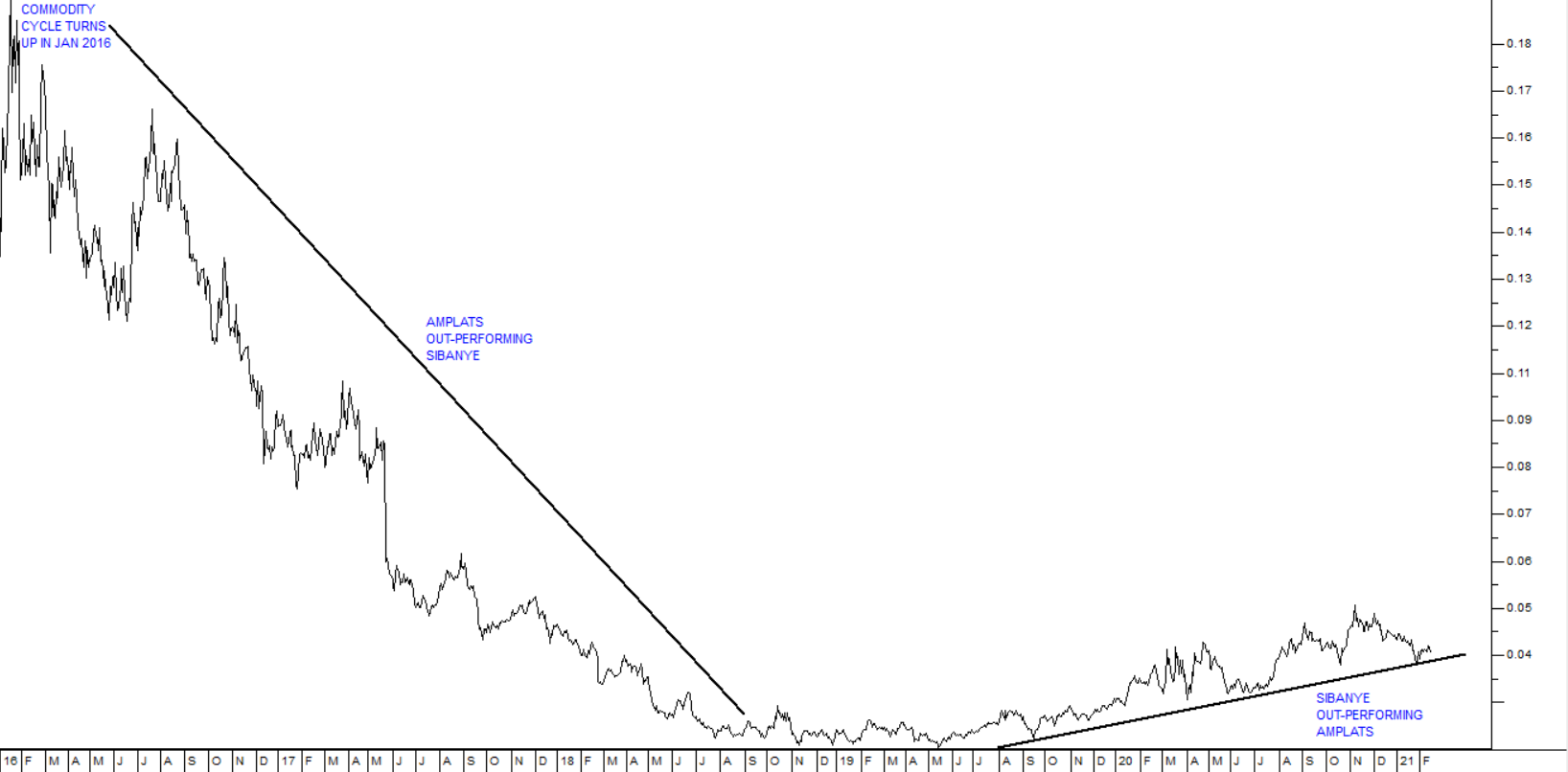 You can see here that once the commodity cycle turned, Amplats was out-performing Sibanye by a wide margin. This was mainly because of its well-established infrastructure and good name. From about July 2019, however, Sibanye began to outperform Amplats as investors realised that Froneman's gambles had paid off and the company was going to benefit from the strong rise in PGM prices.
Commodity shares like Sibanye and Amplats are always more volatile and risky because they are dependent on the prices of internationally traded commodities. A well-established mining house like Amplats is always going to be far less risky than a company like Sibanye which owes much of its success to one man's brilliance.
DISCLAIMER
All information and data contained within the PDSnet Articles is for informational purposes only. PDSnet makes no representations as to the accuracy, completeness, suitability, or validity, of any information, and shall not be liable for any errors, omissions, or any losses, injuries, or damages arising from its display or use. Information in the PDSnet Articles are based on the author's opinion and experience and should not be considered professional financial investment advice. The ideas and strategies should never be used without first assessing your own personal and financial situation, or without consulting a financial professional. Thoughts and opinions will also change from time to time as more information is accumulated. PDSnet reserves the right to delete any comment or opinion for any reason.
Share this article: