10 June 2019
By PDSNET
Commodity shares are generally more risky than industrial or financial shares because they mostly do not have any control over the selling price of their products. The commodities which they sell are mostly priced in international commodity exchanges and subject to wild fluctuations. Sasol is really no exception. It is in the oil business and the chemicals business. In both cases the pricing of its products is largely outside its control. Despite this, Sasol offers investors an interesting option. It is an extremely well-run company with a very strong balance sheet and it is busy diversifying away from oil. Like most South African commodity companies, its profits are impacted by the strength of the rand. When the rand appreciates, Sasol becomes less profitable and vice versa. It has its roots in the oil-from-coal technology developed during the apartheid era in South Africa, but today about 50% of the company's profits are directly linked to the oil price. It has two main growth areas - its $12,9bn ethane cracker plant in Louisiana, America, known as "Lake Charles Chemical Project" (LCCP), and its development of gas resources in Mozambique. Sasol was recently awarded two new licences in Mozambique to explore for gas in an onshore development of approximately 3000 square kilometres. This could significantly add to its existing gas projects in the Rovuma province. The LCCP is now 96% complete and should lead to a significant re-rating of Sasol as it ramps up production. Unfortunately, on 21st May 2019 the company had to once again increase the estimated cost of completion for LCCP by $1,1bn. This caused the share price to fall by 15% as investors registered their disappointment. But this fall respresents an opportunity for private investors to buy into the share close to a very well-established support level at R365. Consider the chart: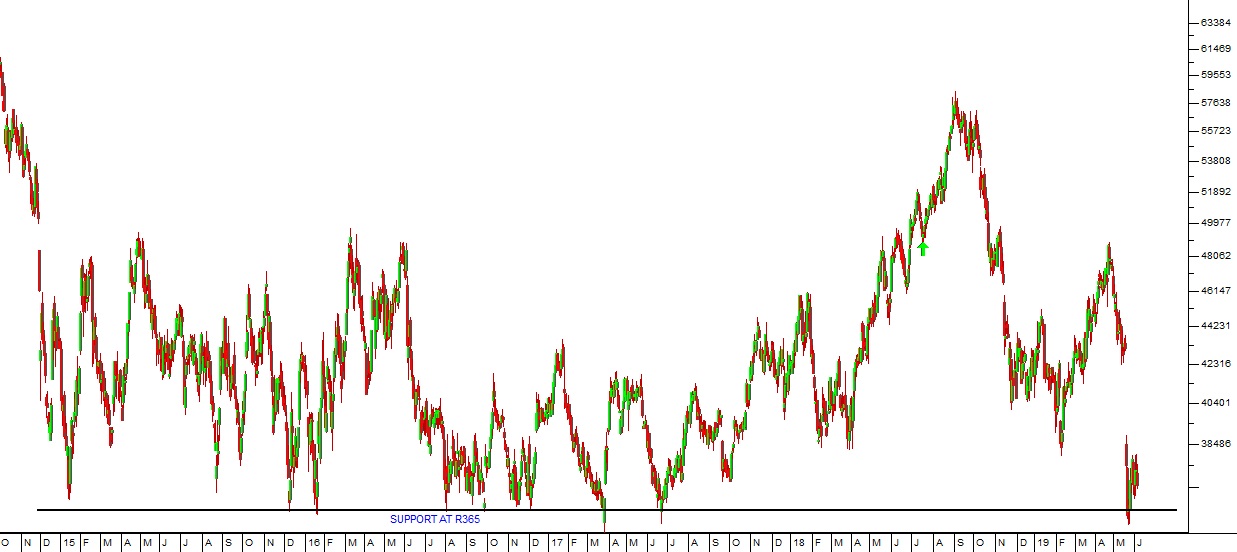 Sasol (SOL) October 2014 to June 2019 - Chart by ShareFriend Pro
In the second half of 2014, the oil price collapsed and with it the price of Sasol shares. After that they established a clear base at R365 which was repeatedly tested over the next five years. In their financial statements for the six months to 31st December 2018, the company reported that earnings per share (EPS) were up by 112% and headline earnings per share (HEPS) was up by 18%. Once completed, LCCP will mean that as much as 70% of Sasol's income will be from chemicals, reducing its reliance on oil. LCCP is expected to produce a steady EBITDA of $1,3bn per annum from 2022. Sasol announced on 3rd June 2019 that the second of its 7 ethylene glycol/ethylene oxide facilities was running and producing. So the company is making steady progress with LCCP. We believe that this is a share to be accumulated by private investors on weakness and, at prices below R400, it looks cheap - although it remains a commodity share and hence risky. If the world economy continues to grow (which we think it will) then Sasol will become more and more profitable.
DISCLAIMER
All information and data contained within the PDSnet Articles is for informational purposes only. PDSnet makes no representations as to the accuracy, completeness, suitability, or validity, of any information, and shall not be liable for any errors, omissions, or any losses, injuries, or damages arising from its display or use. Information in the PDSnet Articles are based on the author's opinion and experience and should not be considered professional financial investment advice. The ideas and strategies should never be used without first assessing your own personal and financial situation, or without consulting a financial professional. Thoughts and opinions will also change from time to time as more information is accumulated. PDSnet reserves the right to delete any comment or opinion for any reason.
Share this article: