25 November 2019
By PDSNET
South Africa is the land of monopolies. Historically, under the National Party, South Africa was cut off from the rest of the world and isolated from international competition. This led to the development of massive local monopolies such as that of SA Breweries and Anglo American (which at one stage controlled more than 50% of the blue chip companies on the JSE). Many of those monopolies consisted of enormous conglomerates of companies tied into structures which usually left them trading at considerably lower prices than the value of the share which they owned. In the new South Africa, there has been a trend towards breaking up those structures and releasing shareholder value. One of the most recent examples has been Naspers which first unbundled Multichoice into the hands of its shareholders and then restructured with the formation and listing of Prosus on the Euronext in Amsterdam. It is a well-known fact that investment holding companies traditionally trade at a discount to the value of their underlying assets. This discount can be anything from 10% to 40% depending on the company. One of the ways to "unlock" this value is for the holding company to unbundle the shares of a subsidiary or a large holding into the hands of its own shareholders. Thus, if company "A" owns a 40% interest in company "B" it can distribute that holding of company "B" shares to its own shareholders and then it steps out of the picture and the structure is simplified. This often has the effect of increasing the prices of both companies' shares on the JSE.
The current example of this is the double unbundling of Firstrand from Rand Merchant Bank Holdings (RMH) and then of RMH from Remgro. Remgro is one of those massive conglomerates that was itself split out of the Rembrandt Group. Rembrandt was started by Anton Rupert rolling cigarettes in his garage in 1941. He grew this business into a massive international business that eventually (in 1999) merged with British American Tobacco (BAT). Rembrandt was split into Remgro (most of the South African companies) and Richemont (the overseas interests). Remgro was closely associated with RMH from the outset as a major shareholder and with Johan Rupert as CEO in 1985. RMH established Firstrand which was founded in 1998 by the purchase of First National Bank and Southern Life. When RMH's 34,1% of Firstrand is unbundled, Remgro shareholders will get 9,6% of Firstrand because Remgro will be unbundling its 28,2% of RMH to its shareholders at the same time. Consider the impact of this release of value on RMH: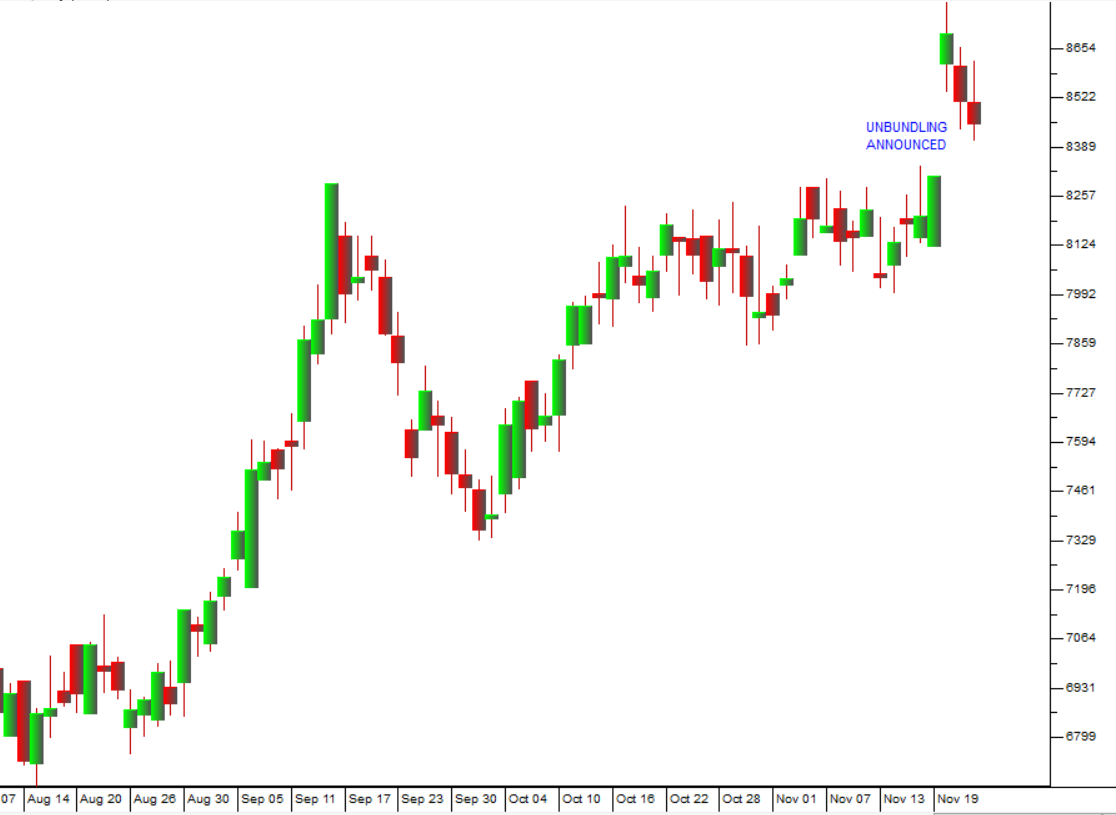 And on Remgro: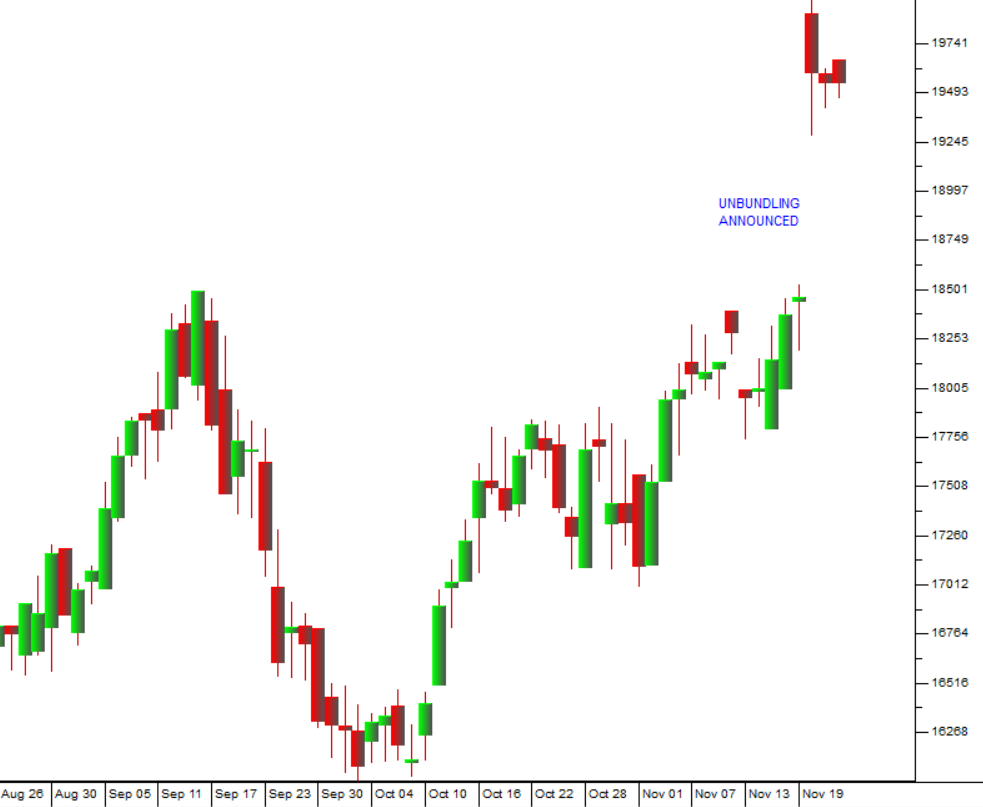 Here you can see that unbundling of Firstrand by RMH and RMH by Remgro had an immediate positive impact on the shares of the parent company because their corporate structures became simpler and easier to analyse. Prior to the unbundling Firstrand was just one of many companies owned by RMH – after the unbundling it will be a completely separate listing with no direct connection to RMH. RMH shareholders will then have two separate holdings – in RMH and Firstrand.
DISCLAIMER
All information and data contained within the PDSnet Articles is for informational purposes only. PDSnet makes no representations as to the accuracy, completeness, suitability, or validity, of any information, and shall not be liable for any errors, omissions, or any losses, injuries, or damages arising from its display or use. Information in the PDSnet Articles are based on the author's opinion and experience and should not be considered professional financial investment advice. The ideas and strategies should never be used without first assessing your own personal and financial situation, or without consulting a financial professional. Thoughts and opinions will also change from time to time as more information is accumulated. PDSnet reserves the right to delete any comment or opinion for any reason.
Share this article: