23
Dec
---
As the year draws to a close, we should consider what is likely to happen next year on world markets. Undoubtedly, world markets will continue to follow what happens on Wall Street so we will confine our discussion to this market.
Once the traditional fear of October month was behind us, the S&P500 began making a series of new record highs. This is not unusual. Over the festive season it is quite normal for there to be a "relief rally". If the market did not crash in October, it is extremely unlikely to crash over the year end. The thoughts of investors turn to the new year and the promise which it holds. Consider the chart: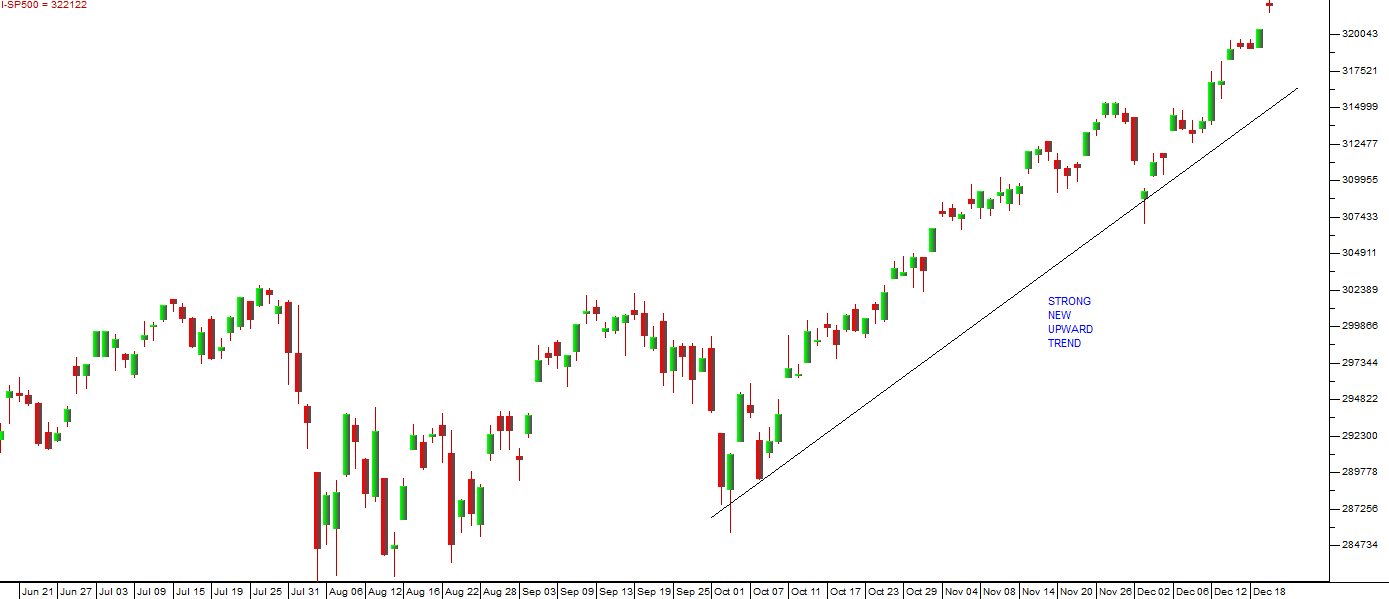 S&P500 Index June to December 2019 – Chart by ShareFriend Pro
You will notice that the current upward trend is accelerated. From breaking above the previous record high of 3025 (made on 26-7-19) this index has risen by 166 points or 5,4% in less than 2 months. The 5,4% to reach that level of 3025 took almost 7 months to achieve. This acceleration indicates a growing confidence in the future of the US economy. However, as a word of caution, nothing in the markets moves in a straight line – so you should expect some sort of correction in the fairly near future.
The immediate and official cause of the current rally is Trump's relatively benign stance on the trade war with China. Ostensibly, investors are optimistic about a trade deal with China which will take this uncertainty out of the mix – or they have become blasé about Trump's erratic and unpredictable twitter outbursts. Underlying this is the continuing thrust of the massive monetary stimulation that followed the 2008 sub-prime crisis. The impact of that is carrying world markets ever higher as confidence levels rise, with companies and individuals benefitting from the most powerful monetary stimulation in history.
Of course, 2020 is a US election year and Trump's main advantage is going to be the unprecedented strength of the US economy and the concomitant rise in the S&P500. Almost every American has a "401k plan" which involves investing in the share market through a tax-free savings account similar to our Tax Free Savings Account (TFSA). So, most Americans will credit Trump as the incumbent with the significant improvement in their financial well-being and prospects during 2019 (even if he had relatively little to do with it). If a democratic president is elected in November 2020, no one is quite sure what will happen to the economy or the stock market – and hence to their savings. You can be quite sure that Trump will leverage that uncertainty as much as he can while taking credit for the current boom.
Of course, the impeachment process will not see Trump removed from office. In the senate Republicans will stand behind Trump and, by run-up to the election, the failed impeachment process may well turn to his advantage. Already republicans are painting it as a baseless partisan move. Outside of America, nobody really likes Donald Trump, but if he continues in office (as could well happen), we can probably look forward to an extended bull trend on the S&P500. Once again, we urge you, as a private investor, to focus on what will happen rather than on what should happen.
One final alert – over the festive season, volumes tend to be reduced as more and more fund managers go on holiday. Some of the big institutions will take advantage of this low-volume environment to "window dress" their portfolios and ensure that they make their 2019 performance look as good as it can. Window dressing goes on in all markets because it is easy for large institutional investors to drive the prices of their largest holdings up at year-end. They simply implement a program of heavy buying just before the market closes. Usually, these last minute gains are quickly reversed in the new year, so if you are considering selling an institutional blue chip, the 31st December 2019 could be the best moment.
DISCLAIMER
All information and data contained within the PDSnet Articles is for informational purposes only. PDSnet makes no representations as to the accuracy, completeness, suitability, or validity, of any information, and shall not be liable for any errors, omissions, or any losses, injuries, or damages arising from its display or use. Information in the PDSnet Articles are based on the author's opinion and experience and should not be considered professional financial investment advice. The ideas and strategies should never be used without first assessing your own personal and financial situation, or without consulting a financial professional. Thoughts and opinions will also change from time to time as more information is accumulated. PDSnet reserves the right to delete any comment or opinion for any reason.
---