12 July 2021
By PDSNET
On 22nd October 2018 we ran an article entitled "Speculating on Aveng", ( click here to read it ), in which we suggested that buying R10 000 worth of Aveng at 5c a share might be a worthwhile speculation for private investors. As we said in the article, we do not usually advise speculation in penny stocks, but that if investors had a spare R10 000 this could be a good punt.
At the time (October 2018) we invested our R10 000 and bought 250 000 Aveng shares which were then trading for 4c each. The share then fell to as little as 2c – which halved the value of our investment on paper, but we remained confident of the management and underlying fundamentals of the company and held on to our shares.
This year (2021) the company decided that it needed to raise more capital – which it did by way of a rights issue in February 2021. In that offer it gave existing shareholders the opportunity to buy a further 103.12203 shares for every 100 Aveng shares they already had – at 1,5c per share. We decided to follow our rights by investing a further R3867 and so we ended up with a further 257805 shares (250 000/100 X 103.12203), and our average cost came down to 2,73c per share (R13 867/507805). This rights issue raised R300m for Aveng which it used to pay down debt.
Then in June 2021 the company decided to do a second "follow on" rights issue, also at 1,5c per share but this time for only 11.47941 shares for every 100 held to raise a further R100m. This rights offer allowed us to take up a further 58293 shares at a total cost of R874. Once again we followed our rights and today we have 566098 shares which we paid a total of R14 741 (R10 000 +R3 867 + R874) for – which is an average cost of 2,6c per share (R14 741/566098).
Consider the chart: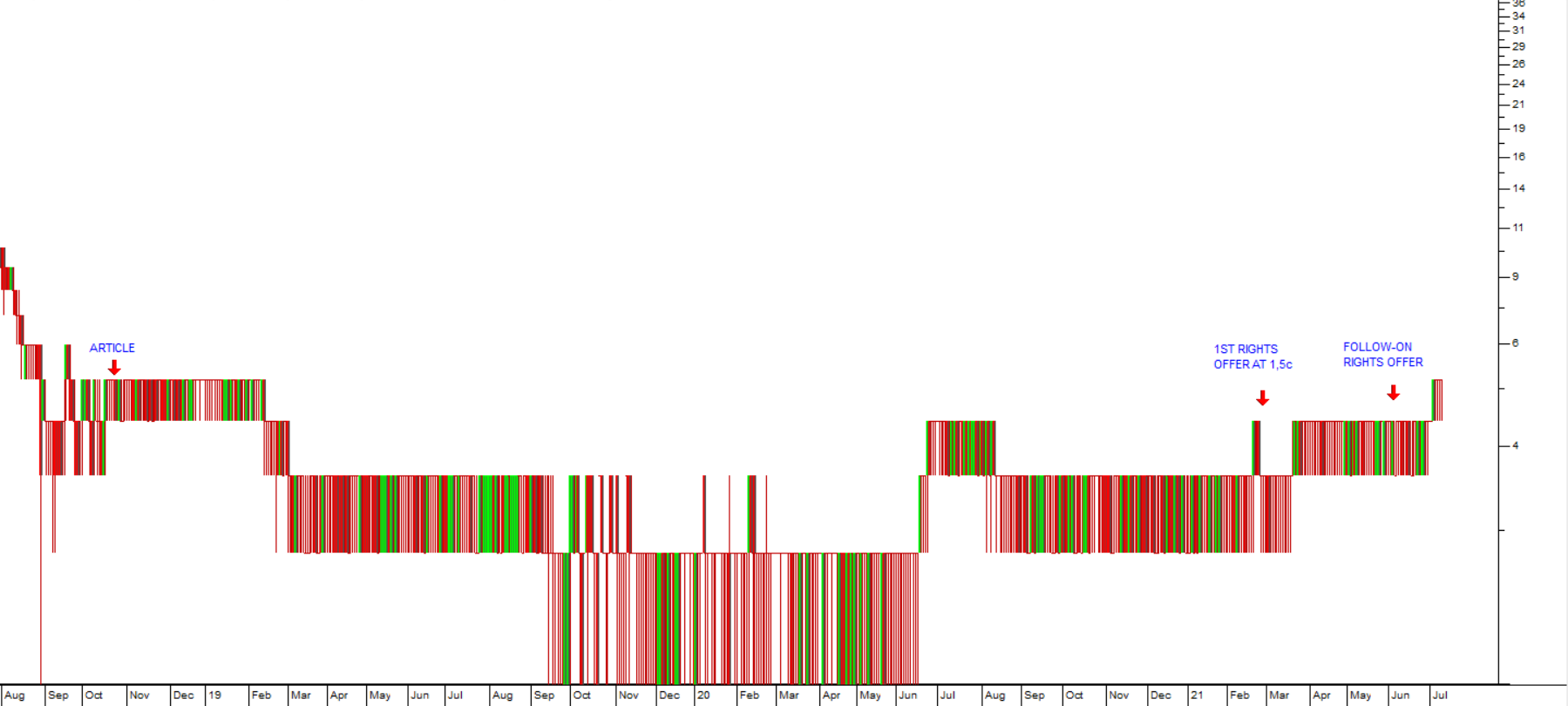 This chart shows Aveng's dark days when it was desperately selling off assets and trying to bring its debt under control. As part of that effort, it eventually and reluctantly undertook two rights issues at prices which were a fraction of its net asset value (NAV) in order to raise a further R400m. Clearly, these right issues significantly diluted the holdings of existing shareholders, but they offered an opportunity for private investors to make a tidy capital gain.
Now with its recent "voluntary pre-close trading update" published on 30th June 2021, the company has reported that it has finally returned to profitability – after 8 years of making losses. Its two remaining businesses, Moolmans, which does mine construction in South Africa and McConnell Dowell, which does construction in Australia are looking good with strong order books. Here is the relevant extract from our stockbroker's statement for 30th June 2021:

Since this statement at the end of June, the share price ticked up to 5c on this announcement – which means that our investment of R14 891 (including dealing costs) is now worth R28 305 – a gain of 90%.
In our opinion this share will continue to perform well now that it is back on a sound footing. We fully expect the share price to continue rising in the future and we have nearly held our shares for at least the full three years required by SARS to have our gain treated as a "capital gain" – an important consideration for private investors.
DISCLAIMER
All information and data contained within the PDSnet Articles is for informational purposes only. PDSnet makes no representations as to the accuracy, completeness, suitability, or validity, of any information, and shall not be liable for any errors, omissions, or any losses, injuries, or damages arising from its display or use. Information in the PDSnet Articles are based on the author's opinion and experience and should not be considered professional financial investment advice. The ideas and strategies should never be used without first assessing your own personal and financial situation, or without consulting a financial professional. Thoughts and opinions will also change from time to time as more information is accumulated. PDSnet reserves the right to delete any comment or opinion for any reason.
Share this article: