28 June 2021
By PDSNET
In last week's article we suggested that it was important to understand where a company was in its financial cycle and to download its most recent financial results in PDF format. Since then, one of South Africa's best and most iconic companies, Hudaco, has published its interim financial results for the six months to 31st May 2021 (interim financial results) So, in this article we will consider a few of the important pieces of information which it contained.
Hudaco is deeply integrated with the South African economy at every level, supplying parts and services to the automotive industry and a range of other products such as "bearings and belts, electrical power transmission, diesel engine, hydraulics and pneumatics, specialised steel, thermoplastic fittings and filtration businesses supply engineering consumables, mainly to mining and manufacturing customers".
I have taken 4 extracts from its latest interims which I intend to examine:
"The financial position has strengthened even further. Bank borrowings are R594 million, down R50 million since November 2020"
The first point is that the company reduced its gearing by R50m during the period. This improves the company's security and gives it the cash to pursue further acquisitions. Hudaco grows both organically and by acquisition. Over the years it has proved very astute at finding and executing "bolt-on" acquisitions which enhance and expand its businesses. The fact that Hudaco had a strong balance sheet enabled it to survive COVID-19 and the various lockdowns extremely well.
"Trading generated cash of R458 million of which R65 million was reinvested in working capital as we stock up in anticipation of the busier second half trading and we respond to challenges in the global supply chain by increasing inventory. This resulted in cash generated from operations of R393 million up from R301 million in the first half of 2019"
It is very important that a company is able to convert its sales into cash and Hudaco is very effective at doing that, despite the fact that its business involves maintaining substantial working capital. You will note that, in anticipation of increased business, the company has increased working capital by R65m. Working capital is simply defined as the company's debtors plus its stock/inventory, minus its creditors – literally the capital which is working in the business from day to day. Hudaco always has to have a substantial debtors' book and must also carry significant stock to meet orders from its clients. Managing these two elements of working capital is critical to the business' profitability. Obviously, management is always looking to keep stock and debtors to a minimum, but they also must be able to fill customer orders when they come in and they must always offer competitive credit terms to their clients – otherwise they would lose clients.
"During the six months we also paid dividends of R135 million, finance costs of R19 million, taxation of R62 million and returned a further R36 million to shareholders by repurchasing shares. Borrowings are comfortably within our self-imposed conservative guidelines and our available banking facilities. Unless we make further acquisitions, our usual strong second half cash generation should reduce them further by year end"
This extract shows that the company managed to pay out dividends to shareholders, something which many listed companies decided not to do following the pandemic. It also shows that the company only paid out R19m in finance costs – which is a significant drop from the R43m it paid in the six months to 31st May 2020 or the R55m it paid in the six months to 31st May 2019. In other words, the company's financial position has improved markedly. The company bought back R36m worth of its own shares during the period. Listed companies buy back their own shares when the directors perceive that the share is well below the company's true value. Obviously, in the six months between April and October 2020, the company's shares were very, very cheap. By buying back some of these shares and then cancelling them, the directors reduced the number of shares which the company had in issue – which made the remaining shares that much more valuable. This is effectively a transfer of value to the remaining shareholders (and is taxed as a dividend).
"Comparable earnings per share were up by 32.1% to 686 cents and basic and headline earnings per share were up by 28.9% to 686 cents. The interim dividend has been increased 26.3% to 240 cents per share. Our dividend policy, which is to be covered between 2.5 and 2.0 times by comparable earnings annually, remains unchanged".
The company generated much improved headline earnings per share (HEPS) and paid out a higher dividend in line with their dividend policy. Listed companies usually have an established policy to pay out a certain percentage of their after-tax profits to shareholders in the form of a dividend. In Hudaco's case the dividend must be "covered" between 2 and 2,5 times in its profits. In other words, its profits for the period must be between 2 and 2,5 times as much as the dividend which it declares. The company had HEPS of 686c and paid out a dividend of 240c – which is a dividend cover of 2,86, slightly above their policy range. This conservative dividend policy ensures that the company always retains most of its profit to finance future growth.
Technically, the share has offered private investors a solid return. Consider the chart: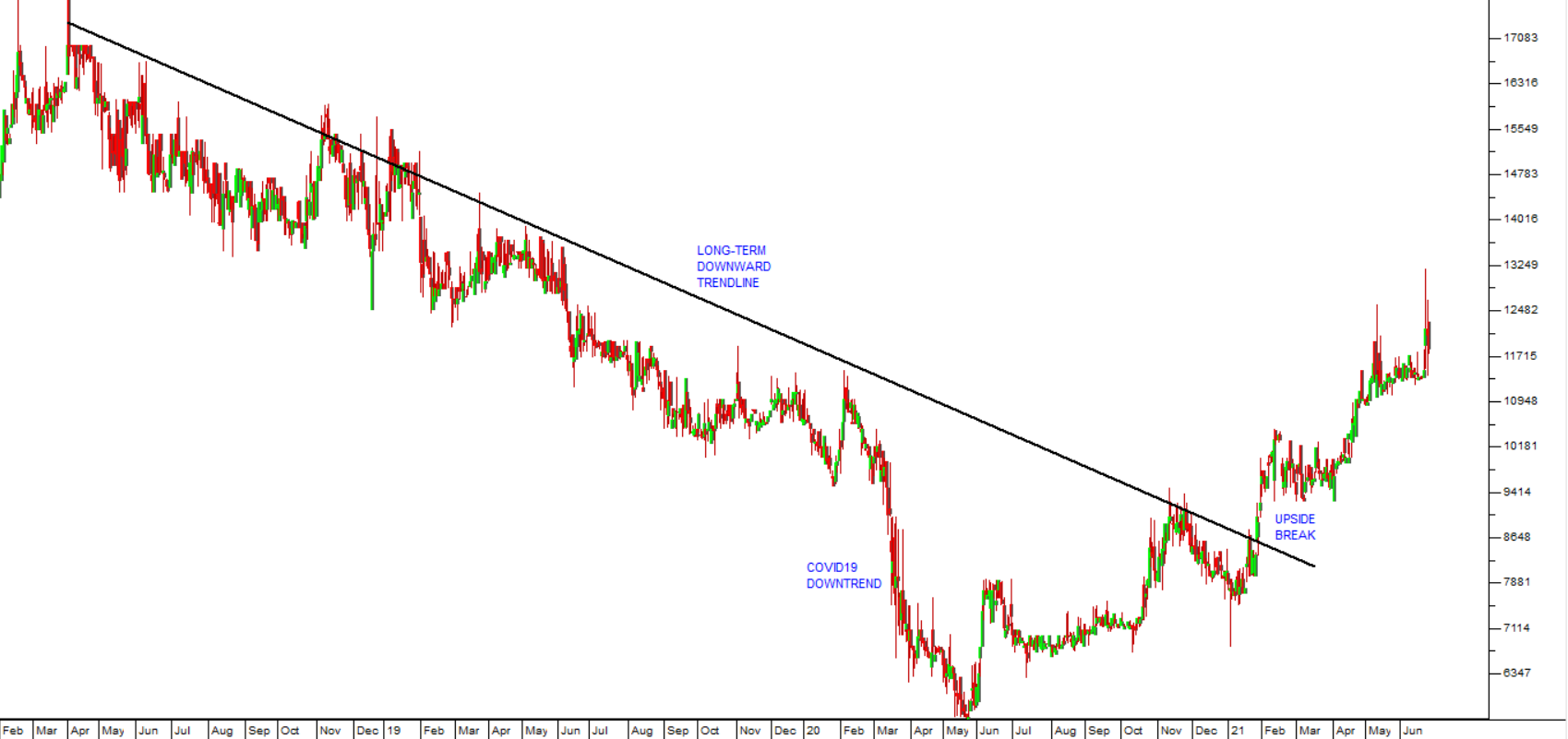 You can see here that Hudaco was already in a downward trend when COVID-19 began in March 2020. The pandemic caused it to fall sharply to lower levels where it formed an "island". Our advice was always to wait for a break above its long-term downward trendline – which occurred on 27th January 2021 at a price of 9008c. Since then, the share has moved up strongly as investors discounted expected future growth. It closed last Friday (25th June 2021) at 11850c – a gain of 31,5% in five months. We expect it to continue to perform well as the economy recovers.
DISCLAIMER
All information and data contained within the PDSnet Articles is for informational purposes only. PDSnet makes no representations as to the accuracy, completeness, suitability, or validity, of any information, and shall not be liable for any errors, omissions, or any losses, injuries, or damages arising from its display or use. Information in the PDSnet Articles are based on the author's opinion and experience and should not be considered professional financial investment advice. The ideas and strategies should never be used without first assessing your own personal and financial situation, or without consulting a financial professional. Thoughts and opinions will also change from time to time as more information is accumulated. PDSnet reserves the right to delete any comment or opinion for any reason.
Share this article: