7 June 2021
By PDSNET
The S&P500 has virtually completed its seventh "mini-correction" on Friday the 4th of June 2021, since the V-bottom of the pandemic in March 2020. It exceeded its previous all-time high closing level of 4232.6, reaching an intra-day high of 4233.45. That it would probably go to a new record high was indicated by its record intra-day high of 4234.12 made on 1st June 2021, immediately after the Memorial Day holiday. Further new record high closes are evidently imminent as international investment sentiment surges back towards "risk-on". Consider the chart: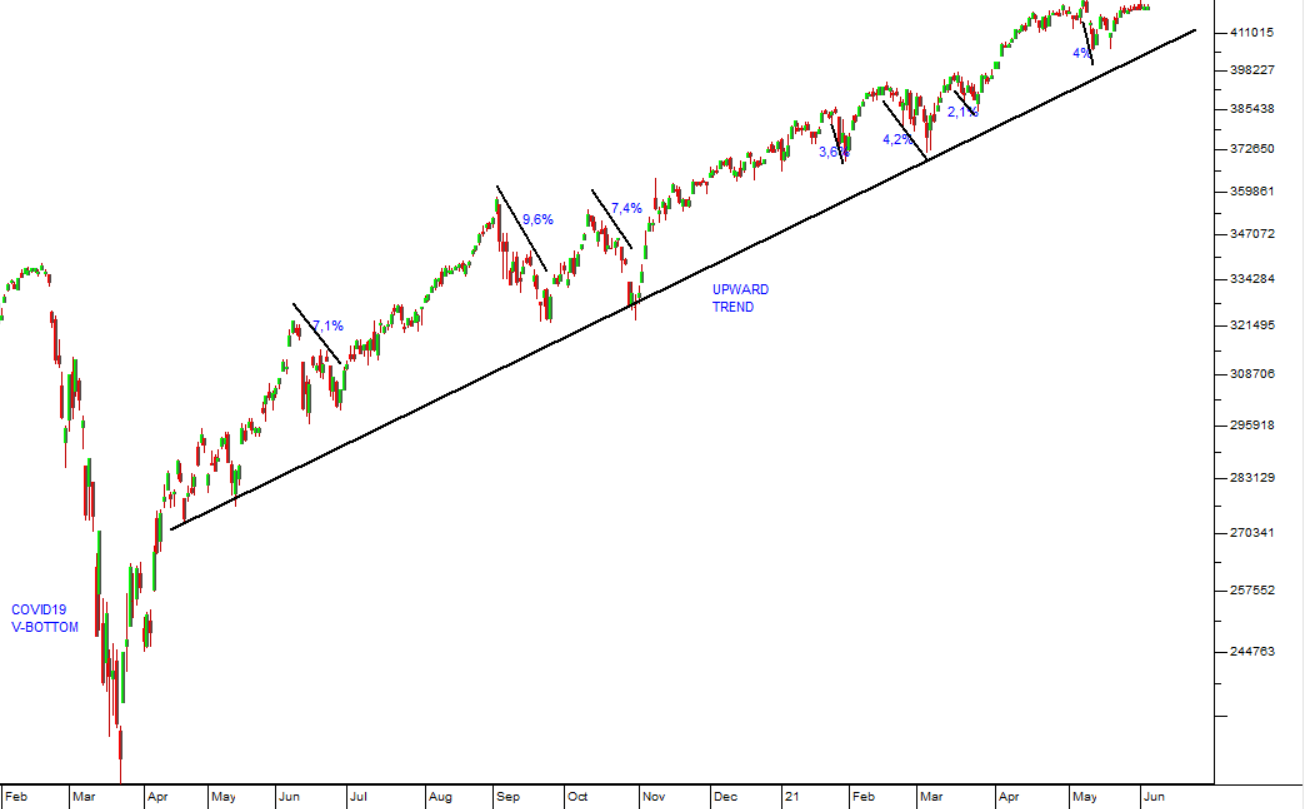 The strong upward move has gained new momentum from Joe Biden's proposed $6trillion budget proposal and is boosted by good quarterly results from the S&P500 companies. Interest rates remain low and investment optimism is rife.
The shift towards "risk-on" is impacting on the currencies of emerging markets as more and more overseas investors, faced with zero or negative real interest rates at home, join the search for real returns on their money. The rand, which, in our opinion, has been under-valued for some years, is strengthening rapidly.
On Friday evening (4th June 2021) the rand was pushed to new highs at R13.4311 to the US dollar. Consider the chart: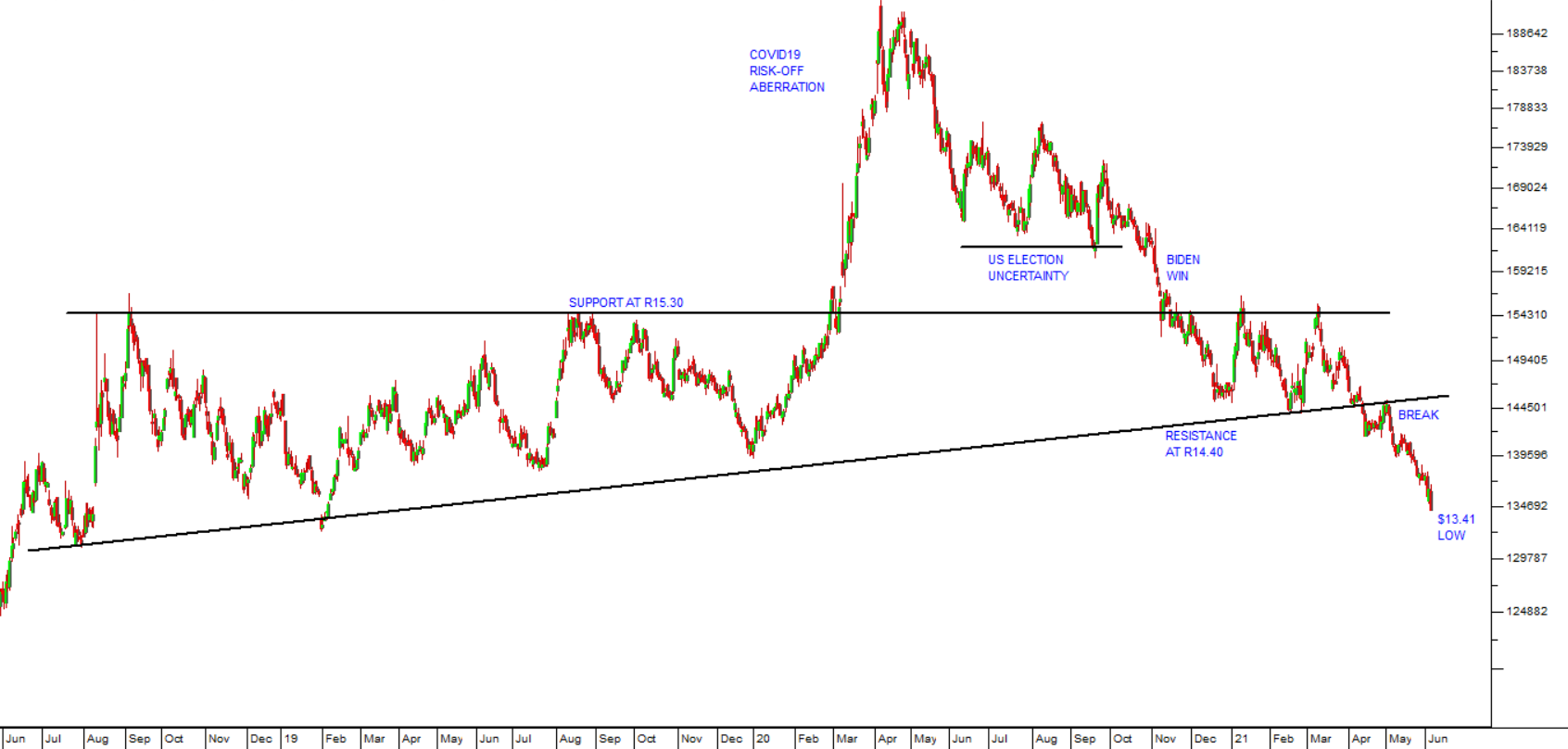 In our view the rand is now, perhaps, a little over-bought in the short-term and some sort of correction seems probable. Nonetheless, its strength means that the rising oil price has been largely offset for South African motorists.
The price of North Sea Brent oil has broken up through resistance at $69 and is now trading at $71.89. This reflects the fact that demand for motor vehicles continues to rise worldwide as the international economic recovery gains momentum. The growing take-up of electric vehicles is not yet sufficient to dampen oil demand significantly. Consider the chart: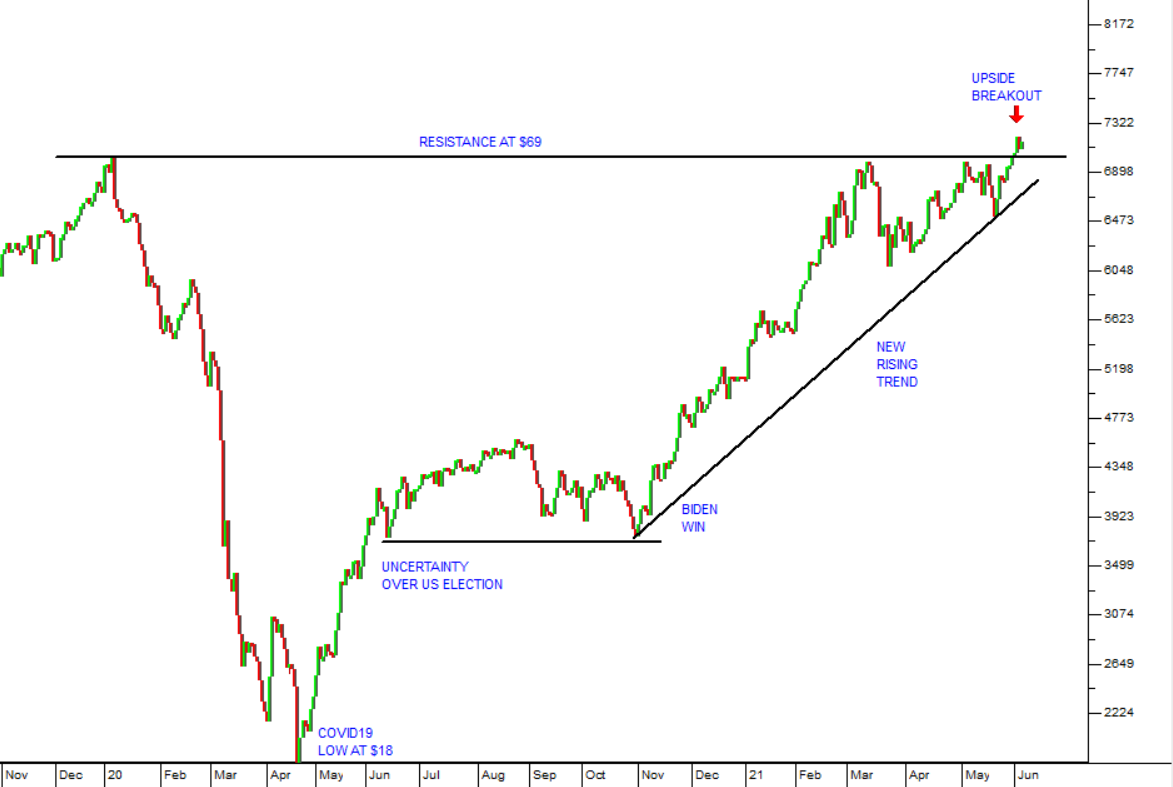 It is now apparent that the world economy is in a strong economic boom which is reflected in rising share and commodity prices. South African economic recoveries have always been "export-led" and this recovery will be no different. Despite our various efforts at beneficiation, we remain primarily an exporter of commodities and we are enjoying a commodity bonanza as everything from coal and iron to gold and platinum rise to new highs.
The affluence which this has created is working its way through the JSE, impacting commodity shares first, of course, but spreading to other sectors, most of which are recovering quickly. This is a time to be fully invested, but to keep a wary eye out for that correction which we predicted in last month's Confidential Report.
DISCLAIMER
All information and data contained within the PDSnet Articles is for informational purposes only. PDSnet makes no representations as to the accuracy, completeness, suitability, or validity, of any information, and shall not be liable for any errors, omissions, or any losses, injuries, or damages arising from its display or use. Information in the PDSnet Articles are based on the author's opinion and experience and should not be considered professional financial investment advice. The ideas and strategies should never be used without first assessing your own personal and financial situation, or without consulting a financial professional. Thoughts and opinions will also change from time to time as more information is accumulated. PDSnet reserves the right to delete any comment or opinion for any reason.
Share this article: