2 April 2019
By PDSNET
S&P500
At the beginning of March, we drew attention in
an article
to the key resistance level on the S&P500 index at 2813 and suggested that, after bumping up against this level for a while, the S&P would probably break to the upside and open the way for it to test the all-time record high 2930. That upside breakout is now occurring, so we should now see the S&P move steadily upwards until it encounters the 2930 level. Consider the chart: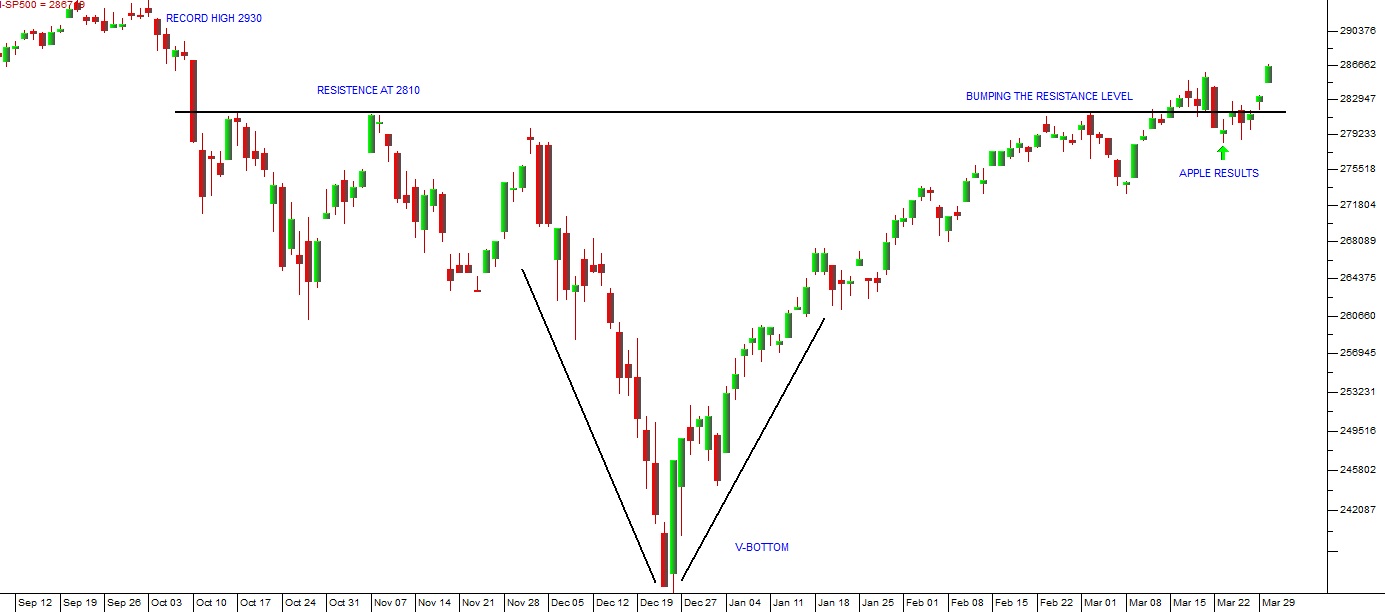 S&P500 Index September 2018 to April 2019 - Chart by ShareFriend Pro (Click to enlarge the image)
Here you can see how, in the last few days, the resistance level is now becoming the support level – which is quite common with resistance lines like this. Obviously, we expect the JSE to continue following Wall Street up. The Apple results published on 22
nd
March 2018 shocked the market and took the S&P down about 2% and below the support level, but it is recovering quickly. The underlying fundamentals of the US economy keep pushing the S&P back up to resume its long-term bull trend. It is now about 3% below its all-time record (2930 made on 20-9-2018).
SIBANYE/AMCU
In the middle of January we drew attention to the battle going on between the gold conglomerate, Sibanye, and the union, AMCU. We suggested that Joseph Matunjwa, President of AMCU, had made a tactical blunder by initiating a strike on 21
st
November 2018 and that he would have to back down sooner or later – with catastrophic consequences for him personally. It has now become quite apparent that AMCU and Matunjwa are in a corner. Their members have been on strike and so without pay for four months. Even if they managed to get Sibanye to agree to the R1000 pay increase that they are demanding, it would take them 15 years to recover what they have lost. Sibanye is pursuing a legal action to declare that the other three unions at its gold mines, who have accepted the Sibanye offer, are now in the majority – which will enable Sibanye to extend its offer to AMCU members and declare their strike to be illegal. That could mean those AMCU members could be fired for not coming to work. We suggest again that this battle could be a precursor of what is to come when the government, after the election, decides to confront the union movement  on a national scale.
DISCLAIMER
All information and data contained within the PDSnet Articles is for informational purposes only. PDSnet makes no representations as to the accuracy, completeness, suitability, or validity, of any information, and shall not be liable for any errors, omissions, or any losses, injuries, or damages arising from its display or use. Information in the PDSnet Articles are based on the author's opinion and experience and should not be considered professional financial investment advice. The ideas and strategies should never be used without first assessing your own personal and financial situation, or without consulting a financial professional.  Thoughts and opinions will also change from time to time as more information is accumulated. PDSnet reserves the right to delete any comment or opinion for any reason.
Share this article: