28 March 2021
By PDSNET
Hammerson has been listed on the London Stock Exchange since 1945. It is a real estate investment trust (REIT) and owns "flagship destinations and premium outlets in key cities across the UK and Europe". Most of the company's properties are shopping malls like Brent Cross in London, The Bullring in Birmingham and Dundrum Town Center in Dublin. Obviously, these retail outlets were already affected by the protracted Brexit negotiations when the pandemic began.
All in all, 2020 was a terrible year. The company reported an IFRS loss of GBP1,7bn and rental income down 41% on a like-for-like basis. Its tangible net asset value (NAV) fell by 26% to 82 pence per share after the rights issue – which should be compared to its current share price on the JSE of 705c. The company had a loan-to-value of 46% at year end. Obviously, much of the 2020 loss was due to the downward re-valuation of the company's various retail outlets. That loss should be recovered once the UK vaccination program is complete. Undoubtedly, there will be some loss of custom to online shopping which will not come back, but the book value of the company's properties is now probably excessively conservative.
Add to this the fact that Resilient's Des de Beer is the CEO of Resilient, and a director of Lighthouse and Hammerson. Lighthouse owns 15% of Hammerson and is its second largest shareholder. We know that Resilient owns a chunk of Nepi Rockcastle and shopping malls in various European cities. With Hammerson trading at a significant discount to its NAV and the UK rapidly getting on top of its vaccination program, it might make sense for some kind of merger between these three companies to be in the wind. Consider the chart: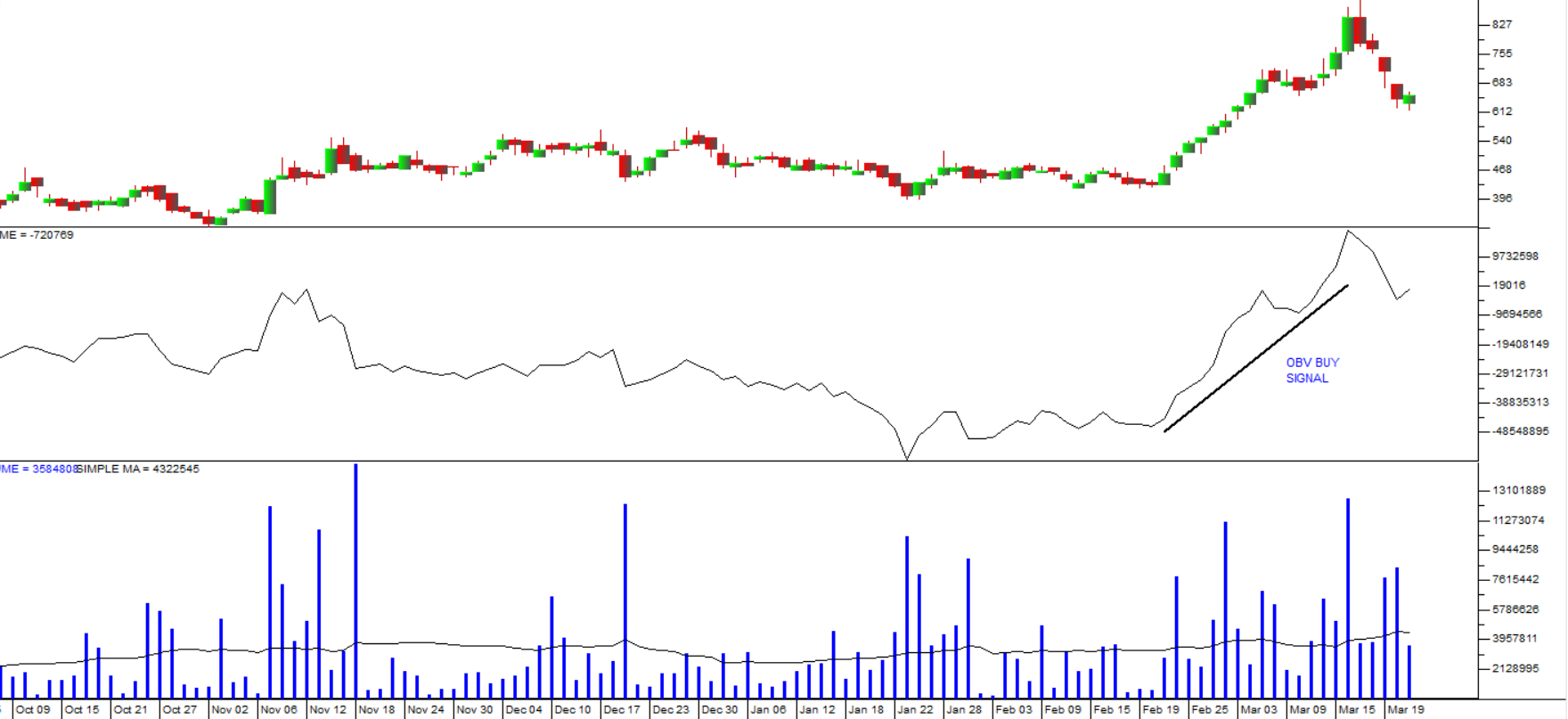 This chart shows a standard candlestick chart at the top, an on-balance-volume (OBV) chart in the middle and a volume histogram at the bottom with a 30-day simple moving average superimposed. You can see here the steep rise in the OBV from about mid-February 2021 which shows that a large investor is accumulating Hammerson shares. This is a classical insider trading pattern – large increases in volume accompanied by incremental increases in price.
The slight sell-off over the past four trading days is probably some profit-taking, but you will notice that it does not overwhelm the previous 16 trading days of steady accumulation. To us it looks very like the strong hands are buying and the weak hands are selling.
If there is a plan afoot for some kind of merger activity involving Hammerson, then it looks as if someone with deep pockets is quietly picking up whatever shares they can before the news is made public.
Hammerson owns some excellent retail outlets and is trading at less than half its NAV. If retail is expected to improve in the UK, then it should be a potential takeover target.
DISCLAIMER
All information and data contained within the PDSnet Articles is for informational purposes only. PDSnet makes no representations as to the accuracy, completeness, suitability, or validity, of any information, and shall not be liable for any errors, omissions, or any losses, injuries, or damages arising from its display or use. Information in the PDSnet Articles are based on the author's opinion and experience and should not be considered professional financial investment advice. The ideas and strategies should never be used without first assessing your own personal and financial situation, or without consulting a financial professional. Thoughts and opinions will also change from time to time as more information is accumulated. PDSnet reserves the right to delete any comment or opinion for any reason.
Share this article: