15 May 2019
By PDSNET
FirstRand (FSR) is a company listed on the Johannesburg Stock Exchange (JSE), well renowned and highly favoured by big institutions because of its large volumes (trading daily on average 1.3 million shares per day) and its quality management. It operates in 10 African countries, and has platforms in Africa, Asia and Europe. It also has representative offices in Dubai and Shanghai, as well as a branch in India. The company was founded by Laurie Dippenaar, G.T. Ferriera and Paul Harris in the 1970's. With a market capitalisation of R355bn, it is by far the largest banking group in South Africa. FNB offers a diverse range of banking products to consumers, small and large businesses and government departments. Wesbank is the largest asset financing company in Southern Africa covering vehicles of all types, both private and consumer, as well as aviation assets and agriculture. It also has operations in the UK and in Africa to the North. Ashburton is in asset management and related markets in the UK. RMB offers corporate and investment banking in 35 African countries. The financial sector has been under pressure lately due to an ever-changing consumer market as customers prefer working online rather than visiting a physical bank. The disruptive technologies have made banking easier and faster, allowing for transactions to be processed more efficiently. From a technical perspective, FirstRand has been moving sideways between two converging trendlines since the start of 2018, which has seen prices as [glossary_exclude]high[/glossary_exclude] as R 76,07 per share in February 2018, all the way down to R 56,88 per share in June 2018, which is +/- 25% difference in price level. This has given both traders and long-term investors some good profits. Since the start of 2018, FirstRand has given 3 possible buying opportunities, with an average return of around 19%. On Friday the 10th of May, we had an upside breakout above 6950c which could signal a new upward trend. This may mean that FirstRand is now entering a strong bull trend and will eventually break above its previous high of 7607c made in February 2018 (which is just another 10% move). Adding that to the profits made by those investors who bought when the share was undervalued on one of the buys indicated in the chart below, would give investors nearly 30% growth within one year. The next week or two will be crucial for FirstRand investors as their eyes are fixed on the share price to see if it will clearly break above the upper trendline. If it continues in this sideways pattern, where both trendlines are moving towards each other, the formation will eventually form a symmetrical triangle. A symmetrical triangle is formed when two trendlines converge connecting a series of peaks and troughs at a more or less equal but inverse slope. Consider the chart: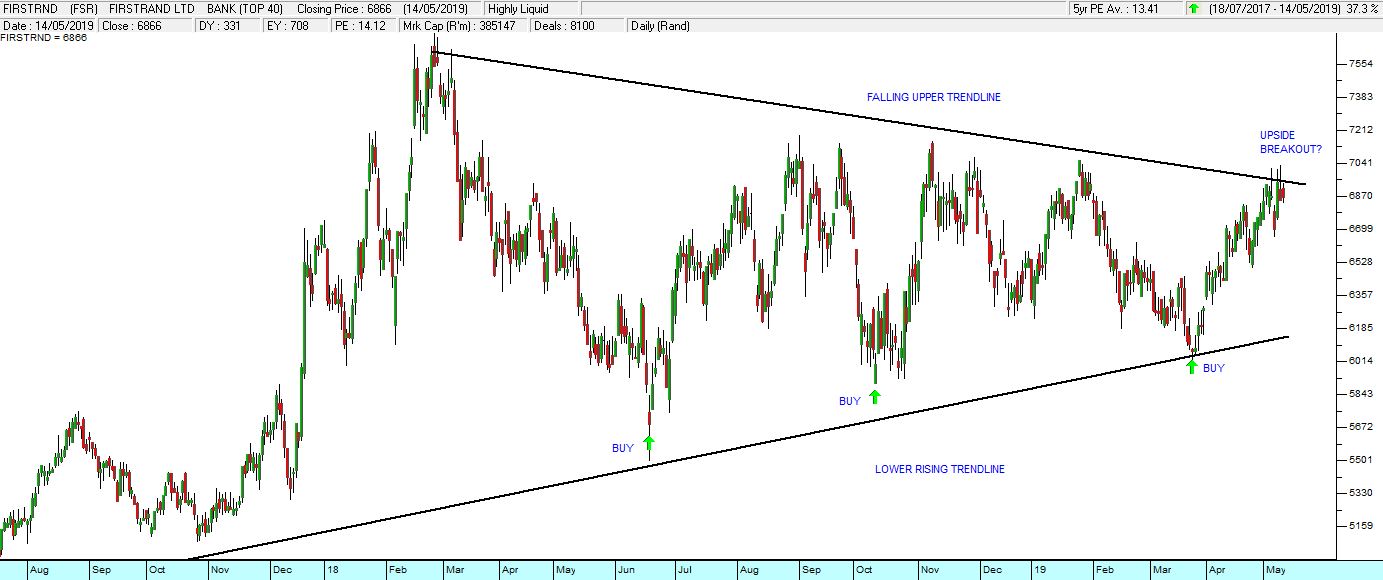 FirstRand (FSR) July 2017 to May 2019 - Chart by ShareFriend Pro (Click to Enlarge Image)
DISCLAIMER
All information and data contained within the PDSnet Articles is for informational purposes only. PDSnet makes no representations as to the accuracy, completeness, suitability, or validity, of any information, and shall not be liable for any errors, omissions, or any losses, injuries, or damages arising from its display or use. Information in the PDSnet Articles are based on the author's opinion and experience and should not be considered professional financial investment advice. The ideas and strategies should never be used without first assessing your own personal and financial situation, or without consulting a financial professional.  Thoughts and opinions will also change from time to time as more information is accumulated. PDSnet reserves the right to delete any comment or opinion for any reason.
Share this article: