11 August 2017
By PDSNET
A couple of weeks ago (25th July) we ran an article under the heading of "Market Review". In that article, we ended off by suggesting that some sort of correction in the S&P500 index appeared imminent. Our reason for saying this was that nothing moves in a straight line in the markets. Sooner or later there is always a correction in a bull trend or a rally in a bear trend. Our exact words were: "It (the S&P500) is approaching its upper channel line, which implies that some sort of pull-back or correction may be imminent. You should [glossary_exclude]bear[/glossary_exclude] that in mind, as an investor and recognise it, when it happens, for what it – a healthy correction in a powerful [glossary_exclude]long[/glossary_exclude]-term [glossary_exclude]bull trend[/glossary_exclude]." Now, suddenly, we have what could be the beginning of that correction. Consider the chart: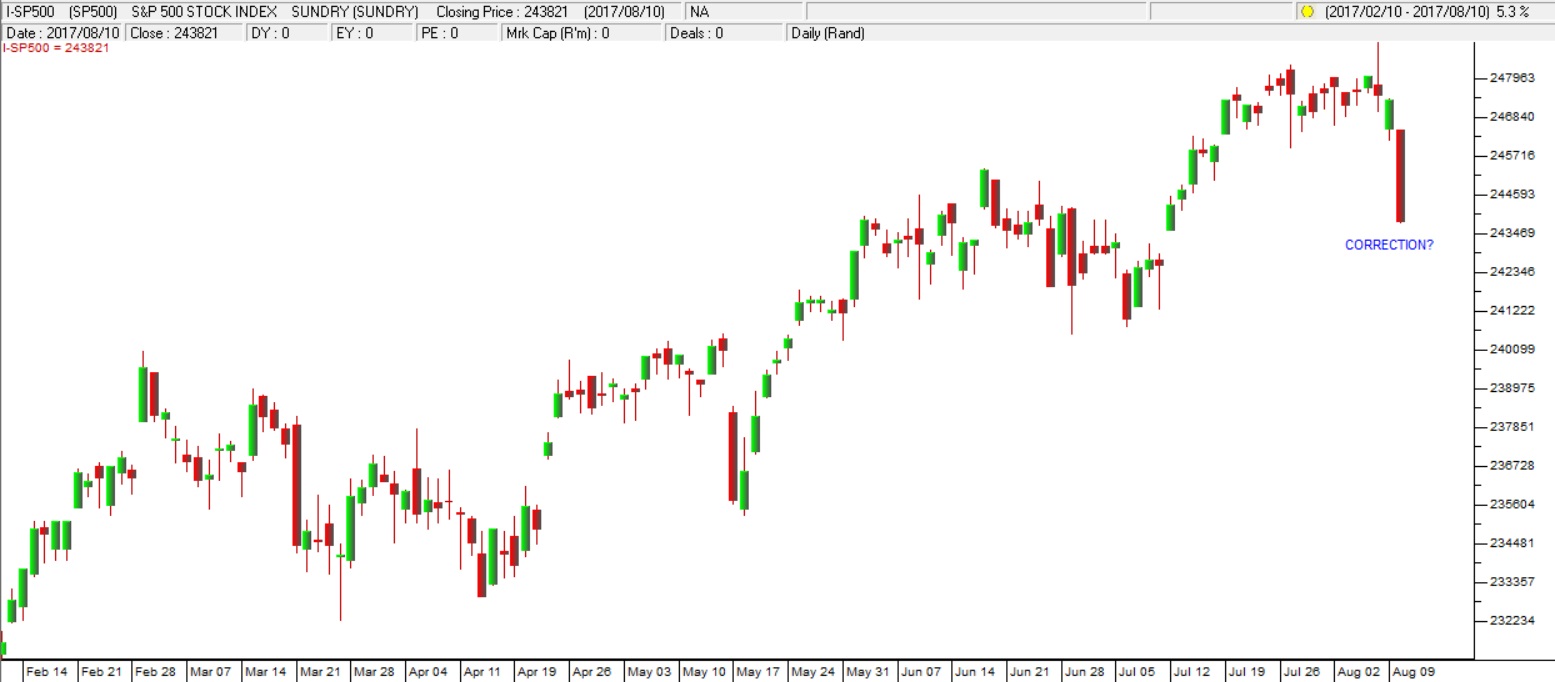 S&P500 Index January 2017 to August 2017 - Chart by ShareFriend Pro
Wall Street has not had a significant fall for a [glossary_exclude]long[/glossary_exclude] time and is overdue for a correction. The [glossary_exclude]earnings[/glossary_exclude] season on Wall Street has seen big-name companies coming out with better-than-expected results recently, especially among tech-stocks which have been leading the way upwards in recent months. Driven by a booming American economy that is creating jobs at a record pace, companies in the S&P have been doing very well. We expect this upward trend to continue, but some sort of correction is, by now, overdue. While yesterday's sharp fall is not materially larger than other recent falls, it is qualitatively different. It was prompted by President Trump's aggressive remarks about North Korea. Stock markets usually hate wars. They are a massive and pointless waste of human and financial resources – so some Wall Street investors decided to take profits and get out while the going was good. Hence the 1,4% fall on Wall Street. Of course, if Trump tones down his rhetoric, the "situation" could evaporate as quickly as it arose. If not, we will see prolonged uncertainty and further falls in share prices. In our view, however, Trump, while bombastic and volatile, is unlikely to be able to drag America into a foreign war. More likely, he will use the situation to divert attention away from his current problems over his relationship with the Russians. The longer the rhetoric goes on without an actual shot being fired, the less likely it is that a military solution will be implemented. Investors will tend to calm down and [glossary_exclude]return[/glossary_exclude] to the market so as not to lose out on further capital gains. Greed will supercede fear. Our view is that this is a correction at worst and a "blip" [glossary_exclude]at best[/glossary_exclude]. If we are right then it may represent a buying opportunity for those who are not yet sufficiently invested in this great bull market. Whatever Trump does, it is unlikely to derail the pattern of growth which is taking hold in the US and Europe – so sooner or later we believe that this will blow over and the [glossary_exclude]bull[/glossary_exclude] market will regain ascendancy. Corrections very seldom exceed 10%.
DISCLAIMER
All information and data contained within the PDSnet Articles is for informational purposes only. PDSnet makes no representations as to the accuracy, completeness, suitability, or validity, of any information, and shall not be liable for any errors, omissions, or any losses, injuries, or damages arising from its display or use. Information in the PDSnet Articles are based on the author's opinion and experience and should not be considered professional financial investment advice. The ideas and strategies should never be used without first assessing your own personal and financial situation, or without consulting a financial professional. Thoughts and opinions will also change from time to time as more information is accumulated. PDSnet reserves the right to delete any comment or opinion for any reason.
Share this article: