26 February 2020
By PDSNET
Since our article "The Corona Correction" at the end of January 2020, the disease has progressed significantly, spreading to Europe and particularly to Italy where 10 cities have been quarantined and there are now 1146 confirmed cases.
As a private investor, you need to consider just how serious this pandemic is likely to become and exactly how much impact it will have on the world's stock markets. The S&P500 index has fallen 7,2% in 2 days – which is almost unheard of in recent stock market history. Consider the chart: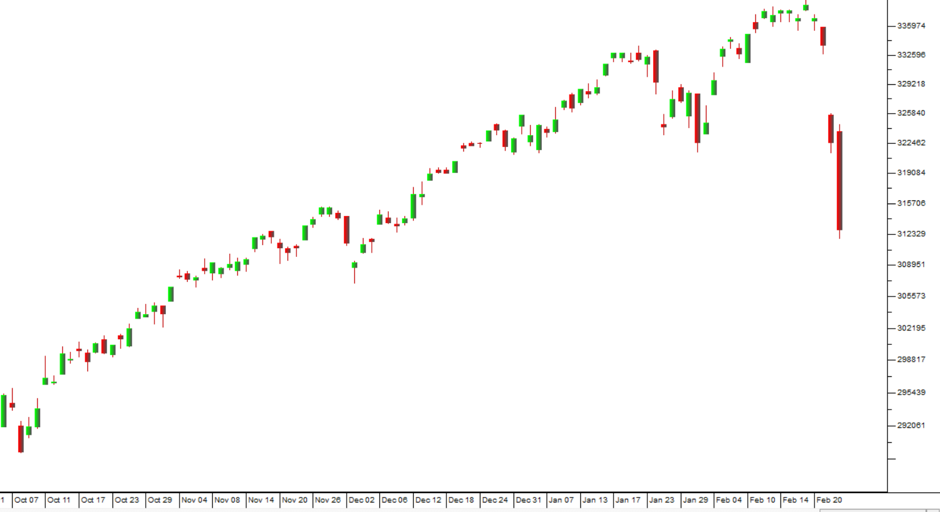 In our previous article on this subject we suggested that after its strong run up since October 2019, the S&P was definitely due for and looking for a correction which we said should be at least 10% from its highest point.
It is also true that corrections tend to fall fastest at their start, then the rate of decline slows, and they move into a period of "backing and filling" before beginning to move up again. Clearly, the S&P is still in the early part of this correction and, as technical analysts, we should be looking for any signs that the downward momentum is abating.
Currently the S&P is down 7,6% from its record high of 3386, made just four trading days ago. It has broken sharply down through the previous cycle low at 3225 and the next significant support is at around 2887.
The question that needs to be answered is, "Is this the start of a major pandemic that is going to impact the entire world?"
This is a very difficult question to answer with any authority, but it is apparent that although the infection rate is rapid, the mortality rate is low – around 2%. It is also evident that while the virus has suddenly gained momentum in Italy it also appears to be losing momentum in China – both in terms of the rate of infection and the number of deaths recorded.
And then there is the possibility that some sort of vaccine will almost certainly be developed fairly soon. The fact that there are vaccines for other corona viruses makes this more feasible each day.
Obviously, this is a personal decision that you have to make. You need to base your investment strategy on whether you think that this virus can become a world-wide pandemic which kills millions of people and severely damages the world economy – or whether you think that it is unlikely to progress much further than it already has. If the former, then you would be correct to move your money out of stocks and await developments, if the latter, then you should be trying to assess the point at which the correction reaches its maximum so that you can buy in and take advantage of cheaper blue chip shares.
Our viewpoint is that the correction will be similar to previous corrections. It will take the S&P500 down to between 10% and 20% from that record high of 3386 – and then it will begin to recover.
DISCLAIMER
All information and data contained within the PDSnet Articles is for informational purposes only. PDSnet makes no representations as to the accuracy, completeness, suitability, or validity, of any information, and shall not be liable for any errors, omissions, or any losses, injuries, or damages arising from its display or use. Information in the PDSnet Articles are based on the author's opinion and experience and should not be considered professional financial investment advice. The ideas and strategies should never be used without first assessing your own personal and financial situation, or without consulting a financial professional. Thoughts and opinions will also change from time to time as more information is accumulated. PDSnet reserves the right to delete any comment or opinion for any reason.
Share this article: