21
Nov
---
On 19th February 2018, about two weeks after the Viceroy report on Capitec that took the share price down 25%, we published an article in which we suggested that Capitec was in fact very cheap, because its Price:Earnings Growth ratio (PEG) was at just 0,63. At the time, Capitec was trading for around R820 per share.
The PEG ratio can be easily calculated by dividing a company's P:E ratio by its average growth in headline earnings per share (HEPS). All the required numbers are in the ShareFriend Pro software. The HEPS is given in the comment feature for each listed share and the P:E ratio is quoted with other price-related data at the top of your screen above the chart.
The PEG ratio tells us whether a share's price is out of kilter with its profit history. If a company is producing good profits on a regular basis and those profits are rising year after year, then its share should be highly-rated and trading for a high P:E ratio – and vice versa. The PEG ratio gives a mechanism which we can use to compare companies in the same industry to establish whether they are under- or over-priced in relation to their earnings history. A PEG ratio below 1 indicates that the share is relatively cheap while anything above 1 is expensive.
In our article on 19th February 2018, we compared Capitec's PEG of 0,63 to Standard Bank's PEG at the time of 1,44 and FNB's PEG of 1,34 – and we suggested that this made Capitec a good buy at around R820. Consider the chart: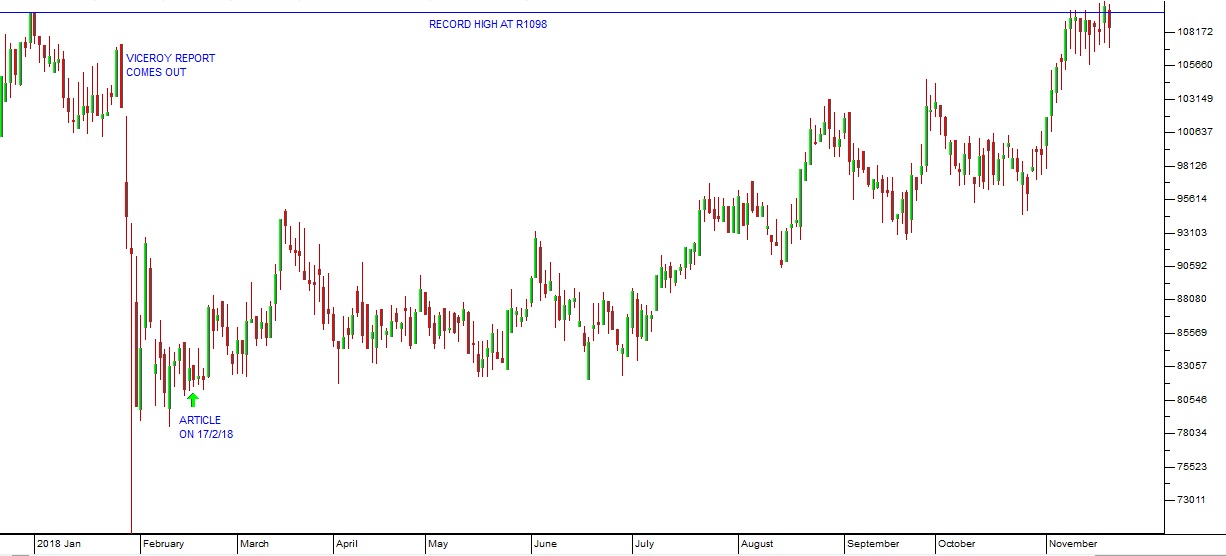 Capitec (CPI) January to November 2018 – Chart by ShareFriend Pro
Here you can see the record high which Capitec made at R1098, shortly before the Viceroy report was published, and then its 25% collapse back to support at R800. Our article was then published two weeks later on 19-2-18 and now you can see that Capitec has steadily recovered from that low level and on Thursday last week closed at a new record high above R1100. If you had bought the share at around R820 you would by now be showing a profit of 34% (excluding dividends) over about nine months. This should be seen in the context of the JSE Overall index's fall of 13% over the same period. Time has clearly shown that Capitec was, in February 2018, one of the very best buys on the JSE.
We still believe that Capitec offers good value at current levels, but its PEG ratio is now 0,7 – which still represents very good value. Of course, this includes the company's most recent HEPS growth of 21% in the 2018 financial year – and also its slightly higher P:E ratio of 25,75.
What this shows is that the PEG ratio remains a very good mechanism for assessing value in blue chip shares.
DISCLAIMER
All information and data contained within the PDSnet Articles is for informational purposes only. PDSnet makes no representations as to the accuracy, completeness, suitability, or validity, of any information, and shall not be liable for any errors, omissions, or any losses, injuries, or damages arising from its display or use. Information in the PDSnet Articles are based on the author's opinion and experience and should not be considered professional financial investment advice. The ideas and strategies should never be used without first assessing your own personal and financial situation, or without consulting a financial professional. Thoughts and opinions will also change from time to time as more information is accumulated. PDSnet reserves the right to delete any comment or opinion for any reason.
---