23 March 2021
By PDSNET
On 25th May 2020, ten months ago, we published an article on Afrimat in which we said we liked what the company was doing and considered it to be undervalued. At the time Afrimat shares were trading in the market for R29. In the past ten months they have risen to R46 – a gain of 58,6%. Consider the chart: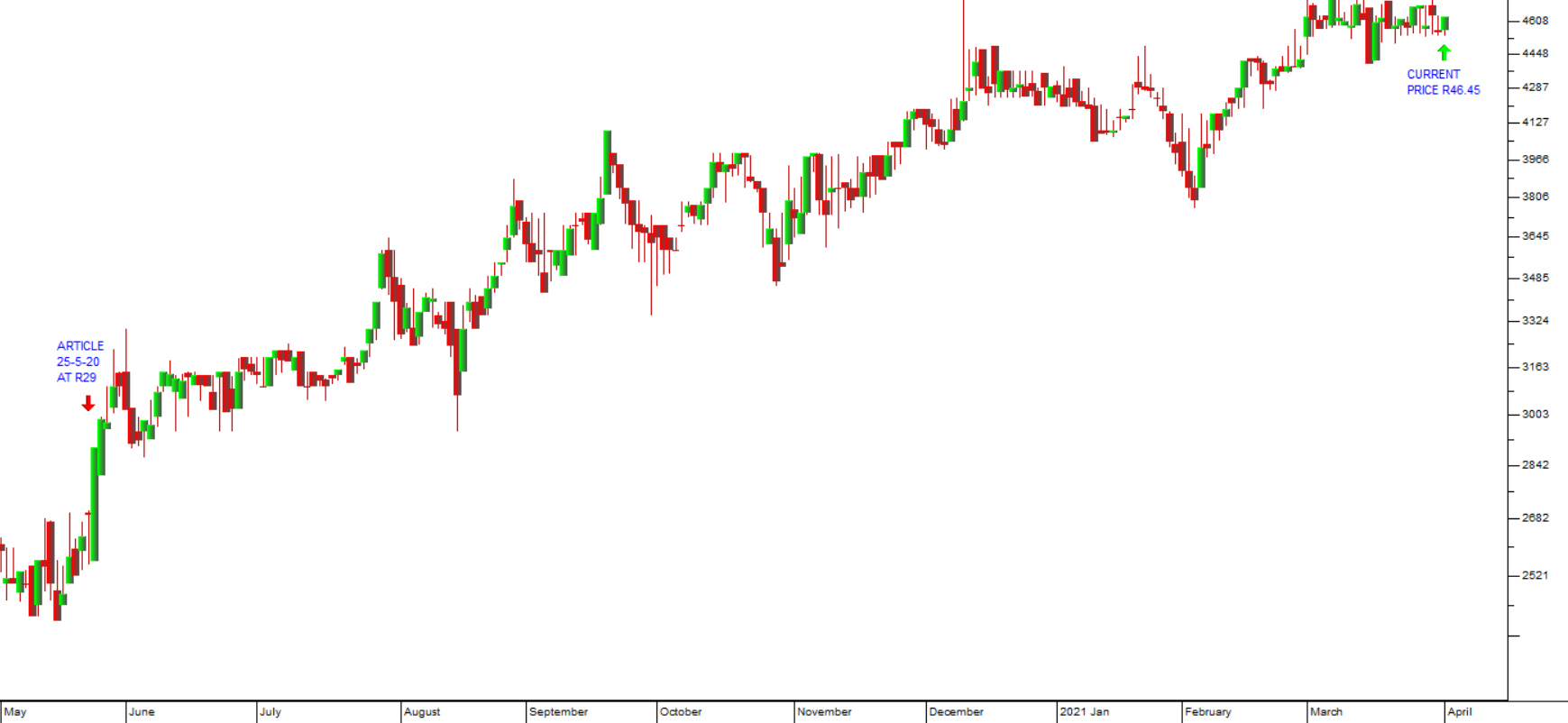 You can see here the steady rise in Afrimat shares as the institutional investors gradually appreciated its excellent prospects over the past ten months and drove the share up.

The construction industry has been in a parlous state for the past decade with most of the big construction companies (such as Murray & Roberts or Aveng) vanishing or becoming penny stocks. Why was Afrimat different?

What attracted us to this construction materials company was the quality of its management. High quality management can see difficulties in their industry and move proactively to change direction to optimize their position.

This is exactly what Afrimat did in 2016 when they decided to invest R400m to buy a failing iron ore mine (Demaneng) adjacent to Kumba's Sishen mine. At the time the price of iron ore was around $50 per ton and the mine needed a further investment of R450m to bring it back into production.

By anyone' standards, this was a big risk. Afrimat's balance sheet at the time was strong enough to make the acquisition and the board decided to take a calculated gamble. A major factor in their success has got to be the rise in the price of iron ore which has reached $164 making Demaneng highly profitable.

Afrimat's other businesses have continued to operate effectively through the pandemic, but its bulk commodities business has been the star of the show.

The quality of its management can also be seen in the strength of the company's balance sheet. This company had R333m at the end of August 2020 with no significant debt. This strong position is ideal given the uncertainties of the current economic situation. It will enable the company to take advantage of any opportunities and manage any significant threats which may arise.

Of course, we could say that Afrimat has been lucky with the rise in the iron ore price. Management cannot take credit for that. At the time that they bought Demaneng the future of the metal looked relatively bleak with over-supply on world markets a very real concern. But, like Sibanye's Niel Froneman, Afrimat decided to be "greedy when others were fearful" (Warren Buffett) and is now reaping the rewards.

One of our clients acted on the advice which we gave regarding Afrimat last year in May and bought in. He is now up about 50% on that investment and contacted us to ask whether he should continue holding the share. We don't give advice of this type, but we did tell him that we are still holding onto our Afrimat shares and intend to do so for the foreseeable future – because our investment is not in iron ore, but in quality management, a very rare and valuable commodity.
DISCLAIMER
All information and data contained within the PDSnet Articles is for informational purposes only. PDSnet makes no representations as to the accuracy, completeness, suitability, or validity, of any information, and shall not be liable for any errors, omissions, or any losses, injuries, or damages arising from its display or use. Information in the PDSnet Articles are based on the author's opinion and experience and should not be considered professional financial investment advice. The ideas and strategies should never be used without first assessing your own personal and financial situation, or without consulting a financial professional. Thoughts and opinions will also change from time to time as more information is accumulated. PDSnet reserves the right to delete any comment or opinion for any reason.
Share this article: