1 June 2022
By PDSNET
In the past month the systematic risk in the market has increased noticeably. In our experience, investors do not usually pay sufficient attention to systematic risk, especially during a protracted bull market. Investor attention is focused more on selecting specific shares than on the risk that the market as a whole might fall. Systematic risk can very quickly become overwhelming and it should be a constant consideration.
During a bull market 80% of shares are going up and only 20% are falling. This means that you can buy almost any share because, even if you choose incorrectly, you will be rescued by the overall market trend. In a bear market 80% of shares are falling and the only reasonable position for a private investor is to stay completely out of the market and in cash. But as some Wall Street wag once pointed out, "Nobody rings a bell when the market reaches the top."
Over the past month, we have seen the correction on the S&P500 index deepen as investors discounted the tightening monetary policy in the US. Investors now have to consider whether this is the start of a bear trend or simply a major correction.


Coping with risk
As a private investor, you face two types of risk in the share market. There is the unsystematic risk that the particular share that you have chosen will fall for reasons which are specific to it. And then there is a systematic risk that the entire market will fall and take the shares which you have chosen down with it. Systematic risk is difficult to assess because it depends on the mass psychology and perceptions of international investors as a group.
However, there are some ideas which are consistently true, and which can help you to make the correct assessments of systematic risk. For example, the idea that nothing in the share market continues in a straight line indefinitely is very important. There will always be corrections within upward trends and there will always be rallies within downward trends. It was this understanding which enabled us to predict, in the November Confidential Report, that the S&P was overdue for what we described as a "major correction" of between 10% and 20%.
In that report we said, two months before this correction had even started, that we expected the index to fall to as low as 3860. On 19th May 2022, over seven months later, the S&P closed at 3900.79 – about 1% from the level which we had projected. We also stressed in that report that we did not see this as the start of a bear market, but rather as an overdue correction – and therefore a buying opportunity.
Making predictions of this sort is always tenuous. In fact, predictions of what will happen in the share market can only be made with a variable probability of being right – and so they are always exposed to the very real risk of being wrong. That is why you must always have a strict stop-loss strategy. Click here for the Stop Loss lecture module.
Investors who have a well-developed, tried-and-tested stop-loss strategy have absolute confidence that they will never lose more than a set percentage, including their dealing costs on any share market investment ever. In my case, that percentage is 15% - which means that my initial stops are never set more than 12% out - no matter how confident I am of my predictions for the share or the market.
The simple fact is that, if you know that you are never going to lose more than 15% on any share market investment ever, then you are virtually certain to be successful. This is because the law of averages dictates that, even if you choose your shares at random, out of 10 share selections 5 will go up and 5 will go down. If, on the five that go up, you can make 100%, 200%, 300% or more, but on the 5 that go down you only lose 15%, then you have to be a winner. That is a mathematical certainty.
One of the hardest things to do in the share market and in life is to admit that you have made a mistake - and in the share market the last thing to die is hope. Selling out at your stop-loss level is a very candid admission that you have made a mistake – either in your share selection, or your transaction timing, or both. The ability to acknowledge your mistakes is critical to making money because:
Being successful in the market is not so much a question of making money as it is of not losing it.
In the establishment of your stop-loss strategy, the period when you are "out-of-the-money" is critical because your risk is at its greatest. This period is defined as the time between when you buy a share and when your stop-loss level moves above the price that you paid for it. So, for example, if you buy a share for 1000c and set a stop at 900c (i.e. a 10% stop), then you will be out-of-the-money until the share has gone up to about 1112c – because at that point your stop will be above what you paid for the share (i.e. 1112c – 111c = 1001c). While you are out-of-the-money. you have to be very strict about implementing your stop.
Once you are in-the-money, you can afford to widen your stop-loss percentage. Say, for example, you are up 100% on a blue-chip share, then you can widen your stop to 15% and later even to 20% or 25%. By following this approach, you will never lose more than 15% on any share market investment – ever.
America
The decision by the US monetary policy committee (MPC) to increase rates by only 50 basis points at their meeting on 4th May 2022 was widely expected and initially greeted with great enthusiasm by investors – and especially given the Fed's assurance that future rate increases would be limited to 50 basis points. Many investors had been concerned that rates would be increased more drastically. In addition, the MPC said that for the months of June, July and August 2022 it would conduct quantitative tightening at the rate of only $47,5bn a month and then increase that rate to $95bn a month from September. This is again much better than expected and on 4th May 2022 the S&P500 rose by over 3%.
As a general rule in the stock market, bad news which is expected, causes the market to rise – especially if it turns out to be not quite so bad. This is because the market tends to over-discount news that it already knows about. Then, when the news finally happens, there tends to be a "relief rally."
In the same vein, good news, which is expected, often causes the market to fall initially.
Of course, after the sharp rise on the 4th of May 2022, the market had time to digest and assimilate the idea that interest rates are likely to keep on rising quite rapidly in the coming months. This has pushed the S&P500 perilously close to bear trend territory. Consider the chart: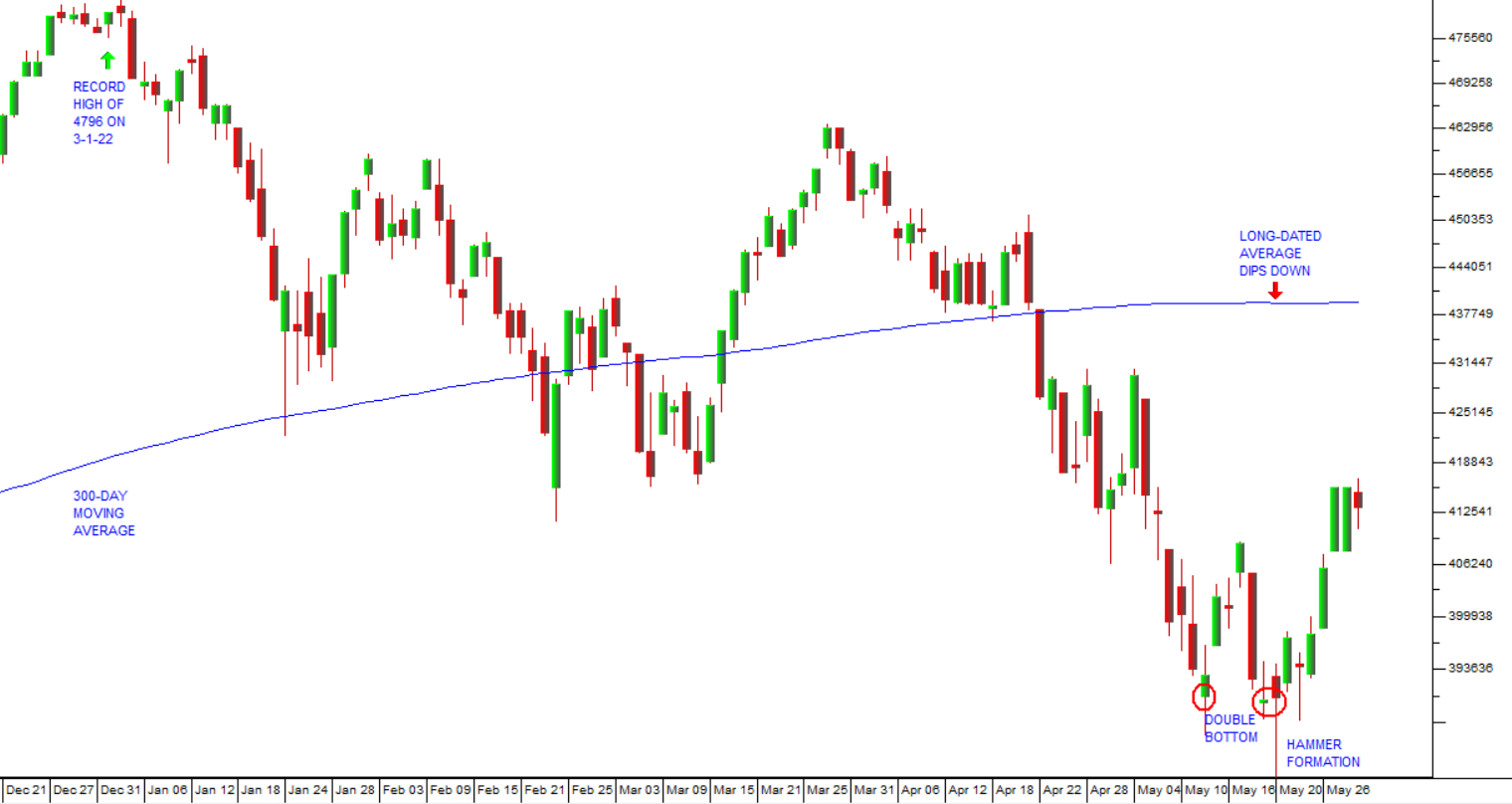 You can see here that the S&P, falling from its record high of 4796 made on 3rd January 2022, has made a double bottom at around 3900 in early May 2022 and is now moving up quite strongly off that bottom. There was also a "hammer" candle on 20th May 2022, which frequently comes at the bottom of a downward trend. We feel that this probably signals the lowest point in this correction – but there is no certainty. We had a similar strong upward trend in mid-March 2022, but it proved to be another "bull trap".
Note also, the progress of the 300-day simple moving average. Some investors use the slope on a long-dated moving average like this to determine the point at which a bull market becomes a bear market and vice versa. As you can see, the 300-day moving average briefly turned down last week, but probably not sufficiently to signal a bear trend.
So, you need to decide what you think will happen next – is this a great buying opportunity or the first stage of a protracted bear trend? If you decide to buy in, then you must, of course, protect yourself with a strict stop-loss strategy. If you are already confident of your ability to sell out on your stops, then your risk is minimal – while the potential reward may be substantial.
In the first quarter of 2022, the US economy shrank by 1,5% - and surprisingly the news of this contraction caused the S&P500 index to rise by 2,5%. This is because investors feel that if the economy is contracting then the Federal Reserve Bank's monetary policy committee (MPC) will take a less hawkish position. The MPC will implement less interest rate hikes. They will be smaller and less frequent – which is good for shares.
Most of the first quarter contraction was caused by a wider trade gap. The country spent more on imported goods than they generated in export revenue which cut 3,2% off gross domestic product (GDP) growth. Of course, this could be a once-off phenomenon and most economists expect that GDP growth will resume in the second quarter – but in the meantime, the news gave investors some encouragement that the harsh monetary policy presented by the MPC would be softened for fear of taking the country into a recession.
In our view the US economy is still growing quite rapidly. For the past 12 months, it has created more than 400 000 new jobs every month. Clearly, a recession is not imminent. So, economists are expecting GDP to grow by somewhere around 2,5% in the second quarter – but this is a significant drop from previous estimates of between 4% and 4,5%.
So, these fundamentals indicate that the US economy is still thriving despite the negative growth in the first quarter – which is the main reason for our belief that the downward trend on the S&P500 at the moment is a correction rather than the start of a bear trend. We believe that the news flow coming out of the US economy will begin to improve and the S&P will recover to make a further record high – probably before the end of this year.
Economy
The impact of rapidly rising interest rates in the UK and the US on the South African economy is likely to be negative. The South African monetary policy committee (MPC) has raised the repo rate by a further 50 basis points to 4,75% in order to keep the differential between the yield on our 10-year bonds and those of the US attractive to overseas investors. Further 50-basis point hikes can be expected before the end of the year with the repo rate expected to reach 6% by then and perhaps as much as 6,75% during 2023. This is just slightly above the 6,25% that we had at the start of 2020 prior to COVID-19. At the same time, rising interest rates around the world are likely to push the world economy closer to recession and that could ultimately have negative consequences for commodity prices. The US authorities are talking about raising rates by 50 basis points at each of the next 3 MPC meetings – which means that they are stamping fairly hard on the economic brakes. Luckily, inflation in South Africa is relatively benign and we began raising interest rates early – so we are ahead of the curve. Other emerging economies are struggling with very high levels of inflation. For example, inflation in Turkey reached 70% per annum in April 2022 while Brazil's inflation was over 12%. The rand is one of the strongest emerging market currencies against the US dollar this year. The Reserve Bank's policy has been very conservative and it now expects inflation to have peaked at 5,9% and to fall to 5% in 2023 and 4,7% in 2024. However, because of the floods in Natal and the renewed loadshedding, the Bank now expects South African growth to drop to 1,7% this year – down from 2%.
The consumer price index (CPI) for April 2022 came in at 5,9%, unchanged from the figure for March. Inflation may rise to as much as 6,2% before falling back later in the year. Fuel and food prices are the main contributors to rising inflation mainly because of the war in Ukraine. This is added to the impact of the Ukraine war on vegetable oil, fertilisers and maize. Altogether, inflation is now in a strong upward trend that can only be contained by rising interest rates. However, our inflation rate is moderate when compared to other countries, even first world countries like the US and the UK.
A massive hike in the price of petrol on the 1st of June 2022 has been averted by an extension of the reduction of the general fuel levy. The cost of petrol has gone up by R2.33 and R2.43 per liter which will have knock-on effects on the inflation rate. The reduction in the fuel levy for two months ending on 31st May 2022 was achieved by selling off oil reserves for R6bn. There is pressure on the government to reduce taxes on fuel which currently account for about one third of the cost of a liter of petrol. An aggravating problem is the sharp rise in the price of oil with North Sea Brent rising to over $117 a barrel in the last week. At the same time the rand is relatively weak because of the correction in world stock markets and the consequent shift to "risk-on" among international investors.
New vehicle sales in April month fell about 30% from March's 50500 to 37100. The sharp decline was caused by the many public holidays in April and the Natal floods. The sales were 4,2% up on last year's April sales of 35600. All-in-all a good result – showing further recovery in consumer and business confidence.
ABSA's purchasing managers index (PMI) fell to 50,7 in April from March's level of 60 – reflecting the impact of the Natal floods, the large number of public holidays and loadshedding. There was a large drop in manufacturing and a fall-off in new sales orders.
It is interesting and a little unsettling that the international ratings agency, Moody's, after having improved its outlook for the South African economy, is now projecting that inflation in this country will rise as high as 8% in 2022. This would be a full 2% above the top of the Reserve Bank's target range of between 3% and 6% - and would call for radical increases in the level of interest rates. In our view, inflation is likely to peak at about 6,1% or perhaps 6,2% before declining in 2023. Obviously, the Reserve Bank must avoid stamping so hard on the economic brakes that they snuff out the nascent recovery in the economy. The latest bout of loadshedding is already threatening the recovery.
Standard and Poors (S&P) became the second international ratings agency to upgrade the South African economy's outlook to positive. This was based on the fact that SA's deficit is now seen as peaking at 75% of GDP rather than the 95% which was projected during the COVID-19 crisis. The improved ratings from S&P and Moody's will mean that the interest cost of our debt will be lower and there is a better prospect of an upgrade if the current fiscal consolidation program is continued. The improved debt position is put at risk by the potential for a civil service strike in the near future and also the renewal of stage 2 to stage 4 load shedding. The agencies are also waiting to see if the social relief of distress (SRD) grant will be made permanent when it expires. Despite these negatives, the S&P shift is welcome and indicates that South Africa is perceived to be doing the right things with the tax bonanza which arose because of the boom in commodity prices.
The Treasury has now taken over control of Mangaung Metropolitan Municipality (formerly Bloemfontein) because of the complete collapse of the ANC-led administration there. The ANC won control over the metro in the 2021 local government elections and has been unable to pass a financial recovery plan for two years. Staff have not been paid their salaries and parts of the city have been without water for two weeks. This is the first metro to be taken over by the Treasury and it marks a dark day for the ANC, which came to power there on the back of promises about service delivery. What has happened damages the ANC's prospects of winning the 2024 elections. About 170 of South Africa's 257 municipalities are now in crisis which renders them unable to provide basic services to their communities. These crises usually have their origin in a political dispute of some sort. In terms of section 139 of the Constitution, when a municipality becomes truly dysfunctional, then the National Treasury must step in and take over management until the situation has stabilized. The director general of the Treasury, Dondo Mogajane, said that the Treasury cannot cope with the problem. There are now 43 municipalities whose administration is so bad that they should be taken over by the Treasury. The problems in these municipalities have wide-ranging negative effects both on their communities and on the companies which have businesses in their area.
Last month the CEO of Scaw Metals said that he thought South Africa should ban the export of scrap metals to reduce cable theft and theft from Transnet, Prasa and other SOE's. Public Enterprises Minister, Pravin Gordhan, has now come out in favour of this measure which probably means that the idea will be taken further. Of course, this ban will have a substantial impact on the thousands of bin pickers who make a living by collecting and selling scrap metal to dealers. Hopefully it will cause the price of scrap metals to come down sharply – but the benefit should be less theft and that in turn will help SOE's to perform more efficiently. Currently the theft of metals is costing the SOE's about R7bn per annum directly and the economy an estimated R180bn.
The Mining Indaba in Cape Town highlighted the bureaucratic obstructions to the mining industry in South Africa. These include the inordinate amount of time that it takes to get a mining licence approved and the problems at Transnet which make it difficult to get mined product to port. President Ramaphosa suggested that the government might allow Transnet to be partially run by private enterprise. Transnet has initiated a bidding process whereby 16 rail slots could be sold to third parties for two years at a time. South Africa is rated as being among the worst ten countries for mining according to the Fraser annual survey. It was estimated that problems with the railways and the ports cost mining companies about R36bn last year. The mining industry says it would be able to increase investment by more than 80% if the red tape was cleared away. There is a backlog of about 4500 mining licences currently awaiting approval at the department of mineral resources.
There has been a rash of strike action in recent weeks. Normally, in collective bargaining, unions are weakened by high unemployment while the position of employers is strengthened. Despite the fact that South Africa has one of the highest unemployment rates in the world, the union movement is engaging in strike action in various industries. They are generally claiming about 10% wage increases, well above the inflation rate which is 6% and expected to fall. Sibanye has an on-going strike where the unions (AMCU and NUM) are looking for a 9,8% increase. The civil service unions are currently demanding 10% wage increases against the 1,8% increase in the budget for the civil service wage bill. Negotiations have just begun and obviously the unions have come in with high demands because they know that they will have to moderate them as negotiations proceed. However, the gap between the negotiating parties probably means that some sort of civil service strike is now likely. The Treasury has to sign off on any wage agreement reached and it is intent on reducing government borrowing and getting the government wage bill under control. The unions at South African Revenue Services (SARS) have decided to reject a R500m offer by their employer and go on strike to get a pay increase of between 11,5% and 12%. The unions, the Public Services Association (PSA) and the National Health and Allied Workers Union (NEHAU) represent most of the employees at SARS. Of course, excessive union action has a short-term negative impact on business, but it also costs thousands of employees wages because of "no work, no pay" policies. In our view, the union movement in South Africa has been substantially weakened in recent years and is not the force it once was. Unions at Arcellor Mittal were demanding 10% against an offer of 5% from employers and have now settled with a one-year agreement for 6,5%. Workers will also get an ex-gratia once-off payment of R5000. Amplats has settled a wage dispute with a 7,5% increase in a 5-year deal. Both of these wages deals are above the current official inflation rate.
The Treasury's revelation that 29 000 civil servants earned more than R1m in 2018 is startling. After adjusting for inflation this number has doubled since 2007. Part of the problem is that individual departments have discretion over salary increases and there is no standard structure. Treasury is now trying to rectify that by implementing a standardized structure for all government departments, but excluding state-owned enterprises. This is part of the Treasury's effort to contain the government's wage bill which has been rising above inflation for some years now.
The National Health Insurance (NHI) which is ANC policy and which is scheduled to come into effect from 2026 is expected to cost about R700bn. This is about 34% more than the total currently spent on health care in South Africa. Roughly half of what is spent on health care nationally is provided by private health care schemes with the balance being paid by government. Those private health care schemes are paid for by about 9 million members of medical aids or medical schemes and generally offer a first world standard of health care. This means that the remaining 85% of the population has to rely on government health care which is of a far lower standard. Adrian Gore, CEO of Discovery recently came out in favour of a phased introduction of the NHI, provided private people were allowed to top up the NHI with their own healthcare policies. The problem with this idea in our view is that there is a strong possibility that the NHI will become another government agency which is subject to corruption and incompetence.
The Rand
Along with other emerging market currencies, the rand has taken some strain during the correction on the S&P500 as investors shifted towards "risk-off". The US Federal Reserve Bank's radical response to rising inflation caused some international investors to take their money out of emerging economies and placed it in safer assets like the 10-year US Treasury Bill.
In our opinion, the correction on the S&P may well have seen its lowest point and hence there has been some movement back towards "risk-on" and the rand has been strengthening rapidly as a result. Consider the chart: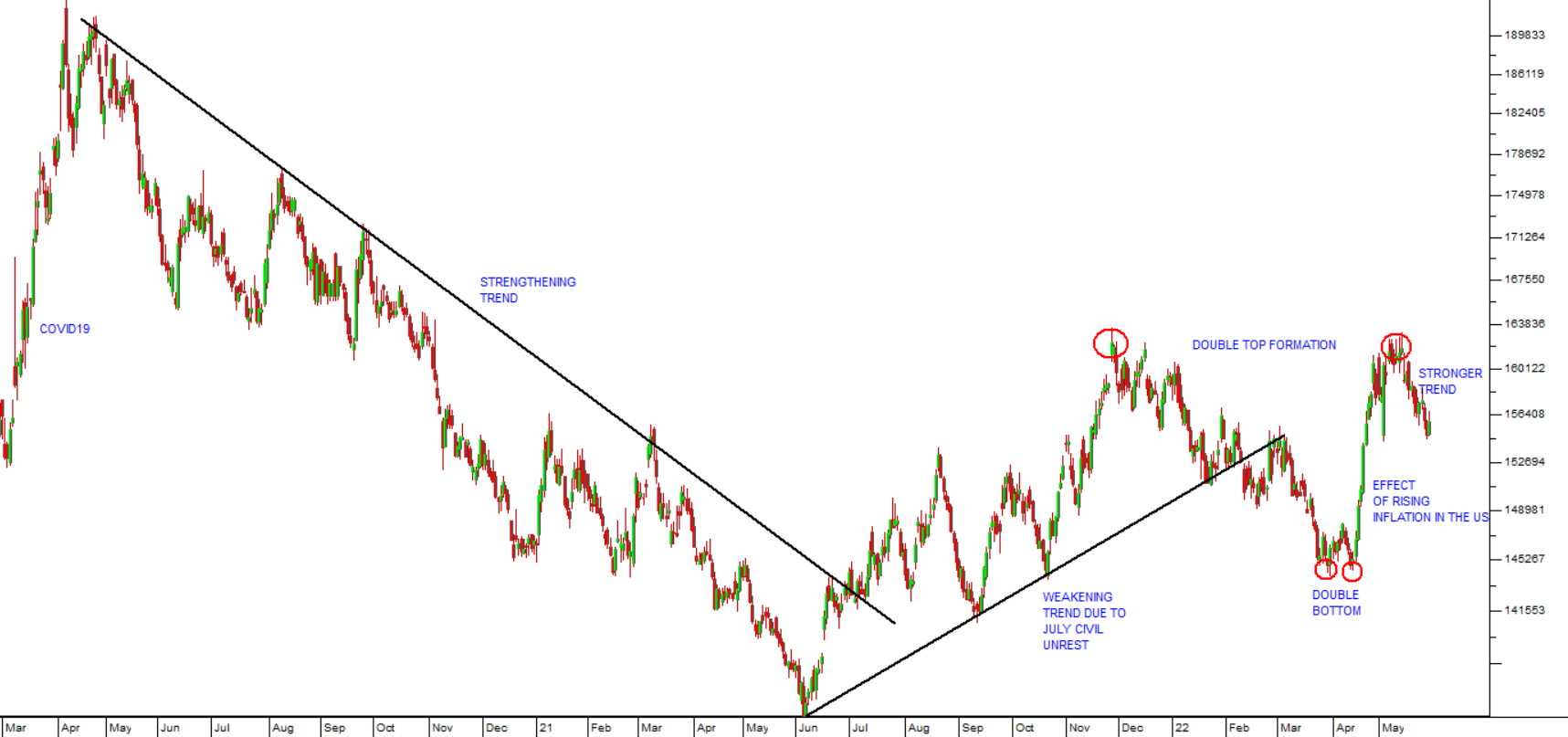 Beginning from the left-hand side of this chart, you can see the impact of COVID-19 in early 2020. That effect peaked in April 2020 and the rand entered a period of steady strengthening. The civil unrest in July 2021 scared international investors badly and the rand weakened until November 2021. As it became apparent that the civil unrest was probably a once-off phenomena investors gradually returned, and the rand strengthened until the end of March 2022 when the US Federal Reserve bank began to raise interest rates rapidly. This caused the rand and other emerging market currencies to weaken sharply. It now appears that investors have digested the implications of rising interest rates and are ready again to invest in high-return emerging economies, and especially in South Africa. After making a "double top" at around R16.20 to the US dollar, the rand has appreciated quickly over the past two weeks. We expect that strengthening trend to continue as the S&P and world markets move up. This will help to mitigate the impact of a rising oil price on the local price of petrol.
Eskom
The situation at Eskom appears to be becoming perilous. Of the 38 gigawatts of power that they can generate from their coal-fired power stations, on a single day in May 2022 14,5 gigawatts was off due to unplanned outages. A further 4 gigawatts was off due to planned maintenance. This means that half of their available generation was unavailable leading to load-shedding. Apparently, there is also a further 5 gigawatts of generation which is "at elevated risk". Pravin Gordhan said that Eskom has plans to take loadshedding to stage 8, if necessary. The Democratic Alliance has been arguing that Eskom should be declared to be in a state of disaster – which would allow individual municipalities that have the resources to obtain their electricity from other sources. What is clear to us is that Eskom is in the process of dying and being replaced by distributed generation where users make their own arrangements for power generation.
South Deep mine is about to complete its 50 megawatt solar plant which cost R700m to build, but which will yield savings of about R123m per annum once it commences operating in August this year. The CEO says that, by the year 2025, 22% of South Deep's electricity will come from renewables – which shows how much further this project can go. With a five-year pay-back period it is highly probable that South Deep will continue developing solar power for its operations and eventually free itself completely from Eskom.
The decision by the city of Johannesburg to follow Cape Town's example and move towards renewable energy providers outside of Eskom is an indication of the direction that cities are going. After about 15 years of interrupted and unreliable power from Eskom, Johannesburg has decided to solicit bids from the private sector for the provision of power. The city estimates that constructing 300 megawatts of power supply will cost about R26bn – which is well beyond their budget. Accordingly, they will engage in private/public partnerships. The first power from such sources is expected in about 2 years.
Companies
It is always amazing to us that investors continue to patronize collective investment schemes (CIS) and particularly unit trusts. In the first three months of 2022, investors put a net R28bn into unit trusts bringing the total invested there to over R3 trillion. Unit trusts generally perform very badly as investments. Worldwide, roughly 80% of unit trusts under-perform the indexes of the sectors in which they compete – which basically means that they are under-performing an average. In our view, it is not necessary to pay someone to underperform an average – this you could do for yourself…
SIBANYE
The extraordinary suggestion by the Minister of Mineral and Energy Affairs, Gwede Mantashe, that Sibanye might lose its mining rights in South Africa because it is no longer mining gold due to the prolonged strike will send shock waves through the investment community. Collective bargaining between employers and employees involves strikes and those strikes must be allowed to come their natural conclusion, without government interference. The strike has now been in progress for over 10 weeks with both the workers and the company losing a huge amount as a result. For the Minister to enter the conflict and pressurize the employer further with the threat of withdrawing its mining rights will make South Africa an even less attractive destination for mining investment than it already is. The fact is that Sibanye has offered workers an increase which is well above the going inflation rate and just 2% lower than what they are demanding. Mantashe is relying on the fact that in terms of the Minerals and Petroleum Resources Development Act a right to mine means that the owner of the right must actively mine the resource. If he does not, then the Minister can withdraw the right. But in this case Sibanye wants to continue mining – but is holding out against wage increases which are well in excess of inflation.
BALWIN
Balwin Properties (BWN) is a developer of secure sectional title properties in South Africa. The company is now focusing on renting out some of the properties that it develops rather than selling them to improve its income. The company reports strong demand for its units and is also moving into supplying solar power and internet fibre to its clients. The share was listed 7 years ago at R10 per share but trades today for under R3 against a net asset value of R7.49. It has a dividend yield of 5,6%. In our view, the move to rental is a good one as it will build up a passive income which can be used to meet fixed overheads and contribute to profits. On 4th October 2020, the company launched its Mooikloof Mega City construction project as a R44bn public/private partnership aimed at middle income South Africans who earn between R3500 and R22000 a month (known as the "gap housing market"). In its results for the year to 28th February 2022 the company reported revenue up by 16% and headline earnings per share (HEPS) up by 6%. The company said, "Sustained strong customer demand resulted in a 16% increase in the number of apartments recognised in revenue in the year. The strong sales enabled Balwin to hand over 2 962 apartments to clients which were recognised in revenue". Consider the chart: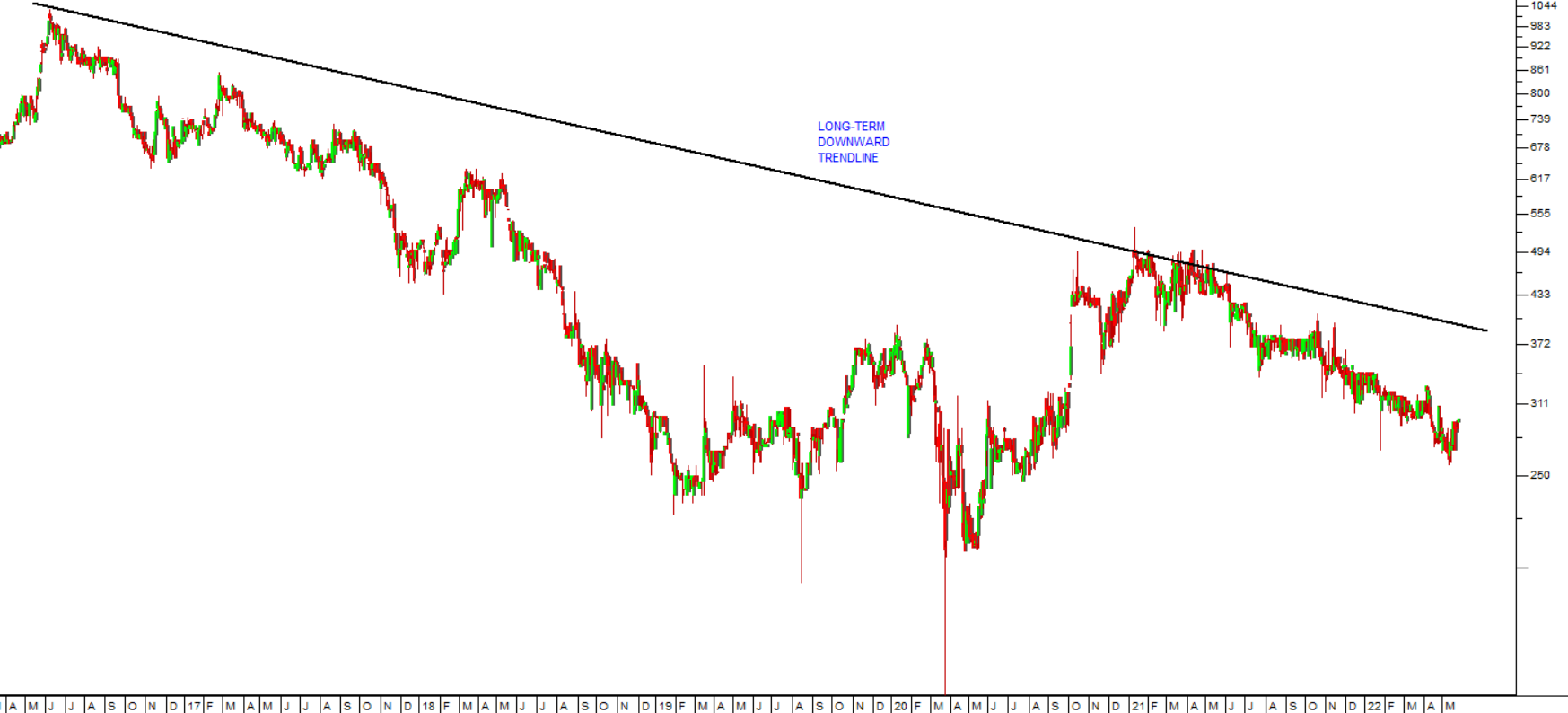 A conservative person would wait for the share to break above its long-term downward trendline – but this company's NAV is backed up by physical property and it is making good profits. We believe that sooner or later the institutional fund managers will recognise its value and begin buying it up. Or perhaps it will be the subject of a take-over. Either way it looks like a good investment to us at current levels.
PICK N PAY
Pick 'n Pay (PIK) is a retail grocery chain with over 1800 stores, mostly in South Africa, but also in the rest of Africa. The company was started by Raymond Ackerman in 1967 and became the dominant grocery retailer over time, before being displaced by Shoprite/Checkers. Pick 'n Pay was in a slump when Richard Brasher took over as CEO in early 2013. When Brasher took over, the company began steadily improving. He set in motion the centralisation of distribution which is now beginning to have a significant impact on efficiency and prices. He also implemented a store roll-out and a revamping of existing stores which brought customers back to the chain. In 2018 he implemented a voluntary severance program (VSP) which saw 3500 employees leave the company at a once-off cost of around R250m. Richard Brasher retired on 21st April 2021 and was replaced by Pieter Boone. The essential difference between Brasher's strategy and that of his main rival, Shoprite, has been that he focused on making the South African operation more efficient and winning back customers through good pricing. Shoprite, on the other hand, expanded aggressively into Africa and that has not always been beneficial as shown by the fact that it has now been forced to abandon Nigeria. The high inflation rate in Angola has also become a distinct problem for Shoprite. In its results for the 52 weeks to 27th February 2022, Pick and Pay reported group turnover up 5,2% and headline earnings per share (HEPS) up 14,5%. It is apparent that the company has recovered well from the July 2021 civil unrest and has reduced costs. The company said, "Pro forma profit before tax and capital items (including R145.2 million of insurance recoveries received post year-end) increased 24.9% at a Group level – and by 29.5% in the Group's South Africa segment – under some of the most difficult circumstances in the Group's history". Technically, Pick 'n Pay has been in a downward trend, but it now may be close to breaking up out of the trend and it looks like a good buy. It is a solid blue-chip company that will perform well in the future. The link up with Mr. D and Takealot should help the company to catch up in the online shopping market.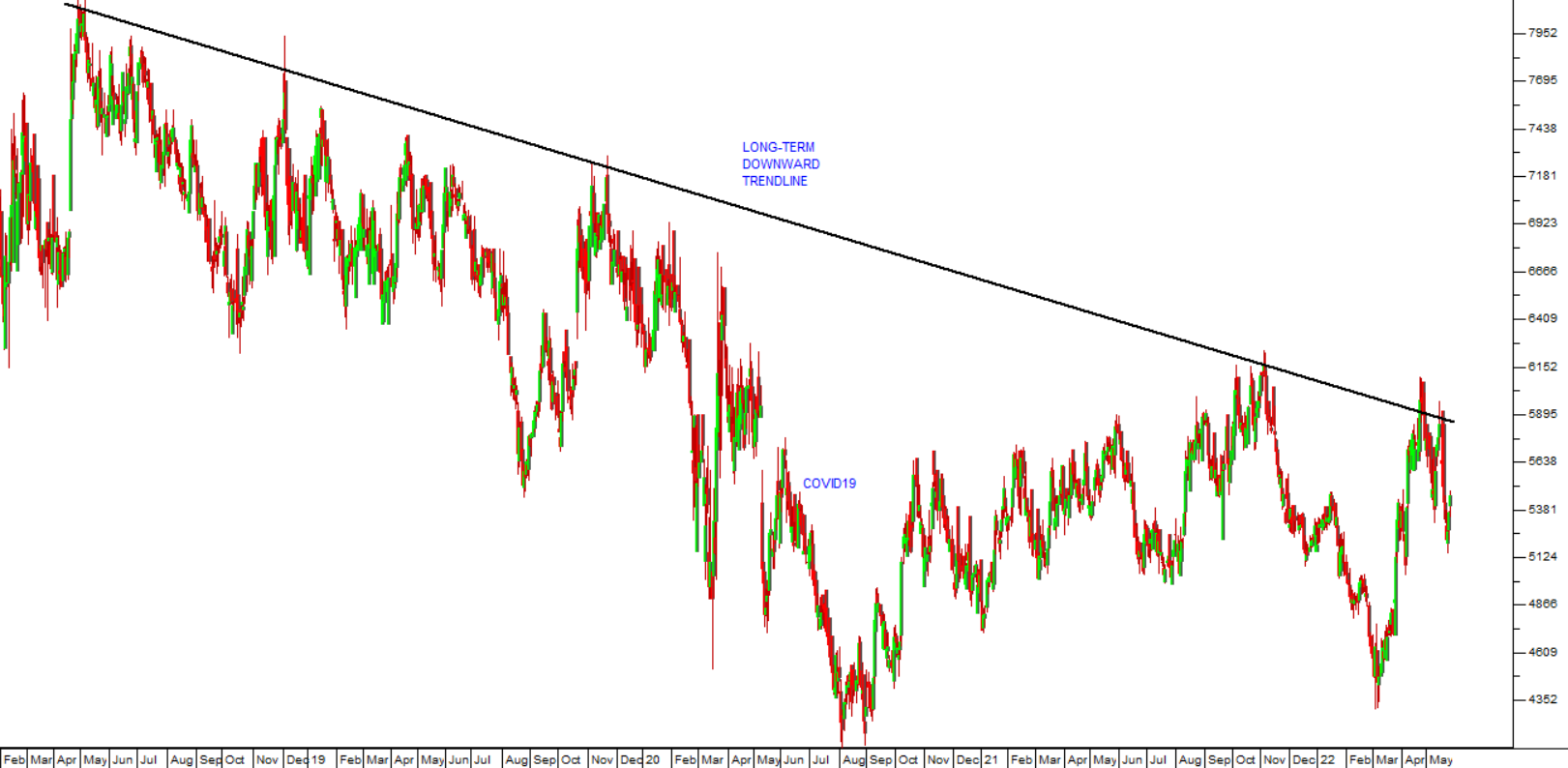 PROSUS
Prosus is an interesting share. It is listed on the Euronext in Amsterdam with a secondary listing on the JSE. Its main asset is 29% of the Chinese social media and gaming company, Tencent. As such it is exposed to Chinese legislation of gaming which has been a problem lately – and also to the problems facing the Chinese economy which is struggling to contain a new outbreak of COVID-19. It has made some losses recently because of its subsidiary Mail.Ru due to the Ukraine war. The company has a net asset value (NAV) of 109 euros (R1823.57) per share, but it closed on Friday at R756.92 – or 40% of its NAV. Technically, the share has fallen from a high of R1937.76 on 19th February 2021 – which means that it has lost about 61% of its value. Does that mean that it now represents good value? In our view, the share looks cheap at current levels. Consider the chart: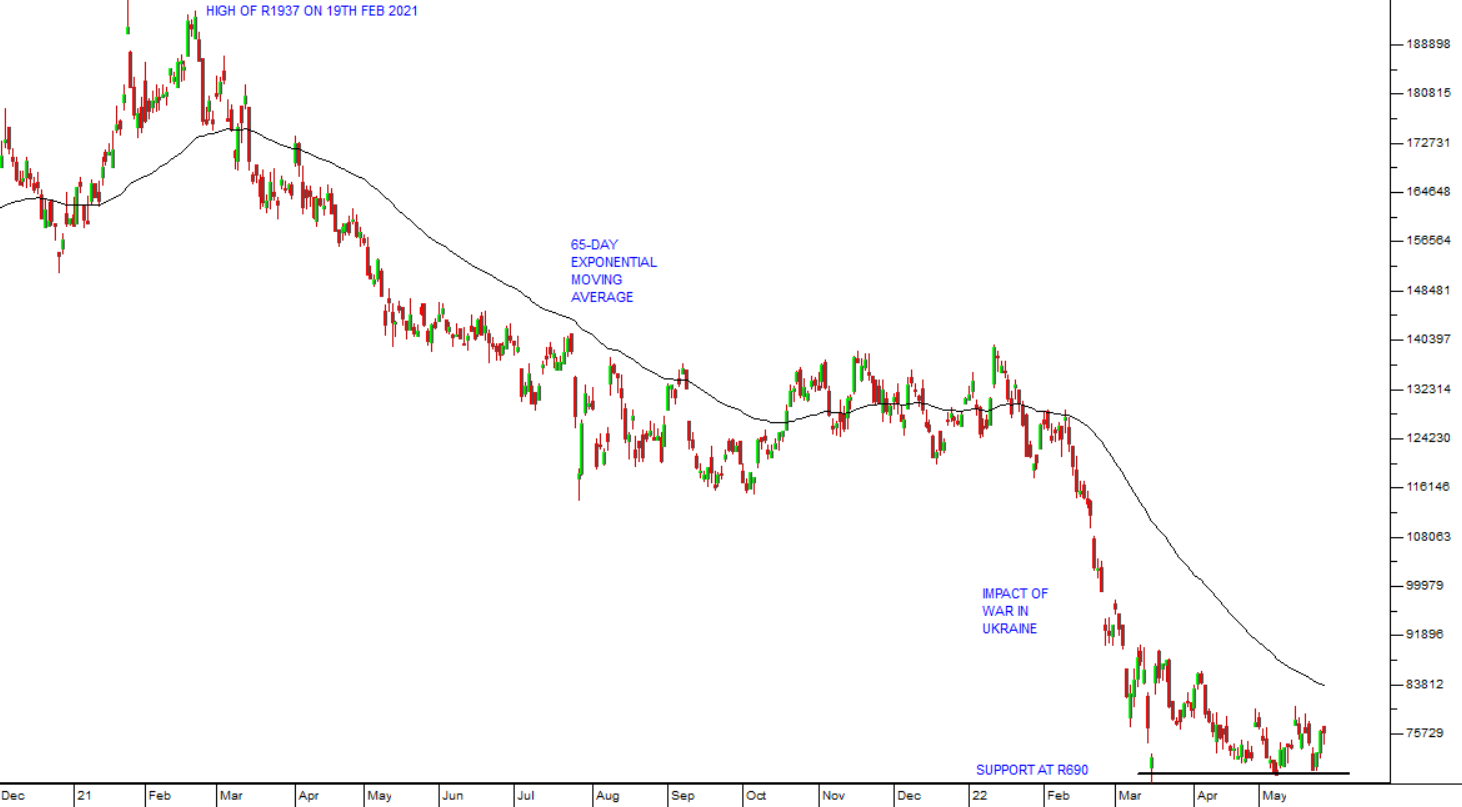 You can see here the high that Prosus made on 19th February 2021 and its subsequent downward trend. The impact of the war in Ukraine is clear but appears to have been fully discounted by now. The share has found some solid support at around R690 and is moving sideways. We find it valuable to apply a 65-day exponentially smoothed moving average in a case like this and wait for a clear upside break. Obviously, it is important, if you decide to buy this share, to implement a strict stop-loss strategy. But you will have the great satisfaction of knowing that somewhere out there, there are investors who filled their pockets with these shares at R1937 – and you are doing a whole lot better than them!
SANTOVA
Santova (SNV) is a multi-national logistics company that designs, implements, coordinates, controls, and monitors international supply chain activities. Through a virtual client-centric information system the company facilitates inventory management to provide far more than simple tracking and tracing services. The company has offices in Thailand, Vietnam, Malaysia, Germany, the Netherlands, the UK and in major cities in South Africa. It also has offices in Mauritius and Sydney, Australia. In its results for the year to 28th February 2022 the company reported revenue and net interest income up 40% and headline earnings per share (HEPS) up 169,4%. Technically, the share has been in a steady upward trend since May 2020. We drew attention to the fact that on 27th October 2021 at 425c the share gave a strong on-balance-volume (OBV) buy signal. It is now trading at 695c per share - a gain of 63% in 7 months. Consider the chart: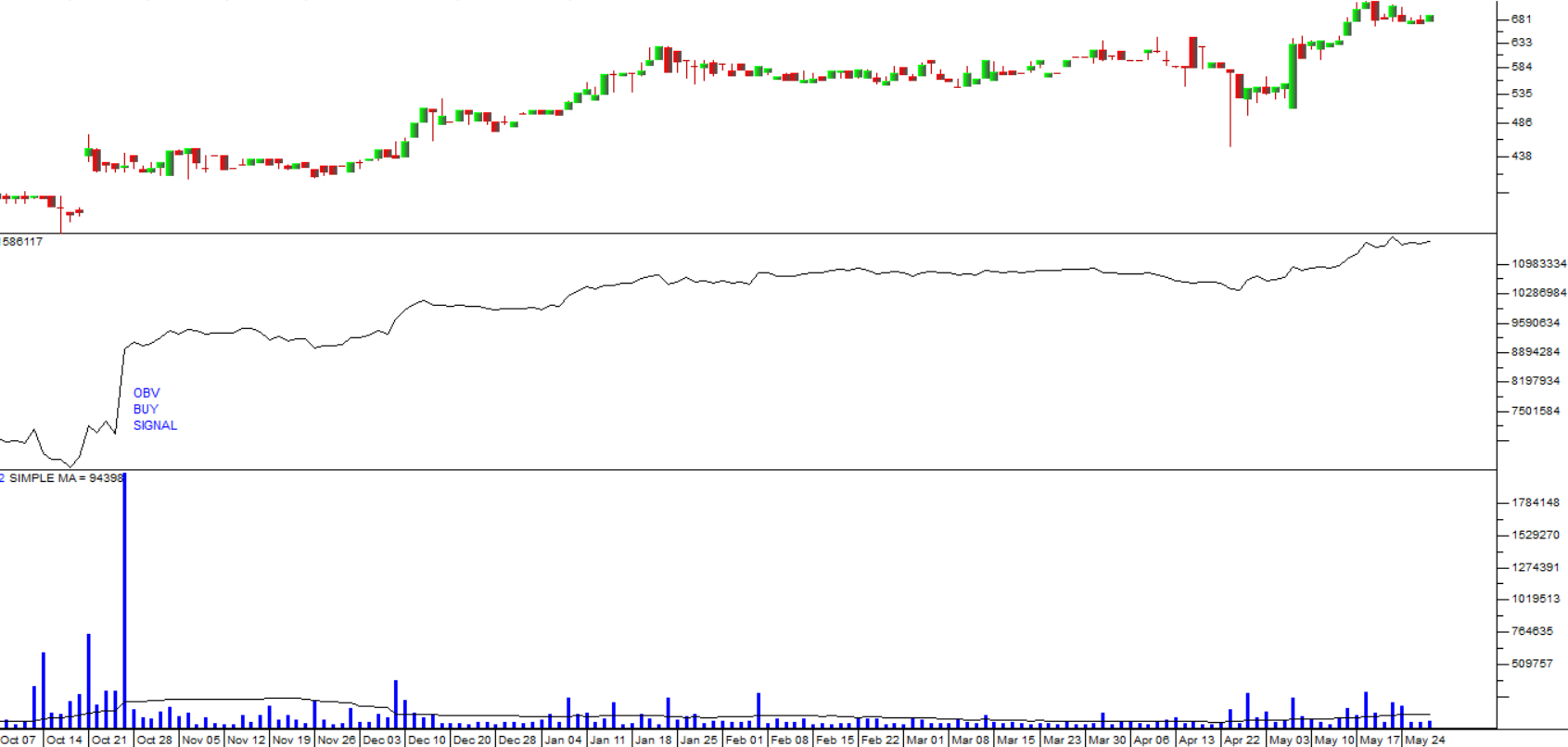 An OBV buy signal is given when the OBV chart spikes up. This is caused by a sharp increase in volumes with incremental increases in price. It is a clear sign of insiders buying up the share and it usually means that the share price is going to rise quickly.
AFRIMAT
We first recommended Afrimat in an article on 25th May 2020 – 2 years ago when it was trading at 2900c. On Friday last week it closed at 6165c – which is a gain of 112,6% in two years. Afrimat (AFT) is an open-pit mining company that supplies composites, construction materials and other commodities to a range of industries in Southern Africa. The share has recently broken up out of a 3-year sideways pattern which included the COVID-19 crisis. The acquisition of the Demaneng iron mine in the Northern Cape has insulated Afrimat against the difficulties in the construction industry. The company is also looking to diversify into other base minerals like manganese, chrome, and coal. The CEO, Andries van Heerden, said that Afrimat was known for its success in acquisitions and was still evaluating potential acquisitions. The company benefited from rising iron ore prices due to supply constraints in Brazil and rising demand from China. On 21st May 2021 the company announced the purchase of a manganese mine, Gravenhage, in the Kalahari Manganese Field, 50km from Hotazel for $45m plus R15m. On 10th December 2021 the company announced the acquisition of Glenover Phosphate for R550m. In its results for the year to 28th February 2022 the company reported revenue up 26,7% and headline earnings per share (HEPS) up 22,9%. The increase in turnover was "...as a result of increases in volumes as well as attractive iron ore pricing translating into an operating profit increase of 25,1% from the previously reported operating profit of R886,3 million to R1,11 billion. All three segments, namely Construction Materials, Industrial Minerals and Bulk Commodities experienced strong growth." In our view, this share still represents good value at 6450c on a PE of 11,88. It has recorded an annual compound growth including dividends of 32% for the past ten years. Technically, it is in a strong long-term upward trend, but with the Ukraine crisis it has come off in recent weeks. We believe it is now at a cycle low and is just starting to continue its upward trend. Consider the chart: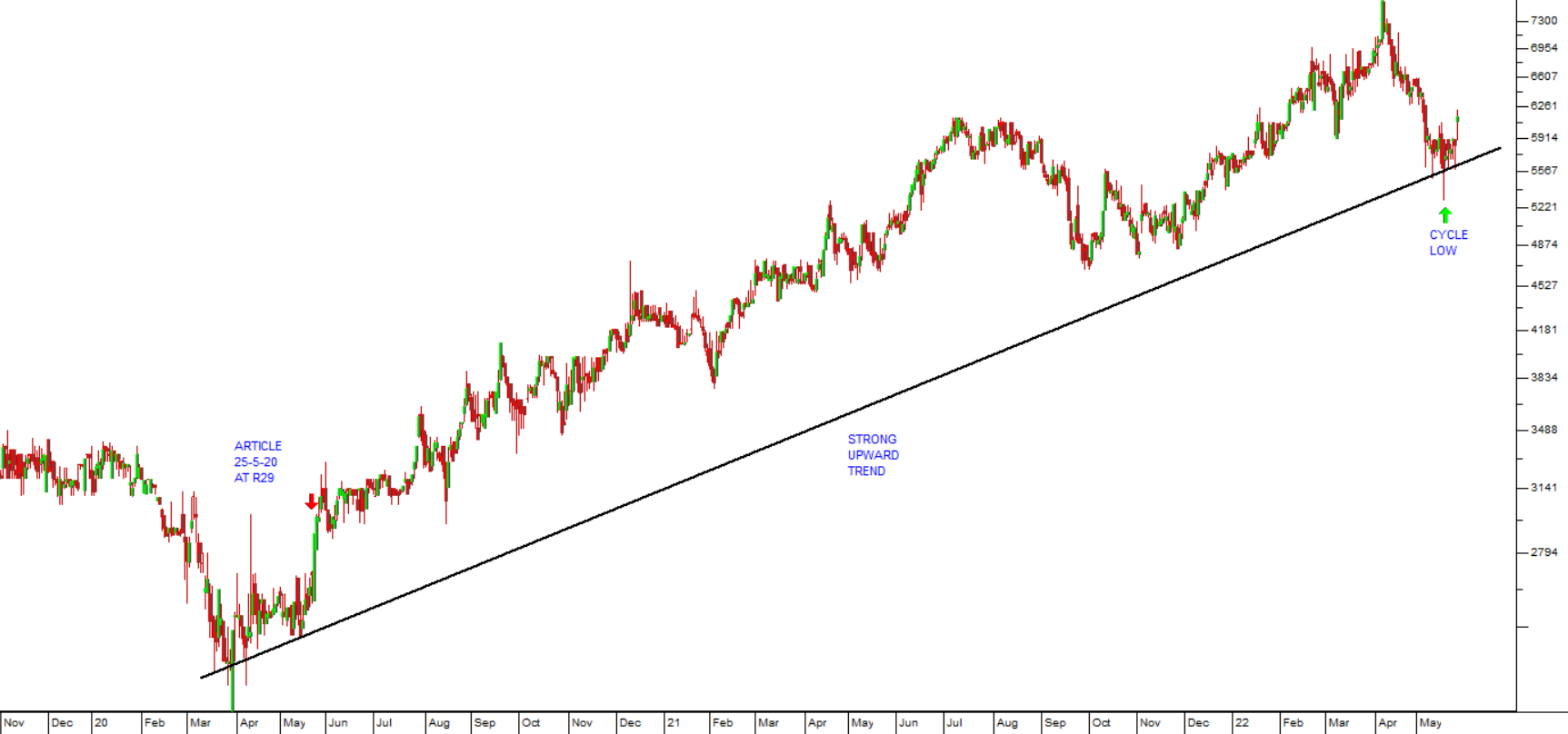 TRANSACTION CAPITAL
Transaction Capital (TCP) is a company which has three divisions - minibus taxis, risk services, and recently, WeBuyCars. It specialises in financing, repairing, insuring, and selling minibus taxis in South Africa. It completely dominates the entire value chain associated with the minibus taxi industry. The company listed in June 2012 and since then has generated an annual compound growth in earnings per share of 21% per annum since 2014. About 69% of South African households use taxis with more than 15m trips per day. Most of this is non-discretionary - which means that this industry is very defensive and not generally impacted by the state of the economy at large. The directors of TCP own 32% of the company. The company is also involved in debt-collection in South Africa and Australia through Transaction Capital Risk Services (TCRS). In its results for the six months to 31st March 2022 the company reported core headline earnings from continuing operations up 38%. WeBuyCars headline earnings increased by 58%. The company said, "Transaction Capital increased its effective shareholding in WeBuyCars in August 2021 to 74.2%, and as a result, the group will consolidate a greater component of WeBuyCars' earnings in the 2022 financial year (FY2022)". In our view, this is a relatively low-risk investment which has an excellent track-record and offers strong growth potential. The share trades on a relatively high P:E which indicates that it is already highly rated in the current environment. Technically, the share is in a strong upward trend, but has seen a sell-off in recent weeks which has brought it back to its underlying upward trendline. You should regard this as a buying opportunity. We expect this share to continue to grow rapidly. Consider the chart: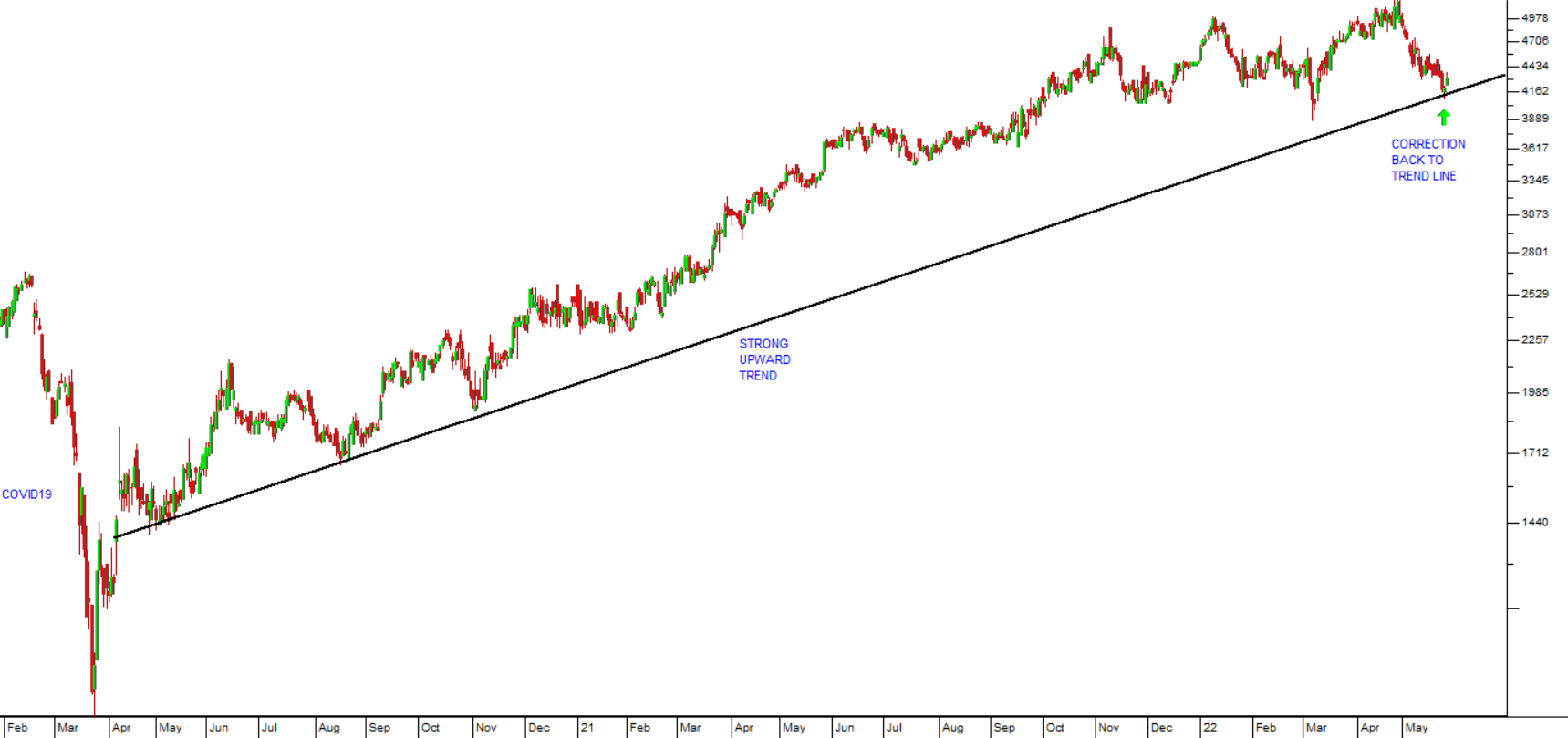 You can see here the performance of TCP since the COVID-19 downward spike. Right now, it is trading at a cycle low.

POSTSCRIPT - LEWIS
As you probably know, Lewis (LEW) is one of our favourite shares. It is a company in furniture and white goods retail with 807 stores mostly in South Africa. The significant point about this share is that it has almost no debt on its balance sheet which is extraordinary among retailers following COVID-19. It has just announced excellent results for the year to 31st March 2022 with merchandise sales up 11,5% and headline earnings per share (HEPS) up 37,7%. The extraordinary thing about this share is that it is still trading on a price:earnings (P:E) ratio of 6,1 and a dividend yield (DY) of 6,38 – which makes it cheap by anyone's reckoning. We suggest that you buy some while it is still at these low levels.
DISCLAIMER
All information and data contained within the PDSnet Articles is for informational purposes only. PDSnet makes no representations as to the accuracy, completeness, suitability, or validity, of any information, and shall not be liable for any errors, omissions, or any losses, injuries, or damages arising from its display or use. Information in the PDSnet Articles are based on the author's opinion and experience and should not be considered professional financial investment advice. The ideas and strategies should never be used without first assessing your own personal and financial situation, or without consulting a financial professional. Thoughts and opinions will also change from time to time as more information is accumulated. PDSnet reserves the right to delete any comment or opinion for any reason.
Share this article: