22 August 2019
By PDSNET
Private investors in South Africa should always keep their eye on what is happening on Wall Street – because the long-term trends on stock markets around the world, including on the JSE, begin there. As the old saying goes, "When Wall Street sneezes, the rest of the world catches a cold". The S&P500 represents the weighted average movement of the 500 largest companies trading on Wall Street and we see it as the most useful index for establishing what is happening in that market. We all know that the S&P500 is in the throes of a great bull trend – one which has been going on for more than ten years which makes it a record as far as bull markets are concerned. That bull market is being driven by three major forces:
The massive monetary policy stimulation which occurred in the decade following the sub-prime crisis of 2008.

The fall in oil prices in 2014. While the oil price has recovered somewhat, it is nowhere near where it was in March 2012 – when North Sea Brent reached $120 per barrel.

The massive advances in technology which have and continue to introduce new and profitable efficiencies in the way that business is conducted.
You should also bear in mind that the low oil price has kept inflation rates very low world wide – despite unprecedented quantitative easing and very low interest rates. Central banks have been able to maintain low interest rates precisely because inflationary expectations have remained very modest.
Of course, the bull trend is based on the growth of the US economy. This gargantuan economic behemoth is growing about as fast as it can, creating hundreds of thousands of new jobs every month. The momentum has become self-fulfilling as rising consumer spending creates the demand for additional supply of both locally manufactured products and imported products. It has spread to other countries, stimulating Europe and the Far East.
It is also true that the growth began long before Donald Trump took office – although his tax cuts last year certainly added a further stimulation.
The stock market has been anticipating the growth and rising strongly from March 2009. In recent times the rising market has been interrupted by corrections and rallies, caused mostly by Trump's on-again, off-again trade war with China.
In the latest cycle, he managed to cause a 6% drop in the S&P500 at the beginning of August 2019 by talking of a 10% tariff on $300bn worth of Chinese imports. The Chinese responded by devaluing their currency (the yuan) against the dollar. Consider the chart: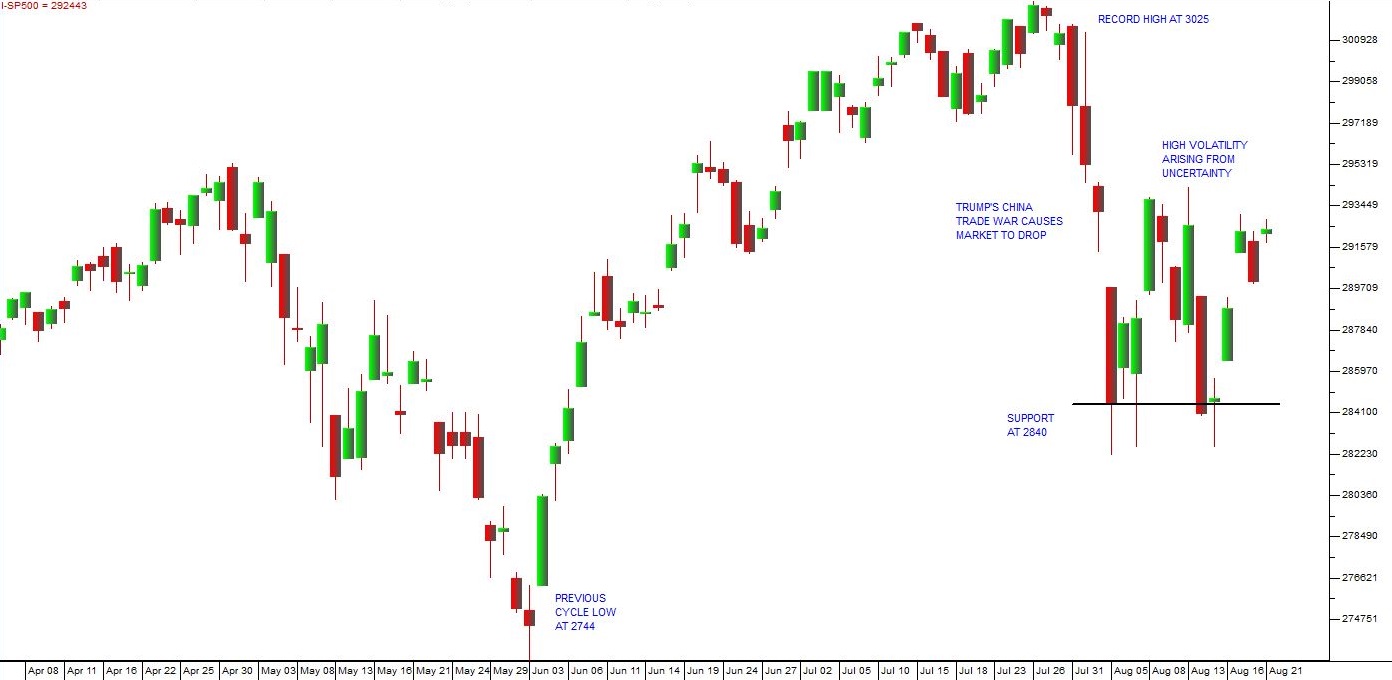 S&P500 Index April to August 2019 - Chart by ShareFriend Pro (Click to Enlarge Image)
The S&P initially collapsed over four days, but quickly found support at around 2840 (note that this correction has not been as deep as the previous one). Since then it has entered a period of considerable and unusual volatility – making this correction shorter and sharper  – probably because the market is becoming a little blasé about Trump's tweeted attacks on China.
The daily market action reflects increased uncertainty with much larger daily moves, both up and down. There has also been talk of an imminent recession in the US (which we can see no real evidence of) and some fear-mongering.
In our view, this volatility will quickly resolve itself to the upside and we predict a new all-time record high on the S&P500 within the next few weeks – which will, of course, be followed by other world markets, including the JSE.
DISCLAIMER
All information and data contained within the PDSnet Articles is for informational purposes only. PDSnet makes no representations as to the accuracy, completeness, suitability, or validity, of any information, and shall not be liable for any errors, omissions, or any losses, injuries, or damages arising from its display or use. Information in the PDSnet Articles are based on the author's opinion and experience and should not be considered professional financial investment advice. The ideas and strategies should never be used without first assessing your own personal and financial situation, or without consulting a financial professional. Thoughts and opinions will also change from time to time as more information is accumulated. PDSnet reserves the right to delete any comment or opinion for any reason.
Share this article: