26
Nov
---
Transaction Capital (TCP) is a company which specialises in financing, repairing, insuring and selling minibus taxis in South Africa. It completely dominates the entire value chain associated with the minibus taxi industry.
The company listed in June 2012 and since then has generated an annual compound growth in earnings per share of 20% with a 33% per annum average growth in dividends. This is an almost unique performance from a JSE-listed company. The share is shaping up to be a "diagonal" share (our term for a share whose chart goes from the bottom left-hand corner of your screen to the top right-hand corner). Its share price has risen from 470c in March 2014 to its current level of 1910c today. Consider the chart: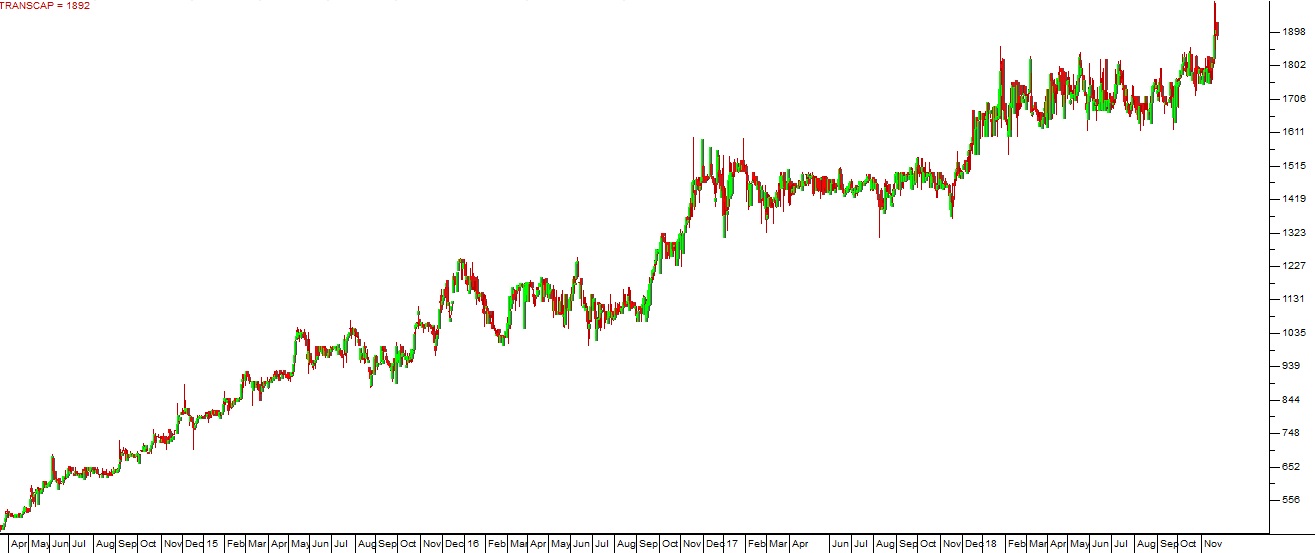 Transaction Capital (TCP) March 2014 to November 2018 – Chart by ShareFriend Pro
In its results for the year to 30th September 2018, the company reported headline earnings per share (HEPS) up 16%. The company divides itself into two operating divisions – SA Taxi which offers a vertically integrated platform which for financial, insurance and related services to mini-bus taxi owners. The division procures, sells, re-possesses and refurbishes vehicles. The second division is Transaction Capital Risk Services.
About 69% of South African households use taxis with more than 15m trips per day. Most of this business is non-discretionary because employees have to use mini-bus taxis to get to work. This makes this industry very defensive and not really subject to the state of the economy at large. The steadily increasing urbanisation and movement of people to cities is a major source of growth in this industry. Commuters generally prefer mini-bus taxis because they are generally cheaper and more convenient than alternatives.
SA Taxi and the South African Taxi Council (Santaco) have formed a relationship whereby Santaco acquires a 25% interest in SA Taxi for R1,7bn.This cash is being used to reduce debt. The company describes the relationship with Santaco as "significantly accretive to SA Taxis' s earnings over the medium term".
In our view this is a relatively low-risk investment which has an excellent track-record and offers strong growth potential. It is a truly South African business with a strong BEE component. The share trades on a P:E of 17 with a dividend yield (DY) of 2% which indicates that it is already very highly rated. We expect its growth to continue.
DISCLAIMER
All information and data contained within the PDSnet Articles is for informational purposes only. PDSnet makes no representations as to the accuracy, completeness, suitability, or validity, of any information, and shall not be liable for any errors, omissions, or any losses, injuries, or damages arising from its display or use. Information in the PDSnet Articles are based on the author's opinion and experience and should not be considered professional financial investment advice. The ideas and strategies should never be used without first assessing your own personal and financial situation, or without consulting a financial professional. Thoughts and opinions will also change from time to time as more information is accumulated. PDSnet reserves the right to delete any comment or opinion for any reason.
---