3 February 2020
By PDSNET
Rebosis (REB), the first substantially black-owned real estate investment trust (REIT) on the JSE, over-extended itself and ended up with a loan to value ratio (LTV) of over 64%. Any REIT with an LTV above 40% is considered too highly geared, especially in an economy like South Africa's that is in difficulties. It has had to retreat from its R1,2bn investment in New Frontier in the UK for a miserable R700m – and blamed the debacle on Brexit. Now there is a row over the exact value of its remaining properties. The company values them at R15,9bn while the appointed valuer, Quadrant Properties, says they are only worth R12,8bn. However, even if we accept the lower figure, the company is still trading on the JSE at less than a quarter of this value. Surely this represents at least an opportunity for one of the larger property groups to negotiate a take-over?
Of course property shares generally in South Africa are still recovering from the Resilient Group collapse and the bad economic situation – but this valuation seems unduly low. Consider the chart: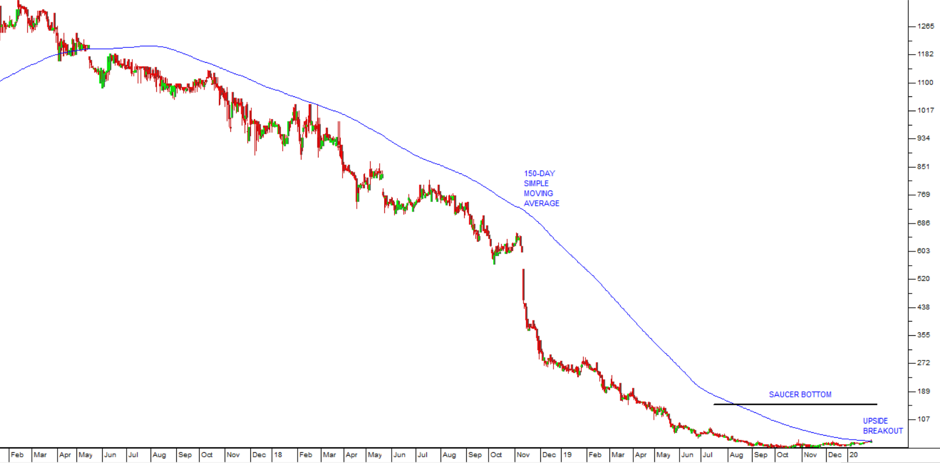 You can see here that Rebosis was trading at over R13 per share in February 2017. It broke down through a 150-day moving average in April 2017 at R12 and has been falling steadily ever since. Since July last year it has been moving through what technicians call a "saucer bottom" – a gradual petering out of the down trend followed by the equally gradual emergence of a new upward trend. This has now been confirmed by a "buy signal" on the 150-day moving average. Of course, this does not necessarily mean that it will go up from here – but the balance of probabilities is certainly pointing in that direction. It seems unlikely that its worst-case asset value of R12,8bn will be ignored by the market for too long.
DISCLAIMER
All information and data contained within the PDSnet Articles is for informational purposes only. PDSnet makes no representations as to the accuracy, completeness, suitability, or validity, of any information, and shall not be liable for any errors, omissions, or any losses, injuries, or damages arising from its display or use. Information in the PDSnet Articles are based on the author's opinion and experience and should not be considered professional financial investment advice. The ideas and strategies should never be used without first assessing your own personal and financial situation, or without consulting a financial professional. Thoughts and opinions will also change from time to time as more information is accumulated. PDSnet reserves the right to delete any comment or opinion for any reason.
Share this article: