19 March 2019
By PDSNET
Probably one of the most difficult problems that the private investor faces is the problem of selection. There are approximately 400 companies listed on the Johannesburg Stock Exchange, so how can you select the best opportunity from these – especially when each is a complex organisation with many strengths and weaknesses. One of the mechanisms used by investors is the earnings multiple. The multiple is the number of times that the company's earnings per share (EPS) can be taken out of its current share price in the market. Thus, if a company is trading on the JSE for 1000c today in the market and in its most recent annual financial statements it reported EPS of 100c, then it is on a multiple of 10 – or, put in another way, at the current rate of earnings it would take exactly ten years to recover the current cost of the share in the market. The multiple of a share shows how investors rate the company. If the company has a high multiple, then it means that investors are prepared to pay much more for 100c of its profits than they are for 100c of other companies' profits. Thus, for example, right now investors are willing to pay 31 times Capitec's EPS to buy one of its shares, but the same investors are only prepared to pay 11 times Standard Bank's EPS for its shares. This is because Capitec is more "highly rated". Investors believe that the Capitec business model will produce a bigger, better and more reliable stream of EPS in the future than Standard Bank's will – much bigger and better. So the earnings multiple, or price:earnings ratio (P:E), is an average of investors' perceptions at any point in time. It tells you what investors as a group are thinking. Do they like the share or not. But, of course, investors as a group can easily be wrong. So the real challenge is to try and assess whether their opinion of the share is well-founded or not. If they have a really bad opinion of a company, but your opinion is different, then perhaps you can buy the share and make a profit as they come to realize their mistake and push the share price up. Of course, that assumes that you are right and they are wrong. It is a sobering fact that you can only make money in the share market when you are right and the market, on average, is wrong. Consider another example. Curro, on 28th December 2015, traded on a multiple of 245 – which is probably one of the highest multiples ever recorded on the JSE. Because of its amazing "blue sky" potential for enormous growth, investors were prepared to pay 245 times its EPS for its shares. As reality crept in over the next three years investors' perceptions changed and they reduced Curro's multiple to a much more manageable and believable 50 – which is still high, but at least within the bounds of the possible. Consider the chart: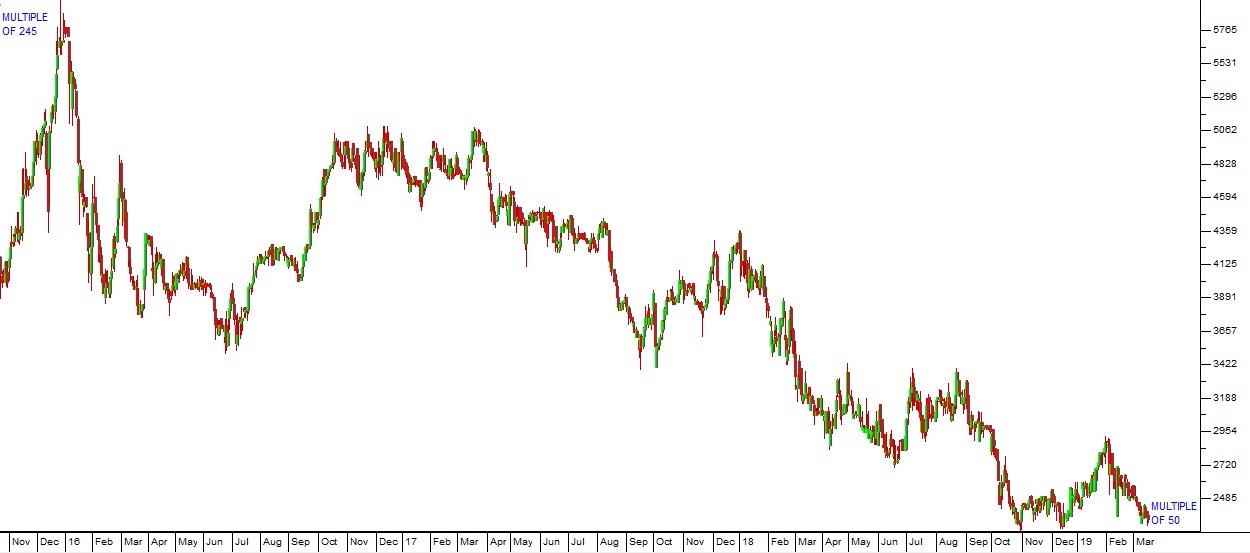 Curro (COH) November 2015 to March 2019 - Chart by ShareFriend Pro
So how can you use the P:E ratio (the multiple) to determine whether a share represents a good opportunity or not? The simple answer to this question is that all you can get from the P:E ratio is an idea of how highly rated a share is. This may give you some clues as to whether it is over-priced or under-priced at the moment – and that could lead you to decide to buy it or sell it. In your assessment of a share you need to consider what the market's opinion is and whether you think the market is right or wrong – and by how much.
DISCLAIMER
All information and data contained within the PDSnet Articles is for informational purposes only. PDSnet makes no representations as to the accuracy, completeness, suitability, or validity, of any information, and shall not be liable for any errors, omissions, or any losses, injuries, or damages arising from its display or use. Information in the PDSnet Articles are based on the author's opinion and experience and should not be considered professional financial investment advice. The ideas and strategies should never be used without first assessing your own personal and financial situation, or without consulting a financial professional.  Thoughts and opinions will also change from time to time as more information is accumulated. PDSnet reserves the right to delete any comment or opinion for any reason.
Share this article: