1 September 2021
By PDSNET
America
The suggestion by the Federal Reserve Bank (Fed) that it may begin to reduce its monthly asset buying program from $120bn per month before the end of 2021 sent markets into a new mini-correction. The process of reducing this type of quantitative easing (Q/E) has become known as "tapering" and the Fed's consideration of this policy change signals that it is becoming concerned about inflationary pressures. After a little sell-off, the general bullishness of the market combined with the exceptional profits being reported by S&P500 index companies pushed the market to yet another a new record high over the psychological resistance level at 4500. Consider the chart: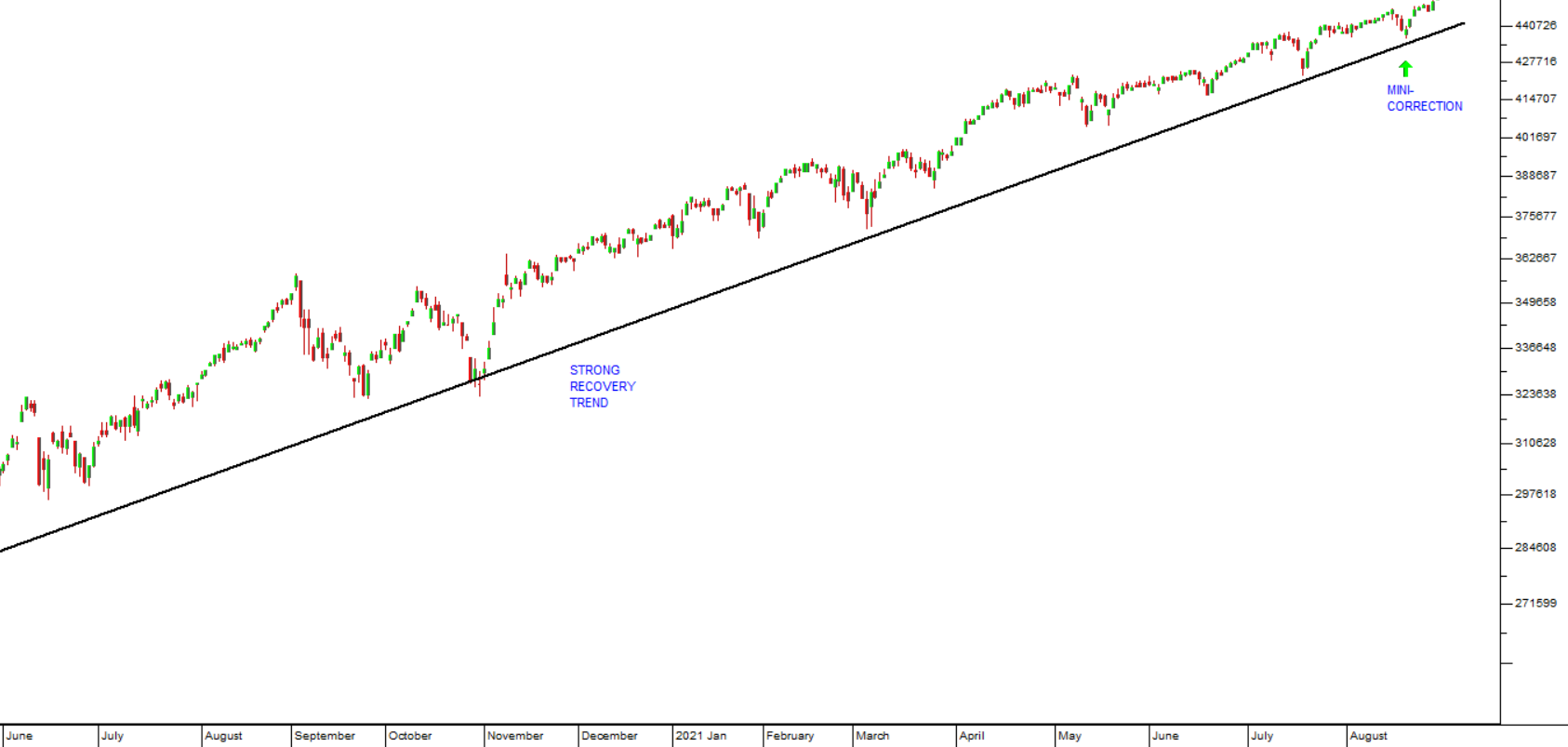 As we have been predicting for some years now, the strong upward trend in the S&P500 is continuing with new record highs interrupted by mini corrections. We continue to warn about the imminence of a major correction of between 10% and 20% and we reiterate that this, when it happens, will almost certainly not be the end of the bull market and should be viewed rather as a temporary buying opportunity.
Nonetheless, the force that will eventually bring this bull market to an end, US inflation, is definitely beginning to grow. For the bull to turn into a bear, we will need to see sufficient interest rate hikes in the US to begin damaging the profitability and prospects of the S&P500 companies. That does not yet appear to be imminent so private investors should continue to "make hay while the sun shines".
In our past articles and Confidential Reports, we have stressed that, in this great bull market, the bears will be and are being eliminated. Read this article that we published in January this year. On Friday the S&P500 closed comfortably above 4500 for the first time, extending the bull market and making the bears and short-sellers even more miserable.
We have previously mentioned the plight of long-time short-seller of the S&P, George Soros. More recently, the well-known bear Michael Burry has been saying that the "bubble will burst" and like Soros he has backed up his assertion with two massive short positions – one in Tesla stock and the other in Cathie Woods' Arkk ETF which has about 10,4% of its assets in Tesla.
Burry gained fame in 2007 by predicting the sub-prime crisis and going massively short in the US property market. This accurate prediction made him a personal fortune (over $100m) and gained him many followers world-wide.
But now Burry is predicting the collapse of the S&P500 and has chosen Tesla stock as his vehicle to profit from it. He says that "Tesla will crumble" and accuses CEO Elon Musk of "over-promising and under-delivering".
Our analysis of Tesla indicates that it is anything but "crumbling". In fact, especially when compared to Ford and GM, it is doing exceptionally well. Ford is sitting with total debt of $226bn and General Motors (GM) has debt of $186,6bn. This compares to Tesla with total debt of $25,3bn. Tesla has just had its most profitable quarter on record while both Ford's and GM's sales have declined for the past two years.
It is also interesting to note that Ford and GM both spend about $4bn a year on advertising whereas Tesla spends absolutely nothing. And, without any advertising, Tesla has queues of people waiting for delivery of its cars and putting down a deposit to secure their position in those queues. Tesla can do this because it has a massive online following. The company has over 4m followers on twitter and Musk himself has 28m followers – so they simply have no need to pay for advertising. Essentially, because they have built a "better mousetrap" and "the world is beating a path to their door".
David Einhorn, another well-known American fund manager, also decided to short Tesla shares and has seen his fund's value fall from $12bn to just $1,6bn mostly because of it. He is what is called an "activist short seller" which means that he takes a short position in a listed company and then publicly attacks them to profit from the fall in their shares. He did this very successfully in 2008 with Lehman Bros during the sub-prime crisis, but this time, with Tesla, it has proved to be his undoing.
Clearly, it is very dangerous to bet against a man like Elon Musk. He has an amazing track record of building highly successful companies such as Zip2, Paypal, SpaceX, Neuralink, Starlink, The Boring Company and, of course, Tesla itself. In our view, Burry would be better going short on GM or Ford stock. So, our expectation is that Michael Burry will shortly be joining Soros and Einhorn in a growing list of bears that have been convincingly eliminated by this great bull market and by the extraordinary blue-sky potential of Tesla.
In the meantime, the US economy grew by just 6,6% in the second quarter – far less than the average prediction made by economists, of 8,5%. This lower growth was mainly due to the major difficulties besetting global supply chains at the moment. Delivery delays and shortages of stock have resulted in lower sales and will almost certainly impact prices soon. It is expected that the economy will get a boost from re-stocking in the second half of the year.
Inflation in the second quarter was 6,1% on an annualised basis – the highest level since 1983. But the monetary policy committee (MPC) feels that this spike in prices is temporary and mainly due to the low 2020 base during the lockdowns and the pandemic. We are not so sure. If the inflation rate remains high, then the MPC will, sooner or later, be forced to adopt a more hawkish stance – and that could well be the trigger which causes that major correction which we spoke of earlier.
At this stage, the markets of the world, including the JSE, continue to reflect growing optimism about the economic recovery. The pandemic appears to be well under control with vaccination rates rising world-wide. The massive and persistent monetary stimulus is finding its way through to consumer spending and corporate profits. New technologies are creating disruptions in many industries, reducing costs, and increasing efficiencies. Energy costs are relatively low and may get lower. Commodity prices are rising steadily reflecting increased demand in most economies. And, finally, the spectre of inflation still appears to be well controlled and is not a major concern for central banks - as yet.
Political
The cabinet re-shuffle, when it finally came, was substantial. The most important news was the replacement of Tito Mboweni with Enoch Godongwana. Mboweni had said from the outset that he didn't really want the job, and recently his tough stance on civil service wages has earned him the antipathy of the unions. Godongwana has some possible dirty laundry in his past but is noted for voting against the land reform initiative. Time will tell whether he can be as disciplined as Mboweni in this key position. He says that he will continue to implement the policies established by Mboweni.
The new Minister of Finance is said to have more power within the ANC than his predecessor – which may mean that he can implement the structural reforms that Mboweni could not. He has strong connections with the unions, and so may be able to avoid direct conflict with them when the next round of negotiations commences this month. He has been influential in watering down past ANC excesses in regard to the nationalisation of the Reserve Bank, the expropriation of land and the prescription rules for asset managers and pension funds. So far, he has said the right things to allay the fears of investors, but they will be watching to see what he actually does. At this stage the steadily weakening rand after his appointment shows that there is still major concern about his long-term impact.
Notably, erstwhile Zuma supporters like David Mabuza and Gwede Mantashe did not lose their positions in the reshuffle which shows that Ramaphosa is not yet in complete control. In general, however, Ramaphosa has removed some elements that were antagonistic toward him and his reform processes. He has certainly strengthened his position and his dominance of the ANC. This can only be good for the South African economy and the stock market. On the negative side the ANC's decision to put the erstwhile minister of defence, Mapisa-Nqakula, up as Speaker has not been well-received by the investment community. It shows that the ANC does not perceive Parliament as being a significant force in the running of the country. With its ANC majority, it is simply there to rubber stamp their policies. Theoretically, the speaker is in a powerful position and becomes acting president if ever Ramaphosa is removed by a vote of no confidence of by some other cause. The appearance is that she has been promoted and now earns a higher salary than she did as Minister of Defence, but the probable reality is that she has been "put out to pasture".
It is now apparent that, as a result of the pandemic, the elections will take place in April 2022 so that political parties will have enough time to campaign. In our view the delay in the elections works in favour of Ramaphosa and the ANC. By that time both the civil unrest and the pandemic will be fading into history and South Africans are likely to consider issues around service delivery as paramount. The recent cabinet reshuffle and the suspension of Magashule mean that Ramaphosa will probably not face as much opposition from within the ANC. Also, the unions will have been appeased to some extent by the replacement of the Minister of Finance and their recent pay agreement.
The reshuffle is perhaps significant for what it did not achieve – the removal of Deputy President, David Mabuza and Minister of Minerals and Energy, Gwede Mantashe. Given their performance to date, Ramaphosa must surely see both of these people as part of the problem rather than part of the solution and yet he did not feel his position strong enough within the ANC to remove them. His battle for complete dominance of the ANC is on-going, but despite this, there can be little doubt that he has significantly strengthened his position with this reshuffle.
President Ramaphosa's efforts at the Zondo Commission to explain why he did not openly oppose the progress of state capture during his 4 years as deputy president between 2014 and 2018 were unconvincing. The real reason that he could not oppose state capture as deputy president was that he would have been summarily removed from office had he done so. To us it was always apparent that Ramaphosa did not throw up a lucrative career in business and put his estimated R10bn worth of assets into a blind trust simply in order to be the deputy president. His goal all along was to gain power within the ANC so that he could become president, when Zuma had damaged himself sufficiently to make that possible. Ramaphosa moved as soon as he could – late in 2017 and even then, he only just scraped in with the thinnest of margins. Since then, he has been widening his influence, consolidating his power, and dismantling the Zuma camp's structures within the ANC. It is clear to us that, had he not done this, he would have been pushed out of the Zuma administration. In that event, we would probably have Dlamini-Zuma as our president now, state capture would have continued, and the country would have been substantially bankrupt. By now, the Judiciary and the Reserve Bank would almost certainly have been captured and the Gupta's would have been riding high. In the almost 3 years that he has been in office he has set in motion the recovery of key institutions – like SARS, the NPA, Eskom, and the Ministry of Finance. To disclose this long-term strategy at the Zondo Commission would have unnecessarily opened him to unnecessary criticism and opposition from within the ANC. For our part, we are happy that we have a president who is able to plan ahead in this way, for the good of the country.
Economy
The jobless numbers were a shock this month with the rate rising from 32,6% in the first quarter to 34,4% in the second. Obviously, this is a direct result of COVID-19 as well as the civil unrest in July. There also has been an acceleration of the use of digital communication and a sharp reduction in face-to-face business meetings in a trend which is known as "digitisation". This shift has resulted in job losses especially in financial services. It is clear that while some job-creating reforms (like moving the requirement for a licence to produce distributed power to 100MW) have been pushed through, other reforms which might have been implemented by the government have been held up by factionalism within the ANC. Instead of implementing structural reforms, the ruling party is talking about or implementing populist policies which will destroy jobs such as the BEE requirements for business, the proposed national health insurance (NHI), the recently suggested national social security fund (NSSF), the nationalisation of land without compensation and the unsatisfactory third mining charter. Of course, the rising level of unemployment makes further civil unrest more probable.
The massive tax windfall due to the commodity boom is expected to be over R100bn in the year through to February 2022. About one third of that has been spent on the relief package following the civil unrest in Natal and Gauteng, but the balance should improve the government's debt metric substantially. This, in turn, could lead to an improvement in the country's international credit rating. The commodity boom looks set to continue for some time – which means that South Africa should be able to get out of the debt trap which it is currently in – provided, of course, that the government doesn't engage in any further populist spending sprees.
The cost of the unrest and looting became apparent in the ABSA purchasing managers index (PMI) which fell by a record 14 points in July month from 57,4 to 43,5. The level 4 lockdown period was also included in this index level. Some manufacturers have lost two weeks of production especially in Natal where workers have been afraid to go back to work. Obviously, we can expect a strong rebound in August as manufacturing normalises. We would expect the index to be back above 50 in August – and a level above 50 indicates growth. The combination of the civil unrest, periodic load-shedding and the level 4 lockdown have impacted manufacturing production in the second quarter. Production fell 0,7% in June compared with May and underperformed economists' predictions. Obviously, this will have a small impact on the gross domestic product for the quarter reducing by an estimated 0,4%. Hopefully, the third quarter should be far better.
The civil unrest resulted in a 20% drop in car sales and a 40% drop in the export of cars in July 2021 when compared to June. Motor vehicle sales have been recovering from the impact of the pandemic, but July month was a set-back. Mercedes shipped only 58 vehicles compared to its normal of about 5000 vehicles a month. Overall, the cost of the unrest to the motor industry was estimated at about R3bn, with Toyota the worst hit after closing its plant in Durban for six days.
The "Social Relief of Distress" package will give about 9,5m people R350 per month from August 2021 until March 2022 and will cost the government about R26,7bn. The people who will benefit are the 6 million unemployed people who received this benefit previously plus about 3,5m "caregivers" who are looking after children. Obviously, this could be seen as an electioneering move, given that the elections are expected to be postponed until March 2022. However, it will give the poorest people in the country some much needed relief, especially if they lost their jobs as a result of the civil unrest.
The Reserve Bank governor, Lesetja Kganyago, told parliament that inflation was expected to remain at about 4,5% for the next two years while GDP was expected to grow by 4% this year. Interest rates are not expected to rise until the middle of next year and the civil unrest is thought to have shaved about 0,4% off GDP growth this year. The "serious execution deficit" that Reserve Bank governor, Lesetja Kganyago talked about in his address to the Wits Business School is certainly a major problem in this country. Our democracy apparently still has to learn that it cannot both "have its cake and eat it" as the old saying goes. Kganyago talked about the importance of discussing and agreeing on trade-offs when making budget decisions. This shows his commitment to balancing the budget and not abusing his powers as governor by debasing the currency in order to make short-term gains. If money is spent on one vote, then it is not available to be spent on another. However there appears to be an illusion in the new South Africa, even among certain political leaders that the government's resources are in inexhaustible. Projects are often put forward without any proposal as to how they will be financed. The previous Minister of Finance, Tito Mboweni, was well aware of this when he suggested "zero-based budgeting" and the need for expenses to be financed by a re-allocation of existing budgets to avoid increasing the national debt.
The planned shut-down of the economy on Monday 23rd August did not occur despite threats and much talk on social media. A strong presence of police and troops made any kind of protest difficult. A proposed protest march from central Durban failed to get authorisation and did not happen and no incidents from "hot spots" were reported. A group calling itself "Protest Action SA" called for the immediate release of Zuma and the removal of President Ramaphosa. In our view, the civil unrest of July is unlikely to be repeated.
The Rand
There can be little doubt that two aspects of the recent cabinet reshuffle have not been well-received by the international investment community resulting in a steady weakening of the rand. The first is the replacement of Tito Mboweni as Minister of Finance and the second is the appointment by the ANC and Ramaphosa of the previous Minister of Defence, Mapisa-Nqakula as the Speaker of the House. Both of these moves have been interpreted by overseas investors as damaging or weakening the management of the country and the economy – and some of them have decided not to invest here or have decided to withdraw from South Africa and find more secure places for their investment causing the rand to weaken.
The currency of a country is like the shares of a company. If the company is seen to be well-managed and profitable, then its shares will rise and vice versa. The same can be said of a currency. If South Africa is perceived as being well managed and profitable then our currency will strengthen against other currencies – and vice versa. The rand is a very accurate barometer of international perceptions of South Africa and this cabinet reshuffle is being seen as negative, resulting in the rand falling steadily against the US dollar. The effect of the cabinet re-shuffle has combined with fears that the US will reduce quantitative easing (worth about $120bn a month) before the end of this year to push the rand through support at R15 to a five-month low. Consider the chart: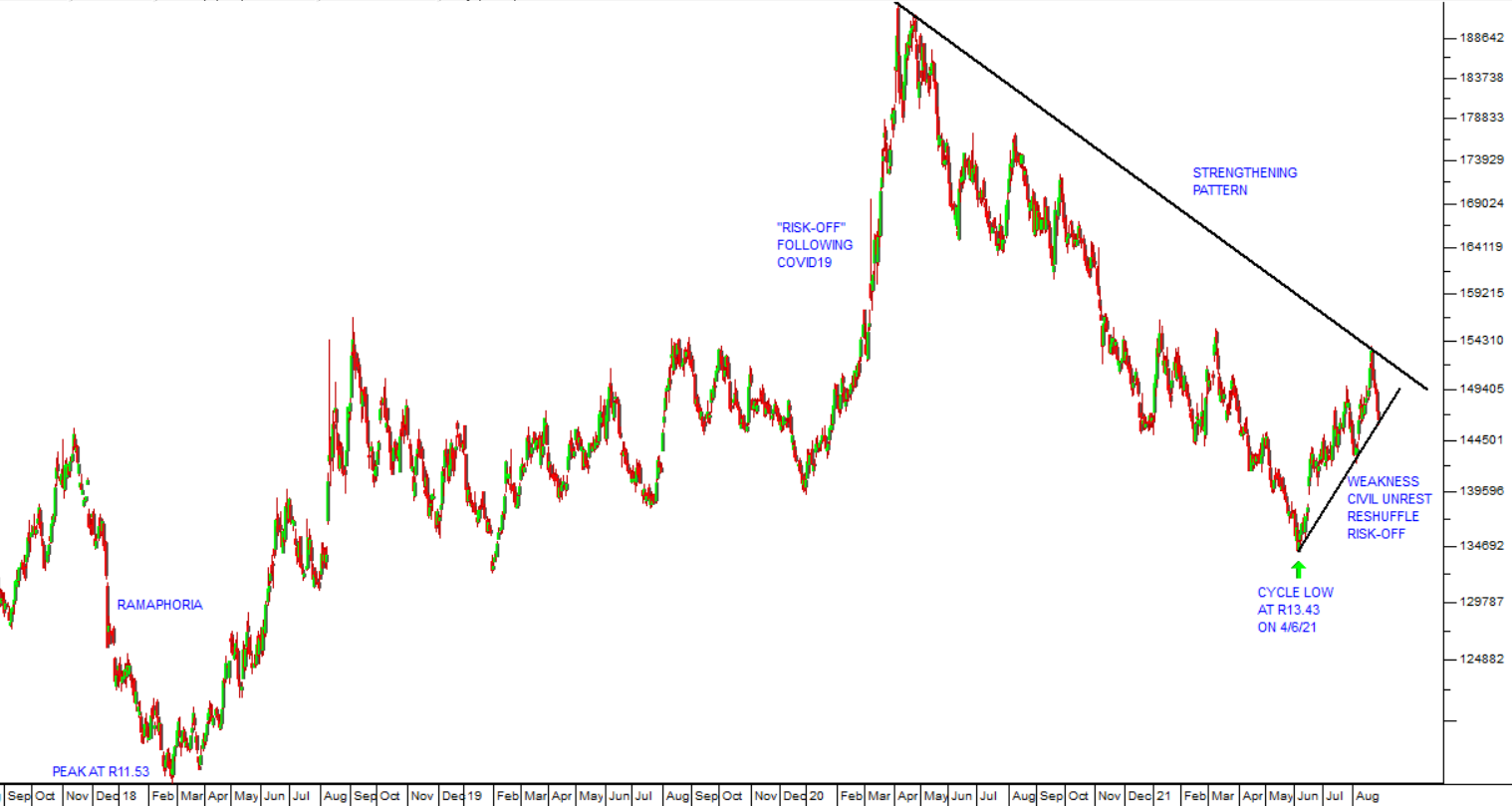 This chart shows the initial "Ramaphoria" which greeted Ramaphosa's accession to the head of the ANC and then the Presidency which saw the rand strengthen to a peak of R11,56 to the US dollar on 23rd February 2018. That strength dissipated as it became clear that he still faced stiff opposition from within the ANC and his position was anything but secure. Then COVID-19 caused a world-wide shift to "risk-off" in early 2020 as international investors came to terms with the new reality. That was followed by a steady strengthening of the rand as "risk-off" gradually gave way to "risk-on" and it became clear that Ramaphosa was strengthening his position in the Presidency. Finally, since the beginning of June this year there have been various scares which have pushed international investors back to risk-off and those have been combined with the effects of the cabinet reshuffle and the civil unrest to result in a new weakening pattern.
Our long-held view is that the rand is quite significantly under-valued against first world currencies. We believe that in the absence of further moves to risk-off internationally and further self-inflicted economic negatives locally, it will steadily strengthen back towards and eventually break below its cycle low of R13.43 to the US$ made on 4th June 2021. That process appears to have begun with its move back to R14.70.
State-Owned Enterprises
On 17th August 2021 the Business Day reported on a speech given by Eskom CEO, Andries de Ruyter, at the University of Pretoria. In that speech de Ruyter explained the importance of South Africa transitioning to renewable energy and electric vehicles (EV). Eskom has a window of opportunity to take advantage of international financing for a "just energy transition" to renewable energy. This has the potential to result in R180bn of much cheaper financing which will go a long way towards resolving Eskom's debt problems. It would enable South Africa to build 7,4 gigawatts of renewables and 244MW of battery storage. This, in turn would enable us to retire between 8 and 10 gigawatts of coal-fired power stations. As the twelfth worst carbon-emitting nation in the world and with double the world average carbon emissions per capita, there is considerably interest in and potential for such financing. Ideally, this plan should be available for the United Nations climate summit (COP26) in November this year. De Ruyter said the shift to renewables was inevitable and essential because:
The country's main trading partners like the

European Union

would soon impose tariffs on

imports

from high carbon-emitting countries.
It is virtually impossible to get finance to ensure new

coal

-fired generation.
South Africa's

export

s of vehicles and other products will be negatively impacted if we fail to make the transition.
Predictably and perversely, our Minister of Minerals and Energy, Gwede Mantashe, who unfortunately survived the reshuffle, has publicly opposed closing down coal-fired power stations as "economic suicide". De Ruyter also seeks to get the current 45% tariff on electric vehicles (EV) removed and replaced with an incentive to buy and drive EV's. As CEO of Eskom, de Ruyter, is intent on cutting through the red tape to get this done. Hopefully he will have the full support of the President who has already demonstrated his willingness to override Mantashe. The newly appointed Minister of Finance, Enoch Godongwana says that there should be no problem with obtaining this "concessional finance" provided Eskom stays inside its "guarantee envelope". At the moment, Eskom has R350bn of its debt guaranteed by the government and may have as much as R120bn left of that.
The recent report of the IPCC (International Panel on Climate Change) will ramp up pressure on the countries of the world to move rapidly away from the use of fossil fuels, especially coal. This is likely to impact South Africa directly through Eskom's efforts to negotiate R180bn in climate change finance. The idea is that wealthy nations, especially European nations, should help South Africa to accelerate the closing of coal-fired power stations and move towards renewable energy. The 4000-page IPCC report shows that the world is coming very close to a 1,5 degree (Celsius) rise in average global temperatures above pre-industrial levels which is seen as a "tipping point". The amount of carbon dioxide in the atmosphere is the highest that it has been in 2 million years and the rise in temperatures is already resulting in wildfires and an increase in hurricanes. Clearly, as the world's twelfth largest emitter of greenhouse gases, South Africa can expect to be impacted by this report. That impact may not be totally negative, at least not in the early stages, because it will probably result in significant funding. In the longer term the country may see agricultural output fall sharply due to increased el nino weather patterns and sustained droughts. It is difficult to assess the impact of climate change on the stock market at this stage, but there is little doubt that it will have a growing effect over the next ten years.
The long overdue completion of the Medupi power station may have a small impact on the power situation. It has been completed 6 years late and at almost double the original budget cost. It has an expected life of 50 years, but our guess is that coal will be substantially replaced by renewables long before then. Medupi and Kusile are largely responsible for Eskom's enormous debt pile of around R400bn.
The announcement that Transnet is to look for R100bn of private sector capital to assist it with the development of port facilities in Durban and Eastern Cape marks a major shift in government policy towards privatisation. The term "privatisation" has become taboo within the ANC and so the Transnet CEO and Chairman were at pains to say that this is not what it was - but, obviously, the injection of R100bn will have to be in exchange for equity and that is privatisation. The burning question, which was not answered, is exactly what percentage. Telkom is the best example of privatisation in South Africa, and it has been a roaring success. Theoretically, the government still controls Telkom through the Public Investment Corporation (PIC), but, in reality, it is an autonomous profit-driven entity. If something like that could be arranged for Transnet the outcome would probably be very good. The only problem is that ports like Durban are inherently monopolies and so not ideally suited for privatisation, but anything will be better than the current management disaster.
The proposed National Social Security Fund (NSSF) was outlined in a Green Paper recently, issued by our Social Development Minister, Lindiwe Sisulu. In terms of the proposal, all employees throughout the country will contribute between 8% and 12% of their wages up to a ceiling of R276 000 per annum to create a government run fund that will then provide a retirement income for everyone. It is clear that the idea does not have the support of organised labour or business. It is similar to the National Health Insurance in that it is a grandiose socialist idea which South Africa simply cannot afford and which, if it were ever implemented, would turn into another massive government bureaucracy rife with corruption and inefficiency. The publication of this Green Paper shows that there are still elements within the ANC that are at best unpractical and idealistic and may well have an ulterior motive.
General
The National Business Initiative (NBI), Business Unity SA (BUSA) and the Boston Consulting Group (BCG) have produced a report which says that South Africa, with its complimentary resources of wind and solar power, could become carbon neutral by 2050 and could even create substantial exports of green hydrogen and other green fuels. The cost would be around R3 trillion. It seems fair to assume that this will not happen. However, the shift in legislation to allow distributed generation of up to 100MW without a licence is certainly a step in the right direction. This will release an enormous investment by the private sector in renewables as companies seek to escape from Eskom's unreliable and excessively expensive service. Renewables, especially photovoltaic, look set to become more and more cost effective over the next three decades.
The sharp slow-down in the rate of vaccinations due to "vaccine hesitancy" is becoming a problem for South Africa. There is now an adequate supply of vaccines and many places where people can go to get a free vaccination. The problem is that a large percentage of the population is not turning up to get vaccinated. To counter this problem, it has been ordered that vaccinations be opened to everyone over the age of 18 and that a "vaccination passport" be considered. Such a passport would then be required to enter public transport, shopping centres, and other facilities. So far only 15% of the population has had at least the first shot of the vaccine and 8% is fully inoculated – which is well below the 70% needed to achieve herd immunity. It is becoming increasingly evident that life for people who have not been vaccinated is going to become very difficult both here in South Africa and world-wide. Some international companies have already said that they will not employ people who are not vaccinated. Here in South Africa, the liquor industry is now discussing the idea of making a vaccination certificate a requirement for buying alcohol. It seems that in time it will become almost impossible to live a normal life without proof that you have been vaccinated. Rightly or wrongly, this will go a long way towards overcoming the "vaccine hesitancy" which has slowed down the vaccination process.
The Checkers experiment with a cashless supermarket in Cape Town heralds the way for forward for shopping at grocery stores and stores in general. Customers have to scan an application on their phones when they come into the store and then the products which they put in their trolley are tracked by digital cameras as they walk around. When they leave the store, the purchases are deemed to have been made and their account is debited with the value. If this experiment works, it will do away with the need for till operators and probably also the packers at till points. From the customers' viewpoint it eliminates the tedious wait in the queue at the till. Other supermarkets will certainly be forced to follow.
Companies
PROPERTY
The vacancy rate among office properties in South Africa may be as high as 20% and as much as 33% in Sandton City. Following the pandemic, more people have elected to work from home and there has been a shift away from offices. Many large companies are either cancelling their leases or reducing the amount of space that they require. The big banks in South Africa have been able to get as many as 70% of their staff to work from home and some of those will certainly remain out of the office permanently. This has resulted in some office buildings being converted into residential, especially in those areas, like Sandton, which are business centres.
LIFE HEALTHCARE
Life Healthcare (LHC) is the second-largest, JSE main board listed healthcare company with private hospitals, same-day clinics and surgeries. It has operations in South Africa and the UK (Alliance Medical). It has 9151 registered beds. In a trading statement for the 12 months to 30th September 2021 the company estimated that earnings per share (EPS) would rise by more than 100%. Technically, the share peaked at R47 in September 2014 and has been in a long-term downward trend. It made a bottom at about R16 in December 2020. Consider the chart: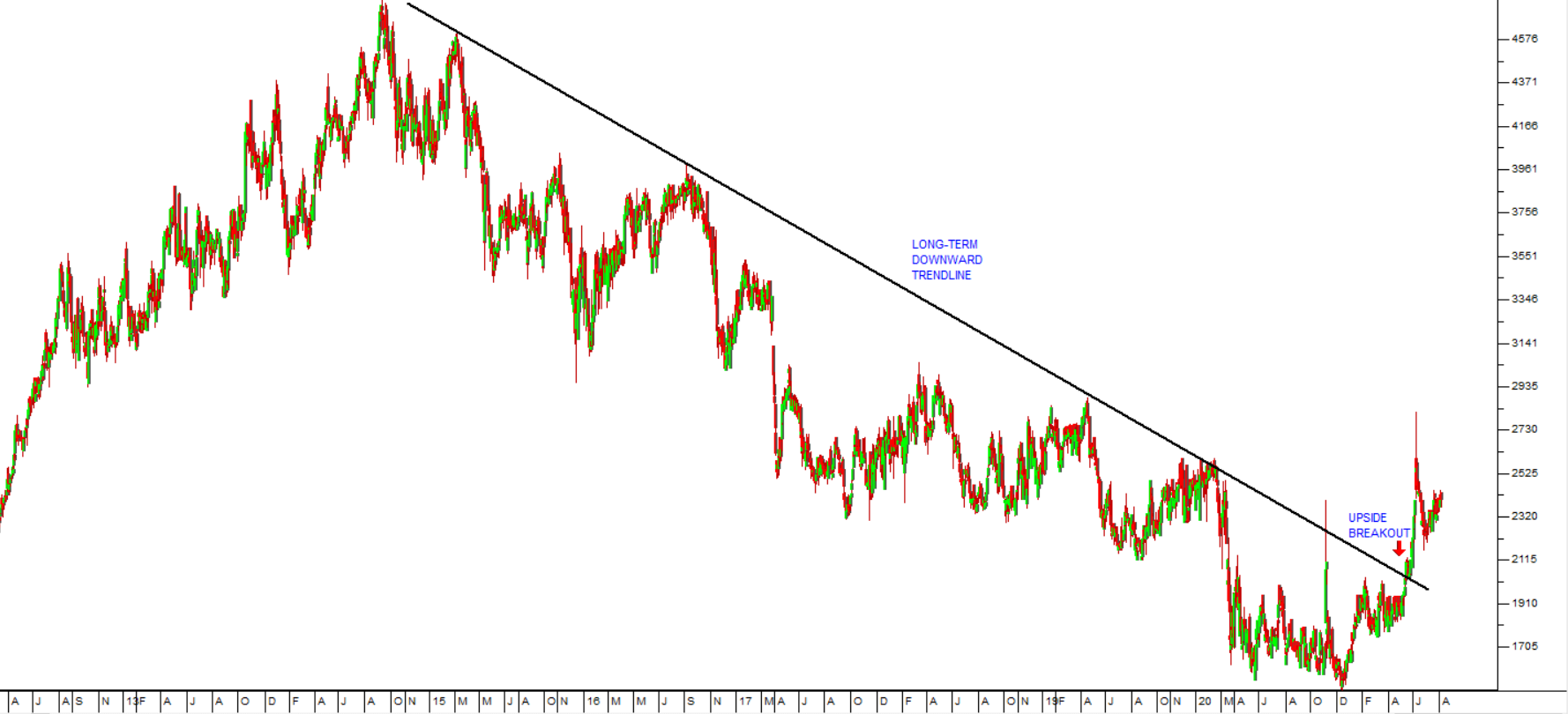 There has been an upside break through the share's long-term downward trendline - which happened on 18th May 2021 at 2108c. The company's expectation of improved results, its defensive nature and its overseas diversification have interested institutional investors. In our view, this share still looks like reasonable value at current levels, and it has been benefiting from the weakening rand.
NEPI ROCKCASTLE
This company owns more than 50 shopping malls in Central and Eastern Europe (CEE) worth about 5,8bn euros – which makes it a great rand hedge. Like most property companies on the JSE its shares were under the whip last year. At the beginning of November 2020 its shares were trading for about half of its net asset value (NAV). Since then, the share has recovered substantially, but it is still below its NAV and on a multiple of 16,2. In its latest results for the six months to 30th June 2021 the company reported a collection rate of 94% with a 95,6% occupancy. Headline earnings climbed from a loss of 0,98 euro cents to a profit of 16,43 euro cents. The CEO, Alex Morar, said that there had been good progress in vaccinations and a steady drop in COVID-19 infections in the CEE. Most trading restrictions have been lifted and Nepi's entire gross lettable area (GLA) was once again operational. Technically, the share looks ready to break into a new upward trend soon. Consider the chart: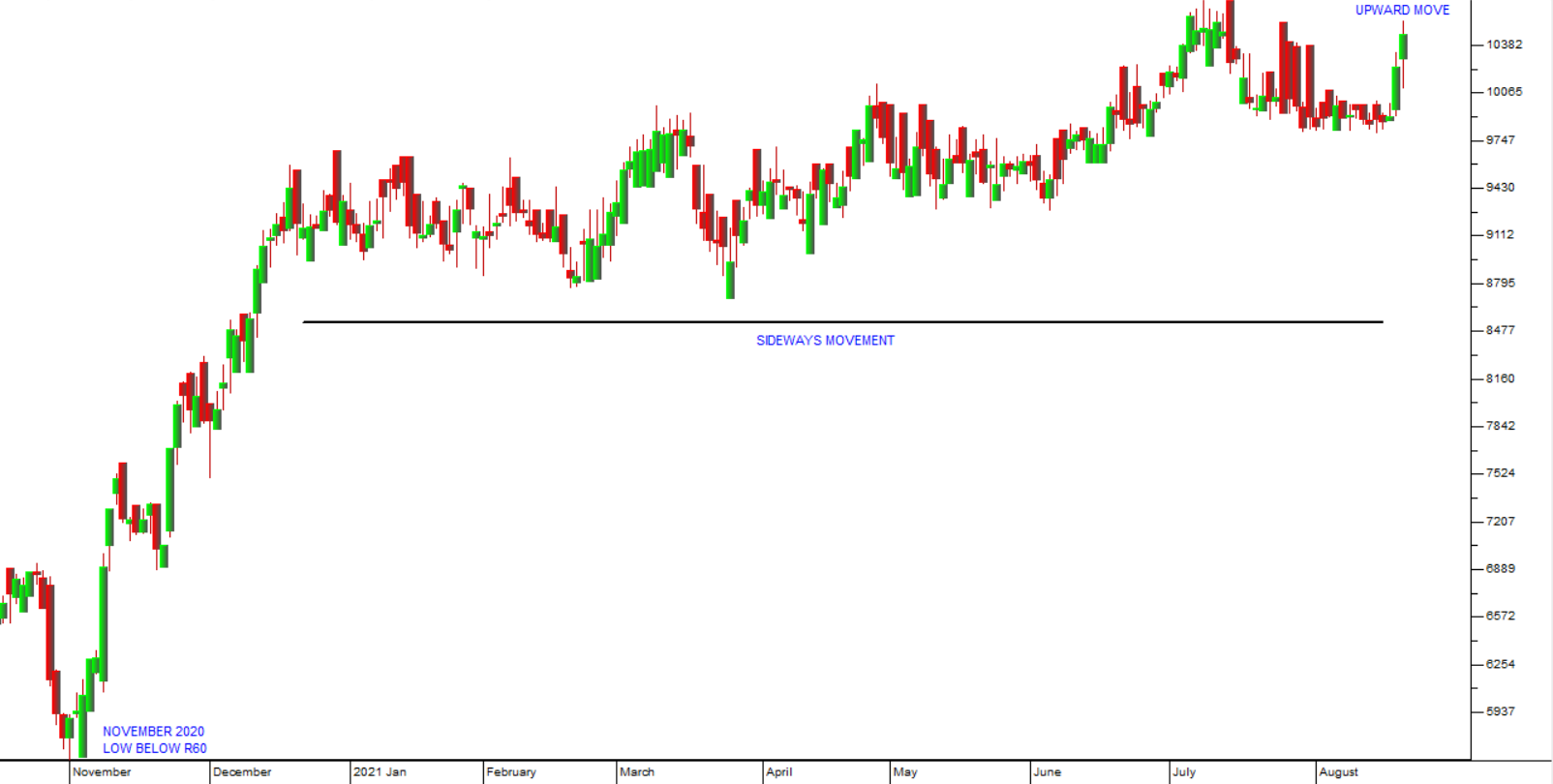 You can see here that after its low in November last year, the share rose sharply to just below R100 and has spent this year moving sideways and slightly upwards. We believe that it is now entering a new upward trend.
SHOPRITE
Shoprite (SHP) is the largest grocery retailer and consumer goods company in Africa. In the last few years, intense price competition has prevented supermarkets from passing on price increases to consumers. The share price has been hammered down from a high of R275 in March 2018 to levels around R100 in July 2020 but since then has since recovered strongly. In a major departure from previous policy of expanding into Africa, the company decided to exit Nigeria and more recently has said it will pull out of Kenya, Uganda and Madagascar as well. The company claims to have made market share gains for 22 consecutive months. The company opened 147 stores during the year. In a trading statement for the 53 weeks to 4th July 2021 the company reported that total merchandise sales were up by 8,1% and furniture sales up 24,6%. The company estimates that adjusted HEPS will increase by between 22,3% and 32,3%. It has agreed to buy 56 Cambridge and Rhino food stores from Massmart. In a report on the unrest and looting the company said, "Of the 1 189 supermarkets trading under the Shoprite, Usave, Checkers and Checkers Hyper banners, 119 stores (69 Shoprite, 44 Usave and six Checkers, including one Checkers Hyper) have been severely impacted as a result of looting and/or fire damage". We continue to believe that Shoprite is cheap at current levels. Technically, we drew attention to the fact that the share had broken above its 200-day moving average in the Confidential Report on 2nd September 2020. The share was then trading for 11696c. Since that time, the share has appreciated to 18385c - a gain of 57% in just under 1 year. Consider the chart: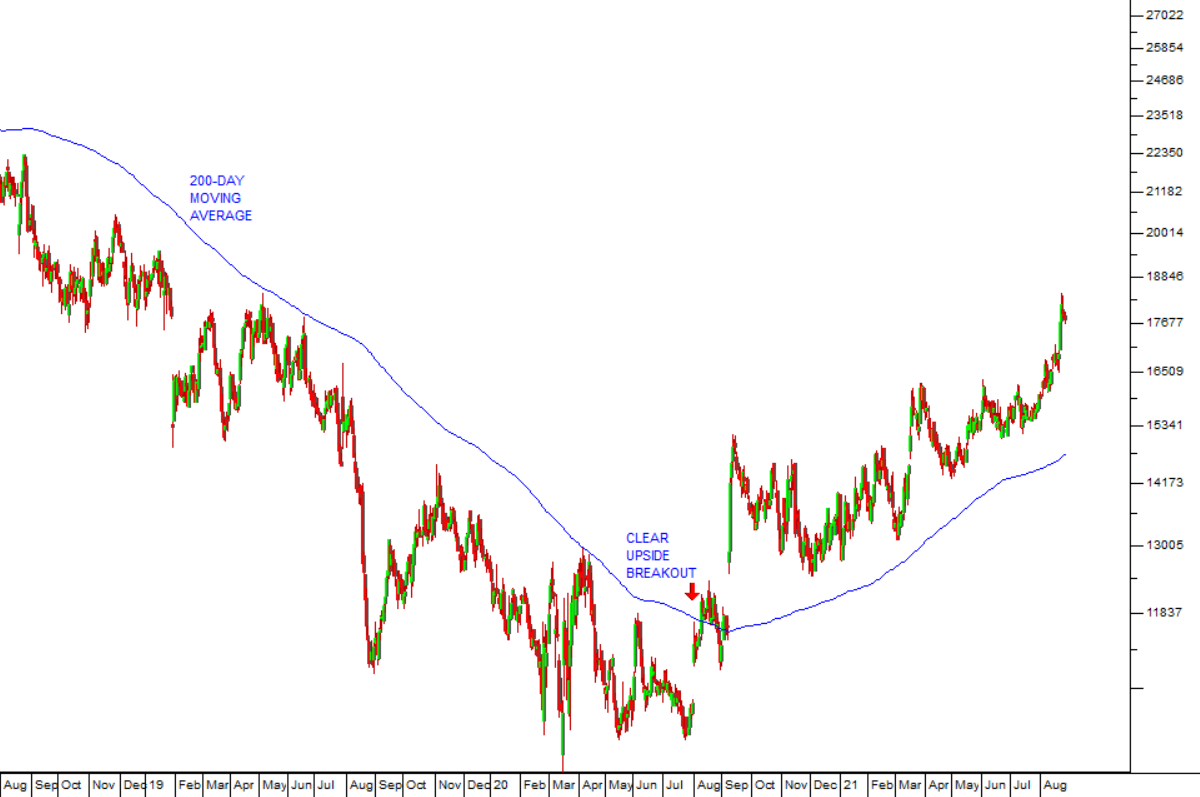 WBHO
WBHO (WBO) is now South Africa's largest construction company - after the relative demise of Aveng and Murray & Roberts. It has a market capitalisation of about R7bn. It diversified early into Africa to the North, Australia, and the UK. In a trading statement for the year to 30th June 2021 the company estimated that HEPS would be 600c compared to a loss of 923c in the previous year. In our opinion, the strength of this company lies in the fact that it is primarily located outside South Africa and is reducing its exposure to this country steadily. It has recently said that it has noted an increase in infrastructure spend in South Africa, especially in renewable energy projects. Technically the share remains in a downtrend following the impact of COVID-19 and its difficulties in Australia. We suggested waiting for a clear upward break through its long-term downward trendline - which has now happened.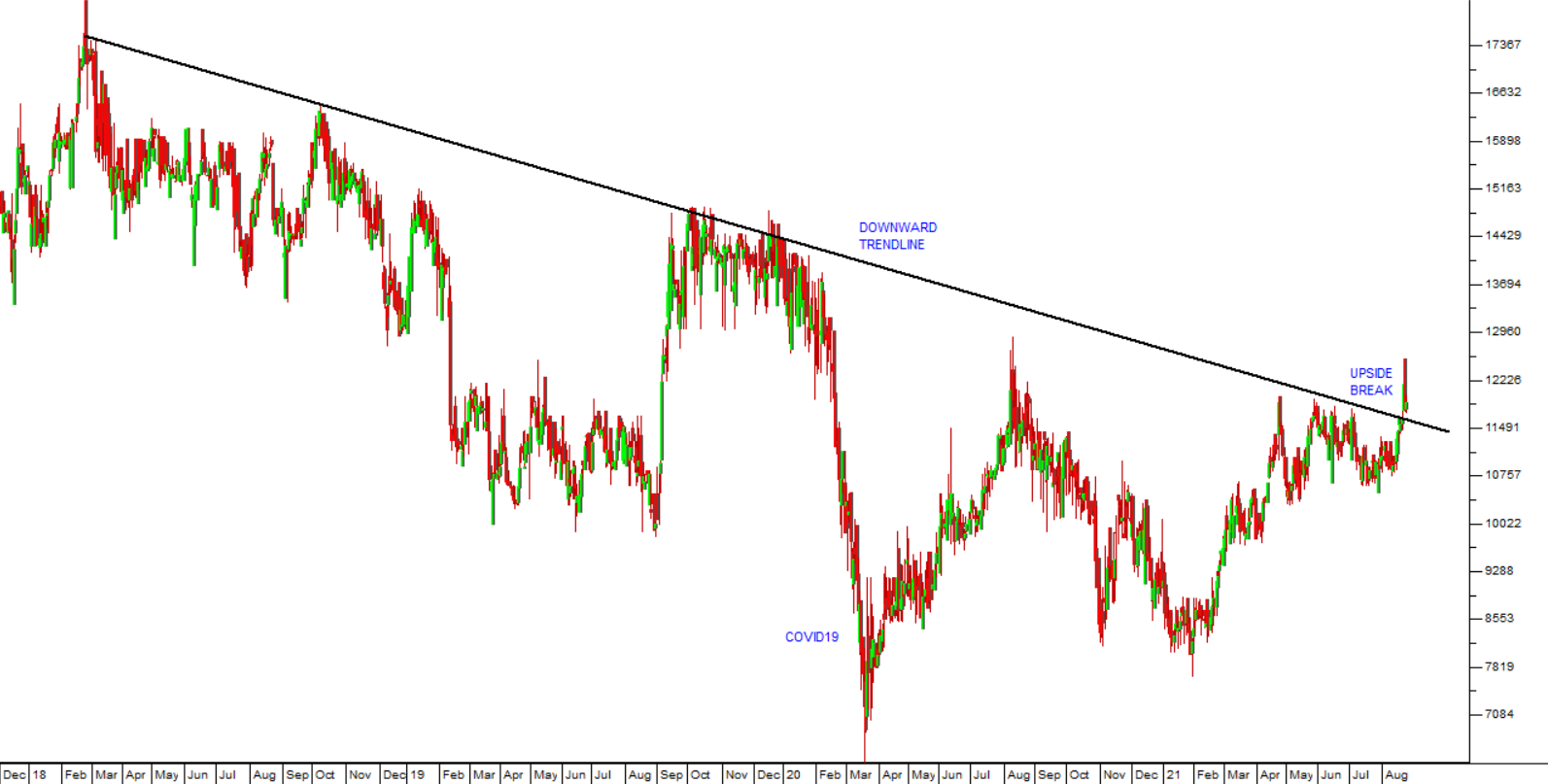 We believe that this share is now in a new upward trend.
BLUE LABEL
Blue Label Telecoms (BLU) is the company which bought 45% of Cell-C in September 2016 for R7,55bn, R3,9bn of which was paid for by the issue of the 272m shares. Obviously, much depends on its ability to improve the profitability of Cell-C. Debt levels at Cell-C are up to around R9bn. So, Cell-C's debt is almost double Blue Label's market capitalisation which is R5,3bn. We advised waiting for the share to break up through its long-term downward trendline before buying. That break came with the share at 259c on 26th May 2020 and the share is now trading for 586c - a gain of 126% in 15 months. The company has been achieving positive cash flows and has had the benefit of the sale of its 3G handset division - which helped to bring down debt levels. Technically, it looks like this share has passed the worst, and is moving up well.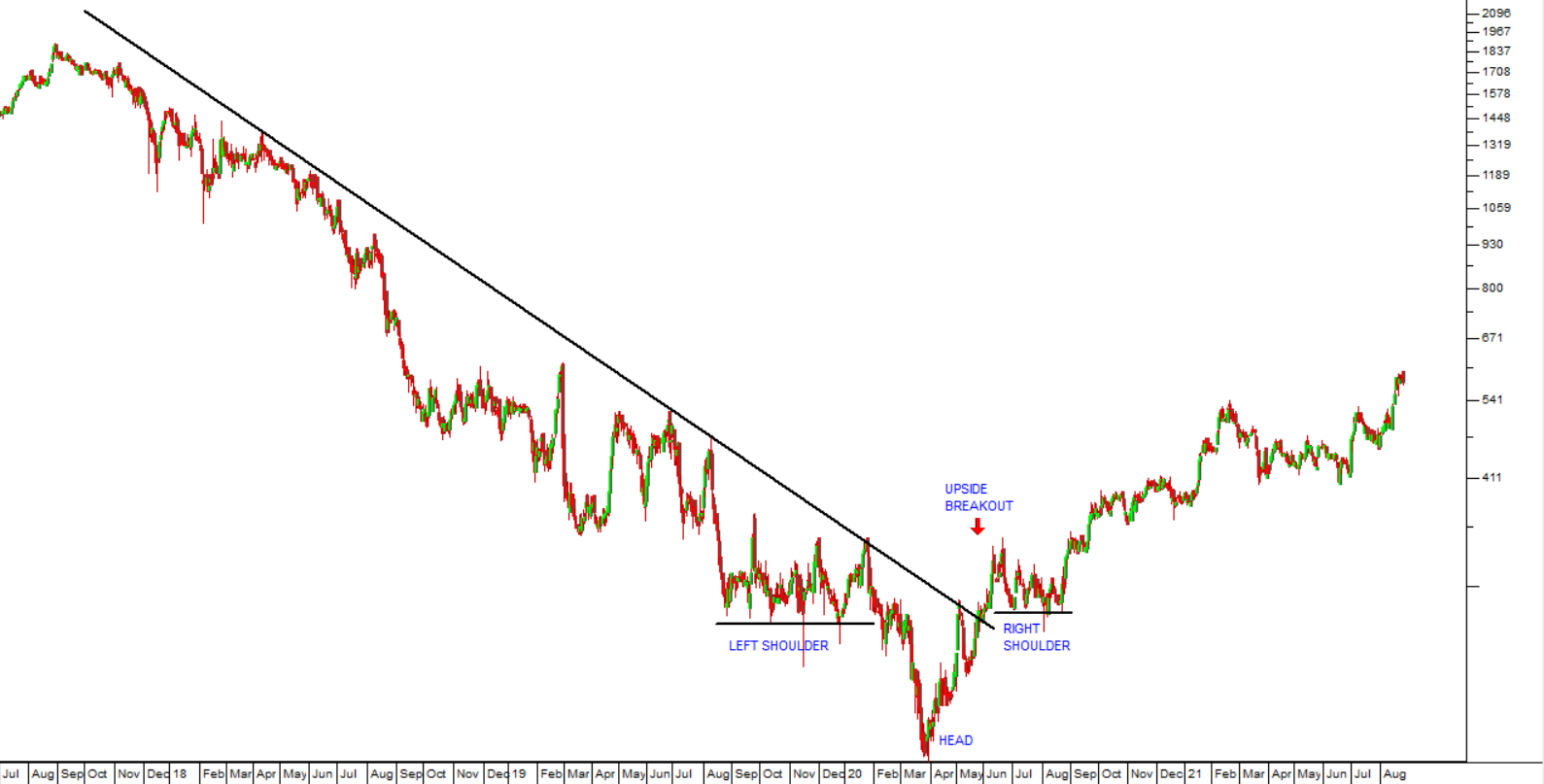 SIBANYE
Under the guidance of its remarkable CEO, Neal Froneman, Sibanye (SSW) has become the largest producer of platinum group metals (PGM) in the world. It still produces gold in South Africa and is now investing in those base metals which are used in battery technology. While the share price has moved up strongly, it still reflects a discount as a result of its South African connection. Froneman says the share, which has been drifting down for the last six months, is under-valued and should be re-rated upwards. We agree with him. Consider the chart: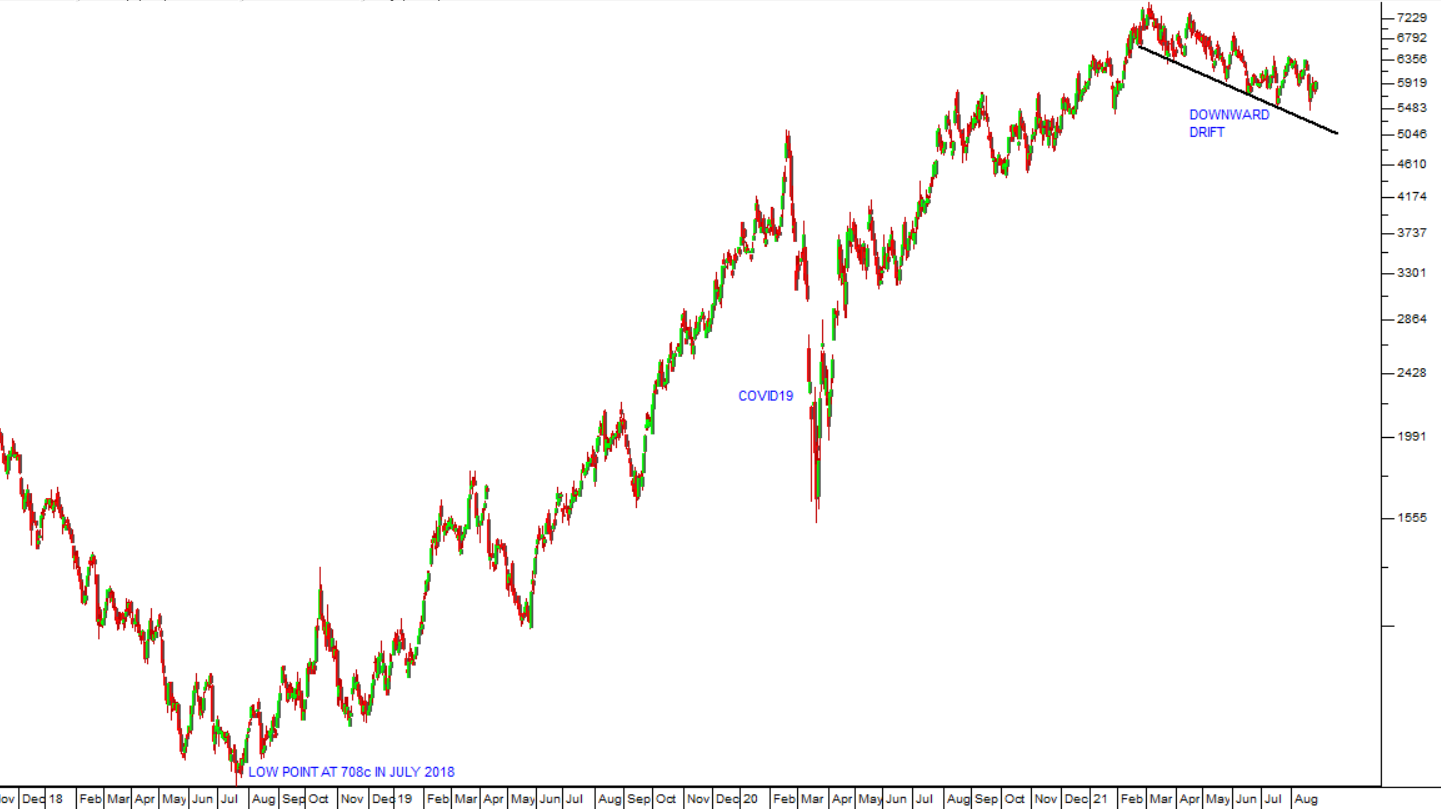 You can see here the low point at around R7 which occurred in July 2018 and the strong upward trend which followed. The share recovered well from the COVID-19 downward spike but has now been losing value since February 2021. Of course, it remains a speculation of precious metals, but given Froneman's track record of creating value in mining operations we think it is definitely cheap.
DISCLAIMER
All information and data contained within the PDSnet Articles is for informational purposes only. PDSnet makes no representations as to the accuracy, completeness, suitability, or validity, of any information, and shall not be liable for any errors, omissions, or any losses, injuries, or damages arising from its display or use. Information in the PDSnet Articles are based on the author's opinion and experience and should not be considered professional financial investment advice. The ideas and strategies should never be used without first assessing your own personal and financial situation, or without consulting a financial professional. Thoughts and opinions will also change from time to time as more information is accumulated. PDSnet reserves the right to delete any comment or opinion for any reason.
Share this article: