2 September 2020
By PDSNET
America
The new approach to monetary policy, announced by Jerome Powell (Chairman of the Federal Reserve Bank) on 27th August 2020, has been interpreted by the market as substantially more dovish, with the immediate result that the S&P500 broke up to new record highs – well above the previous high of 3386 made on 19th February 2020, before the advent of COVID-19.
Powell indicated that the Fed (the Monetary Policy Committee - MPC) would in future be more motivated to ensure full employment and less motivated to keep inflation under control. Prior to COVID-19 the US economy was at full employment. In fact, economists were being forced to adjust their understanding of exactly what full employment meant because the unemployment rate fell to historically low levels at 3,5%. It was previously thought that full employment occurred when 4% of the work force was unemployed.
In economic theory, when full employment is reached, wages and salaries begin to rise as companies compete for increasingly scarce labour. But that did not happen. In fact, inflation remained stubbornly below the Fed's target of 2%. COVID-19, of course, has put even more downward pressure on inflation because the various lockdowns have restricted consumer spending, and increased unemployment.
As the number of corona cases declines steadily, the US economy has rapidly resumed its growth path, but now with the powerful additional thrust of the massive fiscal and monetary stimulus approved by Congress and ultra-low interest rates. The bull trend which began over 11 years ago (March 2009) is now back on track with a vengeance.
Technically, the V-bottom which we anticipated in our article of 13th March 2020, https://www.pdsnet.co.za/onlinecourse/article_view.php?article_id=23617 is now complete and the S&P500 has resumed its upward momentum, but with the added force of the US government's package of COVID-19 stimulus measures. Consider the chart: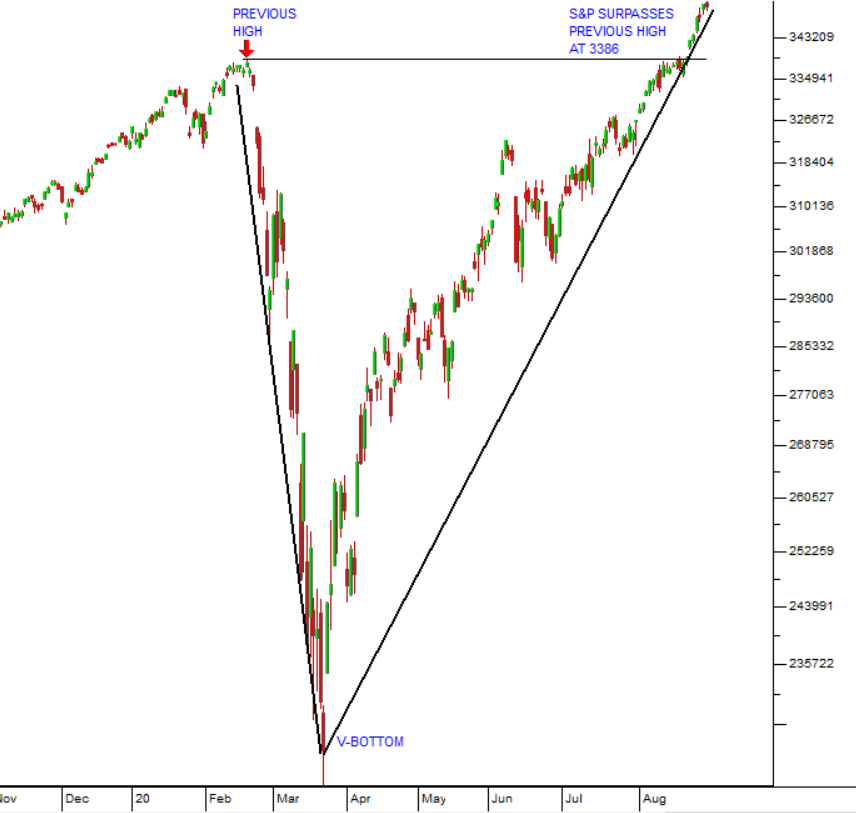 With the advantage of hindsight, and now that the S&P has broken to a series of new highs, the V-bottom is clearly visible and obvious. Technically, we never saw this as a classical bear trend. Rather we always considered it to be a temporary and short-term aberration in the overall bull trend which has been in progress since March 2009. Consider this long-term chart of the great bull market: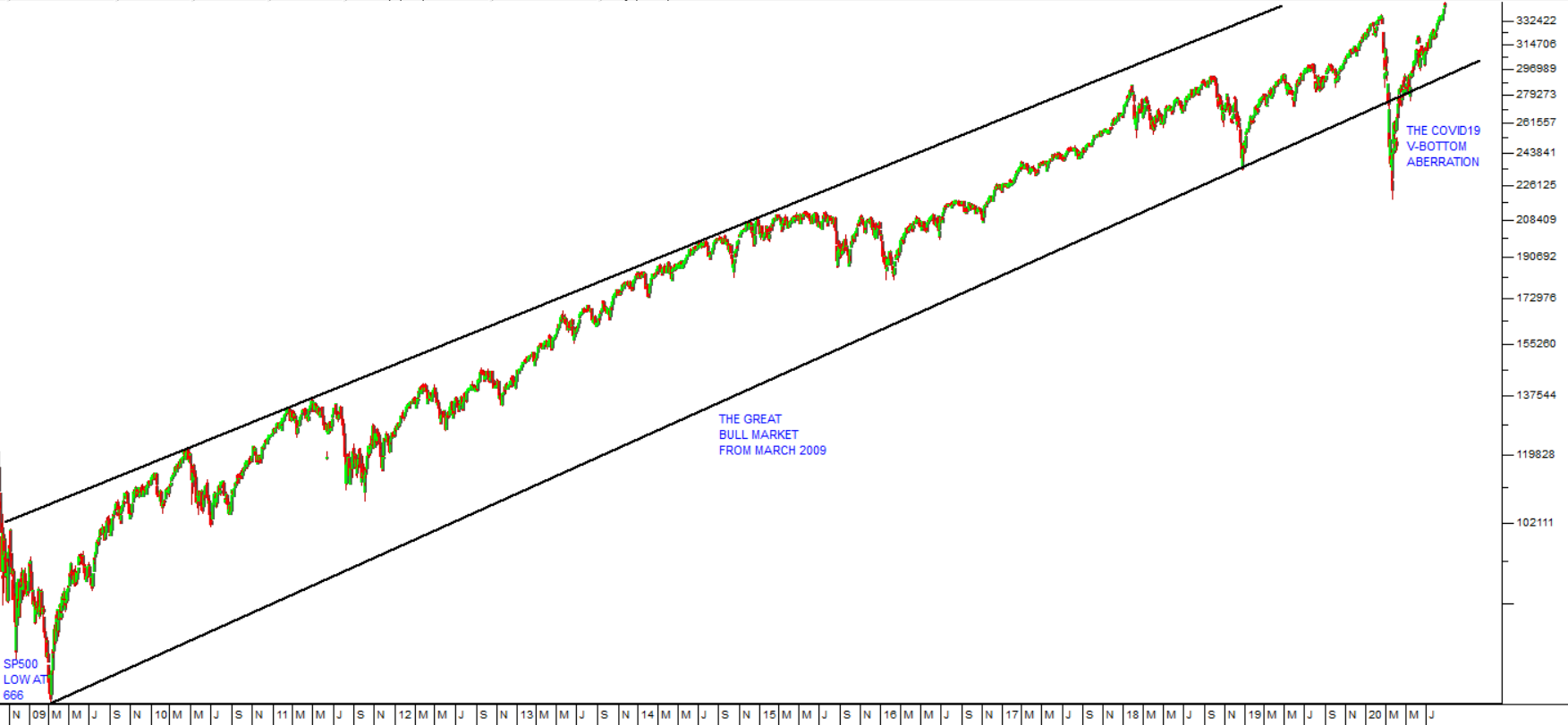 This chart goes back to September 2008 when the impact of the sub-prime crisis was in full swing and the S&P500 index was falling rapidly. It bottomed at an intra-day low of 666 on the 6th March 2009 and has been trending up, with periodic corrections, since then. You can also see the short, sharp, COVID-19 V-bottom which lasted for almost exactly 6 months. For the reasons explained in our article of 13th March 2020, we regard this as an aberration from a technical point of view. From a fundamental perspective, the impact of the virus has been to inject even greater stimulus into the world economy – which is being reflected in the rapid rise of markets world-wide, now that fear of the virus is receding.
On our website (www.pdsnet.co.za) under the heading "About", we have given you what we have described as "Our Background Approach" to the markets. This lengthy discourse, which has been updated on our web site for many years, explains the context within which we see the stock markets of the world – a context which has its roots in the mid-1920's before the stock market crash of 1929 and the Great Depression. In that document we suggest that the world is now in the throes of the greatest bull market of this century and probably the greatest bull market ever. In that context the COVID-19 V-bottom is a short blip.
It is now clear to us that the response of central banks around the world to COVID-19 has made our prediction of the extraordinary persistence of this great bull market even more certain. In fact, we now consider that the added stimulus of the world economy will cause markets to rise exponentially sooner than that document envisages.
We must remind you that all booms result in inflation, sooner or later. A boom of these proportions will ultimately result in excessive inflation – and that must be followed by a significant response from the Fed (and other central banks) to cool the economy down. We have always expected and predicted that sooner or later this boom would lead to inflation. Even an economy the size of the United States cannot escape the consequences of continuous and material stimulation on this scale.
What is abundantly apparent is that, right now, Powell and the Fed are not at all concerned about inflation. They are intent on letting the economy expand to absorb and exploit the full effect of the stimulation response to COVID-19. For the next Kondratiev wave to occur, people (like Powell and others) must first forget about Kondratiev – which is exactly what they are doing.
SA Economy
President Ramaphosa has responded to improving COVID-19 infection rates by taking the country down to level 2 and allowing alcohol and cigarette sales to resume. This will obviously bring welcome relief to various sectors of the economy and mitigate job losses to some extent. For many small businesses, the relief will come too late and other stronger competitors will take up the market share that they vacate. The return of schedule 2 load shedding in parts of the economy is a negative, but so far, the impact has been fairly muted. Obviously, the recovery of the economy is also dependent on having a reliable electricity supply.
There seems to be a strong probability that the government will lose its court case with the unions over the R37,5bn which is part of their 3-year wage agreement with the state. This outcome is even more likely given the fact that Denel recently lost its case with costs where it sought to renege on existing wage agreements. Losing the case will be a major set-back because the government does not have the R37,5bn that they are contractually obliged to pay. The court's decision will then be followed by wage negotiations for the next 3-year period which commences in 2021. Clearly, those negotiations will be undertaken in an atmosphere of extreme distrust. In our opinion, there is a strong probability that they will involve a strike by civil servants. This may well be the show-down between organized labour and the government that has been brewing since the Ramaphosa administration took control. How it is resolved will be critical to the progress of the economy in the future.
In addition, many economists think it is unlikely that Mboweni will be able to deliver the R230bn in cuts which he put in the supplementary budget. If the sceptics are right, then the deficit will go much higher than planned and take much longer to repay. This would also threaten the newly acquired IMF loan which requires the government to provide a quarterly report on its progress. We still believe that the government will end up undertaking some form of quantitative easing (Q/E), sooner or later, despite the opposition of Governor of the Reserve Bank, Kganyago. It will be a significant achievement if Q/E can be avoided. The problem with Q/E is that once it has been done once for COVID-19, the government (especially an ANC government), will always feel tempted to do it again to solve lesser funding problems. In other words, Q/E creates what is known as a "moral hazard" and perhaps that is why Kganyago is so set against it. The ANC's greatest achievement since coming into office in 1994 is that they have never debased the currency – as was done in Zimbabwe with disastrous consequences. The fact that the government still submits to the discipline of budgeting to control its expenditure is a major positive factor in this country's economy – especially from the perspective of overseas investors. The deficit of 15,7% which is now envisaged can be brought back to more reasonable levels and the discipline of budgeting can be maintained. It will undoubtedly be arduous – but it can be done.
It is clear that the revelation of corruption by ANC members in the allocation of COVID-19 tenders has disturbed the political balance. The fault lines within the ANC between those who still actively benefit from corruption, with a documented history of it, and those who are trying to implement reform have never been more evident. There is now a debate within the ANC about whether senior ANC members with a history of corruption should continue to hold positions within the organisation and in government. It is impossible to predict exactly how this conflict will be resolved. Investors have to hope that Ramaphosa is slowly closing the net over corrupt party officials. The reform process has been proceeding very slowly and no really important arrests or convictions are yet evident. Some investors have undoubtedly lost patience, but the strength of the rand and the yield on the long bond suggests that the majority of foreign investors remain optimistic of an eventual positive outcome. At the least they see South Africa as a better destination for their funds than other emerging economies like Brazil or Turkey.
It is interesting that the international ratings agency, Fitch, is now predicting only a 6,7% decline in gross domestic product (GDP) in South Africa in 2020, followed by a 3,9% rebound in 2021. These figures are even more optimistic than the Reserve Bank's estimates and are made more recently (in August 2020). This suggests that the predictions of other economists who spoke of a contraction of 10% or more are probably wrong. Our view has always been that the economy will rebound strongly, especially now that we have moved to level 2. We also believe that the impact of the virus has not been altogether negative because it has shifted the economy dramatically towards the digital world with people now working from home and companies running their meetings online. There are significant efficiencies which are achieved by these means and these efficiencies will ultimately reflect in the growth rate.
The shift towards working from home is unlikely to be reversed once the pandemic is over. Some large companies (notably the banks) have managed to move as many as 70% of their staff to working from home and it seems unlikely that they will return those staff to working in an office anytime soon. This obviously has benefits for the employee who does not need to incur the cost of driving to work and makes a significant time saving. It also brings cost savings to the company who can reduce the amount of office space and infrastructure that they need. Many small service companies are in the process of closing their offices permanently and working completely from home. Almost all business meetings are now conducted online using tools such as Zoom. Online shopping has also had a major boost with a significant increase in the percentage of retail spending done this way. The point is that all these changes amount to a massive and probably permanent shift in our economy and imply considerable cost savings and improved efficiency. We believe that this will have a major impact as the economy recovers and into the future. In other words, the economic impact of COVID-19 has not all been bad.
The drop in the number of cases and deaths from COVID-19 over the past month is encouraging. It is pointing to the probability that the pandemic reached its peak in South Africa at the end of July 2020 (about a month earlier than expected) and that it is now coming under control. We believe that this is probably because of some level of herd immunity developing, especially in our ubiquitous informal settlements. These informal settlements were always the most vulnerable part of South Africa and have had the least resources to cope with the pandemic. The fact that the taxi industry has been almost unimpeded in its activities during the lockdown probably means that the virus spread rapidly through and between informal settlement communities. South Africa has been implementing the BCG vaccination at birth for many decades and that has now been shown to reduce the death rate from COVID-19. To this must be added the fact that the average age of people living in the informal settlements is relatively low. There are very few people over the age of 60 and they have always been the worst affected by this disease. To us it looks like the disease ran through these settlements quickly, causing a short-term spike in deaths (many not recorded as COVID-19 deaths). By now most people in the informal settlements have probably had the disease and are immune resulting in a steady drop-off in fatalities. Obviously, without extensive testing this hypothesis cannot be proven, but how else can the sharp drop-off in cases and deaths be explained? If we are right, then the implication is that South Africa will recover relatively quickly and without a second wave of the infection.
OTHER ASPECTS OF THE ECONOMY
The second ban on sales of liquor in South Africa had the effect of causing SA Breweries (now a subsidiary of AB Inbev) to cancel or review a R5bn potential investment in this country. This is obviously part of the enormous cost of the pandemic. It comes as the second largest brewer in the world, Heineken also decided to reconsider further investment into this country. Obviously, this amounts to a significant loss of job opportunities at least for the time being. The two companies indicate that this year they have lost at least 30% of their annual sales due to COVID-19 – and, of course, thousands of small businesses who run bottle stores and employ a few staff are battling to survive this ban. No doubt many of them will disappear forever.
Vehicle sales are running about 36% below last year's sales for the first 7 months, mainly due to the lockdown and the gradual resumption of business. The new car sales were 32400 in July 2020 – 750 above June, but considerably less than the same month last year. The sector is clearly in a recovery phase and each month is better than the previous one. Consumers have had their financial situations hammered by job losses and salary sacrifices, but many have also benefited from much lower bond repayments. Some of those are putting their surplus cash into replacing their vehicle.
Manufacturing is making steady progress. In April 2020 the sector was almost 50% below the same month in 2019, in May month this was reduced to 32,4% and in June the sector was 16,3% below last year's June figure. This shows the rapid recovery in manufacturing towards pre-COVID-19 levels. Obviously, the position before COVID-19 began was not great with the economy already in recession, but we believe that in some respects the economy will be considerably better positioned in the post-COVID-19 period. It is encouraging that the purchasing managers index (PMI) was positive again for July – the third month in a row that it has been above 50 – which indicates expansion. Clearly manufacturers are getting back to work with both new sales levels and business activity showing improvement. Of course, the figures are still well below what they were last year – but the new growth is encouraging. The manufacturing sector accounts for about 13% of gross domestic product (GDP) and about 10,5% of employment. Export sales which are a component of the PMI also showed an increase. In the end the South African economy is and has always been export-led and we need to see a rise in exports to get our recovery going.
One bright spot in the 2020 year has been agriculture. This sector, which only contributes about 3% of gross domestic product (GDP) and employs about 900 000 people, has been almost completely unaffected by COVID-19. The maize crop last year was the second largest on record, enabling substantial exports and the coming year is looking just as good. Importantly, tens of thousands of subsistence farmers have been able to grow sufficient food to feed their families and thus are less of a burden on the state and NGOs. In the citrus industry, South Africa expects to export about 60 000 tons of citrus to the US – 9% more than last year's record of 55 000 tons. Overall, the citrus industry expects to export 13% more fruit this year than last. The vitamin C in citrus is seen as mitigating COVID-19, resulting in increased demand.
The Treasury's refusal to provide additional funding for Denel probably means that this beleaguered state-owned enterprise (SOE) will enter business rescue soon. The company is described as "strategic" by the government, but nobody seems to be coming to assist it. It has not paid out salaries since May 2020 and its CEO has just resigned. The new CEO, Talib Sadik, has a massive task to turn the cash-strapped company around. Most of its qualified engineers have found other employment – often overseas and it has just lost a major contract worth R4,5bn from Egypt. It looks like it will follow the same path as SAA in the near future. There is no doubt that Denel was a good and profitable business before state capture.
A recent survey shows that as many as 80% of South Africans make use of short-term salary advances from microlenders to get through the month. This trend has been worsened by the lockdown because many South Africans, who were only just coping before it began now face retrenchment or a reduced salary package. The Reserve Bank says that household debt is now 74% of annual disposable income – which is a considerable improvement on a decade ago, but still means that the average household is spending about 9,4% of their monthly income just on servicing their debt. Obviously the drop in interest rates has made those households who have not had to face retrenchment a lot better off, but many of those same households have had their income reduced during the lockdown period and some of the household breadwinners have lost their jobs. Statistics just released show that as of May 2020, the average South African owed just under R20 000 in credit card debt, had a bond of R515 000, motor car debt of about R180 000 and personal loans of R35 000. This level of indebtedness has made it more difficult to survive during COVID-19, resulting in many consumers taking payday loans at very high rates of interest. The National Alliance of Independent Schools (NAISA) says that as many as 80% of parents are failing to pay school fees – which is putting private or independent schools in danger and some have already closed. Parents have lost their jobs or have had their salaries cut and some parents have moved to home schooling. At the same time, the banks have noticed that applications for bonds have risen above pre-COVID-19 levels and that the housing market appears to be buoyant. House prices went up by 1,4% in July 2020 compared to July 2019. It seems that many people are taking advantage of the 3% drop in interest rates to buy a house. Banks have also noticed an increase in short-term savings and the purchase of unit trusts while overdrafts, personal loans and credit cards are being paid off. Obviously, some people have decided to use the extra income from lower bond repayments to improve their financial position.
The inflation figure for July 2020 came in at 3,2% - slightly ahead of average economists' predictions of 3% mainly because of higher fuel prices. Despite this, most economists see interest rates being cut by a further 0,25% to 0,5% before the end of the year. They also predict that the Reserve Banks forecast of a 7,3% decline in gross domestic product (GDP) will prove to be an under-estimate. The key will be the GDP figures for the second quarter which will show how much the economy shrank when the lockdowns were at their worst. In our view, the Reserve Bank's forecast is likely to be a little conservative if anything – we think that the economy has responded better than most economists. We also believe that next year will see a rapid recovery from current levels the "V-bottom" which we have seen in the share markets of the world will be repeated in their economies, including the South African economy.
The culture of non-payment for services extends very deep in South Africa. It impacts on many government agencies, especially on Escom where there is a plethora of illegal unpaid-for connections. The municipalities too face a massive non-payment of rates and were collectively owed R191bn at the end of the last fiscal year (29th February 2020). A recent Treasury report says that much of this debt is now uncollectible. Rates are, however, normally paid by property owners for services like rubbish removal and road maintenance. The fact that the bulk of these debts cannot be collected can only be because they have prescribed. The debtors concerned have an immovable asset in the form of their property – which could be sold to redeem the debt. So, it seems probable that this huge debt can only arise from incompetent management of municipalities debtors' books. Obviously, the lockdown has made it more difficult to collect rates and many businesses have been liquidated. It is also extraordinary that almost R15bn of this debt is owed by government agencies of one sort or another.
The Rand
We have always maintained that the rand is under-valued against first world currencies. This has been particularly true during the COVID-19 period. The periodic massive shifts to risk-off sentiment worldwide over this time have seen a rush of money out of emerging economies and into US treasuries which are by now trading at yields well below inflation. Risk-off sentiment reached a peak in March and April this year which was characterized by a "double top" formation in the rand/US dollar chart: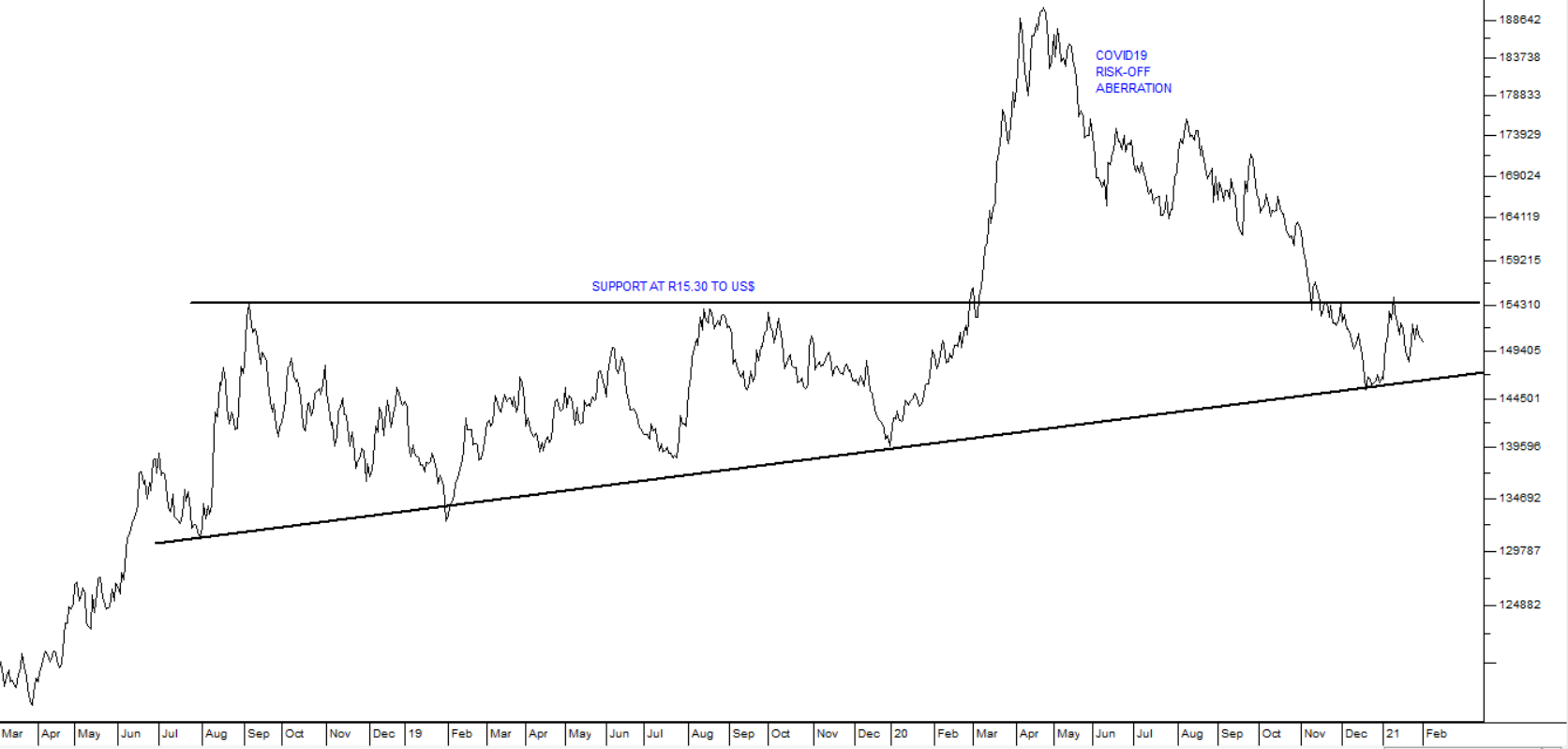 Since then the rand has been in a strengthening trend interrupted by periods of renewed risk-off sentiment. Most recently, as the S&P500 index broke to record highs, risk-on sentiment has dominated, and the rand has recovered to around R16.60. We expect this trend to continue as overseas investors are attracted to the high real returns on our government bonds and other investments. As the rand strengthens it will keep our inflation rate subdued, the petrol price will remain where it is or even fall and our rand hedge shares will look less appealing.
Of course, a major factor here is overseas perception of our political and economic management. In this regard the recent corruption revealed in the ANC, especially in the COVID-19 tenders, has done some damage to our image which is directly reflected in the rand. Foreign investors seem to be giving us the benefit of the doubt, however, and are moving their cash back into rand-denominated assets with increasing enthusiasm.
Commodities
April and May 2020 were terrible months for the mining sector, but in June the average value of mineral exports exceeded average of any month in the 12 months prior to March 2020. Production levels still lag behind because only about 75% of the mining workforce was back at work at the start of August 2020, but the rand's relative weakness meant that the rand value of exports rose sharply. This obviously indicates that as production rises to 100% the value of mineral exports will increase even further. Gold exports, particularly, were very good in June being more than 60% above any month in the previous year. Platinum group metals (PGM) were up by 27% on much lower volumes.
It is notable that in its recent results, the international mining house, Glencore, said that it had decided not to re-open its ferrochrome smelter in Lydenberg because of the high and rising cost of electricity in South Africa. Escom has just won a court case to add R69bn to its pricing over the next three years which will put even more pressure on businesses and consumers. Many companies and individuals are investing in their own power generation and will cease to be Escom clients permanently. Ultimately, this trend will destroy Escom's income base.
The Prieska copper and zinc operation, Orion Minerals, has finally obtained all the permits it needs to commence operations. Obtaining these permits took five years and a super-human effort, according to the CEO, Errol Smart. He also said that there were many other potentially viable prospecting operations which could be brought online if they had the required permits – but they were being impeded by bureaucracy. Orion, once it is operational will generate about R40bn in export earnings and create hundreds of jobs. This shows the impact of government red tape in the mining sector.
Companies
GROCERIES
For many decades the grocery retail sector in South Africa has been dominated by two major players – Pick 'n Pay and Shoprite. For many years Raymond Ackerman dominated the market and Shoprite/Checkers played second fiddle under former CEO, Whitey Basson. Following Ackerman's retirement Pick 'n Pay went into a slump and Basson was able to steer Shoprite into a position of dominance by expanding aggressively into Africa and pouring money into improving Shoprite's warehousing, distribution and stock management. Finally, Richard Brasher, formerly from Tesco in the UK, was appointed to turn Pick 'n Pay around, and he has done a great job, although he is now reaching the end of his tenure. Shoprite has become the dominant player with a market capitalization of R71,5bn compared to Pick 'n Pay's R21,9bn. Both shares are on an earnings multiple of around 16 and both have positives and negatives from a private investor's perspective. Shoprite is benefiting from the growing confidence of its CEO, Pieter Engelbrecht while Pick 'n Pay may find itself in a leadership vacuum once Brasher leaves. Engelbrecht took the decision to extract Shoprite from Nigeria because it is apparently too corrupt to run the business effectively. Despite this, Shoprite remains heavily invested in Africa outside South Africa. Technically, we see Shoprite as the better option. Consider the chart: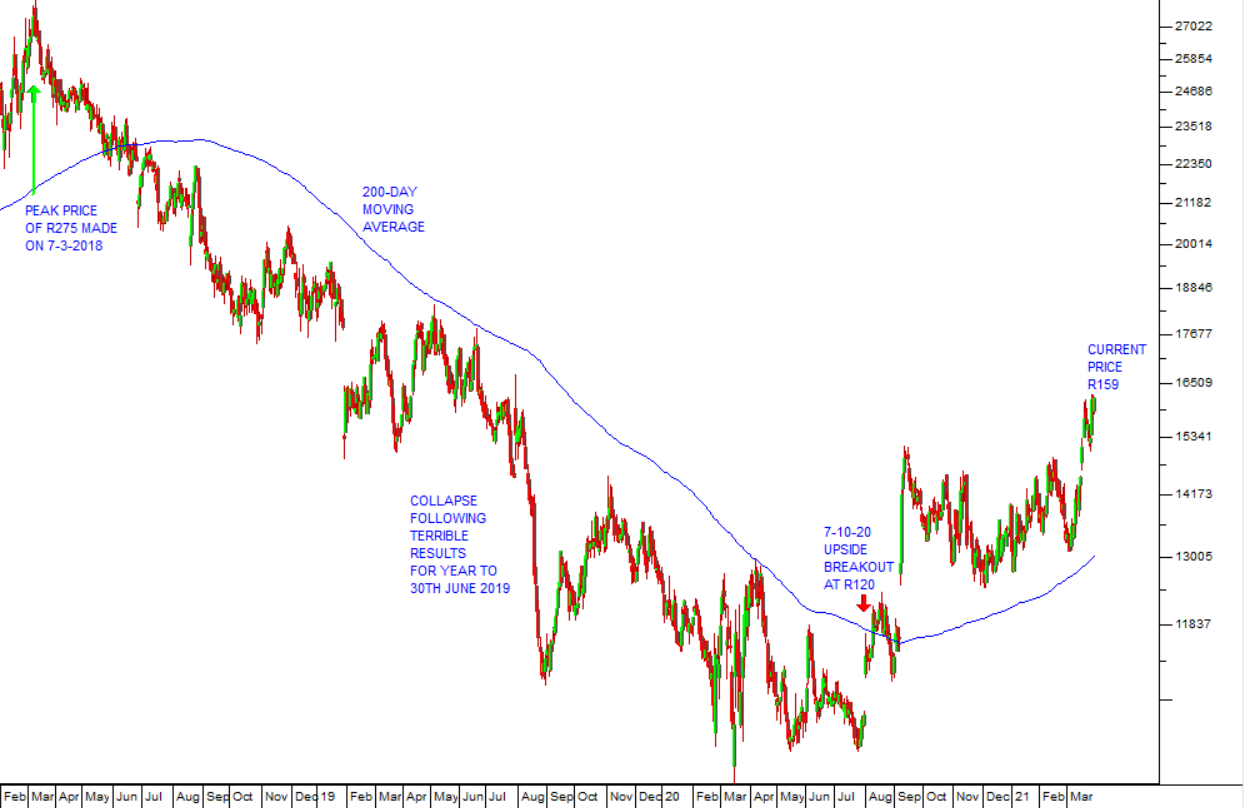 Here you can see the point at which Basson shrewdly sold out his Shoprite shares for R201 a share back in September 2017, netting over R1bn for his more than 30 years of service. The peak price came just a few months later in March 2018 at R275 and since then the share has been in a steady downward trend. We advised clients to apply a 200-day simple moving average and wait patiently for a clear upward break. The company produced very bad results in the year to 30th June 2019 and obviously like all retailers it has suffered from COVID-19. But now it has broken above its 200-day moving average and we believe that this is a result of Engelbrecht's leadership. In retail, quality leadership is everything.
ARGENT
This company manufactures and beneficiates steel and aluminium into a wide range of products. It has operations in the US and the UK. It makes products like the X-Panda range of security doors and Jetmaster fireplaces. It also produces fencing products and aluminum ladders as well as a range of furniture in steel and aluminum. Obviously, these businesses are directly affected by the state of the South African economy. This company has, however, produced an excellent set of results for the year to 31st March 2020 with headline earnings per share (HEPS) up 27,8%. Obviously, these results pre-date COVID-19, but the share is now trading at an extremely reasonable P:E of just 4,4 times earnings. There is reasonable volume traded in the share allowing private investors to hold up to R40 000 worth of the share without being in danger of being unable to execute a stop-loss sale. The company has elected not to pay a dividend this year, but it has paid dividends in previous years and will probably resume payments as soon as the economy normalizes. We would expect it to pay a dividend of about 40c in respect of the year to 31st March 2020 in due course. Consider the chart: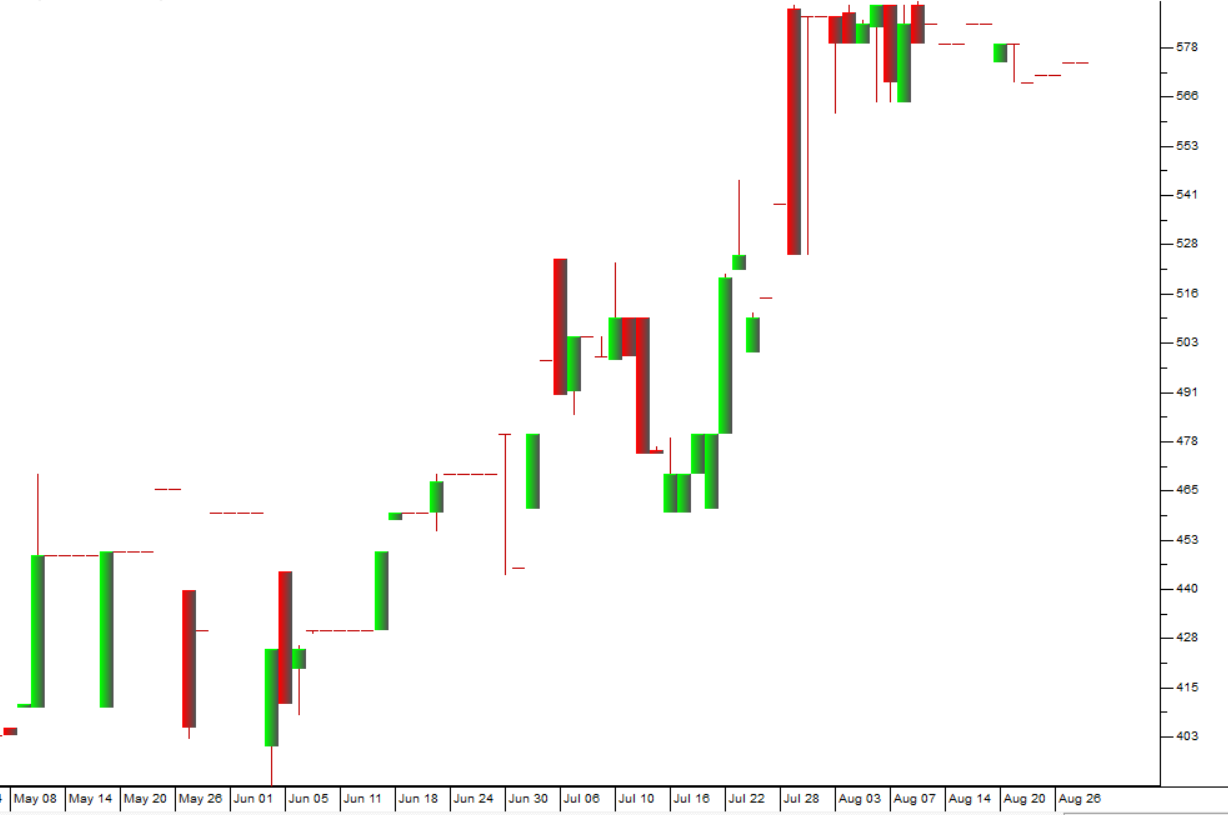 ANCHOR
Anchor (ACG) is a local and off-shore financial services holding company with primarily three businesses - asset management, private clients and stockbroking. In its financials for the year ended 31st December 2019 the company reported assets under management (AUM) up 17% to R57,4bn and headline earnings per share (HEPS) from continuing operations up by 28%. The share trades with good volume on a P:E of 9,97. In our view, this is a good business and its shares look cheap. The daily volume traded would allow for an investment of up to R60 000. We like the fact that this company's CEO, Peter Armitage, owns a sizable stake and that the company has managed to grow AUM even through the COVID-19 period. Consider the chart: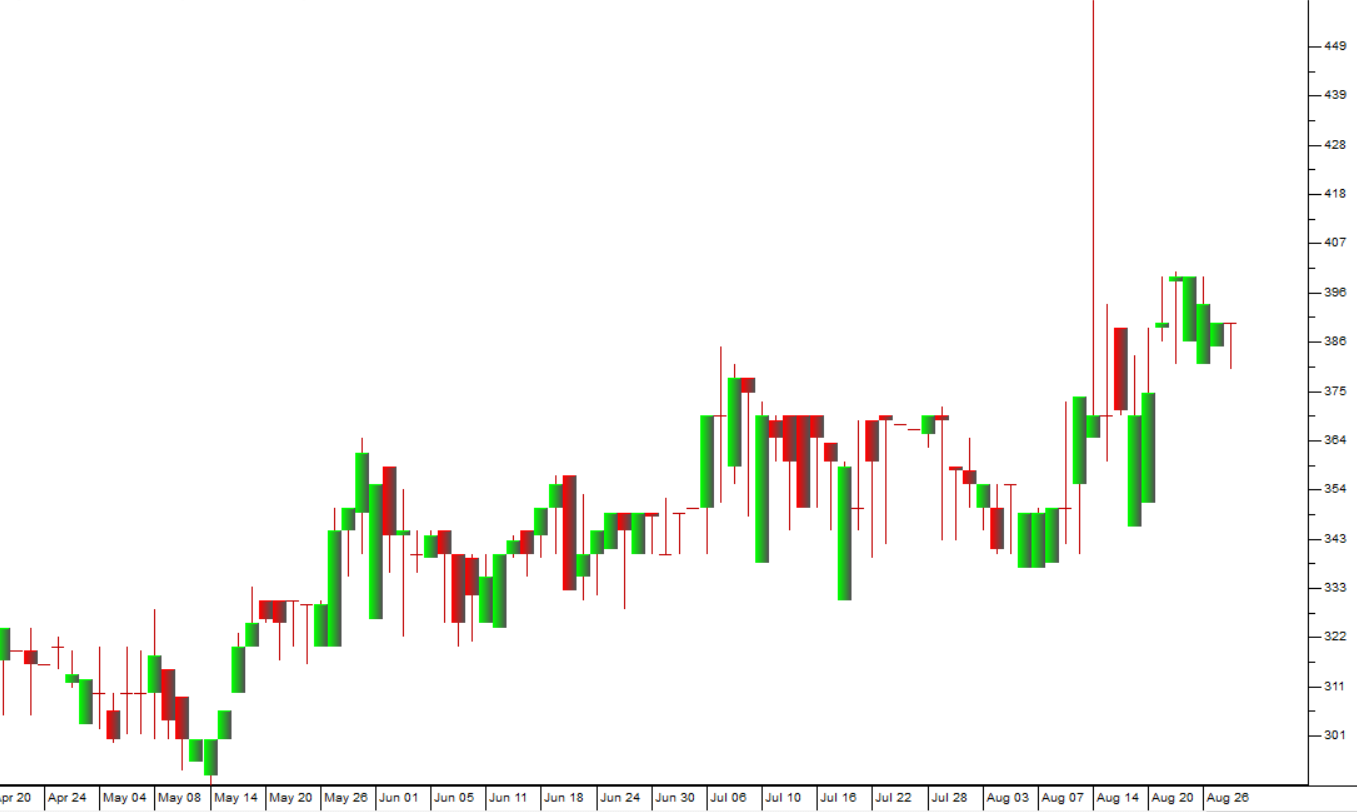 The upward trend which began in April this year look set to continue.
LEWIS
Lewis (LEW) is a retailer of furniture and electrical appliances operating through 779 stores under the Lewis (494 stores), Beares (119 stores), Best Home (133 stores), and most recently, United Furniture Outlets (33 stores) brands. Of these, 116 are in neighbouring countries. The company does 65,7% of its business on credit and offers customers credit insurance and other financial products.
Over the years this company has worked out how to make money by selling cheap furniture to lower income groups mostly on credit. It makes money both on the furniture and on the finance which it offers buyers. Obviously, its large debtors' book means that it could take some losses as a result of COVID-19, but the debtors' book is very well managed and controlled.
It has the great benefit of a balance sheet which is almost completely ungeared. This gives it the flexibility to acquire weaker, less well-capitalised competitors in this difficult economy.
Amazingly for a retail company in the furniture business, Lewis was able to pay out a dividend of 185c in respect of the year to 31st March 2020 – at a time when most companies have been cancelling their dividends to maintain cash balances.
It is trading on a P:E of 6,65 and at less than a third of its net asset value (NAV) – so it looks very cheap to us. Any improvement in the South African economy will benefit Lewis directly. The company is in the process of buying back 10% of its issued share capital. The company said, "Following the opening of 19 and closure of 9 stores, the group expanded its store base to 794 at year end. During the year, a further 150 stores across the portfolio were refurbished".
It is an extremely tightly managed company which has no debt and a huge store footprint. It has been growing both organically and by acquisition. Obviously, as a retailer of furniture and white goods it is vulnerable to any economic downturn, but we see it as cheap right now and expect its share to rise as the economy improves. Certainly, it is one of the few retail outlets in South Africa which is doing reasonably well in the circumstances. Consider the chart: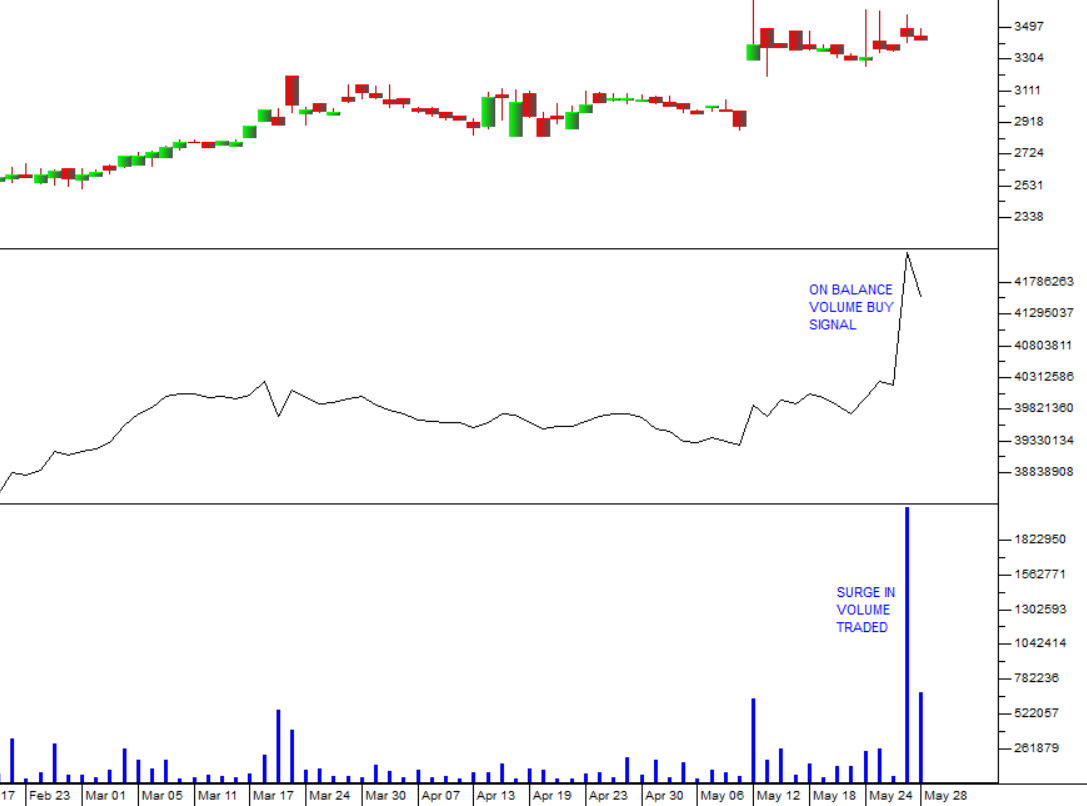 ITALTILE
Italtile (ITE) is a franchisor of tiles, sanitary ware, flooring and home finishing products - which it manufactures and wholesales itself. The company is controlled by the Ravazotti family. It has 198 stores and 6 online web stores. It also has a property portfolio of retail and industrial properties worth about R4,3bn.
Its business is selling tiles – which are mostly non-essential. For this reason, it could not trade during the lockdown and its markets are very competitive. Despite that it produced a very creditable set of results for the year to 30th June 2020.
Like most companies that have survived well though the COVID-19 crisis, it is very well capitalised. The company managed to pay a dividend which was just 20% below that of the previous year and it has benefited from increased sales as people working from home seek to improve their homes. It plans to add between 10 and 15 new stores this year.
It has also bought back about R240m worth of its own shares at the lower levels. Technically, the share moved sideways for two years until COVID-19 took it down to lows around R10 where it formed an "island". It is now breaking out on the upside as economic conditions improve and represents a significant opportunity. Consider the chart: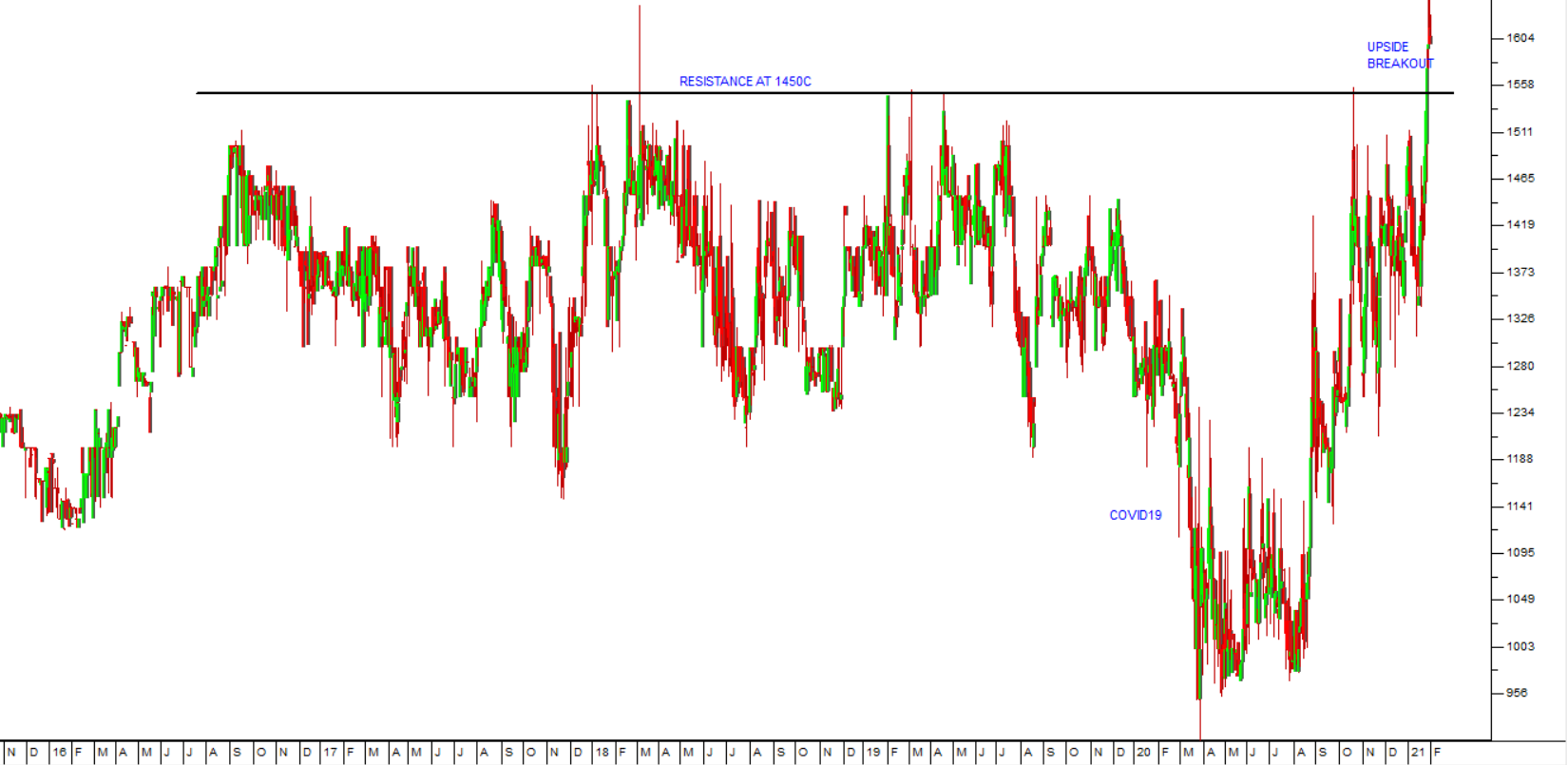 IMPERIAL
Imperial (IPL) was a massive logistics business. The company split off and separately listed Motus on 22nd November 2018, which contains all the company's motor interests. We believe that it has benefited from the separate listing of Motus and that value has been released as a result.
The company has a strong balance sheet which is enabling it to survive the pandemic and even benefit by buying up weaker competitors. The company has sold its non-core European shipping business for a net R3,6bn which it plans to use to double its business in Africa.
This company will benefit directly from any improvement in the South African economy and it looks like good value at these levels.
CASHBUILD
Cashbuild (CSB) is the largest retailer in Southern Africa of building materials and related hardware, concentrating on the home improvements market. In the currently depressed economies of Southern Africa, most of the company's growth comes from opening new stores.
In its results for the six months to 31st December 2019 the company reported turnover down 1% while headline earnings per share (HEPS) fell by 22%. The company's net asset value (NAV) increased 3% to 8388c.
The company said, "Revenue for stores in existence prior to July 2018 (pre-existing stores - 302 stores) declined by 1% while our 19 new stores since July 2018 contributed 3%. Selling price inflation was 2%. Gross profit decreased by 2% in tough trading conditions with gross profit percentage reducing from 25.1% to 24.8%. Operating expenses, including new stores, were well controlled and increased by only 3% (existing stores remained at similar levels) which, with 1% decline in revenue, resulted in a decline in
operating profit of 19%. Earnings per share decreased by 13% and headline earnings per share by 12%."
The company has announced that it is acquiring Pepkor's The Building Company (TBC) for R1,1bn. TBC has 161 outlets and 21 franchise stores. Clearly, this is a share which is positioning itself for survival and to benefit from any general recovery in economic conditions in Southern Africa.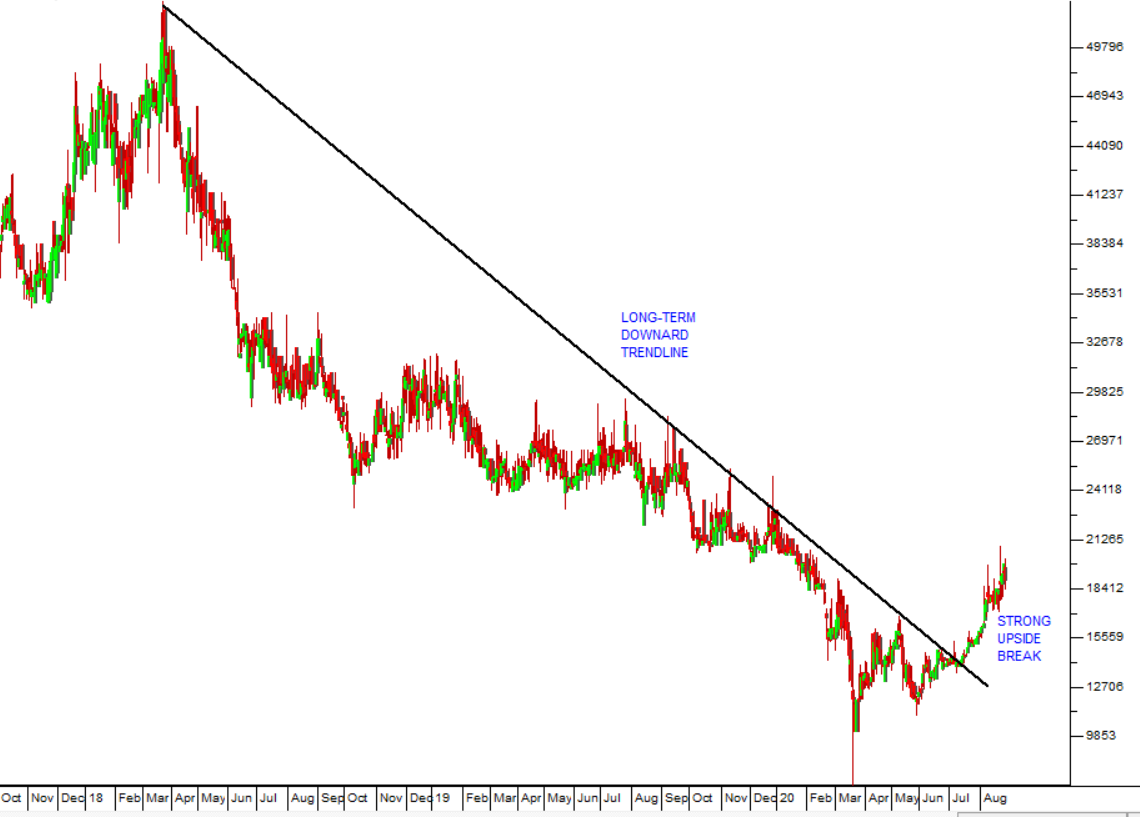 Technically, the share was in a steady downward trend since March 2018 but bottomed out in March 2020 and has been rising since. It has broken strongly up through its long-term downward trendline and looks set for a new upward trend. It is an extremely well-managed company and well-positioned to take advantage of any improvement in local economic conditions.
DISCLAIMER
All information and data contained within the PDSnet Articles is for informational purposes only. PDSnet makes no representations as to the accuracy, completeness, suitability, or validity, of any information, and shall not be liable for any errors, omissions, or any losses, injuries, or damages arising from its display or use. Information in the PDSnet Articles are based on the author's opinion and experience and should not be considered professional financial investment advice. The ideas and strategies should never be used without first assessing your own personal and financial situation, or without consulting a financial professional. Thoughts and opinions will also change from time to time as more information is accumulated. PDSnet reserves the right to delete any comment or opinion for any reason.
Share this article: