5 September 2018
By PDSNET
Political
The DA's loss of Nelson Mandela Bay and its near loss of Tshwane are perhaps a sign of the shift in political power since Cyril Ramaphosa took over as president. Without the political incompetence of Zuma to work off, the DA appears to have descended into in-fighting and has clearly lost some [glossary_exclude]support[/glossary_exclude]. The ANC, on the other hand, appears to have benefited from Ramaphosa's on-going reform of key government [glossary_exclude]institutions[/glossary_exclude] – such as the National Prosecuting Authority and with the new Integrated Resource Plan (IRP) which eliminates nuclear power and moves strongly in the direction of renewable energy sources. The EFF is doing its best to be king-maker in the hotly contested administrations like Tshwane. The weakening of DA [glossary_exclude]support[/glossary_exclude] will be a major factor in the 2019 elections.
Steady and essential clean-up of state owned enterprises (SOE) by Pravin Gordhan, with the backing of the president is vital to the recovery of the South African economy. The recent settlement with the public enterprises director general, Richard Seleke, is a good example. Seleke was implicated in various Gupta-linked e-mails and came to some negotiated agreement with the presidency to step down. The nature of the agreement is not known, but it is clear that the process of getting rid of captured senior officials at the SOEs continues. Gordhan has come in for criticism from the EFF for being too autocratic and engaging in a "reign of terror" – but perhaps that is exactly what was needed. South Africa cannot afford to delay in this clean up. Seleke also faces criminal charges from OUTA for his involvement in state capture.
The constitutional court's decision that Shaun Abrahams must leave office as the head of public prosecutions is a major step forward in Ramaphosa's efforts to deal with corruption and state capture. It is also a move in the direction of increasing his hold over the ANC because the new National Director of Public Prosecutions will be free to prosecute persons who are currently in positions of power within the ANC such as the deputy president David Mabuza, whose past activities would appear to leave ample room for investigation and prosecution. If Mabuza is forced out of the NEC, Ramaphosa's power will increase significantly. A second major step forward for Ramaphosa and the country has got to be the new Integrated Resource Plan (IRP) which sets out the country's energy needs and where it expects to get energy from in the future. Nuclear is off the table until 2030. The emphasis is on renewables and the least cost alternatives. The real benefit of this shift lies in the fact that Eskom is being encouraged to buy electricity from outside sources and to reduce coal as a source. In time this paves the way for Eskom to become a distributor of electricity rather than a generator. Eskom has abandoned the idea of converting its loan from the PIC's of R84bn into equity since it could be seen by the ratings agencies and other creditors as a default – and that might trigger problems with the rest of Eskom's debt.
The government's policy of land expropriation without compensation is a legal and economic mine field. To start with, if a private person's land (or any other asset) is taken without compensation then that is the legal definition of theft. Something like this is bound to raise constitutional issues since the constitution protects the right of citizens to own assets, including land. Beyond this there are other major consequences. For example, much of the agricultural land in South Africa is the collateral for a mortgage [glossary_exclude]bond[/glossary_exclude] of some sort. If such bonded land is expropriated then the lending institution would be in jeopardy. This is the case with the Land Bank which recently told the Finance Minister that expropriation of land without compensation could result in the collapse of its entire lending facility worth R41bn – and the government would have to make good on this. The commercial banks appear to be continuing to lend money to farmers. This is evident from the Bank Association of South Africa's report, which shows that the banks increased their lending to farmers by 11,2% in the year to 30th June 2018 compared with the previous year. Despite this, the policy of expropriation without compensation is already negatively impacting on the rand and that is having consequences for the rest of the economy. Clearly, some policy certainty on this subject is required and soon. Neal Froneman, CEO of Sibanye, South Africa's largest gold and platinum mining house, says that South Africa is close to what he describes as a "tipping point" beyond which the mining industry would collapse completely. Clearly, he is biased by his role in the economy, but his words should be taken seriously. The number of people employed in mining has halved in the last 30 years – and could halve again.
The sudden and unexpected problems in Angola because of the declining oil price, and a slow-down in oil production, have pushed that economy into a situation where it has [glossary_exclude]high[/glossary_exclude] inflation and [glossary_exclude]low[/glossary_exclude] growth ("stagflation"). This has already impacted on some South African companies, like Shoprite which has 60 stores there. Now the Angolan government is seeking IMF [glossary_exclude]support[/glossary_exclude] to help it during this period. But the real question is whether oil prices will recover. Oil recently (in May 2018) touched a cycle high of $80 per barrel and will probably move higher as the world economy recovers. This indicates that Angola's problems may not be so much derived from the oil price as the lower production levels and the government's over-reliance on this commodity. Consider the US$ price chart of the North Sea Brent oil: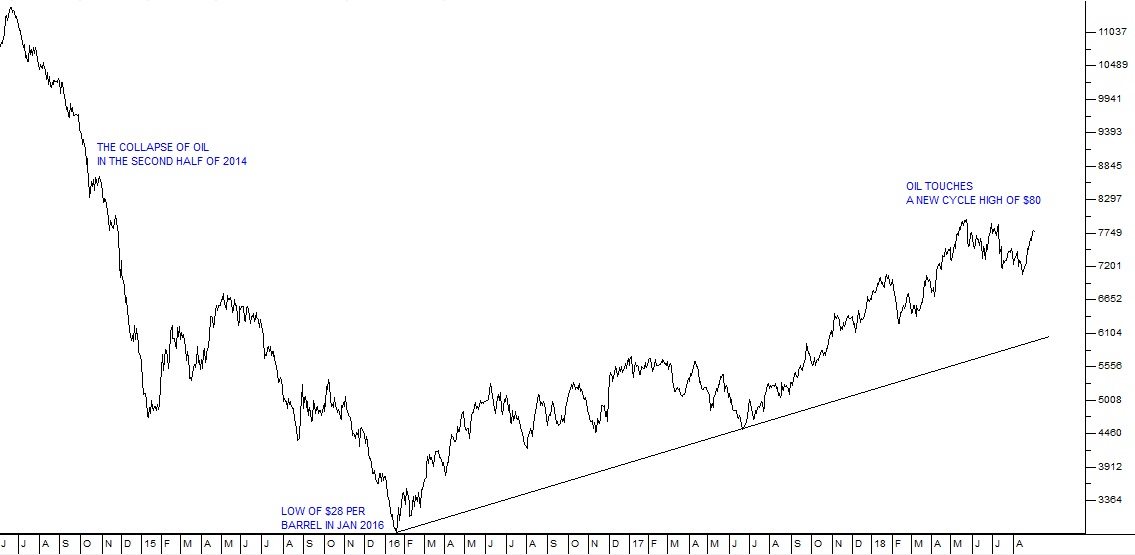 Brent Oil Index June 2014 to September 2018 - Chart by ShareFriend Pro
Economy
President Ramaphosa's R43bn stimulus package to stimulate the economy comes less than a year before the 2019 election and must be seen as a ploy to win more votes. The amount is probably insufficient to make a major impact on the economy, but might help certain sectors, depending on where it is spent. The problem is that, right now, the government has no spare money to make a significant difference to the economy. The only true solutions lie in actions which would probably be highly unpopular with the electorate. For example, a sharp reduction in the number of civil servants would obviously drop the government's wage bill but would be heavily opposed by the unions. Another solution would be to engage in a systematic privatisation of government assets – such as the 200 state owned enterprises (SOE). Many of these could be sold and the funds used to pay down the government's debt. And for those which remain, like Eskom, parts could be sold off – like all their power stations so that they were reduced to an electricity distributor rather than an electricity producer.
The improved performance of the rand was linked to President Ramaphosa getting promises to bring as much as $35,5bn into the country and caused a marked turnaround in the performance of our government bonds. The return on our bonds was +6,5% in July month – a sharp improvement on the -16% negative return in the previous quarter. South African bonds are the best performing among the emerging economies. The average bond performance of emerging economies in July month was zero. This fact will not have escaped international investors – who generally regard South Africa as a better investment destination than its emerging market competitors. In time the increased investment will translate into improved employment and tax revenues.
Revenue collection by SARS is very important to the economy. Now that Moyane has been removed, steps are being taken to reverse the damage that he did. The first quarter's tax collection figures show that collection was a little below what was budgeted. Over the last 4 years, SARS is about R100bn behind on collections – some of which is due to the weakness of the economy. The danger, of course, is that there will be another significant shortfall which may lead to further tax hikes. The alternative is to reduce the size of the civil service. There are rumours that 30 000 civil servants are to be cut over the next two years, but the ANC appears to be backing away from this. Obviously, with the election looming large in less than a year, the ANC is reluctant to do anything which upsets the unions or the civil servants.
Well over a third of South Africa's exports to the United States are covered by AGOA (African Growth and Opportunity Act) which is a piece of American legislation which is aimed at stimulating growth in the poorest countries in Africa by giving them access to the US markets duty-free. South Africa's inclusion in AGOA is worth almost R40bn per annum to this country and benefits the motor vehicles industry and agriculture especially. One of the requirements of AGOA is that the countries which benefit must amongst other things "protect private property rights". The ANC's new policy of expropriation without compensation could easily be interpreted as an attack on private property rights and the republicans (who have always been against South Africa's participation in AGOA) could easily get Trump to decide to exclude us. This would be an economic disaster for this country which would have an untold impact on the jobs situation and our ratings. To this must be added Trumps recent tweet about our land expropriation policy and the killing of farmers in this country. There is now a heightened possibility of problems with South Africa's inclusion in AGOA and even of American sanctions against South Africa
Consensus indicates that South Africa's growth for the second quarter of 2018 will come in at about 0,6% per annum – ensuring that the country does not fall into a technical recession following the first quarters 2,2% decrease in GDP. Economists expect growth for the full year at 1,4% with the Reserve Bank expecting 1,2%. This should improve to 1,9% in 2019. Most economists also expect that interest rates will remain unchanged at 6,5% through the rest of this year and next until 2020 with inflation expected to stay inside the target range of 3% to 6%. This is a typical economist forecast – what is happening now will continue to happen. But our view is that this is unlikely. Inevitably, before the end of next year, South Africa will be swept up in the strong recovery in the world economy which is evidenced by the S&P500 index breaking up to new record highs.
Wall Street
The correction on the S&P500 took six months and has now come to an end. The index is now above its all-time record high made on 26th January 2018. We are expecting it to continue to move up strongly. It is the technology stocks that have been driving Wall Street and have expedited its recovery from this correction. They are the so-called FANGs (Facebook, Amazon, Netflix and Google) and similar companies worldwide. These companies are traditionally listed on the Nasdaq in America and that index has been moving up strongly since the start of this great bull market in March of 2009. Consider the chart: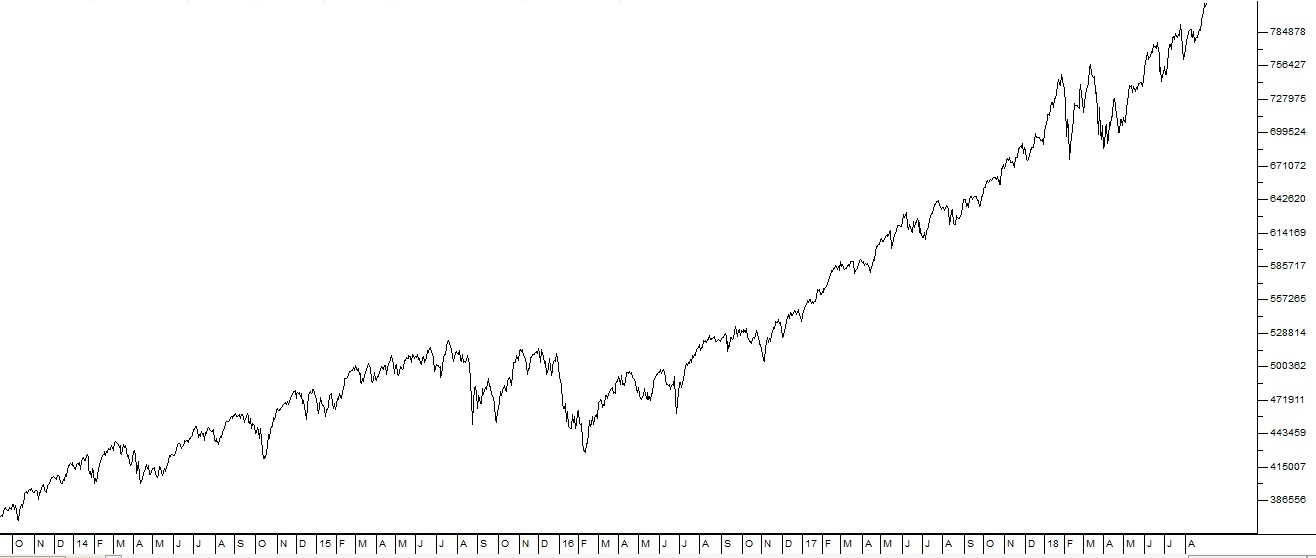 Nasdaq Composite Index September 2013 to September 2018 - Chart by ShareFriend Pro
Another major factor behind the S&P's recent climb to new highs, is a shift in international sentiment back to "risk-on". Of course, this has impacted on South African investors and the JSE through our massive tech share, Naspers, which owns 31% of the Hong-Kong listed tech giant Tencent. Since Naspers accounts for roughly 20% of the JSE, it directly impacts on our overall index (J203). We have been saying for a while that Naspers at around R3260 per share is a good buy because its true value is closer to R5000. So we said that this correction, which is now over, represented a buying opportunity.
One of the best ways to evaluate the progress of the US economy is to look at the quarterly results for Berkshire Hathaway – Warren Buffett's company. In the second quarter operating profit was up 67% on the previous comparable quarter to $6.9bn. This is partly because the effective tax rate in the US has been reduced from 29% to 20% - but almost all of Berkshire's 90 American businesses, in everything from chemicals and insurance to food and railroads, have performed exceptionally well. The company is conservative and currently has approximately $111bn in cash in the bank. Buffett is now 87 years old but shows no signs of retiring. The point is that this economic boom which is taking place in America will, sooner or later, impact on South Africa irrespective of the machinations of our politicians.
The Rand
The rand has broken out of the long-term channel which it has been in since Pravin Gordhan was appointed as Minister of Finance in January 2016. Consider the chart: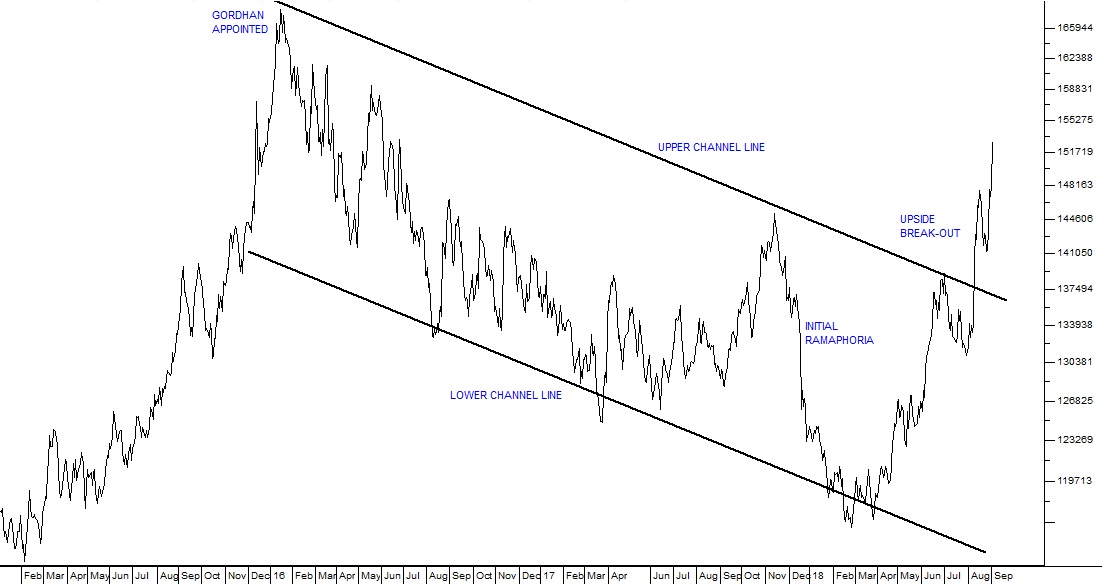 Rand Dollar Exchange July 2015 to September 2018 - Chart by ShareFriend Pro
The sudden weakness in the rand was initially caused by the collapse of the Turkish lira, which has fallen by 70% since the start of 2018. This, combined with Trump's decision to re-apply sanctions on Russia, temporarily shifted international investment sentiment from "risk-on" to "risk-off" – which meant that investors were moving money out of emerging markets, including South Africa, and into safe investments like the US 10-year treasury bill. The rand did relatively well in the face of this, weakening less than other emerging market currencies, coming off only 14% so far this year – and the Reserve Bank has not considered supporting it with an interest rate hike as has been done massively in Argentina and to a lesser extent in Indonesia. For emerging markets, Trump's bullying has now become a factor which needs to be considered, especially when he is opposed by a defiant leader like the Turkish President Erdogan. South Africa's vulnerability has been increased by
The ANC's statement that the constitution will be changed to allow for expropriation without compensation,

Mantashe's suggestion that ownership should be limited to 12000 hectares,

The indebtedness of state owned enterprises (SOE),

The on-going difficulties in the mining industry,

Moody's warning that the country's finances may be in trouble and

The general weakness in the economy.
The treasury estimates that the fiscal deficit will be 3,6% of GDP by end-February 2019 but Moodys is talking about 4%. Obviously, the weakness of the rand will lead to further petrol price increases and a reduction in business confidence. Hopefully, sentiment will shift back to risk-on before too long, but the longer it remains above the upper channel line on the chart, the more likely it becomes that this weakness is not just a "blip" but the beginning of a new weakening trend. International sentiment impacts more directly on the rand because it is the most highly-traded and liquid currency among the emerging markets. It trades close to 20% of the country's GDP (R51bn) each trading day.
Commodities
The South African economy has been built on the exploitation of its mineral wealth - and gold was predominant until about 1980. In 1970, South Africa produced 1000 tons of gold - which was more than the rest of the world's total gold production. Since that time, gold production in South Africa has shrunk. The ore bodies have become much deeper and more expensive to access and the gold price has been under pressure because world inflation rates have been much lower. In 1994, when the ANC came to power, South Africa produced 583 tons of gold and the industry employed over 390 000 people directly. By 2017, production had shrunk to a measly 138 tons - which made South Africa the world's 8th largest producer and the industry employed just over 110 000 people. Aggressive union action and legislative uncertainty were partly to blame for this. Neal Froneman, CEO of South Africa's largest gold producer, has indicated that until there is certainty in the legal structure (i.e. the third mining charter) of the gold industry, he will not invest further into this country. The other mining houses, like Anglogold Ashanti and Gold Fields, have reduced their exposure in South Africa to single mines which now only account for 10% or less of their world production. So the gold industry here is dying and unless there is a major technological breakthrough which enables us to access deep-level reserves more cheaply, the gold industry in this country will continue to decline. And this is ironical since South Africa still has about 40% of the world's known underground reserves of gold - but it is just too deep to be economic with current technologies and South Africa's average cost of production is over $1000 per ounce - almost 20% above the current world average.
The progress of the third mining charter has been much slower than anticipated. The new draft has many aspects which mining houses find unacceptable – such as the 10% "free carry" and the 1% "trickle dividend" which will accrue to that shareholding. Anglo American is one of the last major mining houses to still have substantial interests in South Africa and its CEO, Mark Cutifani, has said that they are waiting for the new charter to be finalised before they decide what to do with their South African mining assets. Needless to say, Cutifani is under considerable pressure from international investors to follow the same path as the other mining houses and turn his back on South Africa. Hopefully, our Minister of Mineral Resources is sensitive to what Cutifani is saying. With the pressure which the precious metals industry is under, an outcome for the new mining charter, which is not investor-friendly, could see the gold and platinum industries obliterated.
De Beers is an iconic South African company which has dominated the diamond business in this country and around the world. It is 85% owned by Anglo American and no longer listed separately on the JSE. It is in the process of divesting itself of one of its few remaining diamond mines in South Africa – Voorspoed. This will result in the loss of 900 jobs. Anglo has made a diligent attempt to sell the mine as a going concern, but none of the organisations who came forward with offers can meet the criteria which De Beers set for capital and expertise. To be fair the mine was only ever expected to have a ten-year life producing 700 000 carats of diamonds per annum – and it has been in existence for exactly ten years. Now the Mineral Resources Department has stepped in in an effort to save the mine – but it has basically reached the end of its life so it is hard to see what they can do that De Beers has not. What is interesting is that De Beers has a further 16 permits to explore for minerals in South Africa, but has no intention of exploiting them unless the third mining charter, now under consideration, is favourable to investors. The closure of the Voerspoed mine brings De Beers more or less to the end of its mining activity in this country. Most of its diamond mines are now in Botswana.
The Impala decision to retrench up to 13 000 employees over the course of the next two years and close 5 of its 11 shafts brings the crisis in the platinum industry into sharp focus. Implats is not retrenching at its Zimababwe operation which is still running profitably – or at its Marula operation in Limpopo. It is closing the older, deeper shafts around Rustenberg – following in Amplat's footsteps. The CEO says that in future they want to focus on "developing a portfolio of long-life, low-cost, shallow, modern, mechanised mining assets". The weak price of platinum, which has persisted for a number of years, does not appear to be improving. Then there is the specter of a wide-scale shift to electric motor vehicles and away from the internal combustion engine with a devastating impact on the auto-catalyst industry. Naturally, the unions, in particular AMCU, which represents 70% of Impala's workforce, are resisting the retrenchments and making threats to close down Impala's South African operations completely. At the end of the day, the situation is a function of the depth of the shafts concerned and the low level of the platinum price – both of which are completely outside management's control.
The rhetoric of Joseph Mathunjwa at the Marikana commemoration was the worst kind of radical populism. It threatens without any consideration of consequences. He threatened to "bring the platinum belt to its knees" if Lonmin and Impala go ahead with their planned retrenchments. Of course, he did not talk about what would happen after this had been achieved – or where the remaining platinum workers would find employment. The mines have no choice but to retrench staff in order to stay in business. By retrenching 13000 employees, Impala ensures that the remaining 27000 keep their jobs. Mathunjwa's solution is that all 40000 should lose their jobs – which is clearly no solution at all. It is obvious that Ramaphosa does not, before the 2019 elections, have the political clout to deal with this sort of radical populism – but there is also no doubt that sooner or later he will have to confront the unions.
Despite all its difficulties, the mining sector posted a 2,8% increase in production in June month. The recent collapse of the rand against the US dollar has boosted the mining industry generally and given the embattled gold and platinum sectors a breathing space. The rand is not expected by economists to remain at current levels, because the weakness is a direct function of the trouble between America and Turkey, but that weakness appears to be finding other sources – like the sudden collapse of the Argentinian economy. Technically it looks more and more likely that the sharp [glossary_exclude]break[/glossary_exclude] down in the rand heralds a new weakening trend. At the very least, there is now an opportunity for mines to lock in the exchange rate at these weaker levels.
The steady decline in the platinum price to current levels around $780 is the death-knell for the platinum industry. At these levels very few platinum miners can make a profit. Technically, the price has just made a new lower low which implies that it may well continue to decline. Consider the chart: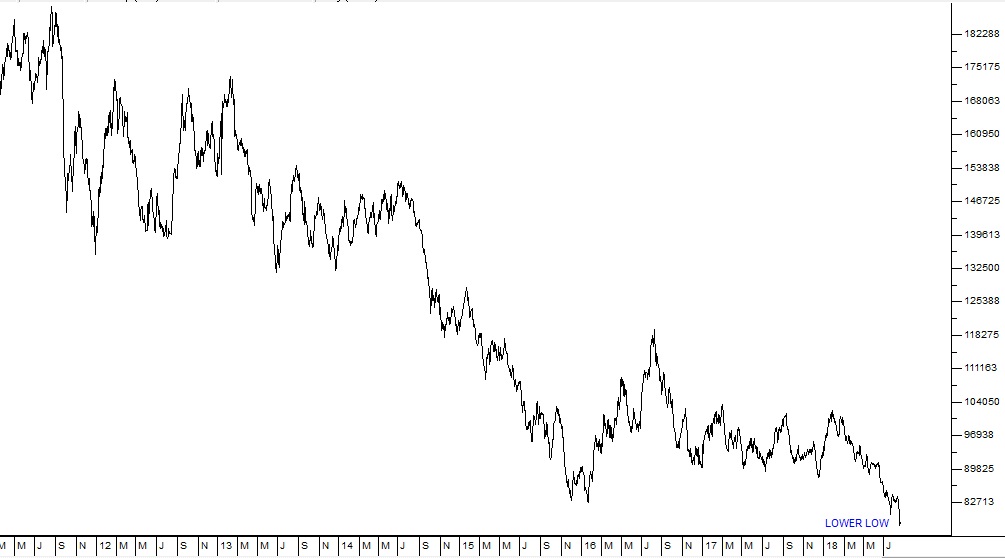 Platinum Closing Price in Dollars May 2011 to August 2018 - Chart by ShareFriend Pro
We expect that Impala and Lonmin may need to undertake further retrenchments and close more shafts as a result. What is notable is that the recent fall in the rand has helped cushion the mining industry. The US dollar price of platinum has fallen from $1400 to below $800 – as can be seen from the above chart.
Companies
AFRICAN EXPOSURE
A few years ago many South African companies were pushing hard for exposure to other countries in Africa. This was true of companies like Shoprite and MTN, which built up substantial exposure to various countries to the North. Now that exposure is beginning to have some negative consequences as various African governments have proved to be volatile and unreliable. The latest event is the sudden demand by the Nigerian government that MTN return about R120m of funds taken out of the country in the form of dividends. This caused the MTN share price to immediately collapse by 20%. Earlier, MTN had to pay a $1bn fine to the Nigerian government for not obeying its rules for cell phone operators. Recently also, the sharp increase in inflation in Angola resulted in Shoprite suffering losses on its 60 stores in that country. Shoprite also has exposure to Nigeria and its shares have fallen in concern over the MTN problem. Standard Bank is also exposed because the Nigerian government is imposing fines of $16m on the banks that helped MTN get the funds out of the country. Standard says its share of that fine would be worth about R75m. MTN has also faced a problem when the Trump administration decided to re-apply sanctions on Iran. Coronation, which has 6,6% of MTN's shares came off on the news from Nigeria. Investors are now getting a general perception that African countries are more risky than they had thought and they are adjusting their investment decisions accordingly.
PROPERTY
The property sector has been in trouble since the beginning of 2018. The collapse of the Resilient group of companies (Resilient, Greenbay, Rockcastle and Fortress) following the 360NE report, has been made worse by a lack-luster economic performance and some disillusionment with the new Ramaphosa administration. This has been further exacerbated by the constant uncertainty which surrounds the "expropriation without compensation" issue and how it is unfolding. The JSE SAPY index has fallen from a high of 695 at the end of last year to its current level around 519 – a fall of 25,3%. It is now offering a yield of around 9% which should be compared to the 8,865% yield on the R186 long bond. The question for private investors must be, "Is it now oversold?" Consider the chart: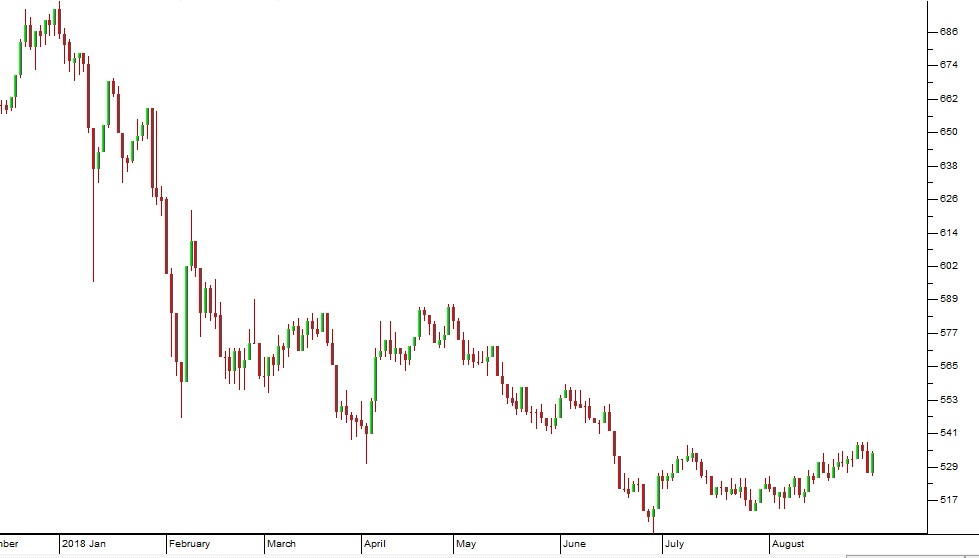 JSE SAPY Property Index (J253) December 2017 to September 2018 - Chart by ShareFriend Pro
Technically, the SAPY index (above) appears to have found some support at an index level of about 510 – and it is certainly cheap in historical yield terms – so perhaps it is worth buying in, if you are looking for a solid investment with good long-term growth potential. If that is your decision, then you should consider shares like Delta, Texton and Equites.
ARCMITTAL
Arcmittal is South Africa's largest steel-producing company. It has survived where companies like Highveld Steel disappeared. Arguably, Arcmittal felt the impact of the sub-prime crisis more than any other South African company and has fallen from its high of R260 in June 2008 to as low as 215c at the end of May this year. It has had to deal with the collapse of the construction industry locally, which was a major consumer of steel. It has also had to deal with the massive imports of cheap Chinese steel which were dumped onto our market. Those imports have slowed down somewhat and Arcmittal was successful in getting certain tariffs approved to discourage imports. In its most recent results for the six months to 30th June 2018, Arcmittal shows a considerably improved business. The operating loss of just under R1bn in the previous period was turned into a profit of R1,22bn and the headline loss of R1673m was turned into a profit of R54m. This turnaround has been achieved on the back of improved exports (which are up 26%) and better international prices for steel. The group has also managed significant cost-cutting. Debt levels have been reduced substantially from R3,3bn to R1,9bn and that is before the sale of their 50% interest in Macsteel for $220m (R3bn) so we expect that their balance sheet will become very strong once this deal is completed. Technically, the share is showing definite signs of turning up with a clear "saucer bottom" in May, June and July. We believe that this share will benefit from any significant improvement in the local economy while at the same time benefiting directly from improvements in the international steel price. Consider the chart: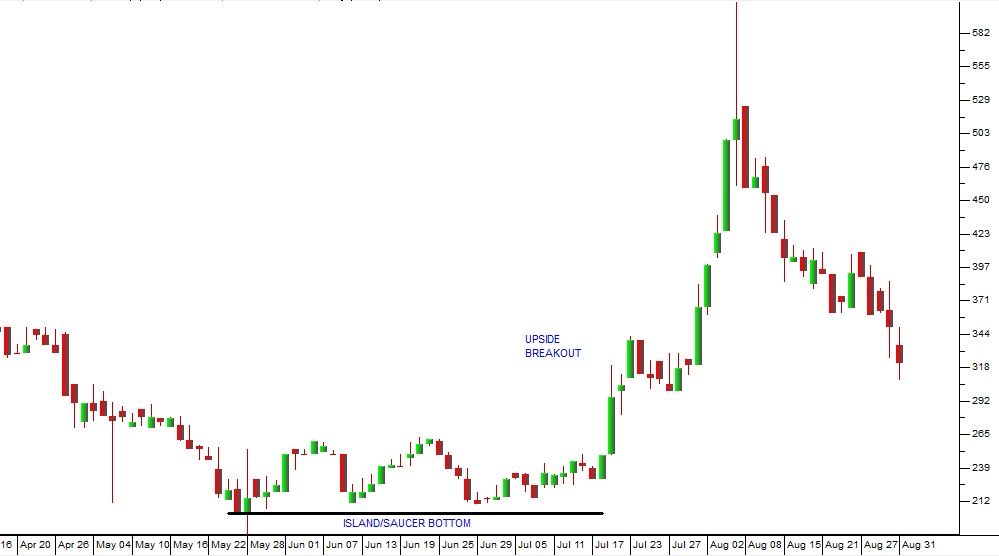 ArcelorMittal (ACL) May 2018 to September 2018 - Chart by ShareFriend Pro
Here you can see the extended "island" or "saucer bottom" which formed in ArcelorMittal during May, June and July – together with what may be an upside breakout if the more recent weakness is arrested.
EOH
This was Africa's largest information technology company with involvement in almost every aspect of computer applications. It was, until August 2015, the darling of the JSE because it had a long track-record of steadily improving profits. It made a peak of R178 per share at a P:E of 35. An unsuccessful attempt to exceed that high (i.e. a "double top") came a year later in September 2016 and since then the share has fallen steadily to reach a low of R25 in June 2018. This fall has been accompanied by allegations that the company was involved in and owed its success to state capture in collaboration with the Gupta's. The CEO and founder, Asher Bohbot, resigned in May of 2017 and handed over to Zunaid Mayet. Usually, when a company is run by a strong charismatic leader like Bohbot and that leader resigns, it is time to sell the share. Recently, in an effort to turn the company around, EOH has taken on a new BEE transaction with an investment company called Lebashe which will jump its black shareholding from 30% to over 50%. The CEO says that this will give them a powerful competitive advantage when bidding for government contracts. Consider the chart: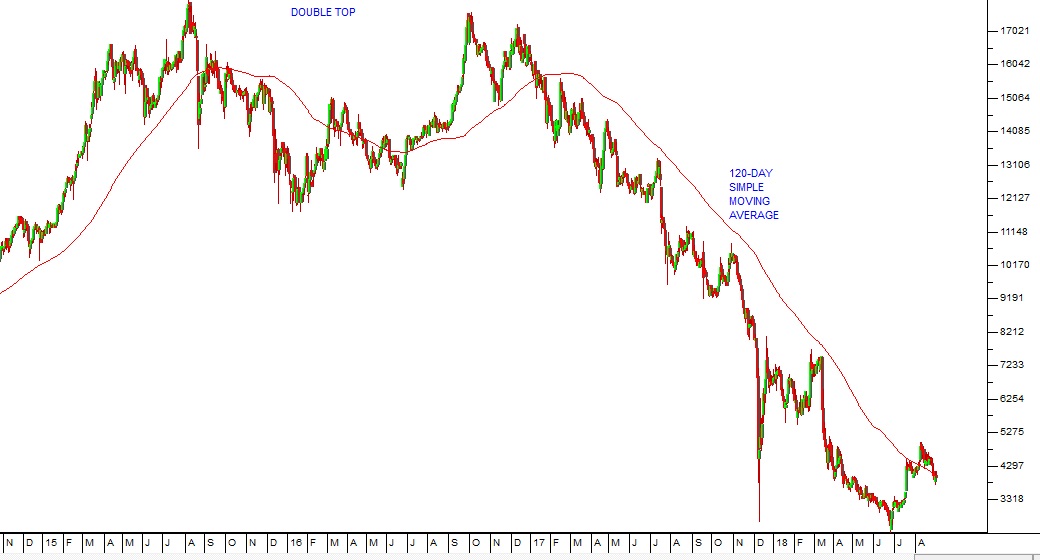 EOH Novermber 2014 to September 2018 - Chart by ShareFriend Pro
When EOH began to fall in 2017 we advised private investors to apply a 120-day simple moving average and wait for a clear break up. So far that upside break has not occurred convincingly - despite the share's recovery from R25 to R48. But the share is on a dividend yield of 4,15% and does look attractive at current levels. A solid, sustained upside break would be a good buy signal.
ELLIES (ELI)
Ellies is a fledgling electronics company which imports and distributes electrical products and supplies solar power solutions.  From its heyday in 2013 when the share traded at almost R10 a share, it has fallen to just 29c. Joint CEO, Adrian Bock, who was brought in to turn the company around, has managed to reduce costs while increasing turnover in a very difficult trading environment. In the year to 30th April 2018, turnover increased by 8% to R1,42bn while headline earnings per share (HEPS) rose from a loss of 7,5c to a profit of almost 8c. Bock suggests that the company is now in a sound position and should see further growth in 2019. He says that the company might consider some acquisitions in the near future and expects further cost cuts equivalent to those achieved in the 2018 year. Technically, the share has been in a strong downward trend and has fallen to 29c. At this point it is on a P:E of just 3,8 and its net asset value (NAV) at 52c is nearly double the current price. This is a company that will benefit directly from any improvement in the South African economy and the share is very cheap at current levels. Obviously, there is risk – but the risks have been substantially mitigated by its return to profitability, reduction in debt and its pipe line of about R60m to R70m. We think that this is a penny stock worth investigating.
PAN AFRICAN RESOURCES (PAN)
Pan African Resources is a London- and JSE-listed retreatment gold producer. It has shifted its operation from underground mining at the recently closed Evander mine to surface operations which are obviously much cheaper and less risky. With its Elikhulu plant it will be able to produce about 700 000 ounces of gold a year at a cost of about R326 000 per kilogram against a current gold price of close to R530 000. This means that over its life it will produce revenue of approximately R15bn of which R5,3bn will go back into the economy in the form of mine expenses creating a highly profitable entity with minimal risks. It will also employ 350 people. In US dollars the cost will be about $700 against a current price of just under $1200. Even if the gold price falls further, Pan African will remain profitable. Technically, the share has fallen from a high of 444c in July 2016 to current levels around 140c, but it now looks like good value with low risk. The gold price is probably near to its cycle lows at the moment and will probably move back above $1200 in due course. Consider the chart: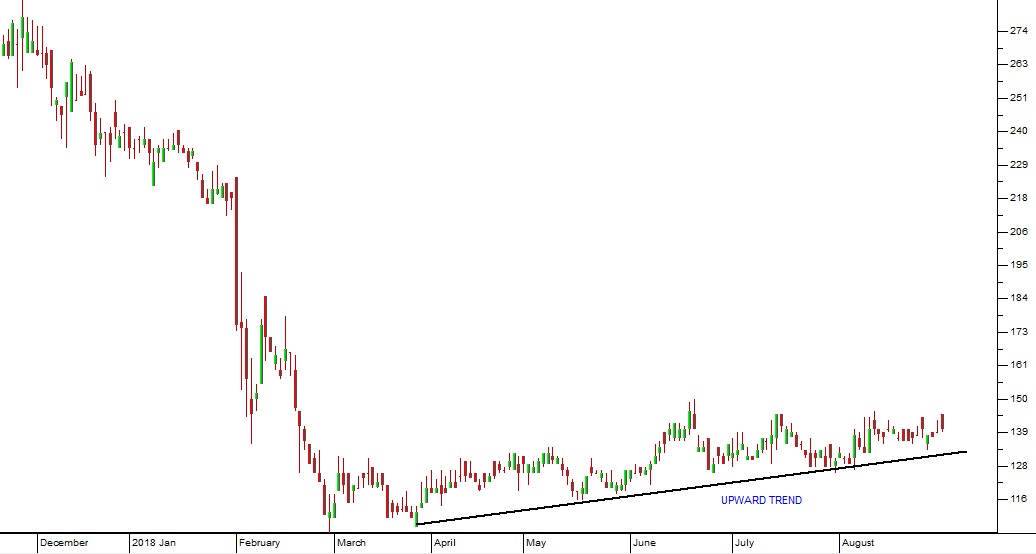 Pan African Resources (PAN) November 2017 to September 2018 - Chart by ShareFriend Pro
METAIR (MTA)
Metair produces energy solutions (batteries) and components for the vehicle manufacturing business. It has operations in Africa and in various European and Middle East countries. In the six months to 30th June 2018, the company increased turnover by 10% to R4,5bn and headline earnings per share (HEPS) by 16% to 132c. The company's energy storage business is located in Turkey in an operation called "Mutlu" and it turned in a good performance in the six months with a 25,3% growth which exceeded the Turkish lira's devaluation against the rand of 17%. The vehicle components division increased profits by 31%. Obviously, the impact of Trump's recent sanctions on Turkey is negative, but we believe that this is an excellent share trading at a give-away price. It is on a P:E of just 5,45 and a dividend yield (DY) of close to 4%. The business it is in has every prospect of growing rapidly as electric motor vehicles replace those powered by internal combustion engines. It is also trading below its net asset value (NAV) of 2059c. We do not believe that the problems which Turkey is currently enduring will be long-lived.
ADCOCK INGRAM (AIP)
Adcock is a leading supplier of pharmaceuticals to both the private and public sector in South Africa. It has also diversified to India and other sub-Saharan countries. The business that Adcock is in is dominated by the government's "single exit price" mechanism which determines the price for each type of medicine. In terms of this, Adcock was only permitted to increase its prices by 1,3% on regulated medicines in the 2019 year. The problem with this "cost-plus" approach to pricing is that it does not allow the company to make significant profits from pricing at what the market will bear. Since some of the ingredients of medicines are imported, it also makes the company vulnerable to the strength of the rand. To win government contracts to supply medicines, the company has achieved level 4 empowerment status. Bidvest obtained a strong interest in the company (37%) and basically controls its board of directors. Now the company wants to diversify away from the single exit price mechanism by moving into baby care products and other products which are unregulated. The results for the year ended 30th June 2018 show that the company increased headline earnings per share (HEPS) by 26% off a 10% increase in turnover - which is an excellent result and shows significant improvements in efficiency and cost control. Technically, the share is in a strong upward trend and we regard this as a solid investment for private investors.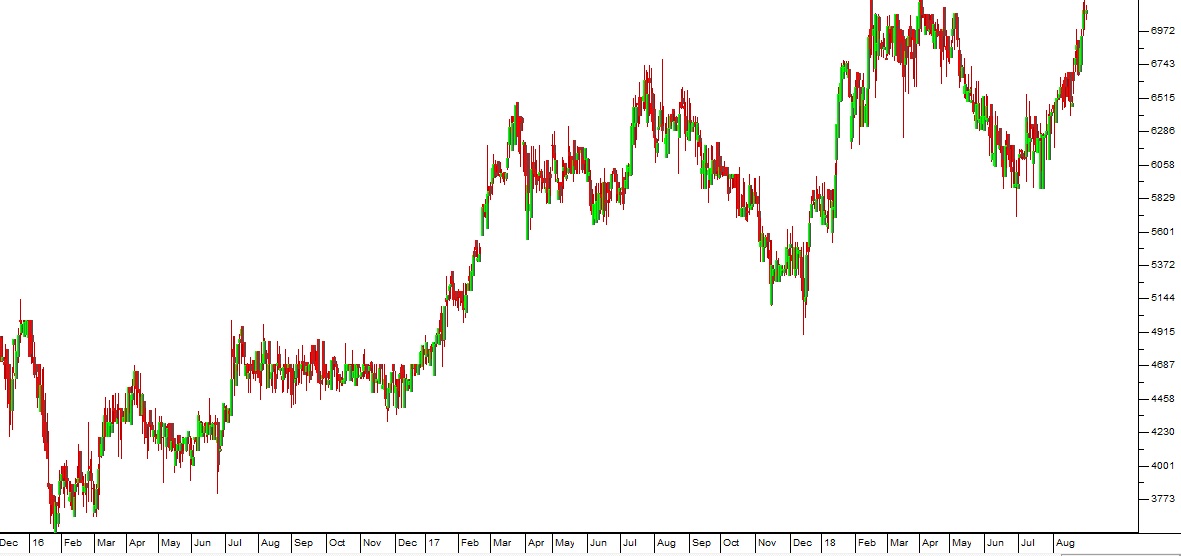 Adcock Ingram (AIP) December 2015 to September 2018 - Chart by ShareFriend Pro
You can view a visual presentation of this report here.
To be added to our mailing list for the next webinar, click here.
DISCLAIMER
All information and data contained within the PDSnet Articles is for informational purposes only. PDSnet makes no representations as to the accuracy, completeness, suitability, or validity, of any information, and shall not be liable for any errors, omissions, or any losses, injuries, or damages arising from its display or use. Information in the PDSnet Articles are based on the author's opinion and experience and should not be considered professional financial investment advice. The ideas and strategies should never be used without first assessing your own personal and financial situation, or without consulting a financial professional.  Thoughts and opinions will also change from time to time as more information is accumulated. PDSnet reserves the right to delete any comment or opinion for any reason.
Share this article: