2 October 2019
By PDSNET
United States
The Federal Reserve Bank of America (Fed) has cut rates again by a further 0,25% which indicates that the monetary policy committee (MPC) is still concerned about the possibility of the US economy sliding into recession. At the same time Europe has resumed its quantitative easing program also because of fears of a recession. Some of this is certainly due to the trade war between America and China. Nobody is quite sure how that will play out in the world economy and the primary result has been a shift towards "risk-off". This risk-off sentiment has had an impact on the S&P500 index and also on the South African rand. Consider the chart of the S&P500 since April 2019: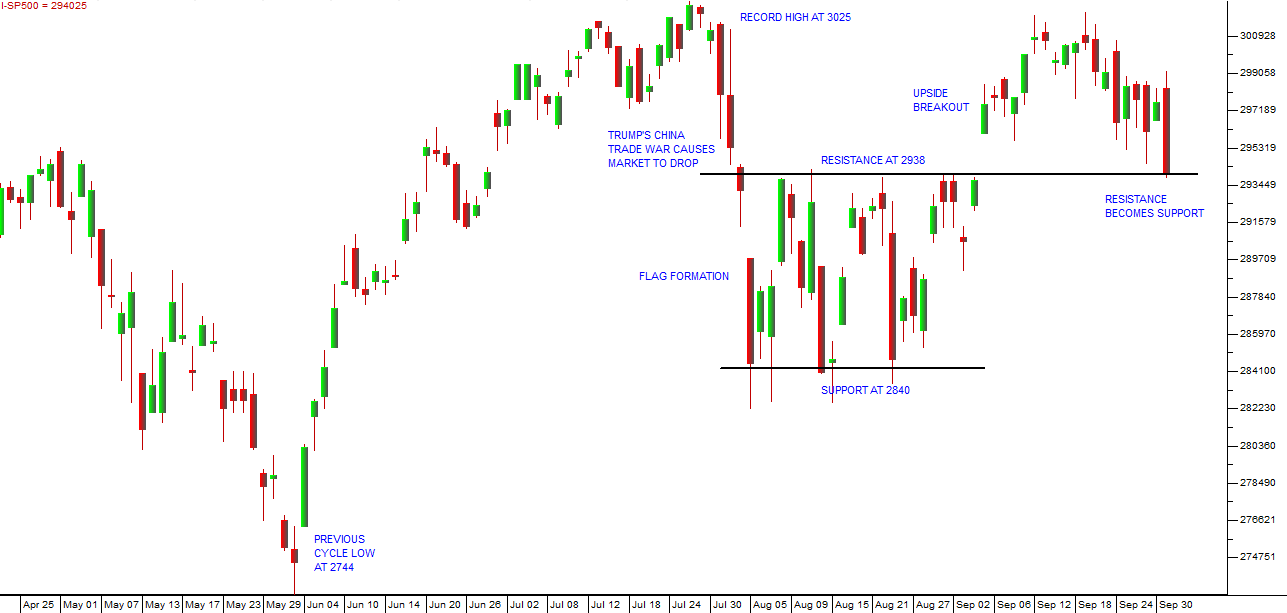 This shows the previous cycle low at 2744 made on 3rd June followed by the rise to the all-time record high at 3025 on 26th July. After that, Trump managed to invoke the next correction with his China trade war taking the S&P down to support at around 2840. A period of sideways movement followed, generating a "flag formation" which we predicted on 4th September would break to the upside. That upside break has occurred, but a new record has not yet been set. The index is currently falling back towards the resistance line of the [glossary_exclude]flag[/glossary_exclude] [glossary_exclude]formation[/glossary_exclude] – which is at around 2932. That resistance has now become a support level. In our view, we expect that the index will move upwards from current levels and break above the all-time record high – probably sometime in the next month. That will signal a resumption of the great bull market which has been in progress for over ten years since March 2009.
Economy
SARS ability to collect tax is again coming under the spotlight. The 2019/2020 tax year is likely to see revenue collections once again fall short of the budgeted amount – perhaps by as much as R50bn. The main reason for the shortfall is the poor state of the economy. VAT and company tax collections are where the problem lies. The budget was based on an expected growth of 1,5% for the year, whereas, even with the surprise growth of 3,1% in the second quarter, growth for the full year is unlikely to even be as much as 1%. The treasury itself projects 0,6%. Obviously, the shortfall will put further strain on the government already under pressure from the need to support Eskom. The unexpectedly strong 3,1% rebound in GDP growth in the second quarter will counter the negative 3,1% shrinking in the first quarter and should result in a modest improvement in growth forecasts for this year. It also puts to bed the fears of another technical recession which requires two successive quarters of negative growth. The monetary policy committee (MPC) delivered another 0,25% reduction in interest rates on 19th September 2019 after its deliberations and is likely to bring rates down by a further 0,25% which will mildly stimulate the economy. Hopefully, the remaining two quarters will see sustained growth. But investors should not see the second quarter growth as being repeated. Most of it was caused by base effects and rebound after the load-shedding of the 1st quarter. The CEO of Firstrand, Alan Pullinger, said in their financials for the year to 30th June 2019, "The fiscus does not have a revenue problem. Individuals and companies are already highly taxed. The fiscus has an expenditure problem." Here he is referring to the fact that it is not really possible to increase taxes in South Africa. What must happen is that government expenditure must be reduced. Essentially, this means cutting the size of the civil service, something that we have been advocating for months. The problem with that idea is that it will bring Ramaphosa into direct conflict with the unions. It is a measure of his relatively fragile grasp on power within the ANC that he has not yet felt able to confront the union movement in this country. But time is running out and the consequences of delay are mounting. Pullinger also mentions the need for the privatisation of state assets – but this, of course, is also a political "hot potato" within the ANC and with the unions. The very word "privatisation" appears impossible for Ramaphosa or any of his ministers to say – and yet it is undoubtedly the best and quickest way out of the country's current financial difficulties. The only minister brave enough to say it is Tito Mboweni, but there is a sense that he has been told to curtail his enthusiasm. The announcement by Moodys' that South Africa was safe from a ratings downgrade for the next 12 to 18 months will come as a huge relief to investors and government alike. The country needs to improve its debt position and continue to move in the direction of economic stability and growth. She said that a downgrade would only be considered if the prospects for improvement faded. The country's debt is mostly long-dated and rand-denominated which makes it less risky. The country also has sufficient foreign reserves. Obviously, the government's commitment to Eskom for R128bn will make it difficult to keep the national debt under control. Moodys is expecting the budget deficit to reach 7% at worst before it begins to decline. The number of liquidations in the economy is an indicator of business activity and confidence. In July 2019, liquidations increased by 25% over last year. During the first 7 months of 2019, there were 13,7% more liquidations than in the same period last year. Obviously, this shows that small and medium-sized businesses (SMME) are really taking strain in South Africa at the moment. SMMEs are the primary generator of jobs in any economy so their health is vital to reducing unemployment. Unlike large, well-established businesses, they are very sensitive to cash flow and can easily be knocked out by the non-payment or late payment of one of their larger debtors. The government and quasi-government bodies like municipalities have destroyed a lot of SMMEs by simply not paying them what they owe on time. The agreement struck between the National [glossary_exclude]Union[/glossary_exclude] of Metalworkers (NUMSA) and the Automobile Manufacturers Employers Organisation (AMEO) is significant for South Africa. It is the third consecutive time that NUMSA has come to an agreement without resorting to strike action. The agreement is for an increase of 9% in the first year followed by 7% increases in the next two years. Major international motor manufacturers such as Mercedes, Toyota, Ford and Nissan collectively produce over 600 000 vehicles a year in South Africa, more than half of which are exported. Collectively, they have pledged to invest about R40bn more into their factories here and they employ nearly 90 000 people directly and 380 000 indirectly. Hopefully, this agreement signifies a new pattern of labour resolutions in South Africa which may well influence those negotiating in the platinum sector at the moment. One of the more positive events of the past month has been the government's ability to raise $5bn (R75bn) by selling Eurobonds. $2bn of this was for redemption in 2029 and $3bn for redemption in 2049. The impressive thing about this was that the issue was almost three times over-subscribed. Clearly there is huge demand for South Africa paper. For South Africans who are currently feeling that all the news on the economy is negative, this shows that overseas investors are very keen to take on our debt over long periods of time at the current yield. If South Africa was in the process of "going down the tubes", as some commentators have suggested, we would never be able to command this type of patronage for such a large amount of hard cash. The government's total debt has increased to 58,3% of GDP - well above the February budget estimate of 56,2% for the 2019 year. A major factor increasing the level of debt is the poor revenue collection by SARS. This in turn is partly caused by the weakness of the economy – where growth is far below the February budget estimates. At the same time the bailing out of Eskom has meant that government spending has risen sharply. The Finance Minister will have a difficult task in producing a budget at the end of October which shows that government spending and debt levels are under control.
ESKOM
It is becoming more and more apparent that Eskom is the heart of the South African economic crisis. It has massive debt and while the [glossary_exclude]top[/glossary_exclude] management has been replaced it is quite clear to any thinking South African that the corruption extends right down to the lowest level employees. There is a consistent and constant theft of power in the squatter camps in South Africa. There are approximately 5,4 million people living in hundreds of squatter camps across South Africa and most of them have ready access to stolen Eskom power. This power is taken from the nearest Eskom pole and power box. Drive through any squatter camp and you will see wires running to many of the shacks from a central junction box which is normally connected directly and illegally to an Eskom transformer. The going rate for an unlimited supply of the power in squatter camps is R650 in the first month and thereafter R200 a month. Of course, this money does not go to Eskom but to the person who arranges the connection who is usually either an existing employee of Eskom or someone who used to work for them. He has usually stolen the wire and other supplies that he needs from Eskom itself in order to establish his business. Of course, Eskom periodically comes around and disconnects these illegal connections, but within hours they are back up and running again with almost no interruption of supply to the squatters using the system. For the squatter, the power is very [glossary_exclude]cheap[/glossary_exclude] and unlimited. During the winter, many squatter families run a 2kw fan heater all night. People with formal houses near to squatter camps are now also becoming part of the system – because its much cheaper than buying their power from Eskom in the normal way. The culture of stealing power from Eskom has become endemic in South Africa and it makes a joke out of all the efforts being made to cope with Eskom's huge debt and its persistent losses. So, a diminishing number of Eskom customers are paying more and more per unit so that hundreds of thousands of squatters can have access to unlimited power from which Eskom derives nothing. Clearly, this situation is completely unsustainable.
The Rand
The rand has been under pressure for the past 18 months – following the end of "Ramaphoria" in February 2018. The realities of fixing the South African economy and particularly Eskom have become increasingly apparent. Even with Ramaphosa's new appointments and the general improvement in the level of corruption, the sheer cost of the nine years of Zuma's presidency is daunting. Added to this has been a general swing towards "risk-off" as Donald Trump engaged the Chinese and other nations in a trade war. His actions have had a negative impact on emerging economies and threaten to derail the general recovery of the world economy. A further negative is the impending impeachment proceedings against Trump. The weakening of the rand to above R15 to the US dollar must be seen as significant. It is impacting directly on the South African inflation rate through the petrol price and may delay the further decline of interest rates this year. All eyes are now on Tito Mboweni's October 30th mini-budget. If no significant progress has been made with re-organising and rationalizing Eskom, then the international ratings agency Moodys could decide to reduce the outlook for the country to "negative" from "stable". That would further depress the rand.

The rand appears to have found some support at around R15.40 to the US dollar (the horizontal line) but the trend is not looking good at this stage. A falling rand has many impacts on the South African economy from the rising petrol price to falling business confidence.
General
The latest crime statistics, including an average of 57,5 murders per day during the 2018/2019 year, is very concerning. This is almost as many murders as the UK has in a year. The standard of policing is a major problem. Obviously, policing was allowed to deteriorate during the Zuma years and has not yet recovered. Improvements will come from the top (Bheki Cele) downwards. They will be aided by the work of the new head of the National Prosecuting Authority (NPA), but restricted by the fact that both the NPA and our judiciary are significantly over-loaded. Obviously, also, a high crime rate like this is a negative for any overseas investor considering putting money into the country. It is the typical mark of a third world country – the inability to properly control its crime rate. Lower-income consumers in South Africa have been persuaded by the micro-lending industry to borrow beyond their means. This industry specialises in what is known as "unsecured lending" at much higher interest rates than normal. African Bank Investments Limited (ABIL) was the largest in the industry until its demise and that position is now held by Capitec. But Capitec and the other big banks have mostly moved up the income scale with their lending and no longer lend to very low-income groups. That space has been filled by new smaller micro-lenders. In the mining industry which employs roughly 450 000 people, it is estimated that as many as two-thirds have unsecured loans and that they spend half of their salaries on servicing those loans. Fund Manager, Differential Capital, says, "In South Africa financial inclusion through micro-credit has become financial enslavement through debt traps". The signing of ten contracts by Transnet to move about 15m tons of manganese to port has been achieved at roughly one tenth of the expected cost. This is a massive achievement for a parastatal – something which is almost unheard of in South Africa today. It will mean that our manganese is competitive on world markets and it will ensure the retention of thousands of jobs. Clearly, some of the leadership at Transnet is setting an example for other state-owned enterprises (SOE). The issue of the government re-introducing prescribed assets for pension funds in order to rescue state-owned enterprises is foolish. If the state establishes a well-thought out project with a decent return, the pension funds will invest heavily into it without any need for prescription. They already hold substantial investments in state infrastructure without any such laws. So, the only purpose of prescription is to force the pension funds to invest in projects which do not have an acceptable risk/return ratio and which they would not otherwise choose. This will increase the risk in pension funds and ultimately result in a loss to the pensioner. In the meantime, the talk about prescription is damaging South Africa as an investment destination. It is estimated that the introduction of prescription could result in the exodus of over R2 trillion from the country.
Commodities
The mining sector was a major contributor to the second quarter's 3,1% jump in GDP – which compensated for the 3,1% decline in the first quarter. In the third quarter, mining output was not so good indicating that high hopes for the third quarter may be misplaced. Mining contributes roughly 8% of GDP and the three main industries there are coal with sales of R10,3bn in July 2019, platinum group metals (PGM) with R9,6bn and gold with R7,9bn. Notably, coal is now South Africa's largest mining production. We expect that the overall 3,4% contraction in mining output in July compared to June will have the effect of making a further rate cut less likely. Beneficiation is a term that often gets bandied around in discussions of South Africa's economic future. The problem is that beneficiation requires [glossary_exclude]cheap[/glossary_exclude] power - which we no longer have. The cost of electricity has gone up by 523% since 2006 and as a result we have had to close as many as 40 smelters putting thousands of people out of work. We now export our chrome, iron ore and manganese to Asian countries and then have to import the steel and steel products from them. This stark fact shows the true cost of the capture and the collapse of Eskom as a viable operation. Jobs in beneficiation have been lost to other countries resulting in steadily rising local unemployment.
Companies
PROPERTY
The property sector has been hammered down by a lengthy period of relatively poor returns and the Resilient crisis, which reduced valuations substantially. In our view, all the bad news is now in the property sector and it is looking like good value. This is especially true of those property shares which are substantially located overseas and represent a rand-hedge. The JSE SAPY index (J253) is trading on a dividend yield of over 9% - which compares very favourably with the JSE Overall index which is on a dividend yield of 3,75%. The criticism of property is that it is fairly pedestrian as an investment, but this may well be an opportunity to invest in this solid long-term growth area at a significant discount. Consider the JSE-SAPY chart: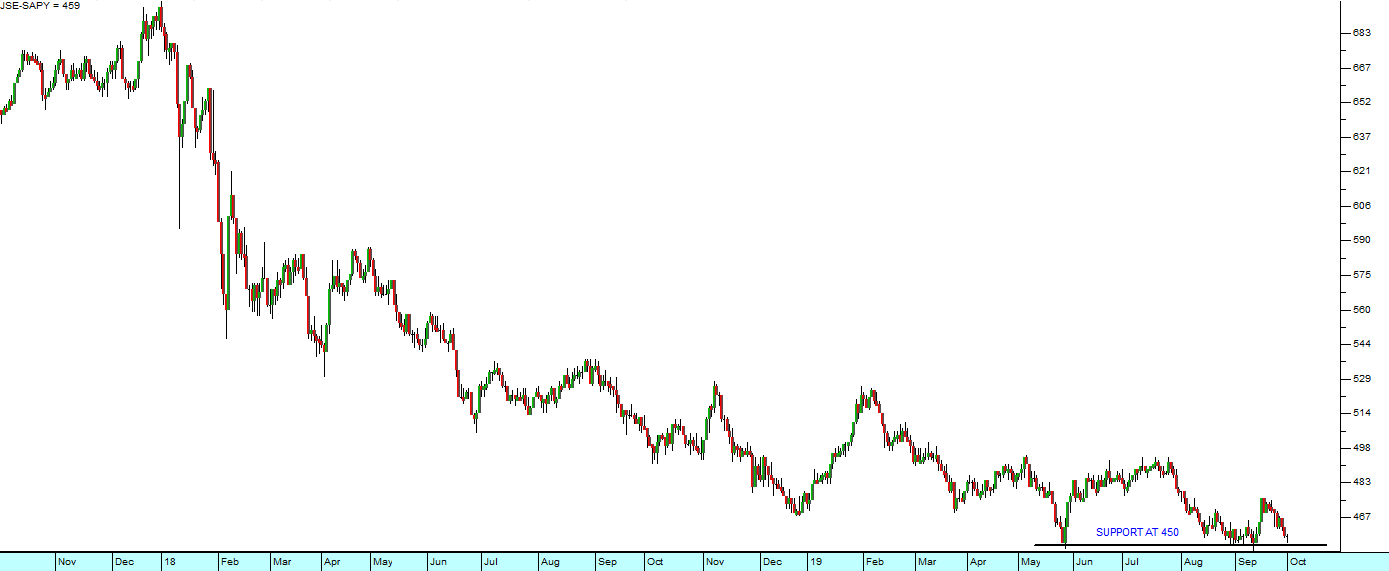 Here you can see that after its protracted fall in 2018, the index has flattened out and appears to have found strong support at around 450. We believe that it is cheap and poised for an upside move.
ACCELERATE
The new Fourways Mall recently launched by Accelerate and its 50% partner Azrapart is a 178 000 square meter R9bn behemoth which is expected to grow to 200 000 square meters once the home improvement store, Leroy Merlin, opens. Obviously, the developers want to create a shopping/office node which will compete with Sandton and then benefit from developing the land which they own in the immediate vicinity. The real question is whether a shopping mall of this size can be supported by the local community – especially without a Gautrain station. It is well known that South Africa, and particularly the Gauteng area, is over-supplied with shopping malls – and the growing trend is towards online shopping rather than bricks-and-mortar shopping. The Fourways Mall itself is very impressive with all the right retail tenants as well as some new arrivals from overseas, but still feels significantly unfinished. And it is a real stretch to see it competing seriously with Sandton City anytime soon. The problem is that the R10bn that it has cost will take at least 2 decades to repay and during that time retail behavior is likely to change significantly. Judging from the share price, the investing public is far from convinced about the long-term future of this retail giant. Consider the chart: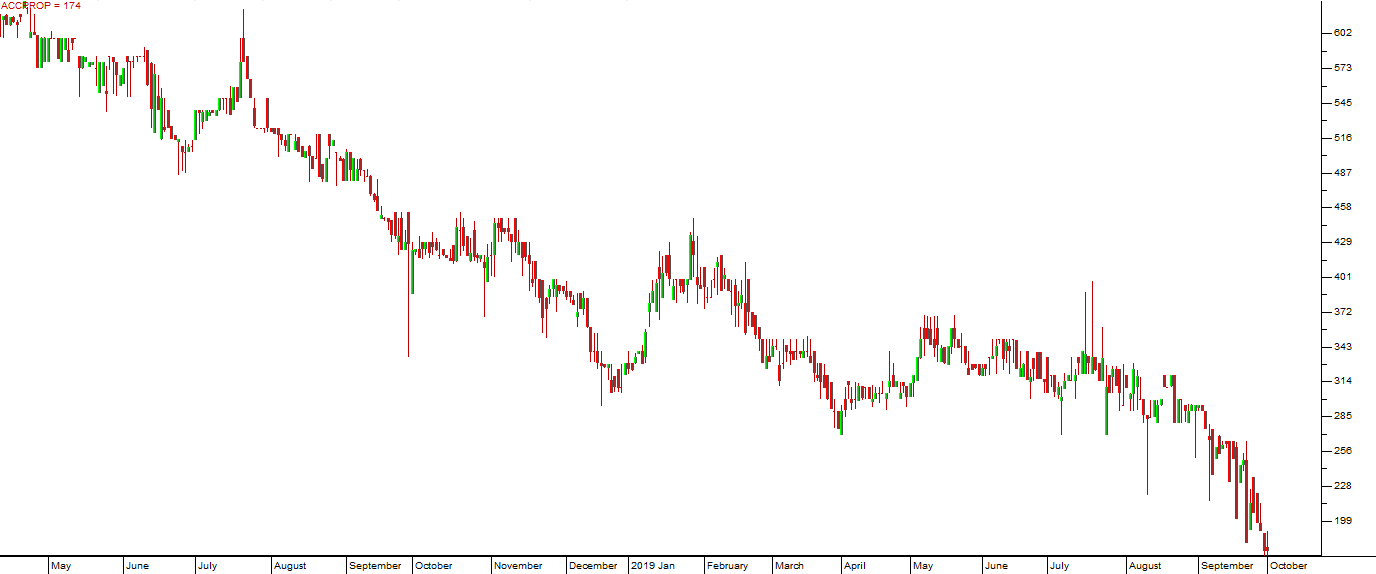 CAPITEC
Capitec Bank (CPI), launched by PSG, has been a major disrupter in the South African banking system. It has steadily taken retail market share from the other major banks by offering a cheaper and easier solution, especially for the previously unbanked section of our population. In November 2018 it was announced that Capitec was the successful bidder for the Portuguese bank Mercantile Bank. This acquisition will enable Capitec to expand rapidly into the small business market. In its results for the six months to 31st August 2019, the company reported headline earnings per share (HEPS) up by 20%. The company decreased its transactional fees to compete with the new banks, but its transaction fee income rose by 12% - due to a shift towards digital banking. The bank has seen an increase in its client base of 2 million customers over the past 12 months. Retail deposits are up by 23%. Since its launch in May 2018, over 1 million funeral policies have been issued. On an annualised basis the credit loss ratio decreased to 7,2% from 10,2% in the six months to 31st August 2018. The bank has a capital adequacy ratio of 34%. The company is adding about 200 000 new bank accounts and 90 000 new funeral policies every month – which is a truly remarkable performance. In our view, this share is a "must-have" for any private investor's portfolio. The resignation of Riaan Staasen at the end of May 2019 marks the end of an era when he made Capitec into a major disruptive force in the banking industry. Technically, the share has been rising steadily with a number of corrections. The latest correction took the share down 24% - which is less than some of its earlier corrections. It would appear that whenever Capitec falls heavily you must get ready to buy more at lower prices – because it will certainly recover. Consider the chart: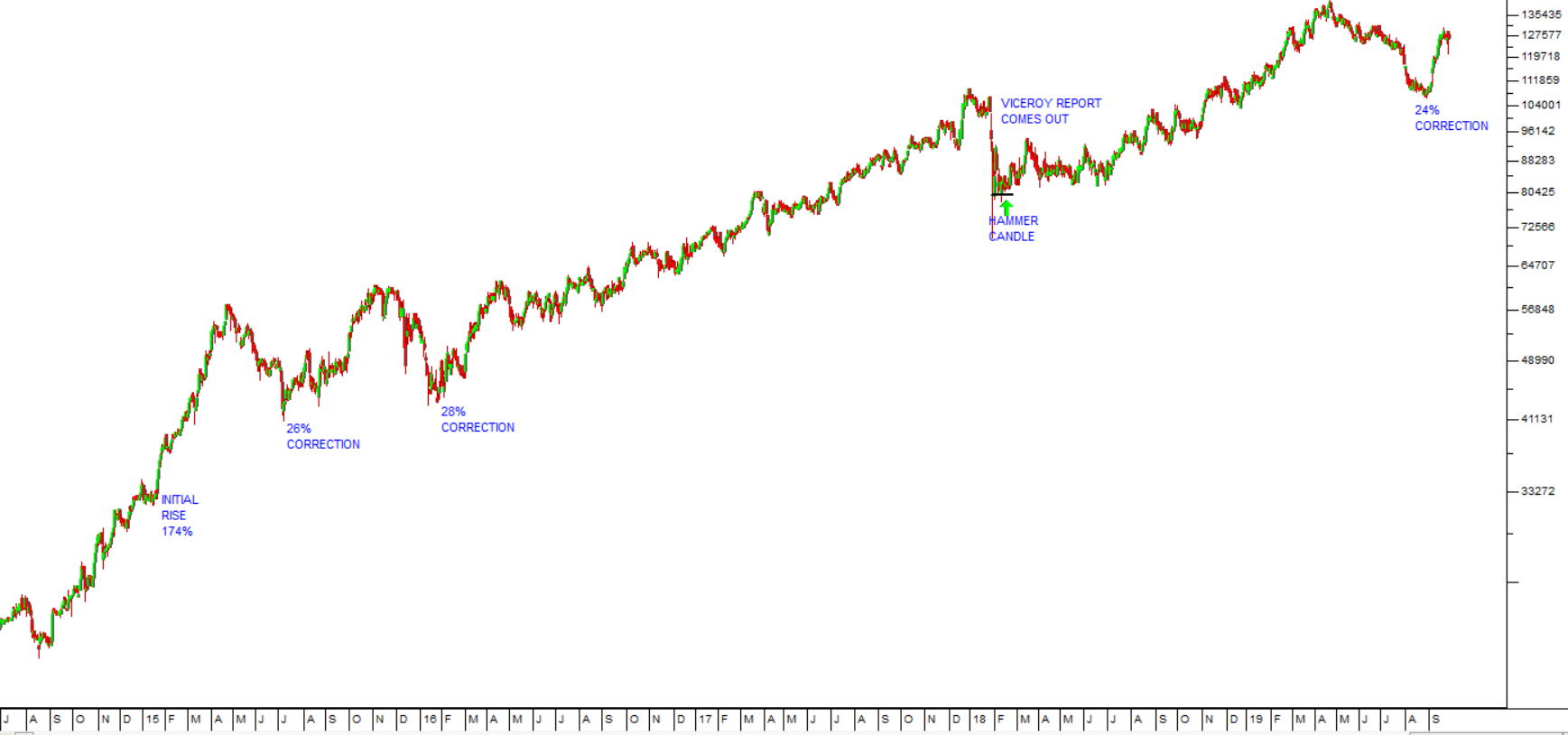 SPUR
Spur (SUR) is a very well-known franchisor of fast-food restaurants in South Africa and has branches overseas. About two-thirds of its sales in South Africa come from Spur Steak Ranches, and the balance comes from a variety of franchise brands which the company has acquired over the years. Among these are John Dory, Panarottis and, more recently, RocoMamas and Hussar Grill. It would appear that South Africans (at least those who can still afford restaurant food) are somewhat bored with the well-known brands such as Spur, but attracted to the recently-acquired brands of smash burger specialist, RocoMamas and steakhouse Hussar Grill. This share is very much determined by consumer spending, which has been under pressure with a 1% hike in VAT and rising petrol prices. Spur bought back the 10% of its shares which were held by Grand Parade Investments (GPI) in June 2019. In its results for the year to 30th June 2019, the company reported turnover up 5,9% with headline earnings per share (HEPS) up 10,8%. The share's net asset value (NAV) was up 3,6%. The company said, "Spur Corporation posted a resilient performance as total franchised restaurant sales increased by 7.2% to R7.6 billion. Trading conditions continue to be challenging in the low growth domestic market while the group's international business was impacted by the weak economy and high operating costs in Australia". A massive head-and-shoulders formation has occurred in this share with the left shoulder in 2013 and 2014, the head at May 2015 and the right shoulder at February 2017. The neckline was broken when the share fell below 2860c at the beginning of 2018. In the end, the share reached a low of just over R20, but it now seems to be recovering. On a P:E of around 14 and a dividend yield (DY) of 4,5% it looks like good value especially if you believe that the South African economy will recover.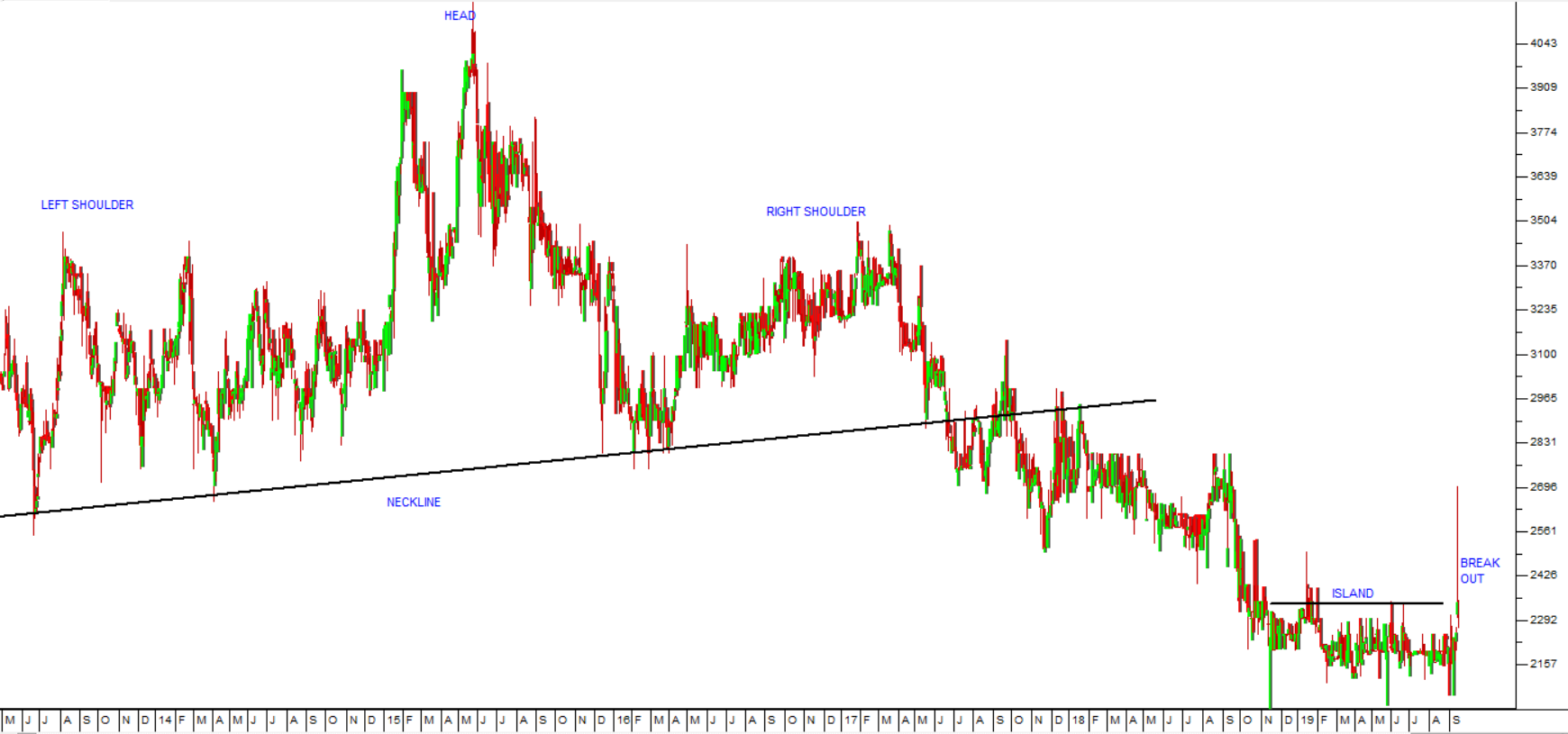 ASPEN
Aspen (APN) is a pharmaceutical company which trades in 150 countries in a wide range of specialty and branded products aimed at a range of acute and chronic medical conditions. They have 25 manufacturing facilities on 17 sites. Their main product categories are thrombosis, anaesthetics, cytotoxics and nutritionals. The sale of its Global Nutritionals business for 644m euros disappointed the market, causing the share price to fall heavily and break sharply down through key support at around R240. Since then it has fallen to levels below R100. Pharmaceuticals generally are a defensive industry which does well even during a recession because people are compelled to buy chronic medications. However, a major factor in Aspen's case is the strength of the rand. In its results for the year ended 30th June 2019, the company reported turnover from continuing operations up by 1% and headline earnings per share (HEPS) down by 11%. Normalised HEPS was down by 7%. Net borrowings came down to R38,9bn from R53,5bn in the previous period and no dividend was declared. The company said, "Strong cash flows in the second half allowed the Group to achieve a cash conversion ratio of 107% for the year. In the closing six months Aspen also completed the disposals of its Nutritionals Business and a portfolio of products distributed in Asia Pacific, realising cash proceeds before tax of R12,3 billion and a combined profit on disposal of R5,4 billion." Aspen announced on 17th May 2019 that the sale of its infant nutritional business for R10,4bn had been approved by New Zealand authorities and would help reduce debt levels. In the longer term, the company expects that its interests in China will eventually be larger than its South African interests. Its P:E ratio of 7,5 is not demanding for a solid, international, blue-chip, rand-hedge like this. To this you must add that its CEO, Stephen Saad, and his deputy, Gus Attridge, have bought about R110m worth of Aspen shares at these lower levels - which shows that they have a strong belief that the shares are cheap at current levels. In addition, at the President's investment conference, Aspen announced that it would invest R3,4bn in its Port Elizabeth factory. On 14th August 2019, the company announced that it had to pay an GBP8m (R146m) fine for anti-competitive behaviour - which contributed to negative sentiment. So we believe that it is a good investment at current levels, but we suggest, to be cautious after the recent sharp fall. The share has just broken up through its 65-day exponentially-smoothed moving average and so may begin a new upward trend.

BRAIT
Apparently, there is a move afoot to radically re-organise Brait with Christo Wiese's involvement and the assistance of certain large shareholders. A proposal called "Project Arbiter" has been leaked to the Business Day which envisages a completely new board of directors and the sale of all the company's investments (Iceland Foods, Premier Foods, Consol and New Look) except for its 72% stake in Virgin Active. Nobody is yet prepared to confirm or deny the deal, but the share price appears to be bottoming out after a long downward trend that has seen it reach close to one third of its net asset value (NAV). Consider the chart: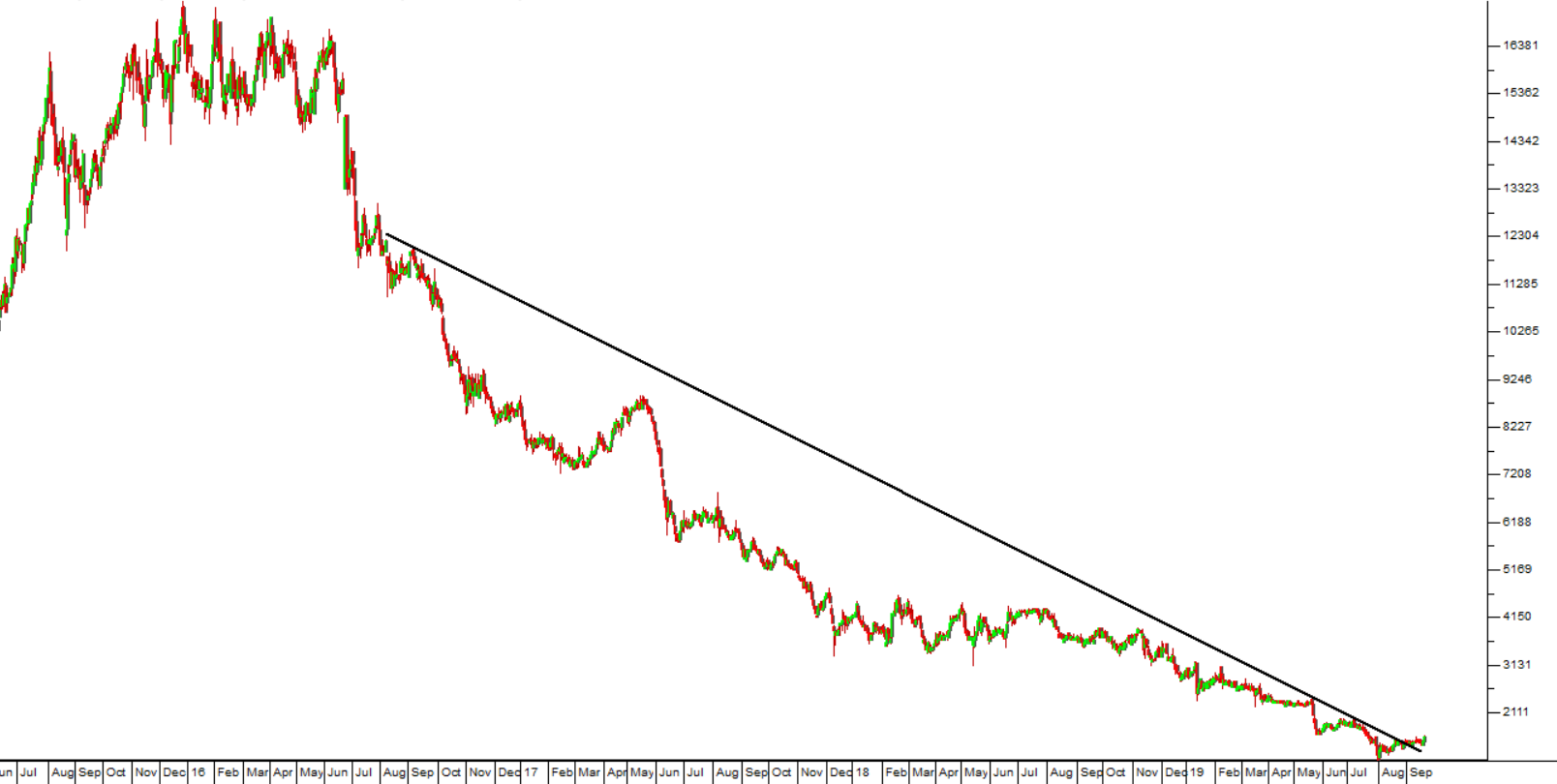 AFRICAN RAINBOW CAPITAL (ARC)
African Rainbow Capital (AIL), is a BEE investment company that was formed in 2015 and listed on the JSE in September 2017. Since it was formed, AIL has invested in more than 40 listed and unlisted investments in a wide range of industries from telecommunications to mining, construction, energy, property, agriculture, insurance, asset management and banking. AIL is owned through Ubuntu-Botha Investments which is, in turn, owned by the Motsepe family through their trusts. In the South African context, it has a significant advantage in finding suitable companies in which to invest because it can offer them a solid, reliable BEE shareholder. AIL has benefited from an investment by Sanlam and owns a stake in the Sanlam subsidiary, Santam. The company owns 100% of Tymedigital which has launched a digital bank in partnership with Pick 'n Pay. It offers digital banking, especially for those who cannot afford normal banking via their phones and has the distinction of being the only bank in South Africa not to charge transaction fees. It competes with other new banks in South Africa like Discovery Bank and Bank Zero. By June 2019, Tymebank claimed to have over 500 000 accounts open. AIL has taken a R236m hit on its investment in EOH, but has done well in most other areas. Roughly half of the AIL portfolio is in what it describes as "early lifestyle stage businesses" such as Tymebank, Ran and Kropz. These investments are seen as disruptive in their sectors, but will probably take time to mature. In its results for the year to 30th June 2019, the company reported an increase of 2,4% in its intrinsic net asset value (INAV) to 934c with a cash pile of R725m (down from R1,6bn). It claims that Tymebank (which it now has 100% of) and Rain are meeting targets. The company said, "The year under review has been characterised by strained economic conditions which adversely impacted most of the companies in our portfolio. The poor performance of the economy resulted from several political and economic factors and is expected to continue over the short to medium term. Our investee companies generally experienced low consumer, business and investor confidence, which was exacerbated by political and policy uncertainty before and after the May 2019 national elections". If there is a criticism of this investment holding company, it must be its lack of focus. It appears to be invested in a very diverse range of industries without significant synergies or economies of scale. The need of most South African companies to have a stable BEE partner gives it an edge in finding and negotiating good deals, but its lack of focus may eventually become a problem. We still regard it as a speculative investment. The share trades at just 43% of its INAV. Consider the chart: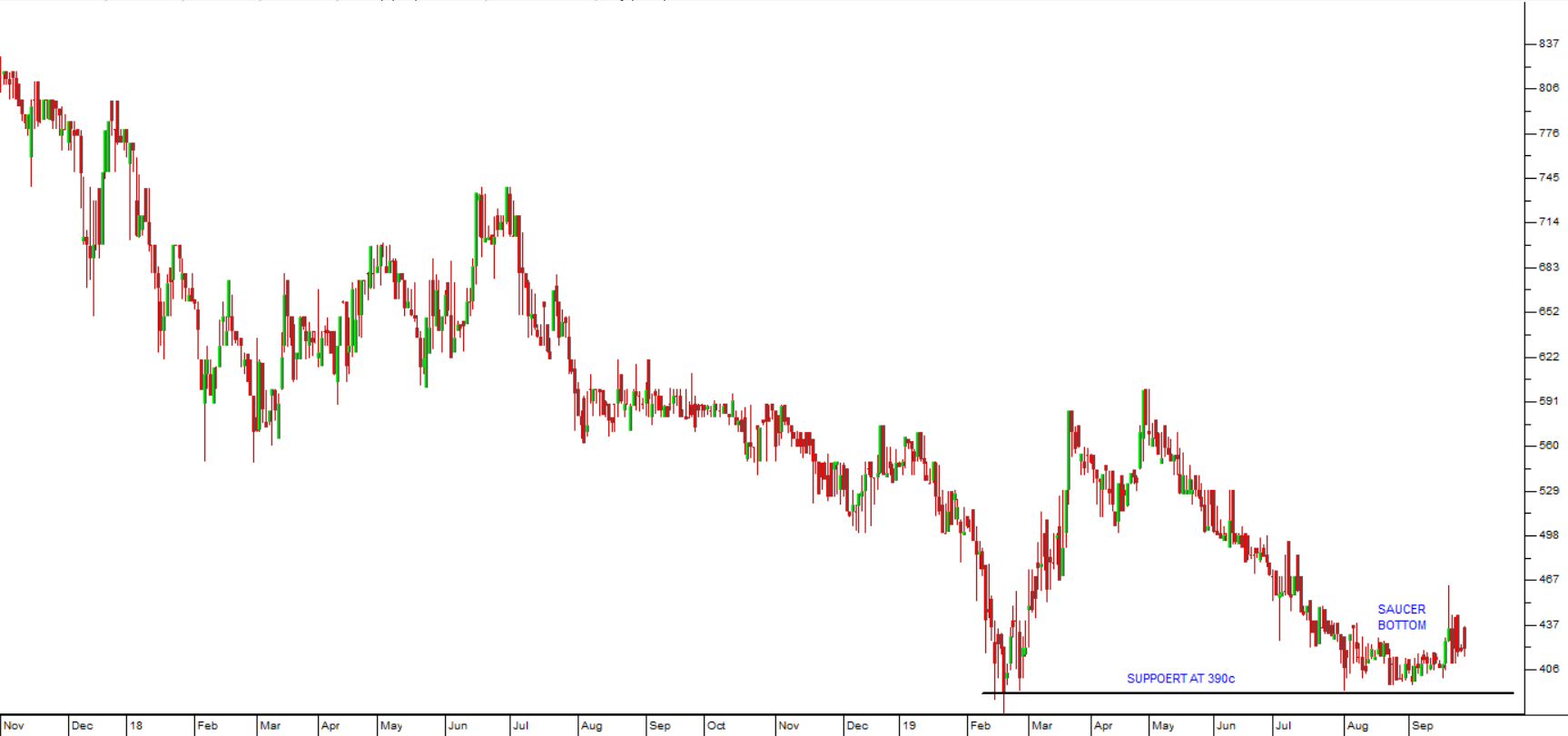 The share has fallen from its high shortly after listing of around 850c and now trades for 444c. It appears to have found significant support at around 390c and has recently displayed a "saucer bottom" which is an indication of a possible upside breakout. The question that private investors must ask is whether this share can realistically fall further. We think probably not. You can view a visual presentation of this report here. To be added to our mailing list for the next webinar, click here.
DISCLAIMER
All information and data contained within the PDSnet Articles is for informational purposes only. PDSnet makes no representations as to the accuracy, completeness, suitability, or validity, of any information, and shall not be liable for any errors, omissions, or any losses, injuries, or damages arising from its display or use. Information in the PDSnet Articles are based on the author's opinion and experience and should not be considered professional financial investment advice. The ideas and strategies should never be used without first assessing your own personal and financial situation, or without consulting a financial professional. Thoughts and opinions will also change from time to time as more information is accumulated. PDSnet reserves the right to delete any comment or opinion for any reason.
Share this article: