3 October 2018
By PDSNET
South Africa has become a battleground between good and evil, every bit as exciting and unpredictable as Game of Thrones or Harry Potter. On the one hand the forces of populism are seeking to drag the country backwards towards racism, entitlement, maladministration, corruption, nepotism and incompetence. On the other, the "good men" of the ANC like Ramaphosa, Gordhan, Manuel, Nene and others are striving to pull the country back from the brink – eliminating corruption, installing competent people in the SOEs and adopting better laws to govern key sectors. The good guys have already won many preliminary battles and weakened the position of the bad guys quite considerably. For example, the elimination of nuclear energy from our resource plan is a major step forward – and so is the Constitutional Court judgement which allows labour brokers to continue in business. There are obviously many more battles to be fought – and much has to be delayed until after the election in May next year. But the trend is in the right direction. At the same time, as we have been conducting our own internal battles, the battles of other emerging economies (like Turkey and Argentina) and the decisions of the American president have impacted on us. This is most visible in the volatility of our currency which continues to be the best and clearest barometer of exactly where South Africa is and how it is doing. If you want to know how good or bad things really are, study the rand/US$ chart. Everything of importance in this country, both internal and external is discounted there. Go to: https://www.forexforecasts.co.za/resources/live-charts/
Political
The recent Institute of Race Relations survey covering almost 1000 people found that the ANC's support has fallen from 54% after the municipal elections of 2016 to 50% now - while the EFF has gained ground from 8% to 13% - and the DA is steady with 23%. The DA was quick to point out that it has won the majority of recent by-elections – which indicates that it has grown its support base. The fall in the ANC's support may show that Ramaphosa's efforts to cut the ground away from the EFF by taking on the land expropriation issue have actually benefited the EFF. Ramaphosa has decided to call the election before the end of May 2019, bringing it forward to a much earlier date. Obviously, the damage done to the ANC by the Zuma era and the state capture issue is still impacting its support as more and more evidence of corruption is revealed at the Nugent commission of inquiry. But the survey indicates that the most important issues for those surveyed are unemployment and service delivery rather than land redistribution or even corruption. While the Ramaphosa administration is undoubtedly working to improve governance and deal with corruption, it is unlikely that the benefits of this will be felt by the popular masses in time to impact on the election result. Ramaphosa obviously needs to ensure that his position and path is ratified by the voters so that he has the political clout to make less popular economic reforms. We still believe that the ANC will probably be returned with 50% or more of the vote – sufficient to give Ramaphosa a clear mandate – but the situation is fluid.
Eskom has generally been regarded as the worst example of state capture in South Africa – but what happened at Transnet is at the least a close second. Pravin Gordhan has been battling to remove key state capture officials from the board. The Gupta-linked CEO, Siyabonga Gama, is the lead culprit. He is refusing to leave office and has vowed to oppose his removal by the board. But now he may be required to repay R151m which was lost by Transnet as a direct result of his decisions. Gordhan did achieve a significant victory when he managed to get the "chief officer of advanced manufacturing", Jiyane and the "senior manager for strategic sourcing", Mdletshe, suspended. Gama's suspension followed, leaving the board free to operate without these Gupta-influenced elements. Investigations by Werksmans and the Treasury have implicated all three in the R54bn purchase of locomotives from Bombadier, General Electric and others. Gordhan has been opposed in his efforts by the EFF (who are looking more and more like the "bad guys") and various remaining Zuma supporters. At the same time Gordhan has won a court case brought by Seth Radebe, a previous board member, to have the old board re-instated and his removal declared unlawful.
The new mining charter has been made more investor-friendly in three ways:
The 10% "free carry" provision has been softened in that the 5% which was destined for the local community can now be invested directly into the local community by the mine and not necessarily given as equity.

The 1% of core earnings "trickle down" dividend is only payable when the company pays a dividend – which puts it under the control of the directors – a major step forward.

Companies which are currently under the 26% black ownership rules do not need to increase the black ownership, but can continue with 26%. The 30% requirement is only applied to new mining licences – which provides existing mines with some additional security of tenure.
These three moves are steps in the right direction but the charter remains relatively unfriendly from an outside investor's point of view – which will probably constrain investment into this sector going forward. What is important is, friendly or unfriendly, that charter be promulgated and brought into law so that the uncertainty which has been hanging over the industry for so long is eliminated.
At the same time, Gwede Mantashe has made a formal request to withdraw the controversial Mineral and Petroleum Resources Development Amendment bill. Mantashe said that the existing bill would suffice for the mining sector while a new bill would be established for the oil and gas sector. This improves the certainty of the legal framework around both mining and the oil and gas industry, encouraging further foreign investment.
Gwede Manatshe scored another point for the "good guys" when he managed to close the Mpumalanga mining office. This office has been the center of scandals for several years. Its closure will help to restore confidence in mining administration in South Africa. It was known for its incompetence, corruption and inconsistency in granting of mining licences. This must be added to the withdrawal of the Mineral and Petroleum Resources  Development Amendment bill to make it possible to create a separate legal mechanism for the petroleum industry. It would appear that the legislative clean-up in the mining industry is proceeding – albeit quite slowly.
Economy
The shock announcement that South Africa had entered a technical recession (2 successive quarters of negative GDP growth) indicates that the damage done by Zuma and the previous ANC administration was probably worse than anticipated. Ramaphosa has been desperately trying to repair key South African institutions and garner overseas investment, but the damage runs deep and will take time to repair. It now seems likely that gross domestic product (GDP) will be flat or even slightly negative this year – which may cause the ratings agencies to downgrade the economy further. Goldman Sachs is now predicting growth of just 0,8% and Merrill Lynch reduced its forecast from 0,9% - both of which we think may be optimistic. The Reserve Bank, following its MPC meeting, where the decision was taken to keep interest rates on hold, lowered its prediction further to just 0,7%. The problem is partly self-inflicted by Ramaphosa in the sense that the land redistribution issue has made investors (both local and foreign)  nervous and caused them to hold back on investment. This is particularly true in the agricultural sector where farmers are not sure if their land is going to be taken from them without compensation. Farm and small holding prices have dropped by about 30% since the announcement. Some of the problem is external and beyond our control, like the vicarious fall in the rand as a result of developments in Turkey and Argentina and the international move to risk-off sentiment amongst investors. Unfortunately, the combination of internal and external factors has put South Africa into the "perfect storm" economically and it is difficult to see what the government can do about it.
The depressed manufacturing figures which came out in the purchasing managers index (PMI) in August were a clear indication that the South African economy was always unlikely to avoid a technical recession in the second quarter. The PMI shrank dramatically from 51,5 in July to a low of 43,4%. This was followed by Standard Bank's PMI which showed a fall in August from 49,3 to 47,2. The manufacturing sector is an important employer in the economy and lost 105 000 jobs in the second quarter. The economy is suffering from a toxic cocktail of pervasive legislative uncertainty, depressed consumer spending, the fear of land expropriation and the after-effects of state capture.
A further 69 000 jobs overall were lost in the economy in the second quarter – which should come as no surprise given the decrease in GDP over the first two quarters. Most of the job losses came from the community services sector, but there were losses in agriculture, manufacturing and mining as well. The weak economy is seeing companies across the board shedding jobs and not hiring. The level of demand is too low and this is combined with very low consumer and business confidence. However, it is darkest before dawn, and it is quite possible that the second quarter of 2018 will prove to be the nadir of negative economic news.
There is no "fiscal headroom" to implement the kind of stimulus injection that would make any significant difference. Ramaphosa's plan does not envisage an injection of money into the economy. Rather it is a raft of measures which will re-allocate money within the economy to change the emphasis and reduce bureaucratic impediments. A good example, is the recent decision to reduce the stringent visa requirements to stimulate the tourism sector – although the efficacy of the measures proposed is being questioned. Another move is to establish an "infrastructure fund" which will gather funds from both the private and the public sector to tackle and finance infrastructure projects. This will stimulate the construction sector while at the same time accelerating the improvement in telecommunications and transport. The same fund will improve facilities at South Africa's 26 industrial parks. The package was approved by the cabinet on 19th September 2018. Clearly, some of these elements will and are impacting on the economy. The rand is strengthening rapidly in response to steadily improving economic fundamentals and improved foreign investor sentiment.
The decision by the government to cap the petrol price increase in September at 5% has consequences. It was described as an "illogical and dangerous" precedent by economist Azar Jamine. It will require an injection of approximately R575m which is to be taken from the central energy fund . That can only be done once, so the under-recovery, which is now over R1 per liter, will have to be funded in the October increase which will be even higher – unless the rand continues to strengthen. Secondly, it establishes a dangerous populist precedent – what if the rand collapses further next month? Then the government will certainly be under pressure to subsidise petrol further. Oil prices sometimes decline in the second half of the year because the American "driving season" comes to an end, but this cannot be relied upon because of other factors like the impact of the weather on oil platforms in the Mexican gulf. In general, the government should not get involved in the private sector if possible. The least government is the best government. By interfering in this way, they will allow demand to increase while draining government coffers. It would be better to reduce or eliminate the government tax on fuel – but right now there is no fiscal headroom to allow for this. Of course, Energy Minister Radebe's appeal to oil producing countries to stabilise oil prices is futile and demonstrates his ignorance of this critical world market. If anything OPEC is intent on driving prices even higher. Technically, the critical level was the recent cycle high of $80 per barrel. Now that that level has been exceeded, we can probably expect the price to continue rising for some time.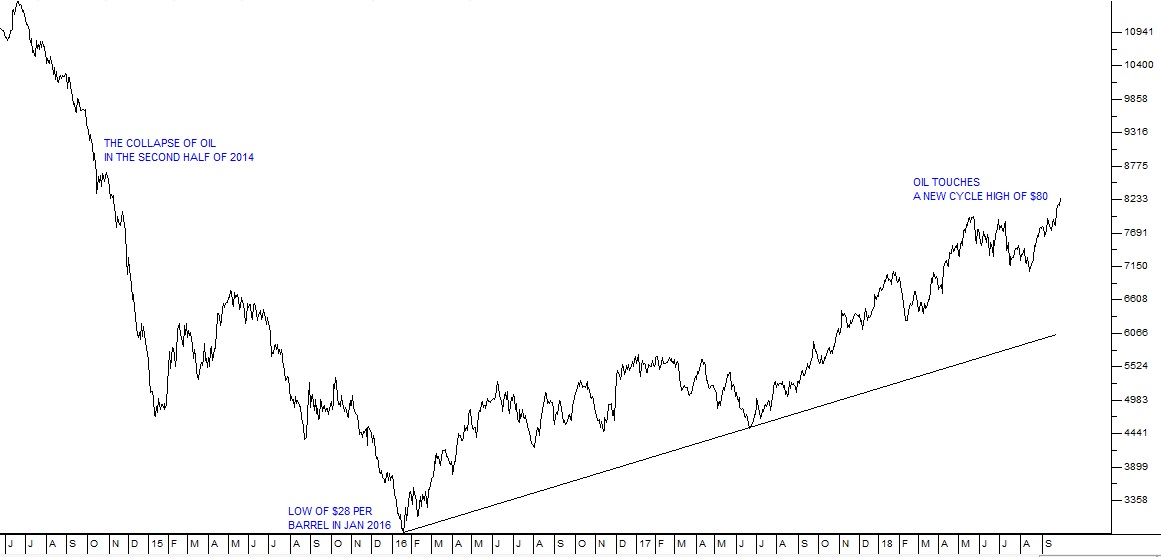 Brent Oil Index June 2014 to September 2018 - Chart by ShareFriend Pro
At the end of March, earlier this year, Moodys, the ratings agency, actually upgraded the South African economy, which was already on the lowest investment grade, from a "negative outlook" to a "stable outlook". This was in response to Ramaphosa's election as leader of the ANC and his taking over from Zuma as the president. Since then things have deteriorated significantly. Most importantly, South Africa has sunk into a technical recession with a 2,6% decline in GDP growth in the first quarter and a 0,7% decline in the second. Moody's itself has reduced its expectation for South Africa's GDP growth this year from 1,5% to 0,7%. On 12th October 2018, Moodys will have to make a decision about South Africa's rating and the high probability is that they will retain us on the investment grade, but maybe change our outlook back to "negative". The current outlook means that it is unlikely that we will be downgraded at the next rating evaluation in March 2019 – and hopefully the prospects for GDP growth improve markedly before then. The negative growth in GDP is in large part due to the shrinking of the agricultural sector – which is in turn due to a significant drop in production. In the second quarter, agricultural production was down by almost 30% - and this fall was mirrored by the 32% drop in the average prices of agricultural land sold. What is clear is that the land distribution issue has caused a major drop in confidence in this important sector – and that is now impacting on GDP growth.
Webber Wentzel recently said that they estimated that as many as 9 million people had, either directly or indirectly, lost their livelihood as a result of the decline in the mining industry over the past 15 years in South Africa. Much of this is definitely due to the fact that the shallower deposits of precious metals have been mined out, leaving only the deeper, less economic ounces in the ground. This, combined with the lacklustre performance of precious metals prices since 2011, has basically destroyed what was once South Africa's richest natural resource. Tens of thousands of people who once derived their living from gold and platinum have had to look elsewhere for their living. But the ANC government has made the situation worse than it needed to be by encouraging excessive, violent union action, imposing draconian BEE requirements and enforcing extended mine shut-downs, many of which have been excessive or even vindictive. In the process, they have virtually brought a complete stop to foreign investment which is the life-blood of the mining industry.
The Rand
Technically, the rand has now fallen well outside its long-term channel reaching a low of R15.70 to the US dollar. Since then it has strengthened rapidly back to its current level at R14.15 – which suggests that the weakness was substantially caused by external forces beyond the South African government's control – such as events in Argentina and Turkey and the strength comes from those forces abating. However, the weakening trend has not yet been broken by this recent strength – and will only be broken when the rand goes back below about R13.40. Consider the chart: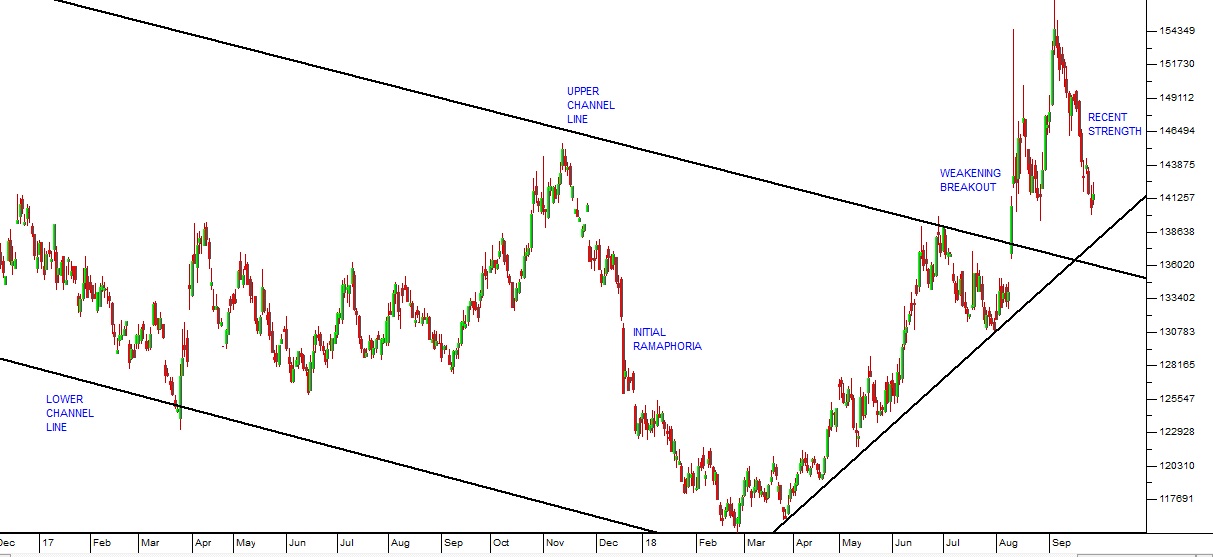 Rand Dollar December 2016 to September 2018 - Chart by ShareFriend Pro
But is does now seem unlikely that the rand is heading anywhere near its previous cycle low of R16.82 to the US dollar made on 11-1-2016 which is good (especially for the petrol price). If what has happened since the middle of August is indeed a "technical aberration" then we should see the rand back at levels closer to R13.30 to the US$. Our expectation is that this is likely given the steady improvement in governance.
As we have indicated previously, the currency of a country is similar to the shares of a listed company. If a listed company is expected to do well and make profits, then its shares will strengthen - and vice versa. If a country is expected to do well and grow in real terms - then its currency will tend to strengthen against the currencies of other countries - and vice versa. Most of the shocks to the rand have been external and outside the government's control, including troubles in Argentina and Turkey as well as the shift to "risk-off" caused by Trump's initiation of an international trade war with Europe and China. The South African government has been making steady progress in unwinding the damage done by the Zuma era and this should slowly begin to impact on the rand. Obviously, the announcement on 14-9-18 by a senior Moodys economist that a change to South Africa's rating status from them was unlikely in the near term has helped the rand enormously. It avoids a downgrade and the immediate forced removal of R100bn from our bond market by various tracker funds which are only permitted to invest in investment grade debt instruments.
General
The Zimbabwean economy is in difficulties due to an acute shortage of foreign currency, which is now leading to food shortages and sharply rising prices. The situation is made worse by the economic problems in South Africa, which is Zimbabwe's primary trading partner and which usually employs a large number of Zimbabean citizens who then send cash home to their families. Both South Africa and Zimbabwe have new presidents who are trying desperately to recover from the economic problems created by their predecessors. Both face rising levels of civil disturbance due to systemic poverty and high unemployment. Both are commodity-driven economies where regulatory uncertainty has curtailed foreign investment. The difference is that South Africa is at least twenty times the size of Zimbabwe and has its own, relatively stable, currency. Zimbabwe relies on rands and US dollars which are outside of its government's control. Hopefully, South African leaders will look at their Northern neighbor and learn from its mistakes. The last thing we need in this country is to debase our currency. Together with our independent and professional judiciary, the stability of our currency has been the only thing preventing this country from descending into chaos.
A2X, the new stock exchange which poses the most credible competition to the JSE, has recently taken Sygnia in as its 11th listing. A2X offers transaction costs which are as much as 50% cheaper than the JSE and it is steadily attracting JSE listed companies to take secondary listing with it. It also has nine brokers registered with it. It is planning to have its licence amended to allow it to list exchange traded funds (ETF), beginning with  Sygnia's. Sygnia has approximately R20bn under management in a variety of ETFs covering overseas markets. The CEO of A2X says that he supports "disruptive competition" and clearly, it is the JSE that he intends to disrupt. Private investors can only benefit from his efforts.
The legalisation of the use of Marijuana in South Africa and other countries is a non-technical change in the consumer market which is likely to create an entirely new industry, possibly with significant investment potential in due course. There can be no doubt that smoking marijuana, if fully legalised, could be at least as popular as drinking alcohol and so support a major industry. Canada has recently legalised marijuana and there is much excitement around those companies which are exploiting this new market. Nobody quite knows how big the market is likely to be, but it is sure to be large, especially when marijuana can now be used there to enhance a variety of consumer products like various drinks and foods. At this stage there is no way that South African private investors can become involved, but it is certainly a shift in the market place to be aware of.
Companies
AFRICAN EXPOSURE
African exposure is increasingly becoming a major negative for JSE-listed companies. The recent decision by the Nigerian government to accuse MTN of illegally removing $8,1bn in dividends between 2007 and 2015 was followed by the news that the same government had simply removed R75m from Standard Bank's account in respect of its "collusion" with MTN in taking those dividends out. This unilateral action has been taken without due process – and that really unnerves investors. It appears that the Nigerian government has just helped itself to Standard's cash on a very flimsy basis and without affording Standard the opportunity to defend itself. It must be borne in mind that Nigeria has an election in February next year and that this might be part of their preparation for that, but the implications are likely to be far-reaching. It is also important to grasp that the Nigerian economy is based primarily on the oil price – which has recently risen to a cycle high of over $80 per barrel – so the government shouldn't be short of funds. It is highly unlikely that any major overseas company will invest into a country where their funds can be arbitrarily removed from their bank account by the government without due process. The damage to the country's reputation from an investment perspective is far, far greater than the R75m which they have taken and, if not rapidly and satisfactorily dealt with, could impact on their foreign direct investment (FDI) for decades to come.
RAVEN (RAV)
Raven Property Group (previously Raven Russia) has taken a secondary listing on the JSE from 10th September. This company specialises in property in Russia and it is the 18th completely foreign property company to list on the JSE. The company is already listed on the London Stock Exchange (LSE) in the "Alternative Investments Market" (AIM) and has a market capitalisation of just under R5bn at current exchange rates. The company receives half of its income in US dollars and half in Russian rubles. This means it is highly exposed to the Russian economy and emerging market currencies. The Russian economy is largely an oil play and it is currently benefiting from the run up in the oil price to above $80 per barrel. In our view this is a highly speculative investment and does not enjoy the benefits of most European property companies.
SANTAM (SNT)
This is South Africa's largest short-term insurer with about 22% of the market. Being short-term means that it does not engage in endowment insurance, annuities or any kind of investment insurance. It insures assets, like buildings and vehicles and individuals against risks which they cannot afford such as the loss of their income through disability or death. Its results for the six months to 30th June 2018 show that gross premium growth of 9% combined with an insurance underwriting premium of 8,4% enabled it to increase headline earnings per share (HEPS) by 72%. Santam rates as one of the JSE's most reliable quality shares. It trades on a well-deserved P:E of 21 with a dividend yield of 2,5%. It is probably the best example of a blue chip share, with a strong balance sheet and a track record of steadily improving earnings year after year. These facts can be seen in the steady upward trend of its share price. In 1985 the share traded for 90c and today it trades for over R300. Consider the long-term semi-log chart: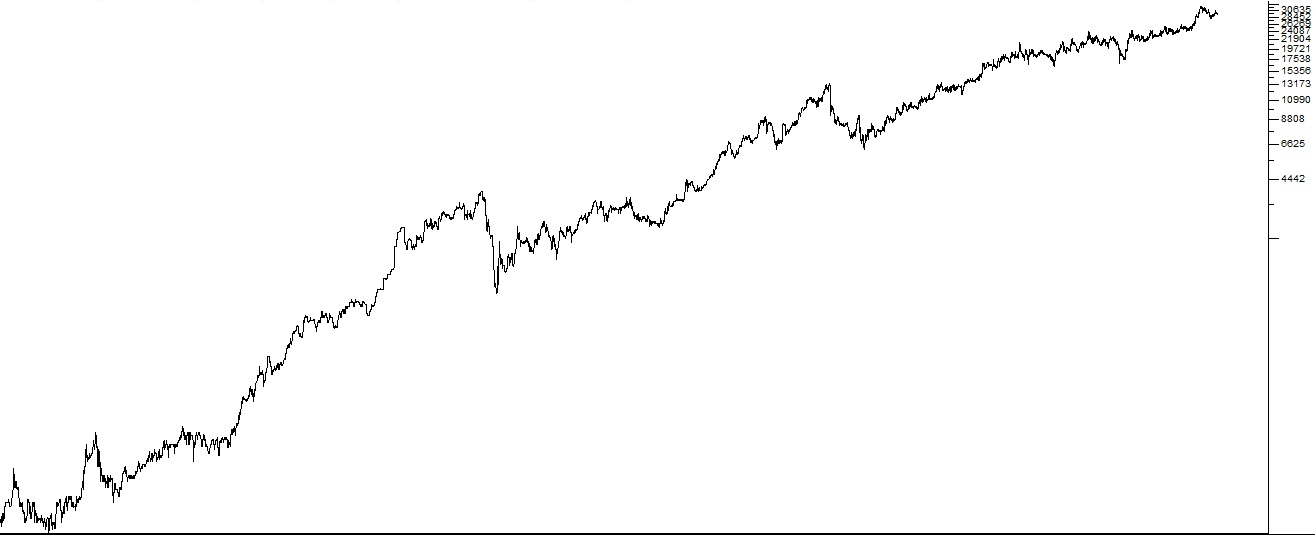 Santam (SNT) Semi-Log Chart from February 1985 to September 2018 - Chart by ShareFriend Pro
We call this type of share a "diagonal" because the semi-log chart goes from the bottom left-hand corner of the chart to the top right-hand corner over a period of 33 years. There are very few JSE listed companies with a chart like this. It should be a part of any private investor's portfolio.
HYPROP (HYP)
Hyprop is a leading property real estate investment trust (REIT) that specialises in high-quality shopping malls in South Africa and some interests in Eastern Europe and Africa to the North. It owns some of South Africa's best known shopping malls like Rosebank, Canal Walk, Hyde Park Corner and Clearwater. It has been impacted to some extent by the fall-off in consumer spending through lower trading densities, but in the year to 30th June 2018, the company reports dividend growth of 9,3% - which is better than its guidance. In the current trading environment this is a very solid result. Many REITs are reporting flat or even negative growth. In May, Hyprop issued 7,5m new shares to raise R778,7m but the dilution was included in its dividend. This share is currently trading below its net asset value (NAV) of R103 - which in our view makes it a good buy. We do not believe that the share will fall much further and that it is a very conservative, but good investment at these levels. Consider the chart: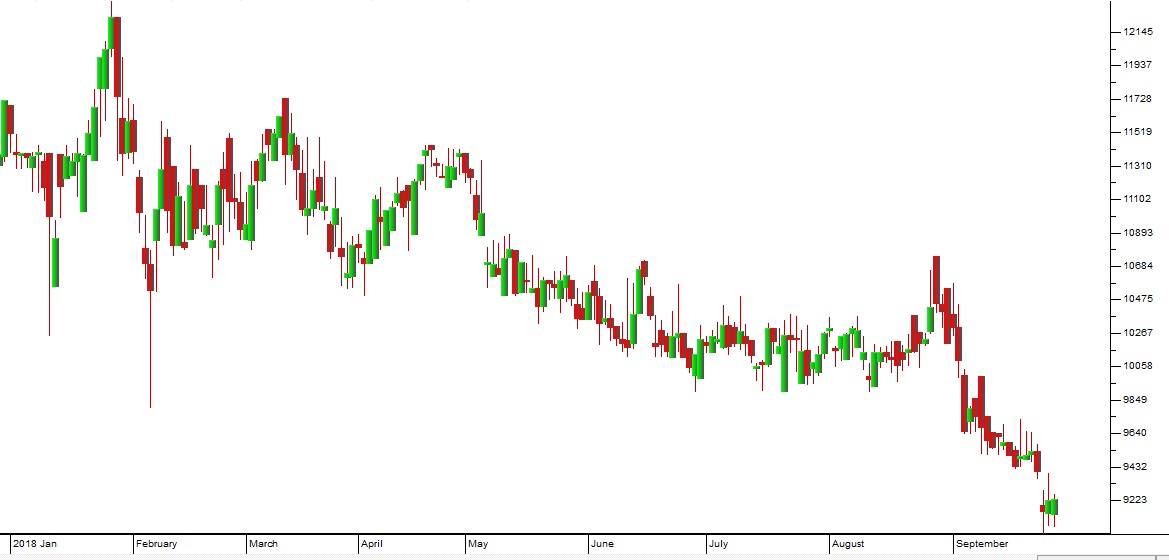 Hyprop (HYP) January to September 2018 - Chart by ShareFriend Pro
Like all property shares, Hyprop has seen its valuation come off substantially with the Resilient Group's collapse and this offers investors a rare opportunity to pick it up at bargain levels. An "island" appears to be forming at around R92 which may mark the bottom of its downtrend.
ANGLO-VAAL INDUSTRIES (A-V-I)
Anglovaal Industries is a generalised producer of consumer products in the food, cosmetics and apparel sectors. It has a diverse range of very well-known South African brands such as I&J fish, Five Roses tea, Salticrax, Frisco, Provita, Yardley, Spitz and Kurt Geiger. During the year to 30th June 2018, the company reported headline earnings per share (HEPS) up 7% off a 1,9% increase in turnover - which implies a significant improvement in efficiencies and reflects the tough trading conditions in the South African economy. They were also able to pay out a special dividend of 250c. The company says that the rising petrol price has caused an extended period of price inflation which has been made worse by job losses and the VAT increase. This share is undoubtedly one of the best blue chips trading on the JSE – and as you can see from the chart below it is also a "diagonal" over the past twenty years. It has increased HEPS every year for the past ten years and has shown a remarkable rise in its share price over the past twenty years. 20 years ago the share was trading for around 150c and today it trades for about R112 - and it has been a steady payer of dividends throughout that period. An investment in Anglovaal is basically an investment in the South African economy, but one which has shown itself to be virtually recession-proof.  This is a share to accumulate on weakness. Consider the semi-log chart of its share over the past twenty years: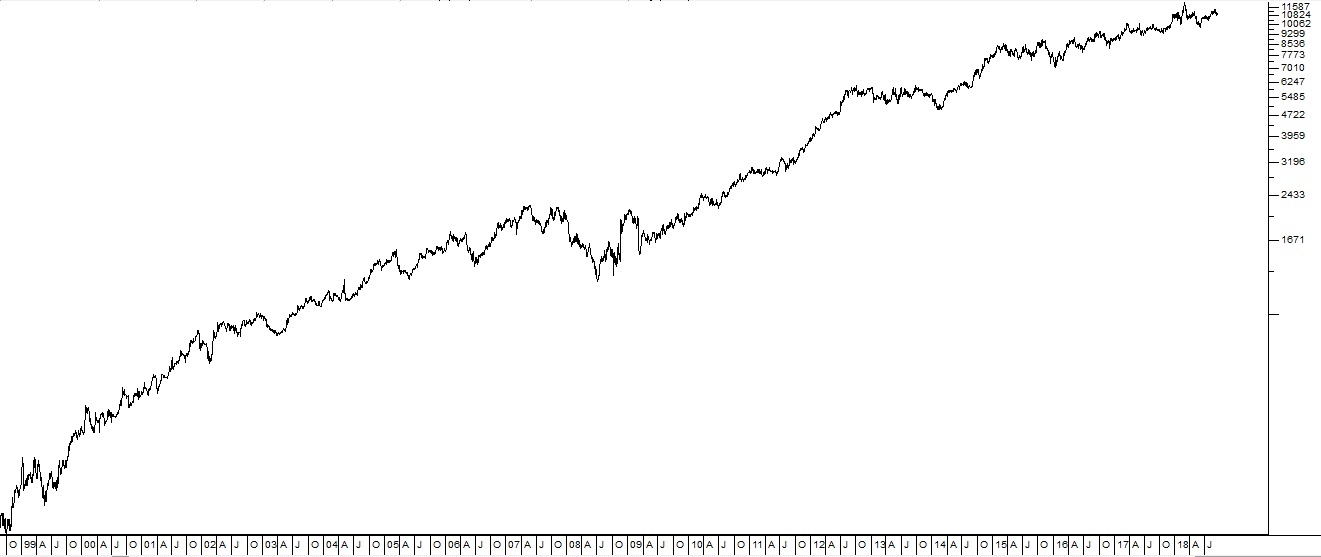 Anglovaal Industries (AVI) Semi-Log Chart from October 1998 to October 2018 - Chart by ShareFriend Pro
COMAIR
Comair is South Africa's only listed airline. It operates for British Airways in South Africa and also runs the discount airline, Kulula. The industry which it operates in is distorted by the activities of SAA, a government-subsidised airline that is continuously loss-making. Comair has responded to this unfair competition by improving its efficiency at all levels. The cost of fuel is one of the greatest costs for any airline and Comair has replaced its fleet of aircraft with more modern aircraft which use about 14% less fuel and can carry more passengers. This gives it a pricing advantage and maintains profitability. In the 72 years since it came into existence, the company has not yet had an unprofitable year. In its results for the year ended 30th June 2018, the airline reports a 4% increase in passenger volumes and a 3% increase in airfares resulting in a 7% increase in passenger revenue. Operating costs also increased by 7% - mainly because of the rising price of oil and the decline of the rand which resulted in a 14,2% increase in the cost of fuel. The company's non-airline businesses contributed 25% to its bottom line. Overall, headline earnings per share (HEPS) increased by 10%. Comair won a damages claim against SAA for unfair competition and was awarded R1,16bn. SAA has appealed this judgment. In our view, this airline clearly demonstrates the utter futility and stupidity of having a national airline like SAA - which is currently trying to get a further R21,4bn in subsidies from the government. As an investment, Comair is risky, because it's industry is dominated by the unfair competition from SAA and because it is subject to the volatility of fuel prices. It is also impacted by the state of the economy and consumer spending. But it is an exceptionally well-managed company and will probably continue to grow.
CLICKS (CLS)
Clicks describes itself as a retail-led healthcare group. It incorporates Clicks, Musica, GNC and The Body Shop. Together they have 824 shops throughout Southern Africa. 500 of those stores include pharmacies - which makes Clicks the largest pharmacy chain in that region. Although more retail outlets are installing pharmacies in their shops, the recently listed Dischem is Clicks' main competitor. In its interim results for the six months to 28th February 2018, the Clicks group reported headline earnings per share up 14,8% off a 10% increase in turnover - which implies cost-cutting and improved efficiency. Their health and beauty section was particularly strong and saw sales grow by 14,3% including market share gains. Over the period, the group added 46 stores with 34 pharmacies. The company's loyalty program, Clicks Club Card, increased membership by 950 000 to 7,5m. Despite difficult trading conditions and constrained consumer spending the group expects to continue to grow, adding a further 40 new stores in the year ahead. Probably the only negative about this company is its continued involvement with Musica - which does not seem to be in any way close to its core business. Technically, the share has been a steady performer over the past 20 years. Its share price has risen by 2500% since it listed - which compares very well with the JSE's average over the same period. Consider the chart: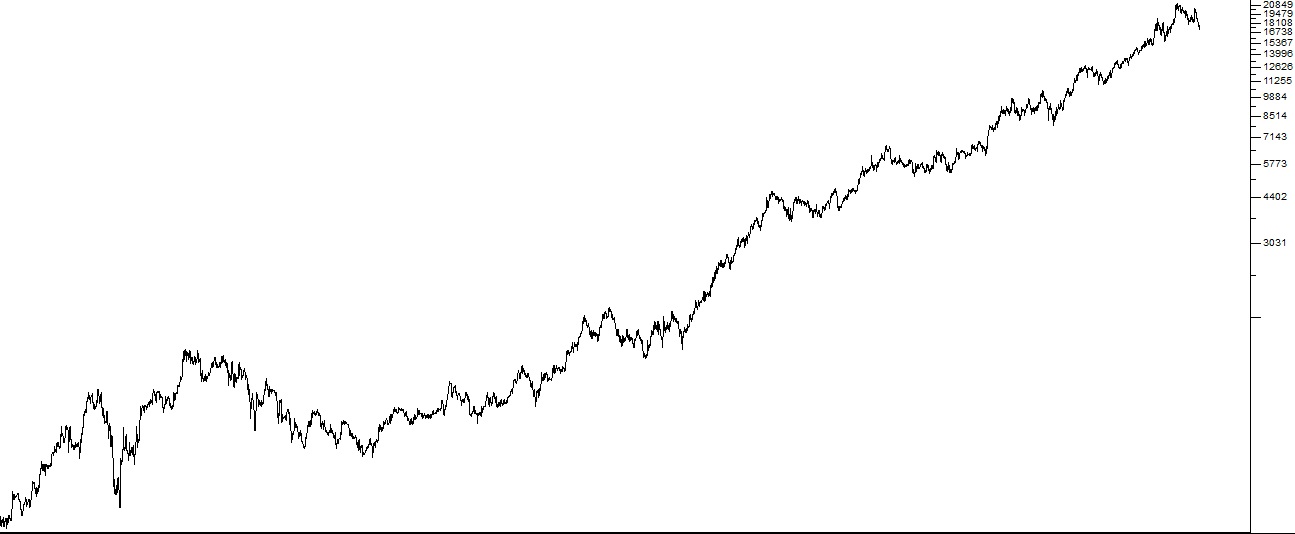 Clicks (CLS) Semi-Log Chart from March 1996 to October 2018 - Chart by ShareFriend Pro
Here you can see that the share has risen from 300c at the end of July 1996 to its current levels around R175 – a price we consider to be cheap. This makes it a "diagonal" share and a share to accumulate on weakness. The recent announcement that the CEO of the past 13 years, David Kneale, is to retire is a little concerning, but the group has a clear succession plan in the form of the COO, Vikesh Ramsunder - and it has a strong management team. We regard this as one of the best blue chip shares trading on the JSE. It has proven that it is more-or-less recession-proof and continues to perform remarkably well. As a result of its high rating, the share trades on a P:E of 30 and a dividend yield (DY) of 1,5% - but we believe that it remains an excellent medium-term investment which should find a place in every private investor's portfolio.
OLD MUTUAL (OMU)
Old Mutual was listed separately on 26th June 2018 at just under R30. Now as part of the separation the company is unbundling its shares in Nedbank (on 15th October) and paying a R7,1bn dividend (on 16th October). Together this amounts to a bonus for shareholders of R50,3bn – which is roughly one third of the company's market capitalisation (R149,7bn). This is a windfall that any person in South Africa can get just by buying and holding Old Mutual's shares. And then the next day they will pay out a R7,1bn dividend. Altogether this is worth about R10 per share – on an investment of R30. Obviously, this is already priced in to the shares and, once it is done, the price of Old Mutual shares will go down – but we believe they will recover quickly and probably not fall by as much as R10 per share. Consider the chart of Old Mutual: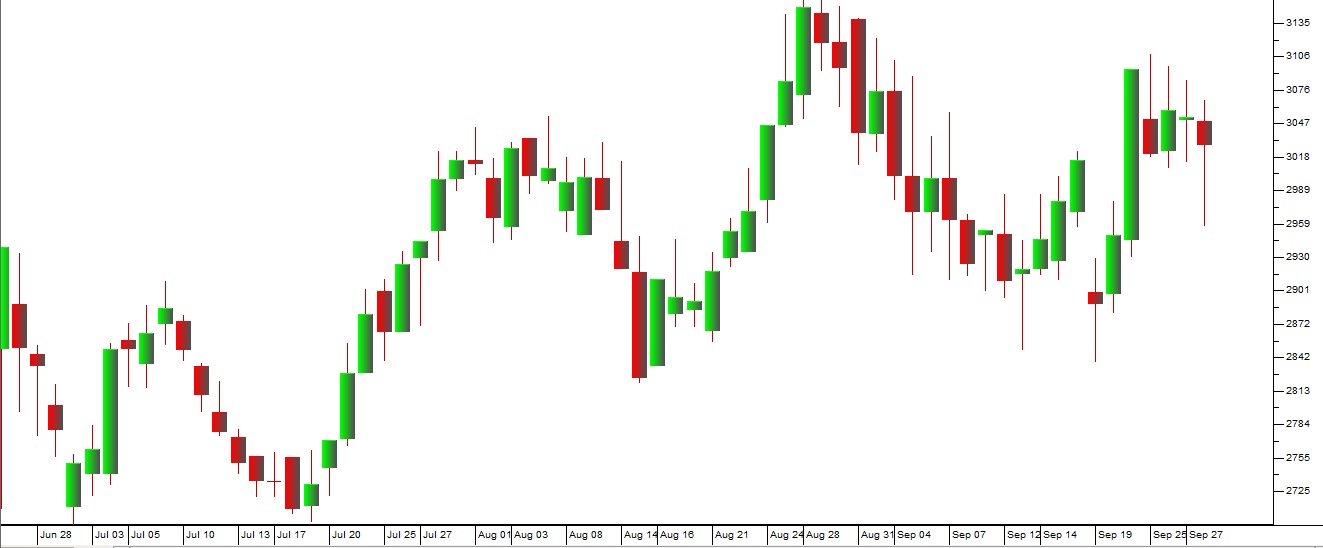 Old Mutual (OMU) June to September 2018 - Chart by ShareFriend Pro
IMPERIAL (IPL)
Imperial (IPL) is a massive logistics and motor business with a turnover of R116bn and profits of R2,5bn in the year to 30th June 2017. It operates in 33 European and African countries and employs 49 000 people. Their trading statement for the year to 30th June 2018 indicates that headline earnings per share (HEPS) will be up by between 9% and 16%. If recently-sold Regent is excluded, the HEPS is expected to be between 23% and 30% higher. Regent is disclosed as a "discontinued operation". The increase is attributed to foreign exchange profits and lower finance costs. This makes a pleasant change from the declining HEPS for the past two years which has seen the share price fall from its peak of R272 at the end of January 2018 to its current levels around R200. The company is busy splitting into two separate listed entities to unlock value. These will be Motus, due to list on 22nd November 2018, which will contain all the company's motor interests, and Imperial, which will continue to be a supplier of logistics services. Imperial shareholders will get one Motus share for every Imperial share that they hold. To facilitate this split, the company is buying back its preference shareholders for R388m at R83 per share. This will simplify the company's capital structure. Unfortunately, the CEO, Osman Arbee, has been ill and is only expected to return to work in 2019. However, the company has good depth of management and the separate listing of Motus is not to be delayed. Once Motus is listed, Arbee will be its CEO. This is a massive long-standing blue chip share on the JSE that has been through a difficult time over the past two years. We believe that it will benefit from the separate listing of Motus and that value will be released as a result of this unbundling. We also expect that both listed entities will benefit from any significant improvement in the South African economy. The share is trading on an undemanding P:E of 11,1 which makes it cheap in our view.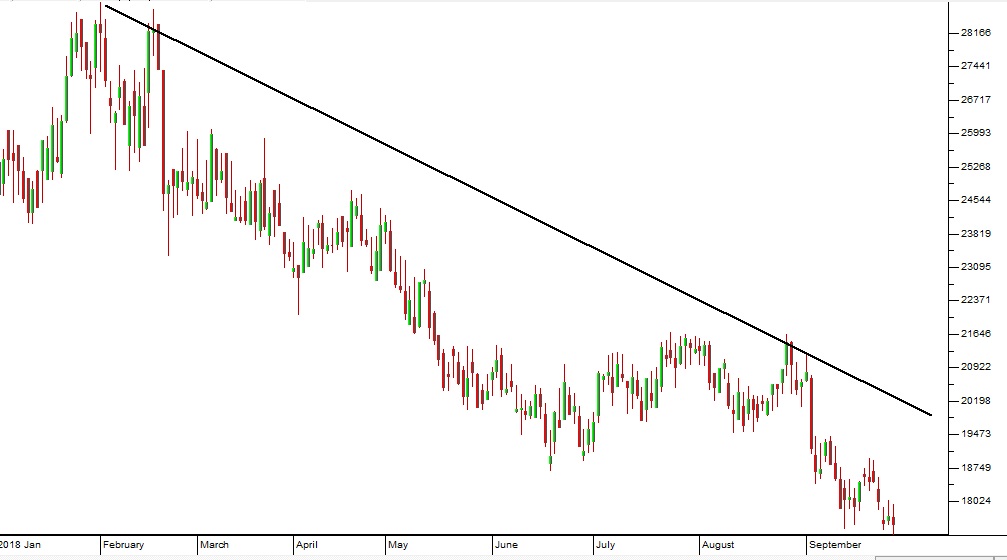 Imperial (IPL) January to September 2018 - Chart by ShareFriend Pro
The share has fallen steadily this year, but is probably close to its bottom. The motus unbundling will release shareholder value. A conservative private investor would probably wait for an upside break through its downward sloping trendline.
You can view a visual presentation of this report
here
. To be added to our mailing list for the next webinar,
click here
.
DISCLAIMER
All information and data contained within the PDSnet Articles is for informational purposes only. PDSnet makes no representations as to the accuracy, completeness, suitability, or validity, of any information, and shall not be liable for any errors, omissions, or any losses, injuries, or damages arising from its display or use. Information in the PDSnet Articles are based on the author's opinion and experience and should not be considered professional financial investment advice. The ideas and strategies should never be used without first assessing your own personal and financial situation, or without consulting a financial professional.  Thoughts and opinions will also change from time to time as more information is accumulated. PDSnet reserves the right to delete any comment or opinion for any reason.
Share this article: