5 May 2021
By PDSNET
America
The US economy grew at an annualized rate of 6,4% in the first quarter of 2021 – which was much faster than expected. Gross Domestic Product (GDP) was $19,1 trillion – which can be compared to the $19,3 trillion of the December quarter of 2019 - before the pandemic took hold. This shows that the economy is now virtually back to pre-COVID-19 levels. The growth has primarily come from cars, food, beverages and restaurants. There has been a surge of consumer confidence based on the $1400 per person cheques issued by Biden and the rapid roll-out of the vaccination program. House prices are also rising rapidly as interest rates are maintained close to zero percent. Growth in the second quarter is expected to be even stronger than in the first. Unemployment has fallen back to 6% and should be close to 4% by year-end. Overall, the 2,4% contraction over the whole of 2020 can now clearly be seen as the "V-bottom" which we predicted in mid-March 2020.
The stock market is reflecting this rapid recovery with the S&P closing at an all-time record high of 4211.47 on Thursday last week. This is a gain of 4,77% in the month since the last Confidential Report. Obviously, these gains are being fueled by massive fiscal and monetary stimulation - which cannot last forever. But for the rest of this year and into next, at least, we expect the growth to continue to be very strong and the S&P to continue making new record highs. Consider the chart: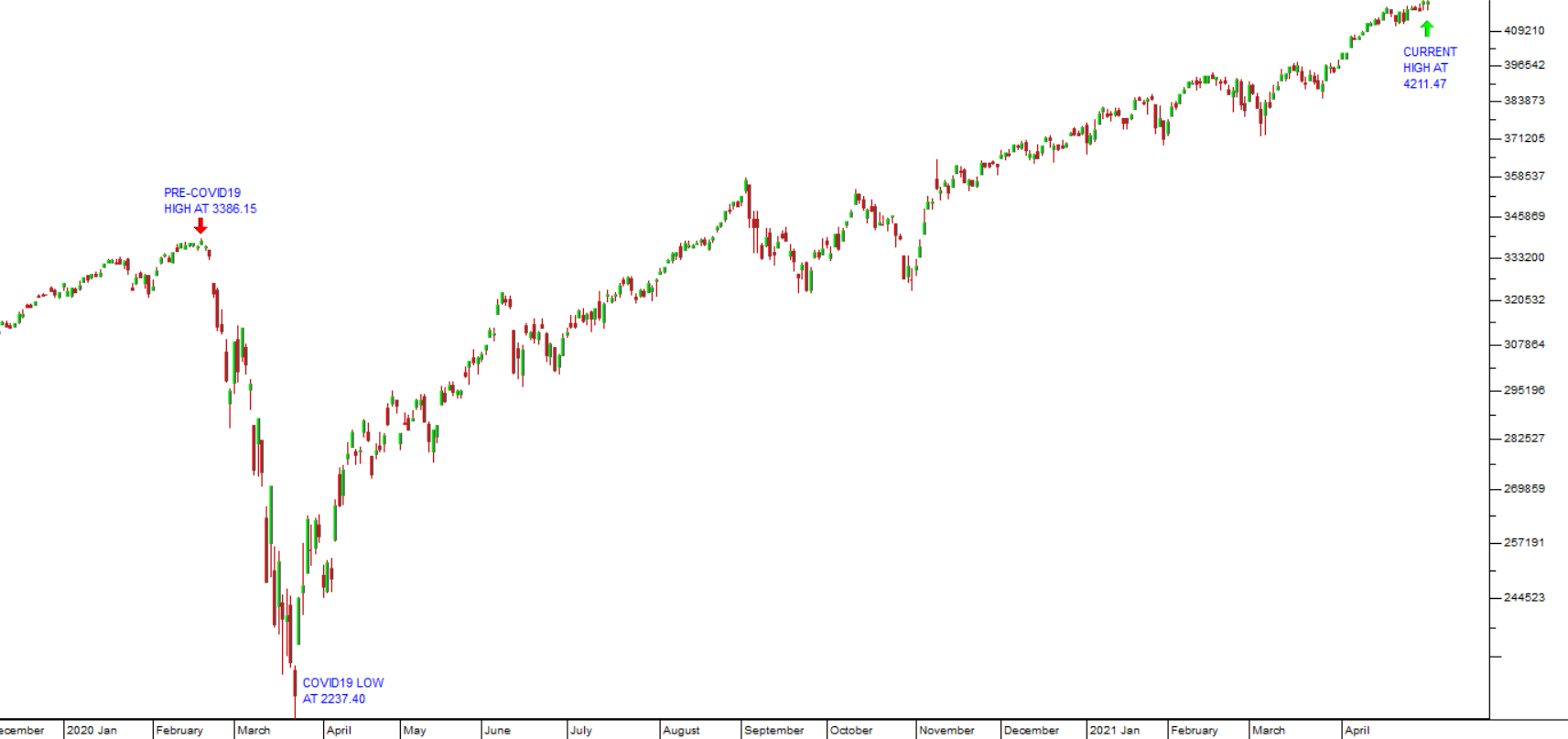 The S&P reached a pre-COVID-19 record high on 19th February 2020 and then fell to a low of 2237.4 on 23rd March 2020 – a fall of almost 34%. Since then, it has risen 88% and it is now almost 25% above that pre-COVID high. We think it will continue rising strongly, but we caution that nothing in the markets moves in a straight line – so inevitably there will be a 10% to 20% correction at some point, probably fairly soon. You should consider that, when it comes, to be a buying opportunity.
Rising inflation and inflation fears in America will be a key early economic indicator of any major downturn in the stock market. Inflation is currently around 2% but is now expected to tick up to around 3%. The US consumer price index (CPI) has risen steadily by small increments over the four months between December 2020 through to March 2021. It has reached its highest level in two-and-a-half years at 0,6% for the month of March. One of the major factors in this rise has been the steady rise in the oil price with North Sea brent now at over $67 and rising.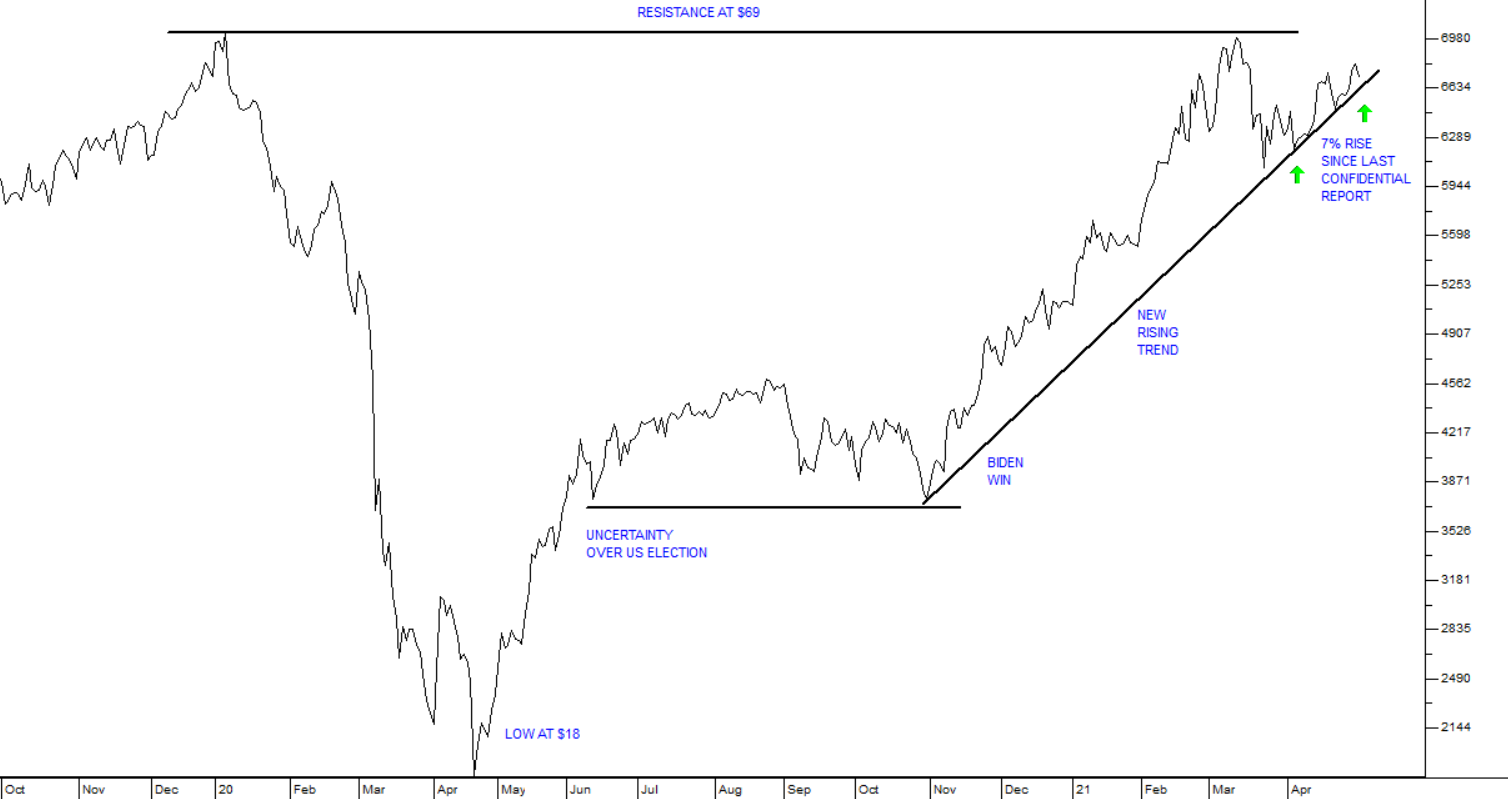 The petrol price in America jumped over 9% in March and that will certainly result in secondary inflation sooner or later. Added to this, the yield on the US long bond has been rising consistently in recent months. It has risen from around 0,5% to 1,5% since April 2020. Traditionally, the direction of this yield has been an accurate harbinger of rising inflation. Eventually, the Federal Reserve Bank (Fed) will be forced to begin increasing interest rates to contain inflation – and that is what will finally bring this bull market to an end. Nothing can derail the US stock market like the prospect of rising interest rates. At the moment the Fed is predicting inflation at 2,4% for 2021 and interest rate hikes do seem likely before next year – but that prospect of rising inflation could change quickly as the US economy responds to the combination of ultra-low interest rates and massive fiscal stimulus.
Our expectation is that world inflation, having been at very low levels in the first world for decades, will rise far more rapidly than is generally expected. A sharp rise in rates should be accompanied by a sharp rise in interest rates with a consequent negative impact on share prices in the US and elsewhere. To us this scenario appears inevitable, and it is only the timing of it, that is really in question.
Political
Ace Magashule continues to publicly flaunt President Ramaphosa's policies and position. Ramaphosa has said that no ANC member should "associate themselves with or be involved in" radical economic transformation (RET) and yet Magashule, speaking at the 150th commemoration of Charlotte Maxeke, openly said that RET was the policy of the ANC and the way to go in the post-apartheid South Africa. He has also now passed the 30 days by which he was required to step down voluntarily in terms of ANC policy. Clearly, Ramaphosa cannot tolerate this kind of open dissention within the ANC and its National Executive Council (NEC). He will have to take steps or be seen to be a weak leader, out of control of his own party. At the same time, Magashule's rhetoric has been becoming more and more radical and populist, making him Ramaphosa's single greatest problem within the ANC and a very real threat to Ramaphosa's position as President of both the ANC and the country.
The finding by the judicial conduct tribunal that judge John Hlophe was guilty of gross misconduct is another example of the battles being fought out between the Ramaphosa camp and the RET camp. Hlophe attempted to protect Zuma by influencing two judges and thus interfered with the impartiality of the judicial process. Ramaphosa's strategy in conducting this confrontation has been mostly to allow the law to take its course rather than to get directly involved himself. As with the public protector, getting rid of Hlophe will require a two-thirds majority in parliament so it may be difficult to achieve, even with the support of the DA.
The setting of the municipal elections date as 27th October 2021 is probably a strategic move by the Ramaphosa administration in their battle with Zuma/Magashule camp. Ramaphosa is urging voters to take the opportunity to get rid of corrupt politicians. Clearly, Ramaphosa is looking for a strong vote of confidence and mandate in the election. He does appear to be gradually gaining the ascendancy in his battle within the ANC but he desperately needs a good result for the ANC on 27th October. Magashule and Zuma are both facing major legal challenges which will take their attention away from their battle for control of the ANC. In the end, Ramaphosa's incremental domination of the ANC can only be good for the South Africa economy.
Economy
The South African Reserve Bank, in its Monetary Policy Review (April 2021) indicates that the South African economy (like the US economy) is recovering more rapidly than it expected, but indicates concern that the recovery might be "K-shaped". This means that some sectors were doing well while others have been almost destroyed. Most notably, the mining sector was minimally impacted by the lockdowns and has benefited from the continuing bull trend in commodity prices. The hotel and tourism sectors on the other hand have been hammered by the lockdowns and the travel restrictions which became part of the pandemic. That sector will probably take years to recover. The IT and social media sector of the economy has done very well benefiting from the shift to working from home and online retail. Property shares which were focused on offices have done badly while those focused on warehousing and logistics have done much better. Residential property companies have also done well while those focused on shopping centers have been struggling. Overall the property sector appears to be recovering now. As a private investor it is important for you to make a careful assessment of which areas of the share market are likely to benefit going forward. ABSA bank has increased its estimate of GDP growth in 2021 to 3,8% from 3,1% but said that the economy will only return to pre-COVID-19 levels in 2023. It is expecting 2% growth in the years following 2022 which we think is very conservative. ABSA also said that it expects that the government will have to take about half of Eskom's debt, or R250bn, onto its own books. This is about 6% of GDP and will severely impact the country's debt position, but there does not seem to be any practical alternative.
Obviously, the recovery of the South African economy will be heavily influenced by the advent of a "third wave" of the virus if that happens. Right now, infection rates appear to have stabilized at around 1200 per day and there is no indication that the Easter holiday resulted in a surge in infections. Discovery says that it believes that as much as half of the South African population may have already had COVID-19 and so have at least some immunity – which significantly reduces the risk of a third wave or means that if there is such a wave it will be far less of a problem than the second wave was. This is good news indeed, since investors have been pricing in a third wave which was worse than the second. The South African economy can hardly afford further lockdowns.
Consumer price inflation (CPI) for March 2021 was 0,7%, up from February but below the average forecast of economists. The main contributor was the "food and beverages" category – not the price of fuel. If this rate of increase were maintained for a year, inflation would be 8,4% - well above the Reserve Bank's target range. But that is unlikely to happen. The monthly jump in the rate indicates, however, that there are still inflationary pressures in the South African economy. The official inflation rate came in at 3,2% - still well below the mid-point of the target range and probably low enough to allow the monetary policy committee (MPC) to keep rates on hold – at least for the rest of this year and probably into next. The longer the MPC can keep rates at their current low levels the stronger the economy will become. Reserve Bank governor Lesetja Kganyago has said the rates will remain where they are for the rest of this year – and we believe that they will probably remain unchanged in the first half of next year.
As expected, the unions have rejected the government's initial offer of a 0% real increase (i.e. only allowing for inflation), but have agreed to allow the government some time to re-consider its offer. This agreement is an indication that the unions are not confident of their position and are seeking to come to some sort of negotiated settlement. The union has declared a "deadlock" which, if unresolved after 21 days, could lead to the declaration of a "dispute" which would pave the way for strike action after a 14 days' notice. The government's position is that it literally does not have the money to pay real increases, which has been incorporated into the budget by Finance Minister, Tito Mboweni. We have long said that a confrontation between the government and the union movement in this country was inevitable. We also believe that the government's position, at the moment, is strong, with the moral imperative of COVID-19 and the general disarray of the union movement.
Edward Kieswetter's has commented that the South African Revenue Services (SARS) is beginning to show signs of recovery from state capture and the gutting of the organization under Tom Moyane. This is very good news for the country because it means that revenue collections are slowly returning to better levels. Better revenue collections means that there is a better prospect of the national debt being brought under control in time. The 28% improvement in taxpayer compliance, the re-establishment of the large business unit with SARS and the R38bn in additional revenue collected above the February 2021 budget all bode well for the recovery of South Africa's financial position. This progress fully justifies the additional funding of R3bn which was given to SARS over the next three years in the February budget. Throughout Africa, the failure of governments to manage revenue collection effectively has ultimately meant that the state sank into debt and eventually resorted to printing money to pay state expenses. This in turn led to the debasement of the currency and the loss of foreign direct investment (FDI). So far, over the 27 years that it has been in power, government debt levels have worsened, but the ANC has resisted the temptation to print money and debase the rand. The resulting stability of the currency, in turn, has led to this country having the strongest currency of the emerging economies post-COVID19. Kieswetter is clearly a key component of this recovery.
The 16 million tons of maize which South Africa will produce in the current season is the second largest crop on record and a massive boost to the economy. It indicates that the millions of families that survive on growing a few acres of maize for their own consumption will not be reliant on government handouts and will even generate some surpluses to help them get through the period of weakness in the economy caused by COVID-19. Consumption of maize in South Africa generally runs at about 11 million tons per annum, so the bumper crop means that we will be able to export at least 4 million tons generating foreign currency. The volume and consistency of the rains in this country are a key determinant of its economic health and the level of inflation.
The rising level of the producer price inflation (PPI) rate at 5,2% in March month is an indication that the South African economy is recovering. The rise was mainly caused by rising food prices which may or may not be carried through to the consumer price inflation (CPI) rate if manufacturers feel they can get away with price increases. Major contributors to inflation are the petrol/diesel price and the cost of electricity which was bumped by 15,63% with effect from 1st April this year. Despite these effects, interest rates will remain unchanged this year and probably well into next. The continued low level of inflation has allowed the Reserve Bank to keep rates low to stimulate economic activity across the board.
The Rand
For some time now we have put forward the opinion that the rand is essentially under-valued against first world currencies. We have said that we expected that, once the extraneous factors were resolved (like COVID-19 and other emerging market events), the rand should resume its strengthening pattern. In the Confidential Report of April 2021 (last month's) we said that we expected that the rand would break down through resistance at around R14.40 to the US dollar. That is now happening. As the recovery in the first world becomes more substantial and clearer, so international investors become less risk-averse and begin to look for higher real rates of return. The return on South Africa's government bonds offers some of the best real rates of return in the world – so money has been coming in and making the rand stronger. At the same time the on-going boom in commodities is seen to be consistently benefiting the country and helping it to extract itself from the difficult government debt situation that it is in. Consider the chart: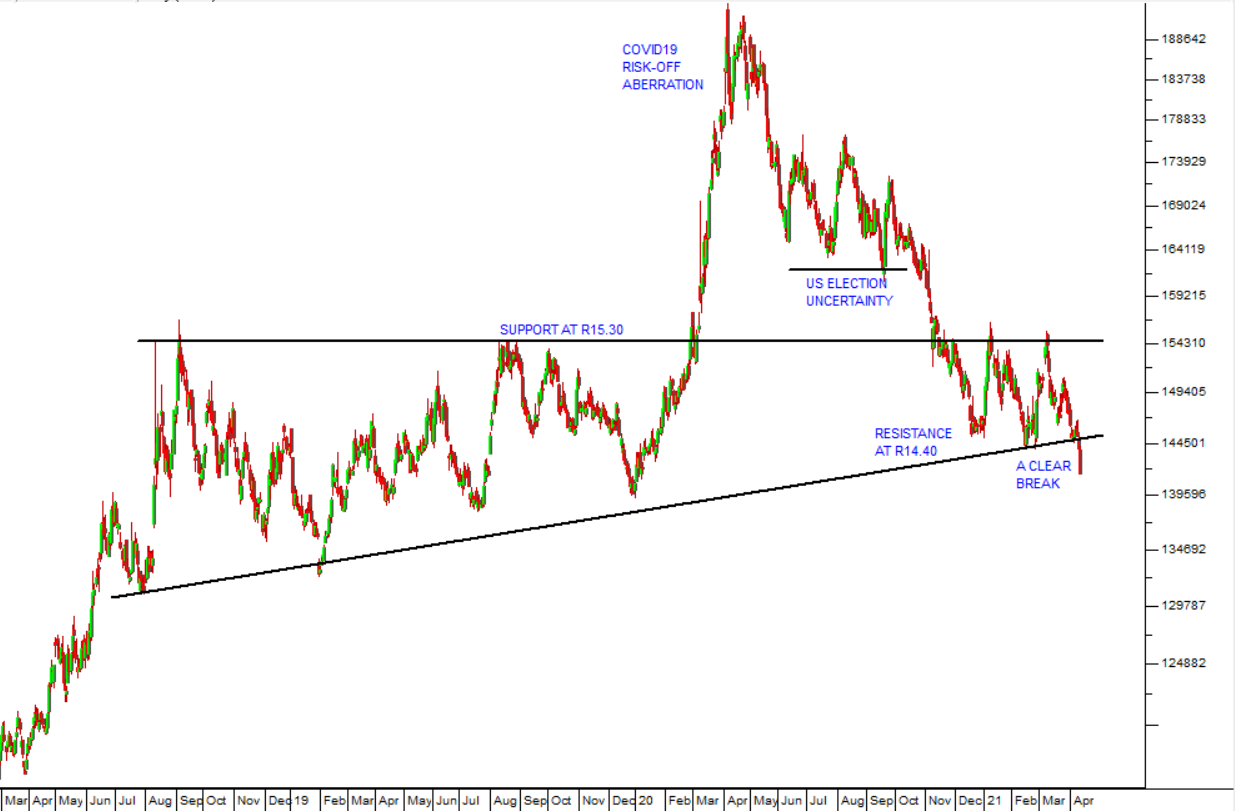 Despite the volatility, you can see here the sharp break down through resistance at R14.40. We believe that the rand will continue to appreciate against first world currencies. It is notable that the rand is the only emerging market currency to be up against the US dollar this year and now appears to have broken through the R20 to the British pound.
General
The fact that BMW is now calling for the government to get involved in motivating and encouraging the use of electric vehicles is an indication of the changes which are coming in the motor vehicle industry. Most European countries now have a ruling which prevents the manufacture of internal combustion engines after 2030. If South Africa wishes to maintain its position as a motor manufacturer it will have to upgrade its service station infrastructure to allow for re-charging of battery-powered vehicles. Government should also provide a direct financial incentive to people buying an electric vehicle as is being done in most first world countries. We believe that self-driving vehicles will follow hard on the heels of the shift to electric vehicles. The combination of these two developments will be substantial, even for South Africa. You can imagine the impact of self-driving vehicles on our taxi industry, for example.
The development of a COVID passport is being considered by a number of countries as a mechanism for normalizing economic activity and travel in a post-COVID society. The idea is that people who have been vaccinated will have a document that will enable them to gain immediate entry to pubs, restaurants and other public venues, while also allowing them to travel without the need for quarantining. People who refuse to be vaccinated will face considerable problems. Clearly, this is the next step in bringing the world economy back into some sort of normality.
A new study has shown that online retail in South Africa has increased from 2% of total retail before COVID-19 to as much as 5%, with Mastercard saying that as many as 68% of South African consumers have now shopped online at least once. The shift to online shopping is one of the major impacts of COVID-19 and one which will probably continue. South Africans are unlikely to patronize shopping malls as much as they did in the past, even once the pandemic is behind us. This has implications for retailers, obviously, but it also has massive implications for property companies which are focused on retail. There is evidence that more and more consumers are doing their grocery shopping online with the big retailers all now having specialized departments to cater for this.
The management of water resources in South Africa has reached a critical state with 41% of water being lost to leaks in the system and much of the fresh water being polluted by effluent. This is due to the fact that more than half of the country's wastewater treatment facilities have failed. The various water management arrangements will be unable to cope with the expected growth in the economy, leading in the near future, to water outages which may well impact business. Almost R1 trillion will need to be spent on water infrastructure by 2030 to rectify the situation. To counter this problem the government has established a new "water council" which will incorporate the Department of Water and Sanitation's water infrastructure branch as well as the Trans Caledon Tunnel Authority. On the face of it this has the look of yet another government agency which will have a huge administration staff being paid high salaries for achieving very little. Let us hope that it is an exception.
The conflict in progress between Eskom's Chief Procurement Officer, Solly Tshitangano (now suspended), and its CEO, Andre de Ruyter is typical. On the one hand, de Ruyter, a skilled executive, is doing everything possible to improve the functioning of Eskom and in doing so has instituted an enquiry into Tshitangano's performance and his failure to prevent losses in the Econ oil contract worth R14bn. Eskom has won the initial battle to stop paying the R21m per month in terms of that contract. The main case is to be heard later this year. In the meantime, Tshitangano has predictably accused de Ruyter of racism. Obviously, the courts will eventually decide, but our guess is that Tshitangano will lose his job and may face a civil action.
Sasol's announcement that, together with Air Liquide, it will build a renewable energy plant to produce 900mw of power to supply its immediate needs is probably designed to take some of the international pressure off it as one of the world's worst polluters. The installation, once complete, will be by far South Africa's largest renewable energy producer. The cost of the installation is expected to be about R13bn and it should be complete by 2030. Undoubtedly, one of the motivators behind this is the continuously rising cost of Eskom power together with its unreliability. The impact on Sasol's carbon footprint will be negligible, but the impact on Eskom and the shift to renewables and away from coal will be substantial.
Commodities
The rapidly recovering world economy is creating an unprecedented demand for commodities generally. South Africa, despite the difficulties in the mining industry, remains a major supplier of raw materials. South Africa is benefiting directly, with far higher profits in mining companies and rising tax collections. You could say that the boom in commodity prices is saving us from the ravages of state capture and COVID-19. We believe that this boom will continue and that commodity prices will move still higher. The medium-term impact on South Africa will be substantial. In the absence of this boom, we believe that the government would sooner or later have given in to the temptation to debase the currency to meet its growing expenses.
GOLD
The gold price has fallen by 13,5% in US dollars since 6th August 2020 and about 30% in rands. This is because the rand has appreciated against the dollar by 18,7% over the same time period. CEO of Sibanye, Neal Froneman, believes that there is value in some gold mines now - due to the fact that their share prices have fallen by as much as 40%. However, this opinion only really has meaning if you also believe (as he does) that the gold price is going to appreciate in the coming years. We think he may well be right. Inflation in America has ticked up sharply over the past 4 months and we think this might just be the beginning of a series of inflation rate increases worldwide. Asset prices (mostly obviously listed shares) have moved up very strongly in response to Biden's massive fiscal/monetary stimulation and falling unemployment levels. As the US economy takes off it is reasonable to expect higher inflation levels which must necessarily be positive for the gold price in due course. Consider the chart of the rand price of gold: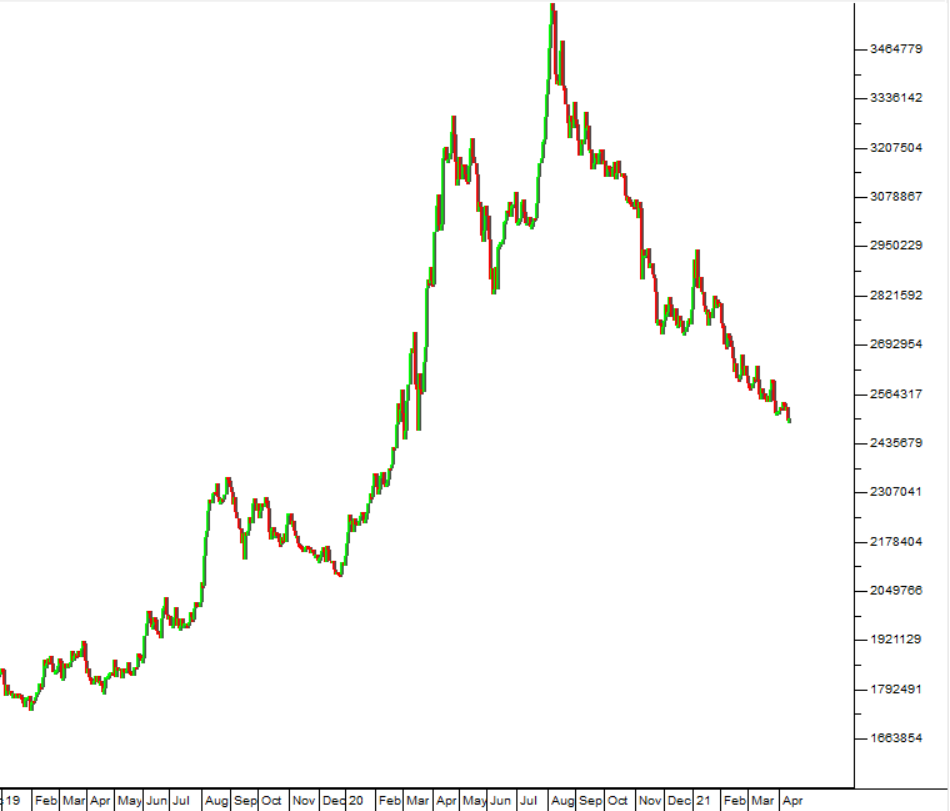 You can see here that the rand price of gold peaked in August 2020 and has been falling steadily since then – because of the strength of the rand combined with a falling US dollar price of gold. Based on his track record, Froneman has an excellent intuition for when precious metals are underpriced.
IRON & STEEL
The prices of iron and steel are steadily increasing as the world economy recovers from COVID-19. This is especially true for China where steel production is moving into top gear. Iron production cannot keep up with demand and so prices are rising and the price is now well over $190 per ton. Demand for steel is expected to rise by 6% in 2021. China consumes about half of the world's production. As the recovery spreads to other parts of the world, the demand for commodities and especially steel will continue to grow. This obviously continues to benefit South Africa which is a major supplier of a wide variety of commodities.
Companies
PROPERTY
With the growing trend towards work-from-home, the demand for office properties has shrunk and continues to shrink. This trend is impacting on those real estate investment trusts (REIT) which are focused on offices or have exposure to them. There can be little doubt that once the pandemic is behind us there will be some return to offices, but many businesses will choose to continue with the work-from-home ethic that they have established. The big banks, for example, mostly managed to get 70% of their staff working from home. In the longer term this trend has undoubtedly saved them money and probably improved the working conditions of many of their staff. After the pandemic they will certainly reduce their requirement for office space. Many businesses that were locked into rental agreements at the start of the pandemic will not renew those agreements if they were successful in porting their business to a work-from-home basis. This will result is a steady drop off in lease agreements as they expire and a continuing surplus of office space for the next two years. It is expected that vacancies will reach as much as 20% of office space and even higher - from current levels around 15%.
The JSE property index (JSE-SAPY) has made a convincing upside breakout above resistance at 288 – which indicates that property shares are now moving up after the difficulties of the last few years. Consider the chart: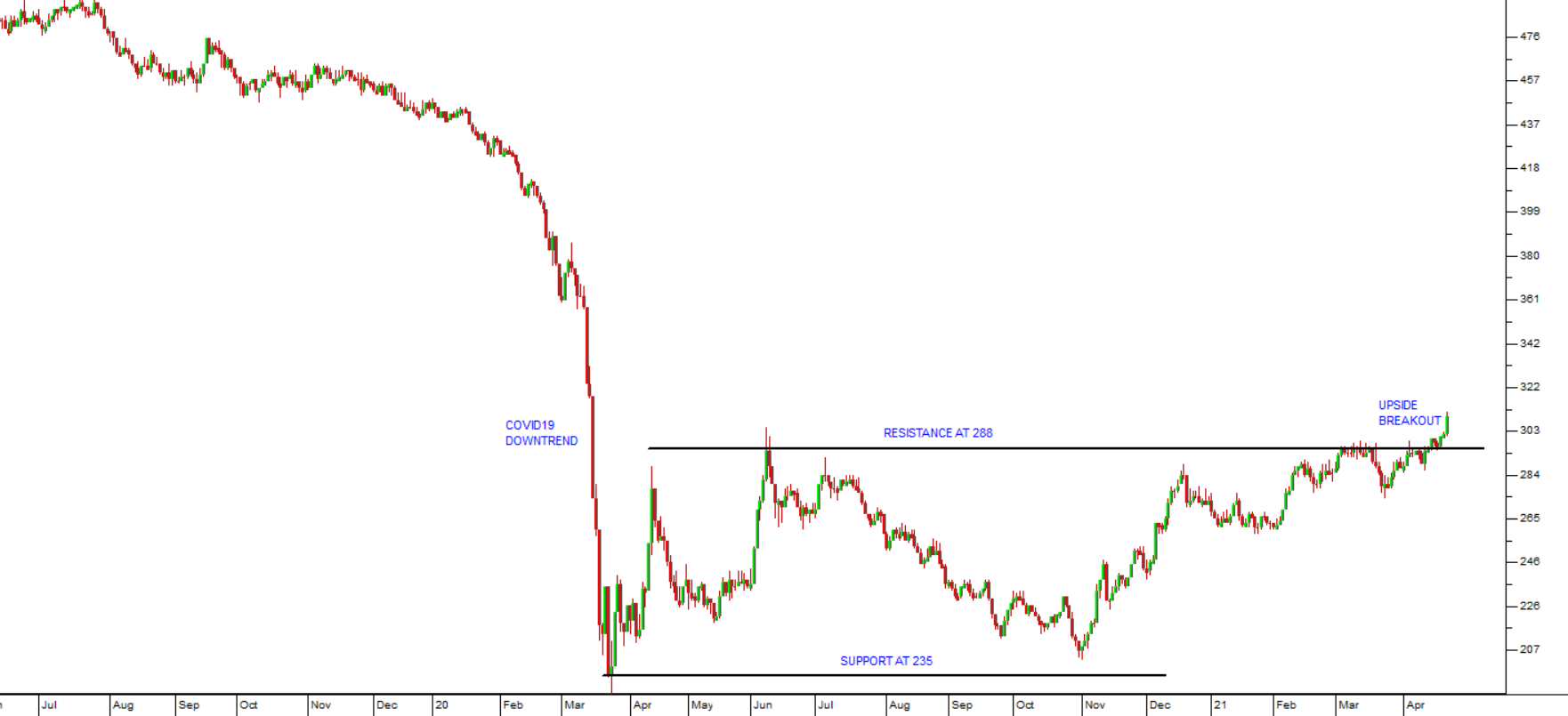 You can see here that, following the collapse associated with COVID-19, the property index settled into a sideways pattern between support at around 235 and resistance at 288. That resistance has now been broken to the upside. We suggest that they will make a good investment at current levels.
BITCOIN
Since Elon Musk invested $1,5bn into Bitcoin, the cryptocurrency has been rising – partly because of the new investment energy which this massive purchase generated. However, Bitcoin remains a highly risky asset with no real financial backing. It has value only because enough people believe it has value. It is the ultimate fiat currency which is sustained by belief alone. Technically, the Bitcoin price chart is in its second exponential spike, running up to almost $60 000 per coin.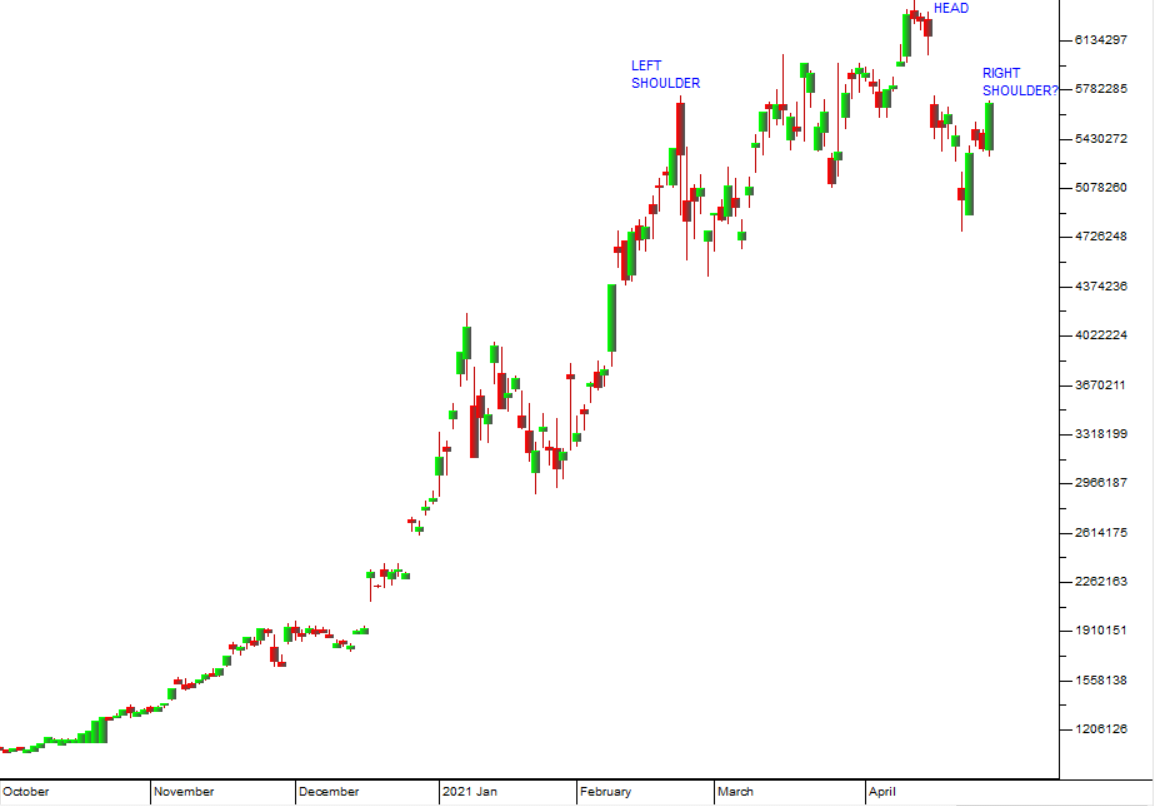 Since it is impossible to analyse Bitcoin fundamentally (because it has no fundamentals) the only option is to try and assess it technically. What we are seeing is what looks like and could turn to be a head-and-shoulders formation. If it breaks below the neckline (at around $47815) that will indicate significant profit taking and probably a new downward trend.
Again we believe that the current price is unsustainable. The Chief Financial Officer of Naspers recently said of Naspers' decision not to buy Bitcoin, "It's really hard to ascribe a value to Bitcoin. How do you determine what is a fair price for Bitcoin today?" Our advice remains: "If you have Bitcoins, sell them. If you don't have them, don't buy them".
NEW LISTINGS
Thungela Resources is an export coal business which is to be spun out of Anglo American and separately listed on the JSE on 7th June 2021. The move is part of Anglo's efforts to divest itself of its coal interests as a result of pressure from climate change lobbies. Thungela will be South Africa's largest coal exporter and have assets of $1,3bn. Anglo is injecting R2,5bn and supporting the company if the coal price falls below R1175 per ton. The move gives Anglo shareholders the choice of holding the high-quality coal assets or divesting themselves.
Coca Cola has announced that it will separately list its bottling company, The Coca Cola Bottling Company (CCBA) on the Amsterdam stock exchange and also on the JSE in about 18 months. This will give JSE investors a new blue chip consumer company. CCBA does bottling of Coca Cola products throughout Africa and accounts for about 40% of the containers of all Coca Cola soft drinks sold on the continent. This is a very strong and well-established market with solid long-term potential.
Cartrack has been folded into Karooooo through an offer to shareholders of R42 per share which 99% of shareholders accepted. In effect, the company also did a 10-for-1 consolidation since Cartrack shareholders were given 1 Karooooo share for every 10 Cartrack shares which they held, but on its first day of trade the share closed at R500 per share and has since moved up to R610 giving them an immediate gain. The share (Karooooo) is now listed on the Nasdaq where it raised $33,8m on listing with an inward listing on the JSE. The immediate impact of this was to increase the daily volume traded in the share and thus make it far more appealing to institutional investors. The value of shares changing hands has risen sharply and is running at about R60m per day. We have always liked Cartrack and believe that this move to Karooooo will make the share even more attractive as a long-term, annuity-based, rand-hedge investment.
AFRIMAT
In a trading statement for the year to 28th February 2021, Afrimat said that it was expecting headline earnings per share (HEPS) to increase by between 22% and 32%. These are the great results which we anticipated in our article on 25th May 2020. We suggested that Afrimat at R29 was a very good buy. It is now trading at 4849c per share – a gain of 67% in less than a year. We expect this company to continue delivering strong growth. Consider the chart: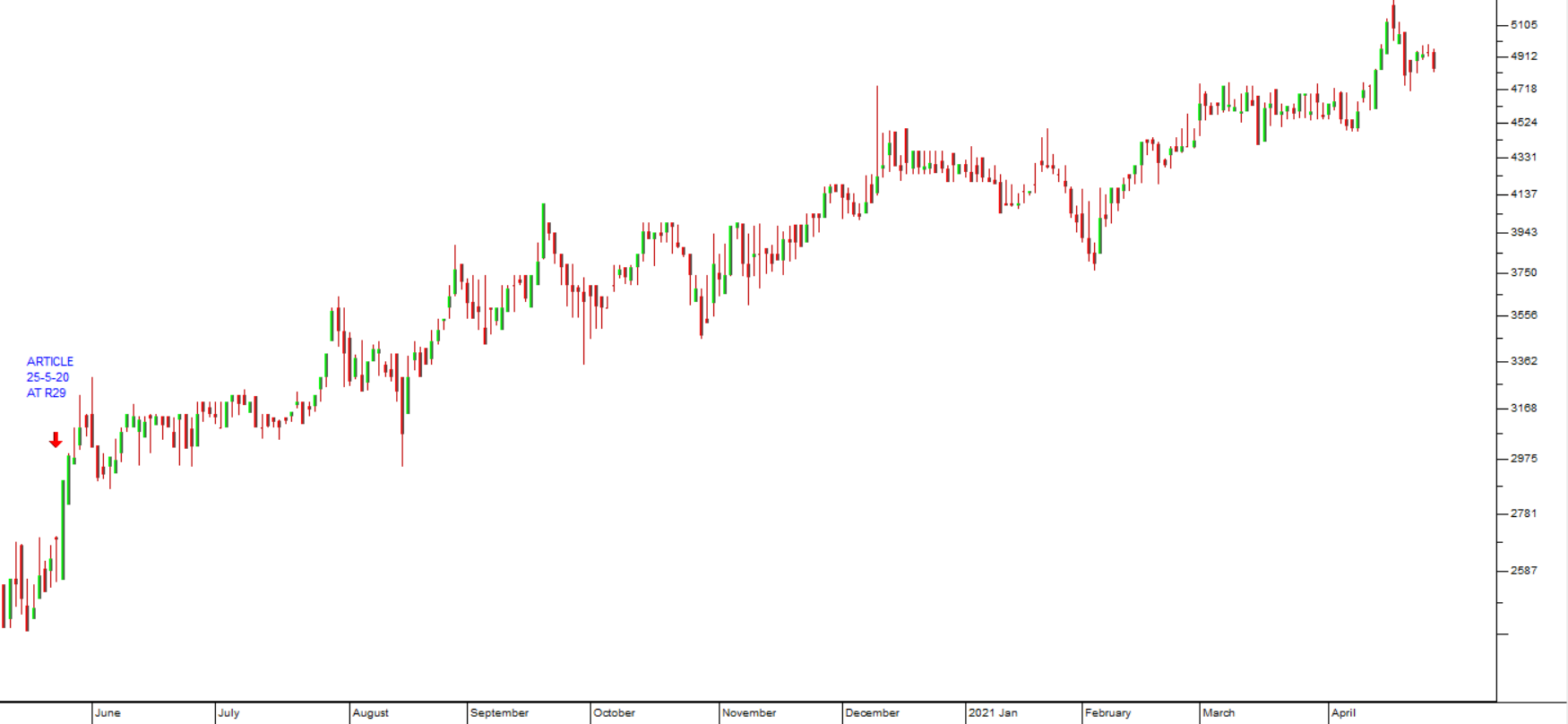 FAIRVEST
This is real estate investment trust (REIT) which specializes in rural and out-of-town shopping centers. Their customers are mainly from less affluent socio-economic groups than would be found in metropolitan locations. These shopping centers have not been nearly as badly affected by COVID-19 as the urban malls. Fairvest also has a very good loan-to-value (LTV) at around 32,2%. It has a vacancy rate of 3,8% and managed to increase its distribution by 7,2% in the six months to 30th June 2020. It is now negotiating a deal with Arrowhead which would give the combined entity much more size. We see this as one of the best local options in the property market at the moment. Consider the chart: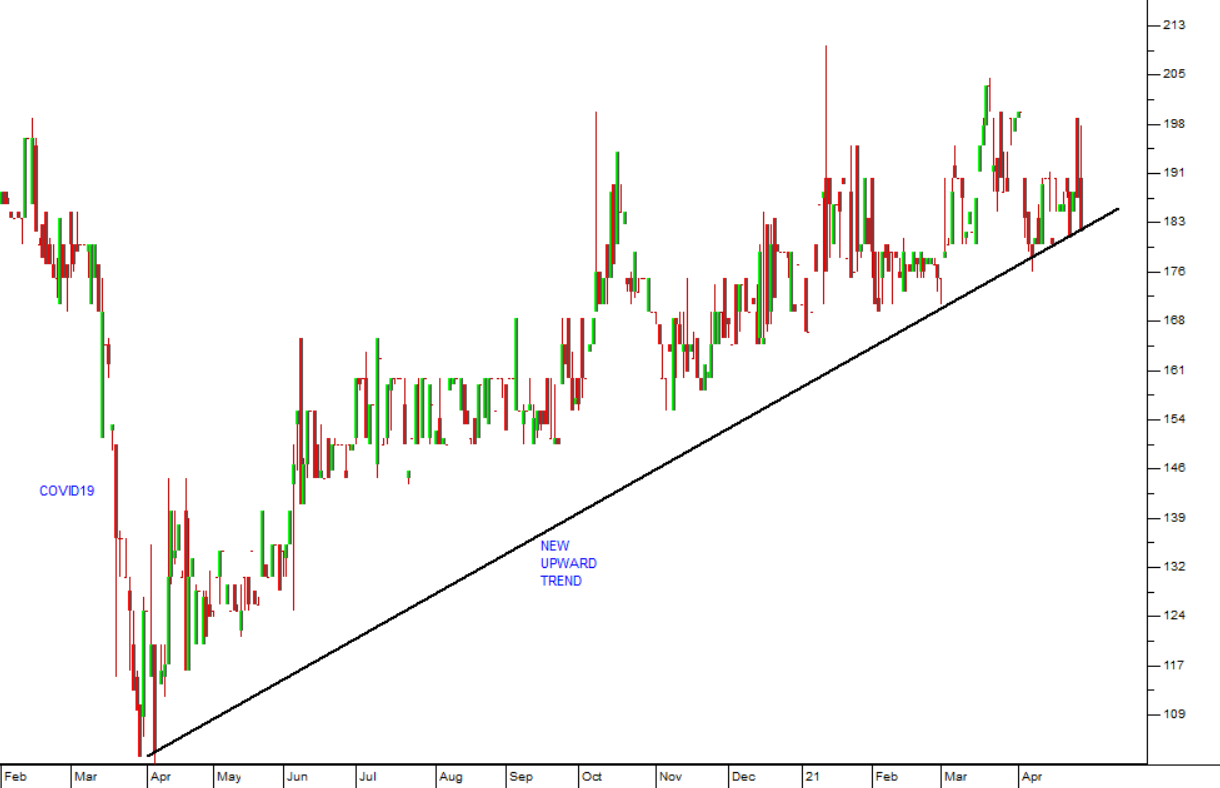 SPEAR
This is another promising real estate investment trust (REIT) which has just issued an encouraging trading statement for the year to 28th February 2021. It managed to achieve 97% of rental collections in the period with occupancy at 94%. It expects to report a distribution income per share of between 69,9c and 76,8c – which is less than the previous year, but far better than many REIT's produced in that year. The company owns properties mainly in the Cape Town area and it is managed by Quinton Rossi and Mike Flax, both of whom have a strong reputation for being very knowledgeable about Cape Town property. The portfolio has been too small to attract much institutional interest, but that is changing. Technically, the share price is breaking up out of the sideways pattern that it has been in since March 2020. Consider the chart: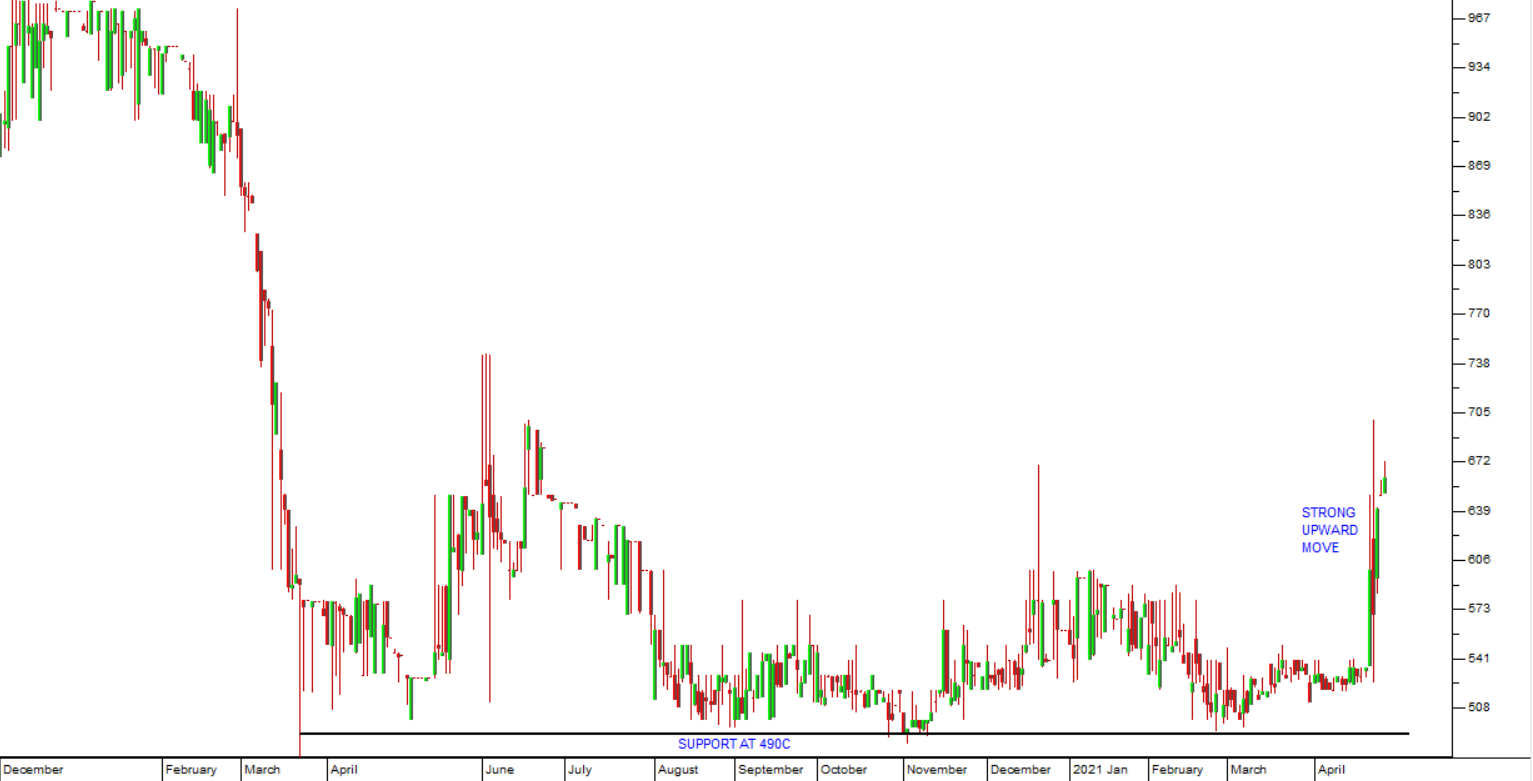 MTN
The MTN group produced an excellent set of results for the year to 31st December 2020 with service revenue up almost 20% and headline earnings per share (HEPS) up 60%. Debt levels were down significantly and the company added 28,8m new subscribers. Since the start of the pandemic the MTN share has been out-performing its major rival, Vodacom – as is apparent from the relative strength chart: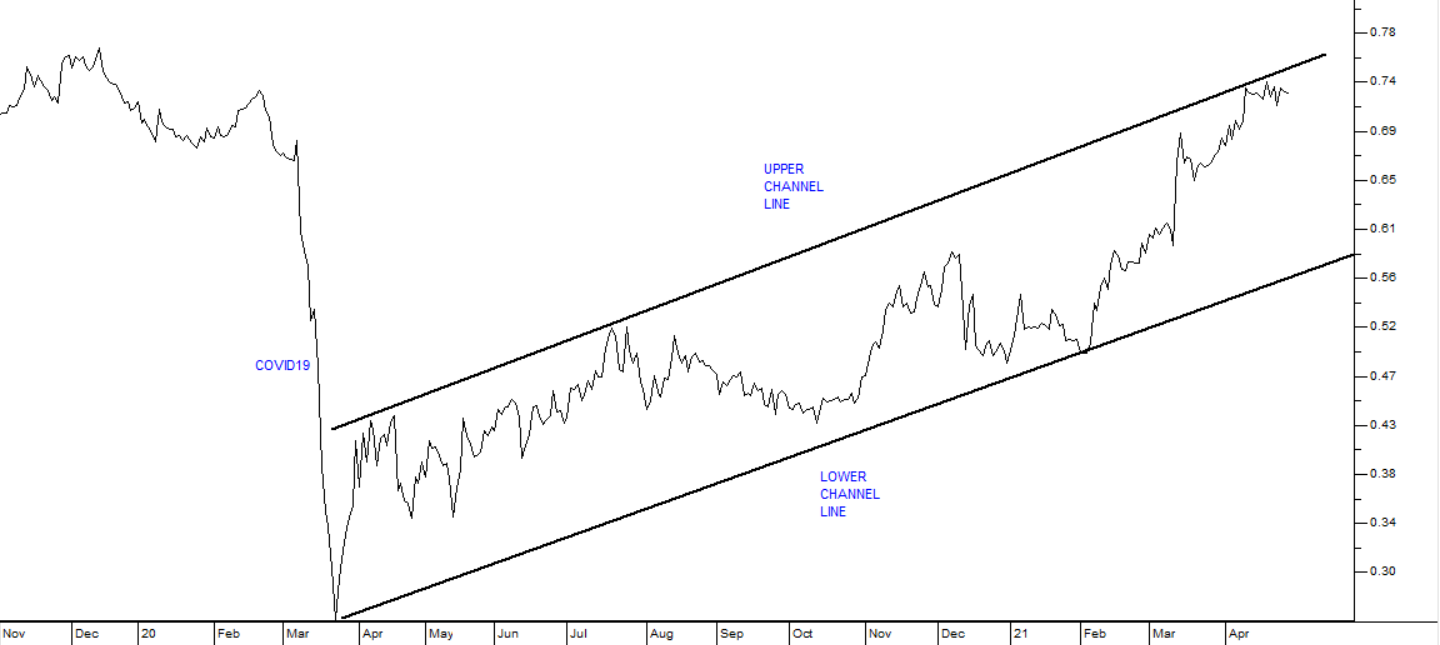 The above relative strength chart divides MTN's share price by that of Vodacom and draws a graph of the result. As you can see, since March 2020, MTN has been steadily out-performing Vodacom as it grows its subscriber base in Africa. With the increased emphasis on digital communication in Africa caused by the pandemic, MTN is gaining subscribers at a tremendous pace. It is currently on a P:E of 12,23 which compares with Vodacom's 12,34 – but we think that MTN offers better medium-term blue-sky potential.
CORONATION
Coronation is one of the largest asset management companies in South Africa with assets under management of R629bn as at 31st March 2021. The company went through a tough period from its peak of 11515c on 31st December 2014 (after some serious window dressing) and its low after the start of the pandemic in March 2020 at 2541c. Since then and under new management the company has begun a significant recovery. In a trading statement for the six months to 31st March 2021 the company expects to report headline earnings per share (HEPS) up by between 35% and 45%. It has more than doubled from its low and now trades at 5523c with a P:E of 13,86. We think that it still has some distance to go since its dividend yield (DY) is still above 5,5%. Consider the chart: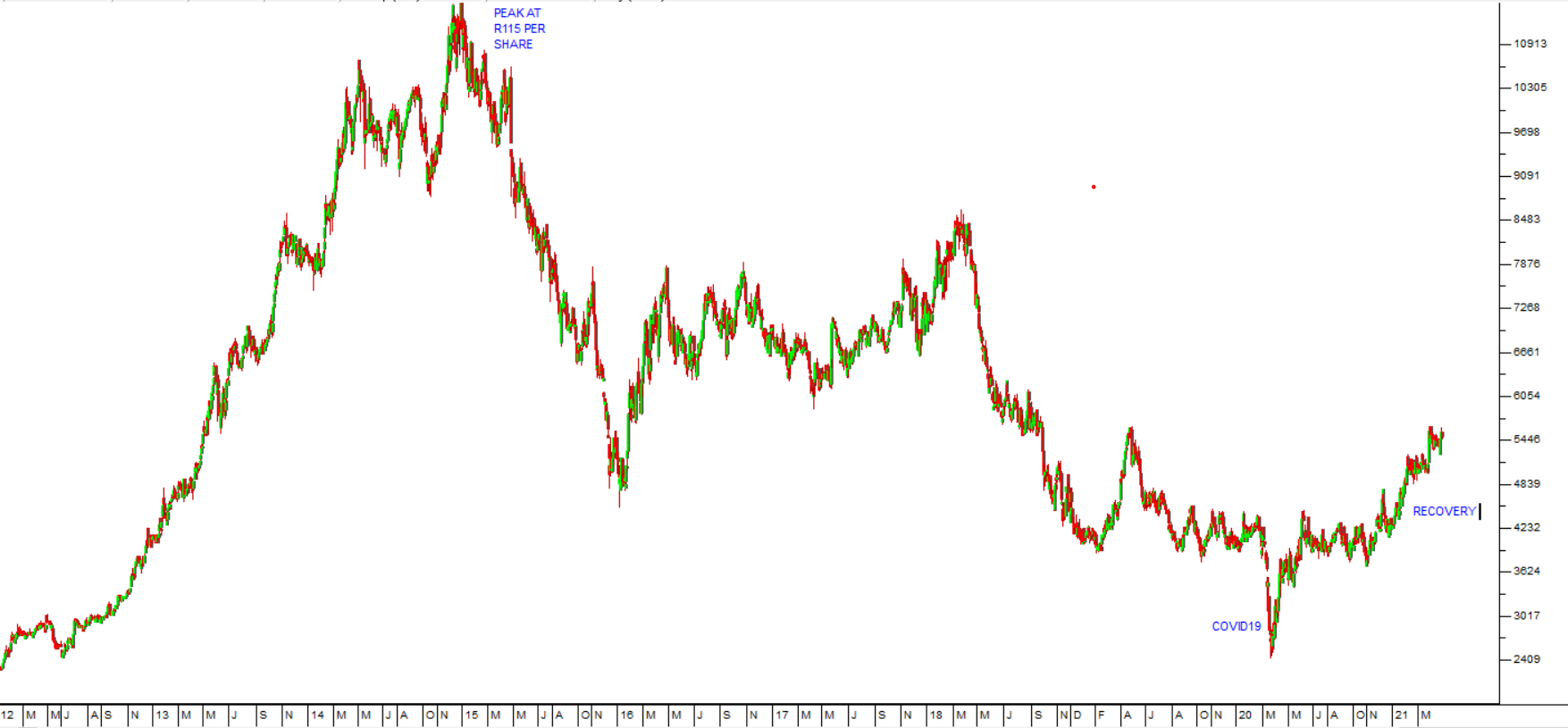 You can see here the share's peak on 31st December 2014 at R115 when it was a favourite of the big institutions and subject to some heavy "window dressing" on the 31st of December. You can also see its low at just over R25 in March 2020 and then its subsequent recovery – which we believe will persist.
DISCLAIMER
All information and data contained within the PDSnet Articles is for informational purposes only. PDSnet makes no representations as to the accuracy, completeness, suitability, or validity, of any information, and shall not be liable for any errors, omissions, or any losses, injuries, or damages arising from its display or use. Information in the PDSnet Articles are based on the author's opinion and experience and should not be considered professional financial investment advice. The ideas and strategies should never be used without first assessing your own personal and financial situation, or without consulting a financial professional. Thoughts and opinions will also change from time to time as more information is accumulated. PDSnet reserves the right to delete any comment or opinion for any reason.
Share this article: